If your hairstyle could use a little freshening up, have you thought about a skin fade? The popular hairstyle is gaining more and more traction because of its attractiveness and overall versatility.
Skin Fade Haircut Ideas
Skin fade haircuts come in different lengths: low, medium, and high, and are a popular choice for men because of the ability to pair it with whatever haircut you already have. It doesn't have to be a dramatic change if you like your current look; start with a low fade to get comfortable!
To see how you can look amazing with this style, check out these 40 looks!
1. Low Skin Fade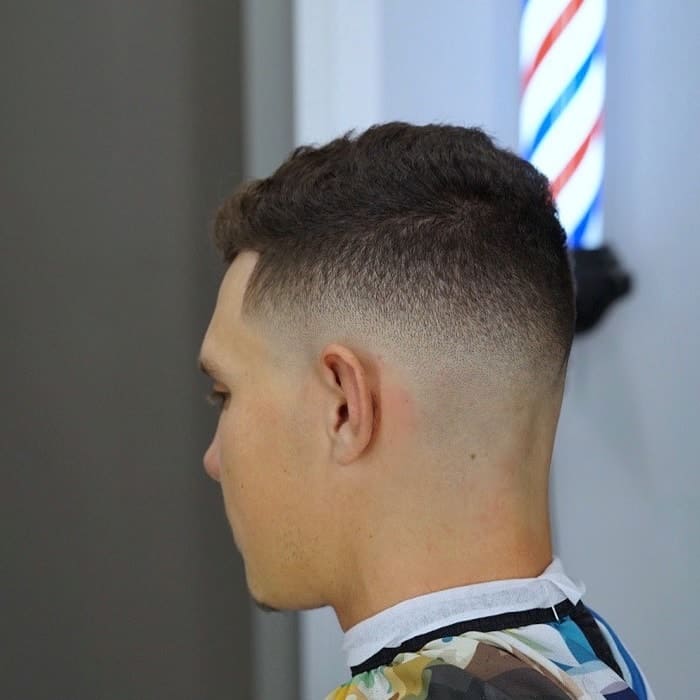 A low skin fade shaves a lot of the hair away, leaving the neck bare and the sides of the head clear of hair above the ears.
2. Skin High Fade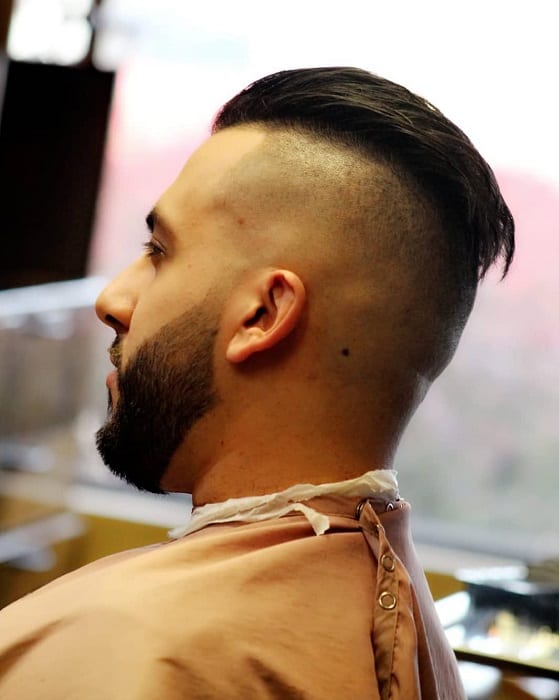 A high skin fade with a strip of hair makes for a rugged style complementing any facial hair you might have.
3. Medium Skin Fade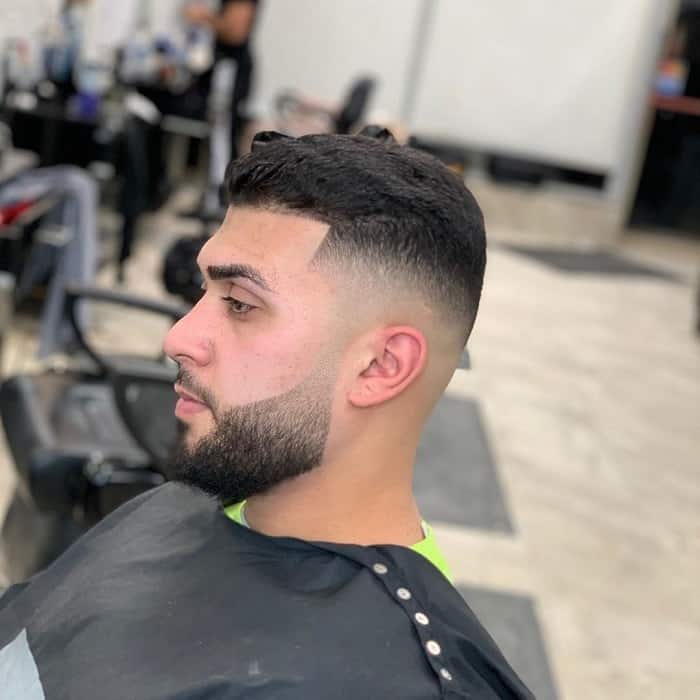 A beard and mustache paired with a medium skin fade that stops midway between the ear and the top of the head.
4. Skin Taper Fade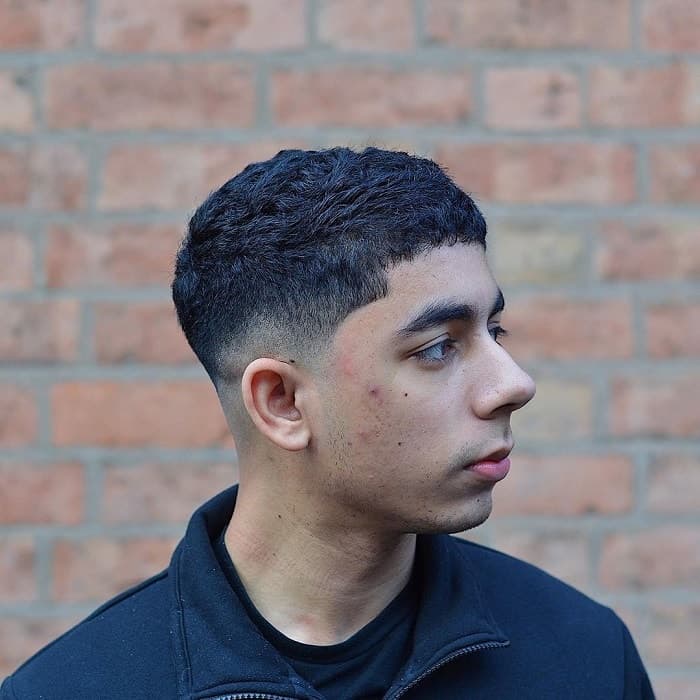 Edges stay neat and trim on a skin taper fade while the rest of the hair gradually gets shorter as it approaches the ears.
5. Comb Over + Skin Fade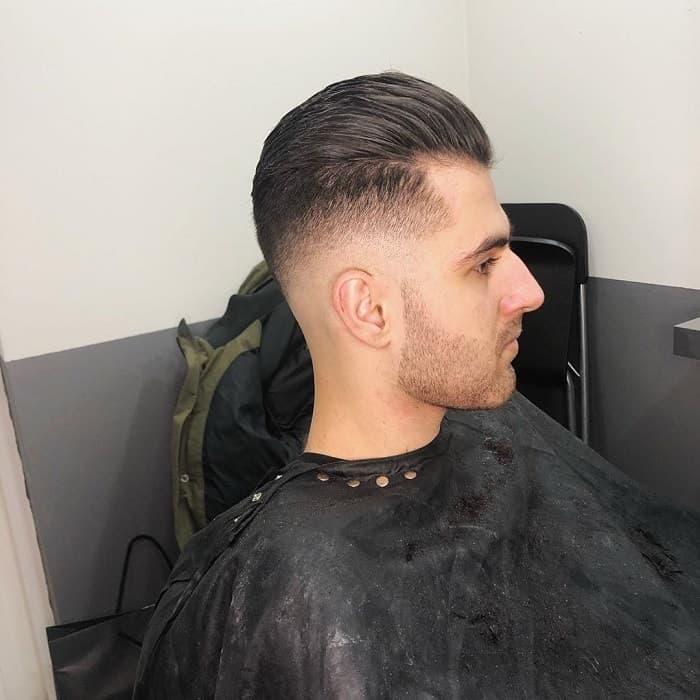 A slicked back style will give thin hair luxurious volume and is easy to comb up in the morning, making for short style time.
6. Skin Tight Fade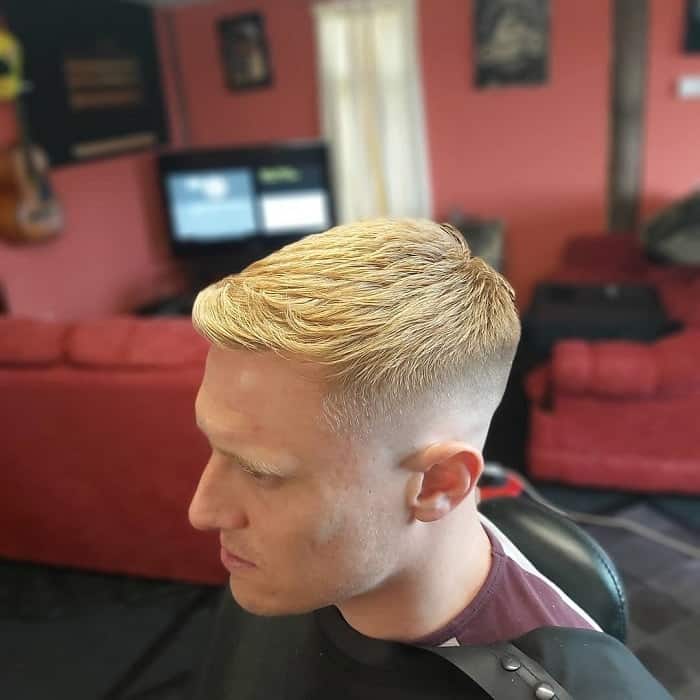 A skin tight fade, also known as 'high and tight,' just means long top and short sides. You can use your fingers to style the longer pieces.
7. Skin Fade Haircut with Beard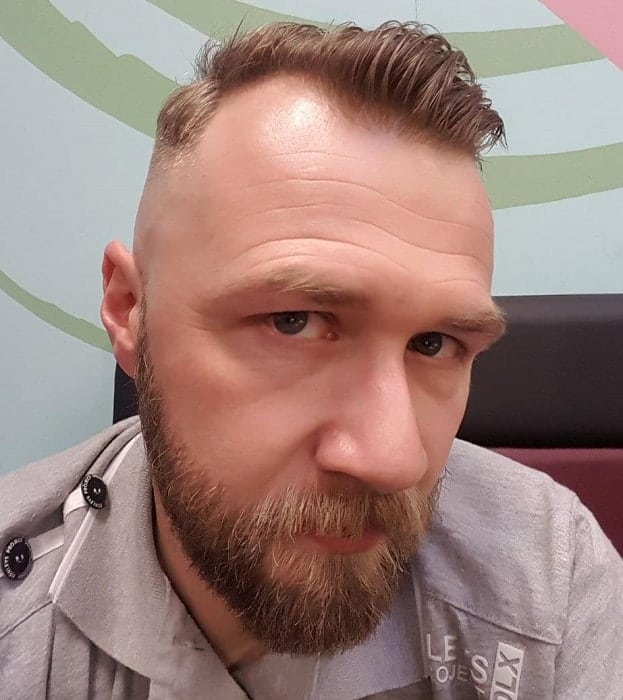 For men with the beginnings of a receding hairline, a skin fade haircut combined with a beard will distract from that feature.
8. Skin Faded Undercut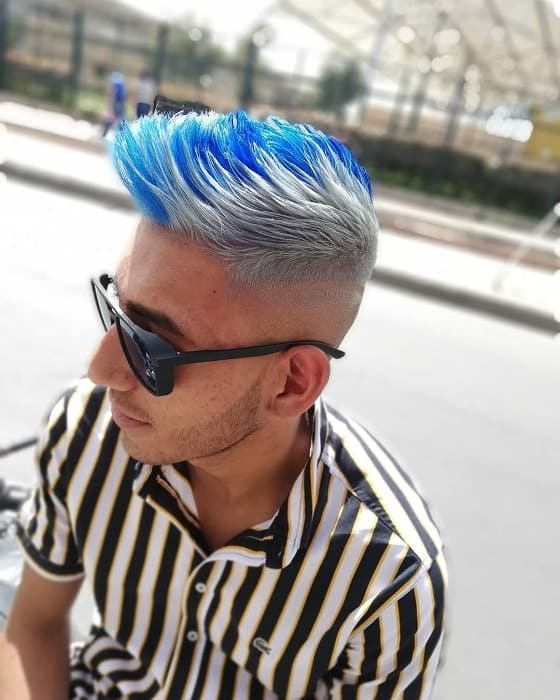 This skin faded haircut stands out with a shaved line on sides and a beautiful pop of blue highlights in the textured top.
9. Black Skin Fade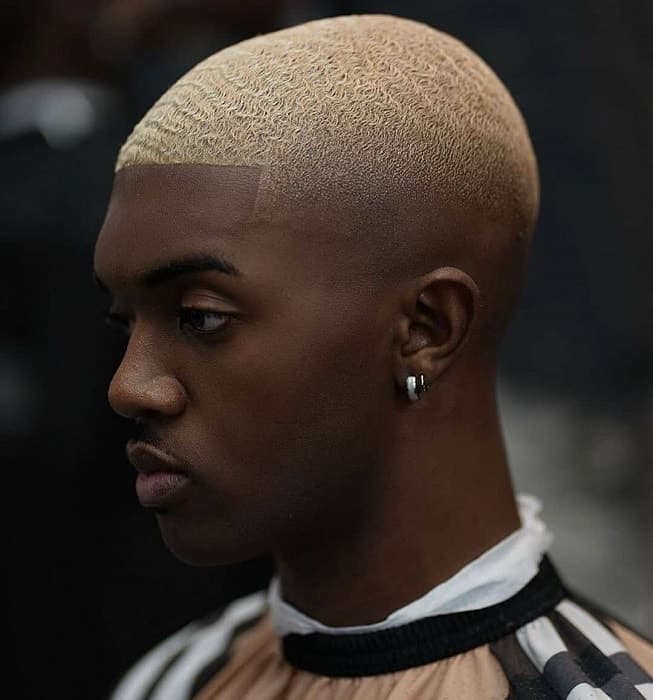 For black skin, a platinum skin fade is great for an edgy contrast. The super short length is also the lowest maintenance you'll get.
10. Skin Bald Fade
The best things about a skin bald fade are that you can go longer between haircuts because of how close the cut is and they're great for people who live in warmer areas of the world.
11. High And Tight Skin Fade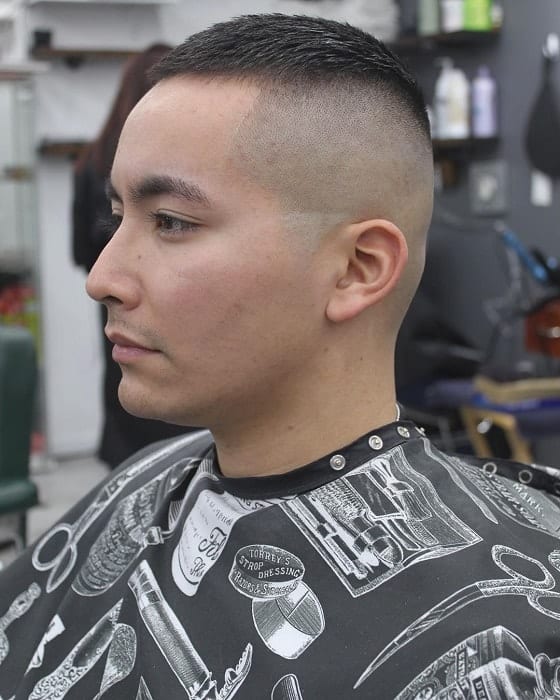 The high and tight skin fade is similar to a military style haircut in that the length is super short. You can adjust the fade to fit your personal style.
12. Short Hair Fade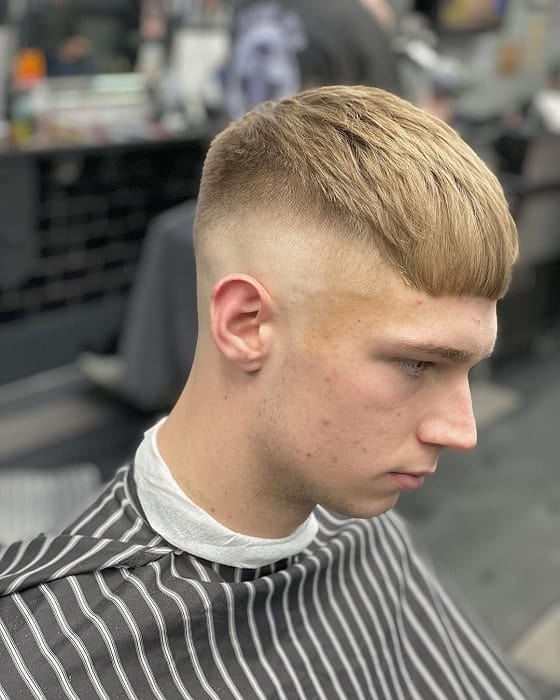 When you aren't ready to go short all over, leave some long hair for comfort and give it a blunt cut bang.
13. High Skin Fade on Comb Over
Give Elvis Presley's classic look an update with a side part high skin fade. Slick back the other side and keep it smooth.
14. Low Skin Faded Comb Over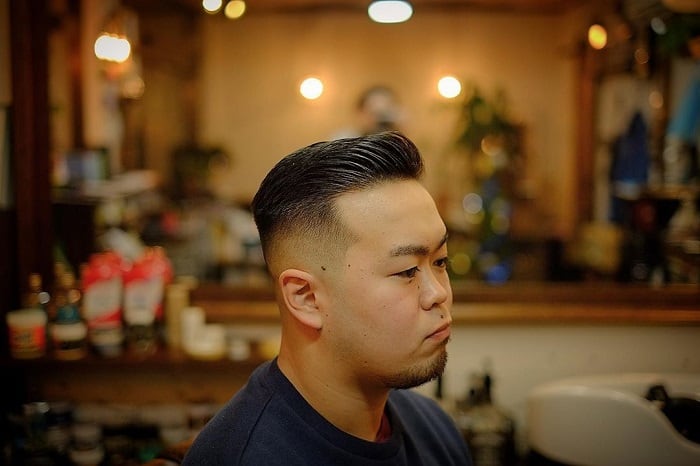 Instead of angling a comb over to the side, this one goes straight back and is still attractive, showcasing thickness framed with a low skin fade.
15. Comb Over + Mid Skin Fade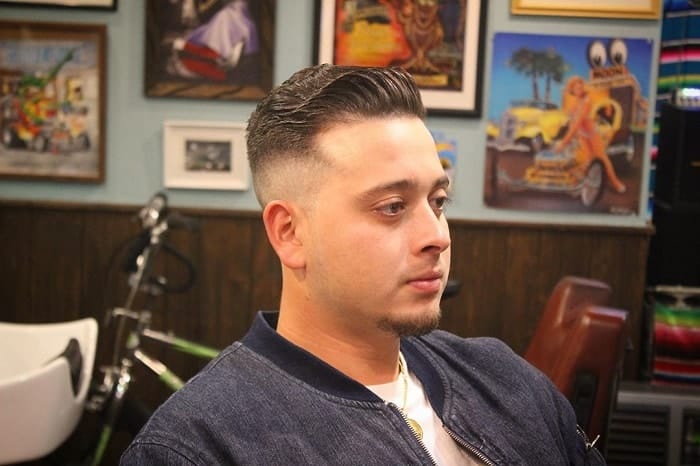 This comb over is somewhat layered, creating the illusion of a thicker style, and paired with a mid skin fade to keep the look fresh and trendy.
16. Skin Faded Part Haircut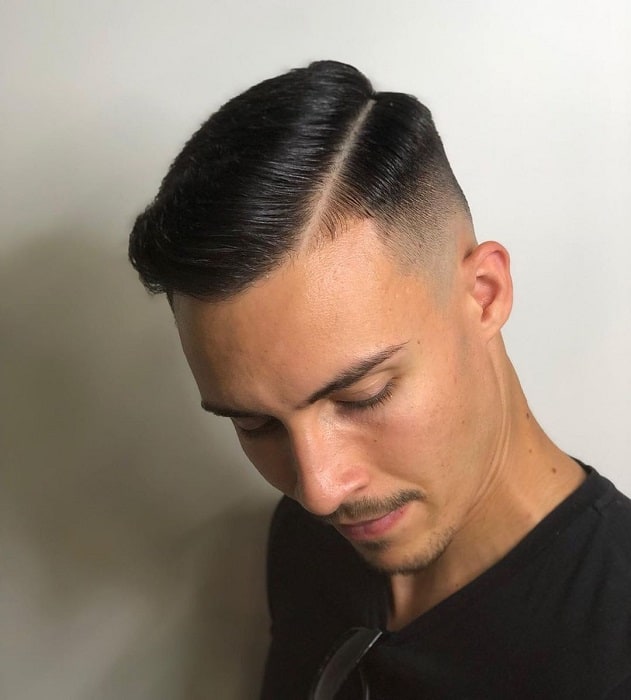 Another skin fade with a side part, but this one is technically a hard part, where the line is clearly defined. The key to this look is smoothing any stray hairs with spray.
17. Drop Skin Fade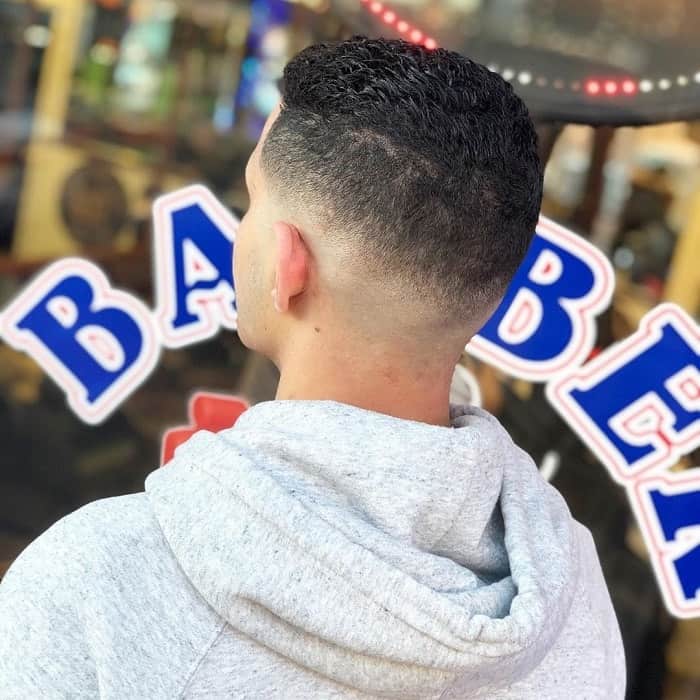 Drop skin fades are so called because they literally "drop" below the ear and near the nape of the neck for more coverage.
18. Skin Faded Buzz Cut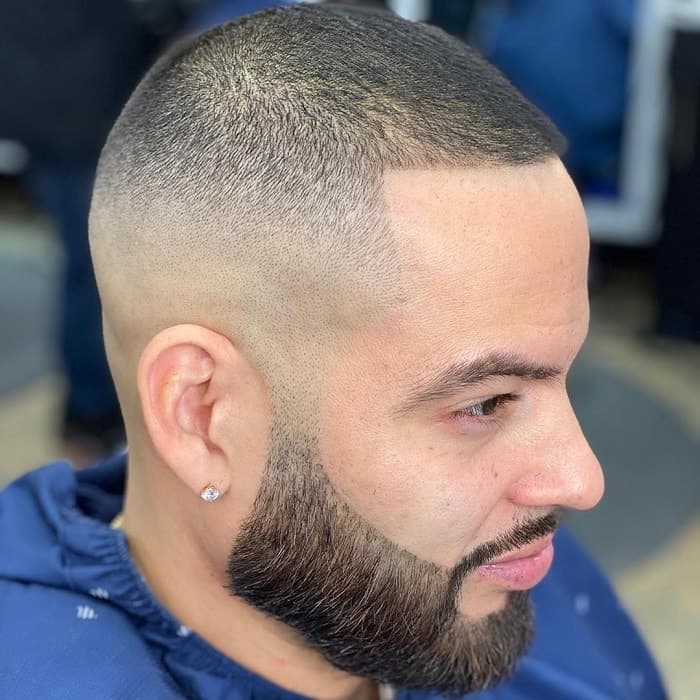 When you feel like a haircut you can drop in for a style and then leave for a couple of weeks, go for a buzz cut. It'll keep hair short and the stylist can even shape up facial hair.
19. Mohawk Fade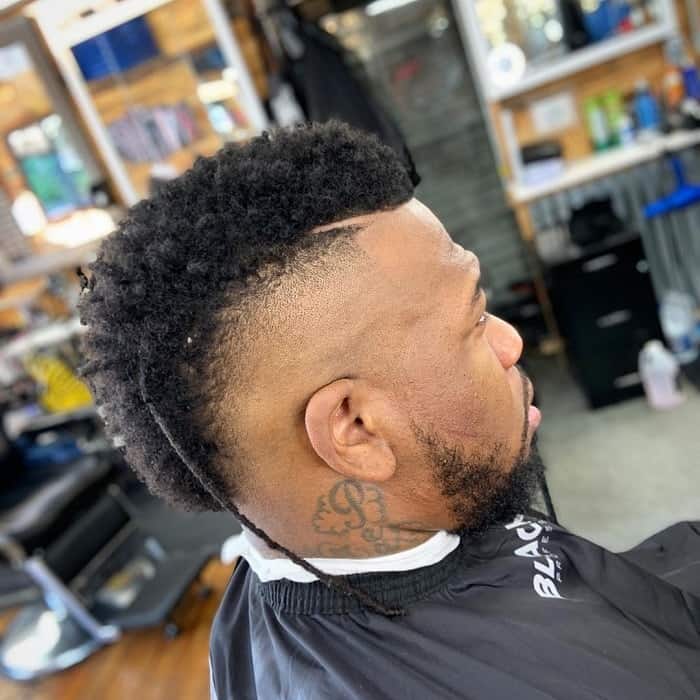 This kind of mohawk fade draws attention to curly hair. A few strands of hair stay shoulder-length and lines are shaved in above temples for detail.
20. Skin Faded Pompadour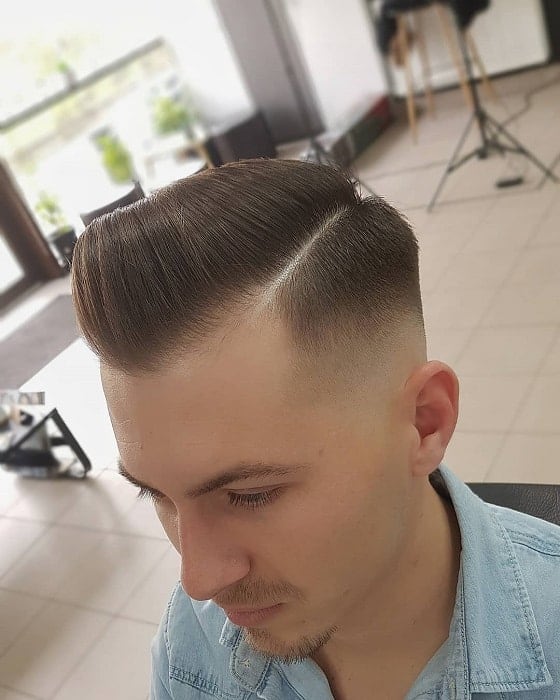 For men who like a dapper hairstyle, the pompadour skin fade is for you. It combines volume with an edgy cleaned upside.
21. Skin Fade on Long Hair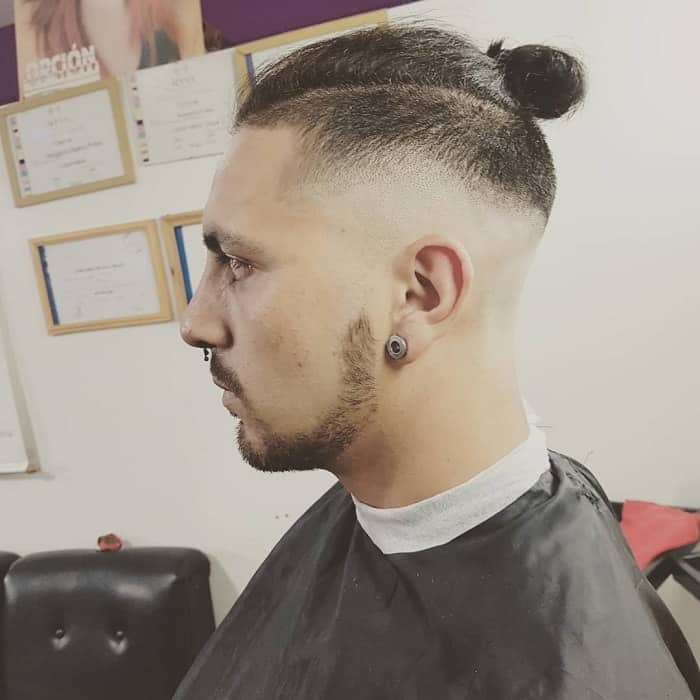 A skin fade on long hair is very punk-rocker. The best facial hair look for this style is not a full beard, but one that merely frames cheek and chin bones.
22. Skin Fade + Side Part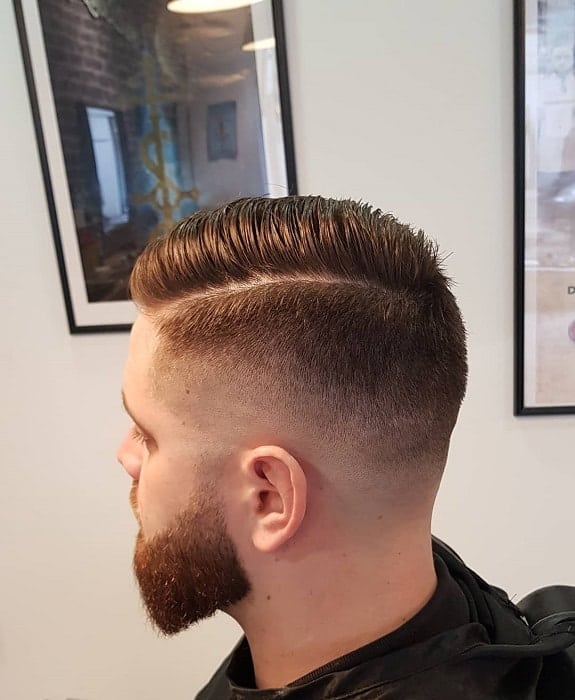 Whether you have a busy job or not, this attractive side part and skin fade isn't too much to handle style-wise.
23. Slick Back Skin Fade

Everyone will know you enjoy taking care of yourself when they see a trimmed and shapely beard matched with long slicked back hair.
24. Skin Fade with Waves

If your job is very active or you just like to focus on things other than your hair, you won't have to worry about looking good all the time with a wave skin fade.
25. Asian Skin Fade

Textured hair is the best thing about this cut, but a mid skin fade adds a touch of hip style.
26. High Top Fade

High top fades can be flat or round and as long or short as you want them, but frame them with a fade to make sure they get the attention they deserve.
27. Crew Cut + Skin Fade

Crew cut fades will never go out of style. If you're all about straightforward haircuts, this one is for you.
28. Skin Cut Fade + Man Bun

Haircuts don't get any chicer than high braided man buns and skin cut fades. The only maintenance this requires is keeping the fade smooth.
29. Skin Fade with Line

A curved line in a skin fade is a small detail when compared to short-medium hair the ladies will want to run their fingers through.
30. Military Skin Fade

A military skin fade leaves almost nothing to the eye, but it will definitely draw attention to darker features like eyes.
31. Faux Hawk Skin Fade

Create this faux hawk fade by fading one side and spiking up the other side with gel in a curvy shape.
32. Skin Faded Quiff

Form a quiff by using a bit of mousse or styling creme on fingers. Facial hair frames the face by ending in points at the ears.
33. Skin Fade for Curls

What better way to show off your curls than by shaving in a fade to frame them?
34. Spiky Hair + Skin Fade

After shaving in the fade, create spiky texture by combing in a styling creme and finishing with an all-day hairspray.
35. Afro Fade

For afro-textured hair, a mid skin fade flatters face shape the best while a line up at temples squares the look off.
36. Skin Faded Dreads

No one will mess with you after seeing your skin faded dreads ponytail. Piercings or not, it'll be hard for anyone to not notice you!
37. Skin Cut Sideburn Fade

Sideburns can really enhance a faded haircut of any kind. Thick or thin, consider reworking yours and pairing them with a blunt bang.
38. Textured Skin Fade

From the pointed shape at temples to the medium fade and thick textured hair, what's not to like?
39. Skin Fade for White Guy

A semi-scruffy beard complements a short haircut with a low fade for a versatile haircut perfect for any guy.
40. Kids Skin Fade

Give your little one some sweet style with a fade and a special shaved line for detail. He'll love all the compliments he gets!
The variety of fade haircuts for men makes it easy to experiment with. You don't have to worry about face shape or hair texture as all of these styles are versatile. The most important reminder when it comes to skin fades is, as with any hairstyle, to make it your own!