How many times have you wanted a trendy haircut that didn't require a lot of maintenance but couldn't find one? If you thought they didn't exist, you'd be wrong! Braided hairstyles are a favorite for men who want to look amazing but don't necessarily have a lot of time to invest in their look.
Long or short hair, you can rock the look! The best part is man braids last several weeks so you can get styled and forget it.
Braids for Men
These 51 different types of braids for men are the best of the best so feel confident that you'll look incredible if you choose one of them!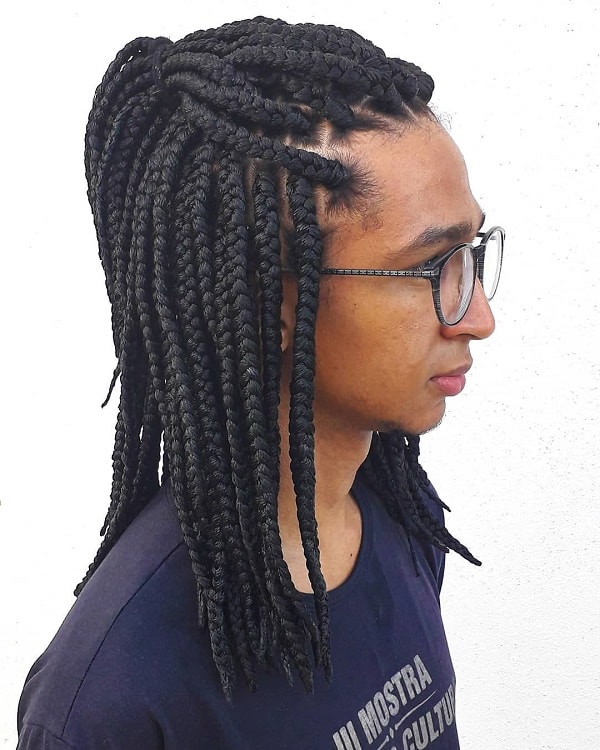 Box braids are a go-to hairstyle for men looking for a protective hairdo. Leave it down for a casual look or pull it into a half updo.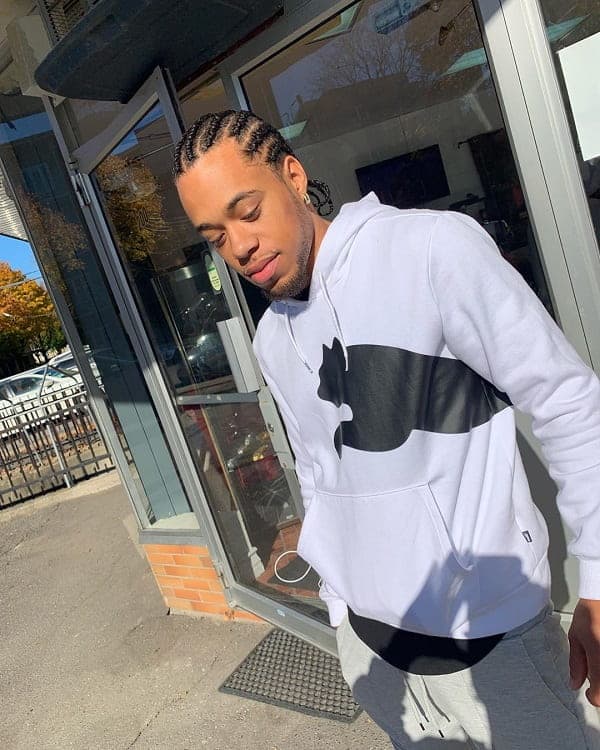 Classy cornrows are a favorite not just for their simple style, but for the fact that they last several weeks.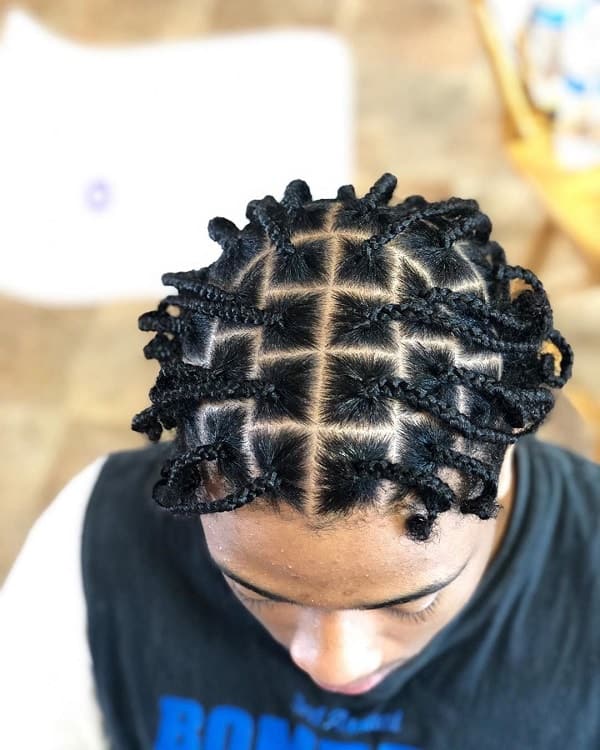 If you have short hair, you can still pull off a braided hairstyle. Section off areas of hair, such as small squares, that will form your hairstyle.
If your personal style is anything but boring, a hairstyle full of braids that flow in every direction is for you. The best thing about it is it only requires a few touch-ups every couple days to stay perfect.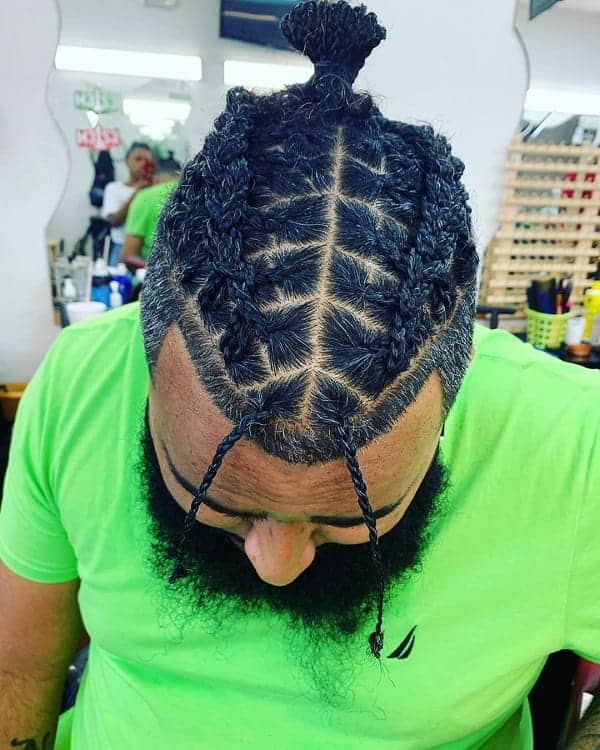 French braids outlined by a cropped fade half an inch is an easy hairstyle that works for all men. If you have facial hair, keep it neatly trimmed or bushy.
6. Dutch Man Braids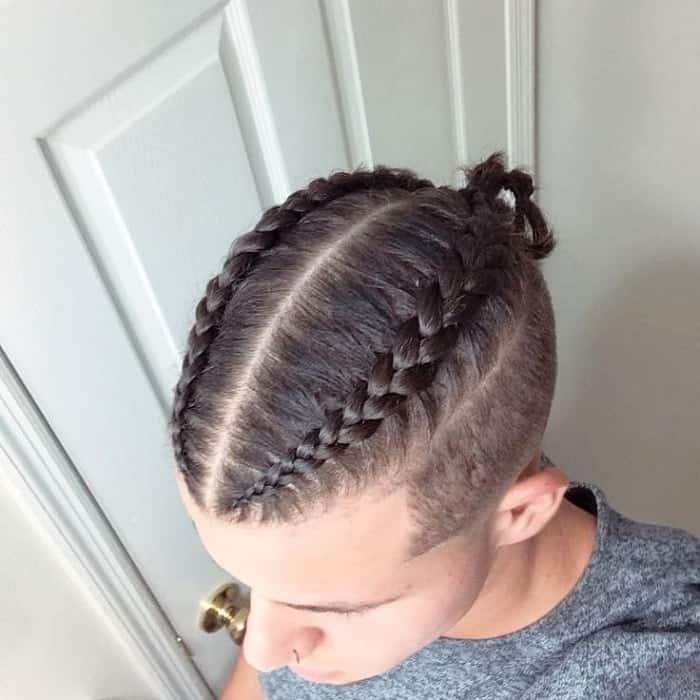 For men with hair on the longer side, Dutch braids are another easy hairstyle to pull together those last several days. A medium fade keeps the style masculine.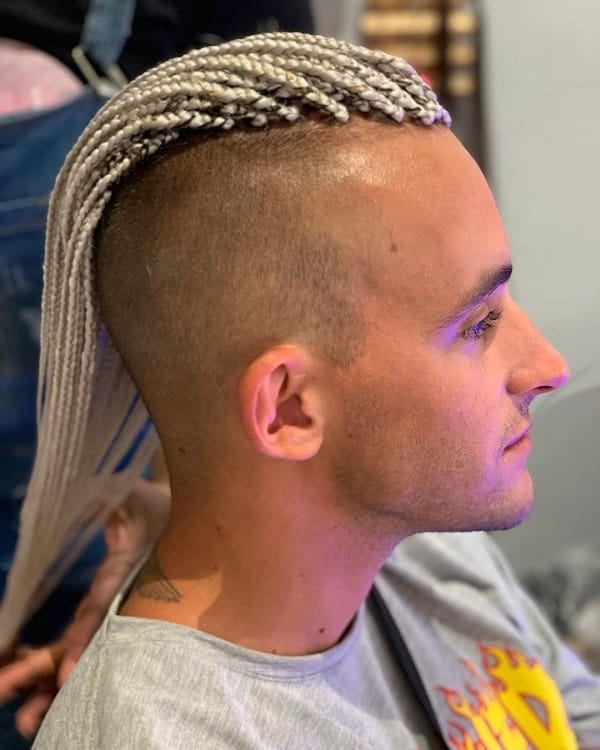 Mohawk braids are a cool nod to Viking days and can be fancied up with platinum blonde, another pop of color, or just subtle highlights.
8. Braids for Men With Medium Hair
When you have medium hair, rock the braided hairstyle by attaching colorful beads to the ends. Whether you choose one consistent color or alternating colors, the result will be awesome.
9. Multi-Dimensional Braids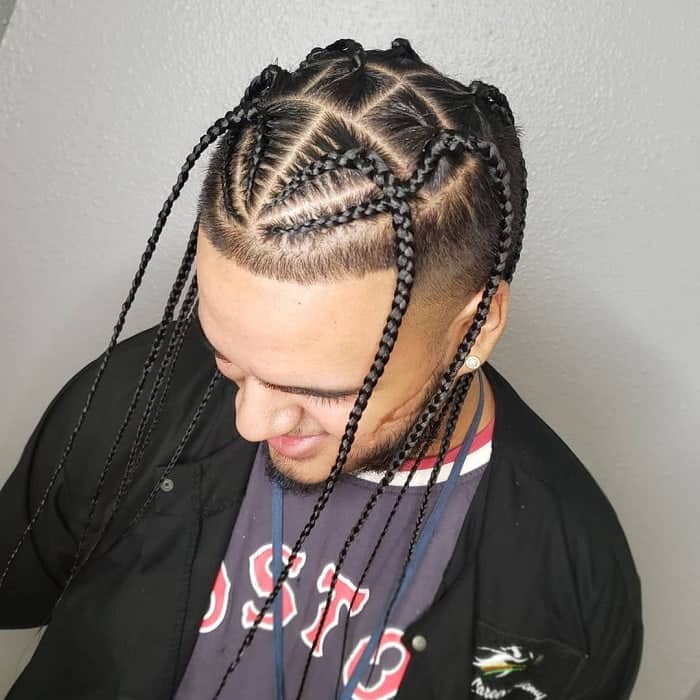 This multi-dimensional braided hairstyle is more time consuming than other hairstyles but it'll be worth it when you know no one else has it!
10. Braided Dreads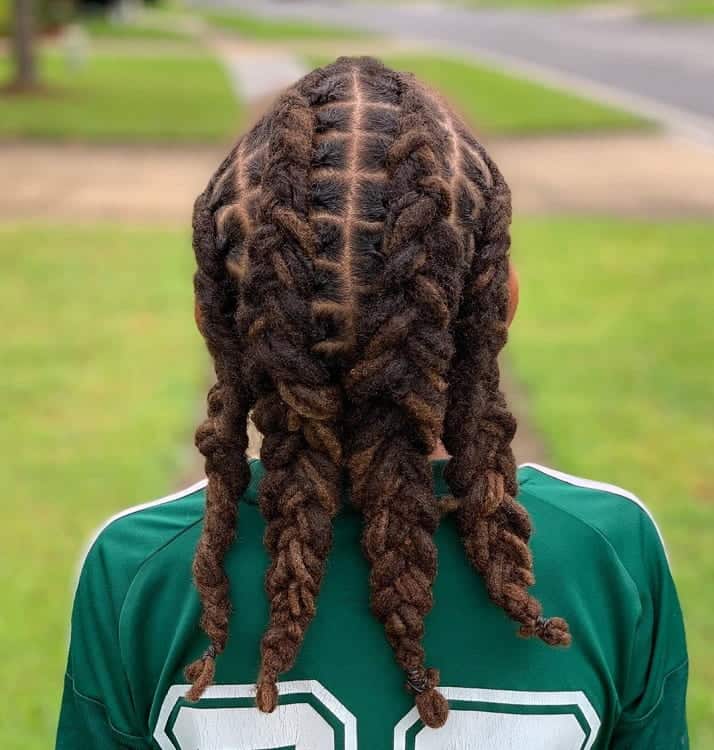 Just because you have dreads, doesn't mean you can't style them up! A few thick braids are an easy yet attractive style you can pull together in minutes.
11. Braid Design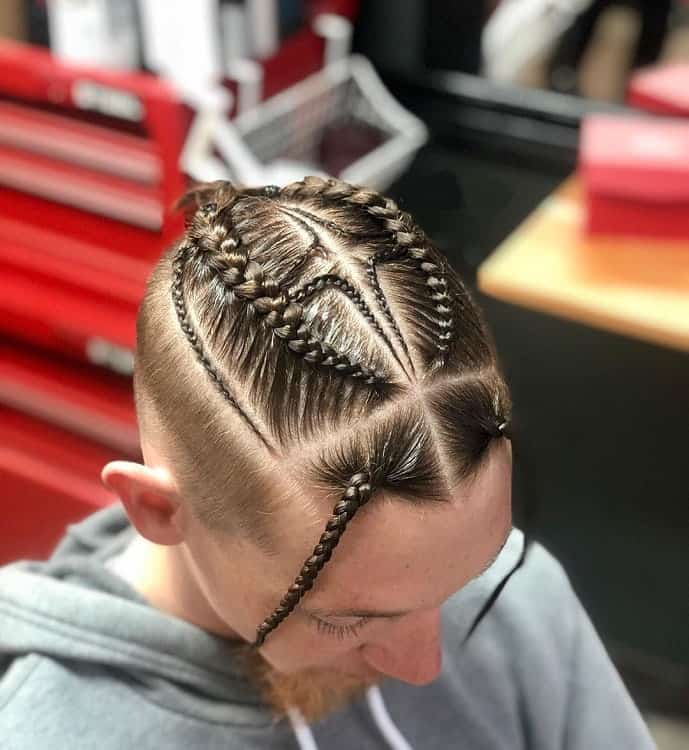 Teeny tiny braids require precision from a skilled stylist but the range of thick and thin braided designs will ensure your style is full of intricate detail!
12. Men's Two Braids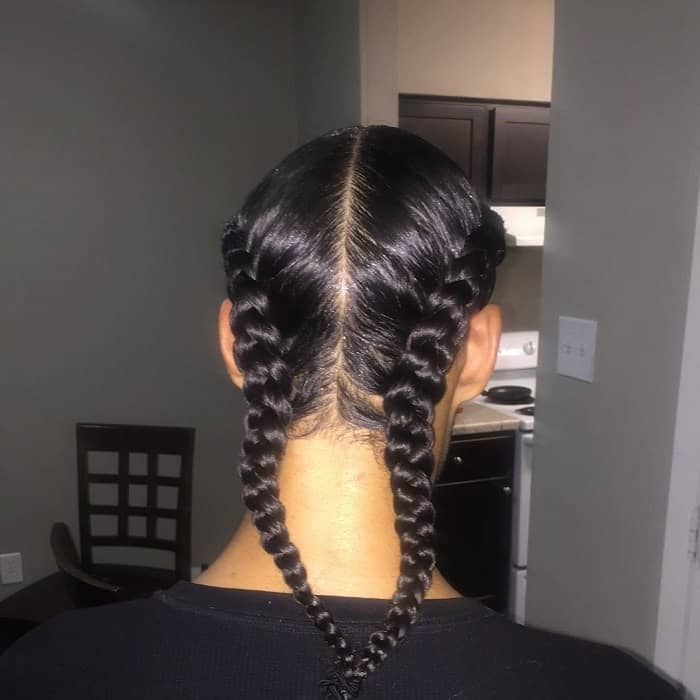 If braiding is a new concept for you, start out easy with two simple braids. You can connect them at the ends or wind them up in a bun.
13. 4 Braids
Instead of visiting a stylist, this braided hairstyle is something you can do at home: simply separate your hair into four sections and make four braids.
14. Zig Zag Braids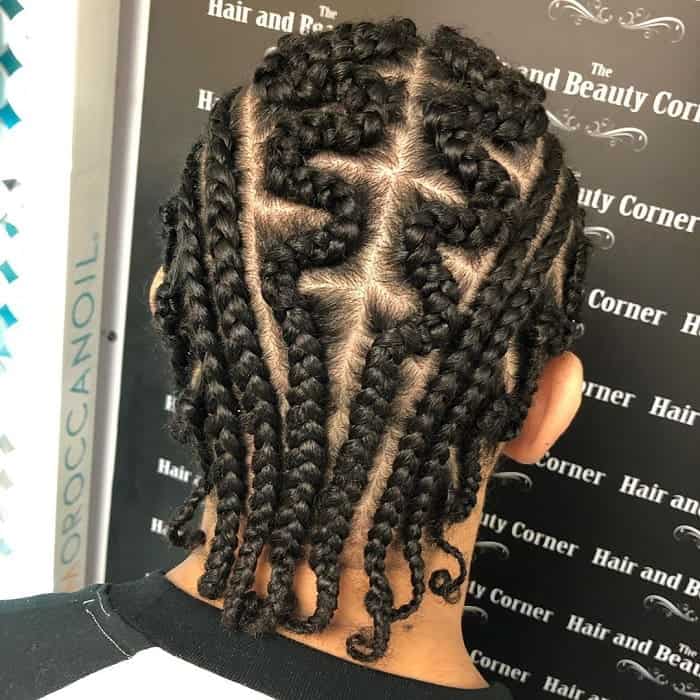 Zigzag braids are framed by straight braids for a fashionable hairstyle that will last you at least a couple of weeks. To keep frizz at bay, make sure to use a hairspray for hold.
15. Side Braids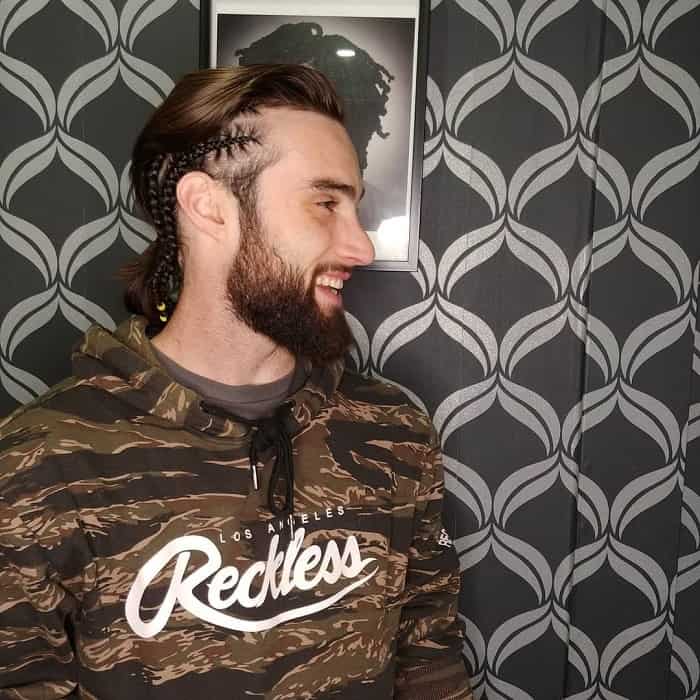 Don't want to braid your whole head? Side braids allow you to incorporate the braided trend while leaving some of your hair loose for comfort.
16. Individual Braid Style
A French braid with an undercut combines an old-fashioned favorite with rugged edginess for an overall rock vibe.
17. Braids with Fade
A medium to high fade that stops about an inch above the ear makes for a cool border around the bottom of the head. Style the top half into tiny braids that meet in a small bun.
18. Fishtail Braid
For a more relaxed hairstyle option, pull long or medium length hair into a low ponytail and go for a fishtail braid.
A fancy braided updo makes for a beautiful option for men heading to a formal event. Form a regular braid at ponytail level, then wind into a bun.
20. Viking Braids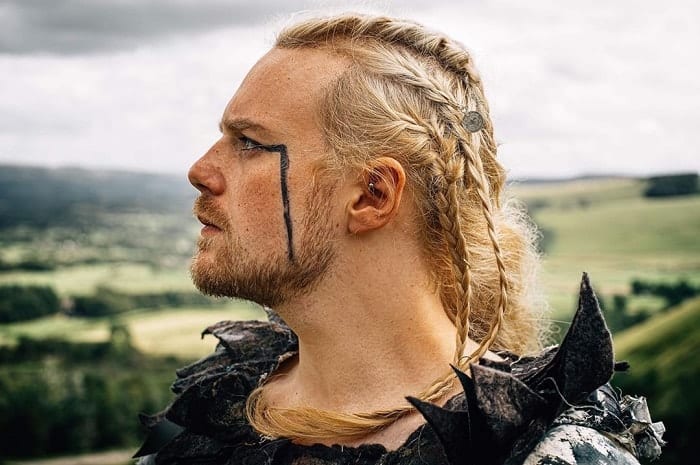 To achieve this rough and ready Viking style, leave half your long hair loose and incorporate scattered braids throughout.
21. Viking Braids with Shaved Sides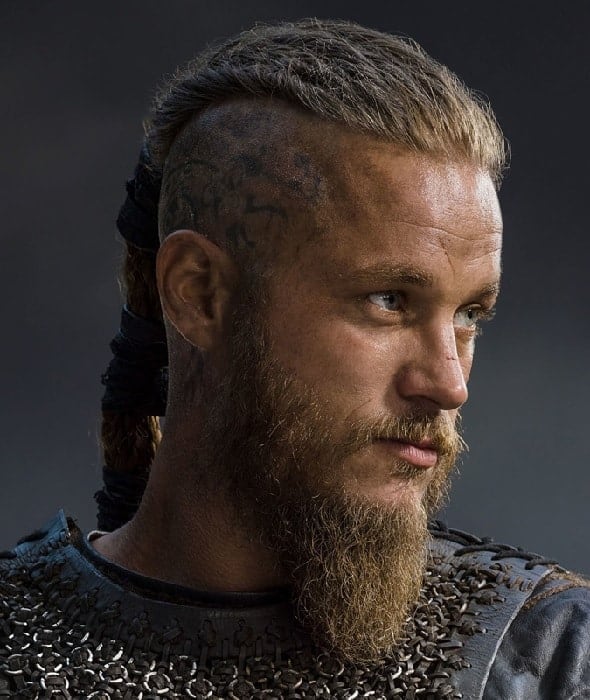 This braids style for men is well-known after the widely watched television show, Vikings. This ever-popular TV show made way for the long locks to be tied up to give a tough macho appearance.
To get a neat and flawless Viking hairstyle, the hair should be partitioned and sorted and be tangle-free.
22. Man Braids for Short Hair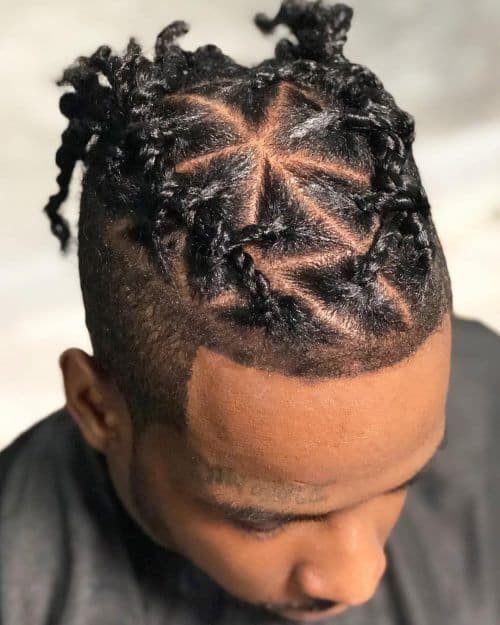 You definitely can't go for a braided hairstyle if you have a crew cut but if your hair is even few inches long, you can change your hair game by trying braids for short hair, basically the strand twists or thin braids.
These can define your hair length and highlight them giving a new look. To try different styles in braided hair you need to be patient to grow your hair long.
23. Cornrows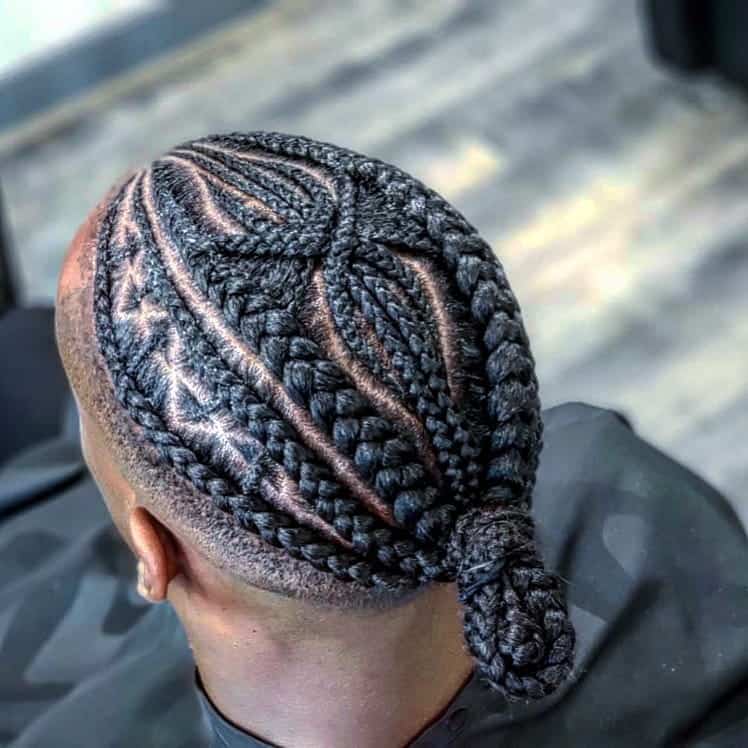 More likely to be associated with the African-American men, this should be your best bet if you want to go for a braided hairstyle with a neat look and finish.
24. Man Braid with Beard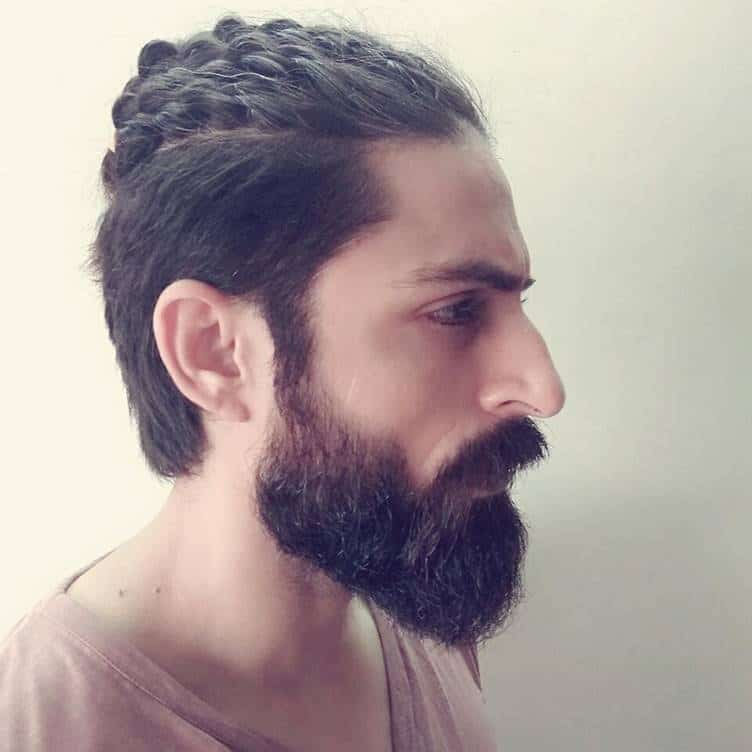 If you want to give yourself an edgy and hipster look then this should be your go-to braid hairstyle for men. Creating a braid with side buzz cuts and tying your hair in a man bun with a beard will give you the right rugged man look you have been dreaming about.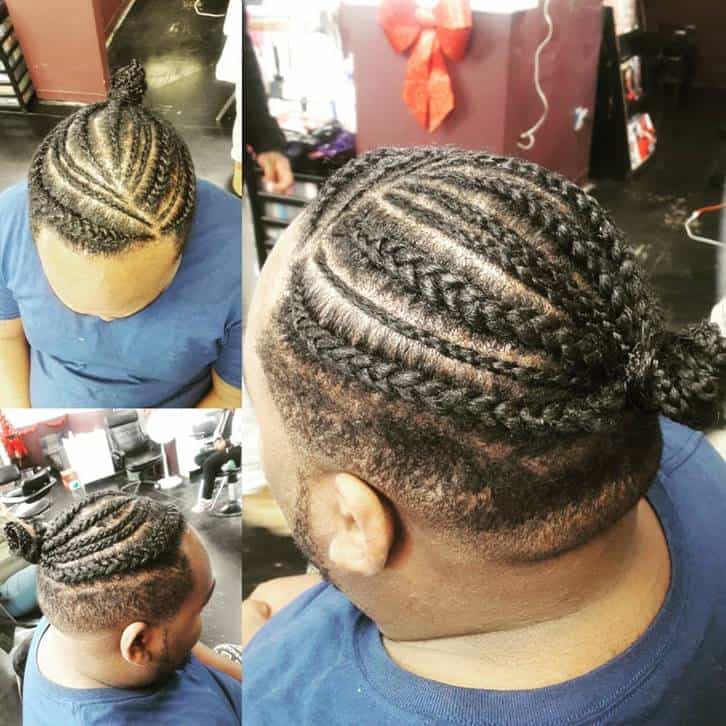 Decades back, Mohawks were seen on the helmets the warrior wore and served as a defense tactic used to keep the predators away. Now it is adopted as a distinctive braid and it sure is a head-turner that is loved by African men and women.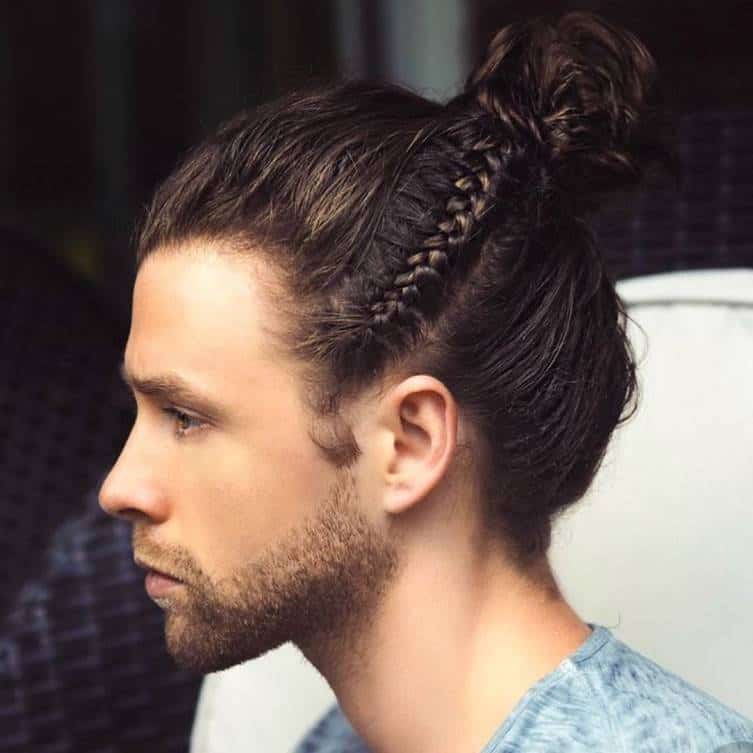 This is an easy to wear hairdo which is very basic yet stylish. Meant for men with long hair, it exhibits man bun with a middle-top braid and some loose hair with thin plaits to go on the sides.
Like all other hairstyles for men, this one can be worn with variation depending on your preference. A high bun, low bun, and side bun this one is meant to help you make the most out of your long hair.
27. Box Braids for Men
This hairstyle is common with the black men more than anyone else and, as its name suggests, consists of braids that look like small square boxes are spread over your head. You can modify these braids conveniently as they are unattached to the scalp.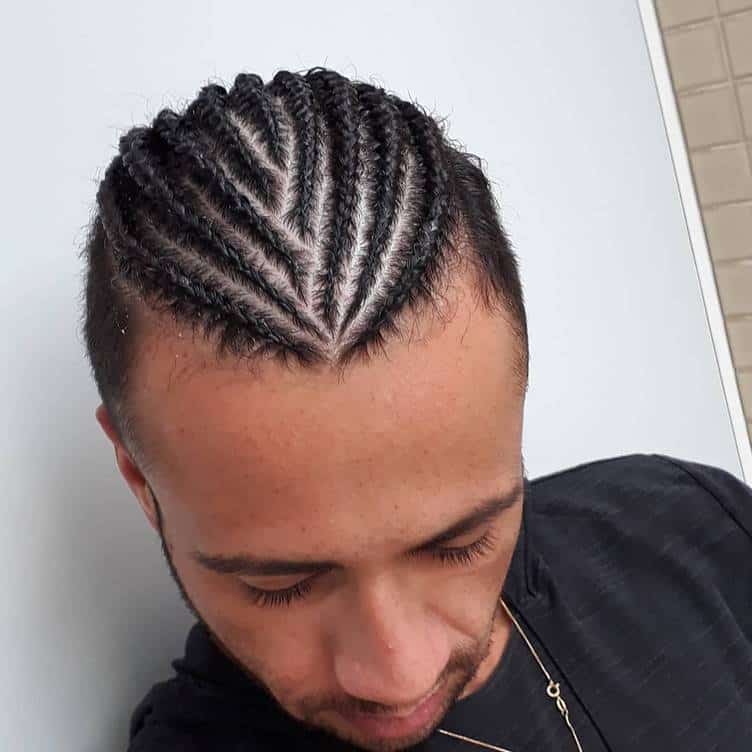 Undercuts with braids for men is a display of the sharp and cool haircut by collecting all your hair in braids.
A classic way to stand out among the crowd, this hairstyle can be worn in various ways; with a quick braid back or with a French twist, it makes your appearance interestingly cool without making you look overblown.
29. Simple Braided Section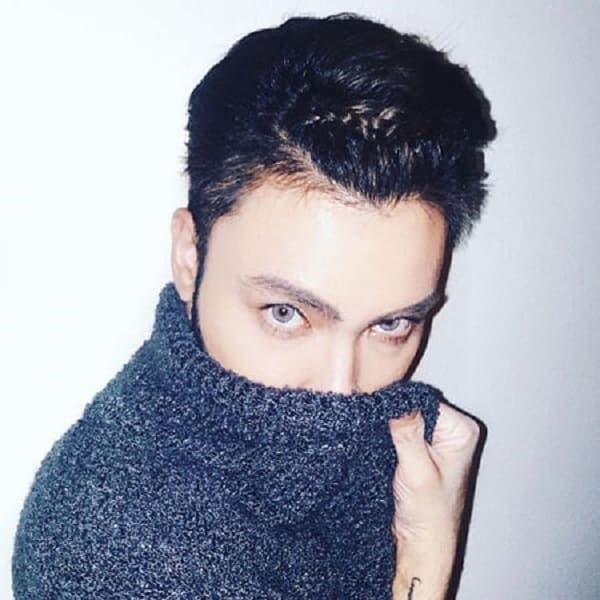 This is a different approach to man braid styles. Men with simple braided section sideways forego the basic braid that runs from the front to the back of the hair; rather they go for a small section of braided hair that runs across the head to create a unique appearance.
30. Triple Braids with A Bun
Remember the braided hairstyle with a bun, this one is just an extension of the same. However, it gives you an uncluttered and polished look.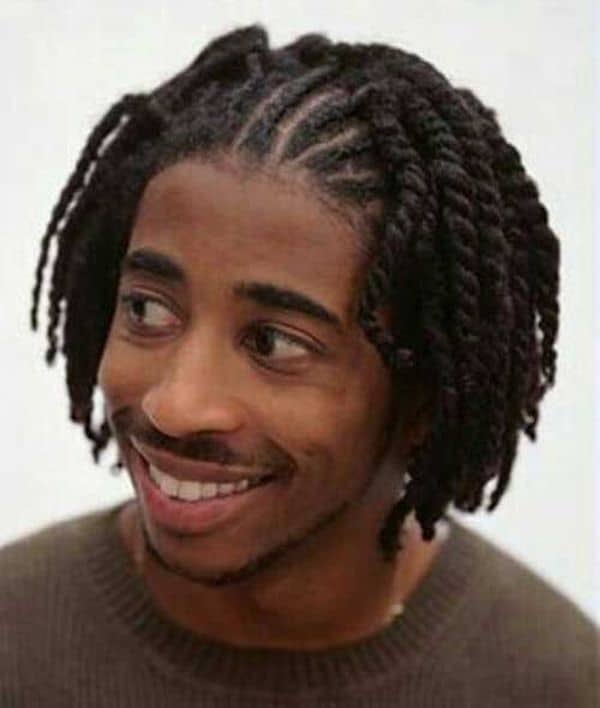 Feel like ditching the conventional three-strand braids look? This is the easiest and effortless hairstyle for men who love braided hair. It involves twisting your hair to create the look with a more natural finish to the braids.
32. Long Braids for Men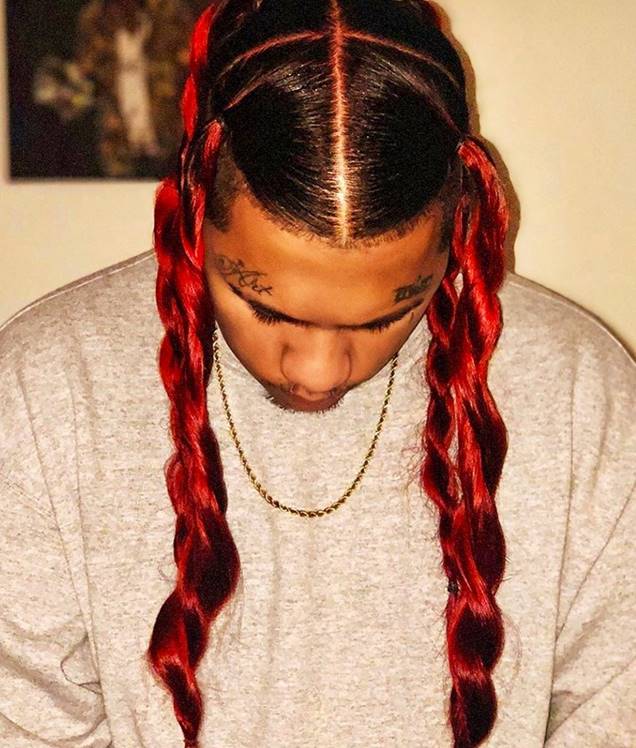 Meant for long hair, this one is the Bob Marley inspired long braids for black men. If you have spent some time taking care of your hair, then you might as well flaunt it. The long braided hairstyle takes some time to finish but it sure does look amazing.
33. Reverse French Braid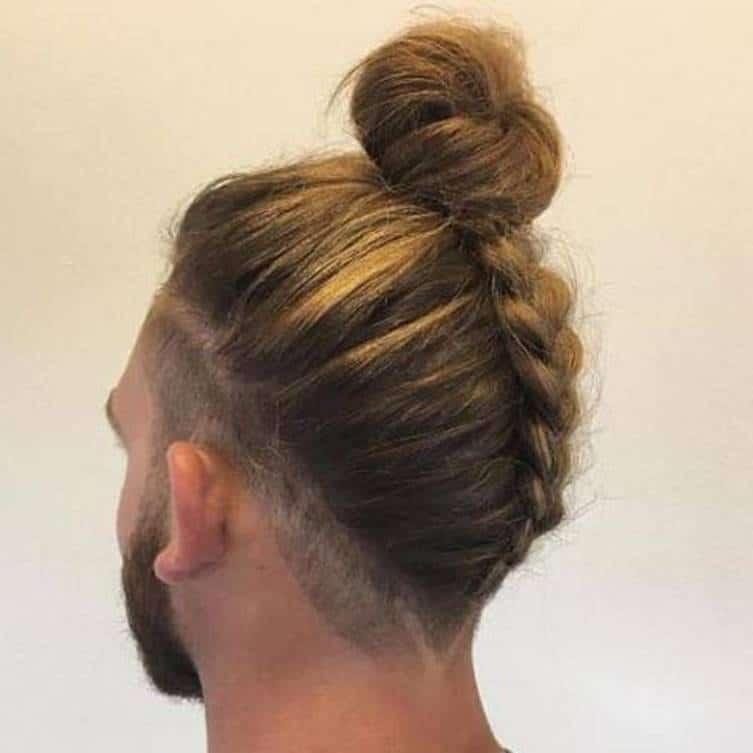 The braid in this hairstyle can be formed by tipping the head downwards and working your way to make a reverse braid ending it up in a knot on your head. This is more like an unconventional way of braiding your hair.
34. Messy Pompadour with Side Braids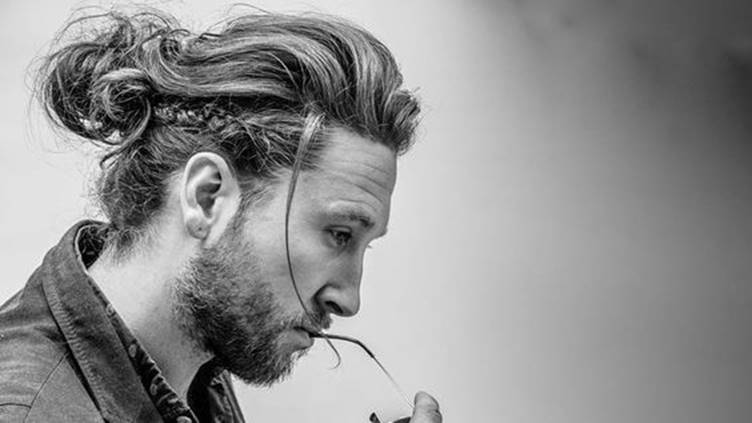 Ever thought about rocking the Elvis Presley pompadour hairstyle with side braids instead of slicking them back? Sounds crazy yet different? Give it a try to create a funky and edgy look and make heads turn in your direction.
35. Zig Zag Braids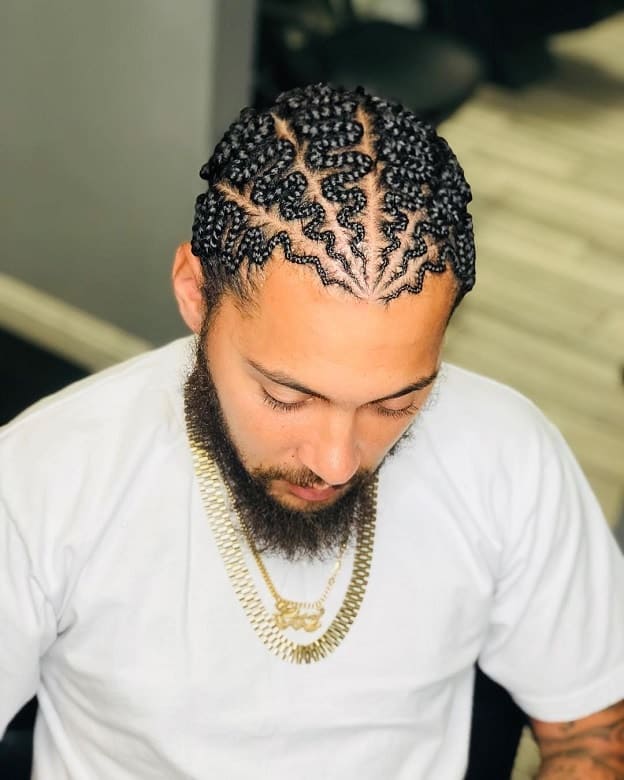 Want to get distinctively styled braided hair for white men? A different design calls for you to opt for a zig-zag with your braids. You cannot achieve a neat look in this hairstyle at home so you will have to do with an expert here to end up with a Zig-Zag design that grabs attention where you go.
36. Tied Up Man Braids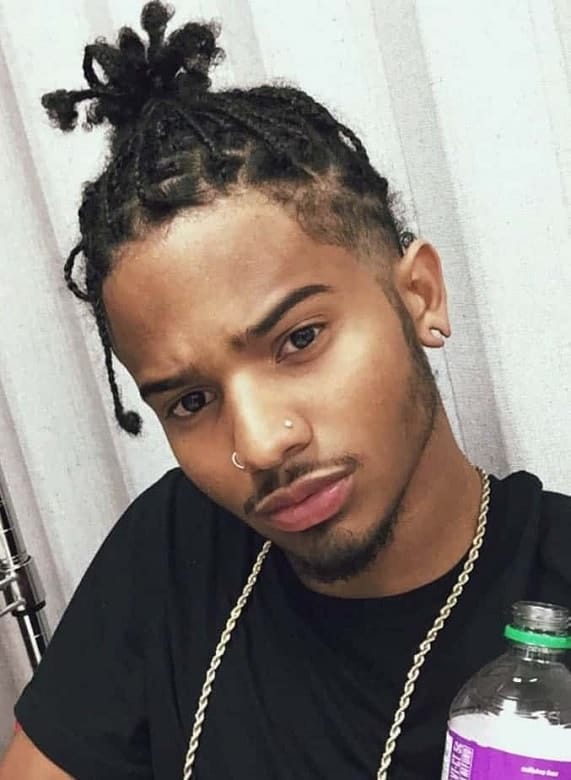 Tired of long hair braid falling on your neck and shoulders? Good news, with this hairstyle for men you can tie up your braids in a ponytail for a more practical and cool look.
37. Braided Mohawk
If you have an undercut and the top of your hair is braided, then you can opt for this single braid style for men. It should make your braid end up in a ponytail at the back.
38. Intersecting Braids
When going for braids for men, you need to think creatively when it comes to designing the braid. You can experiment with intersecting and overlapping them to create a new hairstyle.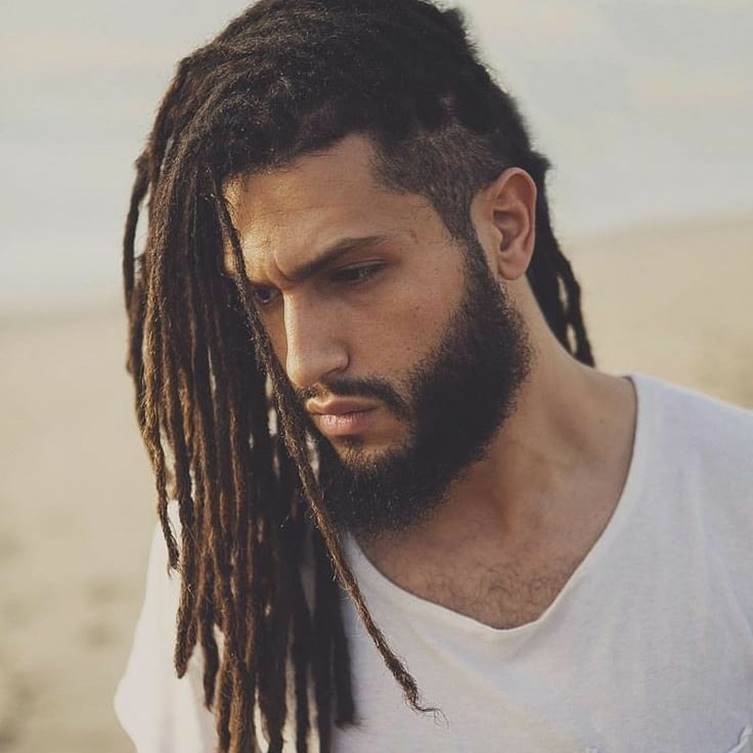 A popular hairstyle for men, dreadlocks emancipate an independent personality. It is appropriate for long to super short hair. They can be pulled up into a ponytail or a man bun. It is not a high maintenance hairstyle but it does require care in some form or the other to keep the hairdo uncluttered.
40. Crown Braids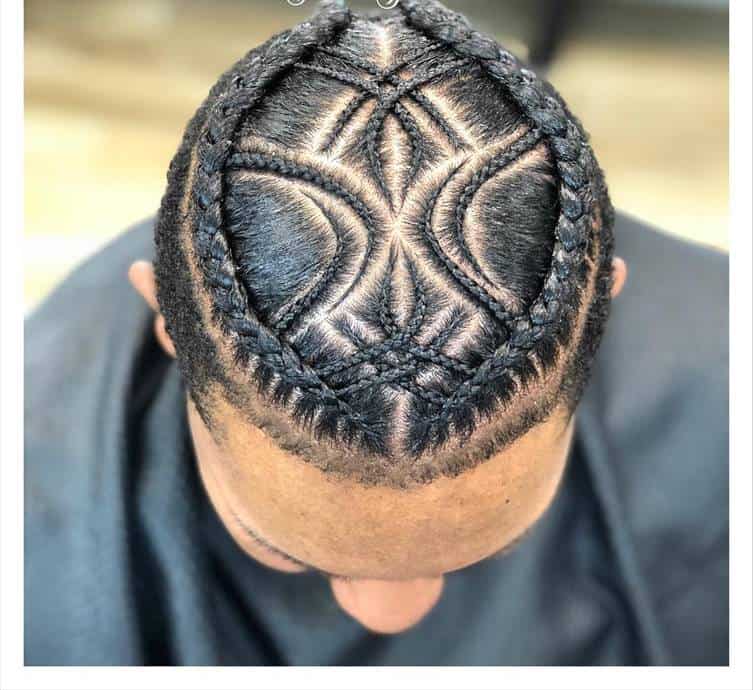 This braid hairstyle for men calls for two big braids on the sides going back where they are joined, while the middle portion of the head is decorated with cornrows. This overall arrangement of braids makes your hairstyle take the shape of a crown.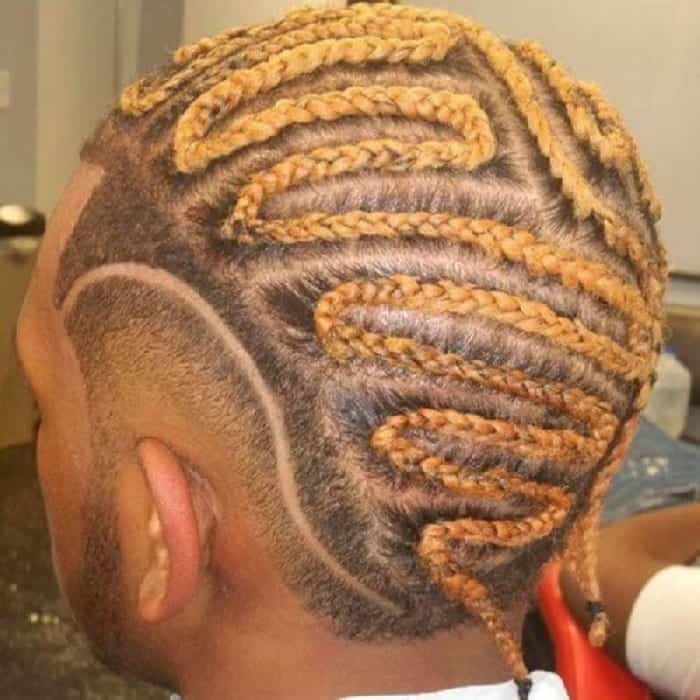 If it suits your adventurous personality, then go for it! This hairstyle extends creativity to the next level and you can totally consult the experts to give a genuinely out-of-the-box look and make you look interesting.
42. Braided Braid Style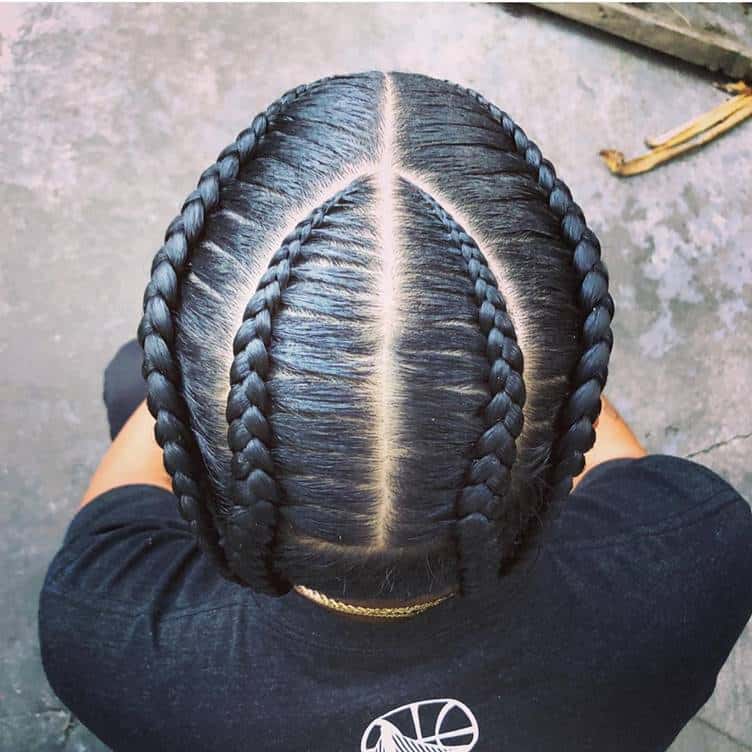 If you have long hair you can opt for thin braids covering all of your head. Late you can join the ends of these thing braids to form larger braids falling in your shoulder or just above that. These man braids are the new thing and look outstandingly clean.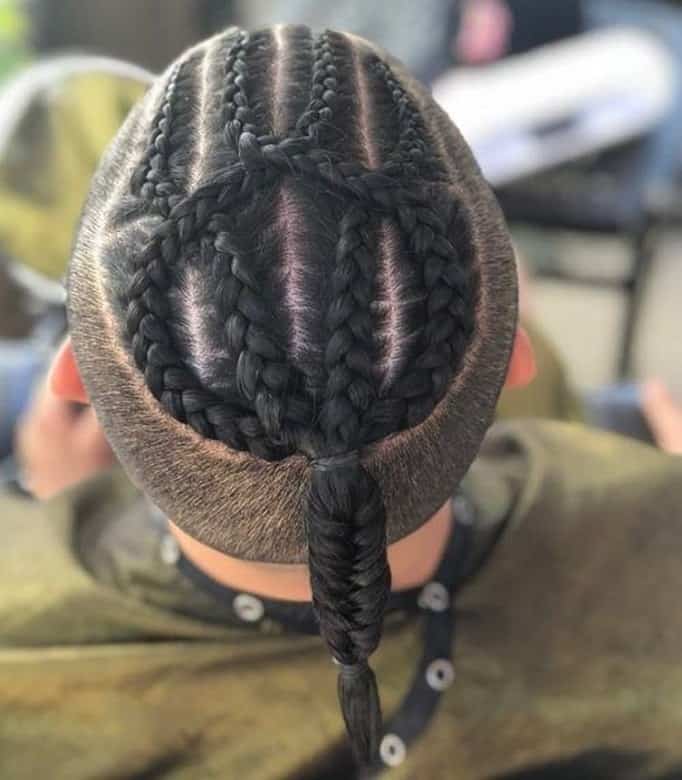 If you want a slightly more Bohemian look to your appearance than fishtail braid is your thing. You can wear it with messy hair or hair slicked back, regardless they will give you the rugged look you have been aiming.
44. Two Buns
Would you dare to go out of the ordinary and wear two buns on your head instead of one? If your braids are symmetrical then you can divide your hair into two parts each ending up in a bun.
45. Snoop Dog Braids
A superstar, who is more associated with braids than anyone else, has been quite popular for his iconic braided look with beads that he has worn several times.
If you have straight hair and want a look similar to that of braided African-American men, you can have your hair tied in numerous tight braids. You need to have long one-length hair to achieve perfection in this look.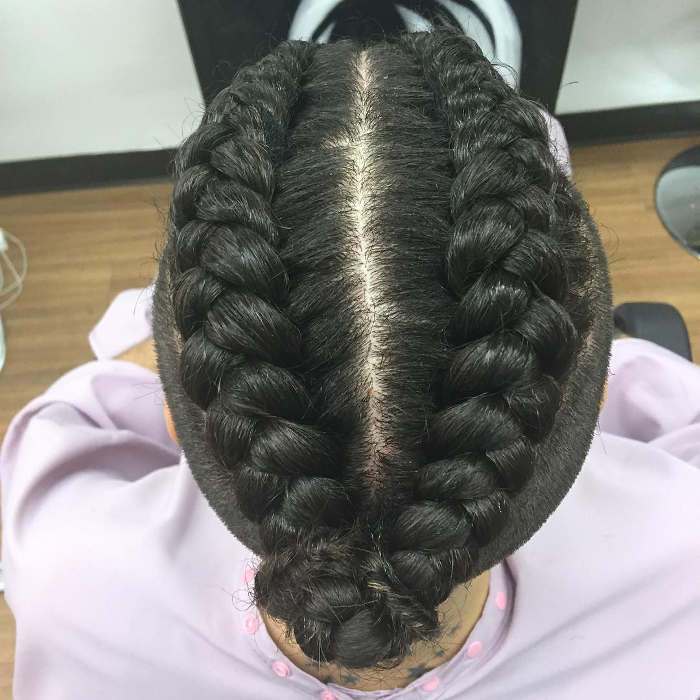 If you happen to have thin hair and want them to appear rich then this braided hairstyle should be your pick. This hairstyle is also known as Ghana braiding in Africa.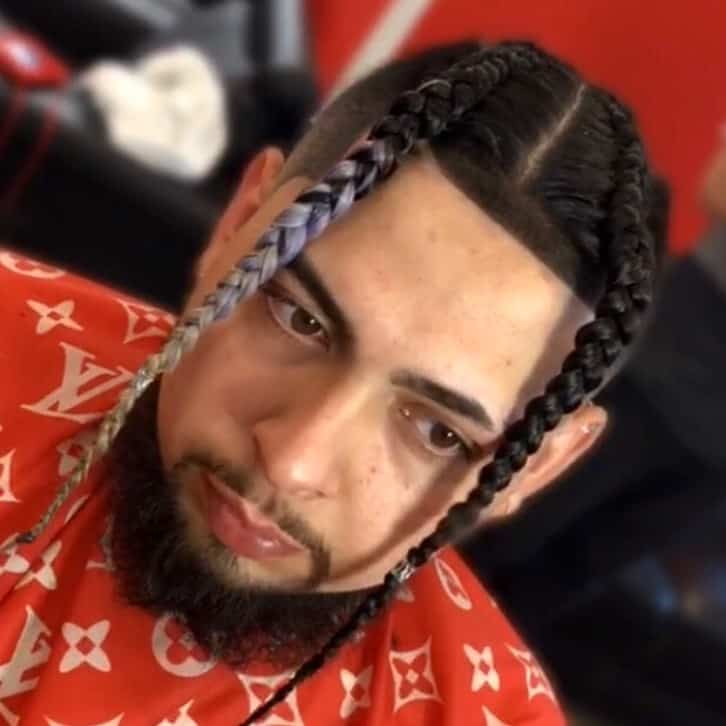 As the name suggests, this braided hairstyle calls for two braids on the head while you can personalize the hairstyle by adding colored weave.
49. Middle Braid and Side Braids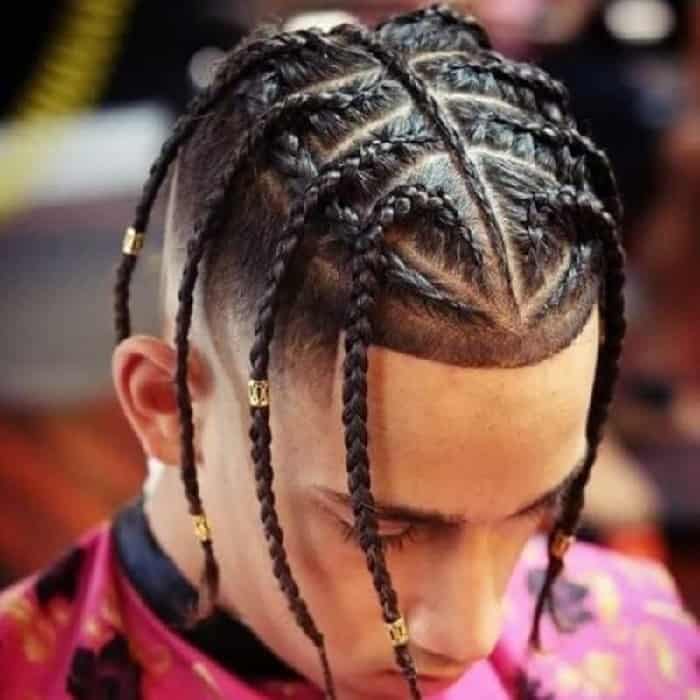 This hairstyle for men calls for thin braids hanging from either side of the head while the middle is parted with a fine braid. This looks more like a spider is sitting on the head.
50. Fishbone Braid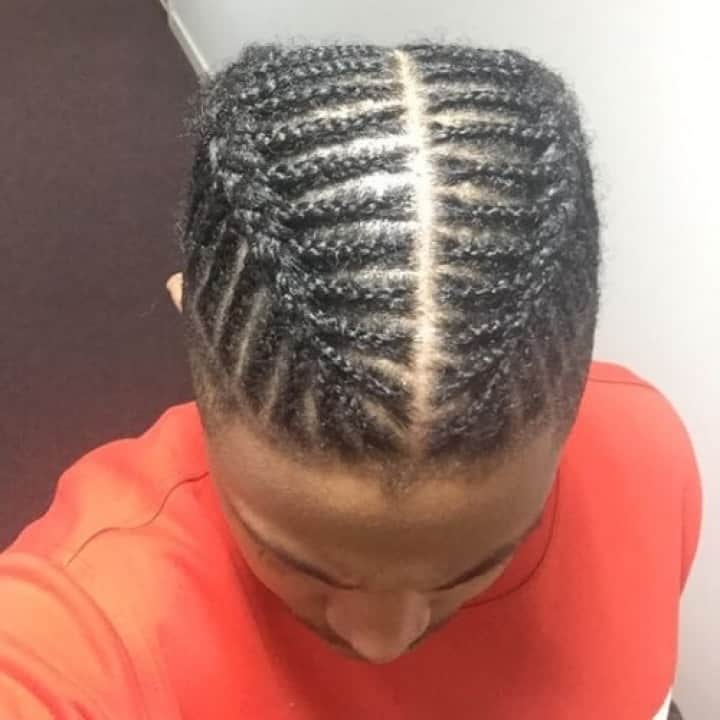 Fishbone braid is a popular hairstyle among men. However, you need to have long hair to get one braid on either side of the head to create symmetry.
51. Braided Bangs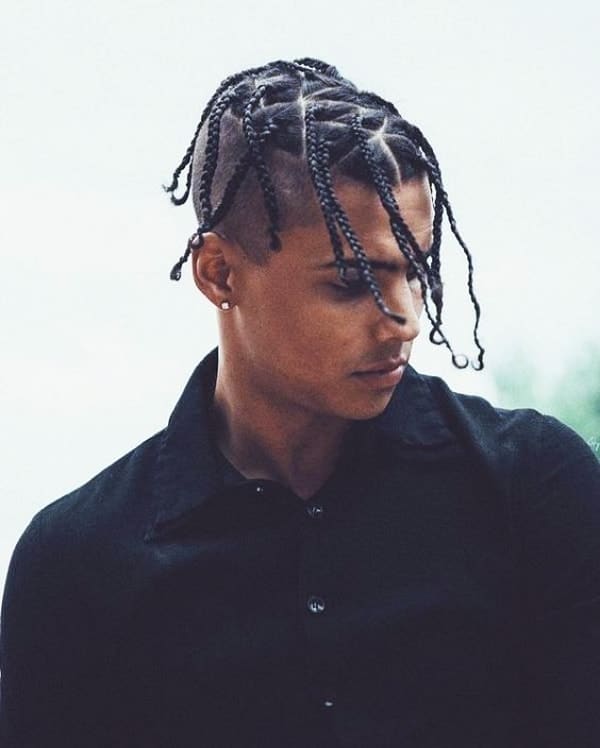 Make numerous braids to fall on your forehead and with that, you can rock your braided hair as bangs.
So, whether you have long or short hair, there are plenty of ways to make a braided hairstyle work for you. Perhaps the best thing about braids is that they come in a variety of shapes and sizes from thick zigzags to thin waves. Experiment with these 51 styles and see which one you like best! You're sure to find a favorite you'll keep coming back to.