Not only is the undercut back but it's back with a bang! Combine slick back undercut hairstyle to get a fresh new look in 2023. With so many different takes on this iconic men's hairstyle, you may not know where to start and whether a particular look will suit you!
Men's hairstyles have come and gone while some are still as popular today as they were in the 1920s. One of these classic hairstyles that can still be found today is the slicked back undercut. David Beckham H&M underwear campaign and the show Boardwalk Empire has helped make this undercut style even more popular.
A slicked back haircut combines short tapered sides or faded sides with some brushed back hair across the crown.
An undercut is effectively any style that leaves length on top while the back and sides are either cropped, tapered or shaved.
If you are thinking about going for the chop, then consider the following first:
It is better not to try creating an undercut yourself as blending the layers takes skill and expertise.
Speak to your stylist to discuss your hair type and what you want to ensure that what you are after is possible.
Check your face shape! Long faces should avoid too much height, so avoid volume with your style and round faces need height so add a pompadour or quiff.
How To Get A Slick Back Undercut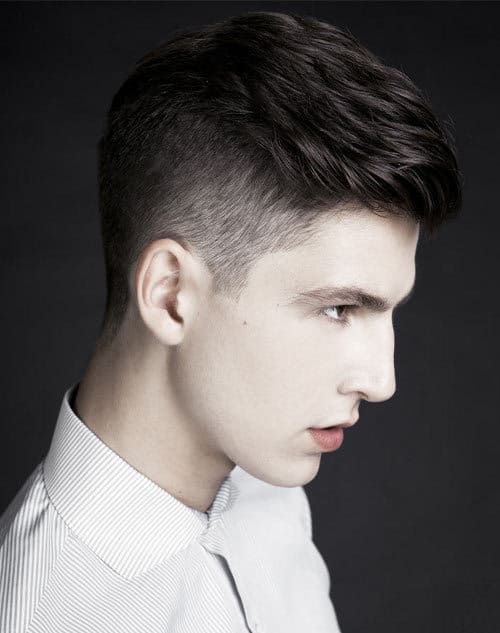 Disheveled and roguish describes this style and is generally worn by younger generation men in their twenties and thirties. The untamed, wild air this look gives is tempting for many men and is easily maintained. Being easily maintained means you have less time to deal with achieving the same look every time you style.
The way a hairstyle looks is a way to show a more personal statement. That is the greatest reason this style has been chosen by younger, more adventurous men than other age groups. The term rogue has been associated with the cut since the twenties, but making your own style wearing it is best.
Using a number 2 or 3 for sides is best when using clippers. Some men might prefer to have the sides done with scissors and comb, but clippers seem to give the defining appeal a great boost. The undercut style allows you more choices in the definition in the transition spots from long hair to short. The rule to follow with your hair on top is going longer. Straight hair would look good with long hair on the top. While wavy hair should be cut shorter than straight hair to get straight look.
The style work best for men with straight thick hair and fine hair. If you have fine thin hair, then you need some volumizer to make your hair look fuller. Lots of men have issues with thinning hair at their temples. Bear in mind as well the shape of your face when thinking about how long the hair on top needs to be. With some thinning areas, starting lower on the sides can help to enhance the look despite thin areas.
Be sure to have a close look at your finished cut to make sure areas around the ears and neck are trimmed uniformly. If you choose styling gel over wax to maintain your slicked back undercut, be sure to select stronger formulas for the hard, sleek look. Lighter weight formulas allow the natural wave of your hair to come through. Apply the gel to your damp hair by using your hands. Then, comb the hair from the forehead toward the back without a part.
Classy Slicked Back Undercuts
Slicked back undercuts can be as low or high maintenance as you want. Take a look at our top 10 slick back undercuts for men for some inspiration.
1. Neat and Tapered Slick Back Undercut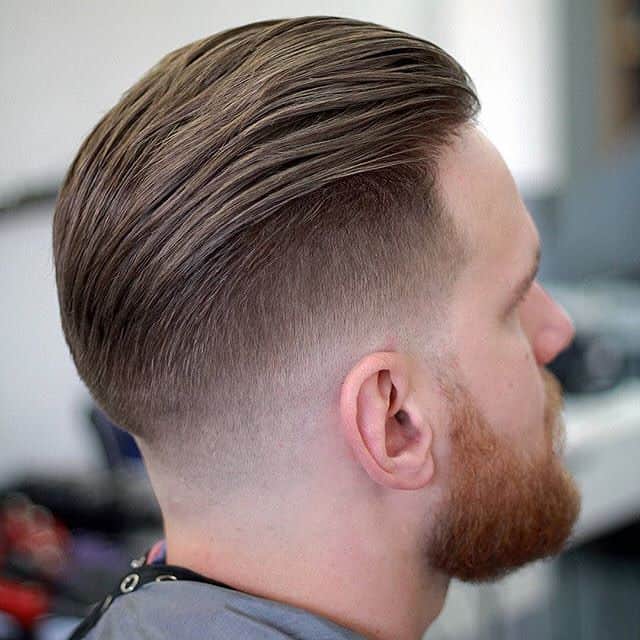 This is a very refined look but with an edgy twist. One to keep on top of though so your slicked back undercut remains smart and neat!
Ideal for: Square or heart-shaped face.
How to Style: This is easier to style if you have naturally fine and straight hair, otherwise you may need to straighten the locks first before slicking back to achieve that smooth look. A strong-hold gel or pomade is a must for added sleekness.
2. Fauxhawk With Slick Back Undercut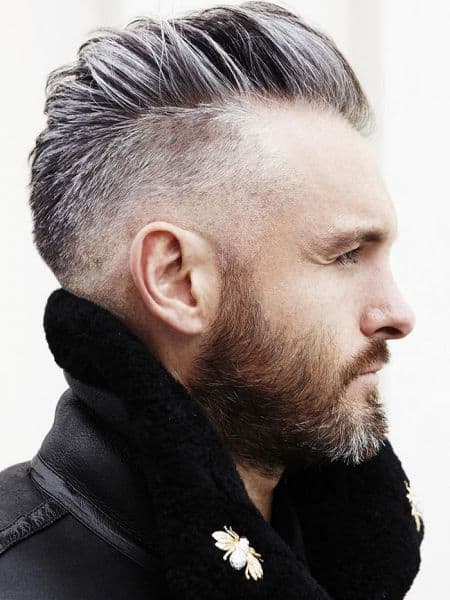 This is a great look for men of all ages and is a simple style with a dramatic and flattering effect.
Ideal for: Diamond and Square shaped faces
How to Style: A fauxhawk doesn't have to be a complicated and highly structured affair. This simple and neat undercut is paired with a modest slicked back middle. Add shape at the roots using your fingers and some medium-hold product.
3. Dramatic Tapered and Layered Undercut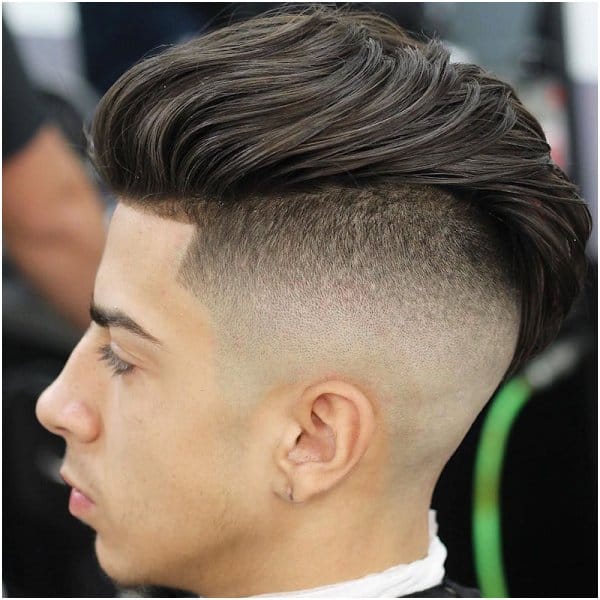 This is a very distinctive look that pairs well with a very neat and dramatic fade cut with long hair on top. The use of layering along the crown really sets off the look and adds motion and volume.
Ideal for: Oval, diamond and heart-shaped faces.
How to Style: Great for thick hair but more effort is required if your hair is naturally thin. You will need to blow dry from the roots using a large barrel brush to create structure and height. Finish off with a serum for added shine and gloss.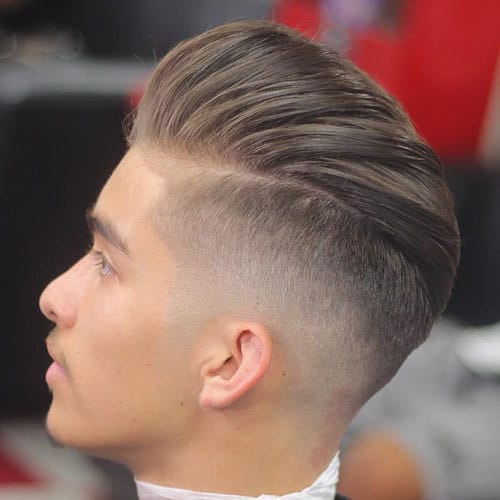 The pompadour has two main features – the sharp undercut around the back and sides and long hair on top slicked back into a high quiff. And this is why it is the perfect match for a slicked back undercut style!
Ideal for: Heart, diamond, round and oval faces.
How to Style: The pompadour is all about the styling – so this is not one for anyone who lacks time or interest. Use a volumizing shampoo and backcomb the roots to enhance volume. Pair with a strong hold product and a smooth side fade to enhance the overall appearance.
5. Slicked Back Undercut with V-Shape Cut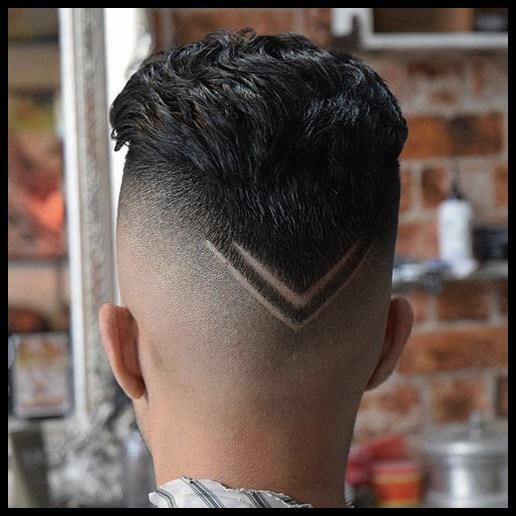 For a very modern variation on the slick back undercut, try adding shaved detailing to make them look even more bespoke.
Ideal for: Heart, diamond, round or oval-shaped faces.
How to Style: Speak to your barber about what sort of look you are after. Matching a V-shaped cut around the rear of the head with added shaved detailing is a great way to add interest. You will need to keep on top of this very neatly trimmed style though!
6. Hyper Slick Undercut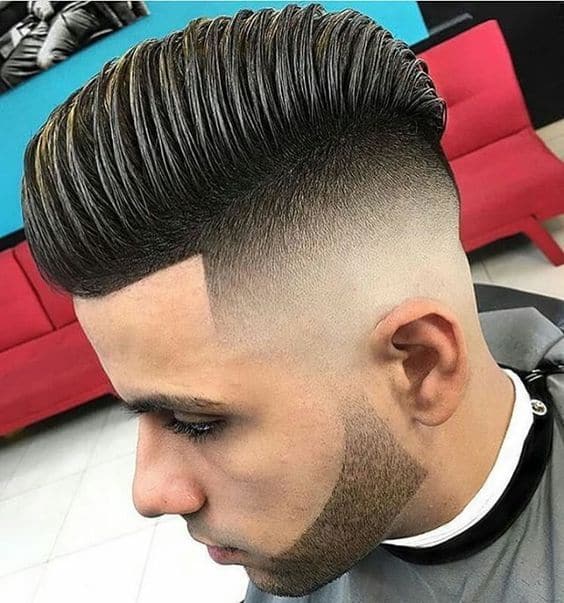 If you are after a hyper-slick look then this is one for the guys who have hyper straight hair. You can, of course, straighten your locks if you want!
Ideal for: Oval, square, oblong and triangle faces.
How to Style: The extremely neat and slicked back hair is set off well by the faded and well-defined hairline. You are going to need to use a hairdryer to get the volume and definition needed here. Blow-dry using a large round brush and pull the hair upwards to get height at the roots. Invest in a good quality molding cream to get that super sleek style.
7. Slicked Back Undercut with Buzz Cut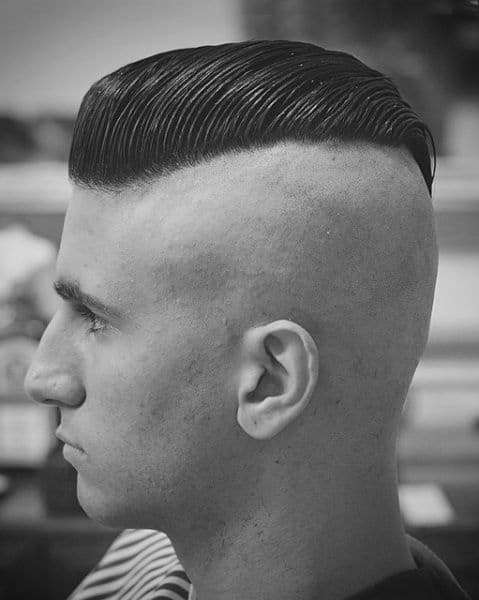 If you are not wanting a traditional taper around the sides, or you just want something totally different, then opt for a unique and very stark buzz cut.
Ideal for: Square or oblong faces.
How to Style: By shaving the sides of the head – very limited styling is needed here! Natural volume is created by the highly defined shaved section so simply shaping the remaining hair to give it a slicked back look should be a cinch!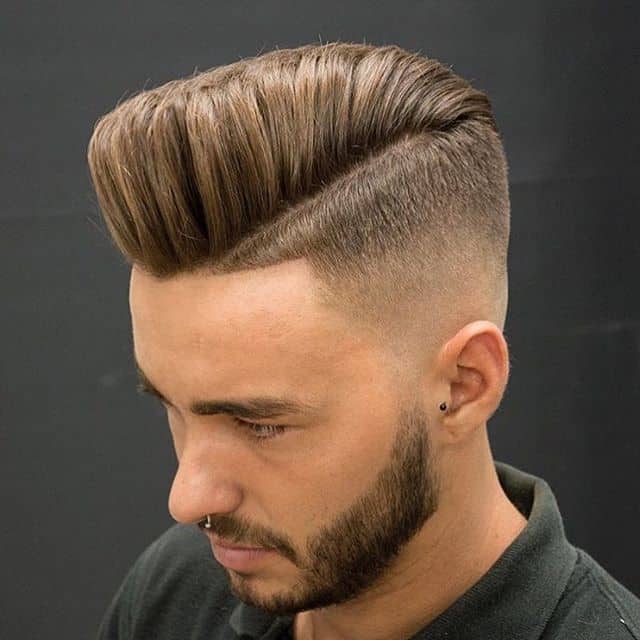 The longer hair on top paired with the short and sharp sides makes for a very dramatic look.
Ideal for: Heart, diamond, round and oval faces.
How to Style: The key feature of this slick back undercut is the very distinct parting that helps create that definition. Use a pointed styling comb at home to keep that part in check!
If you do not know how much of a fade you want in your disconnect, ask your barber to trim the hair in stages until you find a length you are happy with.
9. Slicked Style Man Bun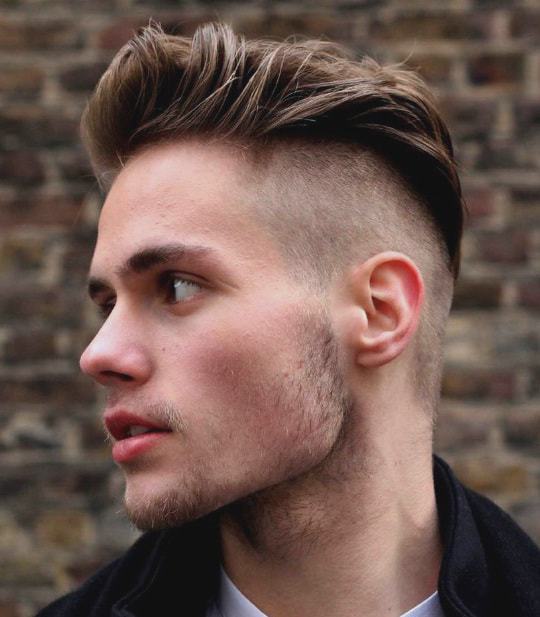 If you are wanting an undercut but want to keep your long locks, then a man bun can match perfectly well to create a great style.
Ideal for: Square, heart or oblong shaped faces
How to Style: You will need around 6 inches of hair in order to tie the hair back. Using a lightweight wax or gel, pull the hair back from the crown into a tight bun, securing any loose pieces.
10. Layered Slick Back Undercut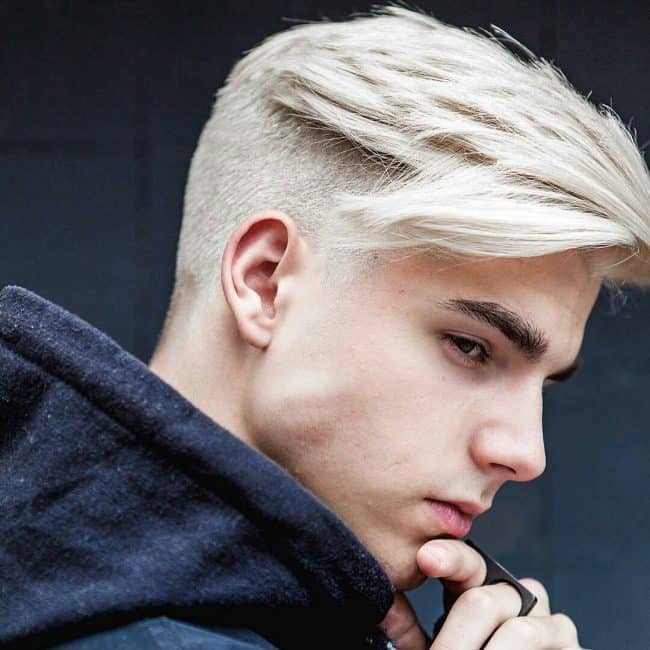 If you have fine and lank hair, then adding layers to your hair will add great texture and volume.
Ideal for: Square, triangle and diamond-shaped faces.
How to Style: Slicked back undercut doesn't have to mean rigid and hyper-sleek, you can opt for a more natural look if you wish. By adding layers, you can get motion in the style but without huge amounts of product. Run over the hair with the straighteners and use a lightweight pomade for some hold.