The low fade comb over is not just stylish but is a kind of hairstyle that you can wear for work or party, and at the same time, it is easy to maintain.
How to Get Low Fade Comb Over
You can even try getting this comb over and low fade hairstyle at home using electric clippers and styling scissors.
First and foremost, comb the hair in its natural direction
Now make a mental note of the height of the fade line and start trimming the hair.
You can attach a clipper gate to the electric hair clipper.
It is best to use the clipper on its second-lowest point for best results
Always check if the length is uniform and the cut is proper.
You can use a comb and scissors to make the uneven ends proper.
You can style your hair after washing by using a gel or hair wax of your choice.
Recommended Read: Trendy Hairstyles for Men
Watch The Following Tutorial to Learn How to Do Low Fade Comb Over Hairstyle
Unique Low Fade Comb Over Hairstyles
The advantage of this hairstyle is while this does not stand out in your professional circle, it does give you an edge when you are out partying with friends. Here is a quick look at some of the low fade comb over you can opt for.
The hair in the middle is combed back neatly in this case. As you can see in this image, this always completes the style and lends a neat and well-kept look.
When you have a subtle low fade, this comb over undercut is often the best style to complement the look. It balances the length of the middle hair with practically nothing on sides.
This is one of the most basic haircuts. Extremely easy maintenance, this Ivy League haircut is ideal for the summers and if you are staying in hot places.
Primarily an electric clipper based cut, you can even try it at home with a little bit of practice. Styling this low fade comb over is quite simple and designed for customer convenience.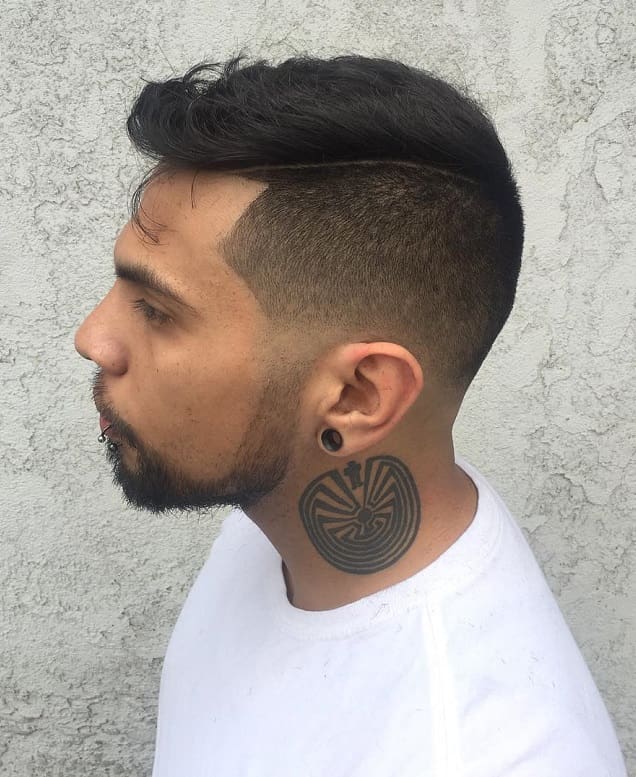 The burst of hair on top is what makes this style unique. Compared to the absolutely no hair on sides, the center attracts attention to the overall style. This is also a fairly versatile cut, and you can style the low fade with comb over the hair on top as per requirement.
A modern, suave and urbane style, there is a subtle grace and class about this low faded comb over haircut. This achieves perfect harmony between the hair on top and the undercut on the sides in a restrained and creative way.
This comb over hairstyle with low fade gets another dose of innovation. The contrast of the undercut sides of hair creates a stunning combination.
Though these are variations, there are some basic elements in the low fade comb over hairstyles across the board. It generally combines a deep side parting style with a low fade.
Some more hairstyle ideas:
It is versatile and allows you to easily adapt to an environment quite easily. It helps you to come across as a modern and trendy person with a cool hair cut to match the persona.