Among all other short haircuts available for men, the Ivy League haircut has taken an iconic stature. Neat, stylish and cool, this haircut is all about understated class. One of the biggest advantages of this haircut is that it closely follows the shape of the head.
In many ways, it is an adaptation of the buzz cut to your head and facial shape. This is a fairly low maintenance haircut that helps you exude a stylish and well-groomed demeanor. In many ways, that is the actual appeal of the style and often enables you to stand out from the crowd in a distinctive way.
How to Ask For An Ivy League Haircut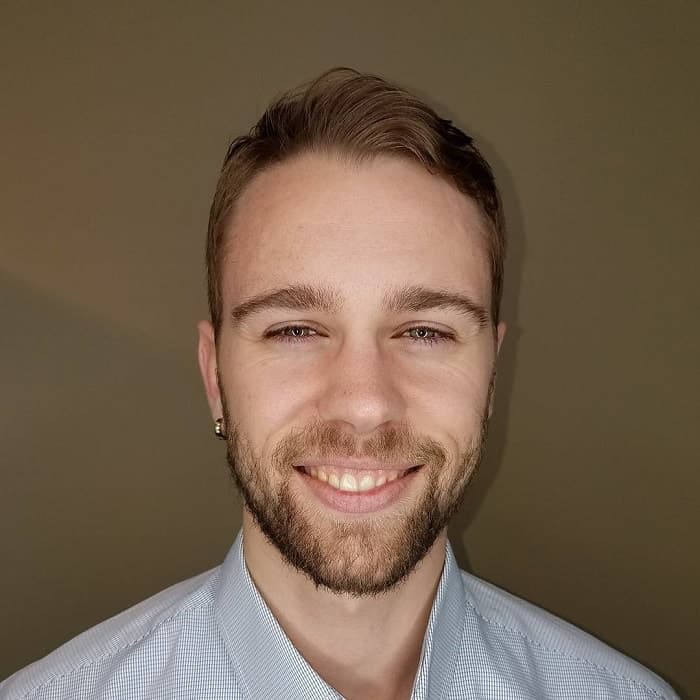 In case you feel that your hair stylist will not understand if you asked for Ivy League hairstyle, the easiest solution is to ask for a buzz cut with a few specifications. You can ask the barber to leave the hair on top and front slightly longer, around 1-1.5 inches long. Also, ask them to keep the sides as short as possible.
A fade from the sides extending till the top is a much better option. It gives the overall hairstyle more smooth and seamless transition. It also improves the look to a large extent. In this case, the hair length gradually moves higher as it transitions to the top. Make sure there is enough hair for the side parting too.
In case you want a very prominent Ivy League haircut with a hard part, you can also ask for a razor cut fade for best results.
Ivy League Haircut Tutorial: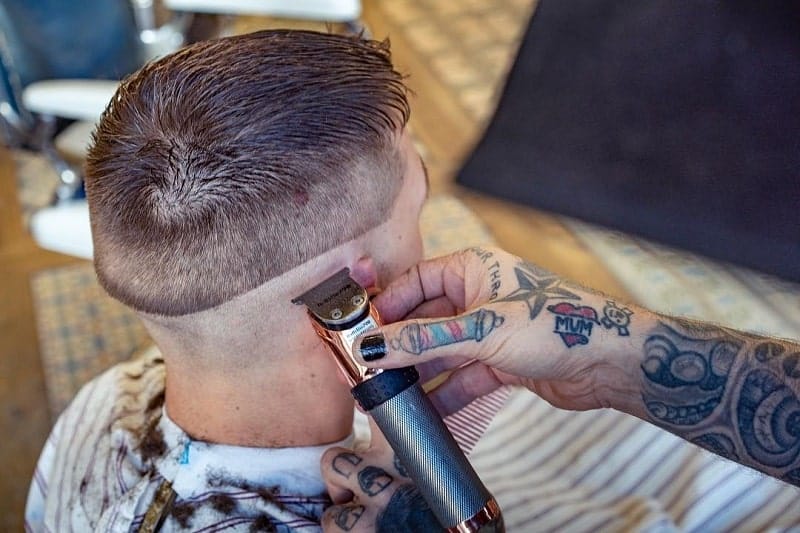 The hair on the sides and back of the head is cut to about one-quarter inch. The hair on the crown is tapered with the far back being the same as the back of the head and the hair getting slightly longer as it moves toward the front of the head. The front is left at a length of one to one and a half inches so that it can be parted and combed to the side.
In general, this is considered a buzz cut because it is best achieved using hair clippers. Scissors have the potential to leave gaps and nicks, especially in the shortest areas of the hair unless the person using them is very experienced in providing this type of cut.
Cutting this style involves putting the appropriate guard on the blades to provide the right length for the sides and back. The clippers are run from the bottom to the top of these sections. A taper guard can be used in a side to side motion across the crown or the barber may work from back to front with a straight guard and ease the clippers out of the hair as he comes forward.
Cutting the top is done from the crown forward with the clipper being allowed to gently rise away from the scalp as it moves forward. This will taper the top hair and leave the appropriate length in front.
Styling involves parting the hair on one side, usually the left. The top hair is combed over to the opposite side. A small amount of gel or pomade is used to hold the hair in place and maintain the style.
It does, however, require practice to be able to cut it perfectly every time. This is not a cut that a person wants to attempt to perform on his own head. It would be best to see a professional barber or stylist. However, a trusted friend can perform this cut by following the above steps.
Watch This Video Tutorial to Learn How to Cut Ivy League Haircut
Ivy League Haircut Ideas
Here is a quick look at some of the best known Ivy League hairstyles. These are separated into a variety of subsections for an easier and more detailed grasp of the depth of this style.
Top 5 Ivy League Hairstyles
When you think of the Ivy League haircuts, there are some classic images that come to your mind. You associate this cut invariably with a clean-shaven face and a tall towering demeanor. These are some of the most old school representation of this classic hairstyle that has wowed generations now.
1. Gentleman's Ivy Haircut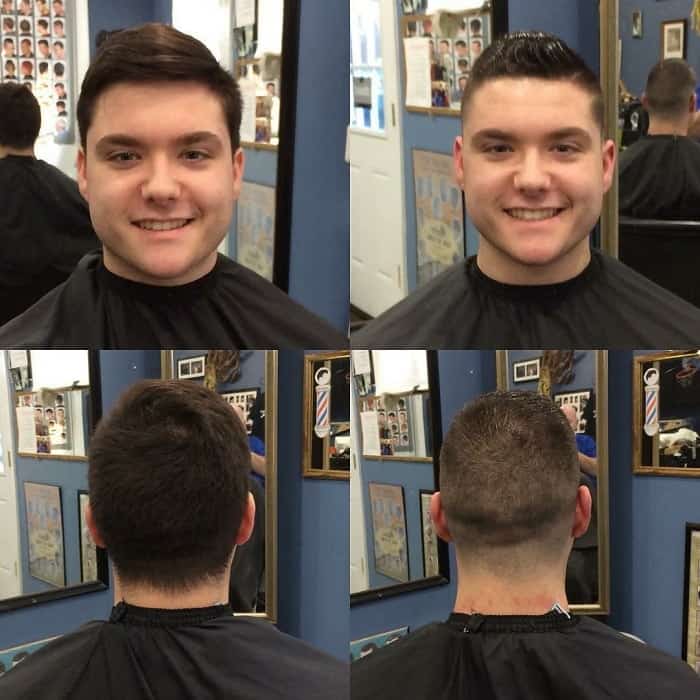 The name says it all. This men's Ivy League haircut is all about understated style and a strong reiteration of what we call a gentlemanly attitude.
2. Textured Ivy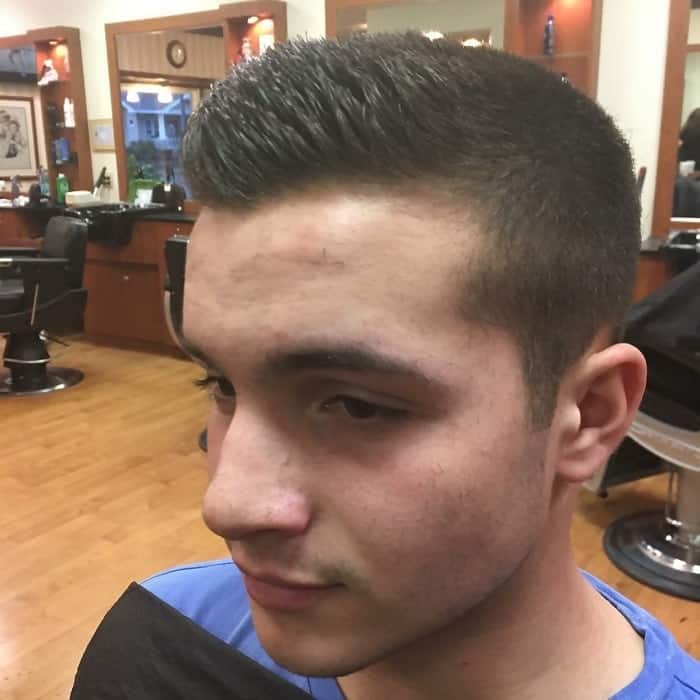 This is one of the most classic variants of the Princeton haircut. The textured fade offers this cut a versatile and flexible edge.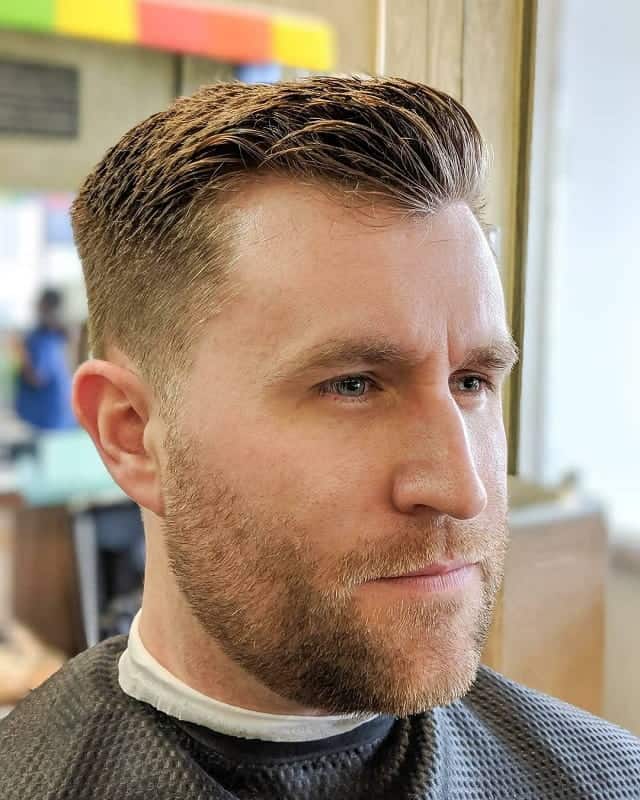 This Ivy League haircut is a business-like and extremely suave haircut. It creates a definitive impression on anyone, be it a young corporate or a seasoned veteran.
4. Slick with Tapered Cut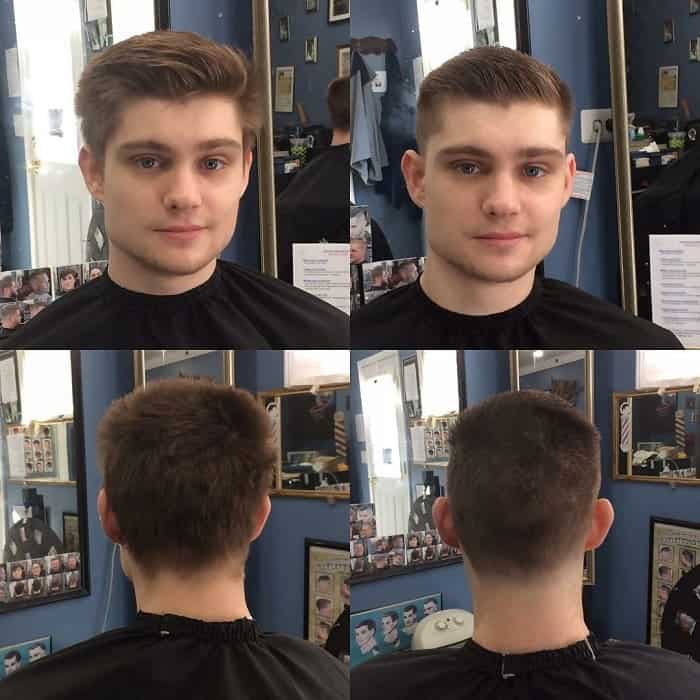 The slicked hair on top coupled with the tapered cut end gives it a smart and versatile edge. This white boy haircut is suitable for a variety of urbane job profiles and even suits businessmen.
5. Low Taper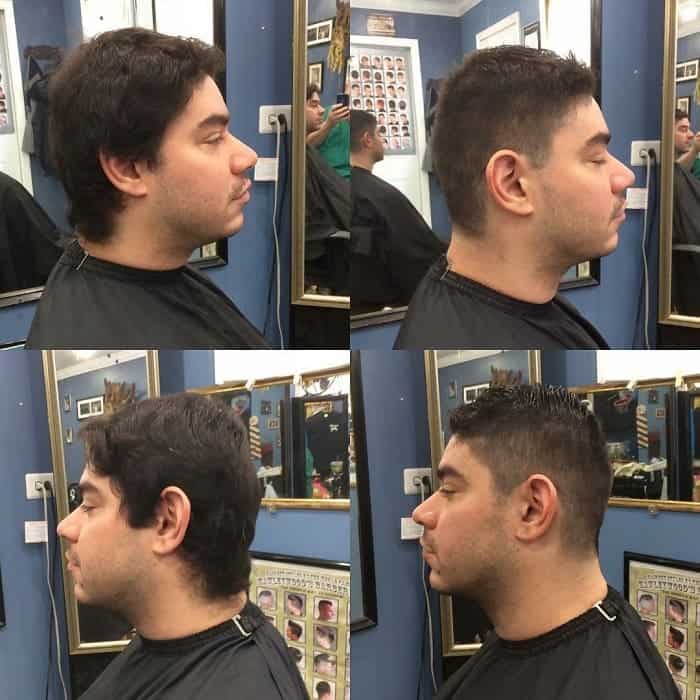 Straightforward, functional and extremely easy to maintain, this is a type of Ivy League hairstyle that is appropriate for a variety of people.
Cool Ivy Haircuts for Black Man
But this is a haircut that is extremely versatile and manages to look good on most. No wonder, you have a mind-boggling range of this hairstyle for black men too. The Ivy League haircut for black men also acts as a unifying fashion statement that combines the sophisticated urbane look with the strong masculine energy of the broad built black men.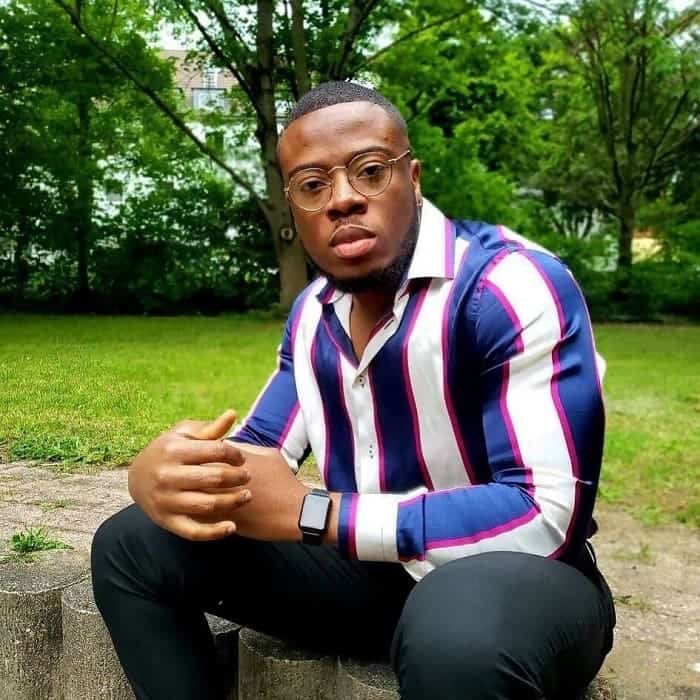 This is one of the classic short haircuts for black men. It is a straightforward, business-like and extremely straightforward Ivy haircut.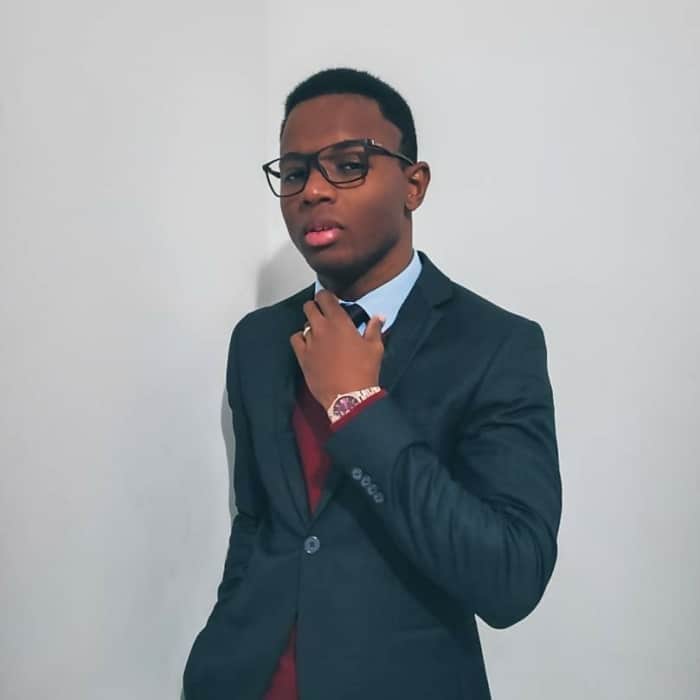 This is another cool Princeton haircut for black men. It is sophisticated, classy and oozes a lot of subtle charm.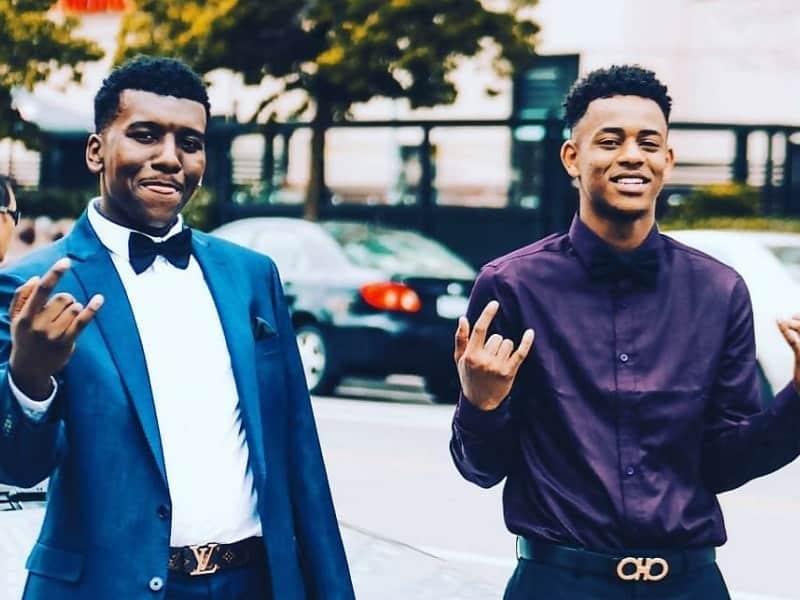 If you like to wear your attitude on your head, this is one of the best types of black men's Ivy League cut. It is cool, subtle and follows the natural fall of the hair. That is what gives it a definitive edge over many other options.
9. Box Fade Haircut
This is another common variant of the Princeton cut for black men. You can also add a hard parting or a soft part for enhancing the look. This is in fact amongst the classics of this kind of short hairstyle for black men across generations and geographies.
Cool and neat are the buzz words to define this style. But you can also call this Ivy League hairstyle for black men a classic redefined with a modern perspective.
Trendy Spiked Up Ivy League Hairstyles
One of the best things about the Ivy League hair is the variety and range of options you can apply. It is all about adapting the style to your natural fall of hair and then creating a unique style.
11. Short Spiky Look
This is a short, spiky and extremely low maintenance haircut. It sure gives a stylish edge to your personality, but at the same time, this men's Ivy League coiffure is also one of the easiest to handle.
12. Messy Textured Spike
This is yet again a quintessential long Ivy League haircut. It highlights the sharp corporate focus, but at the same time, manages to retain the typical boyish charm. This haircut highlights class and convenience at the same time.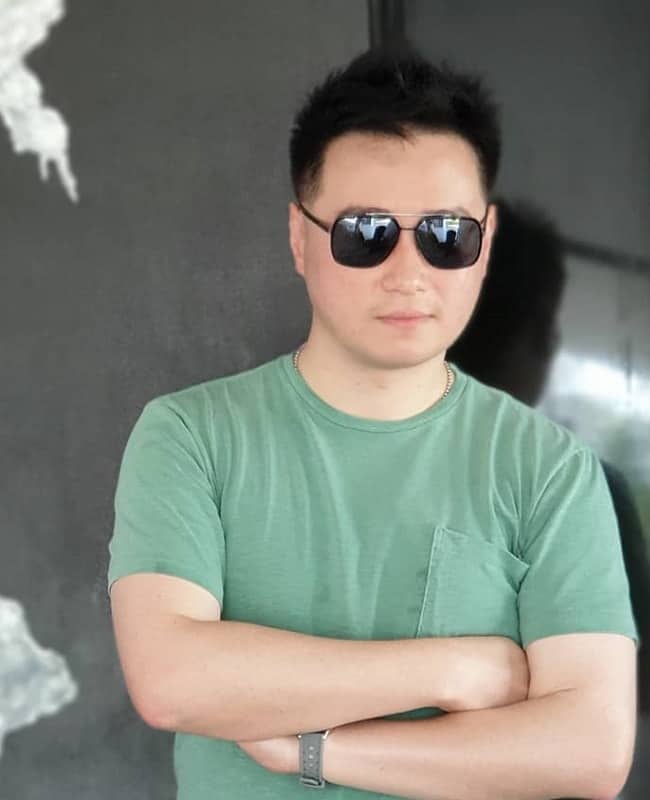 This is again a classic Ivy League look. It makes a bold fashion statement, and at the same time, it highlights a subtle eye for perfection and quality. You are sure to get a second look and makes head turn when you step out with this Japanese haircut.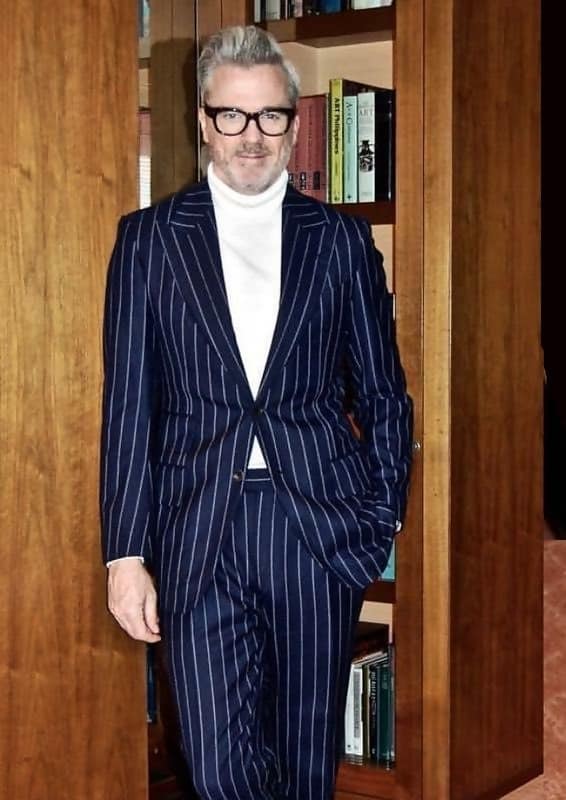 This is another of the subtle men's Ivy League haircuts that heroes the spikes. The salt and pepper hair color further intensifies the look and gives you a striking contrast. It is all about cool classic long hairstyles with beard that wow you.
15. Curly Spikes with Low Fade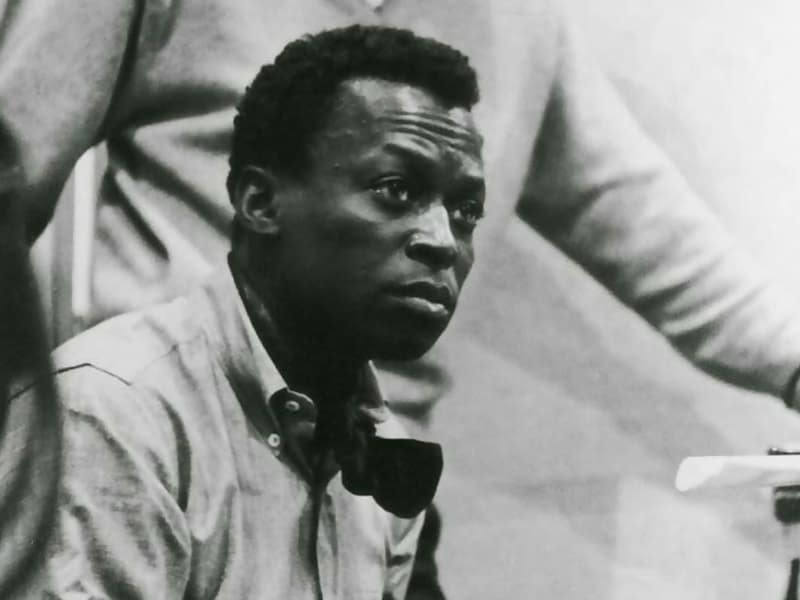 Slightly retro in appeal, this is a classic interpretation of one of the best-known classics amongst the Ivy League cuts. It celebrates the natural curly black hair undertone of the hair.
Latest Ivy League Twist on Military Haircuts
If you thought that the Ivy League haircut was limited only to White-collared jobs, think again. This is the type of hairstyle that can look good in practically any type of hair and situation. Those in the armed forces are often forced to take up a rather short and functional hairstyle.
But with the Ivy League variant, it is now possible to give a stylish twist to it as well. The popularity of these military variants can be well gauged by the fact that now you have a host of civilians sporting this style as well.
16. Military Fade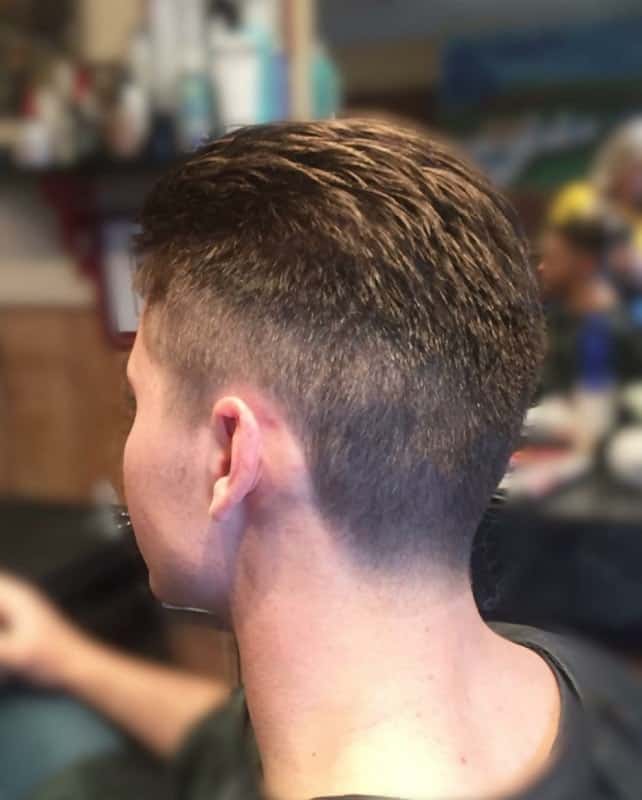 This is one of the classic military hairstyles in the Ivy League genre. It is clean, sophisticated and often brings out the rugged machismo that we associate with men in the military.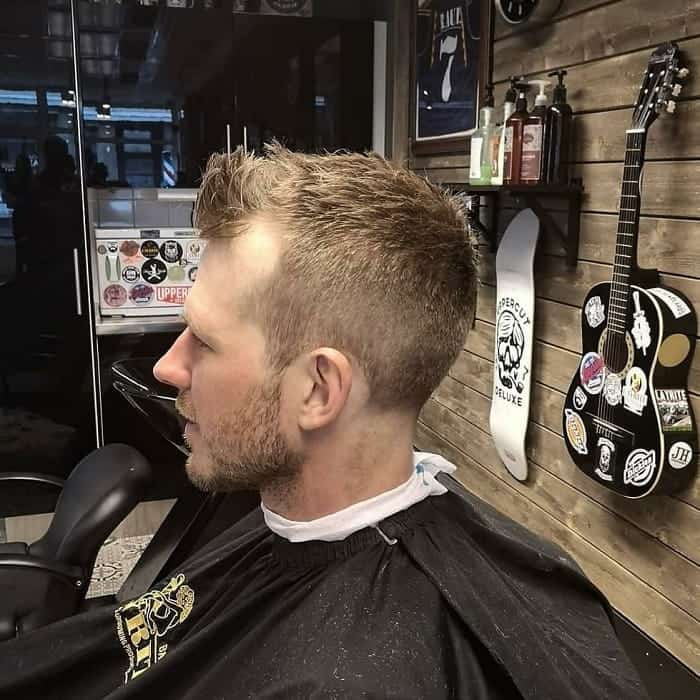 This the quintessential buzz cut and beard with the traditional fade. It is a low maintenance Ivy League haircut that is also readily one of the most stylish.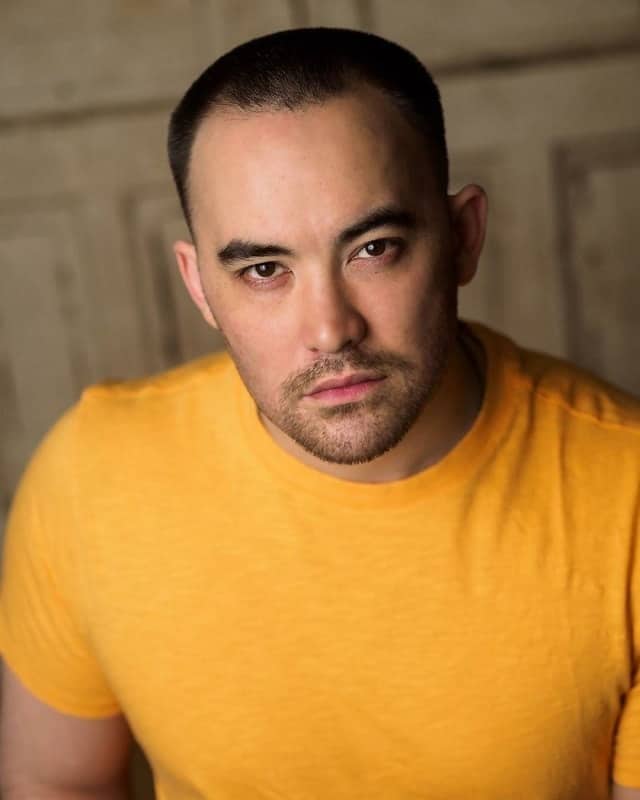 This is going as short as you can get in a buzz cut. It is a purely functional Princeton haircut that also offers a way of styling really short hair.
This is the type of Ivy League hairstyle that truly marries the collegiate way of hairstyle with the military avatar. It is stylish and functional and extremely versatile in terms of application.
The military and the crew cut go hand in hand. This is the type of style that helps highlight the personality in its absolute natural elements.
Messy Ivy League Haircuts
The Messy version of the Ivy League cut is all about bringing forth a cool and stylish edge to a functional haircut. Whether you have very short or slightly long hair, these messy look gives a carefully curated careless fashionable lingo to your hairstyle. It is all about reinterpreting a classic in a modern sophisticated language.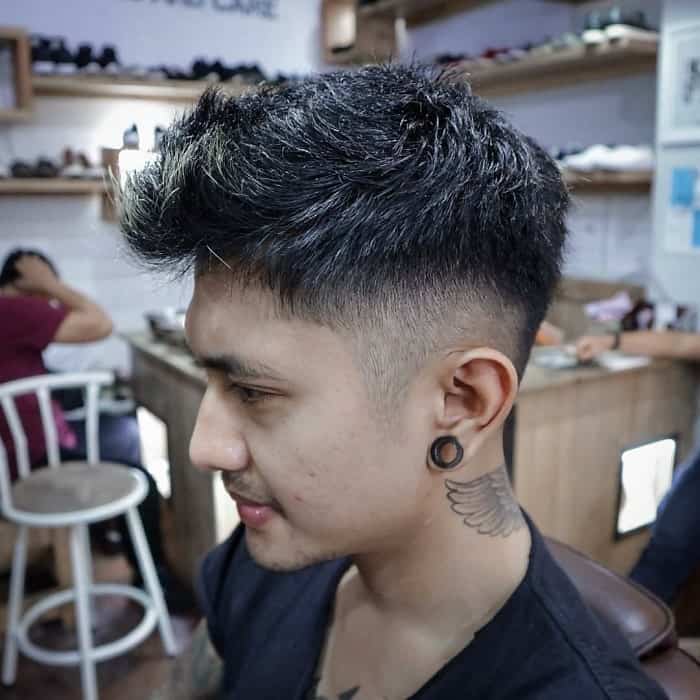 Messy is cool and stylish and when you marry it with the classic Ivy league haircut, it becomes an absolute winner.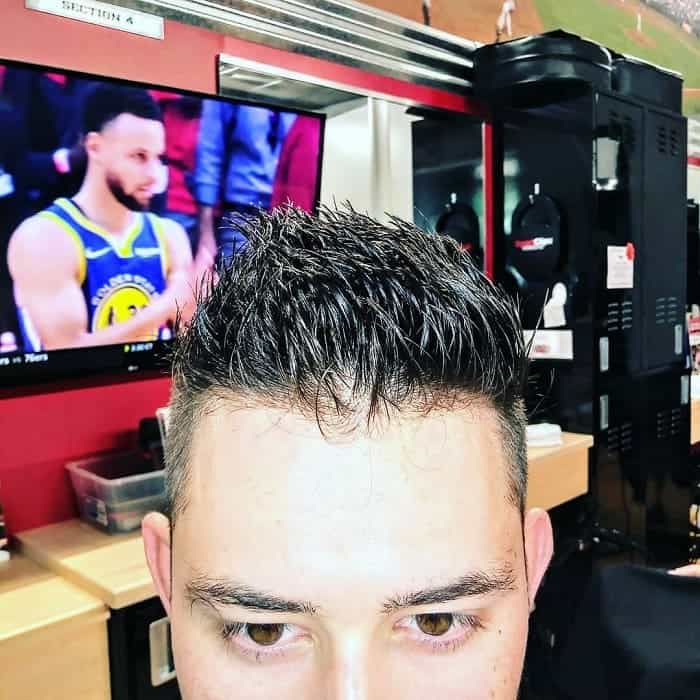 This is an extremely functional style that also makes you look super slick and uber cool. It can be considered one of the edgier Ivy haircut.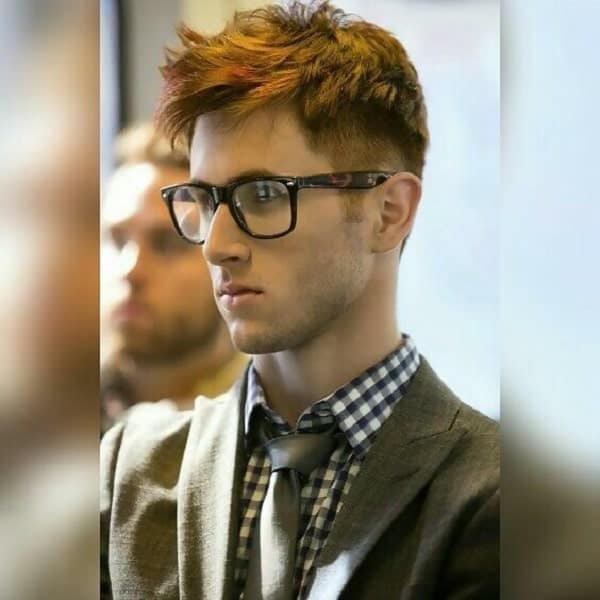 This messy version of the Ivy Haircut gets an extra zest of life with this slightly ombre highlight at the ends.
24. Medium Fade with Messy Layers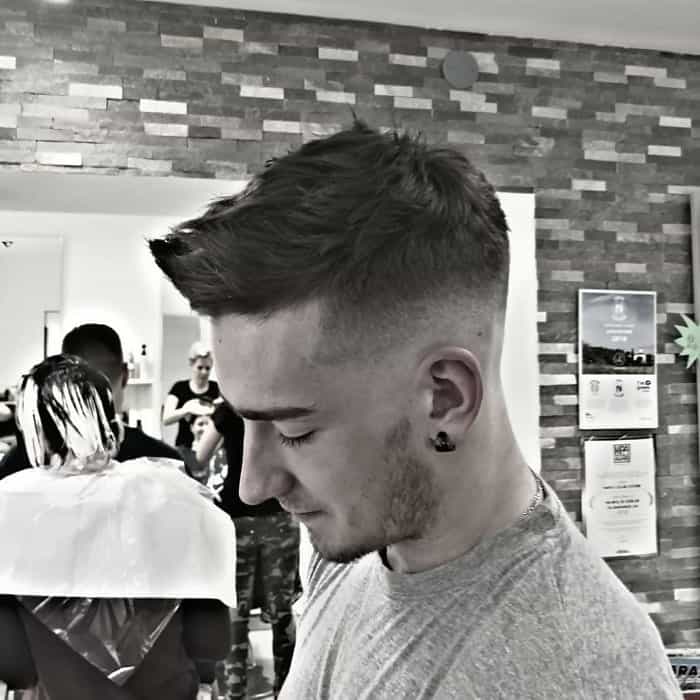 This is the type of haircut that helps you style even very small length hair with. It helps highlight a rather cool demeanor without compromising the convenience factor.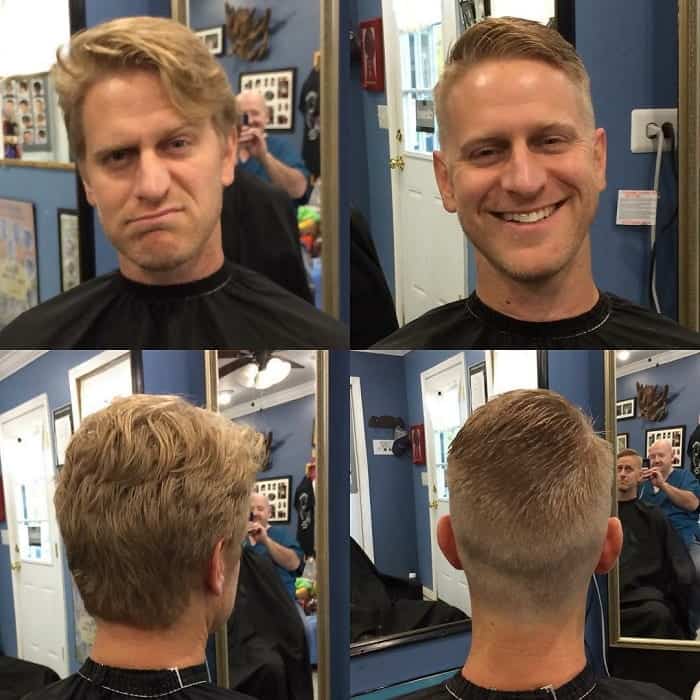 This surely adds a zing and spices up the classic Ivy League haircut in a definitive way. It brings to light a cool and sophisticated variant of this old school style.
Amazing Princeton Haircuts for Curly Hair
However, the Ivy League haircut was never limited to just those with straight or wavy hair. Often those with curly hair can also use this type of styling to their advantage. The fact that this hairstyle is all about a subtle classy coordinated look, further adds to its charm. With the curly variants, the Ivy League also manages to bring out the boyish charm in your personality in a succinct way.
26. Tight Fade with Buzz
This Ivy League haircut celebrates the curly blonde in a stylish way. It gives a neat and completely balanced look that easily combines a naughty mischievous fun-loving personality with a no-nonsense sensible appeal.
27. Conservative Curls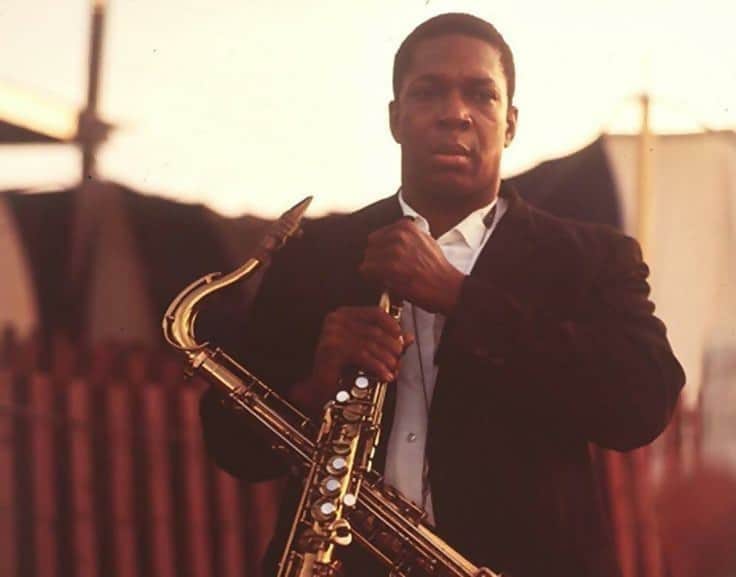 This is a rather conservative play on men's Ivy League look for curly hair. It creates a naturally classy and understated look that can win over practically anybody. It is extremely retro in its presentation and gives a rather vintage hint to the overall look.
28. Dreadlocks with Low Undercut
Well, does this picture make you gape? Are you thinking how dreadlocks and Ivy hairstyle can come together? Well, this is the right way to combine them when you want to do something different with your curly hair. It easily brings together a winning pair of style and panache but keeps the neat well-groomed appeal intact.
29. Well Trimmer Curls
If you love your curls, there is no way to say no to this classic Ivy League haircut for teenage boys.
30. Ivy League with Tight Curls
The tight curls are seen in a neat and well-groomed avatar in this 80s hairstyle. It is creative and cool, and at the same time, offering you a distinctive and stylish edge.
Ivy League Haircuts for Receding Hairline
The versatility of the Ivy League haircut is its biggest virtue. Whether you are blessed with thick bushy hair or dealing with a receding hairline, there is always something that can suit you. It makes you look younger, in command and takes away the worrying lines associated with the receding hairline.
31. Retro-Themed Ivy League
This Ivy League hairstyle for receding hairline is all about revisiting the past with gusto. It is neat, classy and most importantly does justice to the thinning hairline.
32. Low Fade with Hard Part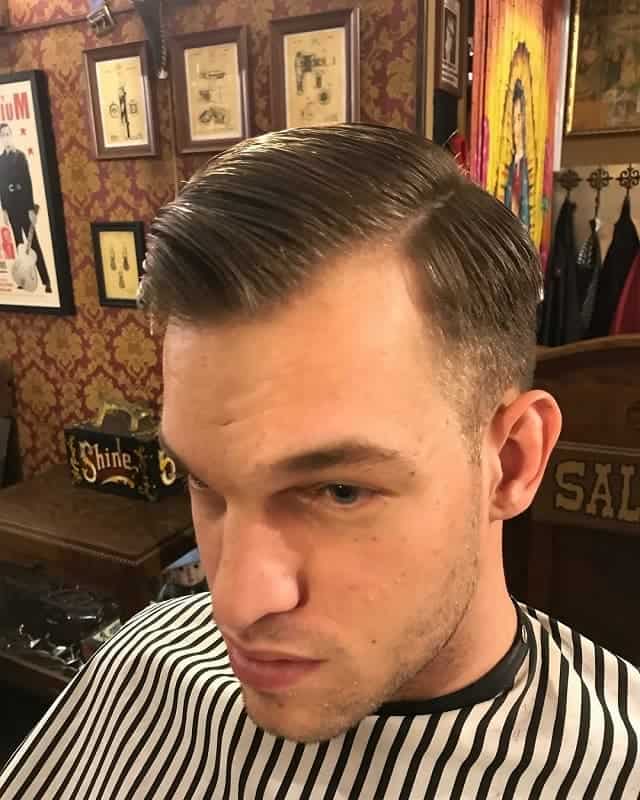 The hard parting in this Princeton haircut with low fade takes the attention off the receding hairline. Instead, people are distracted by the hard part. That is what makes it such a cool option for those tackling the receding hairline issue.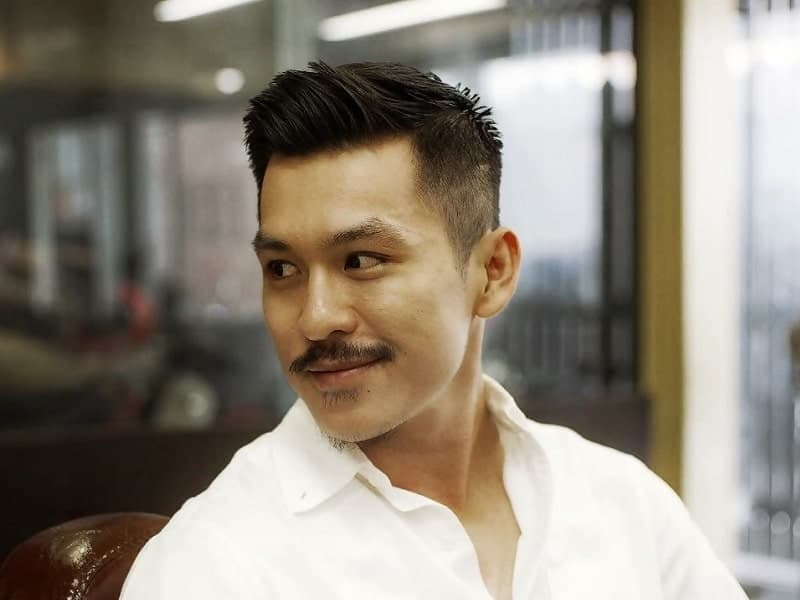 The taper fade and comb over again take the attention off the fast receding hairline. Instead, this Ivy League haircut concentrates on showing off the key elements in a positive way. The taper fade at the back to enhances the impact of the style.
The trick to styling for someone with a receding hairline is not to let the focus be on the obvious. One of the easiest ways is to push the hairline of the cut at the same level as in this one. It then gives an illusion that this is how it is styled.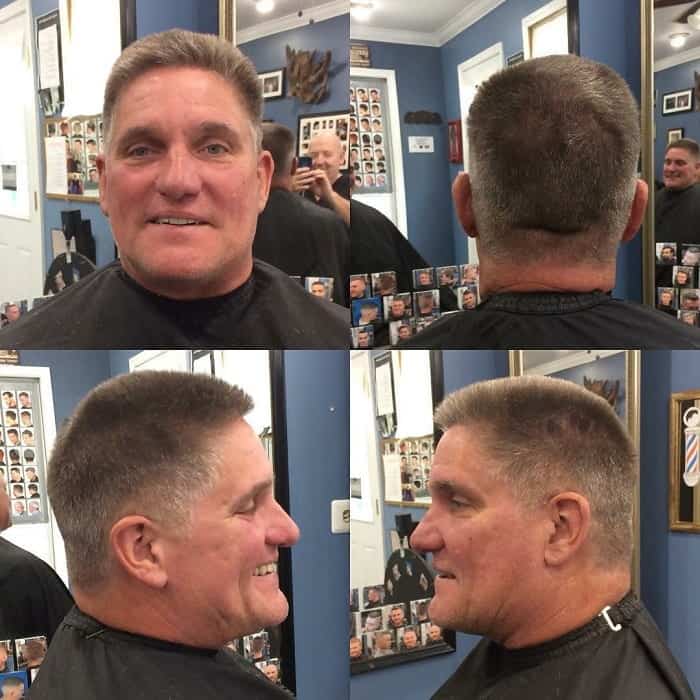 This is another haircut that suits those with a receding hairline rather well. It takes away the appearance of hair thinning in just certain areas and gives a more uniform and equally voluminous look to the whole head in an appropriate way.
Ivy League Hair Ideas for Men with Glasses
Even those with glasses can finally rest assured of sporting a style that does justice to them. The Ivy League haircut adds a sense of subtle intensity for those with glasses. This, as a result, enhances the understated machismo and confidence of your personality to a great extent.
This old school Ivy haircut gets a modern interpretation with the combination of the pompadour top and the low fade. It also goes very well with the spectacled look. It is ideal for both casual and formal occasions.
37. Quiff with Side Undercut
This is all about the more mature avatar of the Ivy League Haircut. It is calm, poised and brings out a subtle sense of confidence and maturity in your personality along with the glasses.
38. Skin Fade with Heavy Top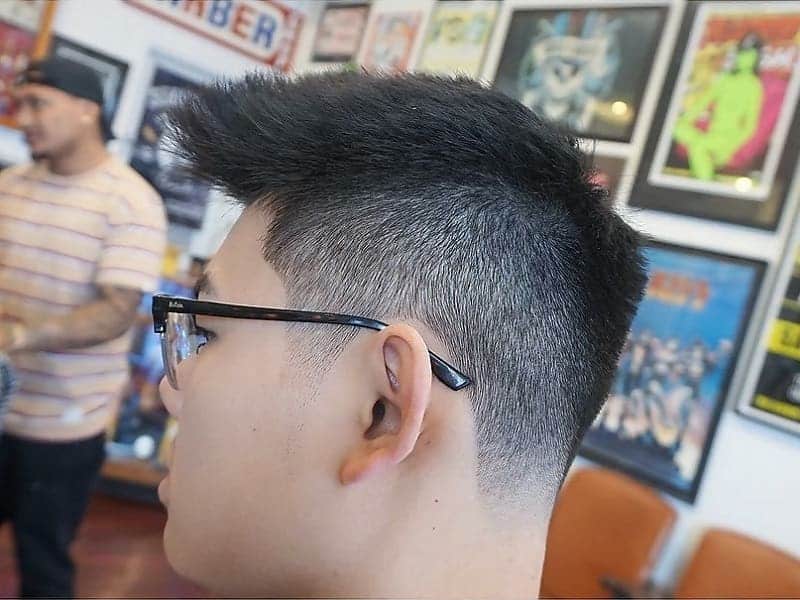 This is another version of the Harvard clip cut that looks rather striking even on those who are wearing glasses. The skin fade and the heavy top when styled with the right type of glasses that suit your face can actually make for a rather stunning combination.
39. Side Brushed Ivy
This Ivy League Haircut is all about retaining a boyish charm to your face even with class and with age. The side brush and the hint of a parting often gives the feel of a schoolboy at work.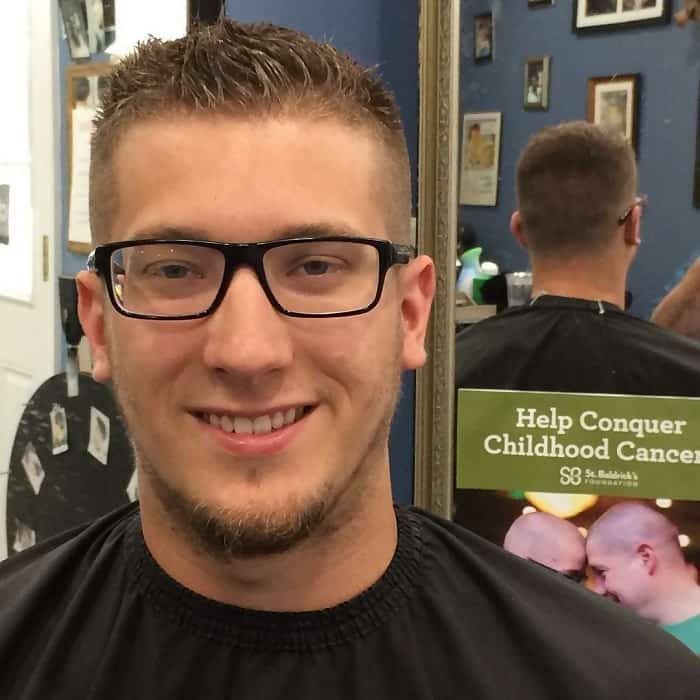 The slicked back hair, the hint of a drop fade and the slight start of a pompadour together work to make this Ivy League hairstyle stunning for those with glasses.
The Ivy League haircut is one of the suavest and sophisticated short hairstyles for men. It is easy to maintain and stylish at the same time. The fact that you can adjust the haircut to your face shape or personality is an additional advantage. It makes it way more acceptable and easy to maneuver.