When you think about a punk hairstyle, there are many different fashions that you can incorporate. This article will give a quick rundown of the history of the style than followed by some suggestions on the different ways you can use punk hairstyle to make a statement.
Evolution of Punk Hairstyles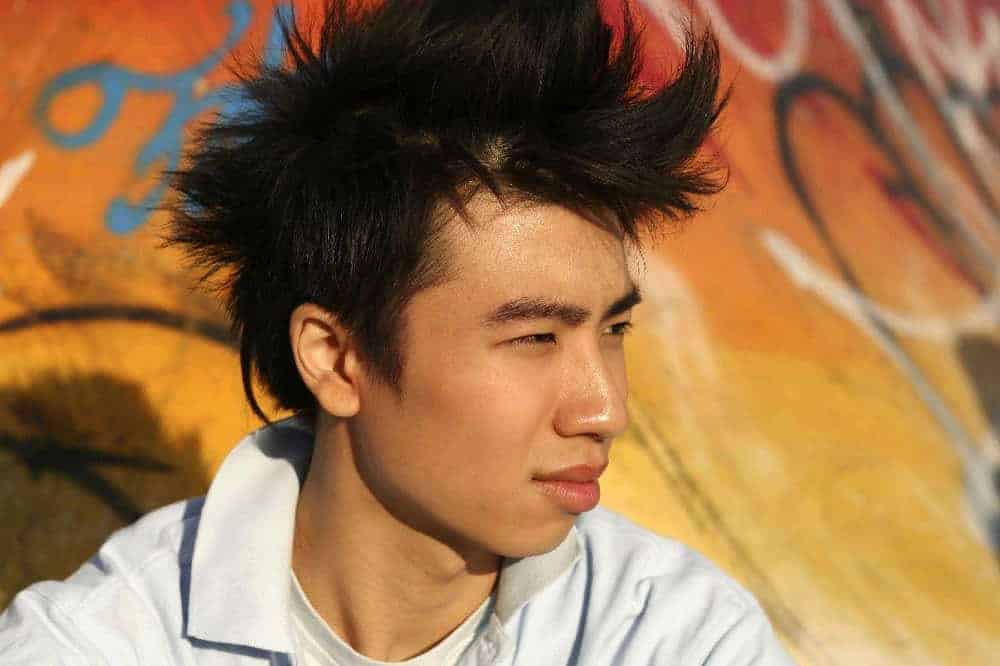 To give you a better history of the punk hair, it hails back to the 1970s. The inspiration for the hairstyle came from the punk rock music of the time. The musicians often would dye their hair and spike it. This was used as a way to send a message confronting the rules of everyday society.
Today with a punk hairdo, you can still decide to dye the hair, spike it, or do both. Some people will go for the full effort and both dye and spike the hair. You can go for a Mohawk if you wanted to go this route as well when spiking and dying the hair. Some people prefer not to spike the hair so you can do an un-spiked Mohawk if it speaks to you.
Deryck Whibley of Canadian band fame Sum 41 has dyed his hair occasionally and simply worked to get full spikes going in all directions. To do a Mohawk, it is recommended that you cut the hair not used for the Mohawk to about 3/8" to ½" while keeping the Mohawk part of your hair as long as you want it to be.
There is not a standard length for a Mohawk and it has more to do with how much you want to push your punk hairstyle. If you are choosing to dye your hair, it is normally recommended to choose unnatural colors such as red, pink, or blue. You can choose to dye your hair whatever color you want but these are the types of colors that hail back to the beginning of the punk style.
Depending on the constraints if you have a job, you can potentially do a more moderate look. A good example is Billy Joe Armstrong of Green Day fame. He spikes his hair to show disregard for society but his hair is shorter. This could fit both for a conservative day job and then you spike it at night to get the punk hairstyle to show who you really are.
Origin of Punk Hair
People have long been in the practice of using hair dyes to change the color of their hair as a means of making themselves feel more attractive. Punks use hair dyes to make themselves appear different from mainstream society. Bright, harsh colors such as red, neon green, blue, orange, yellow, and other colors that are not found naturally in hair coloring began to be used in the 1960s and really became popular among punks in the 70s.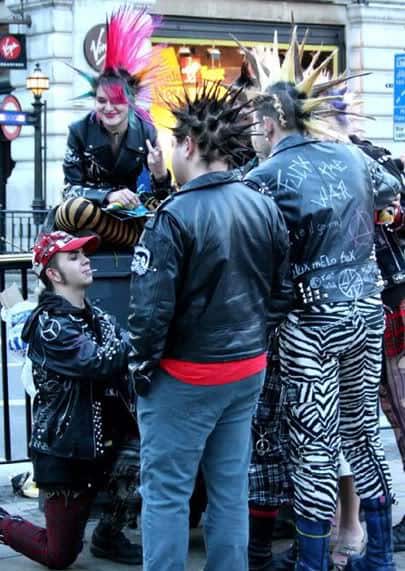 The 1970s saw changes in hairstyles as well as the use of bright colors on punks. One of the most common punk hairstyles is the Mohawk, though this has different variations. Some punks, more male than female, have also gone with a variation of the Mohawk that uses two equidistantly spaced stripes of hair with both sides and the center of the head shaved.
In the 1980s, many punks began to adopt more conservative approaches to their hairstyles and fashions. Today, a person can be a hardcore punk and not really look much different from the average boy next door. However, for most punks, it is still common to add outrageous colors to their hair and have it styled in ways that shout nonconformity.
Even among individuals who do not go all out with the Mohawk, a faux-hawk, a less radical version that does not involve shaving the sides of the head, or keeping a full head of hair and doing it all up in liberty spikes is not uncommon. One common factor is the continued use of bright colors on the hair.
How To Get Punk Hair Look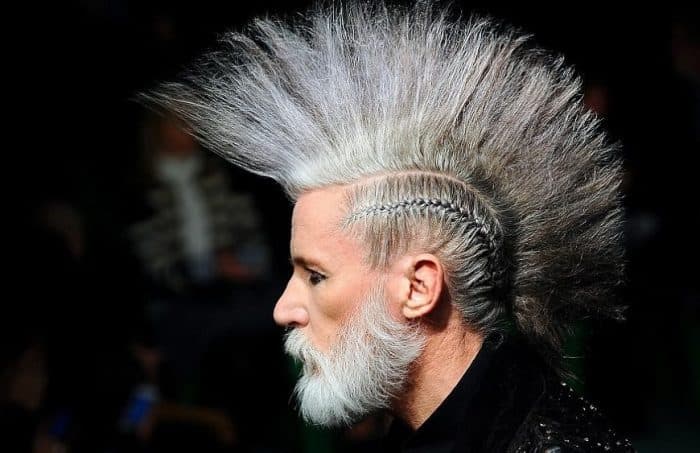 There are several ways that you can change your hairstyle. But, how to get punk hair will take some thought and planning. When you decide that you want a punk look, you will need to find a men's hairstylist that has experience with creating distinctive, signature looks using the tools that will make your hair reflect your style.
When you first go to the stylist, they will talk to you about what you want to do with your hair. If you want to add colors and throw in some Goth, the stylist will need to know that. If you start going to the stylist early, they will be able to work on your hair to shape it and get it to the length it needs to be to give you the style you want.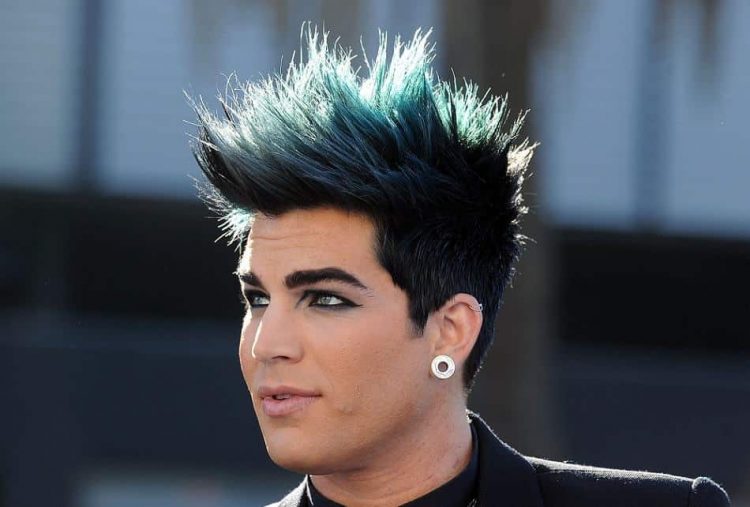 A good punk cut doesn't look like a lot of effort went into the colors and cut. But, there is a lot of work involved in getting that effortless look. The stylist will need to work with different colors to come up with a signature look and style for you.
There are a lot of different punk cuts and any color will work. Some colors will look better on your hair than others and your stylist will be able to help you find the great colors for your look. A popular style is a spiked mohawk that has a different color on each spike.
When the style and color are set and you have got the punk look you want, the stylist will teach you how to use the products that are needed to achieve the look easily. Each time you come in, the stylist will do some re-touching so your color won't begin to look drab or fade.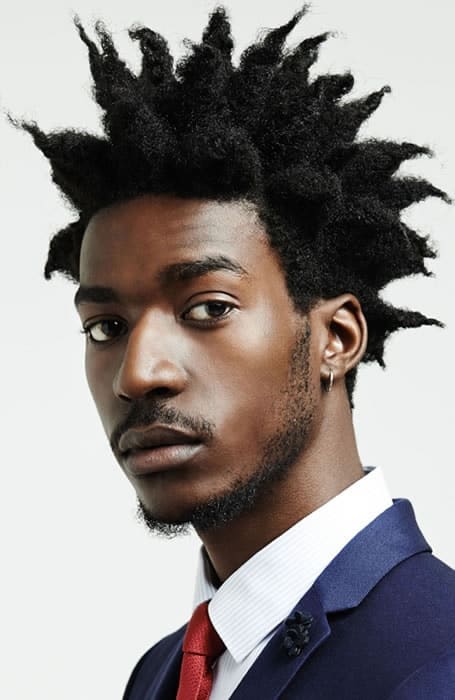 With bright colors in your hair, there are specific shampoos and rinses that you need to use. The stylist will have these products available for you and will give you instructions on how to use them to keep your colors alive for the longest period.
By the time you leave the stylists after the first visit, you will know how to get punk hair easy and keep it punk for as long as you want. There are a lot of choices to make when you are deciding on the style, colors, and cut that you want to make punk.
When you have committed to a signature look, it should reflect your personality and independence. When you have your hair done, you should feel great and your hair should complement anything that you are wearing.
Punk Hair Color Tips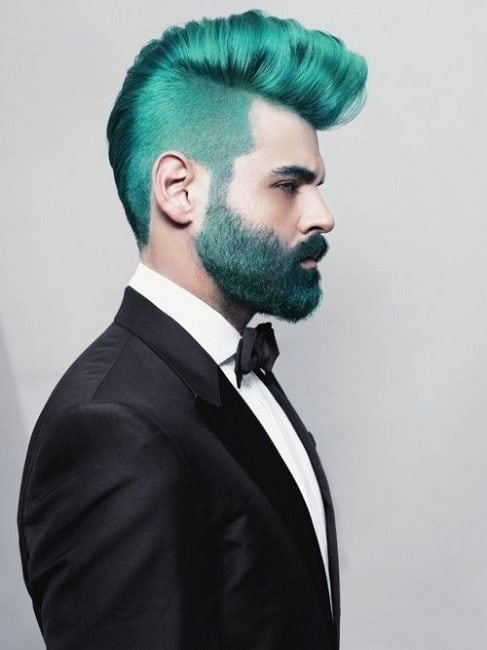 You've thought about it and thought about it, and now you're sure. You're sick and tired of looking like a prep, and you want to go for some punk hair color. There's just something about the thought of bright blue (or green, or purple) hair, spiking at odd angles, that just plain does it for you. But, when considering punk color, where should you begin?
There are tons of punk hair color resources out there, but most of them are geared towards women. Sure, you can try to tweak them to fit a dude's hair, but should you? The last thing you want is for your blow-them-away blue punk hair color to end up looking more like pond scum than hair has a right to.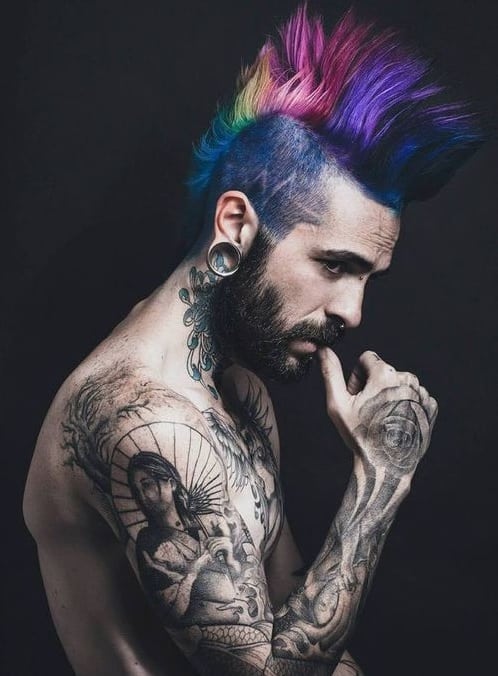 First of all, boys, when considering color for punk hair, it is important to remember that a guy's hair isn't the same as a girl's. If your haircut is short, the fact that all of your hair is close to your scalp is going to increase the temperature of any chemicals that you put in it. This can result in over-processing your hair, and blowing your new colored punk hair if you are not careful.
Especially when you are working with bleaches. (Over bleaching your hair is the best way to ensure that it all falls out.) Your best bet is to use a punk hair color product specifically designed from a guy's 'do. Then the instructions will be especially targeted at guys will take this into consideration, and you will be a lot less likely to do serious damage to your locks.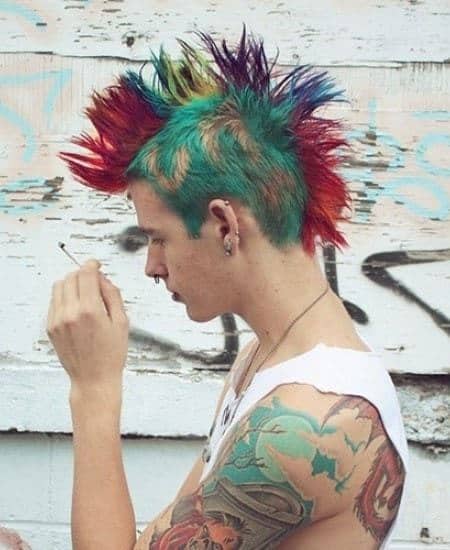 Also, guy's hair color tends to be coarser than chick's. That means that you may need to add additional time if you are going for the highly pigmented punk hair color look, or your sweet new color may end up looking washed out and dull. There are many different types of punk hair color products on the market, so it shouldn't be too difficult to find one that both provides the color intensity that you are looking for and suits your hair type.
Just remember that, when considering punk color, you are making a big change to your appearance. Don't underestimate the importance of doing your homework and making sure that the color for the punk hair you choose is right for you.
The Best Punk Hairstyles for Men
Following are the trendiest men's punk hairstyles that you can consider.
1. Punk Pompadour or the Punk Pomp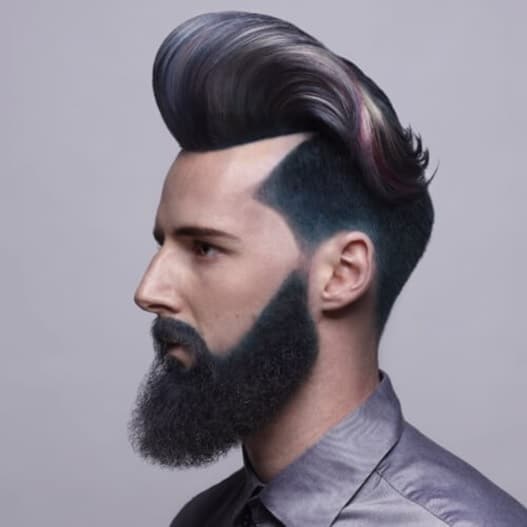 Named after Louis XV's mistress, Madame de Pompadour, this hairstyle gets an unconventional twist as a punk hairstyle. In this punk style, the hair is back-brushed and rolled to give it some height and an almost pyramid-like structure. A technicolor touch makes it everything a punk is supposed to be.
2. Mohawk or Mohican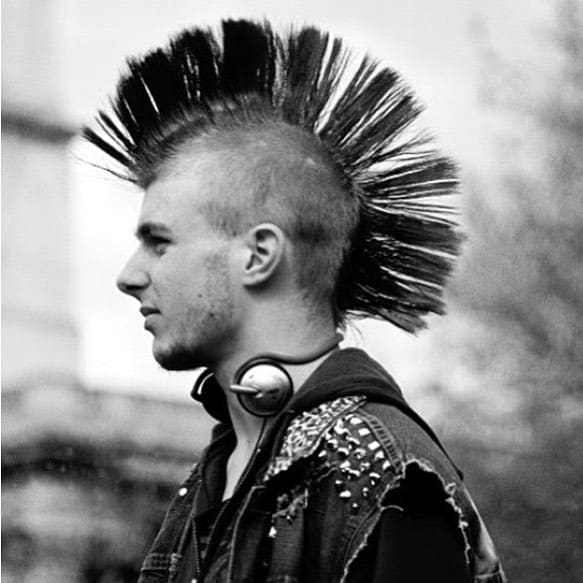 This punk style has Indian roots and numerous variations—all eye-catching in their own ways. This men's punk hairstyle is based on the contrast between shorter sides and a long-ish central strip. There are Fanned mohawks, fauxhawks, shark fins, lazy hawks and so many more. Sometimes a touch of color makes it even more striking.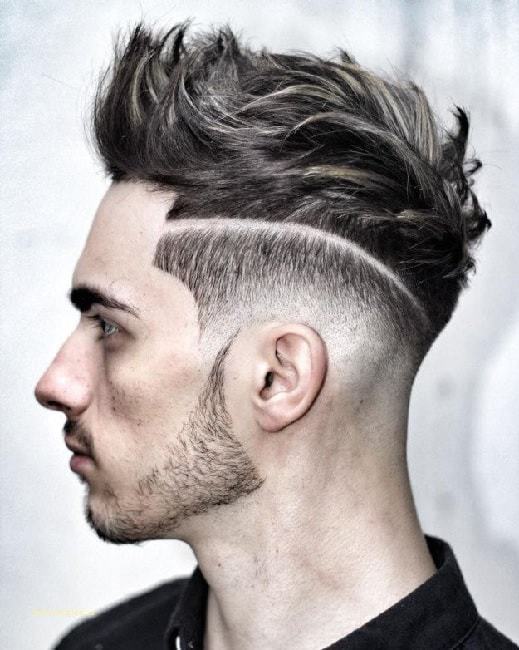 Borrowing from the punk spirit of the Mohawk, the Fawhawk is a more contemporary and modest variation of the former. The contrast between the central strip and the sidecut is less striking in this men's punk hairdo, and the sidecut is styled using layering, patterning and blending.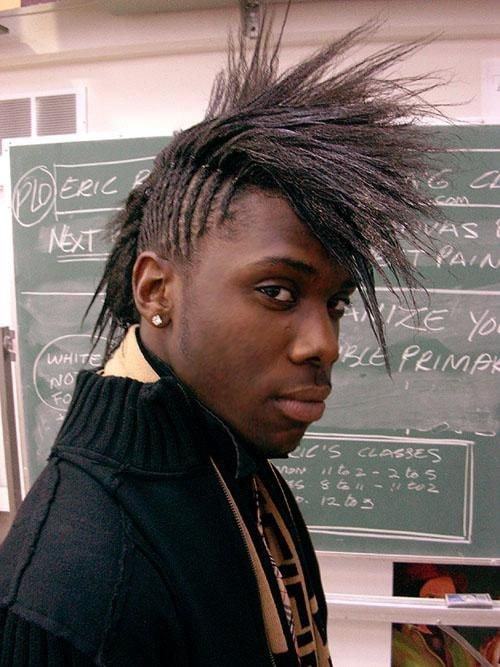 The classic hairstyle gets a braided twist in this punk hair look. This edgy punk style is perfect for men with a long braided Mohawk who want to experiment a bit. For an added edge you can even give reverse braid a go, or if you are feeling wildly experimental you can try multiple braids.
5. Shaved Curly Men's Punk Hairstyle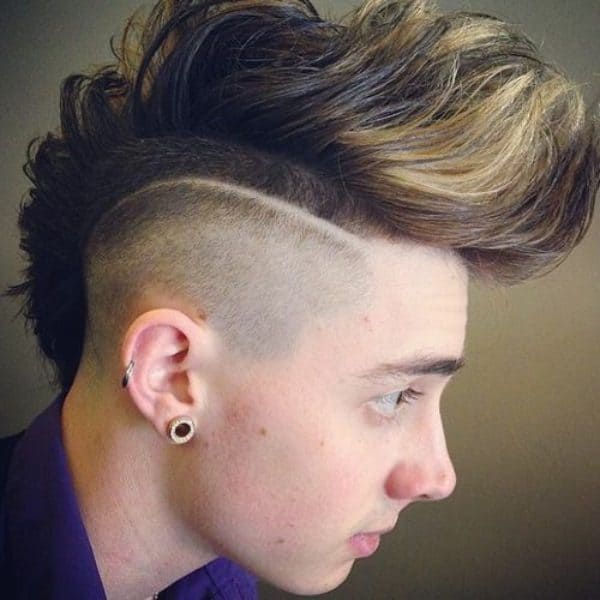 Punk haircuts are versatile and can be adapted to curly hair as well. The shaved sides and the casually styled high curls are an innovative combination of quiff and Mohawk. This hairstyle also works well for men with an Afro.
6. Short Punk Hair
Punk hairstyles experiment with the length of the hair too. If you have short hair and you want a punk twist, then short dark punk with its messy and casual quasi-pompadour is the one for you.
7. Skinhead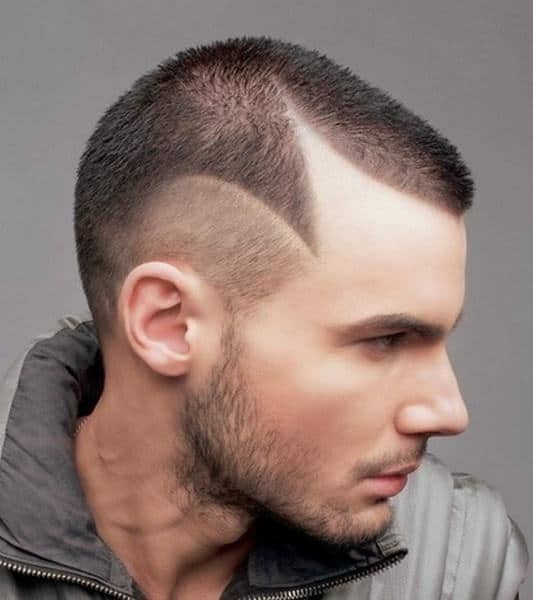 Skinhead is one of those statement hairstyles which are preferred by a number of movements, the punk being one of them. You can leave it as is or add a dash of color for added emphasis. You can even try something wild as geometric buzz cut and even add colors to it for fun.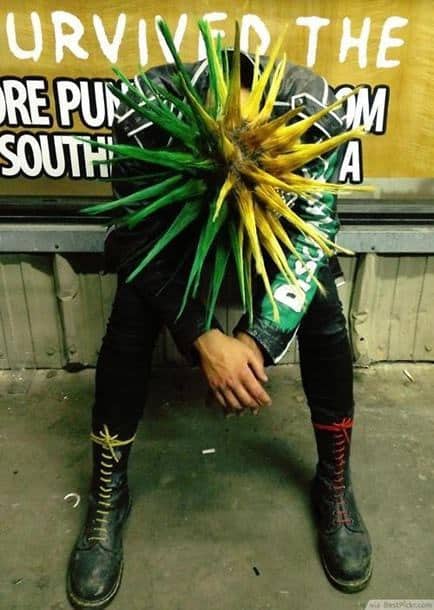 The Punk culture's cornerstone would be this striking hairstyle known as Liberty Spikes which was inspired by Lady Liberty. This is perfect for longer hair which is styled into upright spikes covering the whole head. Like every men's punk hairstyle, this too can be made interesting and eye-catching with colors.
9. Dark Punk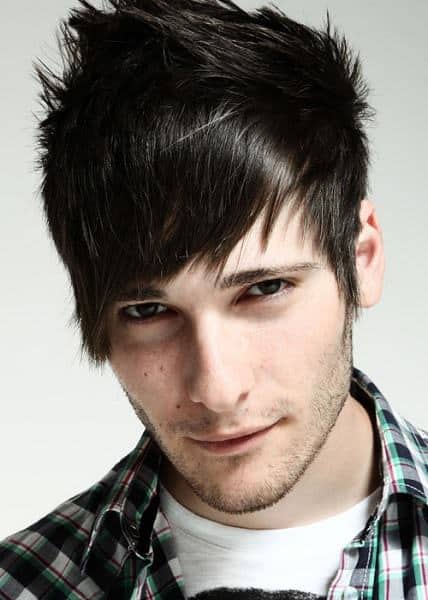 This punk hairstyle is for pin straight long hair. Spikes are styled like fringes to fall all over the face. This hairstyle looks good with medium to longer hair.
10. Undercut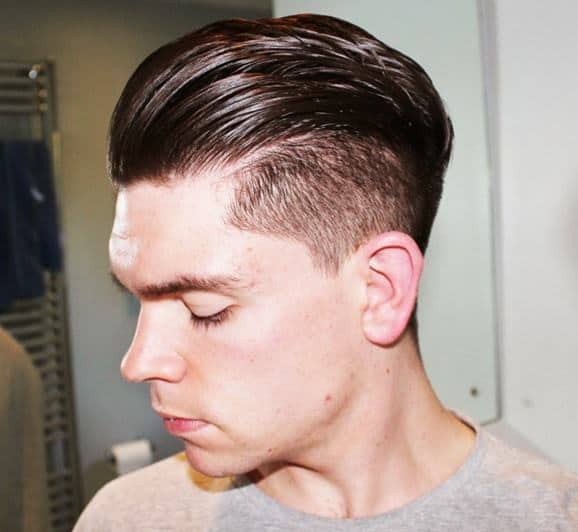 Punk is all about contrast and edge. Disconnected undercut hairstyle, with its shorter sides and longer top, is very versatile and can work with any length of hair. The hair is usually parted on the side or the center while the sided and the back are buzzed.
11. Red Mohawk with Green Inserts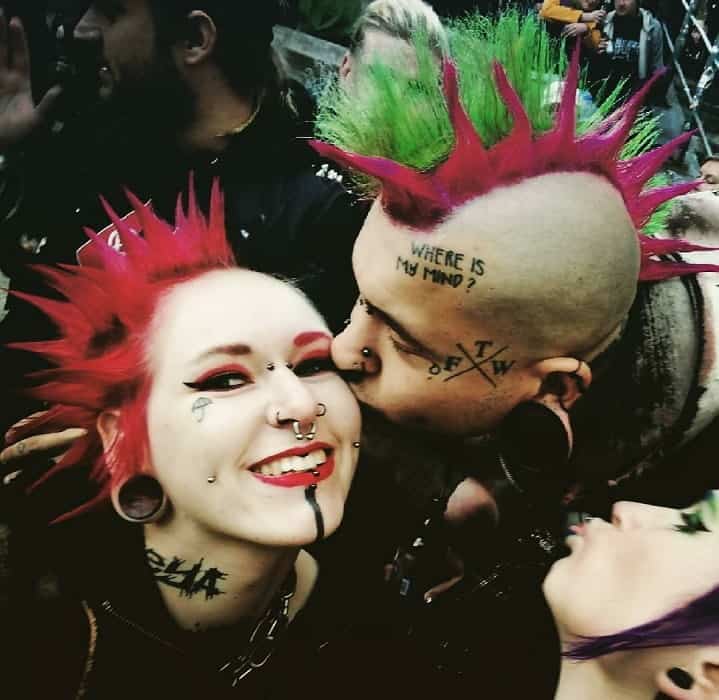 The red spiky Mohawk is one of those typical punk hairstyles that will always make you stand apart. The green inserts add a whimsical and eccentric to this style. This is what adds the unique element to this punk hair.
12. Green Mohican Mohawk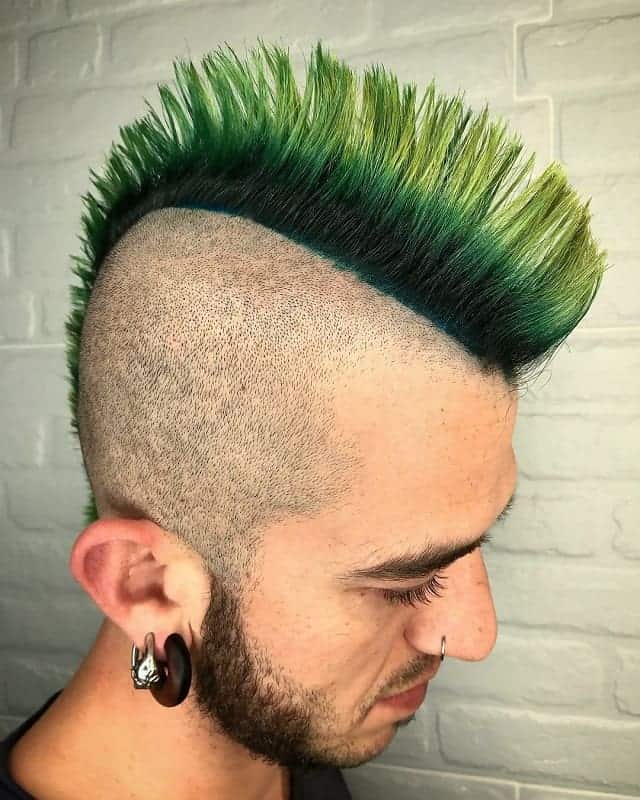 Though not a full-fledged Mohican Mohawk, this punk hair is all about incorporating the Mohican element in a stunted manner. In many ways, this also gives this punk hair a distinctive styling entity. The play of various shades of green makes it stunning.
13. Flat Mohawk with Shaved Sides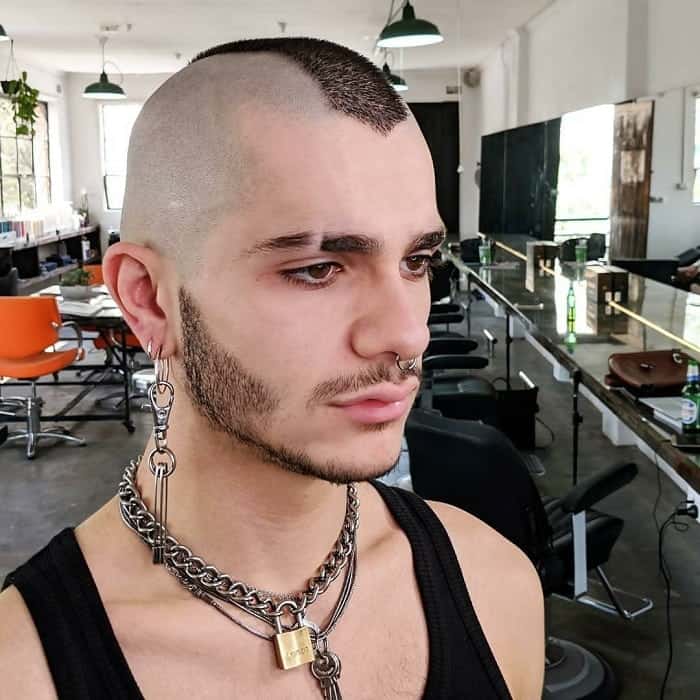 Just a flat dark patch of hair with shaved sides makes this punk hair unique. It creates a sense of subtle appeal without overdoing anything. If you are keen on sporting a punk style, this is all about getting a balanced look.
14. Candy Floss Messy Layers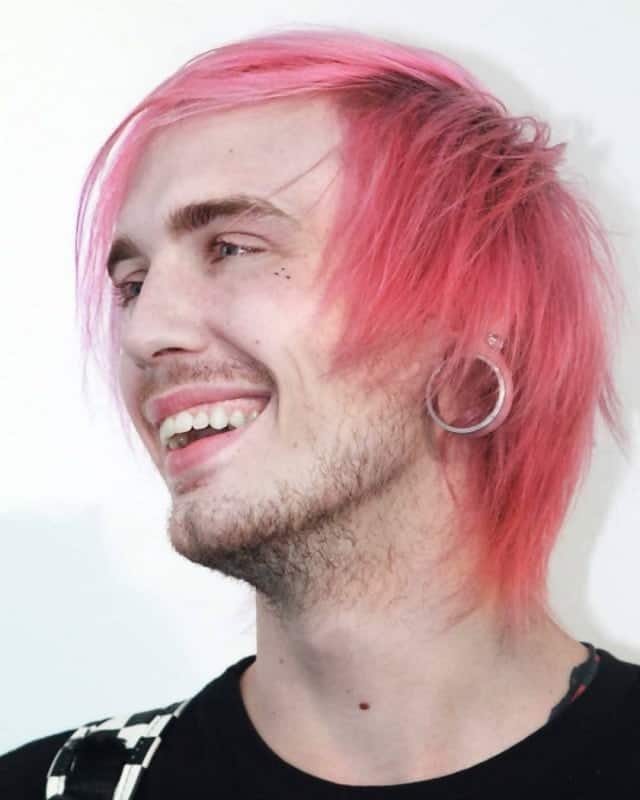 Messy layers look cool, but when you have messy layers in candy floss shade, they become the ideal representation of the punk hairstyle that many love. It is cool, distinct and offers decidedly one of the most striking contrasts you can imagine.
15. Fade Undercut with Silver Highlights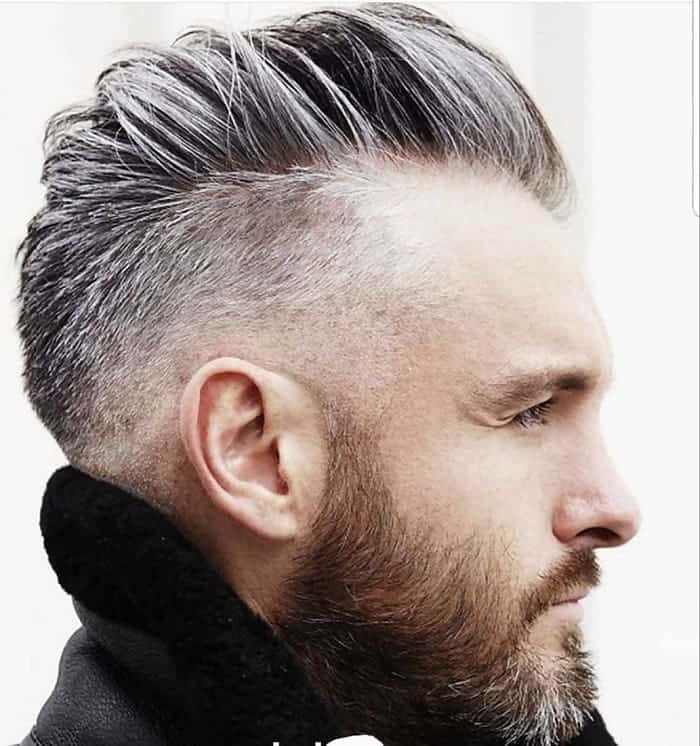 Just an appropriate combination of fade and undercut style of hair styling makes this punk hair a standout style. It is all about sticking to basics and yet delivering a unique statement that is sure to grab eyeballs.
16. Mohawk Spikes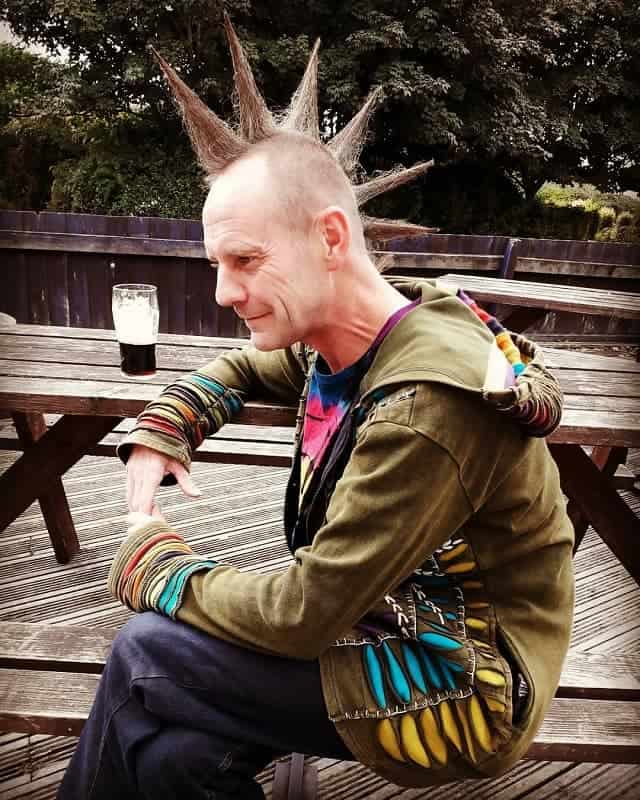 We often see Mohawk spikes in a variety of stunning and unnatural colors, but this punk hairstyle will convince you that even in the It natural blonde shades, this one is a rather striking style. It is the type of style that will surely make heads turn wherever you may step in. This style has a natural vibrancy that is hard to beat.
17. Ginger Bangs with Skin Fade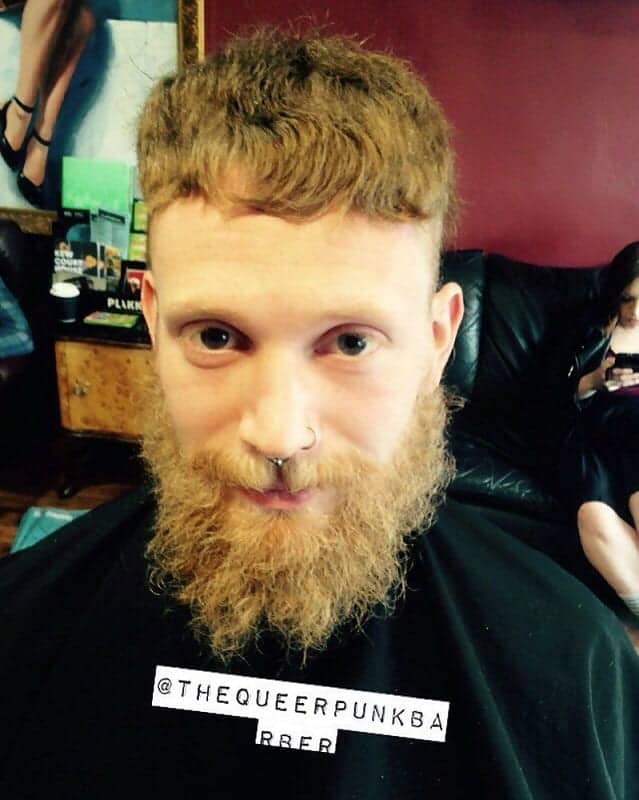 If you ever doubted the power of ginger, here is a reinstatement of the obvious. This ginger punk is stylish, cool and an absolute winner. This is the type of subtle punk hairstyle that sticks to basics but still manages to draw adequate eyeballs for the designer element.
18. Dual Toned Short Hair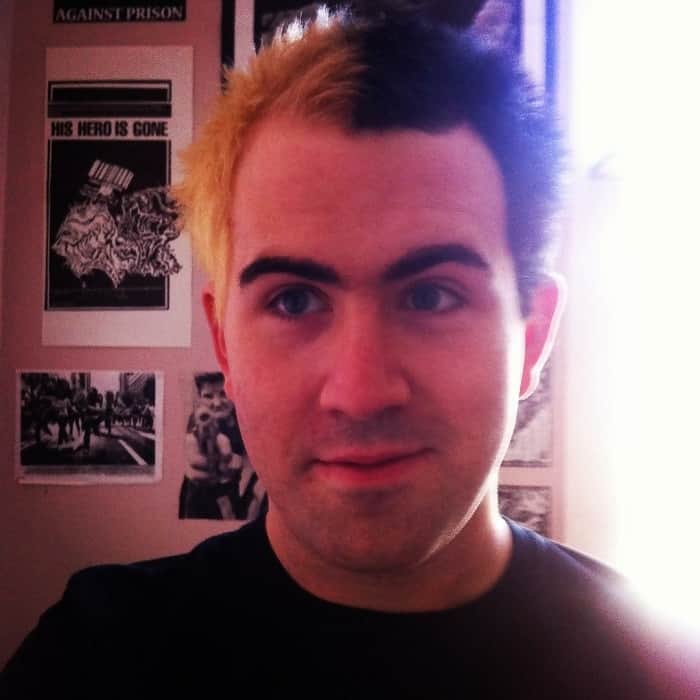 This punk hair is all about application and creativity. The otherwise short hair gets an entirely new look with the introduction of a dual toned vibrant avatar. The half gold and half dark hair is naughty and absolutely punky.
19. Multicolour Mohican With Bangs
This outright Mohican in candy floss shade gets a dose of machismo with the silver black bangs. It kind of combines a variety of different elements to create a holistic and definitely attention-grabbing style. The harmony in it all is the beauty of this punk hair.
20. Shaggy Punk Hair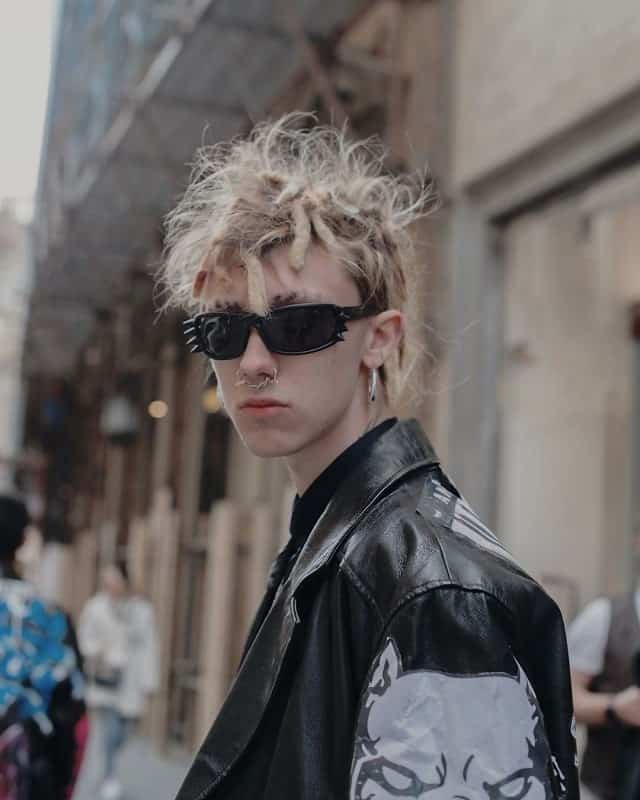 Shaggy is cool and punky but this punk hairstyle takes it to a completely different level. It re-interprets the concept of punk hair in a completely new light and gives you an absolutely winning combination.
21. Half & Half Buzz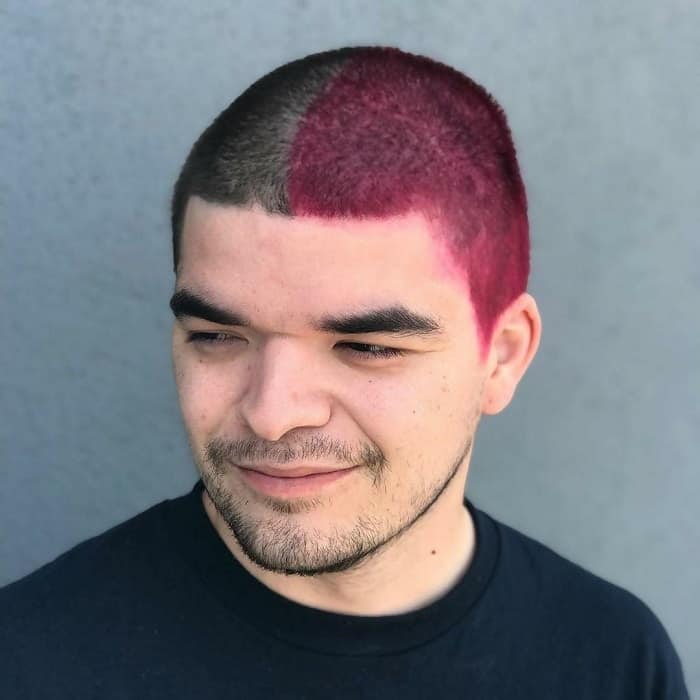 You may think what's so punky about a buzz cut? Well, just color half your purple and pose the question again. The answer will be staring you at the face. This hairstyle is cool, classy, understated and minimalist. That is what adds an extra appeal to it as well.
22. Straight Coloured Spikes
Straight spikes can grab eyeballs like anything but this punk hairstyle takes it a notch higher. It makes it a standout winner with a unique combination of colors and shades. Of course, it takes hours of tending and caring for the best results, but the fact is the final outcome is mind-blowing. This is what attracts a lot of music lovers to the punk hairstyle.
23. Red Undercut with Spiky Top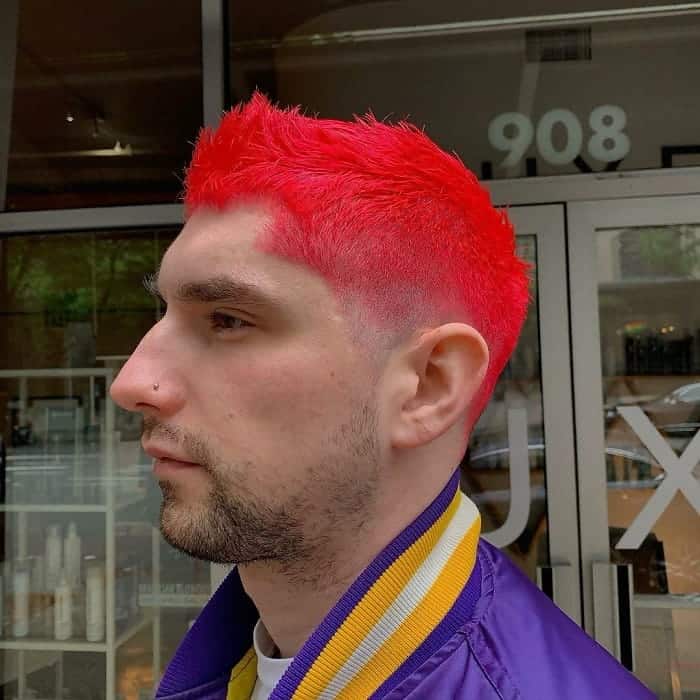 The undercut with spikes on top is common, but all of it in shades of scarlet and crimson make them stand out winner. This punk hairstyle is all about creating a realistic appeal without discarding the eccentric aspect of it. The nose pin and the dark shade beard line offers a striking contrast and makes this punk hair unique.
24. Side Shaved Skate Punk
Shaved sides are convenient, but when you add bangs right at the center with large round nose-ring, you have the ultimate representation of punk hairstyle. It is the type of styling that always ensures that heads will turn wherever you may go, and you will surely be the center of attention.
25. Double Spike Mohawk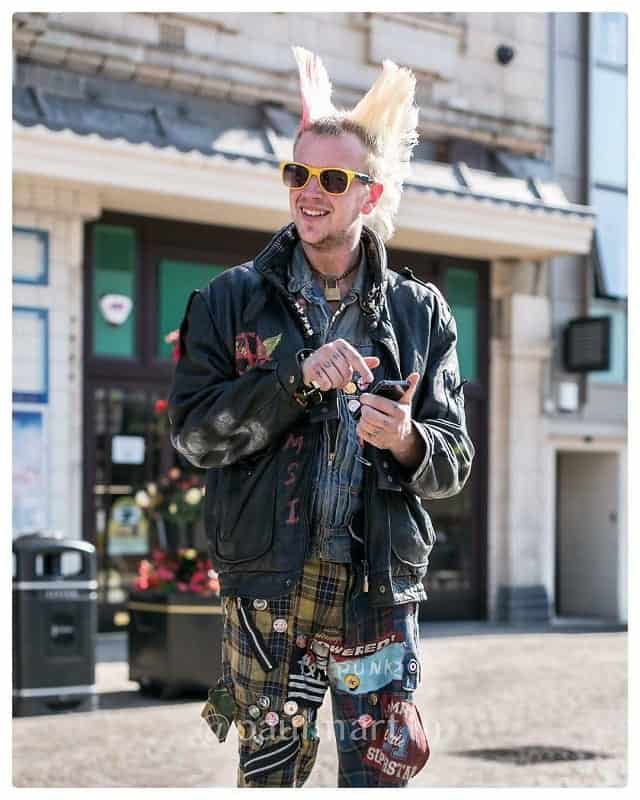 The Mohawk with spikes is cool, but when you have two of them jutting out, it becomes uber-cool punk hairstyle. This hairstyle is all about the creative application of obvious combinations. One look at it and you will know that this is the kind of punk hair that needs real creativity and a trait of eccentricity to carry it with panache.
As you can see, a punk hairstyle is not for everyone. For that person who wants to stand out and is not for everyday conformity, this hairstyle can fit. Browsing through pictures can give you a better idea of how you will really want to style your hair.