Young boys do not usually care much about hairstyles. But when they do, they want to make an impression with the trendy hairstyles like the adults.
Trendy Hairstyles for Boys
The trendy hairstyles for boys include – fade, crew cut, spike, bowl cut, slick back, faux hawk, mohawk, pompadour, side-part, etc. Each hairstyle has its own look and length and is appropriate for different occasions.
A short haircut means no fuss in the mornings for you or for your kiddo. Simply comb hair to the side with a little gel and he's good to go.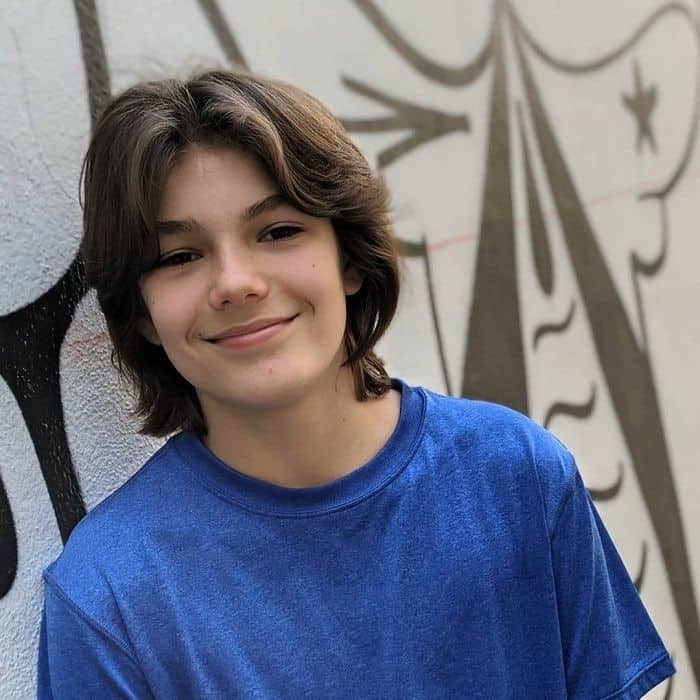 For a boy with medium to long hair, keep it above the shoulders with a center part and style curtain bangs for a 90s throwback.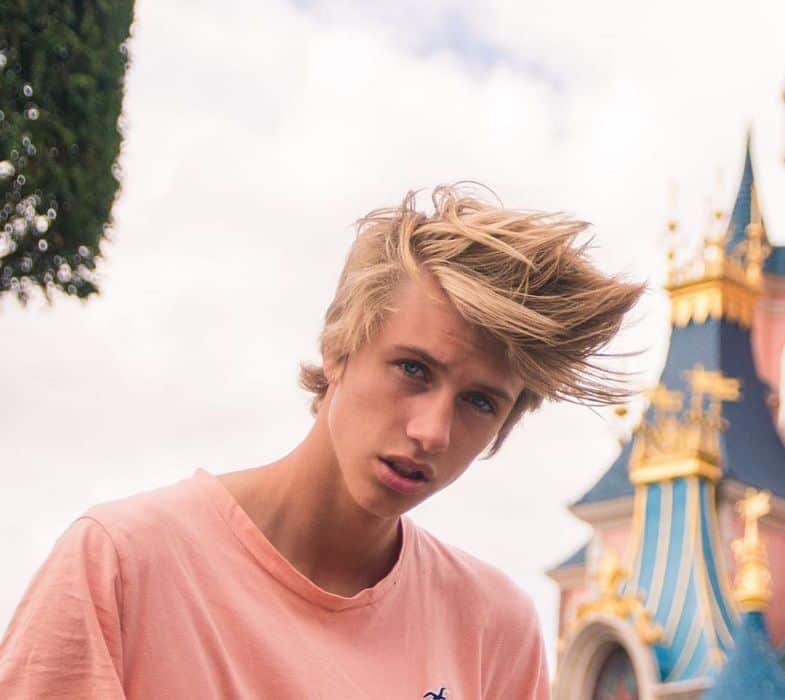 This medium hairstyle is a surfer look for any young boy looking to give off a sporty vibe. Keep hair longer and spiked near the front and go shorter at the sides.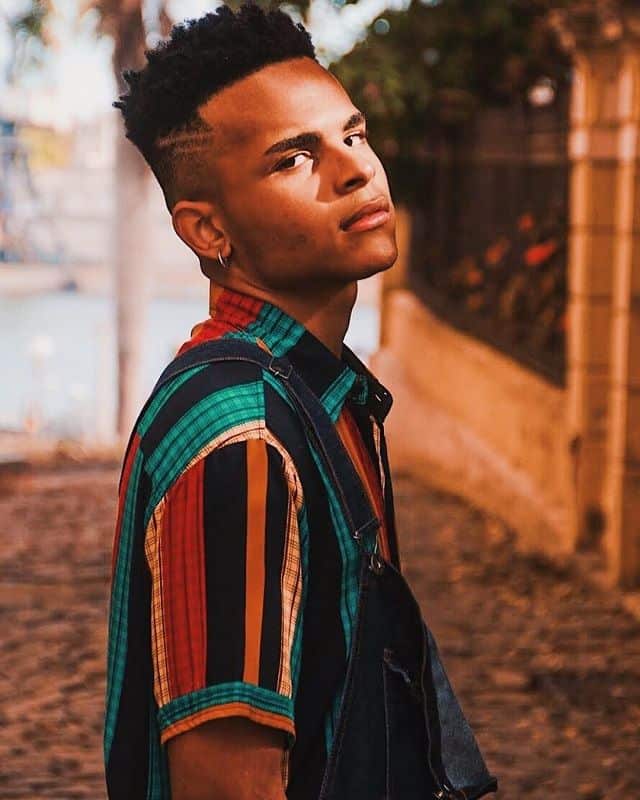 For a boy with afro-textured hair, grow it out a couple inches and frame it with a medium or high fade. Shaved in designs will help him express his personality.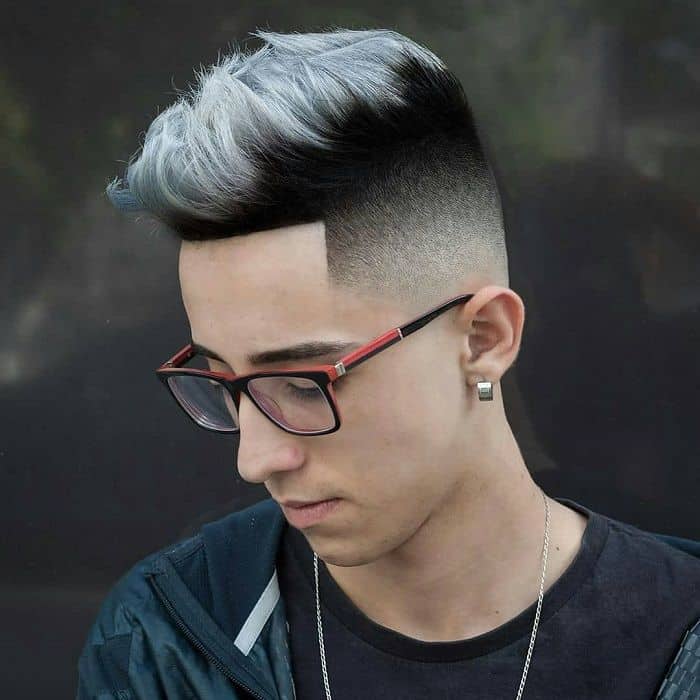 As kids get older, selff-expression is an important part of growing up. A flair of silver color on thick textured hair and a high fade are awesome ways to add style.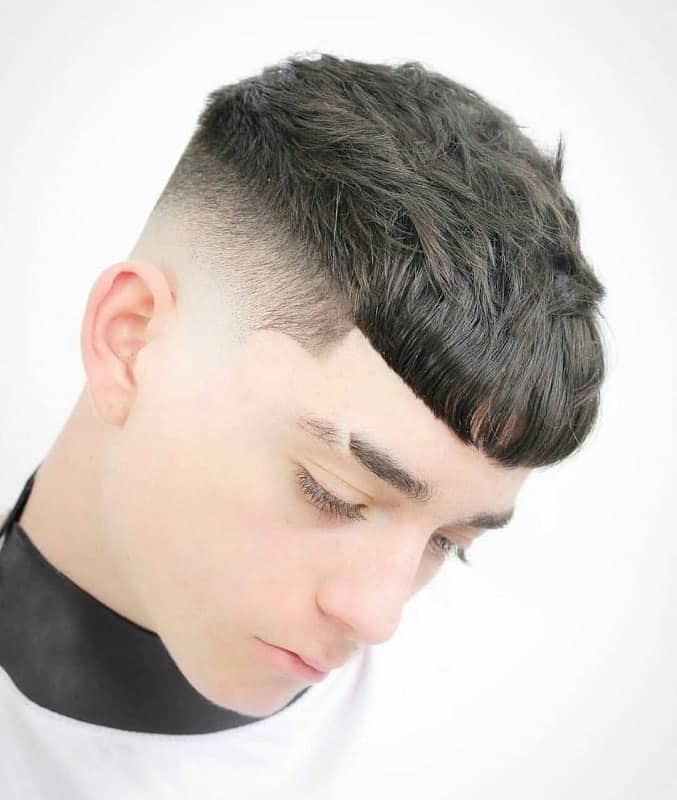 This mushroom haircut with a high fade is not only modern but full of edge, right down to the shaved line in the eyebrow.
Bring out the best features on your boy's face by giving them a line-up haircut. It'll square up the front of the face at temples while a fade will keep the look fresh.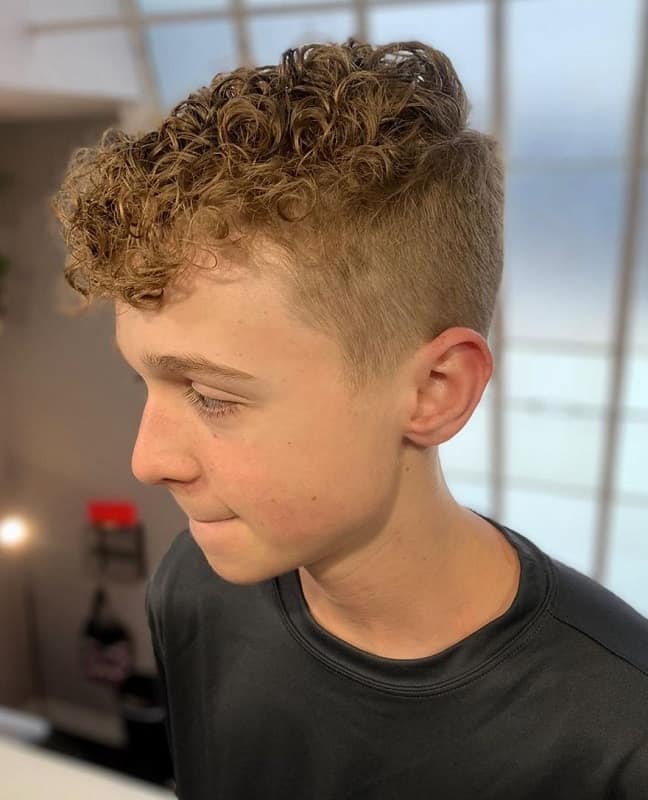 Curly hair is considered as a blessing these days as there are plenty of hairstyles available. Layer their best feature upfront and keep the back and sides short to show off their locks.
9. Wavy Look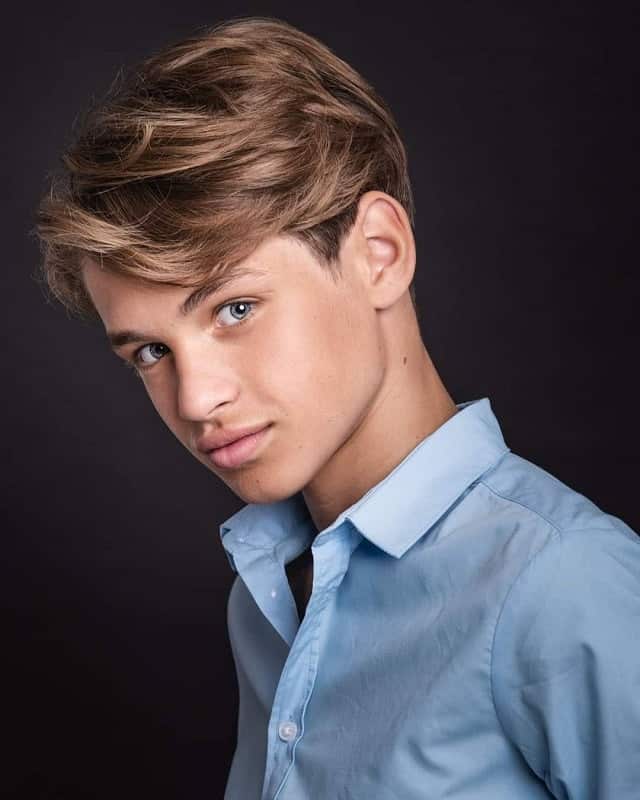 This wavy hairstyle is a very grown-up look. Layer hair and part at the side – hair will fall flatteringly on its own without any extra help from you.
10. Caucasian Boy With Spiky Hair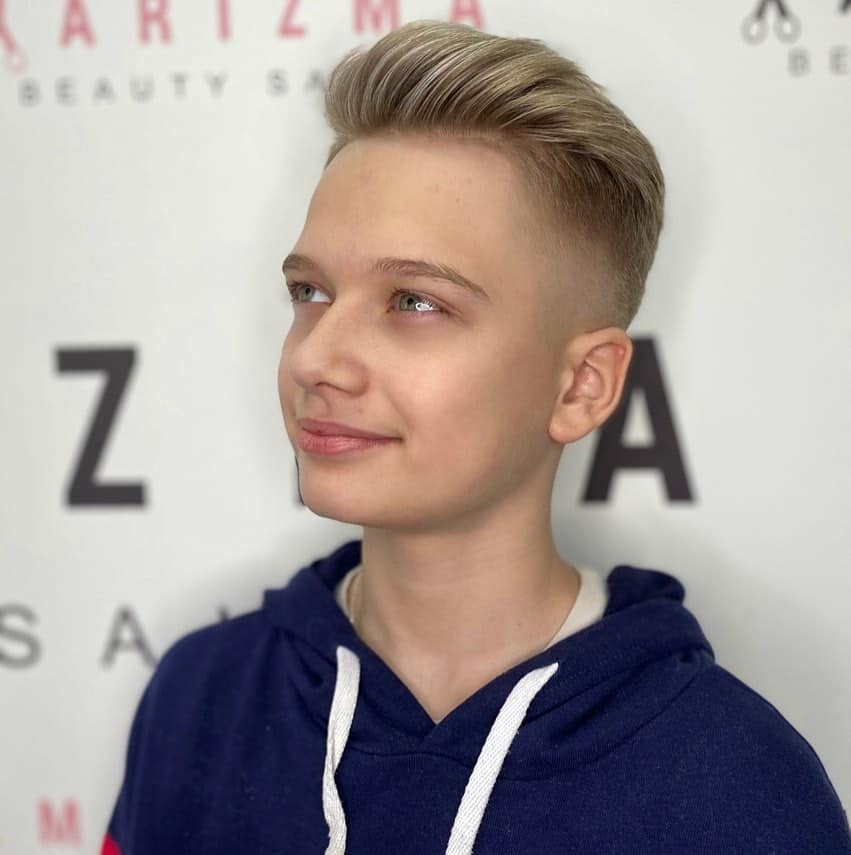 For teenagers wanting to look more grown-up, a haircut with a little height, such as a quiff, paired with a fade will do the trick.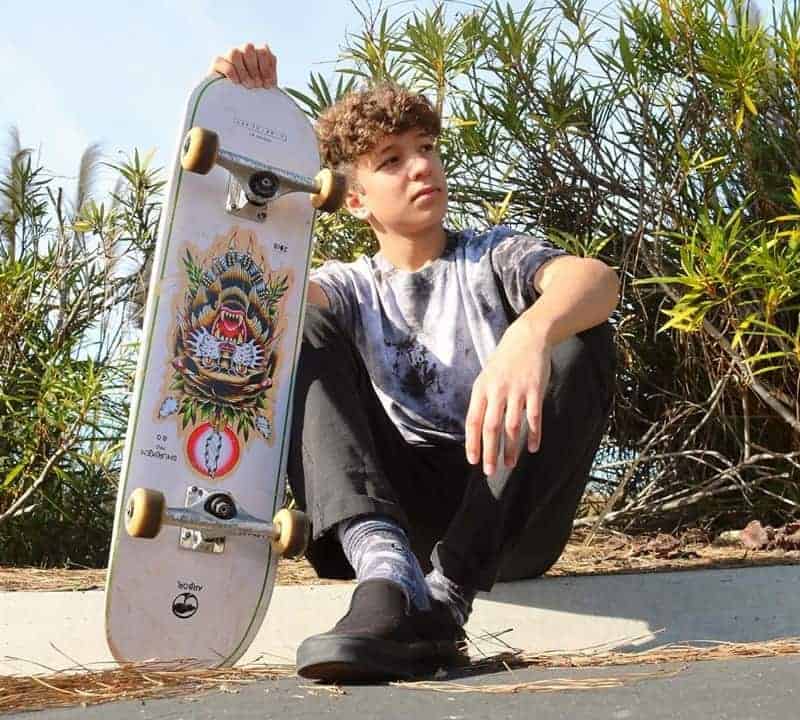 Skateboards are still in and so is this skater boy haircut: messy hair, no matter the texture, with any level fade.
For boys who like punk hairstyles, mohawks are a no-brainer. Whether hair is curly or straight, a mohawk will give your kid all the edge he wants.
Comb over hairstyle looks especially good on young boys. A simple side part followed by smoothing hair with mousse completes this hairstyle.
14. Hard Part for Boys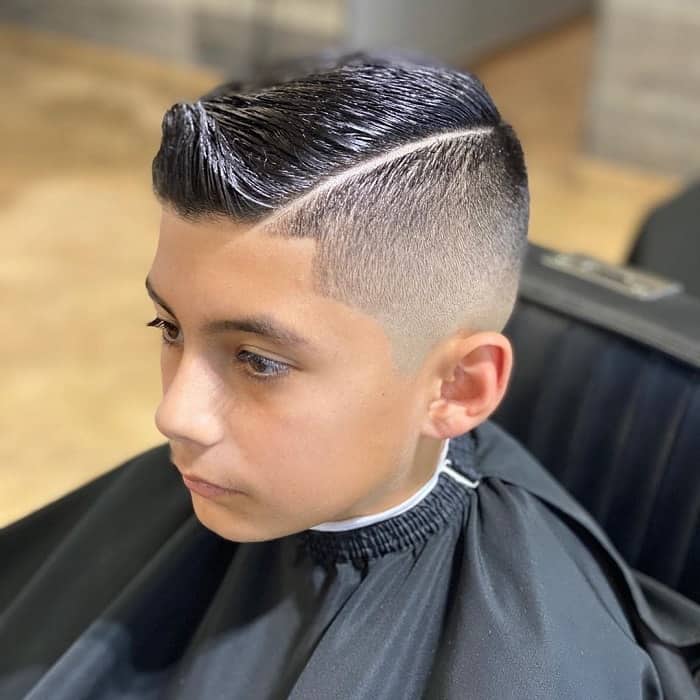 For a hard part, the stylist will shave in a line on either side and just below that, clip in a fade. A shaped quiff is a cool touch of style.
15. Blonde Boy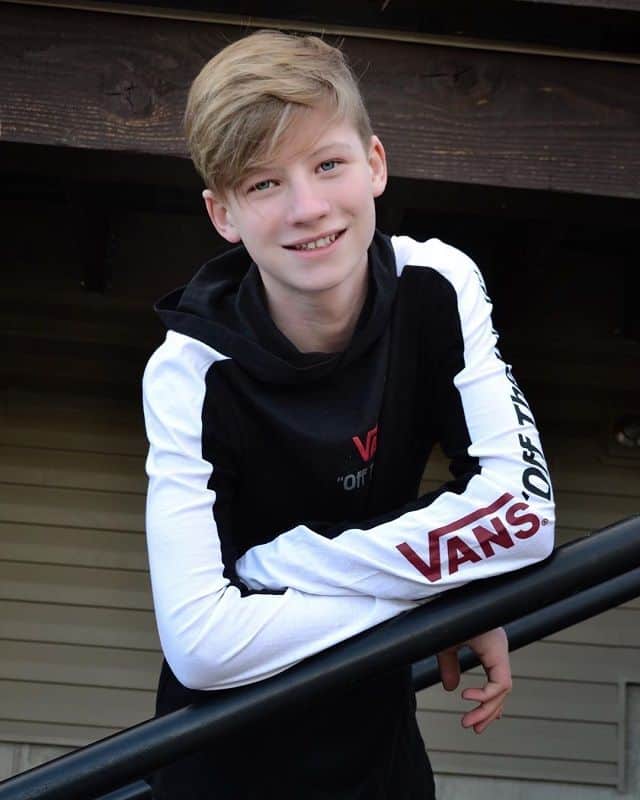 Whether or not a boy's hair is blonde, have the stylist layer hair and pair with a medium fade. He'll be able to wake up and run a comb through for a quick 3-minute style.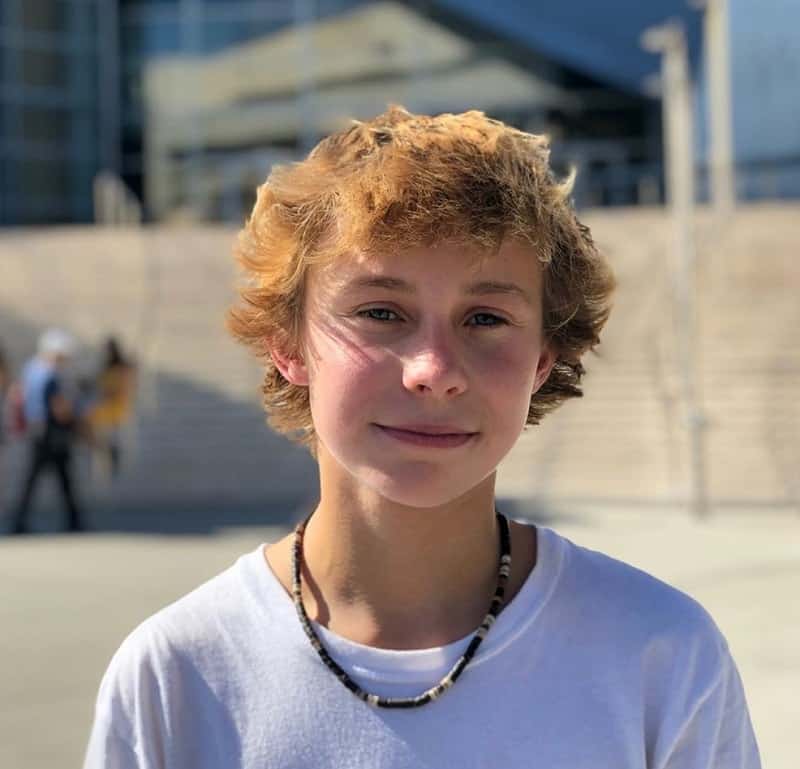 Does your kiddo prefer the messy look? Let him have it with a shaggy bedhead style that doesn't look too unruly by keeping hair trimmed and layered.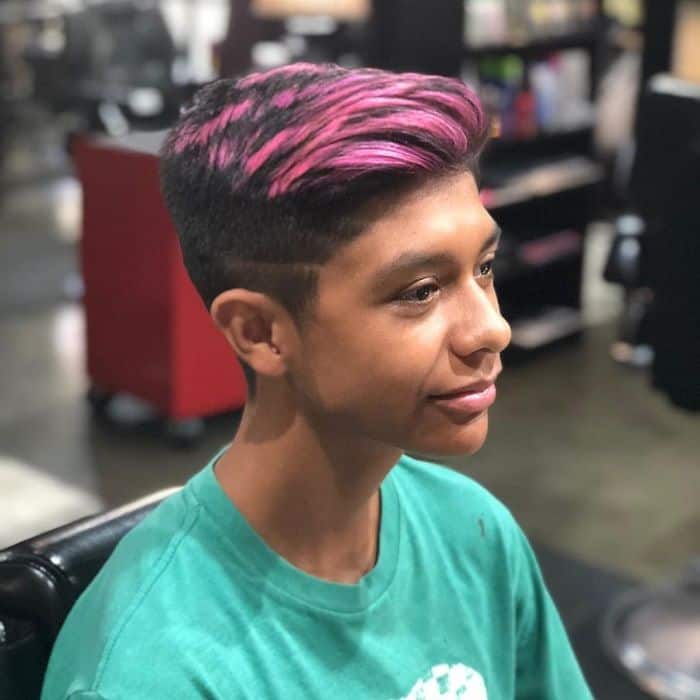 Color is one of the best ways to express personality on hair. This style uses hot pink streaks to make a long top-short sides style pop.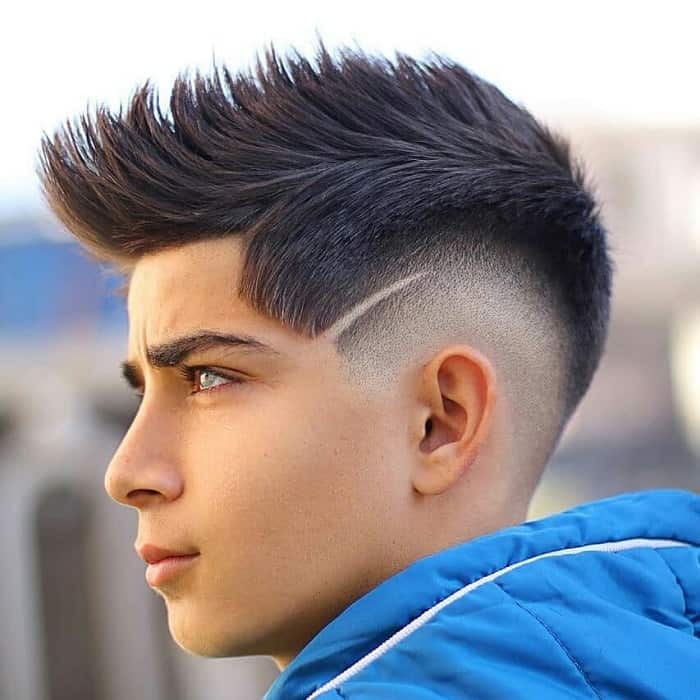 For kids who need to keep their look toned down, a faux hawk is a great option. It incorporates the best features of a mohawk – spiky texture – while remaining school-appropriate.
Copper or dark red hair color is the way to flatter a black straight hairstyle for Asian boys tired of their same old look. Point bangs in a V-shape and shorten sides for added detail.
20. Boy's Haircut With Line Design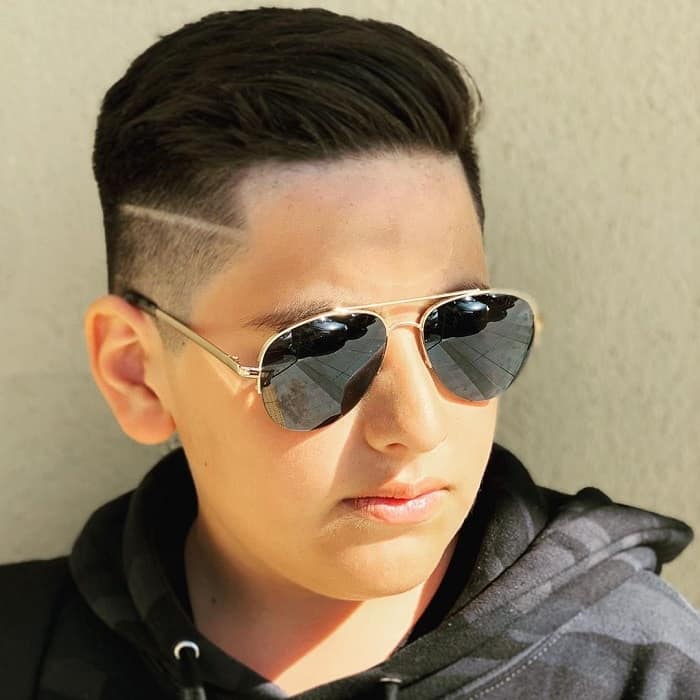 A straight shaved line fancies up a fade on a slicked back hairstyle. Whether it's one or two lines, the detail is what you want.
21. Buzz Cut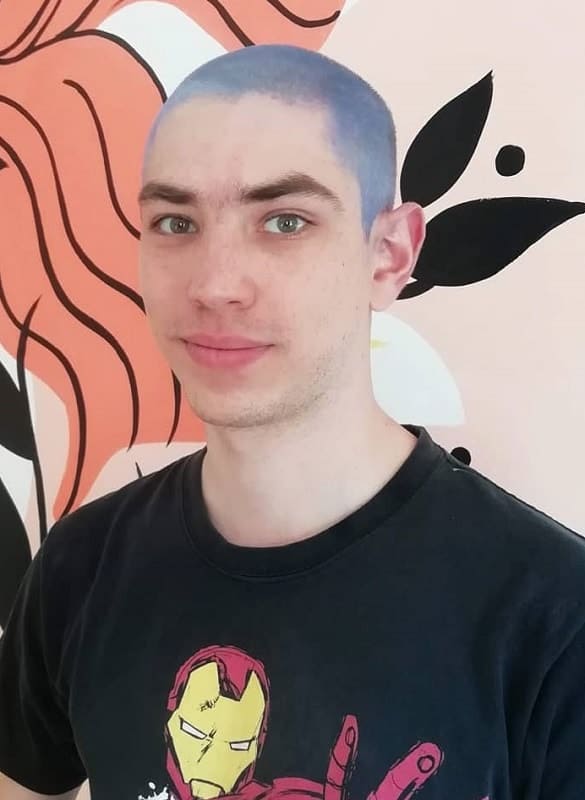 A buzz cut may look simple, but they can be livened up with a pale grey and they're perfect for the boy who hates messing with his hair.
22. Tween Boy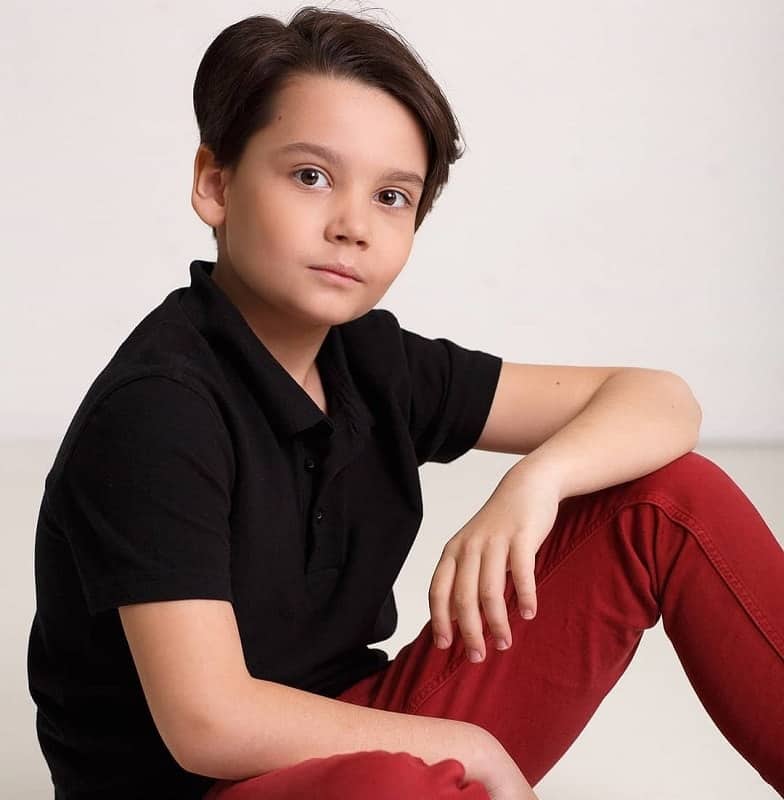 When your son or nephew is in between being a teenager and a boy, a side part on a cut with a couple inches of length will help him look fabulous.
23. Straight Hairstyle for Boys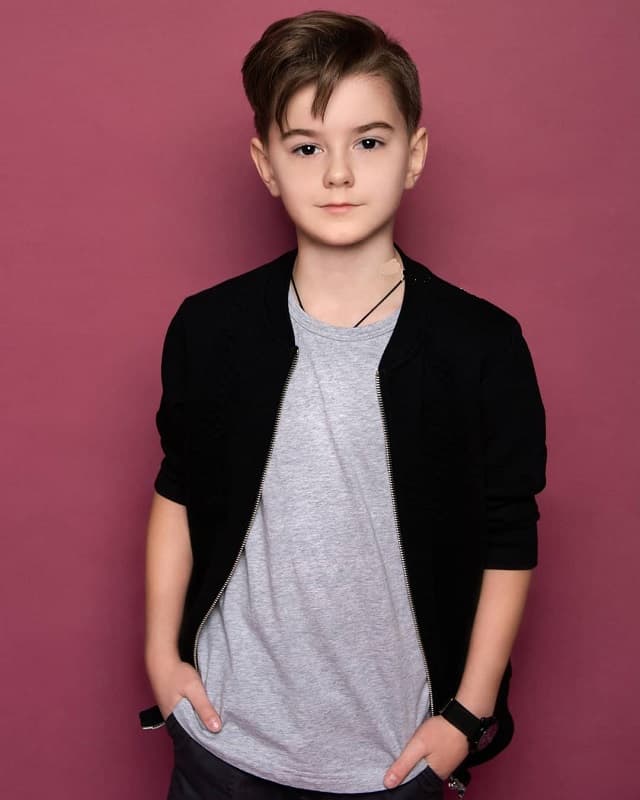 Straight hair is easily manipulated – take this cut: uneven layers help to add body and easy built-in style.
24. Boys With Thick Hair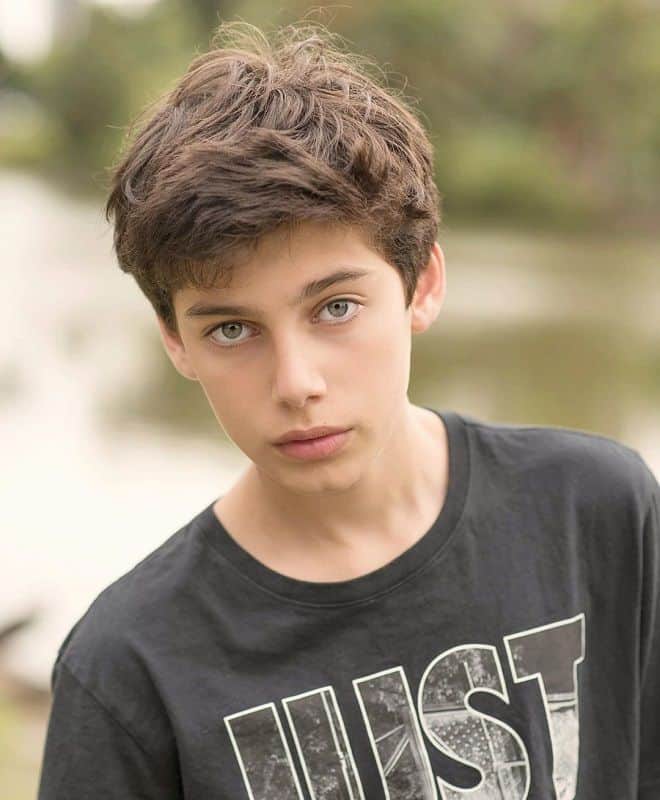 Layers also work for boys with thick hair. They give shape to unruly locks and will help to keep hair out of the face when he's busy playing sports.
25. Boys Hairstyle with Design
Does your kid want a haircut that will make him stand out? Show him this fade hairstyle with shaved designs. Waves, zigzags, or lines – he'll love it.
26. Boy With Bangs
When hair is several inches long and straight, give your child bangs and sweep them to the side. A couple of highlights will also be fun for him to have.
27. Side Swept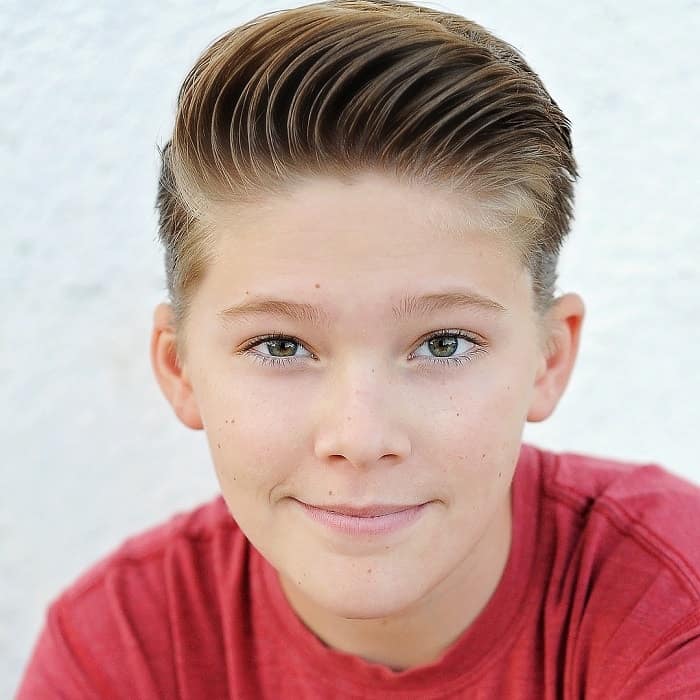 Side swept hairstyles add height and it's a style boys can easily comb up themselves in the morning. A medium fade ensures he doesn't have too much styling to do.
28. Taper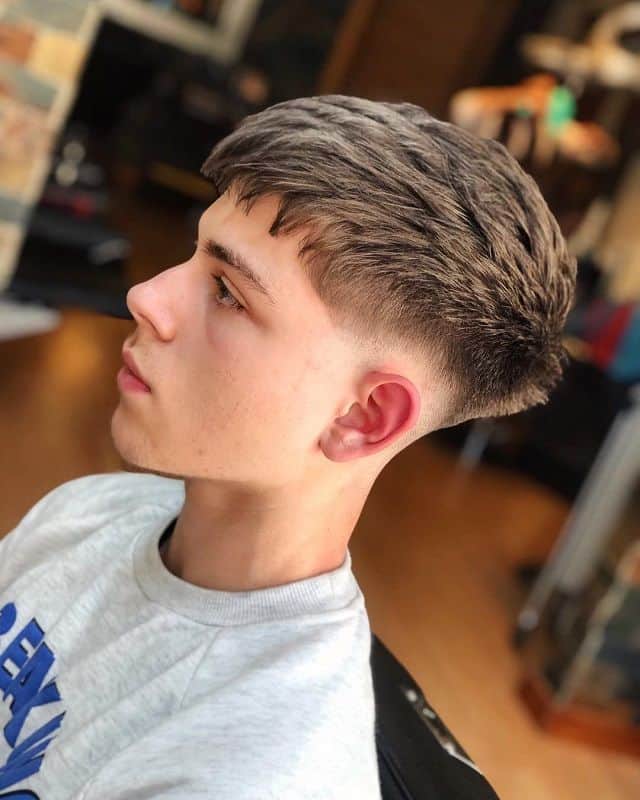 Whether hair is thick or thin, tapered haircuts are a quick way to add volume. The classy cut flatters every face shape and doesn't require too much maintenance.
29. Messy Hair
When your boy doesn't want to look like he tries too hard on his haircut, a messy style with choppy layers and spiky texture is a good choice.
30. Boys Haircut with Shaved Sides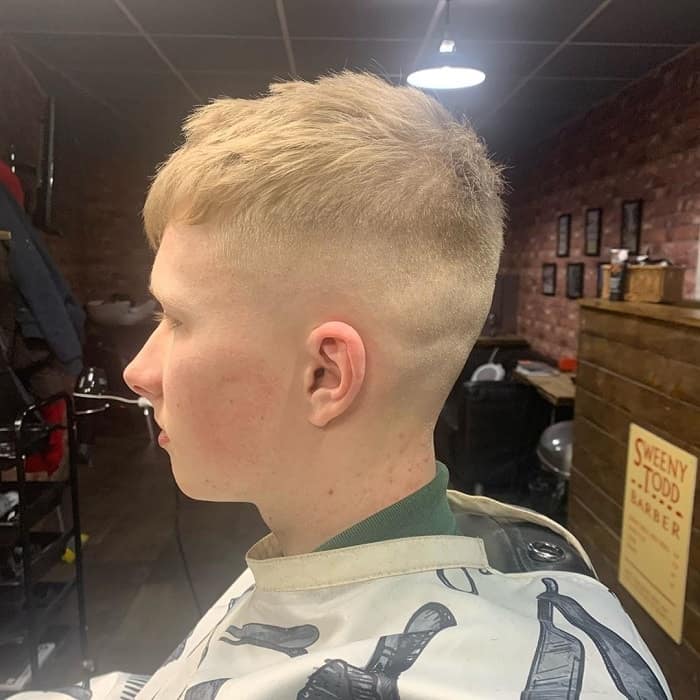 Short razored or choppy layers up top and shaved sides make this haircut a fresh choice for any boy. He'll love the grown-up feel it gives him.
31. Surfer Boy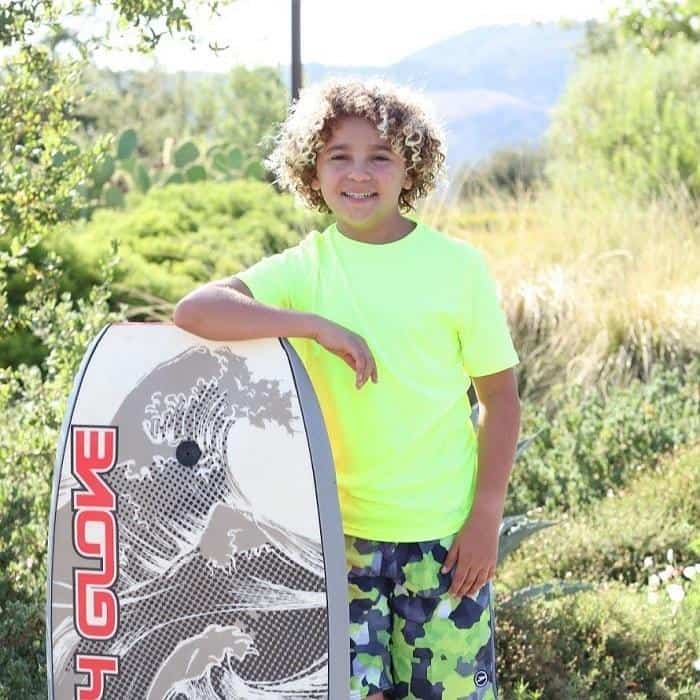 Curly or straight, get that surfer boy look by going for some highlights. Let hair go natural and avoid product for a relaxed vibe.
32. Crew Cut for Boys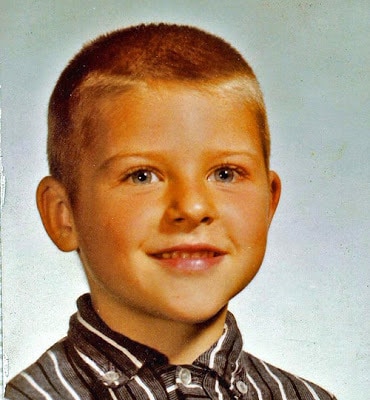 Crew cuts are short and simple and a good choice for young boys. The length of a crew cut can vary slightly but they are usually short all around with the back cut very close to the skin and the top a little longer. Crew cuts are also good hairstyles for active boys because they are short, cool, and will stay in place. You can also check these lovely baby boy hairstyles for little boys.
33. Spiked Hairstyle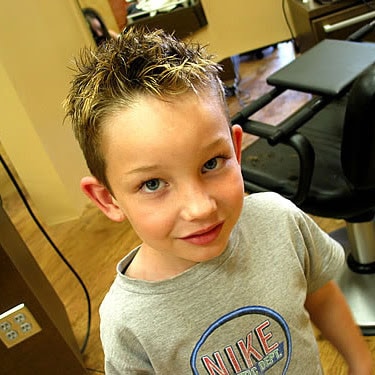 Many boys, even young boys, like the spiked look because it is considered cool and trendy. A spiked hairstyle is fashionable but still short so it is easy to manage. You can spike just the top, the front, or the entire head. A spiked hairstyle does require some type of hair product such as mousse or gel to keep the spikes in place. Short hair an inch or so long works best for spiking but longer hair can be spiked as well.
34. Combed Down Hair
Short and medium boy's hairstyles also include the comb down or combed back look. Short and medium hair can be combed down flat either to the front or to the back depending on length. This style is also easy to manage and simple to do. Depending on the boy's hair type a styling product such as gel or mousse may or may not be needed to achieve the desired look.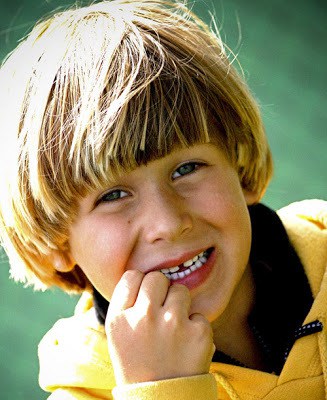 There are also styles for boys who want longer hair. In a bowl haircut, the hair is kept long on to and trimmed just above or below the ear depending on the desired length. Boys who want longer hair can also go with a style that is long on the top and trimmed short in the back. Hair can be "faded up" where it starts short on the bottom and gradually gets longer until it is long at the top of the head.
Various Boys Hairstyles
There are many different hairstyle options for boys. For young boys, something simple and easy to manage is usually best because young boys are so active and don't usually have strong preferences. For pre-teens and teens who are more style conscious, more elaborate boys hairstyles are available.