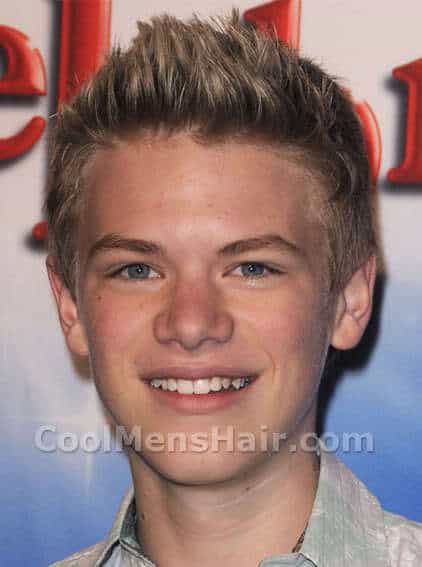 Kenton Duty spiky hair style.
Kenton Duty is a 25 year old American Actor born in Plano, TX 12 May, 1995. He has had parts in several national commercials as well as playing the role of Gunther Hessenheffer, a flamboyant foreign exchange student, on Disney Channel's "Shake It Up!". Here, we are going to take a look at the Kenton Duty hairstyle.
Kenton wears his hair cut in a nice, conservative fashion with the length being kept short. The sides and back are allowed to grow to about a half inch and the top is one to one and a half inches.
He uses pomade on his fingers and run through his hair to produce a slightly mussed up look. The very front is then pulled up into spikes across the width of his forehead. This is not a low maintenance hairstyle.
He has to keep it washed to prevent wax buildup from the product used to hold it in place. In addition, pomade provides a soft hold that looks natural, but must be touched up throughout the day.
He does not have to carry a brush everywhere he goes, but he does need to check his appearance in a mirror and run his fingers through the hair periodically.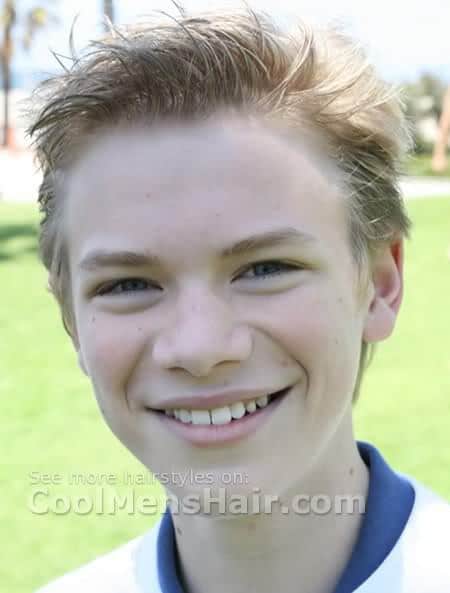 Kenton Duty messy look hairstyle.
When he wants a slightly more conservative look, he leaves off the spikes in front. This creates a simple, messy look that looks as if he does nothing with his hair at all. This is a case where appearances can be deceiving, as it is still a high maintenance style.
The Kenton Duty hairstyle is one that has become very popular among older men. He changes it and makes it his own when he adds the spiky front. This is a very high maintenance style that requires frequent touch ups and a moderate amount of pomade to hold the hair in place.