Jaden Smith is the thirteen year old son of Jada Pinkett Smith and actor/rapper husband, Will Smith. He is also a star in his own right with careers in acting, rapping, dancing, and writing songs.
His first role came in 2006 when he appeared as the son of Will Smith's character in the film, The Pursuit of Happiness. He has also been seen in remakes of some popular movies from the past. Here, we shall take a look at a couple of Jaden Smith hairstyles.
Afro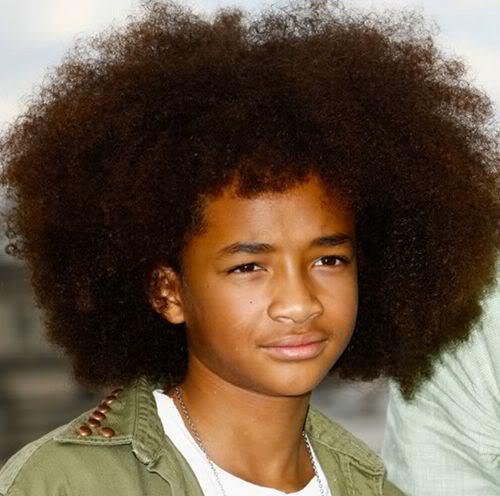 Jaden Smith afro hairstyle.
One of Jaden's favorite hairstyles is an afro. This takes advantage of the natural curl in his hair. It is a fairly high maintenance style that requires him to use a pick to keep the hair from tangling. The curls are allowed to grow out long, causing the hair to stick out from his head.

Jaden Smith afro hair.
Unlike most black men who wear an afro, Jaden's does not look like a round ball when viewed from a distance. He has trained his hair so that it is almost flat on top with curls going in either direction to the sides. This gives the appearance that his hair is parted in the center, though that would not be a completely accurate description.
Cornrow Braids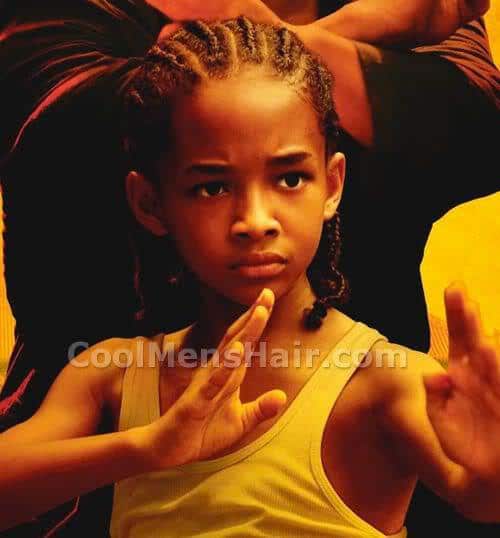 Jaden Smith cornrows hairstyle in The Karate Kid.
His other favorite hairstyle is the cornrow braids he wore in The Karate Kid. This is a difficult hairstyle to attain as it takes hours to work the hair into the tight braids this style requires. The hair is divided into several rows from front to back and each row is braided separately. Most men put a bead on the end of the braids to hold them.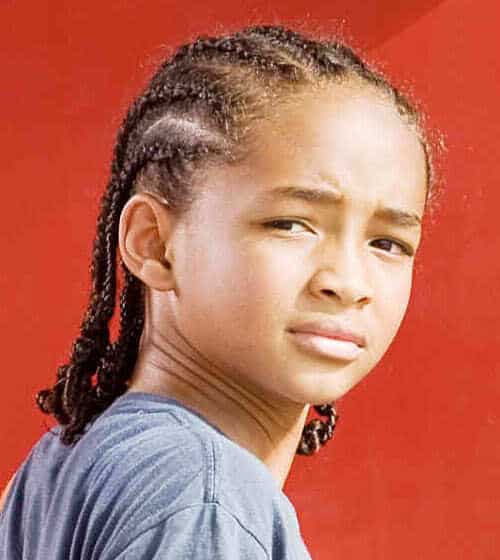 Jaden Smith cornrow braids hair.
On his head, the finished style looks like alternating strips of hair and bare scalp. This is similar to the appearance of a plowed field, hence the name, cornrows.
The hair is long enough that it extends away from the head even after the back has been reached. The braids continue in the same rows, though they are now free falling. This pulls all of the excess hair into braids and makes the style look uniform.
No doubt, if one looked long enough and hard enough, he/she would be able to find other Jaden Smith hairstyles. However, the two most often seen on him since he became famous in his own right are the afro that has grown quite wide while being flat on top, and cornrow braids.