Teenage is the golden period of life when all boys enjoy their life to its fullest. When it comes to the hairstyle for teenage boys they become more creative and spontaneous than others. From classic short to trendy long hairstyles, they are sporty enough adopt all these cool funky hairstyles.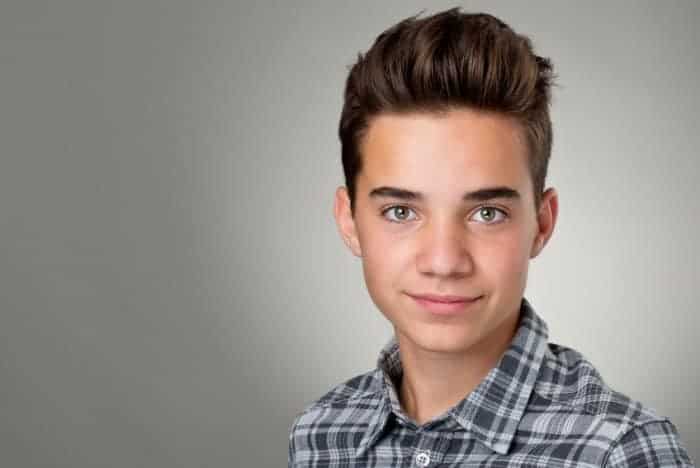 Hairstyles for teenage boys have changed greatly over the years. It seems that each decade brings new fashions and new ideas of what is considered "cool". Let's take a look at some of the more popular hairstyles from each decade from the 1950s to today.
In the 1950s, it was unheard of for a boy to have long hair. All the popular hairstyles were for short hair. One of the most popular was a business style cut that allowed the hair to be parted on one side and combed straight over to the other.
Past Trends of Teenage Boy Hairstyles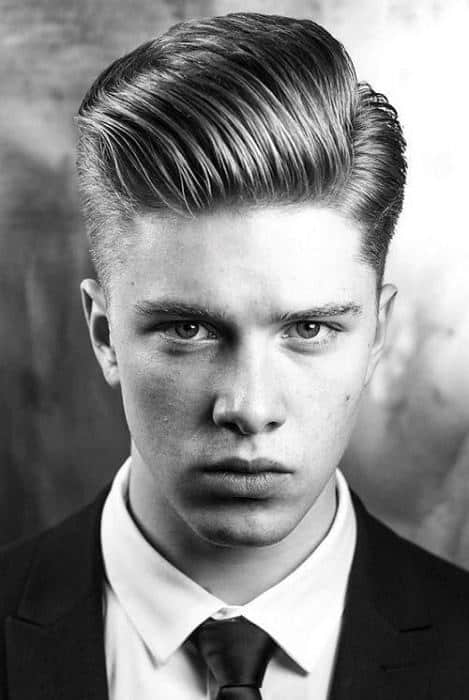 The more rebellious teens modified this into a style that came to be known as the ducktail. The hair on the sides and back were slicked back with pomade and pushed together in the middle of the back of the head to form the distinctive tail.
As the 1960s came about, many teenage boys adopted the pompadour rockabilly hairstyle made popular by James Dean in the movies. For this style, the sides were still cut short, but the top was left a bit longer. The front was combed straight up and flipped to the back to create a taller hairstyle.
The 1970s saw the beginnings of the rise to popularity for long hair on teenagers and men. Part of this can be attributed to the rising popularity of the "hippie" subculture. Long hair became a symbol of rebellion against authority and against the Vietnam war. As the decade wore on, men and boys began to wear their hair as long as any woman's hairstyle.
The 1980s were a decade of "big hair". Young men and teens did all sorts of wild things with their hair. One style that became very popular was the mullet. This hairstyle had the hair on top and sides cut short while leaving the back long. There are many variations on what to do with the hair on top and sides.
Some styled this part of the hair in a conventional business style. Others adapted the pompadour to fit the overall length of the hair. Still, others would create spikes. This was a decade for experimentation with different styles.
In the 1990s, hairstyles sort of fell to the background. There were not any real standouts. General movement was away from the big hairstyles of the previous decade. This made shorter hairstyles gain in popularity again, with many returning to the styles that were popular in the 50s and 60s.
Most Popular Hairstyles for Teenage Boys
In this article, we have selected the best 20 hairstyles for teenage boys that they can carry out the year around.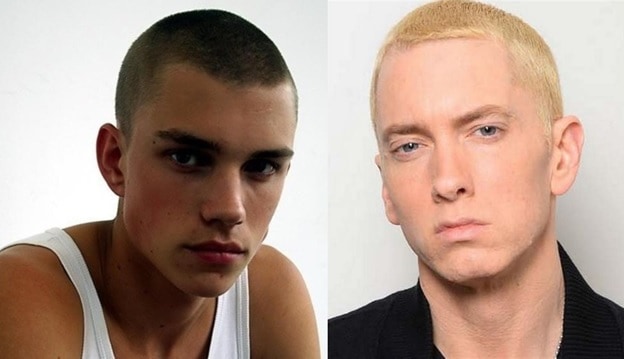 This has been a popular hairstyle for teenage guys over the past few years. This haircut came in trend when Eminem styled his blonde hair into a buzz cut. What's so special about this look is that it brings aggression on one's face, so if you're a fan of looking like a thug on streets who just got bailed out of jail, you may go for this look.
2. Smooth Back Combed Look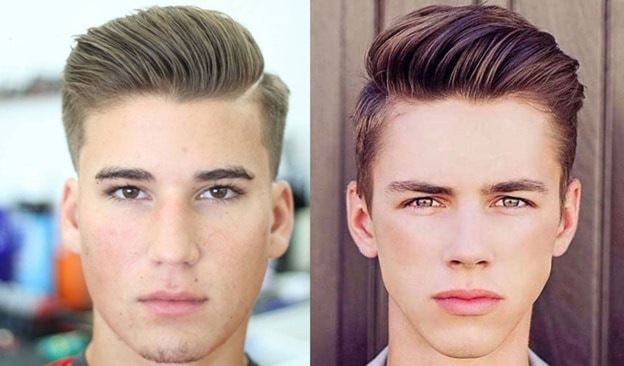 This super neat look is perfect for gentlemen out there who like to keep it simple and classy. Boys who love grooming on a daily basis can style their hair into a side-swept comb over hairstyle and turn all the heads in the hallway.
For this look, one must have thick and voluminous hair to achieve the puffiness to create height in the hair.
3. Edgy Undercut
The very famous and currently trending hairstyle for teenage guys is an edgy undercut. When it hit the trending hairstyle list, every boy out there went for this look at least once and rocked this amazing haircut.
Due to its major demand and popularity, there have been so many variations added to this haircut that any one guy out there with any face shape and hair texture can easily get this look according to their style. From razor cut sidelines to fade under-cuts, this haircut has been on top of the lists in demand for teen boys especially.
4. Long Swirled Hair
Also called long curly hairstyle, is another one on top of the list in teen boy haircuts. The reason is that curly hair does not require as such styling since it's naturally grown out and groomed.
5. Hedgehog Hair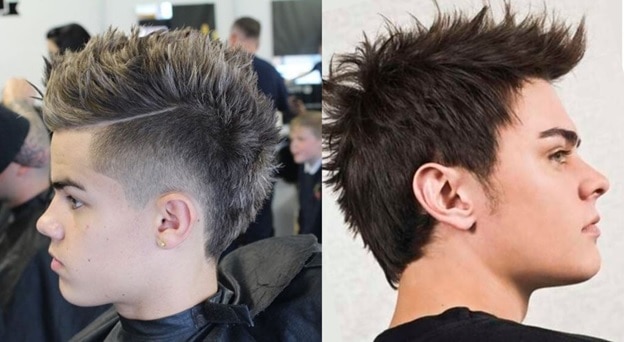 Also known as faux Mohawk hair has been trending since the early 90's amongst teen boys. This look also has variations as it can be styled in either spikey Mohawk or a ponytail Mohawk which is mentioned ahead in the list.
6. Classic Pompadour Side-Parting
Inspired by the retro vintage hair trends, is still much in demand to this day. This look was made popular during the times when Elvis Presley used to be every girl's fantasy when he brought this look into recognition.
7. Messy Fringes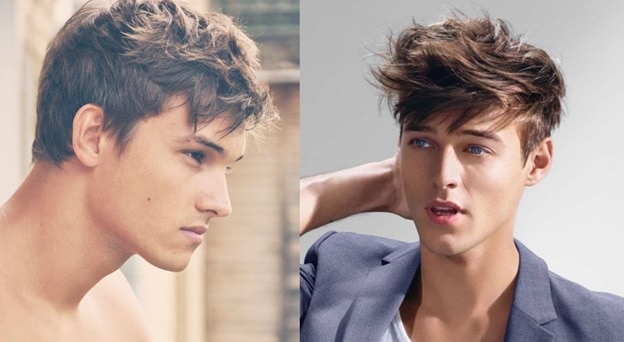 This super cute teenager haircut makes every girl go crazy when they see a guy across the room with this look. It's trendy and easy to style as it only requires for the top hair to grow longer till it reaches the eyebrows and some wispy layers to add in in more definition to the look.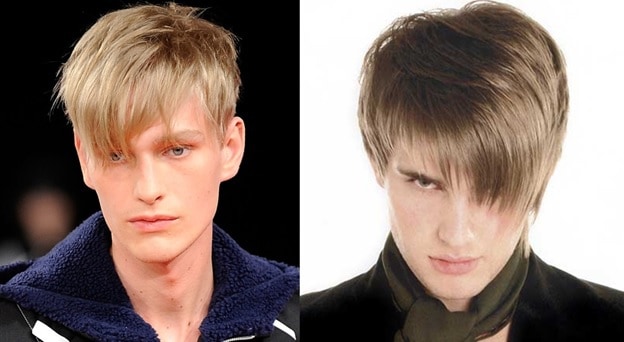 This haircut has been a favorite for quite some time. It suits well on those boys who seem very innocent looking, but are very naughty on the inside. This hairstyle can be worn by boys who have naturally silky and straight hair and can get some layering done to really accentuate those facial features.
9. Side-Swept Hair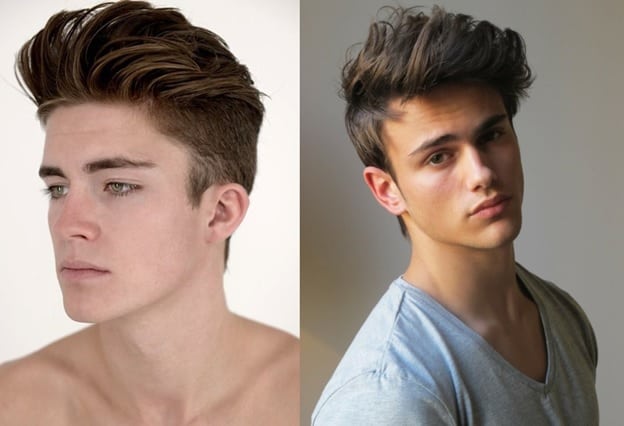 This hairstyle for teenage boys is just what every guy with thick hair growth should go for. It not only makes one look classy, but it also adds the perfect amount of bounce when the wind gushes through the hair.
10. Front-Combed Curls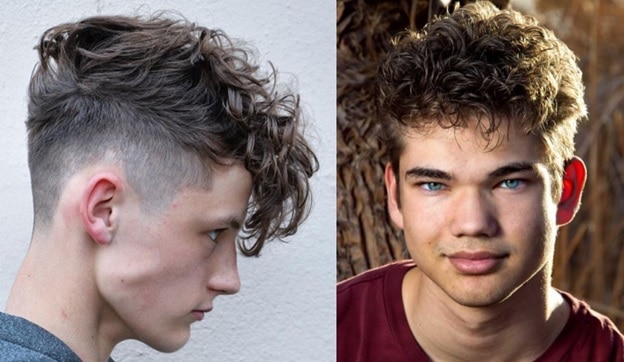 This style is very modern, but with a touch of an old-school look. This is perfect for boys who have natural curls in their hair. All they need to do is, let the top hair grow out long enough to reach the forehead and trim off the sides into an undercut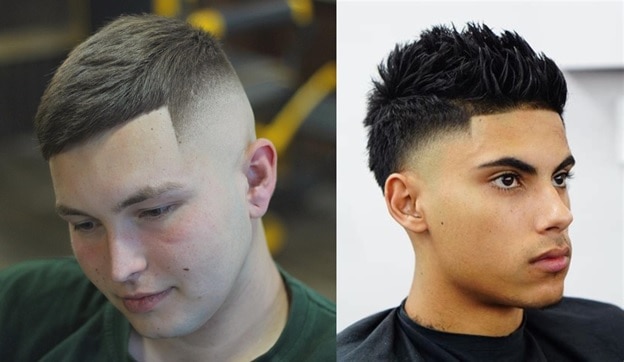 This is the new variation which has been added to the undercut hairstyles for teenage boys. It looks extremely stunning as if someone has photo-shopped the hair to make it look graphically designed.
12. Long On Top With Half-Shaved Side
Also belonging to the undercut family, this look has become high in demand as it adds more power to ones look.
13. Short Hippy Cut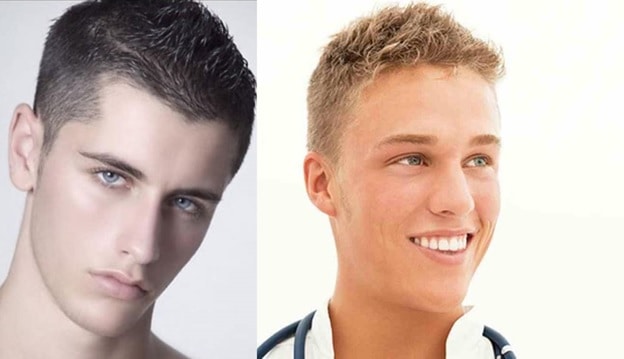 This teenager haircut is almost the same as the buzz cut, just the difference that the hair is slightly longer and one can easily style their hair into spikes.
14. Sleek Layered Hair
Teenage boys who love having long hair can wear this look as it defines the layers that form in their naturally silky strands. For a more stylish appearance, one can part their hair on one side to really make the layers visible.
15. Faux Long On Top Ponytail
This look is widely popular amongst sportsmen as some famous footballers like; David Beckham has worn this look which is still trending amongst teen boys around the world.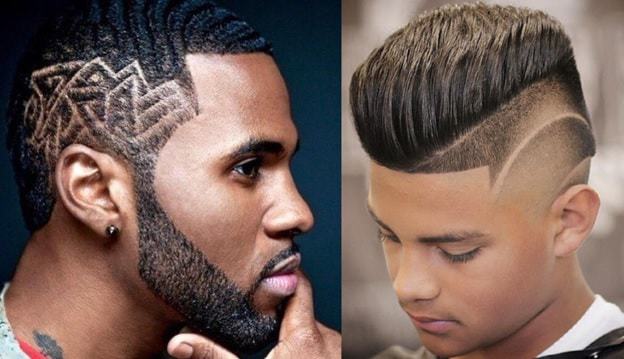 This is an upgrade in the undercut hairstyle with razor cut sidelines on the sides and back of the head. This teenager male hairstyle also became popular due to celebrities wearing this look.
17. Front Flipped Hairline
This hairstyle is perfect for an everyday casual look. This can be styled in any type of hair as it only requires for the front hair to be curled up nicely with the rest of the hair backcombed neatly.
18. Bleached Hair Look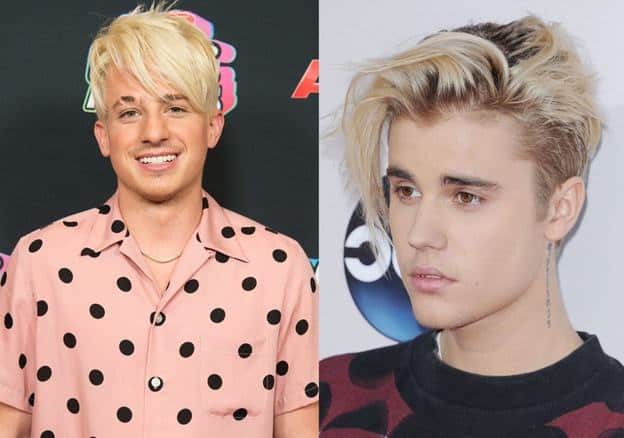 This hairstyle is for those teenage boys who are daring enough to bleach their hair entirely. This look recently became popular as celebrities like Justin Bieber and Charlie Puth dyed their brown locks into blonde hair.
19. The Emo Look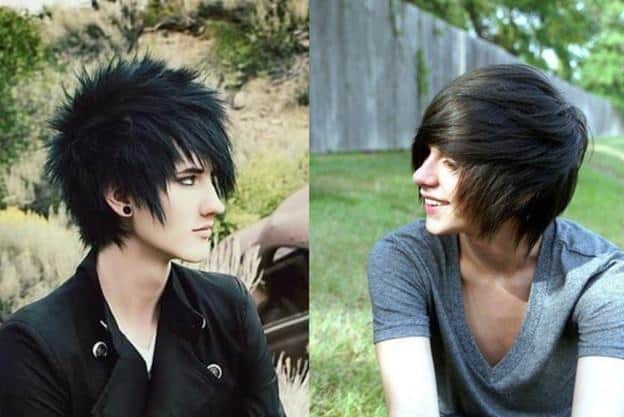 This look has been styled by teenagers of every generation inspired by anime series and metal music bands. Teens who love metal music love keeping this look like their signature style.
20. Wavy Tousled Hair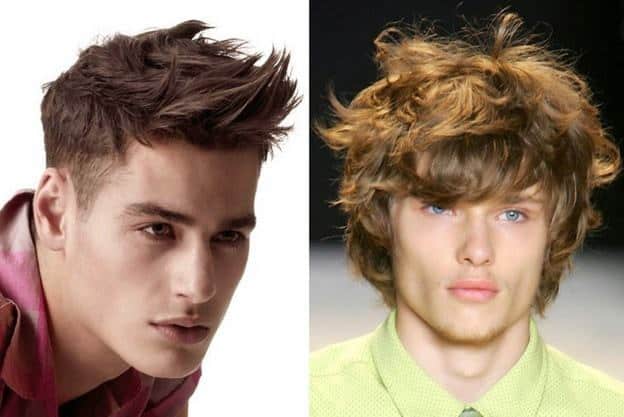 Boys who prefer not grooming their hair at all can easily wear this look on a daily basis as their hair is naturally wavy and needs no hairspray or hair-wax to settle them in place. One flick can kill an entire room full of girls going gaga over a boy with tousled hair.
Today, hairstyles for teenage boys vary greatly based on what region one is from. On the west coast, surfer styles are popular. In middle America, the boys tend to keep their hairstyles short still.
With these 20 amazing variations in hairstyles for teenage boys, one can now style their hair more fashionably with more confidence according to latest trends.