Christopher Drew is a twenty nine year old American musician. He focuses on the acoustic pop genre. He is best known by his stage name, Never Shout Never.

Christopher Drew hair.
Chris wears his hair at shoulder length. It appears that when he has it cut, a razor is used to provide some texture. The front of the hair is cut at an angle so that he can part it on one side and comb it toward the side and front. This creates bangs that come down to just above one eye.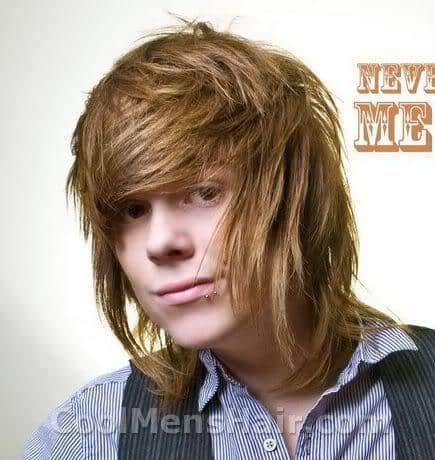 Christopher Drew hairstyle.
He has also had it cut more straight across the front so that the bangs came to the eyebrows above both eyes. To style it, he simply brushes it in the morning, using no product according to his blog. Creating this style requires one to brush the hair, then tease it for a messier look. Hairspray is recommended to hold the hair in place.

Christopher Drew messy hairstyle.
Christopher Drew haircuts have changed very little since he began his music career. It appears that he has found a style that works for him and stuck with it. One thing that has changed is the color of his hair. It is naturally brown, though he has dyed it black at times.
Christofer Drew hair is one of the easiest styles to recreate. It is cut simply so that it hangs to his shoulders. The top is razor cut for texture and shaped for the creation of bangs.
He can create a messy appearance that is quite popular today, or he can brush it straight. He occasionally uses a headband around the outside of all the hair so that the bangs stick out from beneath it and stand away from the head slightly.