Little black boy's Mohawk haircuts are the best ones as there is so much room for improvisation in them. You can add your personal touch to these stylish haircuts by playing with fringes, types of fading, curls, and parts.
The freedom of adding a design to your kid's hairstyle makes them even cooler. Your little gentleman will surely fall in love with Mohawk haircuts if you get him one perfect for his personality.
Is Mohawk Haircuts Appropriate for Little Black Boys?
So, you're thinking of giving your little man a rocking Mohawk? It's bold, it's edgy, and let's admit, it's downright cute. But there are some things you should mull over before you take that leap.
First things first, what does your little one think? Kids have personalities larger than life itself, and it's essential you acknowledge that. If your little guy is as excited as a kid in a candy store at the idea of rocking a Mohawk, that's already half the battle won!
Also, think about the setting. We want our kids to flourish and express themselves, but let's also be sure the school and community are on board. Just take a moment to check in on any guidelines at school or in the local community. You don't want to cramp his hairstyle, but it's good to be in the know.
Now, here's the practical side – Mohawks are high-maintenance. But with a little time and maybe some styling products, you can keep your little boy's mohawk looking fabulous. If you're ready to commit, go for it!
And let's not forget the roots of the Mohawk – it's not just a cool hairstyle, it's a part of indigenous culture. Teach your little one about the heritage behind the style. Let your little boy wear it not just as a fashion statement, but as a homage to its roots. Respect and knowledge are always in style.
Finally, once that Mohawk is all set, shower your little boy with all the love and positive vibes. Let him know he's not just rocking a hairstyle, he's embracing his individuality. That confidence? That's gold!
Remember, it's not just about the hair; it's about letting your little one's personality shine.
Top Mohawk Haircuts for Black Little Boys
Mohawk hairstyles are one of the coolest hairstyles for little black boys. Because they are stylish and unique as well as easy to maintain. Running around or gentle winds do not send Mohawk hair going messy or sloppy. This is why they are perfect for little boys. As they know that, they cannot let their hair come in the way of fun!
If you are planning a visit to the barber's for your boy, have a look at these little black boy Mohawk haircuts. So that you can get a basic idea of what you and your kid want.
1. Curly Top with The Part And High Skin Fade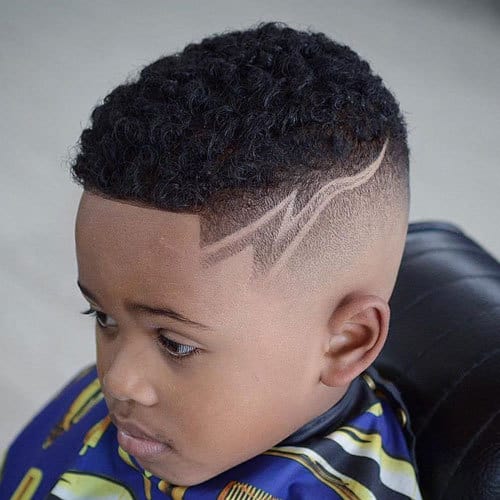 This is the perfect Mohawk hairstyle for black little boys with curly hair as it neatly puts everything in its place. The high skin fade makes them look polished and well-groomed for any event.
The curls are cut short too so that they can be arranged easily with some gel. The side part that goes with it enhances the details of the haircut overall, making it look even better.
2. Short Afro Twists with Low Drop Fade
This hairstyle is the perfect combination of messy and refined. The low drop fade makes the hair look well cut and managed.
Whereas the short Alfro twists on the top, give it a wild funky look. This Mohawk haircut for little black boys is cool and your boy will love sporting it.
3. High Top Fade with The Lineup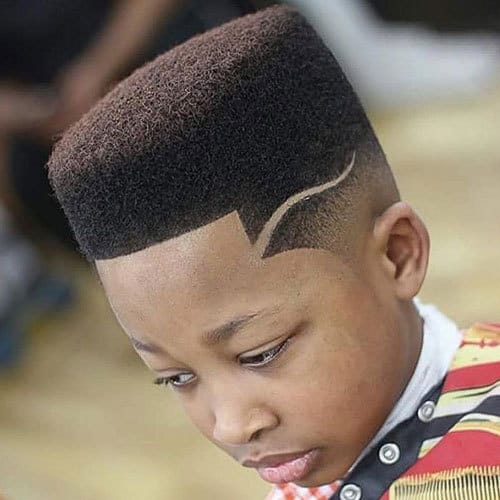 This is probably the coolest Mohawk haircuts with all the locks on top standing upright. You can set them and make sure that they stay in their place by applying a lot of gel or paste. The fade at the sides gives a dramatic feel to this cool haircut which gets perfect with a stylish lineup.
4. Bold Grown Out Hair with A Fade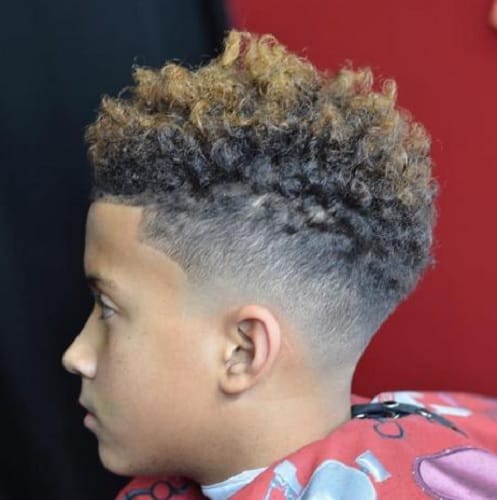 This absolutely cool, outgoing and very bold hairstyle leaves your kid looking great. This will boost up his confidence and personal charm many times. The hair stays long and you do not have to get them cut from any side except the sides for fading.
This is the secret to the success of this black kids Mohawk hairstyle! You can set the locks in any direction that you and your boy like with the help of a gel which is okay for kids.
Long Haircut Ideas for Toddler Boys
5. Wet Mohawk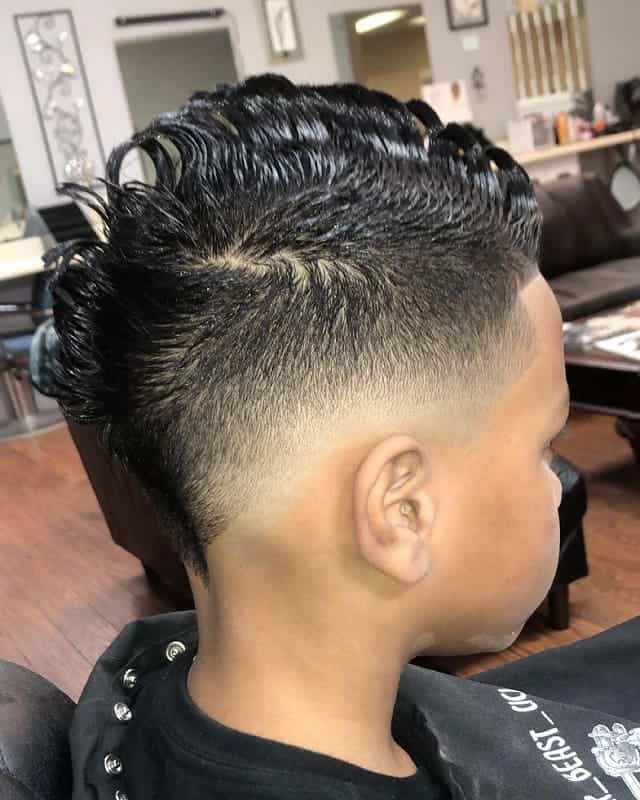 If your little man is a mixed boy, he might have wavy hair that can be beautifully styled in a mohawk.
Choose a low taper fade that goes diagonally on the sides, creating a V shape in the back, and lift the mohawk. Style it up with hair gel.
6. Side Razored Design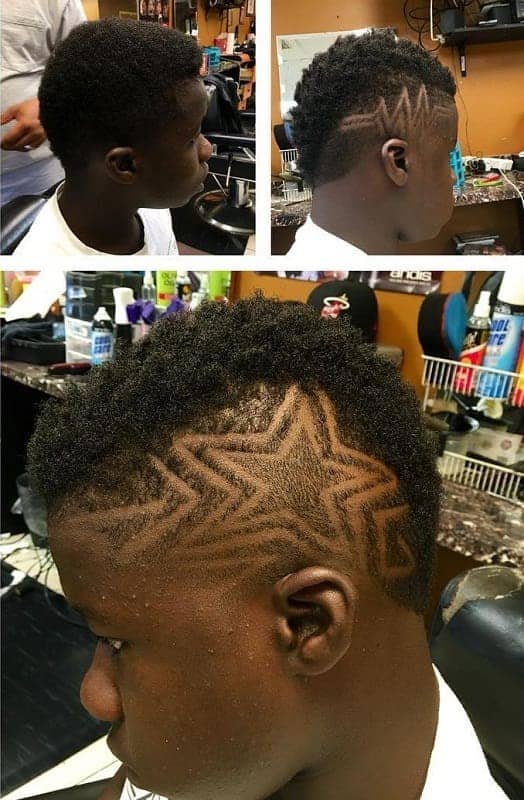 Star side designs will make any mohawk look eye-popping. Use a razor pen to make sure the lines you're doing are straight, and highlight the centerpiece.
Keep the top medium so it will beautifully reveal the texture of the hair.
7. Abstract Pattern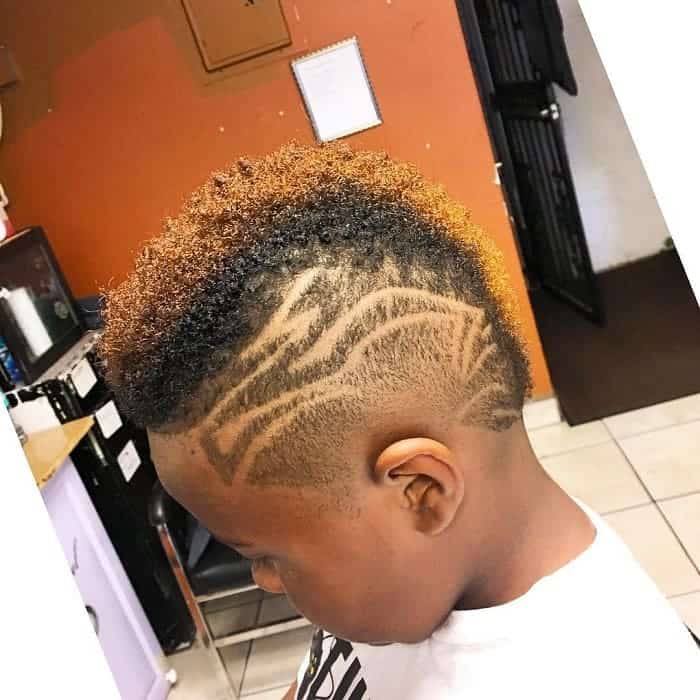 Creating patterns on the sides is quite a common practice when you're creating a mohawk haircut for black little boys.
It's not only that they love it, but it also gives you plenty of opportunities for creating fades and mixing colors for the mohawk.
8. Brown Curls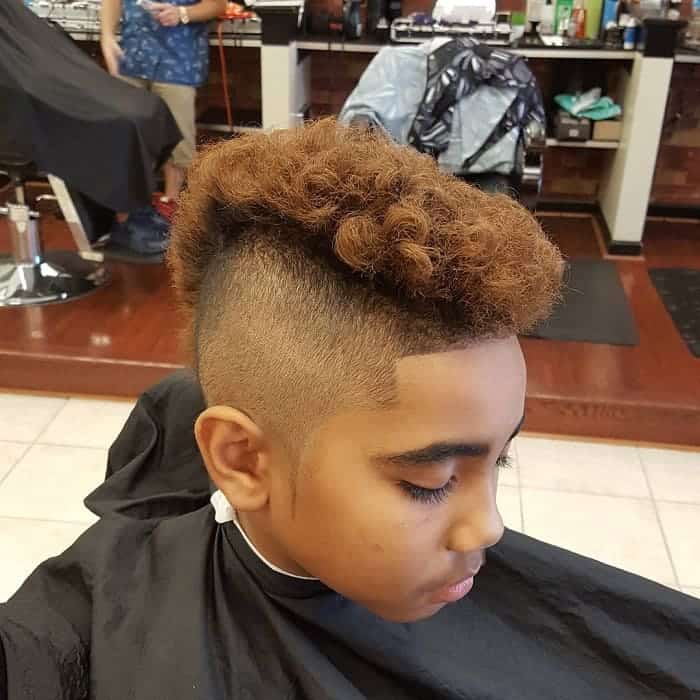 If your young man loves to look cool and to stun with his appearances at school, then he will love this high mohawk.
If he naturally has dark hair, you can dye his top into a brown natural color that will create some sort of contrast.
9. Taper Fade with Design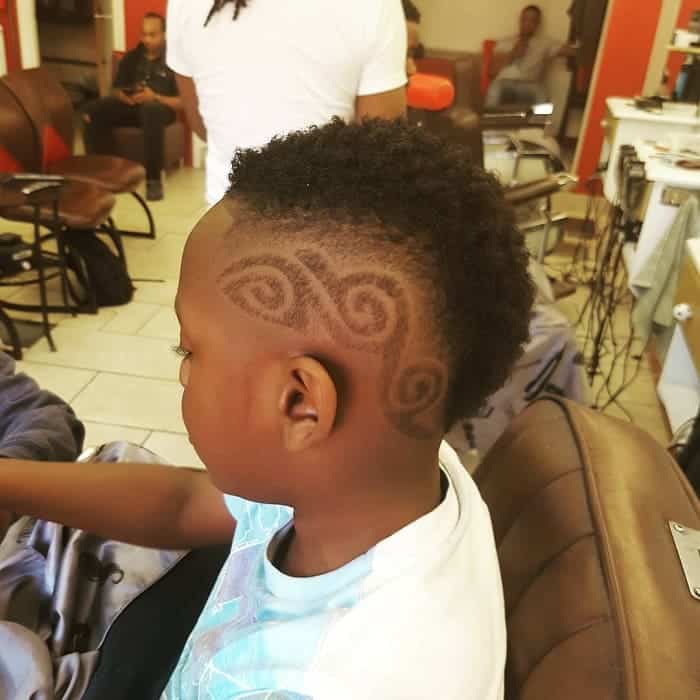 One of the best mohawk haircuts for little black boys keeps the crown long and the sides almost bald, so it will create great contrast between the two.
Complete the look with a curved design and your little gentleman will love it.
10. Side Curved Line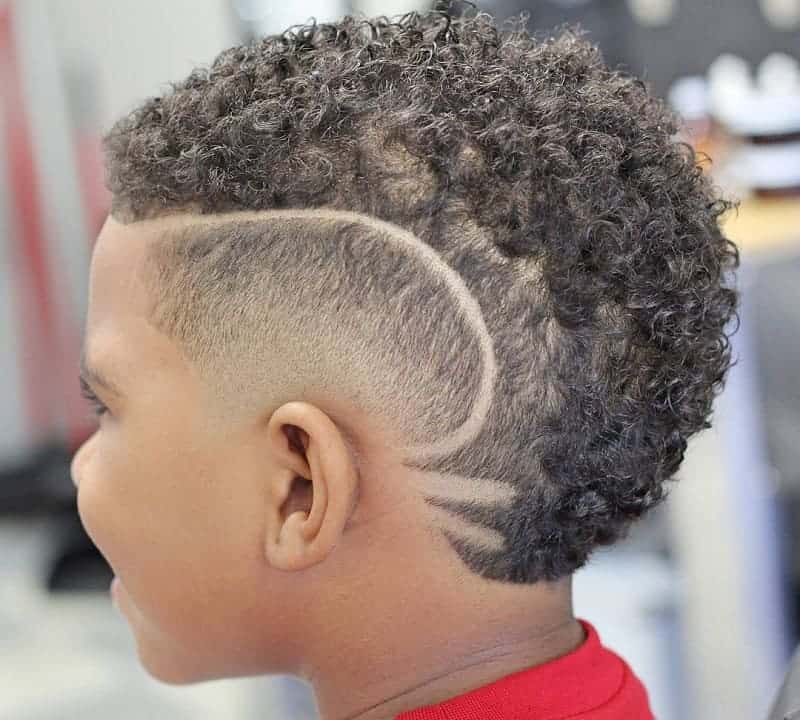 The role of the side curved lines is to delimit the curly textured mohawk and the taper fade from the sides.
When you want those curls to gain more definition, you should style the crown with hair gel.
11. Low Fade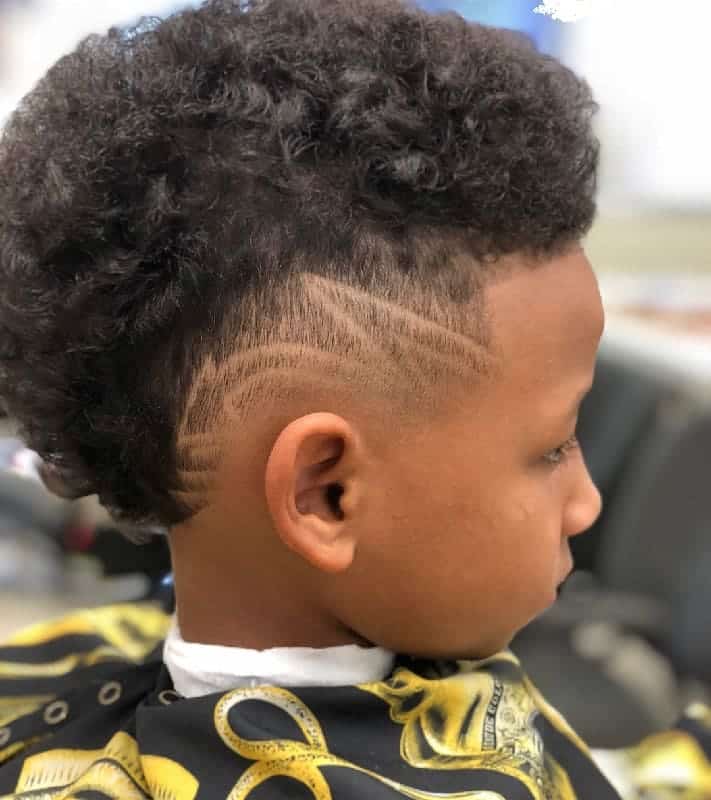 If your sun has curly hair and you want to highlight its texture, then you should definitely pick a mohawk.
Give it some length and complete the look with a line design that features zig-zag lines and an arrow.
12. High Taper Fade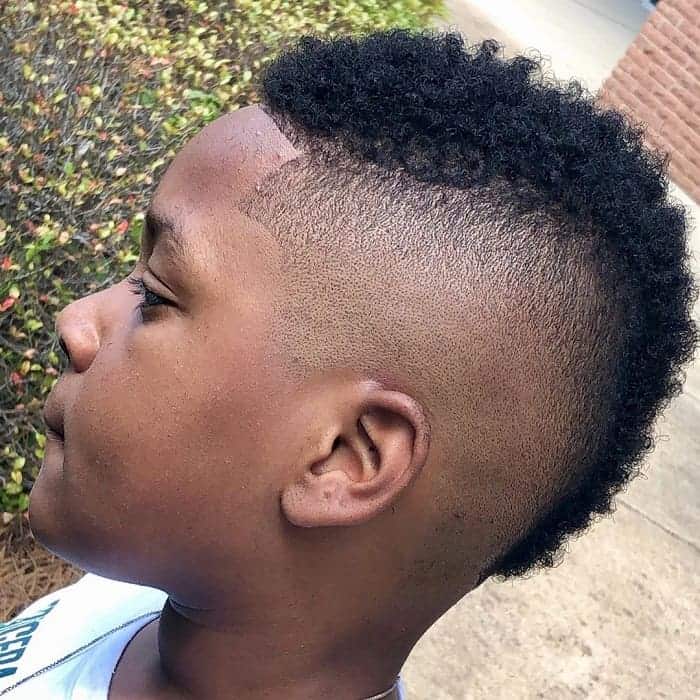 One of the reasons moms love mohawks is because they are so low maintenance and look good even when hair starts growing.
To recreate this hairdo you will opt for a high taper fade for the sides and a short crown hair that allows that coarse hair to get some definition.
13. Short Mohawk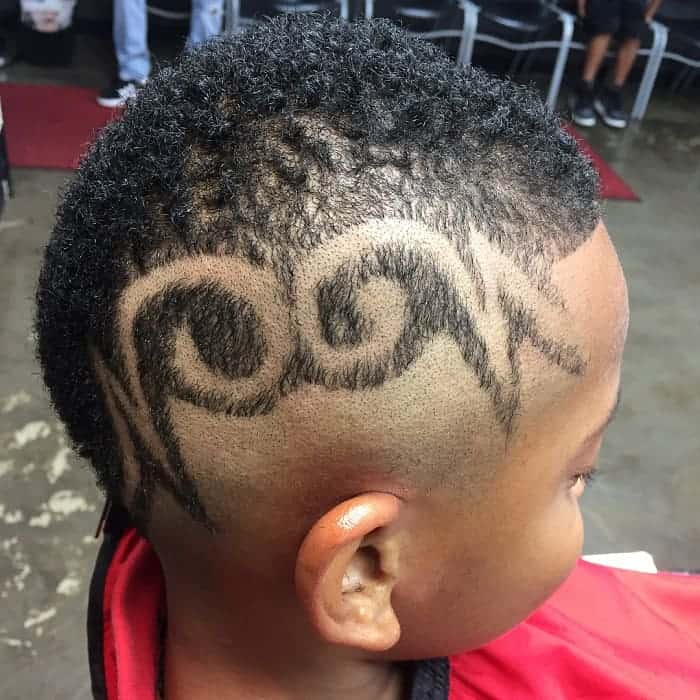 If you have the proper tools and know how to handle a trimming machine, you can do this mohawk haircut for your kid in the comfort of your home.
If he is small, it might be a struggle to keep him steady while doing the design. Use a razored pen to style the side pattern and shave all hair between the ear and the design.
14. Ultra Curly Mohawk for Kids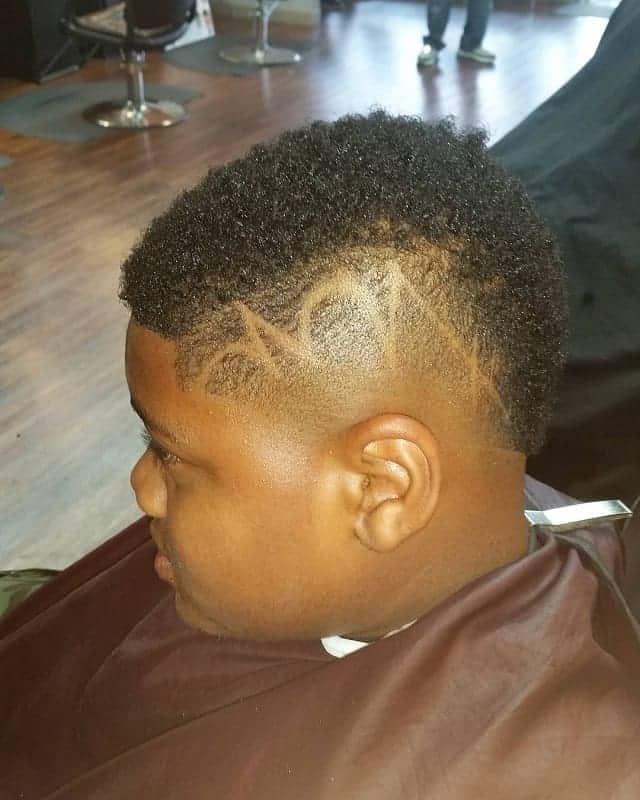 When your kid has coarse hair, a mohawk is a perfect cut that allows you to create a cute design on the side.
Let him pick the style and length of the mohawk.
15. Twisted Braids Mohawk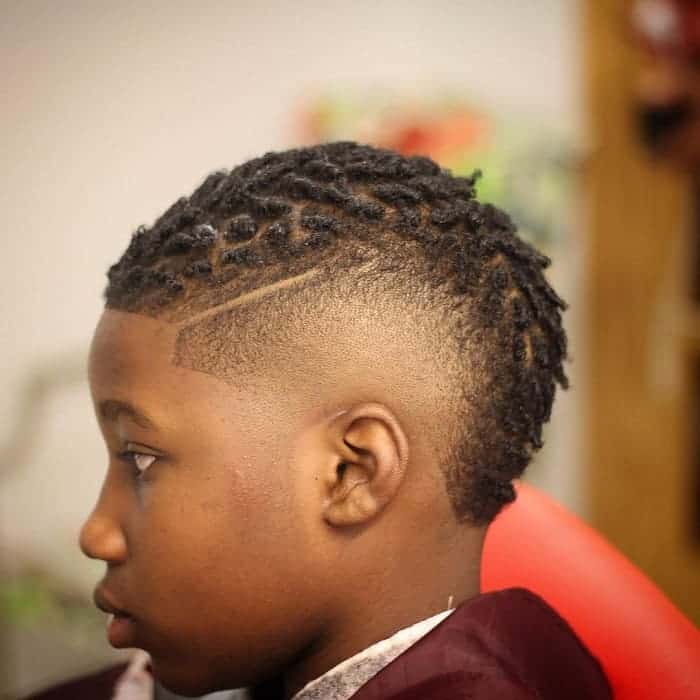 Boys' mohawk hairstyles can vary so much as they allow you to experiment with fades, designs, and even braids.
To replicate this cut, opt for a taper fade on both laterals, get a straight razored line, and create twisted braids for the mohawk.
So, you should try these cool little black boy's Mohawk haircuts to make your boy feel and look great.