In this article, we will be stressing on different braids for men with short hair. Braids are a great way to showcase your personality. They can also help change a certain look that you feel often becomes repetitive. Braids also help men with experimenting with their hair, trying something out of the ordinary.
Braids have been a part of styling hair, since ages. At this moment in time, you can take inspiration from your favorite rap artist. Braiding your hair is a practical way to style short – medium – long hair.
How to Braid Men's Short Hair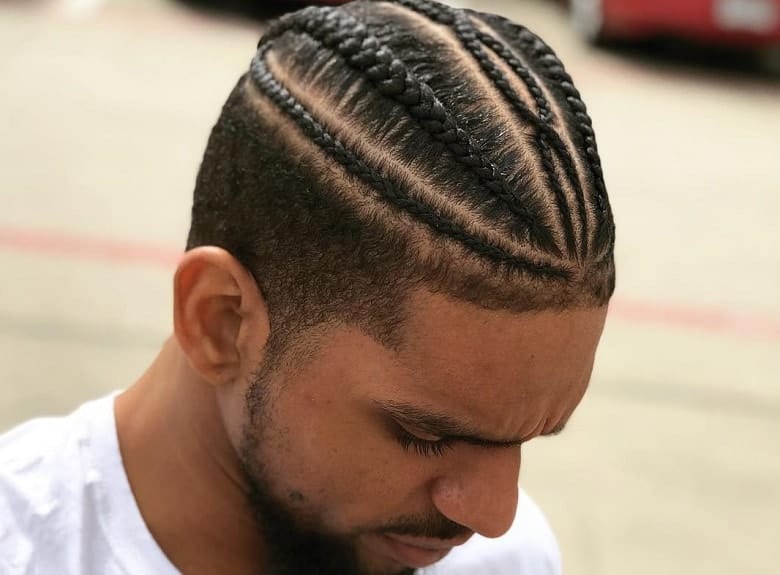 Braiding short hair for men can be a little tricky if not done right. To help you out, here are the basic steps which will help you braid your short hair better.
Step 1: Wash and condition your hair well with suitable hair products, that is, which match your hair texture.
Step 2: Make sure your hair isn't tangled. Comb them through well using a thin comb or a hairbrush.
Step 3: Section your hair properly.
Step 4: Moisturize your hair well enough so that they are smooth, shiny and rich in texture.
Step 5: Choose your favorite braiding style and begin with it!
Watch The Following Tutorial to Learn How to Braids for Black Men with Short Hair
Trendy Short Braided Hairstyles for Men
Our experts have compiled a list of 30 best short hair braids styles for guys to try this summer and beyond.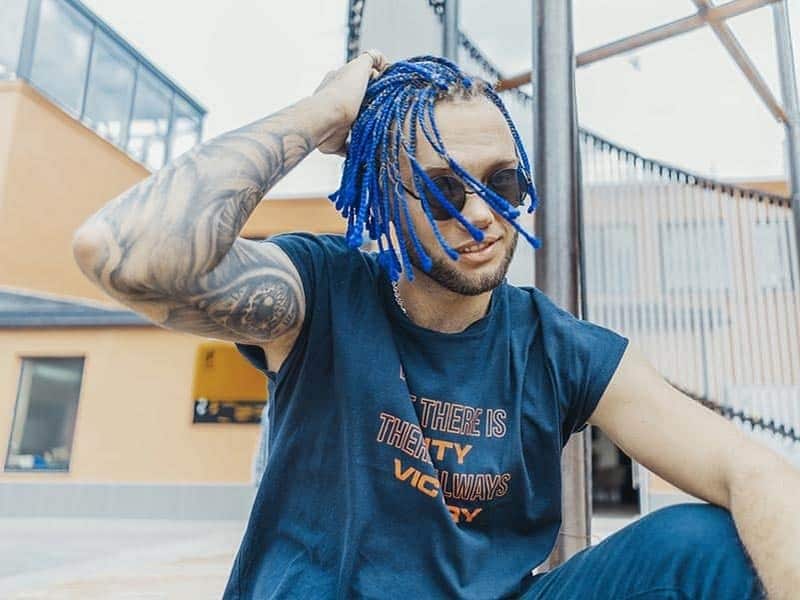 Short braids men style can be versatile, and be done in different ways. Just because you are braiding your hair, doesn't mean that you have to use three strands. We would suggest this braid for someone who isn't that comfortable with the three-strand braids.
You could opt for these braids when you don't have much time and yet want your hair to be braided. This natural twist braid looks ravishing and well kept, you could sport it anywhere.
2. Box Style Braids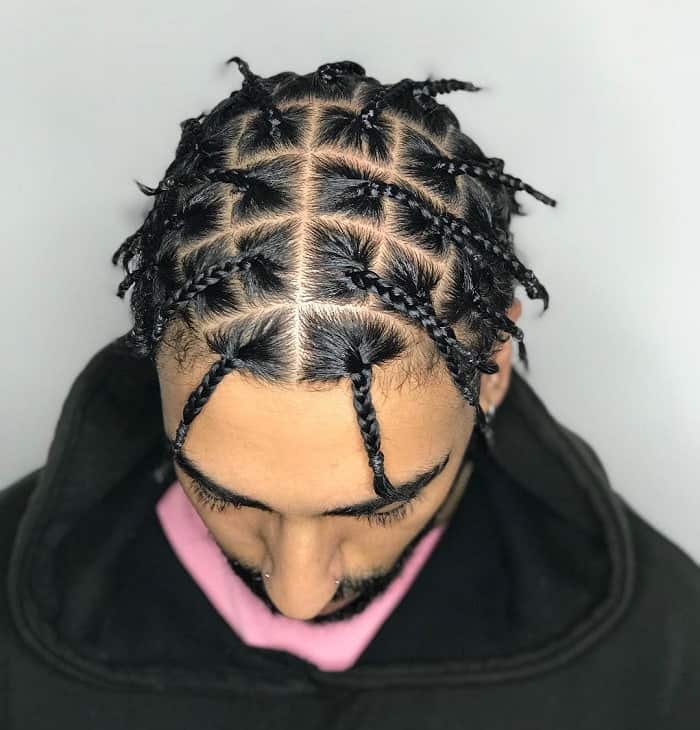 Box braids are known as a protective hairstyle. Both men and women have adopted this style because of the fact that it's used as protection. If you want to add length to your natural hair, you could opt for short box braids. Or you could also opt for box braids if you like the design in creates on the scalp.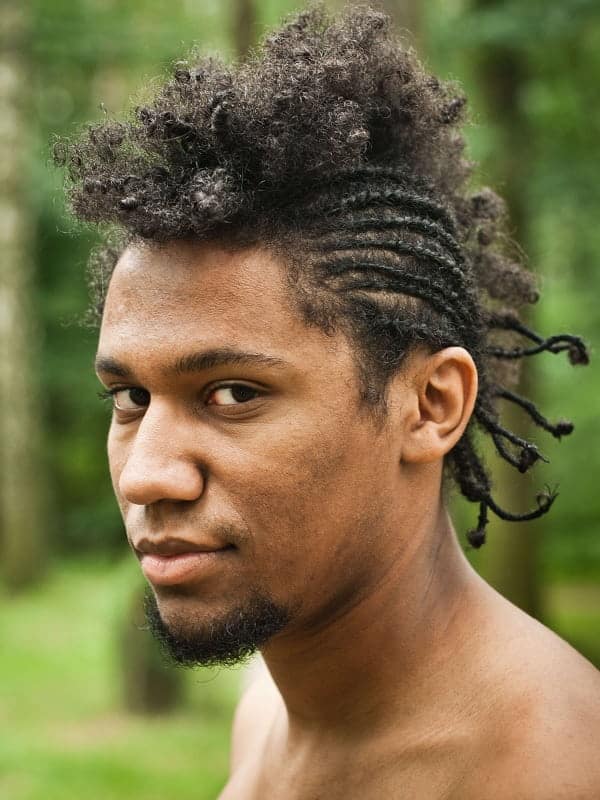 Sometimes you don't necessarily want to braid all of your hair. In these situations, taking inspiration from the Mohawk hairstyle is a good idea.
This hairstyle is a little less on the clean and sleek side and more towards the fun undone side. You could achieve this braided short hairstyle for guys if you feel a little more fun and less well-kept.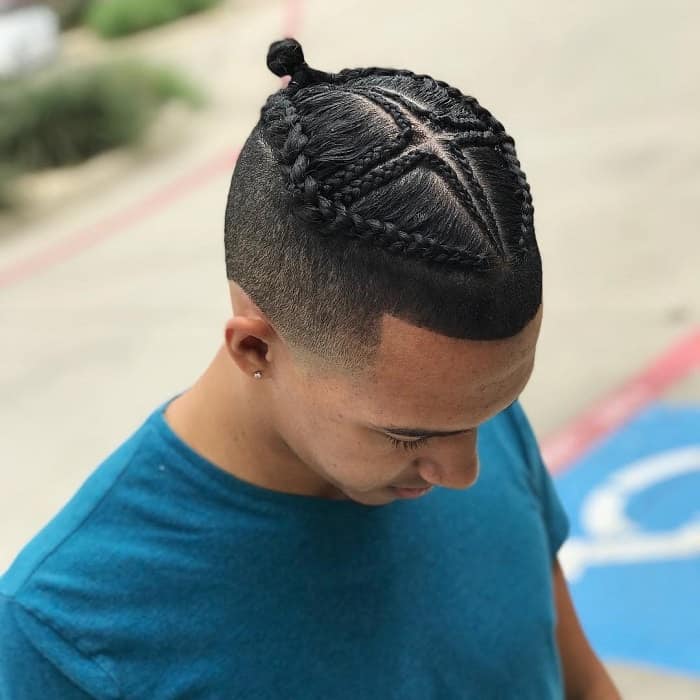 This braid hairstyle for men with short hair has 4 different styles in one. And even though it does, nothing looks overpowering or too much. You could also wear this hairstyle anywhere you want. It is equally balanced between fun and chic.
The fun comes through the cross and crown braids. The chic comes for them taper fade sides and the really tiny man bun. Wearing this hairstyle can portray that you are equal parts fun and equal parts chic which is why you should go for it.
5. Braids with Metallic Beads

Having braids on short hair is a visual representation of your personality. Metallic beads on your braids add to that exact same factor. The gold metallic feel will make you stand out, and if you want to be that person, this hairstyle is perfect for you. This short Asian hairstyle is perfect for a fun night out or party, where you can funk it up.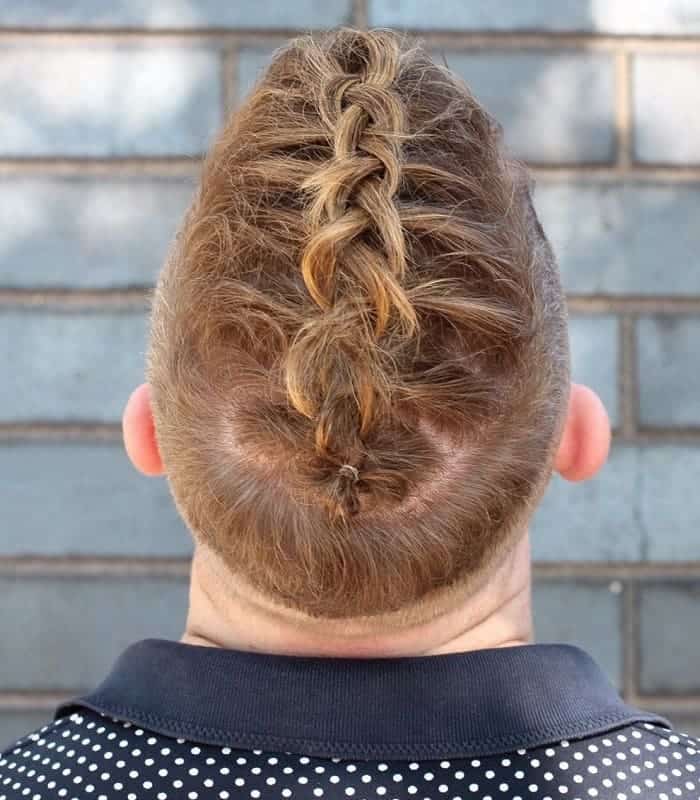 If you want to change it up from your regular ponytail or man bun, this is it. This braid is specifically for a pony towards the end. This hairstyle gives you the opportunity for an undercut as well. You could wear this men's short hairstyle with braids anywhere you please and it would definitely look appropriate.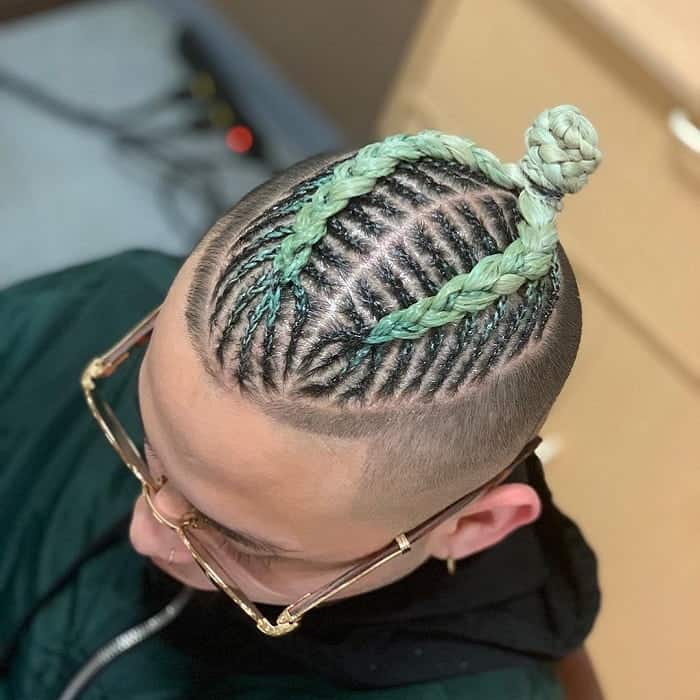 This is one of the most popular two braids for men with short hair. These braids are known as a crown braid because of the way they are arranged. It has royal written all over it!
On the days that you feel like a king, you can always opt for something like this. If you have a little bit of hair towards the back hanging down, you can wrap it in a bun to add that extra put-together look.
8. Side Braids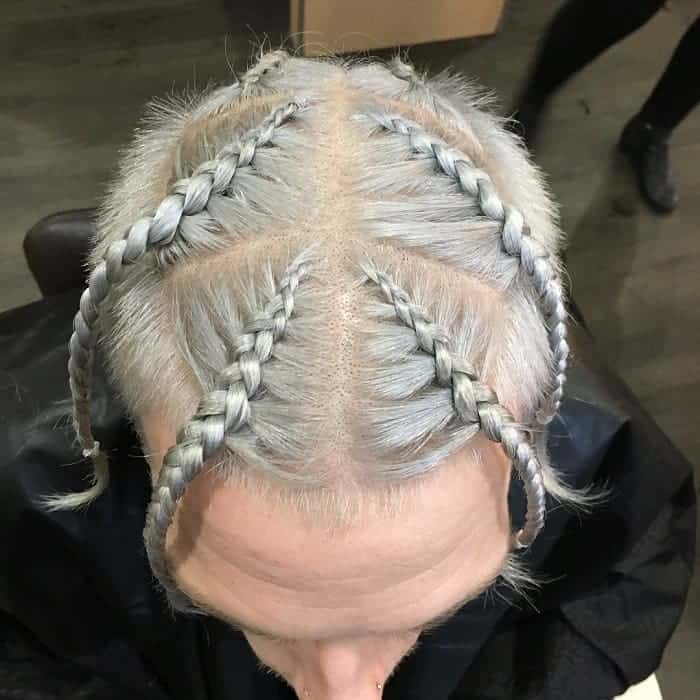 This platinum blonde hairstyle is a perfect way to show off your undercut. This braid also has the French braid effect, which adds a little bit more detail to the style. If you want to look like you put in the effort, this short braids men's style is the right choice for you. It is simple yet amazing to look at. It can also be worn anywhere.
9. Braids Tied Up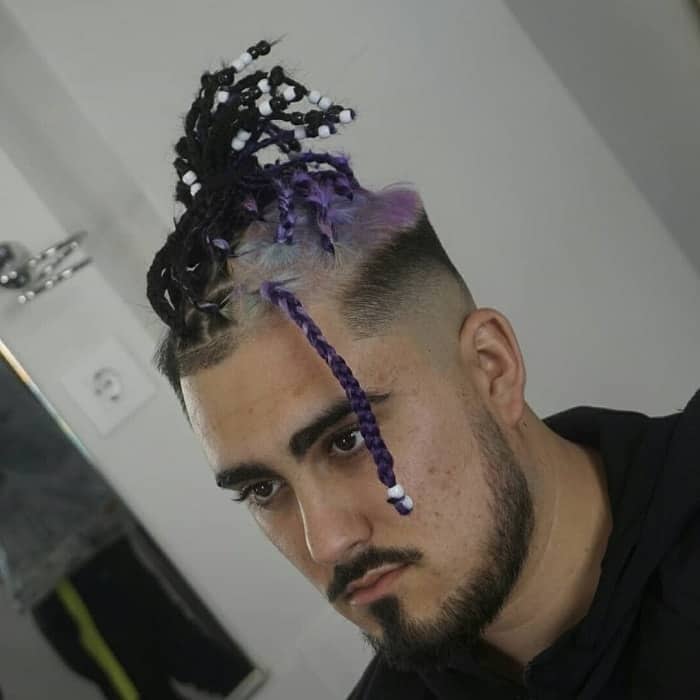 This braids hairstyle for white men is fun and practical at the same time. The braids for short hair are secured in a pony, which makes it look neat. This hairstyle is perfect for when you want to look decent and yet want your hair to look fun.
You can also leave one braid out for a little more dimension. This hairstyle also gives you a chance to show your undercut.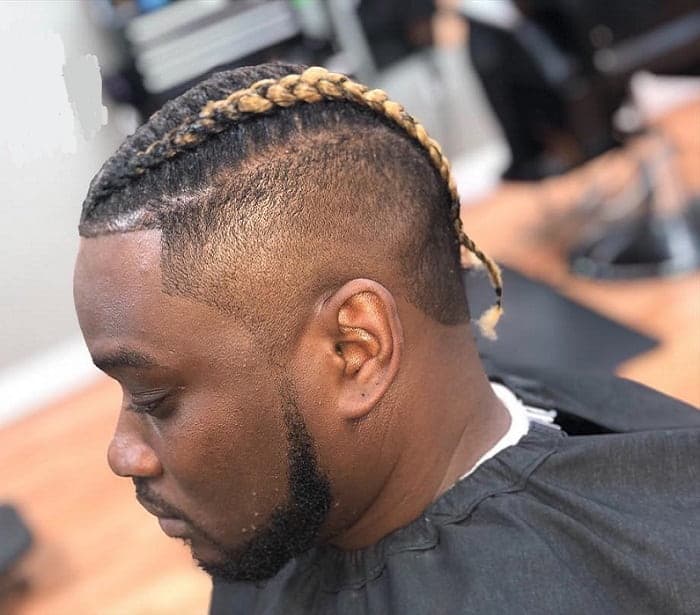 The ombre braid in this picture is very intriguing. Which is why it is a good idea to get it. It is practical as it keeps your hair away from your face. At the same time, it's fun because of the color and the style of the hairstyle. You could wear this hair for any occasion.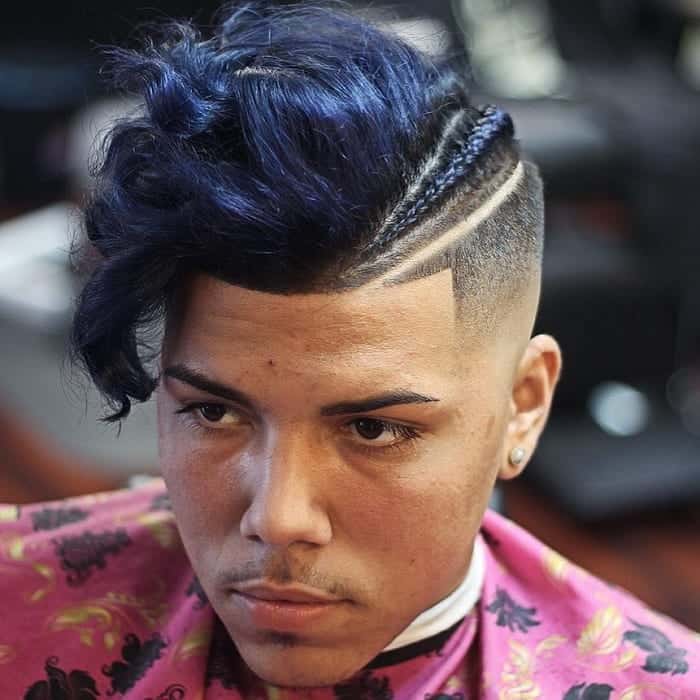 Here's an example of how you could use braiding hair for guys with short hair as more than a detail than the main component. Here, a braid adds the right kind of fun to a very simple and overdone hairstyle. In case you want to balance an overpowering look, you could add a braid or two.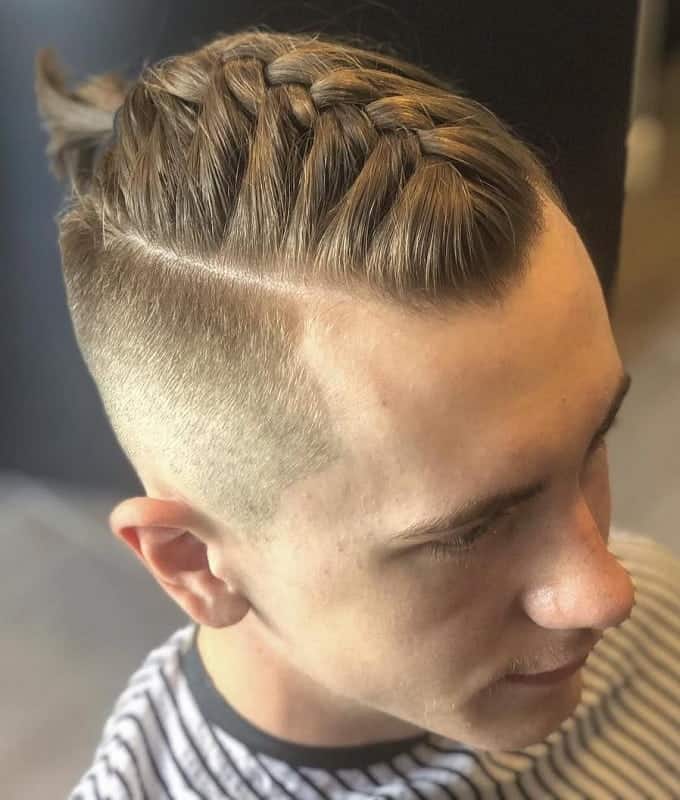 French braids can never be overdone. Because they are one of the most simple and elegant braids. A French braid is a great idea for someone who has strands of hair that are all a slightly different pigment.
When short hair as such is braided in a French braid, all the pigments come to display, making these short braids men look chic and clean.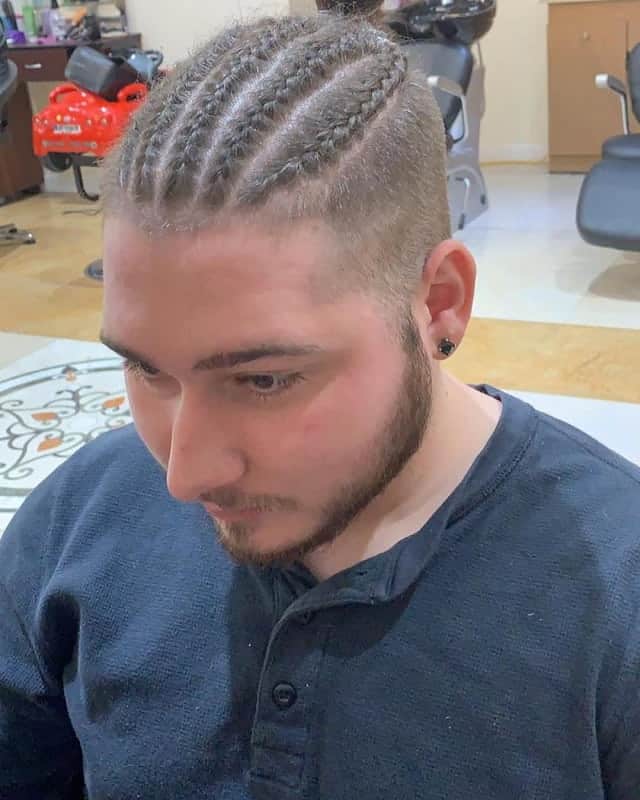 This is one of the most practical and good-looking short hairstyles with braids for men. You can opt for this braid hairstyle on a lazy day. Opting for this hairstyle will mean not spending too much time on your hair but you will still look clean and chic.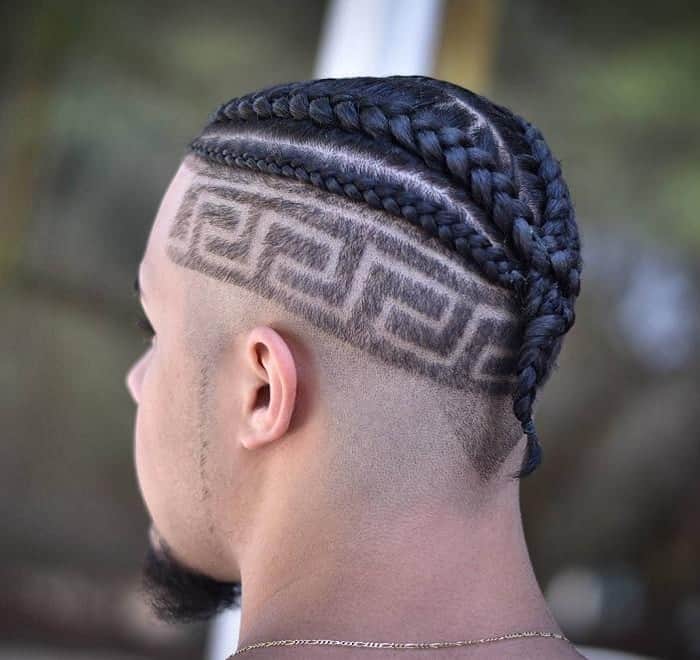 If tapered sides are not enough for you, you can detail the sides of your hair with a razor. You can carve your hair in different design as you please. It adds to the tight braids for short hair.
To make this hairstyle even cleaner; you could merge all the different braids into one and secure it. Opting for this hairstyle definitely shows how fun and out of the ordinary your personality is.
15. Sleek Sides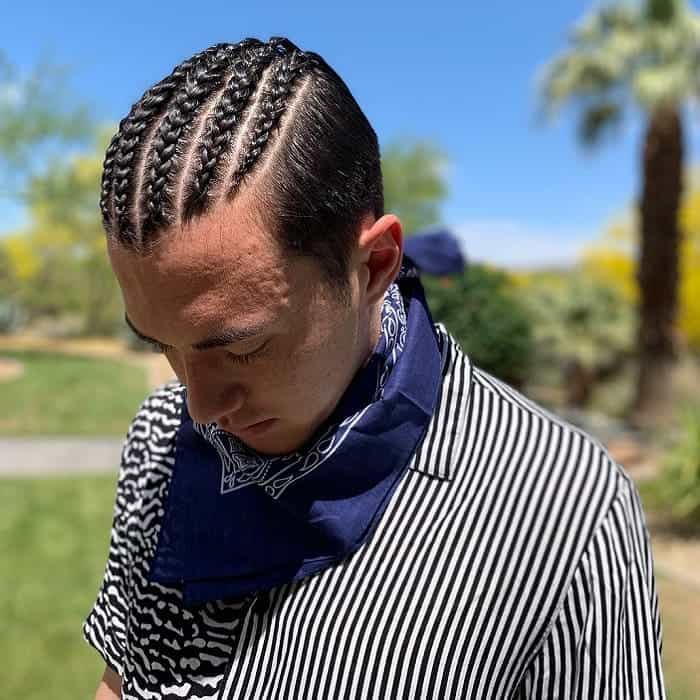 This is the kind of braided short hairstyle with undercut you could sport one day and go back to your natural hair the next. Instead of opting for tapered sides you can use gel to sleek your sides down. It is a great hairdo for when you want to dress up a little bit and stand out as well.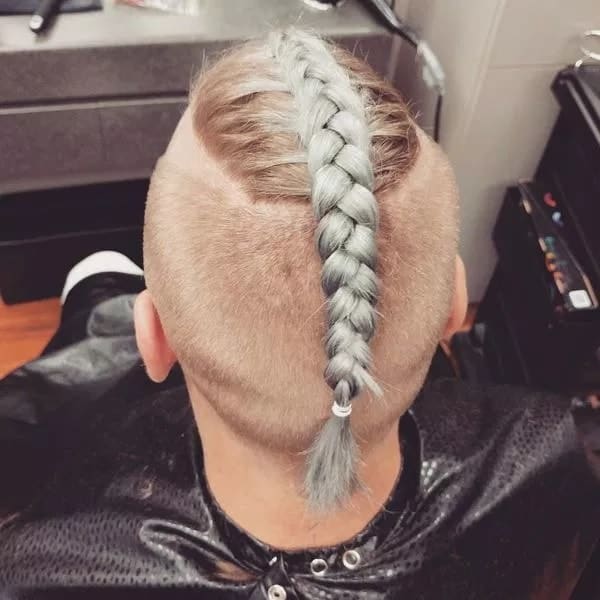 Other than the amusing braid, the teal color also ads a significant aura to this hairstyle. This hairstyle is a great way to braid black men's long hair too. This hairstyle is screaming fun and can be a good tell for someone's personality. You could sport this loot at a music festival; you will fit right in if you do.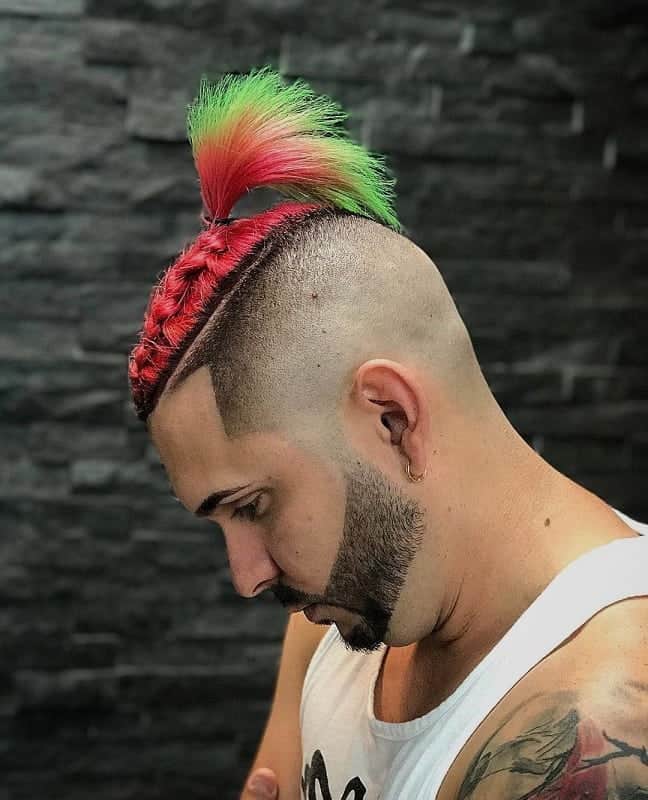 The hair colors and the braids equally steal the show. Surprisingly the two also go together extremely well in this braids for men with short hair. If you are someone who is into bright and funky hairstyles, this one is perfect for you and your personality.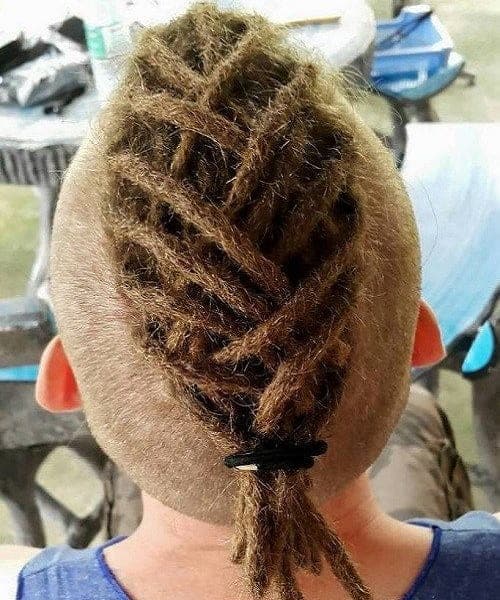 This braided hairstyle for men's short hair is far more complex than usual braid. Its complexity is also what makes it extremely appealing.
It is a great option to go for if you don't want the regular and conventional braids. The style also looks chic and clean, something you could sport in any and every event.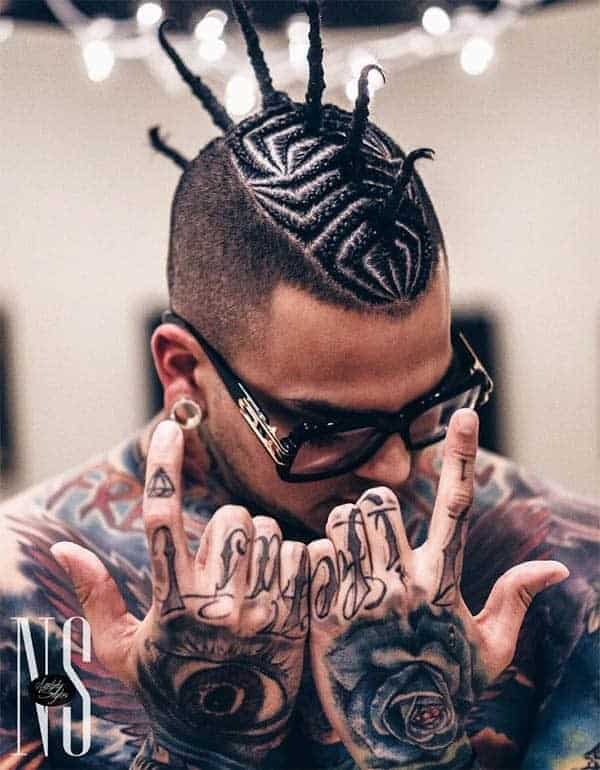 If you like the Mohawk hairstyle, here's an unconventional way of having it. Here simple braids are used to replicate the classic Mohawk. You could sport this look wherever you please.
All you need to do so if have the right confidence. This short braids men style is a fun twist on something that is overdone. That being said, it can also be a show and tell of your unusually appealing personality.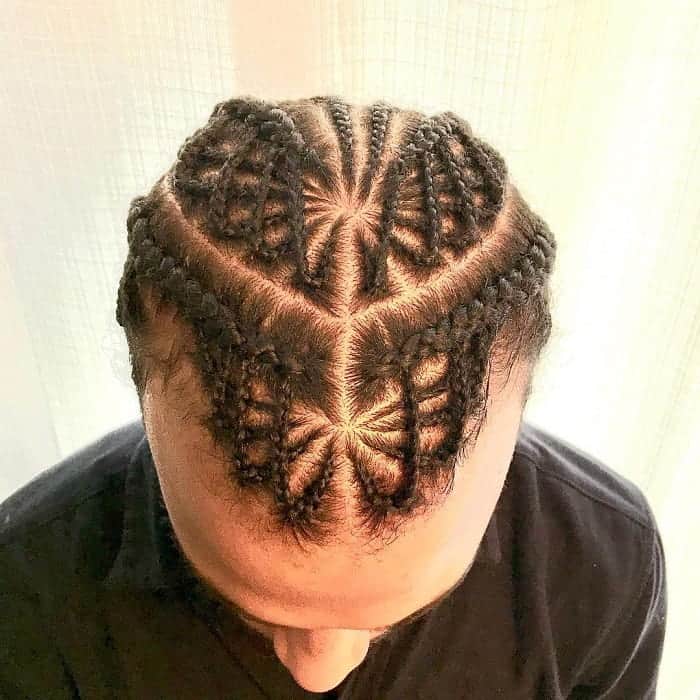 The design that this short braids hairstyle leave behind replicate palm trees. This hairstyle is nothing like you will ever see. Which is precisely why you should get it. In its complexity lies its beauty. You could sport this hairstyle to a music festival so that you can stand out and look like someone fun.
21. Thick Diagonal Braids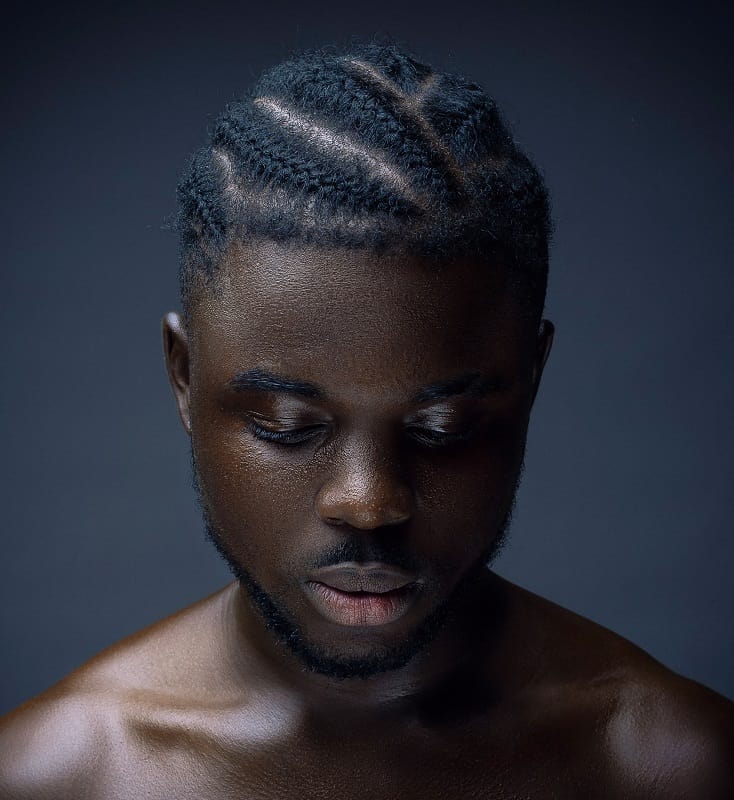 Instead of making your braids face directly back from the hairline, give them a diagonal curve. Whatever your face shape, this new design will give it new perspective.
22. Thick French Braid
If the hair on the very top of your head is longer than the bottom, try a thick French braid. It's similar to a mohawk in that the sides are shorter and frame the middle.
23. Braid Extensions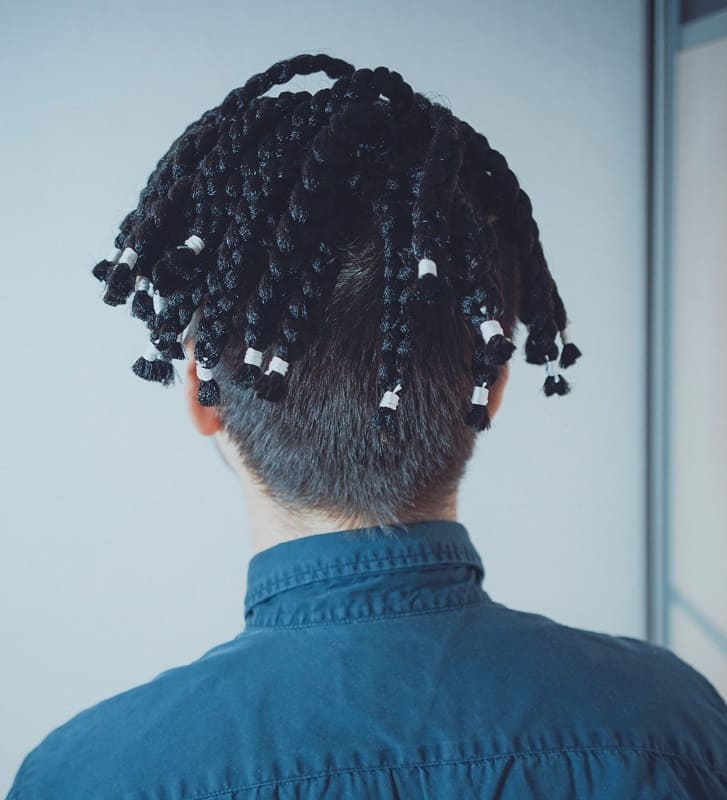 If you're aiming for a longer look on your short hair, try braid extensions. These black ones are tipped with beads and look cool over an undercut.
24. Zig Zag Braids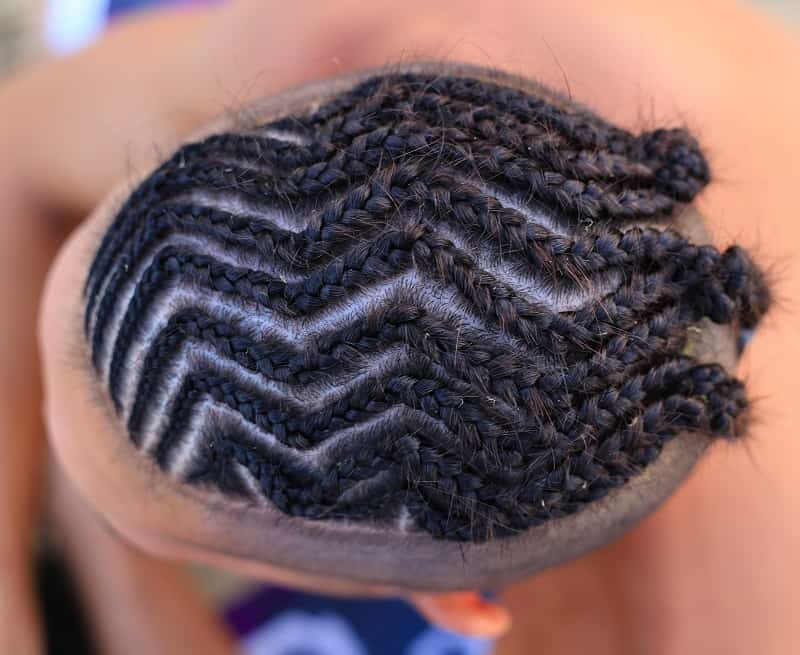 Another way to wear short hair is with braids that create a zig zag pattern to the back of the head. This detailed look is far from plain and looks even more awesome with a high fade.
25. Twists with Undercut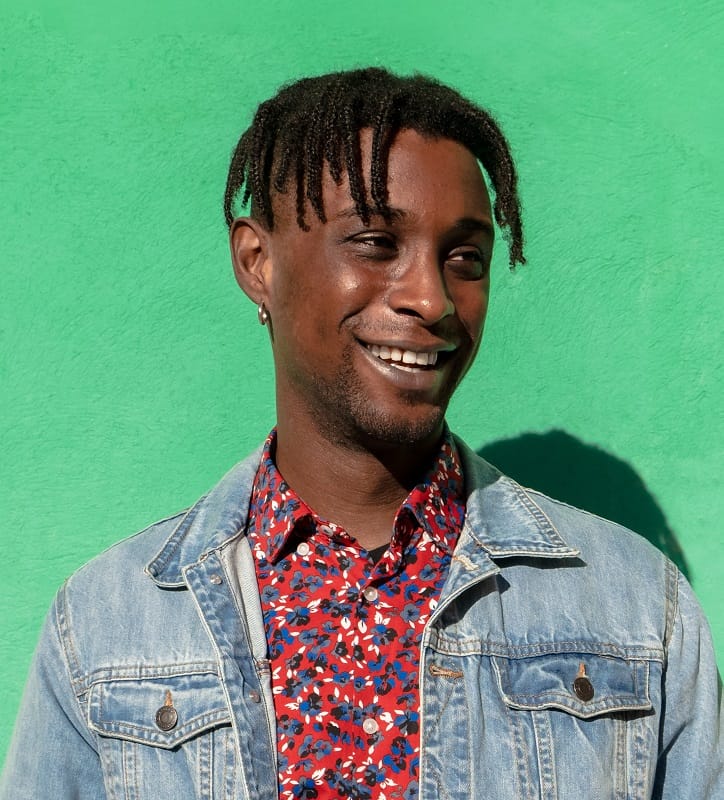 Create a middle part before twisting your short hair and wear with an edgy undercut. Twists are one style men with almost any face shape can wear.
26. Fishtail Braid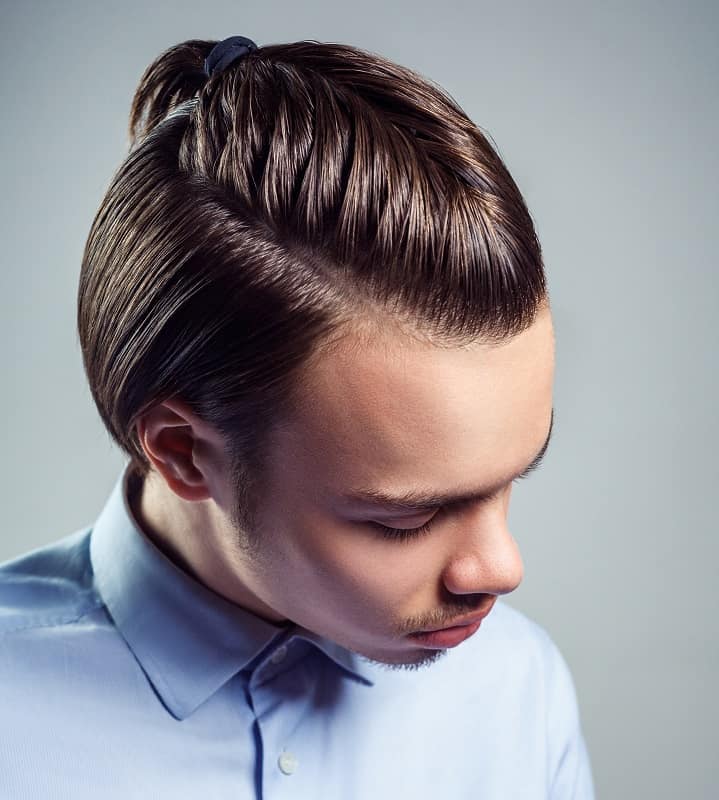 An upside down fishtail braid on the top half of the head gives short hair this textured look. Secure in a ponytail at the back of the head and comb smooth the bottom half of the hair for sleekness.
27. Half Circle Cornrows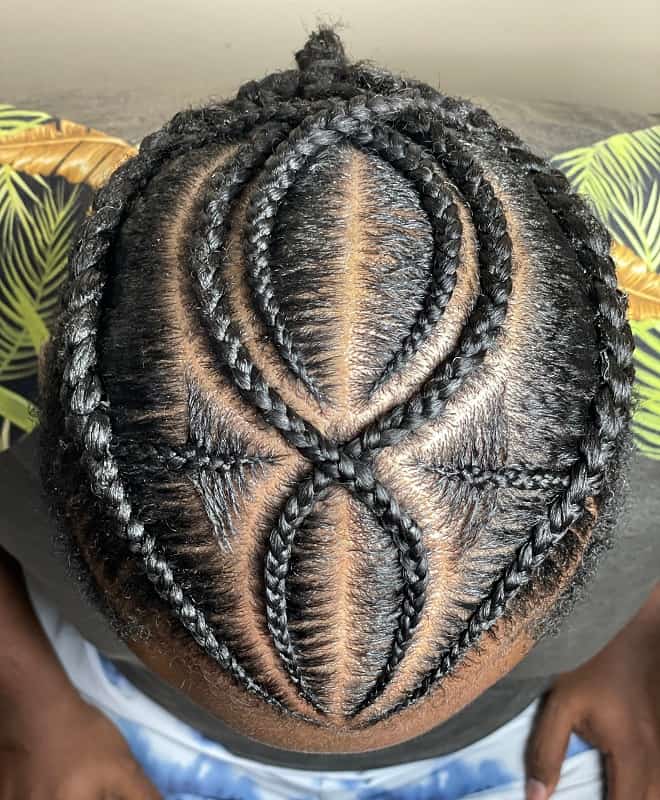 Create half circles with cornrows that overlap each other for a detailed braid design on short hair. If you have some length left, wind them up in a small bun.
28. French Braid Cornrows
If you have the time and patience, try this stylish short hair do featuring French braided cornrows. Make several rows and secure them in a ponytail.
29. Looped Braids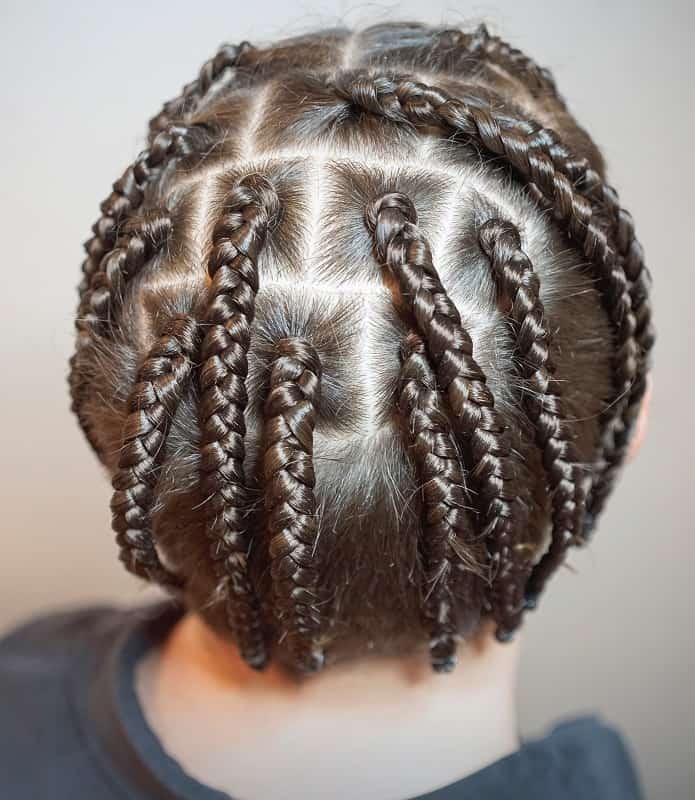 We love the uniform looped braids seen here over an undercut. With minimal touchups, this short hairstyle will last several days before needing to be redone.
30. Messy Braid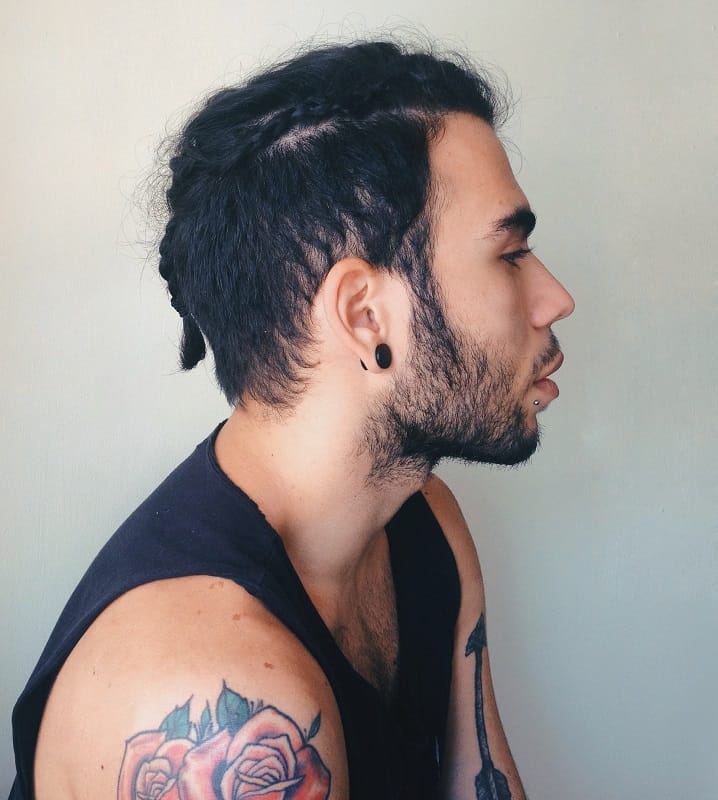 For medium length hair, cut the bottom half short or to a low fade undercut and wear the top in a messy braid.
All the short braids hairstyles for men mentioned above are very different from each other. This gives you the opportunity to choose from 30 different braid hairstyles. None of these hairstyle suit a particular head shape or hair texture. All of the above hairstyles will suit anyone and are appropriate to be worn anywhere you would please to.