Ah, man bun haircut — the hot hairstyle for guys that's taking the men's fashion world by storm. The look gets a lot of flak, but it's not at all deserved.
Buns are comfortable, convenient, and classic. Women have known this for years, so why shouldn't guys take advantage of that fashionable ease and efficiency? Besides, almost any man can rock a bun.
In fact, if your hair is long enough to wrap up in a hair tie, then you're already halfway there. Don't believe it? Then we implore you to keep reading because we've got a full style guide that will teach you how to style your man bun, plus scads of hair inspiration so you can discover the perfect bun for you.
How Long Does It Take To Grow and Style A Man Bun?
It might surprise you to know that you don't need long hair to style a man bun. Long hair helps to create a bigger, better bun, of course, but buns for men aren't the same as buns for women. You don't have to get intricate with bobby pins. There's no need to worry about twisting and tucking strands of your hair. The thing is, men's buns don't depend on perfection.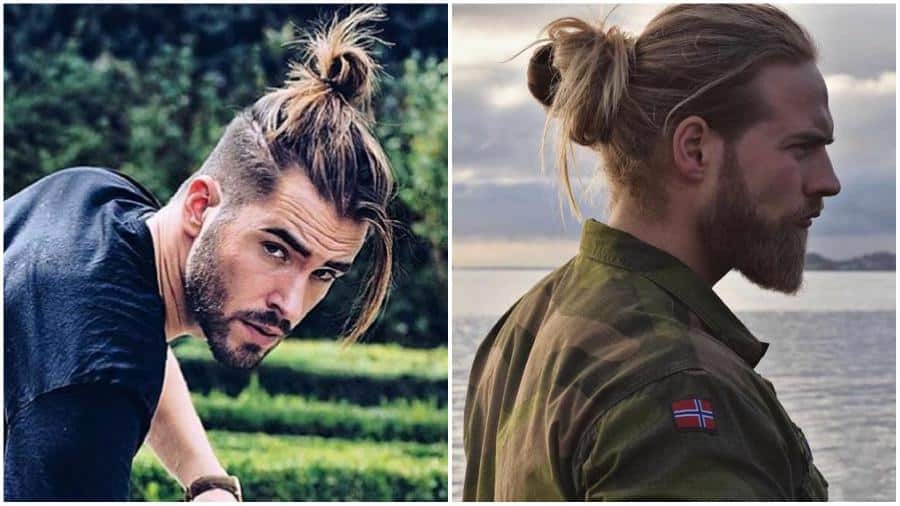 As you begin your journey into the big, beautiful world of buns, your hair only needs to be long enough to loop into a knot. If you're not sure what that is, you can either Google it or ask a girl with long hair to show you exactly how to create a messy, casual 'do. Look at some of the most amazing crew cuts for men.
The time required to grow a man bun depends on the length of hair. If you have a short buzz cut hairstyle and now want to grow a hair bun then, it would take almost 1 year to grow hair around 6 inches. If you want to achieve shoulder length hair (i.e. almost 12 inches) for a large man's bun then, it would take almost 2 and a half year for the desired hair growth.
If you have medium length hair then growing a man bun is not so problematic for you because it takes almost 7 to 8 months to achieve long hair for a rotund perfect man bun.
Stages to Grow a Man Bun
To grow a man bun demands a lot of patience especially when you have a buzz cut or a crew cut. But through a regular care, you can grow a man bun efficiently and flawlessly. The stages to grow a perfect man bun are as follows: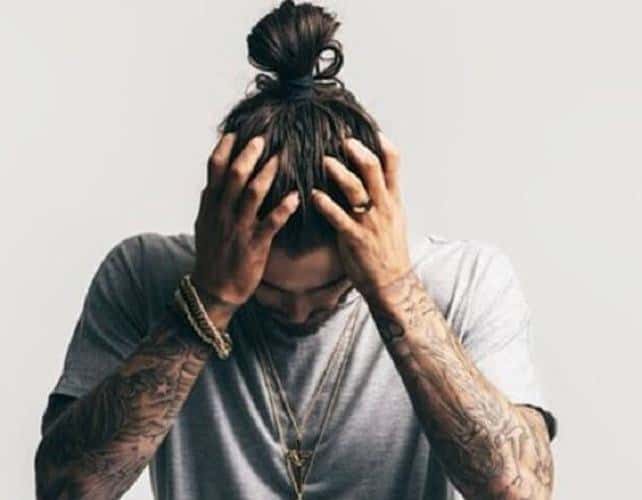 Trimming
We recommend you to trim your hair after 2 to 3 months to cut off the split ends because the split ends can cause severe damage to your hair and make them weak.
Omit the Shampoo
It is recommended by most of the hair professionals to omit the use of shampoo from your life routine if you want to grow your hair longer. Because using shampoo regularly causes damage to the hair. But for those guys who have oily or greasy hair, it's very difficult to skip the shampoo usage. We recommend those guys to wash the hair 2 or 3 times a week.
Conditioning
A conditioner is an essential element that must be applied on the longer hairs. Apply the conditioner on the tips of hair for few minutes then, wash the hair thoroughly with lukewarm water.
Awkward Hair Phases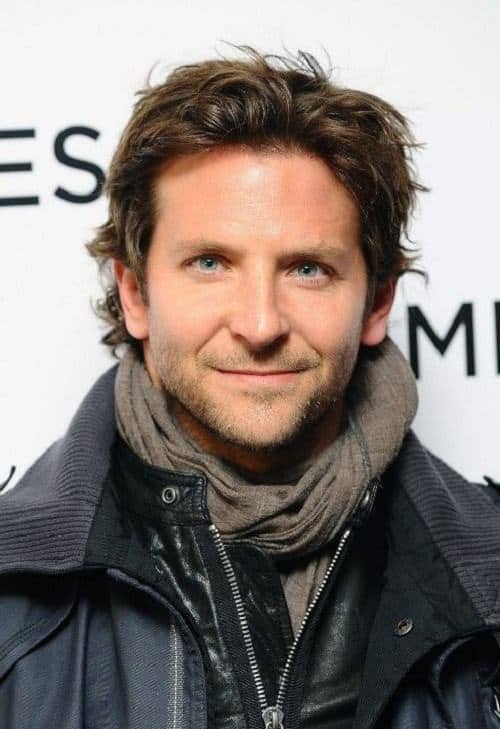 While growing the hair longer, there comes an awkward hair phase when you don't know how to style them in order to look presentable. A phase, when you got irritated because you cannot tie your hair into a ponytail or a knot but there is no need to worry about it because we have some amazing following suggestions for you.
You can try out slicked back, Quiff, comb-over, and messy pompadour men hairstyles. In order to achieve these hairstyles, you have to apply any good quality styling product on your awkward length hair for a perfect finishing look. You can visit your barber often for more hairstyles ideas.
Although growing a man bun involves a lot of time and serenity, but it is surely a worth try hairstyle. We propose you to grow a beard along with a men bun because it enhances the masculinity of men. While wearing a man bun, avoid applying too much pomade on your hair in order to prevent the greasy appearance. One more thing that should always be considered is not to tie hair too tight otherwise it will cause damage to your hair.
How to Do a Man Bun with Short Hair
If you can gather your hair in your hand, then it's not too short for a bun. Many men who want to figure out how to do a man bun with short hair wrongly believe they're out of luck. That's not so. Since man buns usually accompany undercuts or comb over haircuts, the only short hair to contend with is along the back and sides of the head. The hair on the top left longer than the cropped areas, can typically make a bun. It won't be the biggest bun, but that's hardly the point, is it? This type of bun is also referred to as a top knot. It may not classify as a full man bun, but it still falls into the category.
What's The Required Hair Length to Style a Man's Bun?
So, now we've reached the crux of the issue. At what length can you create a man bun? Generally speaking, if you want a full bun—that is, a man bun that incorporates all, or at least most, of your hair—then 10-12 inches of hair is the minimum range. If you're rocking an undercut, you can still wear a man bun or top knot; it just won't look as full. Fortunately, you can manage this look with 4-6 inches of hair. Sometimes, you can loop shorter hair into a top knot, but you'll have to experiment as you grow out your hair. Just keep testing your tresses every day.
Best Man Bun Hairstyles
It seems like there are man bun haircuts for almost every length of hair—well, past a certain point, anyway. Whatever cut you're growing out or thinking of getting, however, you can probably find a way to wear a bun with it. Even if your locks aren't quite long enough for bun-making, you can always try a semi-bun or a top knot. They all follow the same general idea, and they're all GQ cool, so you might as well experiment.
1. The Messy Half-Bun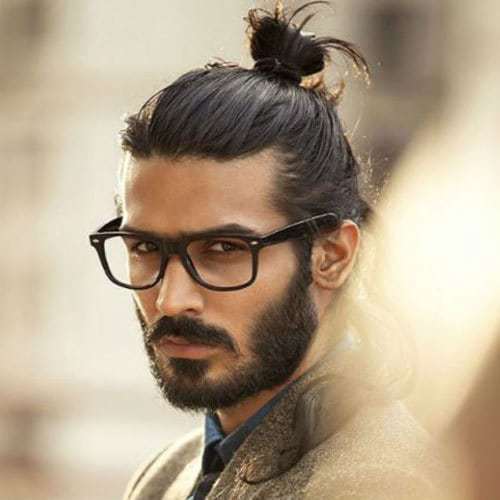 This is one of many man bun haircuts that utilizes the ease and casual style of the half-bun. It's just messy enough to look hot.
2. Top Knot Fade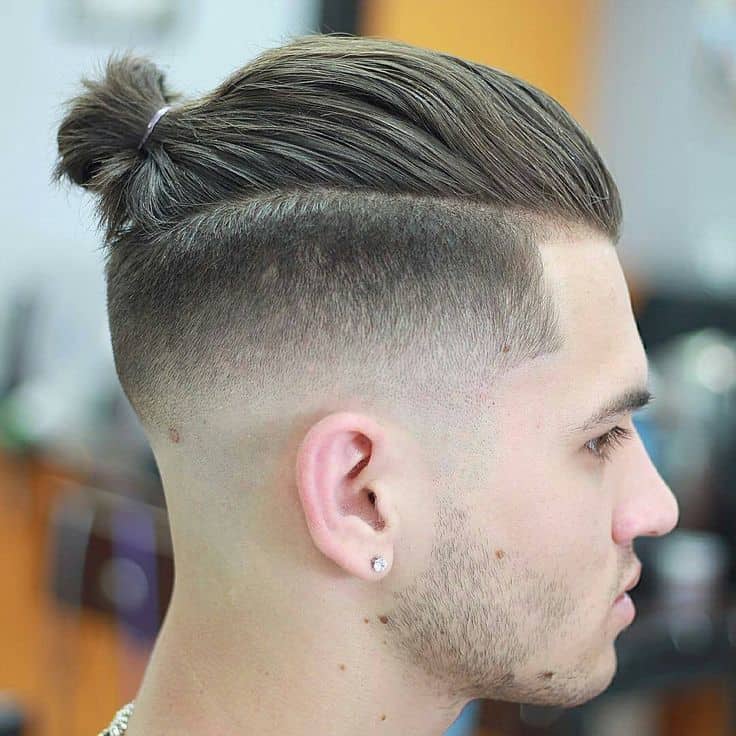 You have to go to a skilled stylist for this kind of precision. Look at the tuck of the top knot, too. See how easy that is?
3. Full and Messy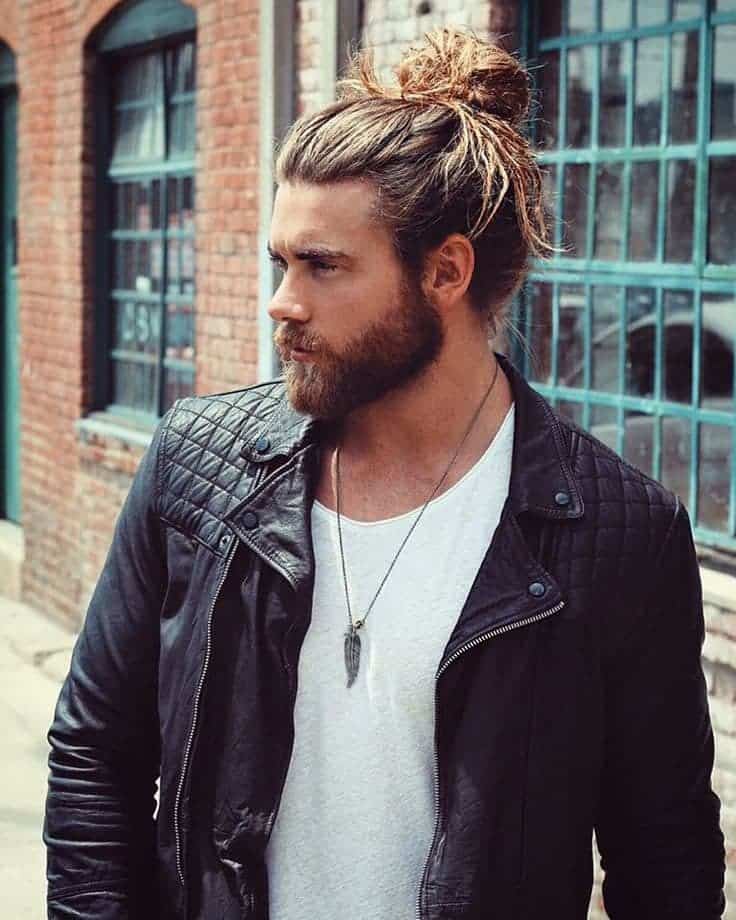 Here's a hot example of a full man bun. The sloppy styling adds to its appeal.
4. The Sophisticated Semi-Bun
This is the man bun haircut you ask for when you're chasing after somebody who's in love with One Direction. Just say you're going for shades of Zayn.
5. Up in Dreads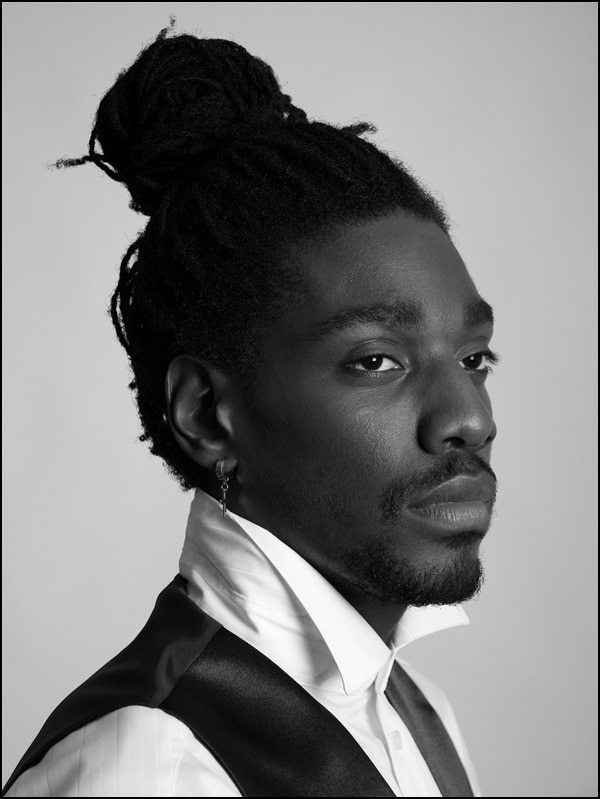 You're looking at a full man bun at its very finest. Very few men can pull off this level of suave. Are you one of them?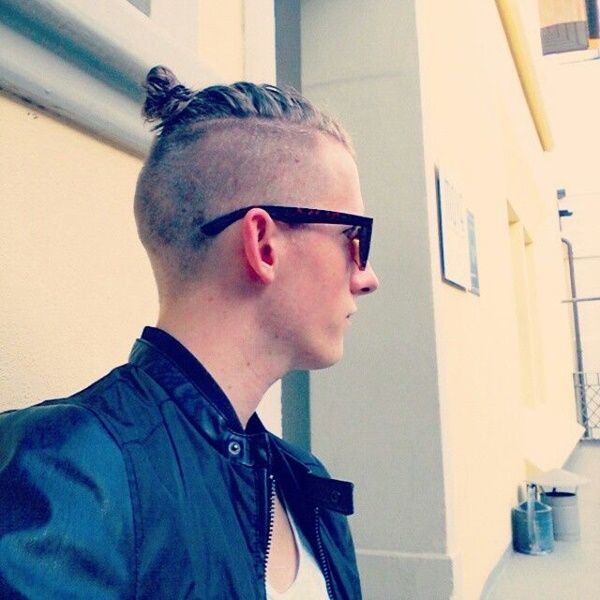 See? You don't need long hair to rock a top knot. That's why man bun hairstyles are so versatile.
7. Hip Half-Bun
Again, if your hair is long enough to loop and secure with a hair tie, it's long enough for a half-bun or a top knot.
8. An Elegant Man Bun
Honestly, this is just beautiful. There's something a bit Victorian about it—and pairing it with a suit is an excellent idea. Copy that. Copy this whole look.
9. The Everyday Bun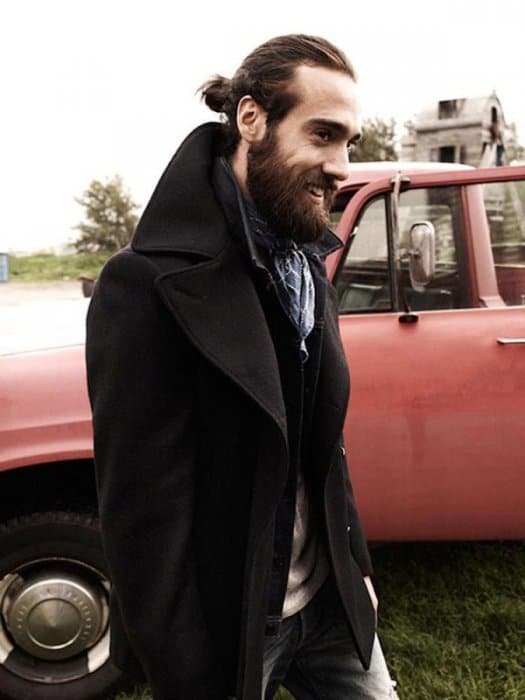 You do need long hair to pull off a full man bun cut like this one, but it's worth the effort. Just in case you're wondering, your hair grows an average of six inches a year.
10. Full-On Top Knot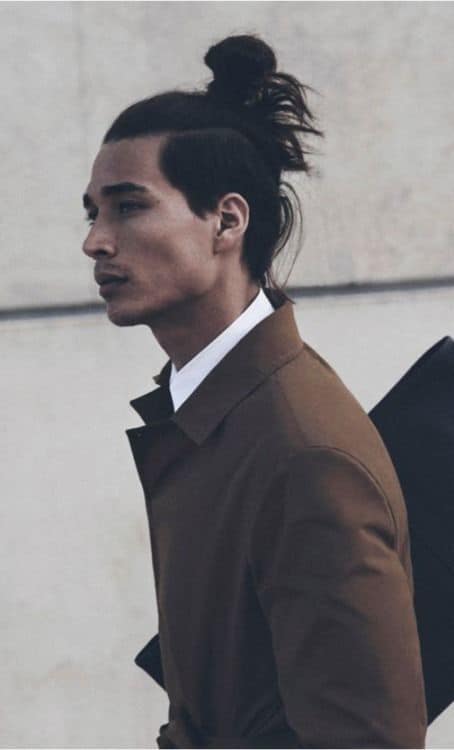 Check out this next-level top knot. It's so full that it's almost a full bun. Notice how he lets his shorter strands fall where they will—you don't have to expect perfection from your hair, guys.
11. Two-Toned Bun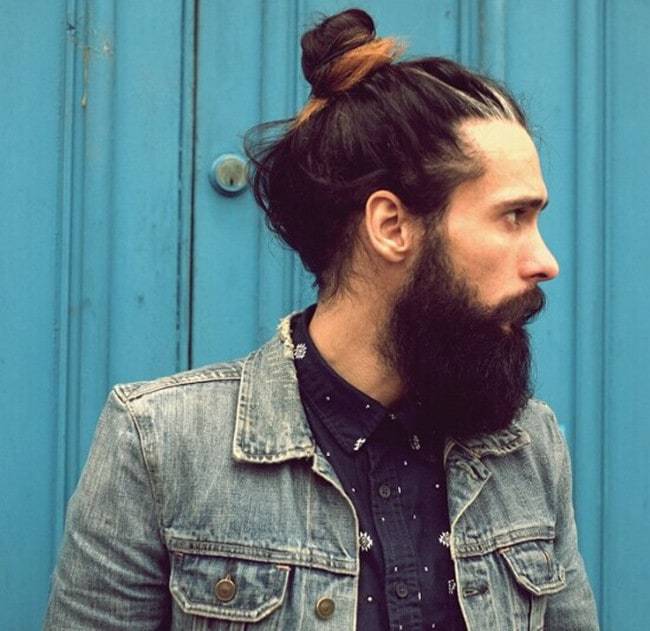 You can have a lot of fun with two-toned hair when you wear it in a bun. You might even go with a bolder, more audacious color.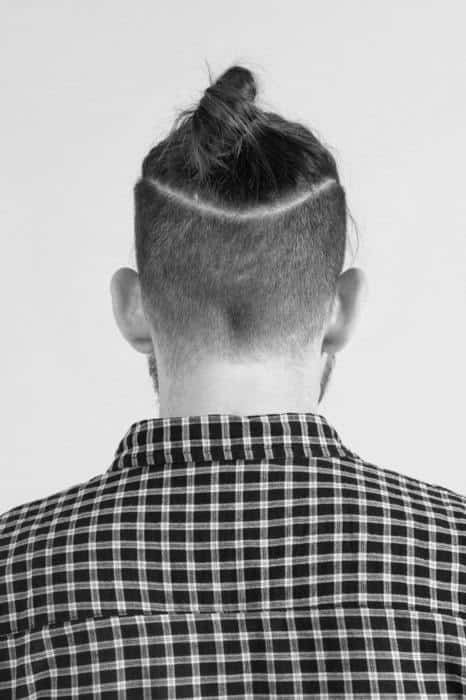 The classic undercut bun combines the best of two hairstyles. In this case, the hair on top is long enough for a top knot, but he can still slick it back or wear it loose.
13. Tousled Top Knot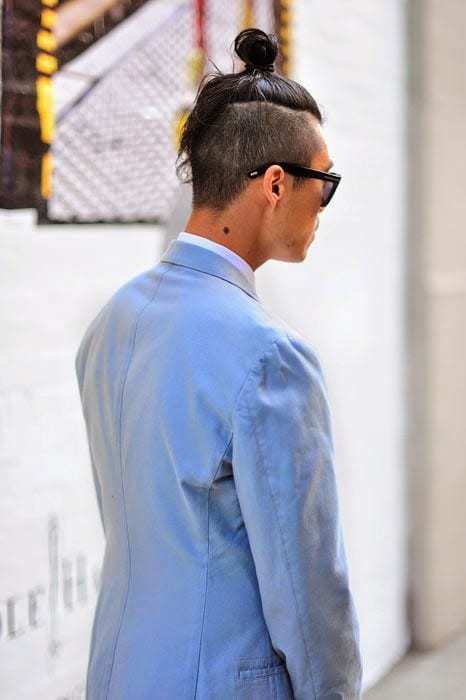 Again, don't worry about making your man bun or top knot look perfect. Sometimes, the best styles are the most disheveled. Bedhead's pretty sexy.
14. The Thought-Provoking Bun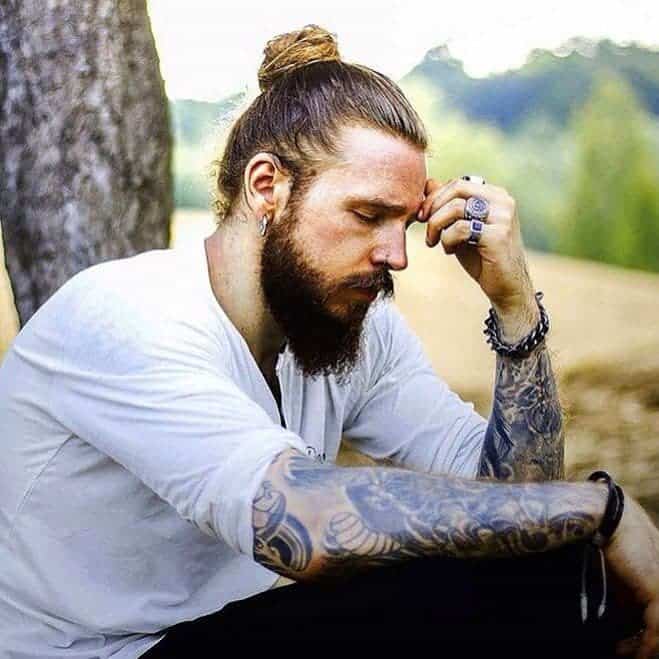 Wear your hair like this and strike a thoughtful pose as you lean against a tree, and someone's going to fall in love with you. On a serious note, though, that's the way you form a proper bun. His man bun skills are unbelievable.
15. The Shakespearean Bun
You can't act like you don't see it, too. For a bun like this, long hair is a must, but you'll strike your own impressive pose if you manage to copy this style.
16. Big, Beautiful, Messy Bun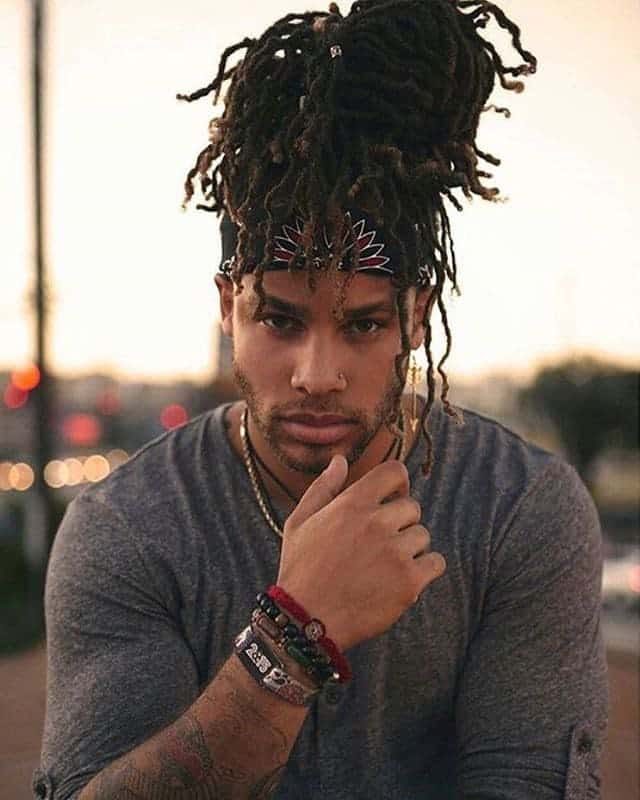 Just take a moment to appreciate the height and fullness of this epic updo. It's a thing of beauty.
17. The Harry Styles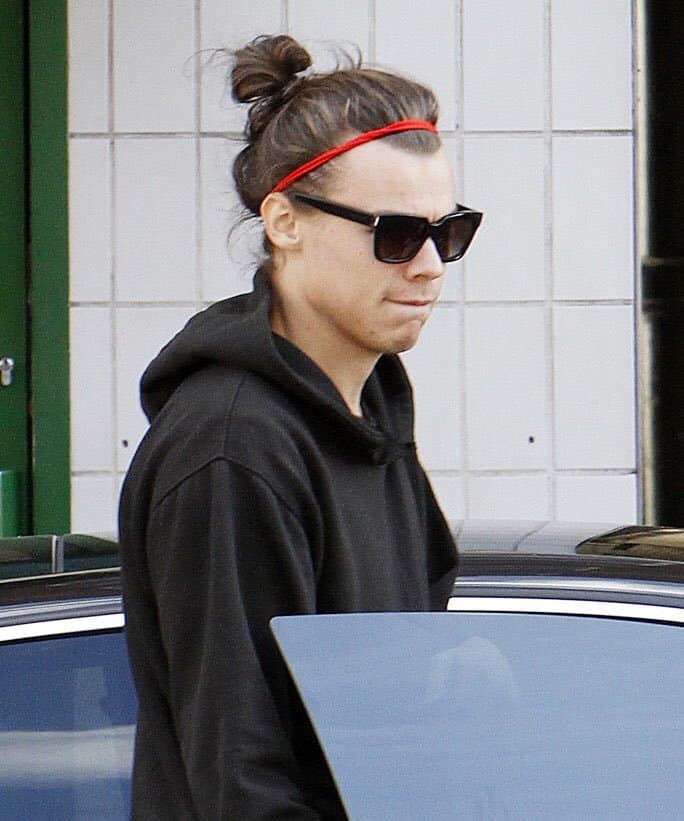 So, if you're into someone who prefers Harry over Zayn, then use this look as your One Direction inspiration. Harry's pretty popular for a reason, you know. It's absolutely the size of his man bun.
18. The Bedhead Bun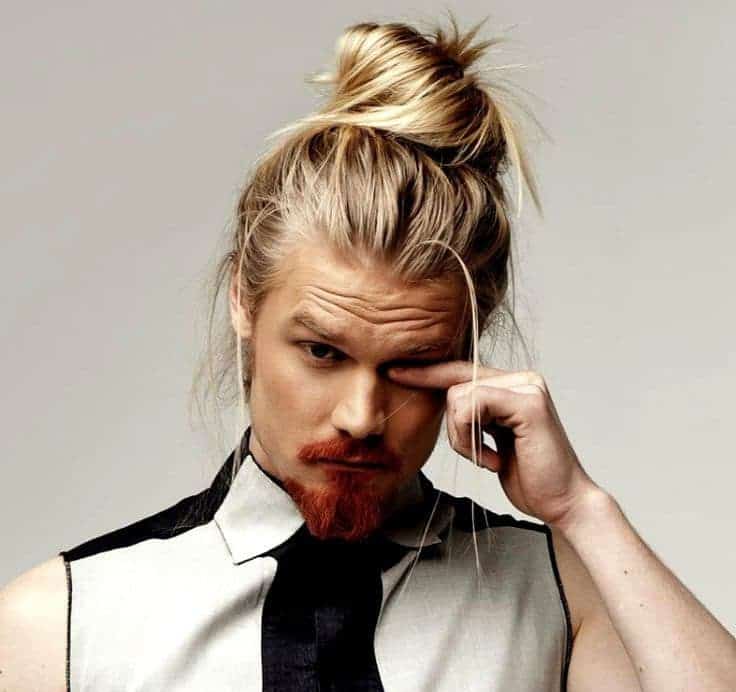 Here's a man bun for the ages. It's full but tousled. This hairdo look like it takes forever when it's really effortless.
19. Sleek Half-Bun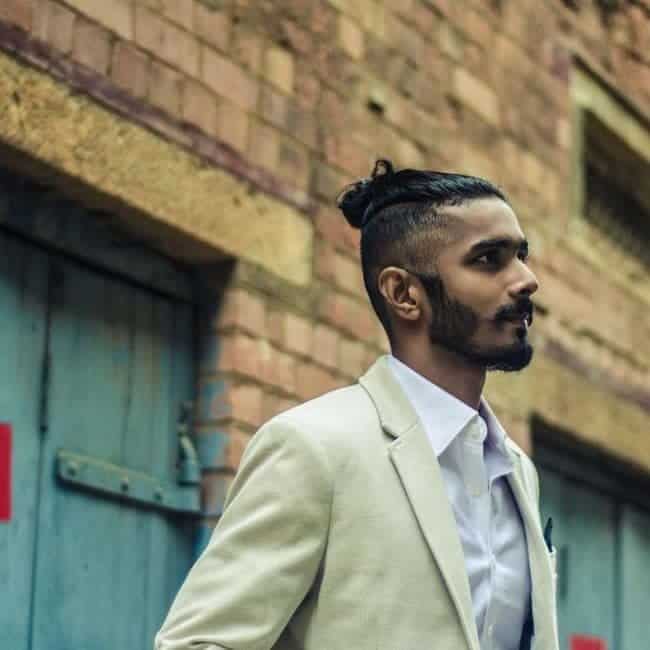 It's not easy to create a man bun haircut that's both sleek and messy. The unkempt quality comes from the careless loop of the half-bun—it's the perfect detail.
20. The Curly Q Bun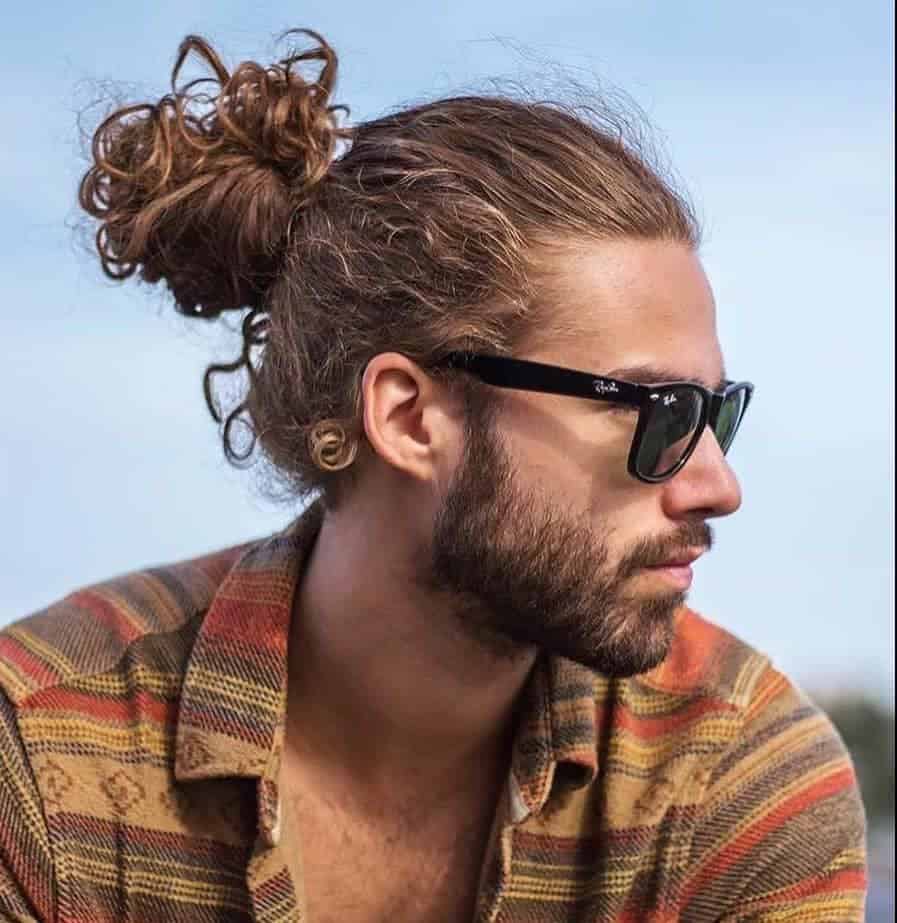 Man buns and curly hair go together like peanut butter and jelly. Take advantage of your long curly hair man!
#21. All About Ginger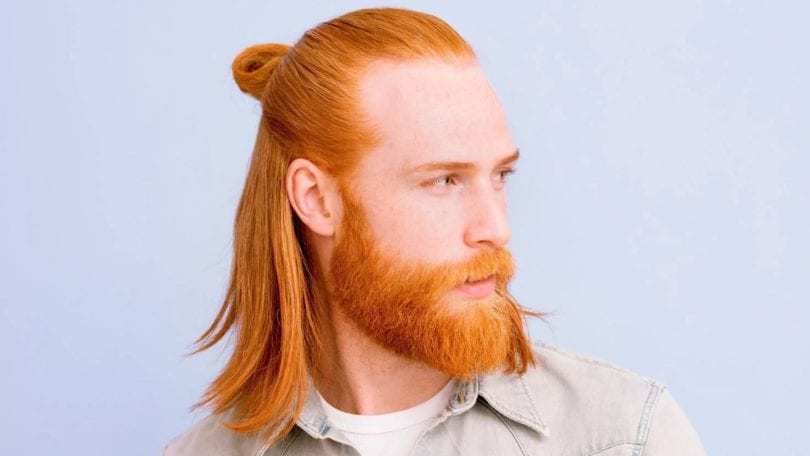 Ginger hair is a special kind of hair that attracts the people for the exceptional color. A bun will help it look more gorgeous.
#22. Dread And Fade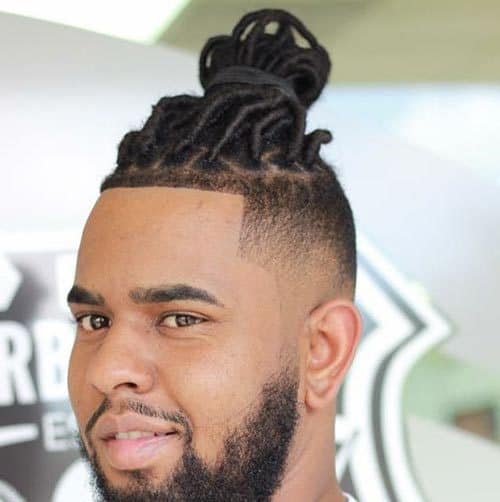 A fade haircut associated with a hair bun will look good if you can maintain the both well.
#23. Bun at the Mid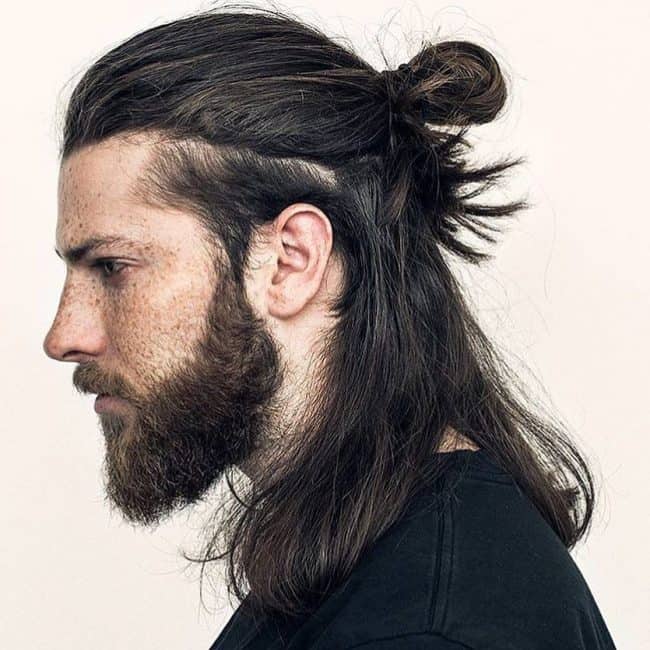 If you have enough hair and that is long on the back side, put a bun at the midpoint. You will get access to both the beauty of long hair and a hair bun.
#24. Tiny Bun
There is no rulebook determining the size of the bun. You can make it as big or small as you wish. This is an example of a tiny bun.
#25. Conor McGregor Special

If you are searching for inspiration from real-life celebrities, Conor McGregor could be the best source for you. His hair bun is an integrative part of the aggressiveness in the ring.
#26. Well-Groomed Hairstyle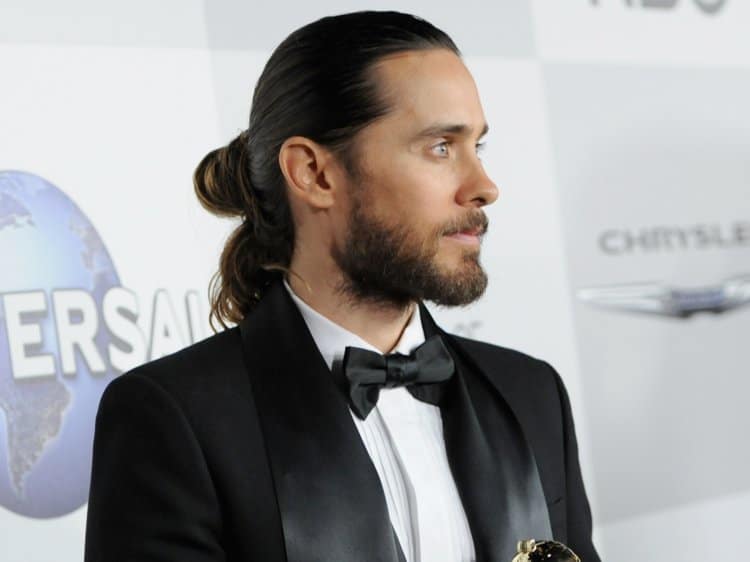 A hairstyle looks the best when It's done with proper attire. Check out this style to get a well-groomed bun hairstyle for man.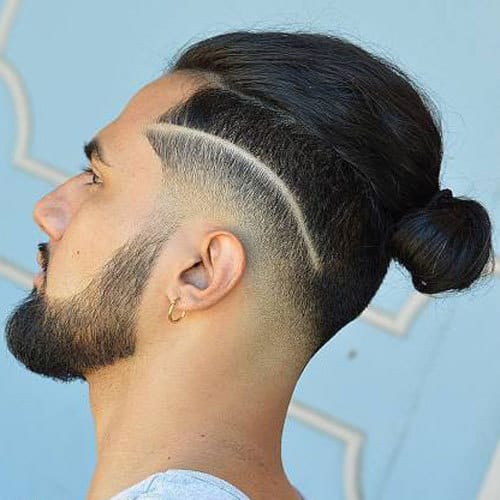 Line or stripes have become a handy weapon to rock any hairstyle. You can apply it to the hair bun too.
#28. Messy on the Back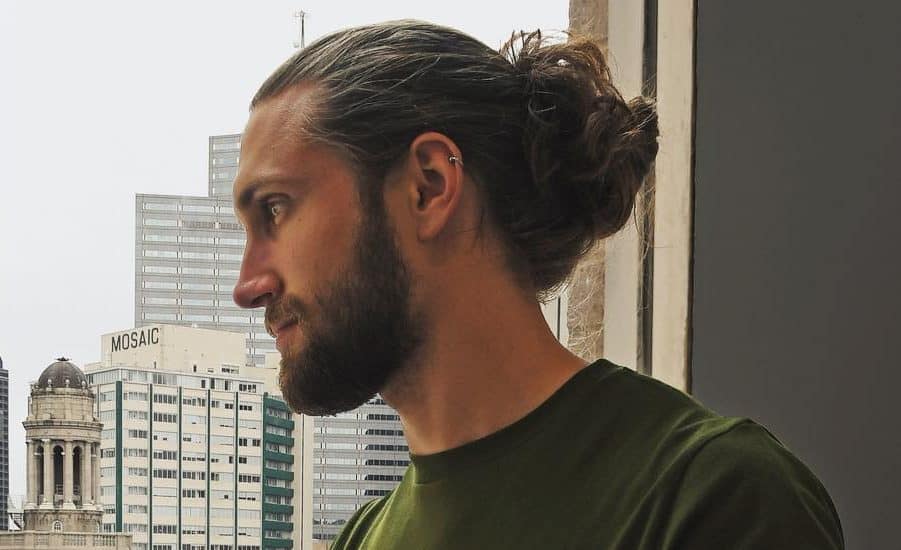 All the hair is centralized to the back side. This is one of the basic man bun hairstyles out there.
Though most of the hair buns consist of a sole color. One can color his hair in such ways that only the hair involved in the making of hair bun becomes two-toned.
#30. Low Bun with High Value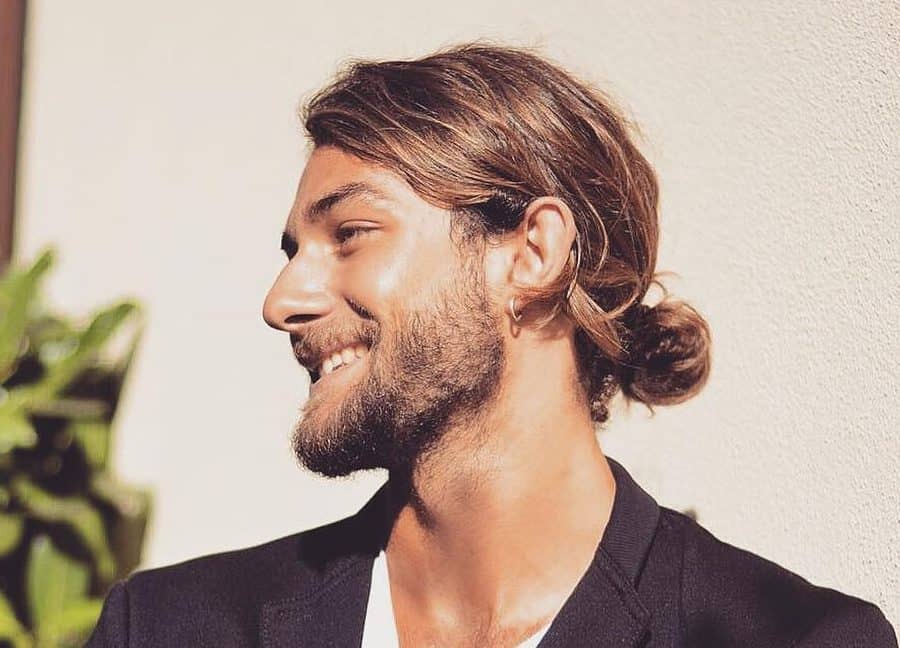 A low bun can make your look of a high standard. If you have less hair to make a big bun, try this simple style to turn others head.
#31. The Curious Bun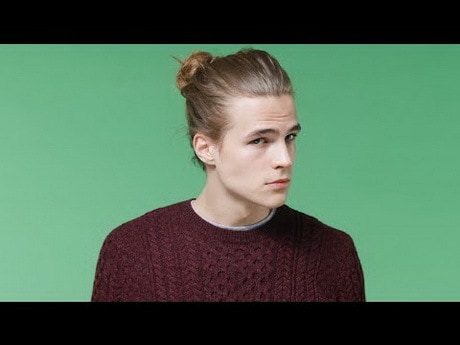 Perform a pose that will represent the curiosity you are nurturing in yourself. And a bun can help you greatly in this regard.
#32. Up Bun with Long Hair
Though this style looks a bit feminine, the look is very sleek. If you don't want to expose your masculinity, try this one at once.
#33. David Beckham the Styler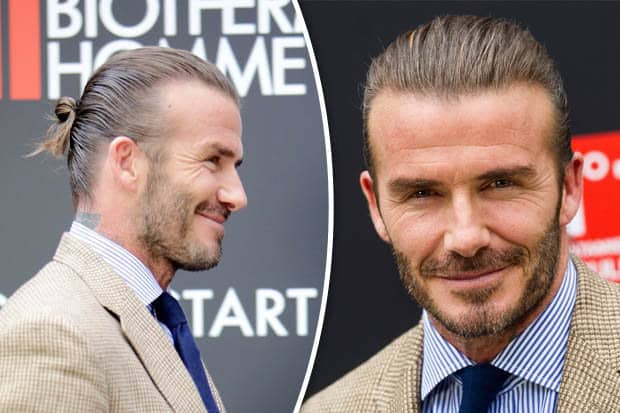 David Beckham is the ultimate source of inspiration for the boys who are searching for a chic hairstyle. No matter what hairstyle you are looking for, David can guide you to the right gateway.
#34. Balbo with a Bun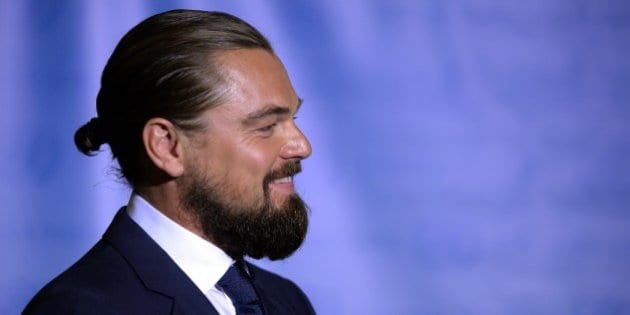 Beard style is the perfect companion of a stunning hairstyle. Leonardo is vastly popular for his acting excellence. Now you can follow him too while doing man hair bun styles.
#35. Casual Bun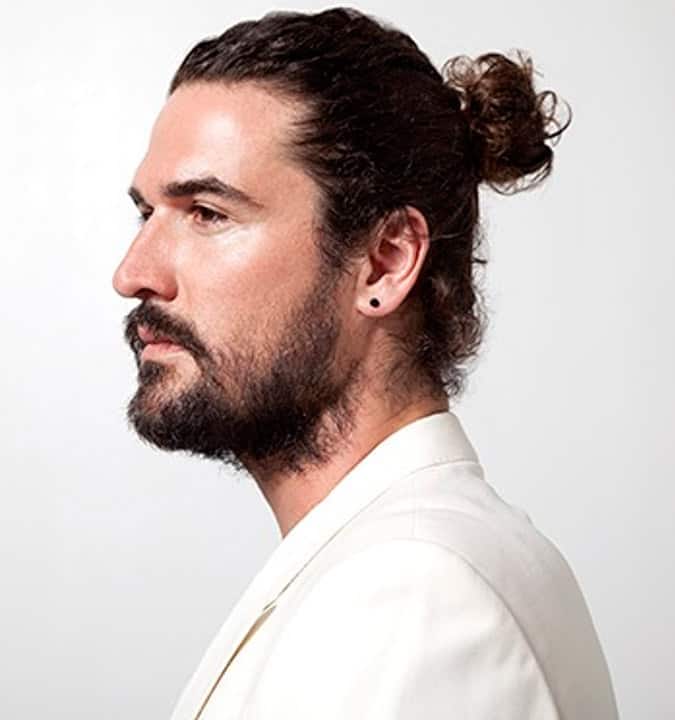 Man bun hairstyles demand more care than other regular hairstyles. No worries if you want to get a casual hair bun. It's not mandatory to stay tidy always.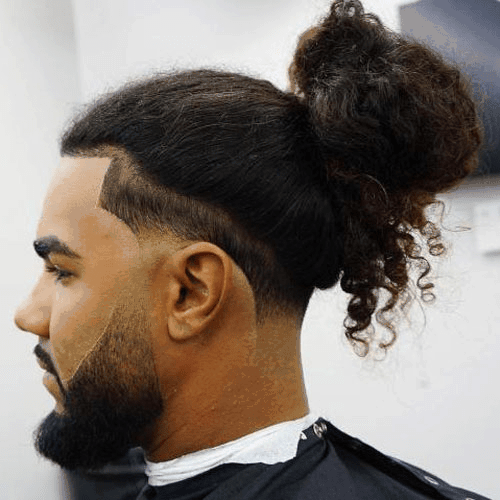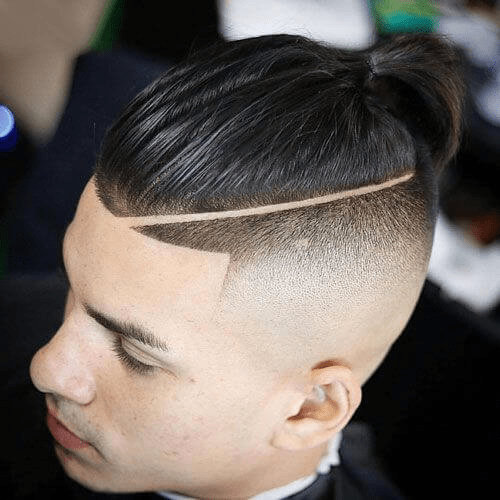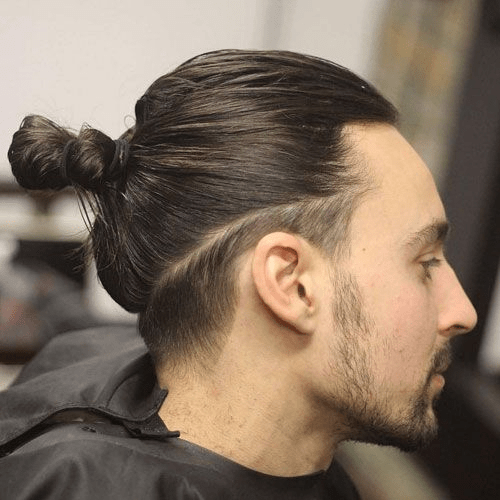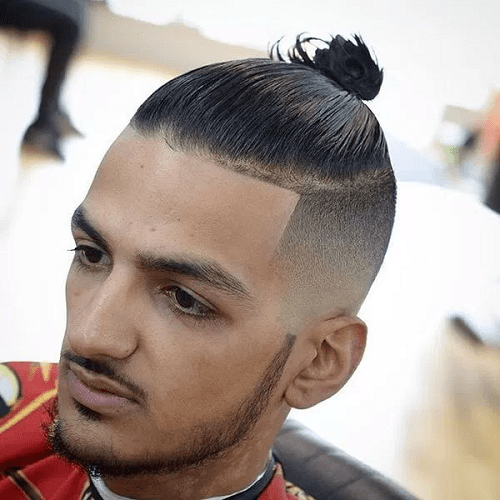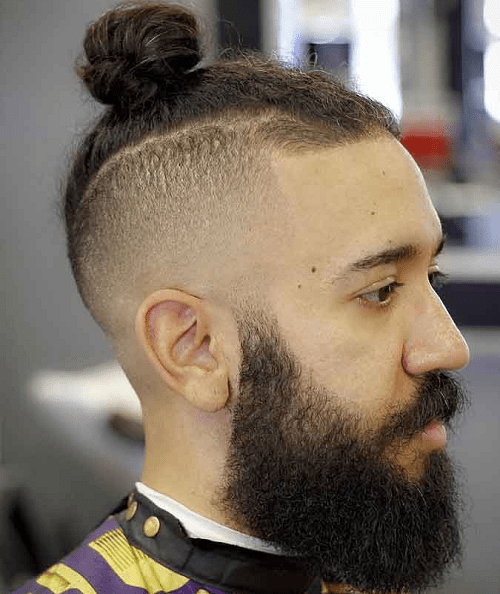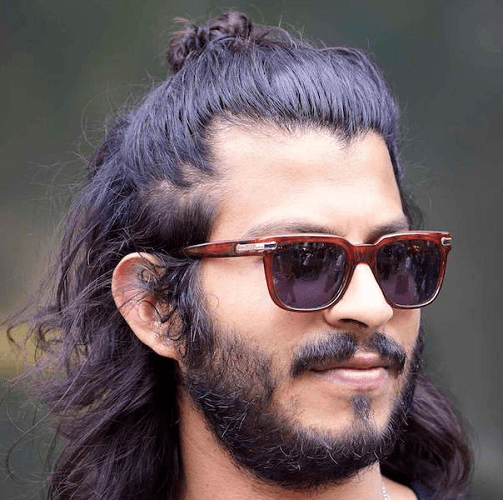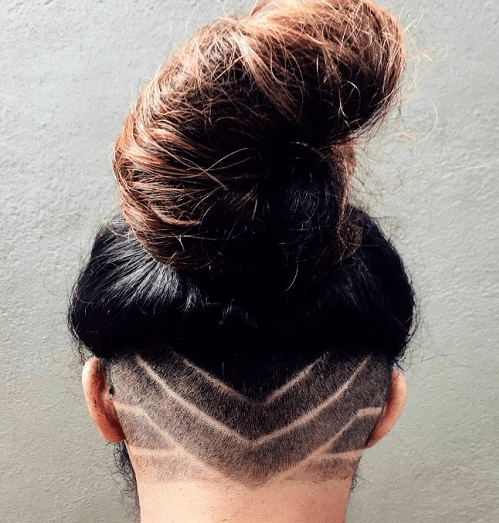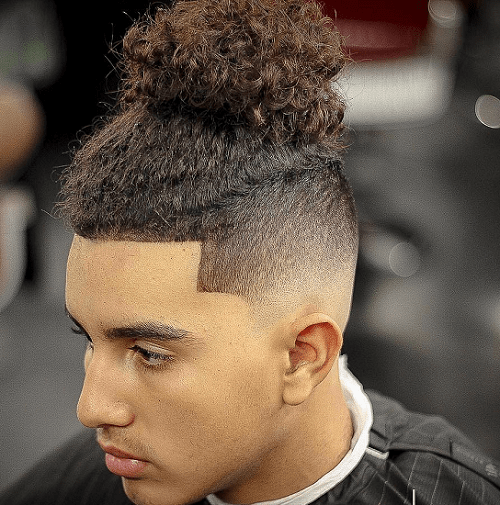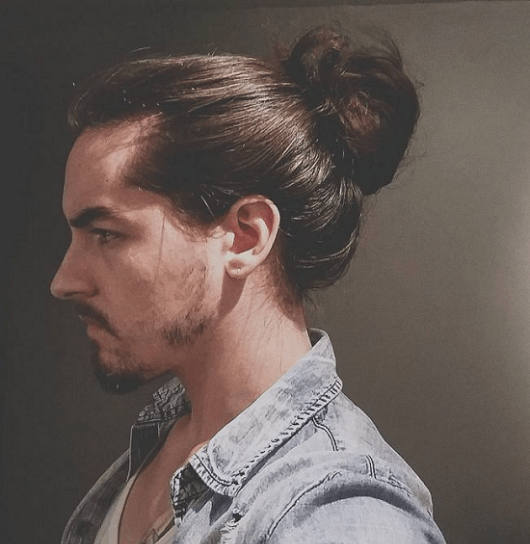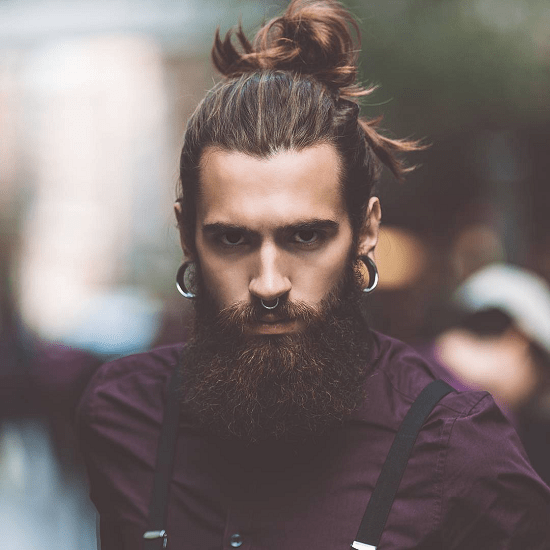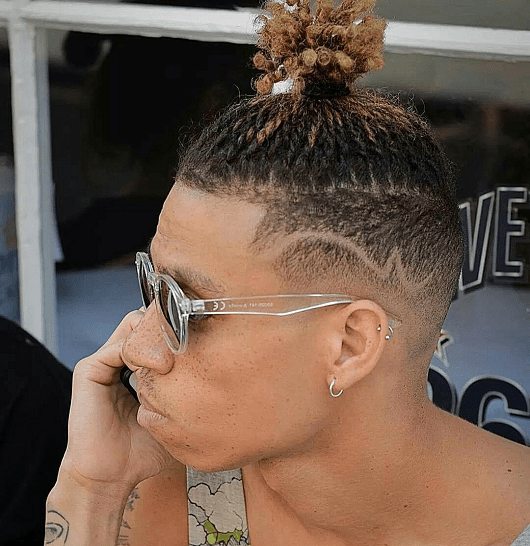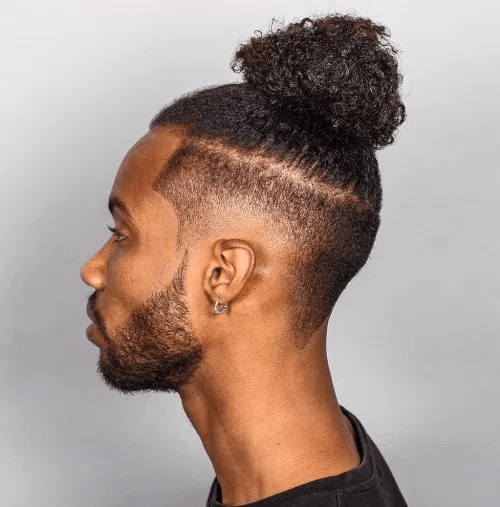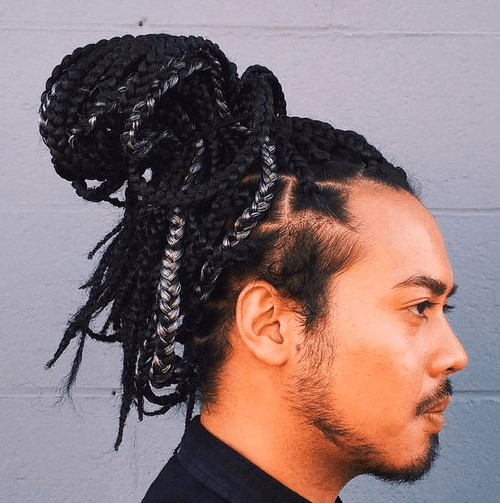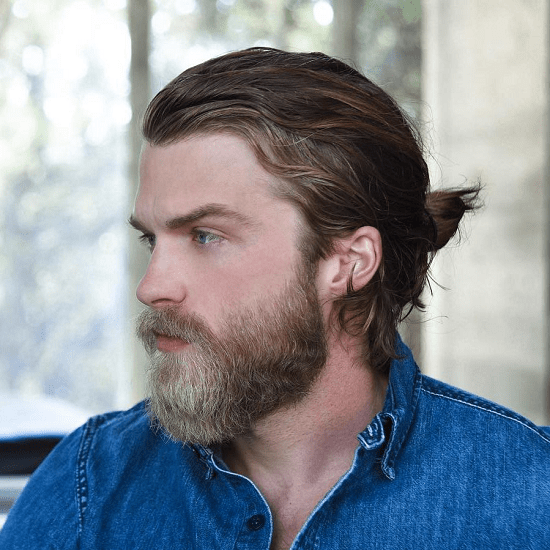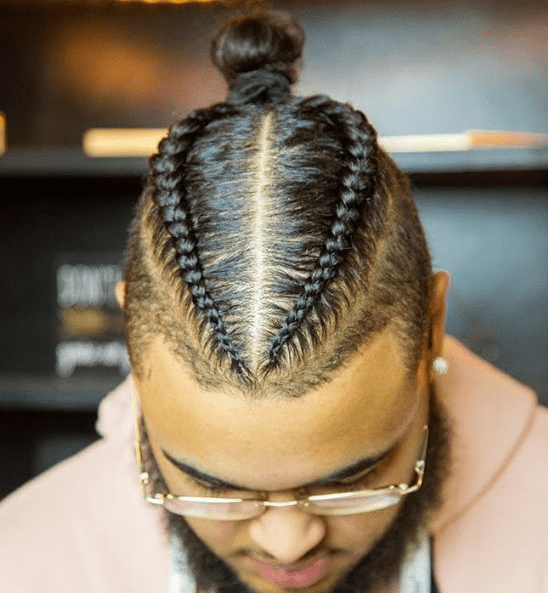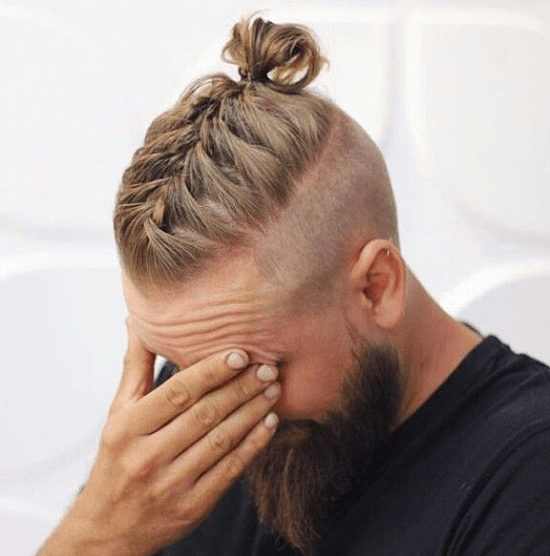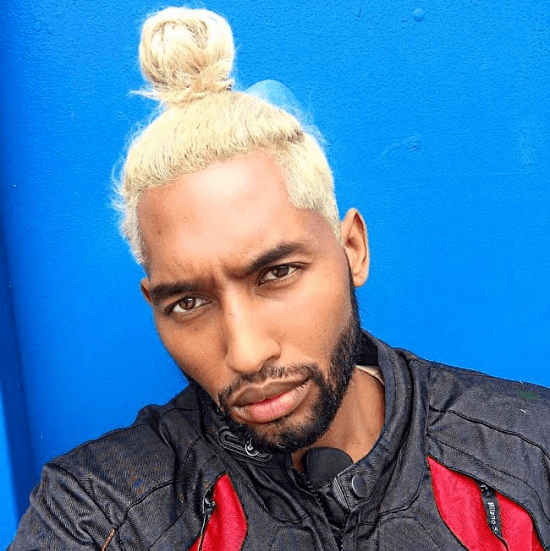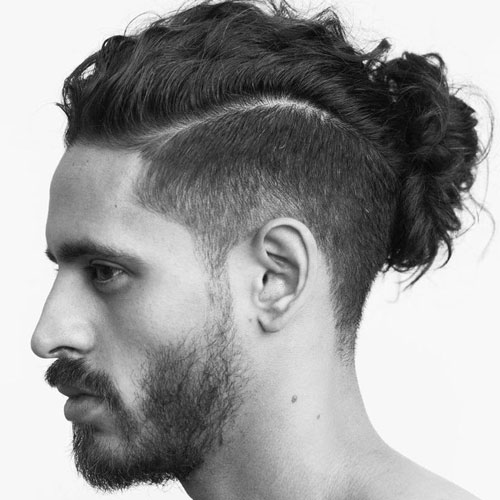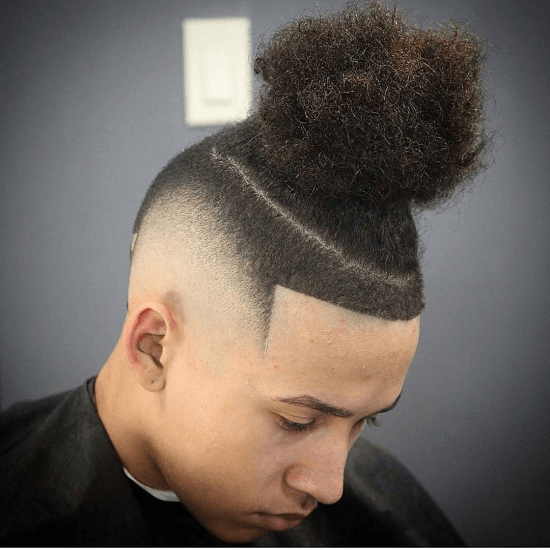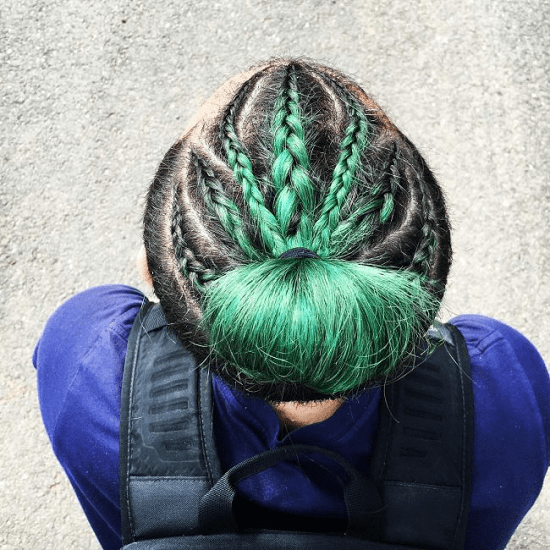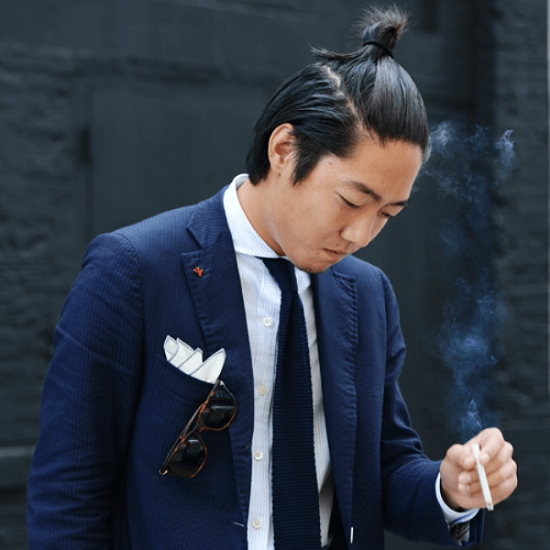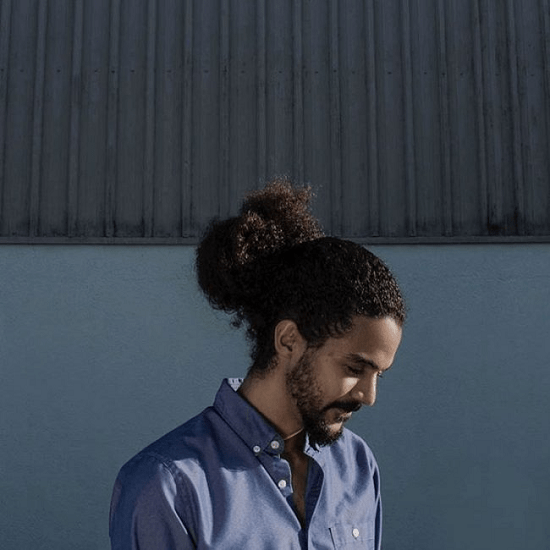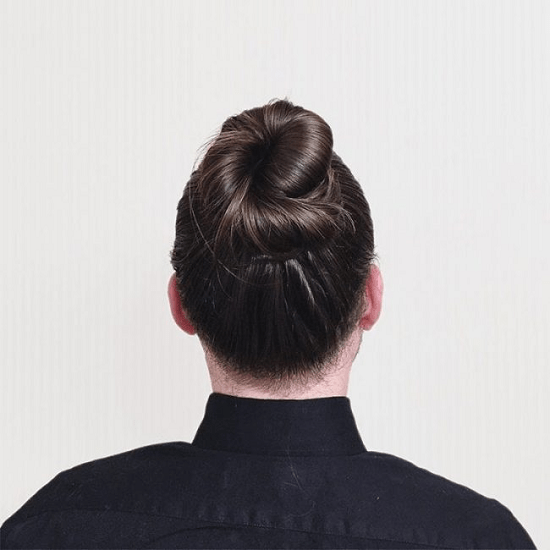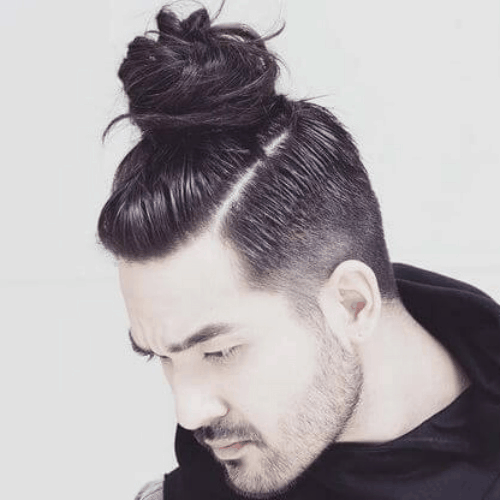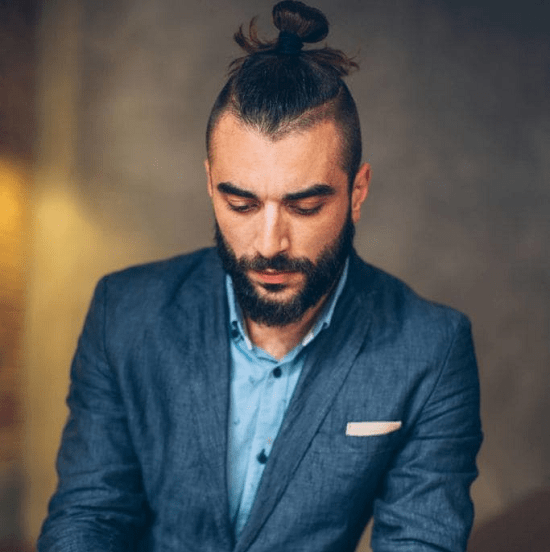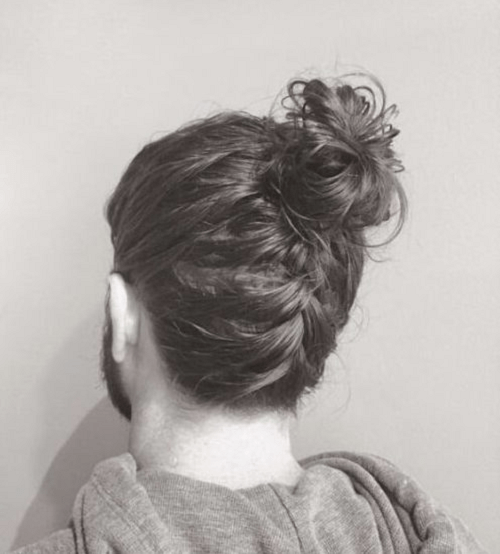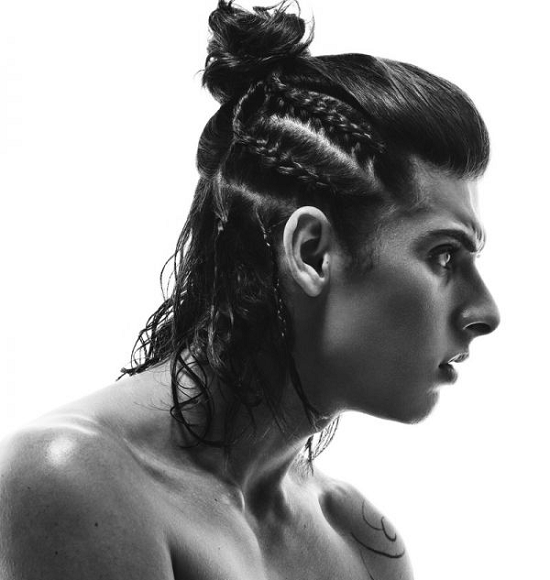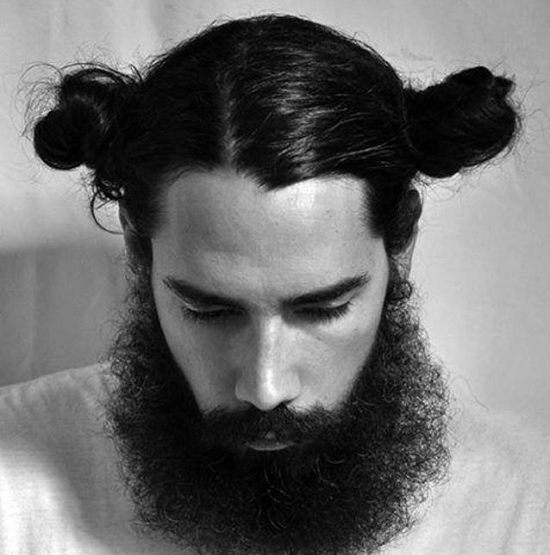 Difference between Man Bun & Top Knot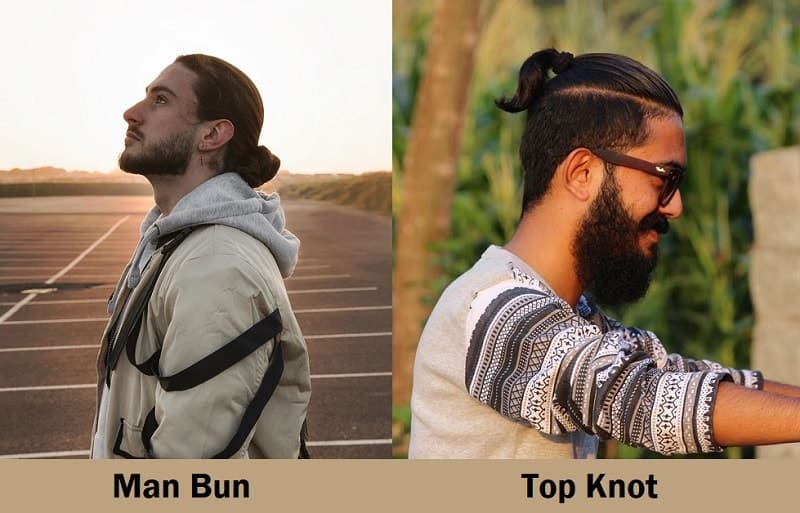 Often when we discuss man bun, it is often confused with a top knot. Optically both of these perhaps look quite similar, but the fact is they are different.
A top knot is always tied at the top of the head and looks like a loose knot.
The man bun in comparison is generally tied below the crown or near the nape. This also needs a relatively longer hair length for a proper bun.
However, in comparison, the top knot only needs the hair to be long enough to hold in your hand.
The undercut is a more common feature with a top knot, but the man bun is fast gathering momentum and climbing the popularity chart. The functionality of the bun is relatively higher than a top knot.
In case of a man bun, you need the hair of equal length on all sides, and that is where we see a lot of adaptation and versatility of modern styles. The combination of man bun with an undercut is one such example.
That said, the undercut man bun is gaining traction in a definitive manner across men of all rungs of the society.
Man bun hairstyles aren't going anywhere for a while. The trend is here to stay. It's more than just a hairstyle, however. It's also practical. Why shouldn't guys enjoy the ability to keep their hair out of their faces, especially when their buns make them look so fine?