Hey men! Tired of your own, limp and lifeless hair? Want a fun hairstyle that gets you noticed and admired by the ladies? Learn how to texturize your hair with these easy steps.
Texturing is the layering of hair to provide a multi-dimensional look and feel. Flat hair is not cool. Think of messy/casual hair, but with enough control and hold that it isn't flopping in your eyes and making you look like a shaggy sheepdog.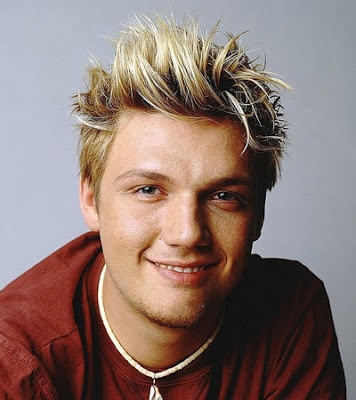 Hair with texture means there's some "grip" to it; it's the perfect kind of hairstyle that gets the attention of women. Don't you want to give women the excuse to play with your hair?
How To Texturize Men's Hair
The permanent way to add texture to hair is with a perm. Or if that is too extreme for you, you can employ these semi-permanent tricks to give your hair some lift. You don't need to be a stylist to give your hair texture.
Here's how to texturize hair – the easy way.
Use Hair Wax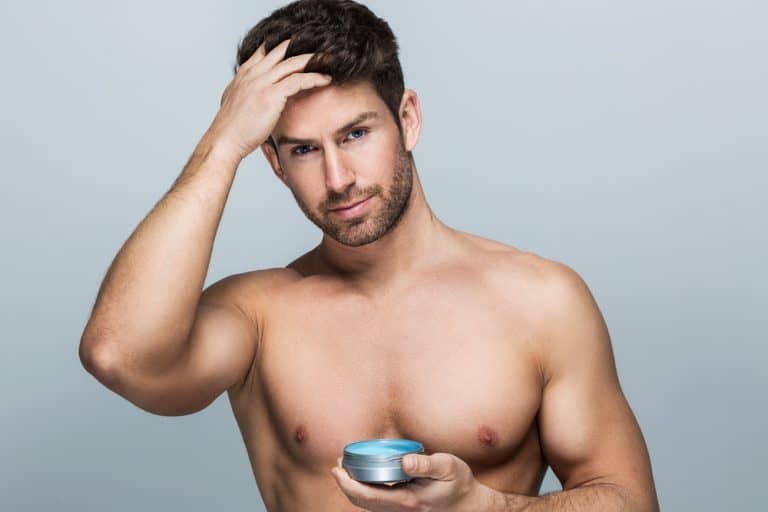 For a quick way to create lots of texture, look for men's styling products with appealing names such as "hair wax", "texture putty" and "molding putty." Don't worry, these are highly available in grocery stores and drug stores.
These products have the consistency of good and should be used sparingly to avoid giving yourself the dreaded helmet-hair look.
Take a small dab on your fingers, then run it through small chunks of hair, or use it to mess up hair. Use small amounts to add some interesting anti-gravity, hair-lifting looks.
Lucky for you, this putty rinses out with your next shower, so you can quickly get rid of undesired results and start all over again.
Texturize Your Hair Using Razor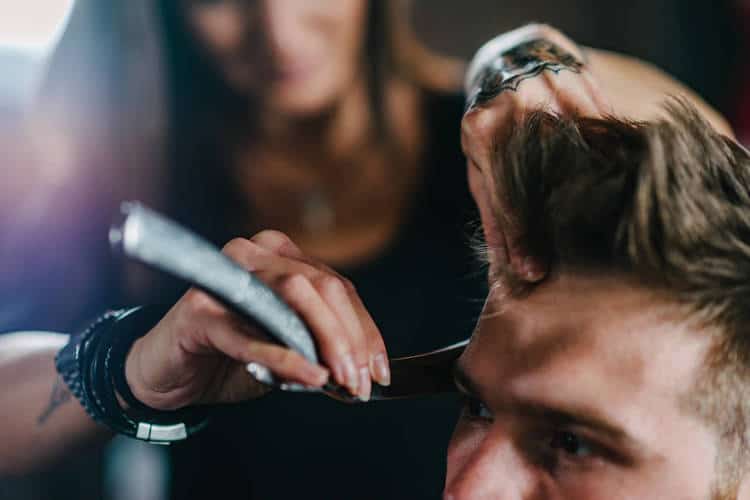 If you have a wife, girlfriend or willing female friend who is handy with a razor, enlist her help in cutting your hair.
Here's how to texturize your hair with just a razor: have the accomplice twist sections of your hair (gently!) and come in with the razor to lift up. She can choose large chunks of hair or smaller chunks, wherever she likes all over her hair.
The idea of twisting and cutting is to introduce variation in your hair, and with that will come texture. Be careful, though, this technique works better with dense, thick, curly hair.
Go for a Hair Stylist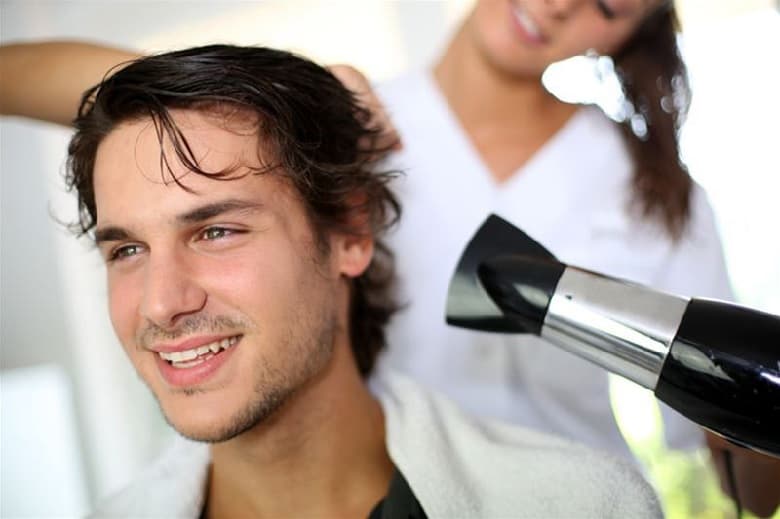 You might choose to go to a professional salon to achieve the right textured hairstyle. One of the latest trends is to wear hair longer, with bangs, in longer layers that have lots of texture, especially at the perimeter of the hairline.
The idea is to give it the "I just woke up but my hair looks cool" messy appearance. Your stylist may be the best expert in giving you advice on how to texturize your hair, especially if you're not used to so much self-pampering.
For men who are worried about thinning hair, learning how to texturize hair can be a way to hide the thinning a bit. Special hair texturizers coat the cuticle and add some thickness to the hair. Your hair is no longer fine but has somebody.
For African-American males, hair texturizing can help soften tightly curled hair. It is a process that helps loosen the curl and make it hang lower.
How to Add Texture to Long Hair for Guys?
If you're a guy with long hair and are looking to add texture for a more dynamic and stylish appearance, follow these professional steps:
1. Choose the Right Shampoo and Conditioner: Start by using a volumizing shampoo and a lightweight conditioner. This combination will help cleanse your hair without weighing it down, allowing for natural texture to come through.
2. Towel Dry Gently: After washing your hair, gently pat it dry with a towel. Avoid rubbing vigorously as this can cause frizz and damage. Keeping your hair slightly damp will make it easier to style and add texture.
3. Apply a Sea Salt Spray: Sea salt spray is excellent for creating a natural wavy texture. Spray it evenly through your damp hair. This will give your locks a beachy texture as if you've spent the day by the ocean.
4. Use a Texturizing Product: Apply a texturizing cream or mousse to your hair. Focus on the mid-lengths and ends to add body without making the roots too heavy.
5. Blow Dry with a Diffuser: If you're after waves or curls, attach a diffuser to your blow dryer. This will distribute the heat evenly and help to enhance your hair's natural texture. Hold the diffuser at a 90-degree angle to your head and move it slowly through your hair.
6. Use Your Fingers: As you dry your hair, use your fingers to scrunch and twist sections. This will encourage natural waves and curls to form.
7. Apply a Finishing Product: Once your hair is dry, apply a small amount of texture paste or clay. This will provide a more defined texture and help keep your style in place throughout the day.
8. Avoid Over Styling: Remember that sometimes less is more. Don't overdo it with products or heat styling tools as this can lead to damage over time. Embrace your hair's natural texture.
9. Regular Trims: Regular trims are essential to prevent split ends and keep your hair healthy. This will, in turn, contribute to better texture.
10. Experiment and Adapt: Finally, don't be afraid to experiment with different products and techniques. What works for one person might not work for another, so be open to adapting your routine until you find what works best for your hair type and desired texture.
Following these steps will help you achieve a textured look that's stylish and manageable. Embrace your long locks and the versatility they offer.
How to Add Texture to Short Hair for Guys?
Adding texture to short hair can create a more defined and stylish appearance. Follow these steps to easily and effectively add texture to your short hair:
1. Choose the Right Cut: Before you even start styling, it's essential to have the right haircut. Ask your barber or stylist for a cut that is conducive to adding texture, such as a layered cut, fade, or undercut.
2. Wash and Condition Your Hair: Clean hair is easier to style. Use a good-quality shampoo and conditioner. Make sure not to over-condition, as this can weigh the hair down, making it difficult to achieve a textured look.
3. Towel Dry Your Hair: After washing, gently towel-dry your hair. Avoid rubbing too vigorously as this can cause damage. It's best to leave your hair slightly damp for styling.
4. Apply a Texturizing Product: Select a styling product that specifically mentions 'texture'. Options include texturizing sprays, sea salt sprays, clays, or pastes. Take a small amount of product and work it evenly through your hair.
5. Use a Comb or Your Fingers: For a more structured look, use a wide-tooth comb to shape your hair. For a more natural, tousled appearance, use your fingers to scrunch and twist sections of your hair.
6. Employ a Hairdryer: Use a hairdryer on a low heat setting to dry your hair, shaping it as you go. Direct the airflow in the direction you want your hair to sit. Using a diffuser attachment can also help to enhance texture.
7. Finish with a Styling Product: After your hair is dry, apply a small amount of matte-finish pomade or wax to hold the texture in place. Opt for matte products as they tend to create a more natural look.
8. Use Hairspray for Extra Hold (Optional): If you require additional hold, especially in humid conditions or for a long day, finish off with a light mist of hairspray.
9. Re-evaluate and Adjust: Finally, take a look at your textured style. If it's not quite right, don't be afraid to adjust by adding a bit more product or reshaping with your fingers or comb.
Amazing Textured Hairstyles for Men
Here are the best textured haircut ideas for men.
1. Short Textured Hair with Drop Fade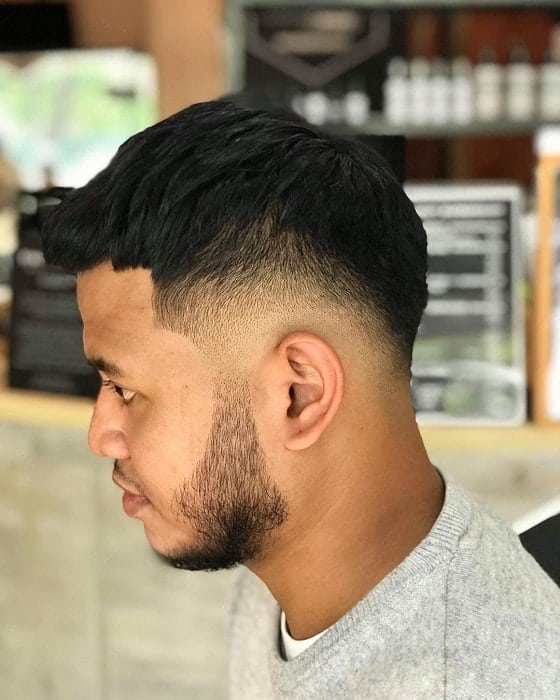 This sharp look features short textured hair on top with a stylish drop fade on the sides. The texture adds depth and volume to the hair, while the fade creates a clean and modern silhouette. This is a versatile style that works well for any occasion.
Embrace the bedhead! This short, messy style is all about embracing natural texture. It's effortlessly cool, easy to maintain and gives off a relaxed vibe.
This is ideal for guys who prefer a low-maintenance routine with maximum style.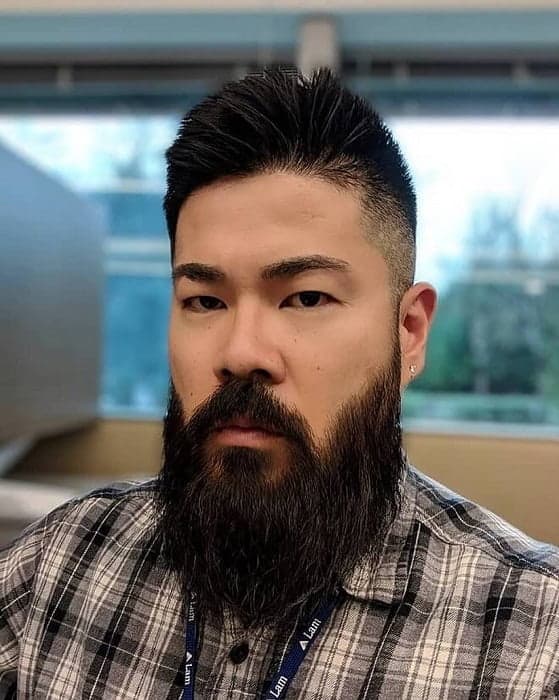 Asian men's hair is known for its thickness and texture. This style showcases exactly that with medium-length textured hair paired with a well-groomed beard. It's a great balance between rugged and sophisticated.
4. Textured Medium Hair
Not too short, not too long. This textured medium hair is the Goldilocks of hairstyles! The added texture provides movement and body. It's adaptable and can be styled in countless ways to suit any face shape and occasion.
5. Afro-textured Hair for Men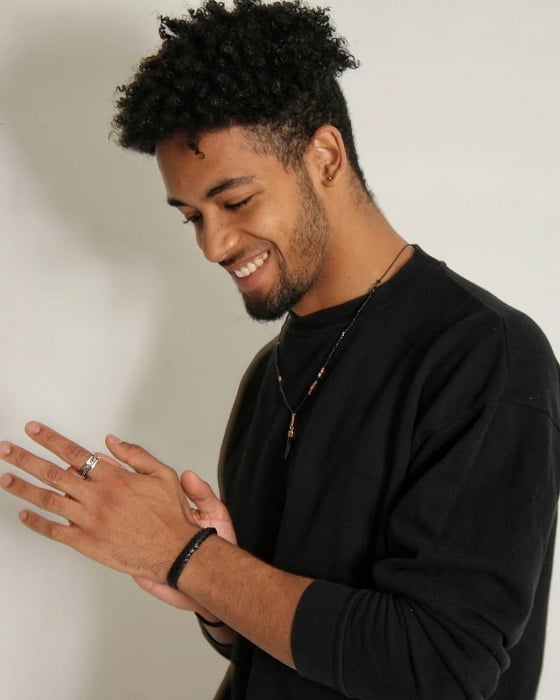 Celebrate natural curls with this Afro-textured hairstyle. This look is all about embracing the volume and unique texture of Afro hair. It's bold, beautiful, and makes a statement.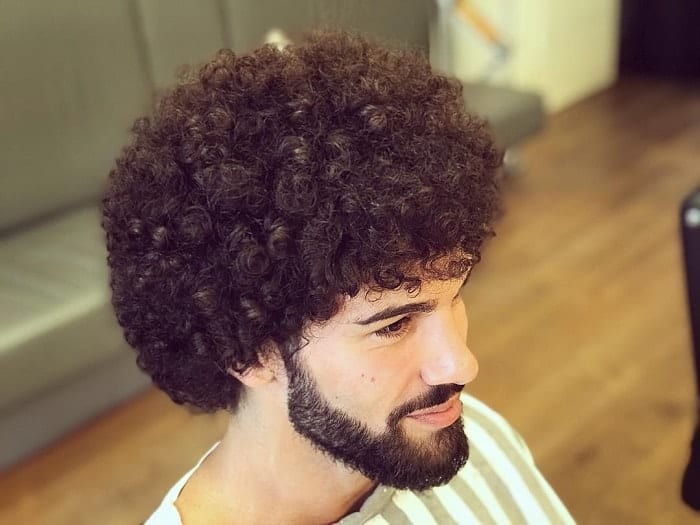 Unleash the power of curls with this naturally textured style. The curls are left longer on top, providing a vibrant, energetic look. It's playful yet masculine and works for both casual and formal settings.
The French crop is a classic cut that never goes out of style. With added texture, it becomes more modern and edgy. The shorter length is practical, and the forward fringe frames the face.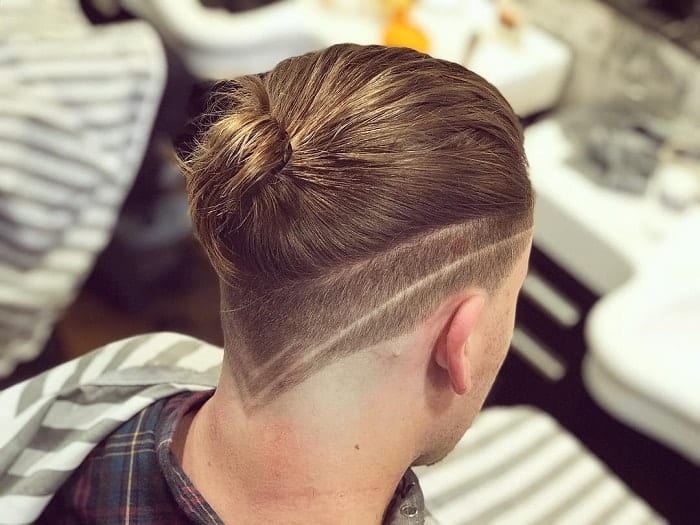 A man bun paired with an undercut screams style. The contrast between the long, textured hair in the bun and the short undercut is striking and modern. This is a look for the confident and fashion-forward man.
9. Textured Quiff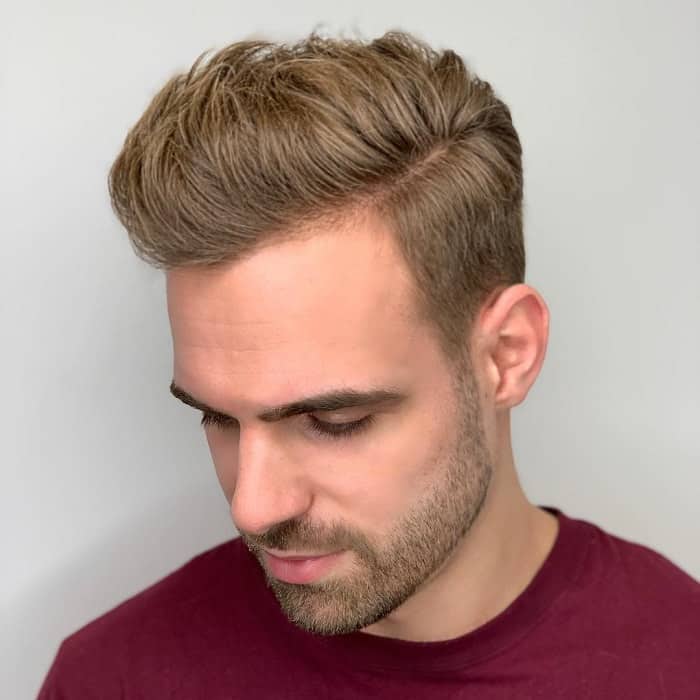 The textured quiff is a variation of the classic quiff but with added volume and style. It's achieved by incorporating texture into the hair before styling it into the traditional quiff shape. This look is versatile and timeless.
A modern twist on a vintage classic. The textured pompadour is all about volume and height at the front, gradually tapering towards the back. This dapper style is perfect for a retro-inspired look with a modern edge.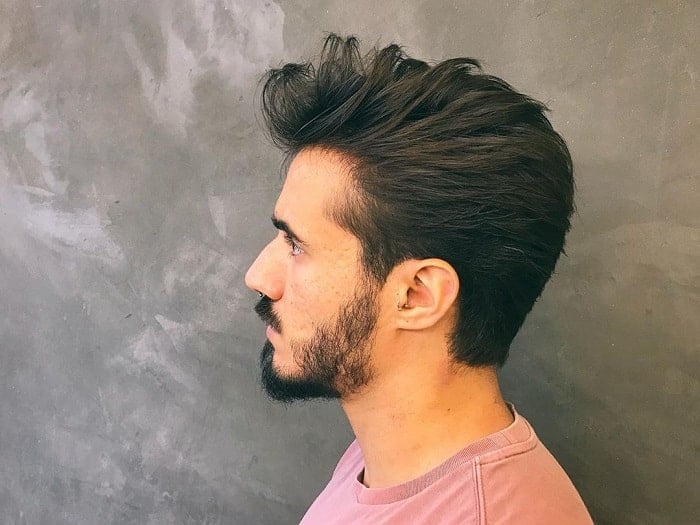 For men with straight hair, adding texture can create depth and movement. This style is understated but stylish. The added texture prevents the hair from looking flat and lifeless.
This hairstyle pairs bouncy curls with a sharp fade. The curls on top add volume and character, while the fade keeps everything neat. It's a modern and stylish option for men with curly hair.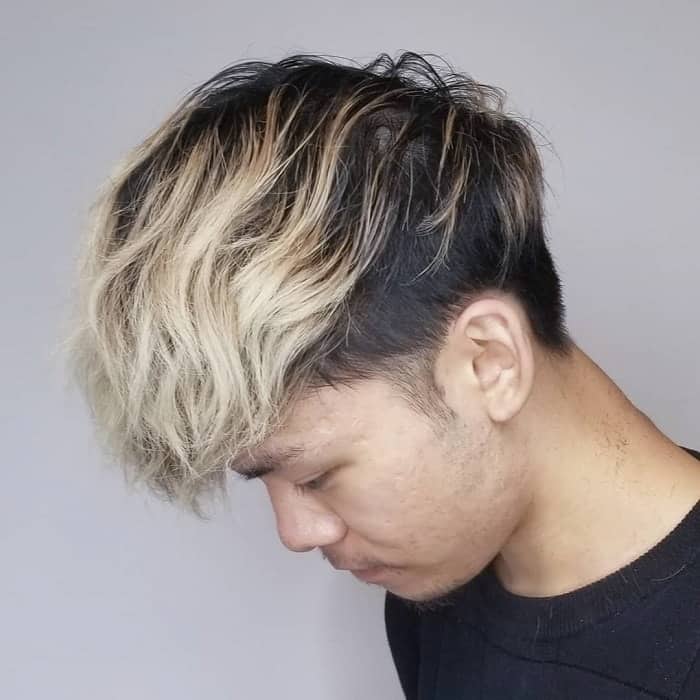 Add some life to your hair with blonde highlights. This look is achieved by incorporating blonde streaks into textured hair. The highlights add dimension and make the texture pop even more.
14. Fine Textured Hair for Men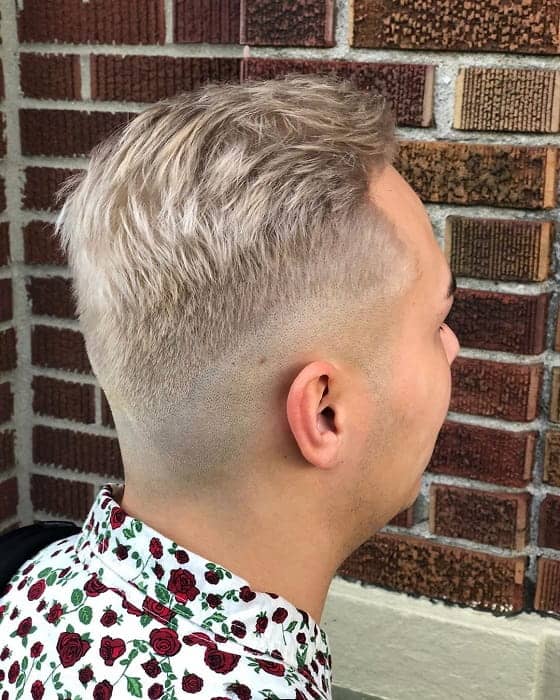 For those with finer hair, this textured style is perfect. The texture creates the illusion of thickness and volume, even when hair is naturally fine. It's a simple yet stylish option for day-to-day wear.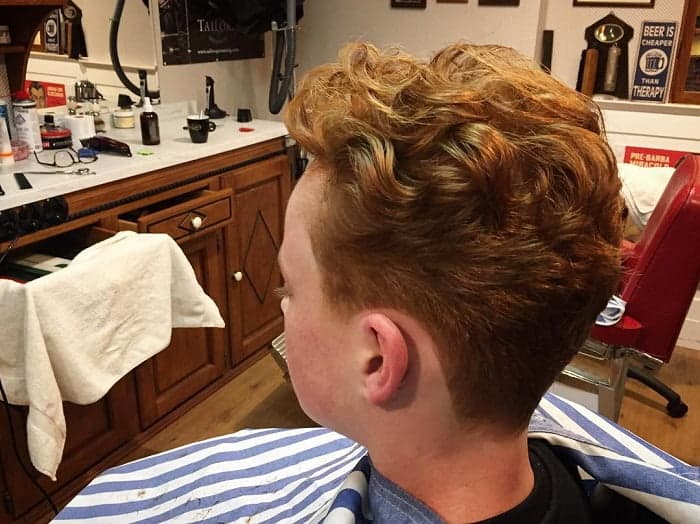 Embrace natural waves with this laid-back hairstyle. The texture of wavy hair is accentuated in this style, creating a relaxed and effortless vibe. It's perfect for casual wear or for any event where you want to showcase your natural waves.
16. Tousled Textured Look
Unleash your inner rockstar with the Tousled Textured Look. This style is all about freedom and a laid-back attitude. Use a texturizing product and your fingers to create a perfectly messy look that's still chic and presentable.
17. Spiky Texture
Bring back the 2000s with a modern twist. Spiky Texture involves creating defined spikes with a bit of a tousle. It's edgy, bold, and perfect for those who want to make a statement with their hair.
18. Slicked Back Texture
For a sophisticated and timeless look, try the Slicked Back Texture. Use a pomade or gel to slick your hair back, but instead of making it flat, create some texture on the top for a more modern appeal.
19. Side Part Textured Waves
Side Part Textured Waves are elegant and suited for any occasion. Create a deep side part and then use a product to texturize the waves. It's a classic look with a hint of modernity due to the textured waves.
20. Textured Crop Top Fade
The Textured Crop Top Fade combines a high fade with a cropped top. The texturized hair on top contrasts with the faded sides, creating an attention-grabbing and contemporary hairstyle.
21. Textured Faux Hawk
Get bold with a Textured Faux Hawk. Instead of the traditional shaved sides, this style keeps some length while the top is styled upwards in a textured fashion. It's less intense than a mohawk but just as stylish.
22. Textured Comb Over
The Textured Comb Over is perfect for both casual and formal settings. Comb your hair to one side and add texture to the top. This gives the classic comb over a bit of edge without being too outlandish.
23. Brush Up Textured Top
The Brush Up Textured Top is dapper and fresh. The hair is brushed up and back, creating volume on top. With added texture, it's a modern alternative to the slicked back style.
24. Textured Caesar Haircut
The Textured Caesar Haircut is a modern take on the classic Caesar. It's characterized by short, horizontally straight cut bangs with added texture. This style is low maintenance and ideal for men with straight hair.
25. Disconnected Undercut with Texture
The Disconnected Undercut with Texture is daring and modern. The sides are buzzed while the top is left longer and textured. The disconnect between the top and the sides creates a striking contrast that is sure to turn heads.