John F. Kennedy, the 35th president of the United States, wasn't just known for his political prowess but also his iconic style. His aesthetic, and his cool hairstyles, have left a lasting impression that continues to inspire generations of men.
JFK's naturally thick and wavy hair allowed him to experiment with a variety of hairstyles effortlessly. What's so special about JFK's hairstyle?
Beyond its aesthetic appeal, JFK's hairstyle was a statement of elegance and power. It represented a new era of youthfulness and dynamism in American politics.
Today, John F. Kennedy's hairstyles continue to inspire men of all ages. It's a reminder of a simpler, more elegant time, and a testament to JFK's enduring legacy.
Variations of John F. Kennedy's Hairstyles
John F. Kennedy was not just known for one but for a variety of hairstyles that contributed to his youthful and charismatic image. His thick and wavy hair gave him the flexibility to pull off multiple looks effortlessly. Here are a few variations of JFK's hairstyles:
The Ivy League Cut
This classic preppy haircut, slightly longer than a crew cut, was a staple of JFK's style. Characterized by a side part, short sides, and a somewhat longer top brushed back, the Ivy League cut was popular in the 1950s. This hairstyle was seen as a symbol of wealth and privilege, fitting perfectly with JFK's persona.
The Slick Back
Typical John F Kennedy's hairstyle was a side-parted look with a voluminous top and neatly cropped sides and back. This formal hairstyle is similar to the Ivy League cut but with a twist.
The hair is slicked back using pomade or gel, giving a more sleek and polished appearance. The Slick Back was also a popular style during JFK's time, often associated with Hollywood stars and high-profile personalities.
The Side Part
Versatile and easily adaptable, the Side Part was another of JFK's go-to styles. This hairstyle is marked by a side part and short sides, with the top length being variable. While it's typically shorter than the Ivy League or Slick Back hairstyles, JFK wore it in a way that suited his image.
The Crew Cut
At a time when crew cuts were the rage, JFK's side-parted, full-volume look was refreshingly different. His hairstyle set a new trend in the 1960s, inspiring men to ditch the buzz cuts for something more refined and stylish.
Representing his military background, this haircut is characterized by short sides and a very short top. Though not as common as his other styles, JFK wore this look with the same charm and confidence.
Some Other Photos of John F. Kennedy Hairstyles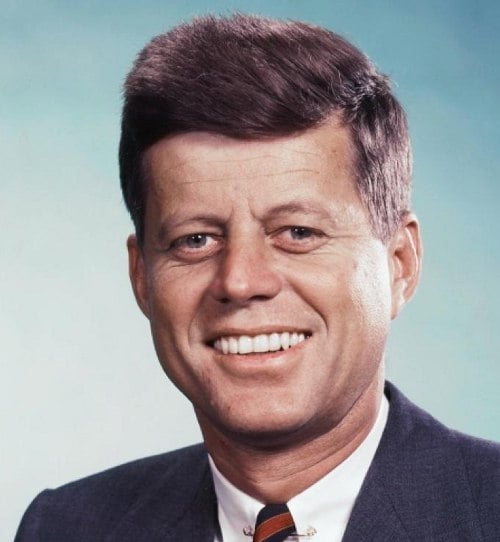 In another photo of him, clad in an untucked shirt, sleeves rolled-up and effortlessly styled head of hair gave the casual look a much-coveted sense of refinement that felt entirely natural to JFK. But it was indeed the cool factor that his hairstyle conveyed that made his look all the more memorable, inspiring generations that came after him with a particular style that does not seem to have dated one bit.
To achieve the JFK hairstyle, understanding the right balance between impeccable execution and the effortless look is paramount. The key to this look is the closely cropped sides, maintaining just enough length to allow a smooth transition between the sides and the length on top. The top is brushed down towards the forehead and then lifted to as swoop to one side and create that added bit of volume in the front.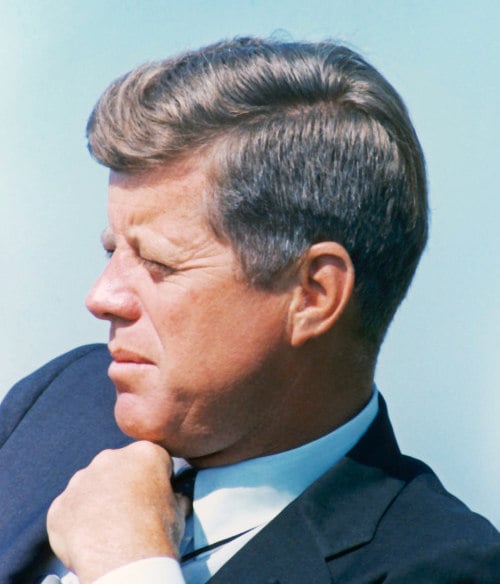 To achieve this look, trim the sides regularly while growing the length on top; – keeping the sides trimmed close will give you just enough versatility to re-create the JFK hairstyle. Always style the top with minimum amounts of product or mousse to preserve the free-flowing and natural appearance of the hair then it is brushed back while giving your subtly slick-backed look just the polished appeal you desire.
How to Achieve John F Kennedy Hairstyles
John F Kennedy's hairstyle is one of the most iconic looks in history. Known for its classic charm, this hairstyle continues to inspire men worldwide. If you're interested in achieving this look, here are the steps to guide you:
1. Have the Right Hair Type
Firstly, it's crucial to know that the JFK hairstyle suits certain hair types better. Ideally, you should have medium to thick hair, as this provides the necessary volume for the style.
While JFK himself had naturally wavy hair, which added texture and depth to the look, you can still achieve this style with straight hair.
2. Get the Cut
The JFK hairstyle is characterized by short sides and back with a significant volume left on top. So, when you go to your barber, make sure to ask them for this specific cut. They should trim the sides and back of your hair short while leaving more length on top.
Once your hair is cut, you'll need to create a parting slightly to the right side of your head. Using a comb, draw a line from the point where your hairline starts to recede on one side, separating the hair on top from the sides.
3. Style and Maintain
Once you've achieved the cut and the parting, it's time to style your hair. Use a good quality pomade to help shape and hold the hair in place.
Apply the product to your damp hair and then comb it to achieve the desired style. Make sure to comb the top of your hair to one side, following the direction of your parting, and comb the sides and back downwards. Finally, the JFK hairstyle requires regular trimming, especially on the sides and back.
This helps maintain the distinct contrast between the voluminous top and the neatly cropped sides. Additionally, proper styling is essential to keep the look, so invest in good quality grooming products.
With these steps, you're well on your way to capturing the timeless elegance of JFK's iconic look.