Buzz cuts are quite popular across the globe. The number 4 buzz cut is particularly famous as it has all the right characteristics that a guy looks for. The buzz cuts have so many variations as they come in different lengths and fade alterations.
The length is on a medium level of number grading for different people. The number of guards that are put on hair clippers varies from number 1 to number 8. The number 8 length is highest at 1 inch while the number 1 length is at 1/8th of an inch.
Who Can Wear a Number 4 Buzz Cut?
I know what you might be asking yourself, "Is it for me?". Let's unpack that:
From the young and trendy to the distinguished gentlemen, the Number 4 Buzz Cut doesn't ask for an ID. It's youthful enough to keep you looking fresh, and classic enough to ooze sophistication. Young or seasoned, this haircut embraces you.
Whether your hair is as straight as an arrow or has curls that can twist and shout, this style works wonders. Thick hair? The cut tames it. Thin hair? It adds the illusion of volume. The Number 4 Buzz Cut is like the universal donor of haircuts.
Oval, square, round, heart – whatever your face shape, this cut molds itself to you. It's like the chameleon of hairstyles, adapting and accentuating your natural bone structure.
So, anyone and everyone can wear a Number 4 Buzz Cut. It's a unifying style that doesn't discriminate. It's the poster child for versatility and the epitome of class.
How to Style a Number 4 Buzz Cut
You've taken the leap and gone for the uber-stylish Number 4 Buzz Cut. Now, it's time to talk styling. Don't worry, it's simpler than you think!
Use High-Quality Hair Products
It's time to invest in a high-quality hair product. Trust me, it's worth it. Think of your hair as a canvas – you wouldn't use cheap paint on a masterpiece, right? The same goes for your hair. Get yourself a product that respects your hair. It'll thank you!
Pick Your Potion: Pomade, Wax, or Gel?
This is the fun part. There's a world of products out there – pomade, wax, gel, the list goes on. Pomade is perfect for a sleek, shiny finish. If you're looking for a more matte look, wax is your best friend. And gel? That's for the guys who love the wet, glossy look. Take your time, experiment, and see what vibes with your style.
Style Your Hair
Now, I know the Number 4 Buzz Cut is short, but don't let that fool you. There's room for creativity! You can go for a textured look, a slicked-back style, or even add some subtle spikes. Your hair is an extension of your personality – don't be afraid to let it speak!
Best Number 4 Buzz Cut Styles
While talking about 4 buzz cut, it is necessary to first determine how long it is. The length of hair in this amazing haircut is ½ an inch which gives you a medium length on the spectrum of short hair. The hair is clipped short, but not too short so as to have the scalp showing from underneath the hair.
The sides in the number 4 buzz cut do not have to be the same length, so you can trim or taper them in any way that you like. Here are 3 examples to help you understand the length.
1. 4 Buzz Cut with Tapered Sides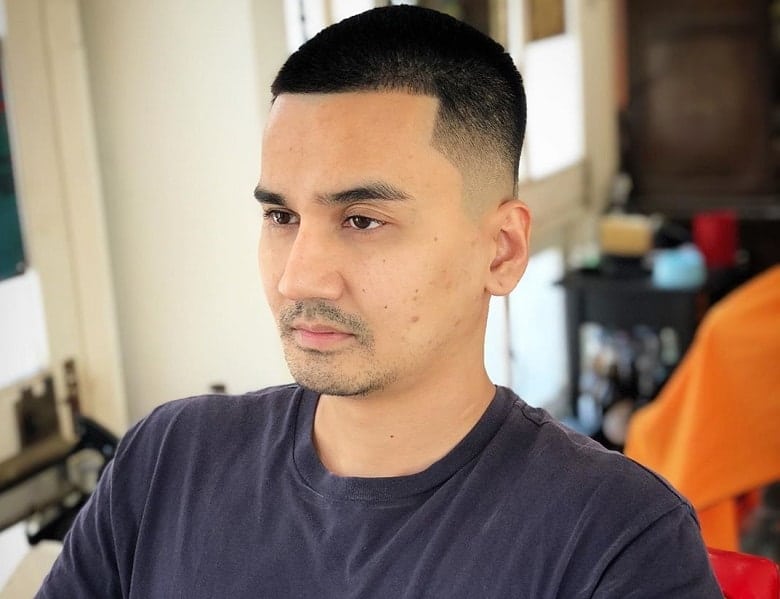 This one has the exact length of a ½ inch at the top of the hair which is customary of a number 4 buzz cut. The hairline is even trimmed to the same length to have a fuller and better buzz cut look. The sides, however, do not have the same length as the ½ inch is quite long when it comes to short buzz cuts.
The sides are gradually tapered with hair clippers and trimmers to reach a length somewhere between number 1 and number 2. The back has the same tapering as the sides, making the number 4 hair at the top look even more stylish.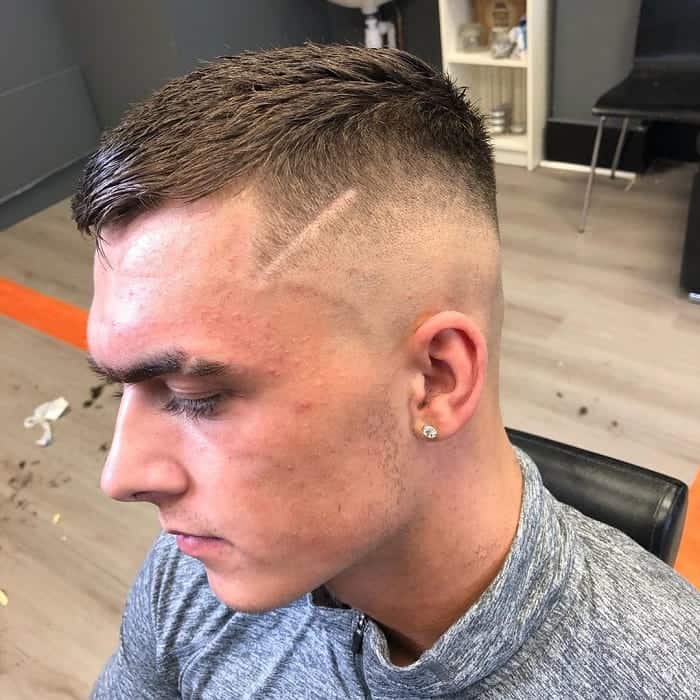 This one is for you if you are a fan of military haircuts which have an underlying intensity to them. The hair at the top is cut to a ½ inch length including the front hairline. The hair at the crown and upper part of the back side is number 4 too.
However, there is no gradual tapering at the sides. Rather there is a sharp skin fade making you look intense, intimidating and fun-loving at the same time. This is an amazing 4 buzz cut as it helps give your personality so much character.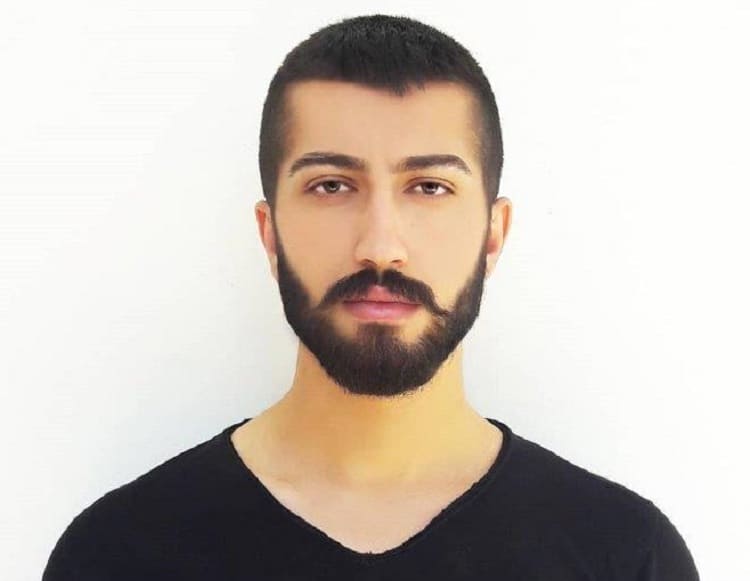 If you are up for a trendy yet low profile crew cut which makes you look handsome but not intimidating then go for this one. The hair is given a grade 4 buzz cut at the top while the sides are slightly shorter with a grade 3 buzz.
Classic Number 4 Buzz Cut
This is the simplest version where the hair is cut uniformly to a length of half an inch all over the head using a number 4 guard. It's no-fuss and very easy to maintain.
Number 4 Buzz Cut with a Fade
Here, the hair on the sides and back is faded from shorter to longer (half an inch at the top). This adds a little bit of style and edginess compared to the classic uniform cut.
Crew Cut Style
In this variation, the hair on the top is kept at the length of a number 4 buzz cut, while the hair on the sides and back is trimmed shorter. It gives a slightly more polished look than the classic buzz cut.
Textured Top
A number 4 buzz cut doesn't mean you can't have a bit of texture. By adding some texturizing paste to the hair on top, you can give it a slightly tousled look, which adds a bit of character.
Buzz Cut with a Hard Part
This variation involves having a hard part shaved into one side of the head. The hair is cut at a number 4 length, but the hard part adds a bit of style and breaks the monotony of the buzz cut.
Number 4 Buzz Cut with a Beard
Pairing a number 4 buzz cut with a well-groomed beard can create a balanced and rugged look. This style is particularly good for men who have a more pronounced jawline.
Caesar Style Buzz Cut
This involves a number 4 buzz cut length on the top but with the fringe combed forward. It's similar to a classic Caesar cut but with the ease of maintenance of a buzz cut.
Benefits of a Number 4 Buzz Cut
Let's talk about the wonder that is the Number 4 Buzz Cut. Now, I know some of you might be thinking, "Is this the right choice for me?" Well, let me break it down for you:
Effortless Maintenance: Honey, you'll be saying goodbye to those tedious hair routines! Wake up and practically waltz out the door, because this haircut is all about simplicity.
Style Without The Fuss: Dress it up or dress it down, the Number 4 Buzz Cut is like your hair's little black dress. It's timeless and elegant without requiring a glam squad.
Edgy Yet Sophisticated: This look has the power to make you feel like a rockstar. It's sleek, it's modern, and trust me, people will notice.
One Size Fits All: This is the democracy of haircuts. It doesn't discriminate – it embraces all hair types and face shapes. It's the United Nations in hair terms.
Budget-Friendly: You're smart with your money. You'll save a fortune on hair products and fancy salon visits. This haircut is essentially an investment in your future.
Your Clock Will Thank You: Time is precious. Why spend it wrestling with your hair? This cut is the ultimate time-saver.
Keep Your Cool: Summertime sadness? Not with this haircut. Feel breezy and cool, even when the temperature is soaring.
Showcase Your Features: This haircut is like your personal red carpet. It pulls the curtain back and lets your gorgeous facial features shine.
Freedom from Hair Woes: Thin hair, receding hairline – who cares? This cut takes the focus off your troubles and puts it back where it belongs – on you.
Stride in Confidence: When you rock a buzz cut, you're making a statement. It's like wearing your confidence on your head. It tells the world, "Here I am!"
These number 4 buzz cut haircuts are taking the world in a sweep, so when are you getting swept by them?
Editor's Picks