Fade with part hairstyles are a great option if you want to choose a short, comfortable haircut that spares some hair for you to play whenever you need a change. This hairstyle implies pretty short or even bald zones for the neck area that gradually transform into a rich voluminous crown hair.
Here are some fade haircut ideas with a razor part you can consider.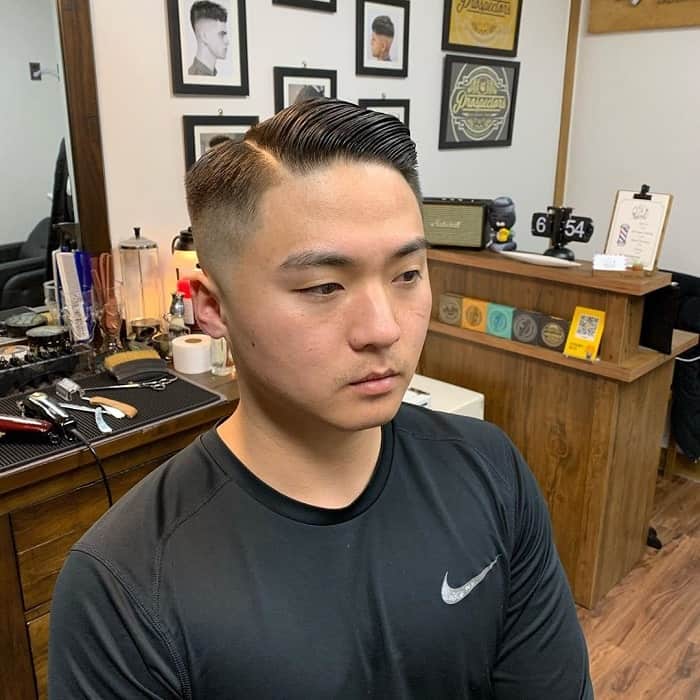 This hairless fade haircut beautifully transits into a full slick crown. Create a distinctive line on the top hair and split these sides unevenly. Use hair wax to create a wet look and to arrange your hair slightly on the back.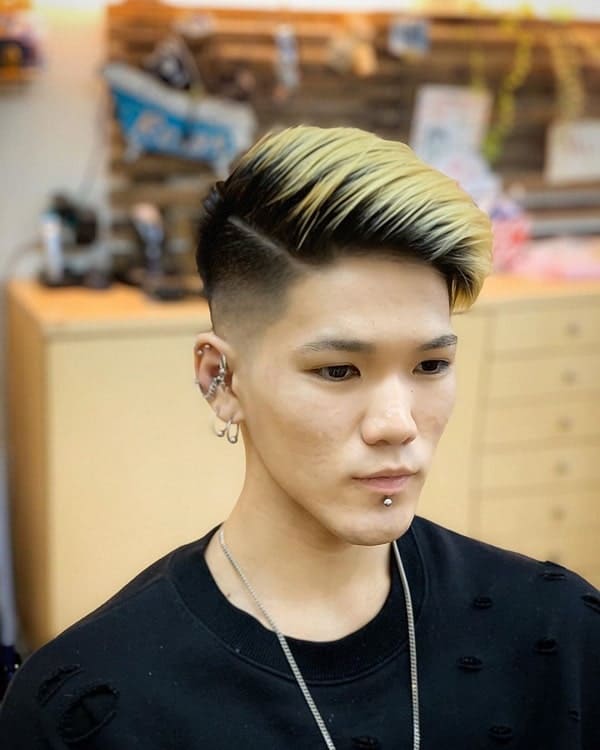 Start by creating a pretty short fade and gradually grow the density of hair for the top area. To make this hairstyle stand out, dye your crown hair into a bright blonde color. Apply the hair dye one inch away from your scalp so that it will look like a grown root.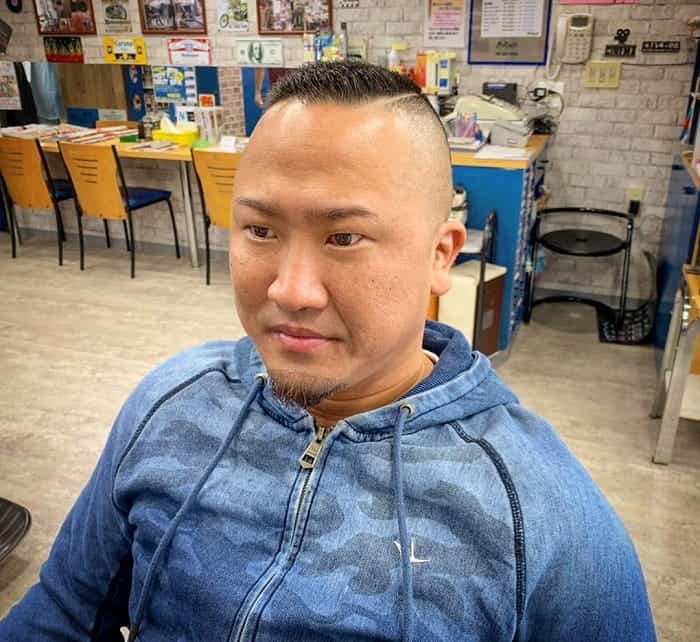 Use a bald fade hairstyle for your sides and back maintain the proportions when it comes to your top hair. Use a razor and create a visible line that splits your hair into two parts. Match this hairstyle with a chin beard.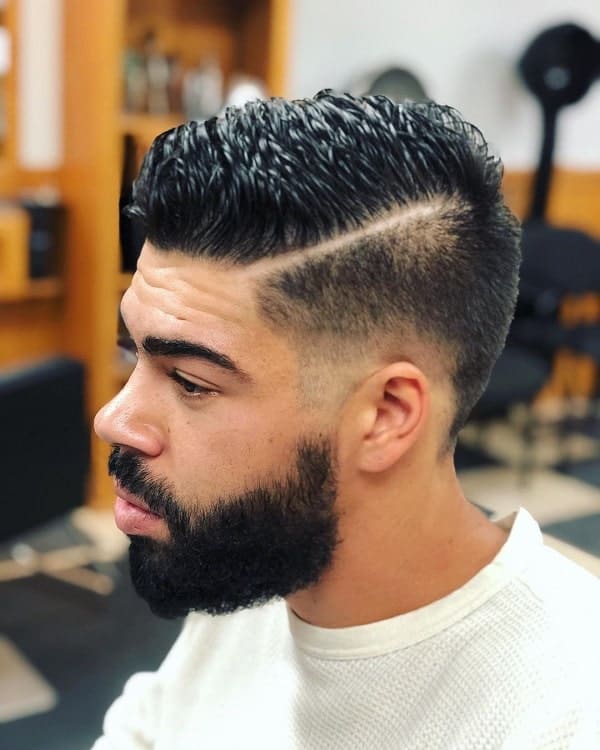 This taper fade gorgeously makes your long slick top hair shine. Use a razor to delimit the rich top section from the fade and combine this look with a beautifully trimmed ducktail beard.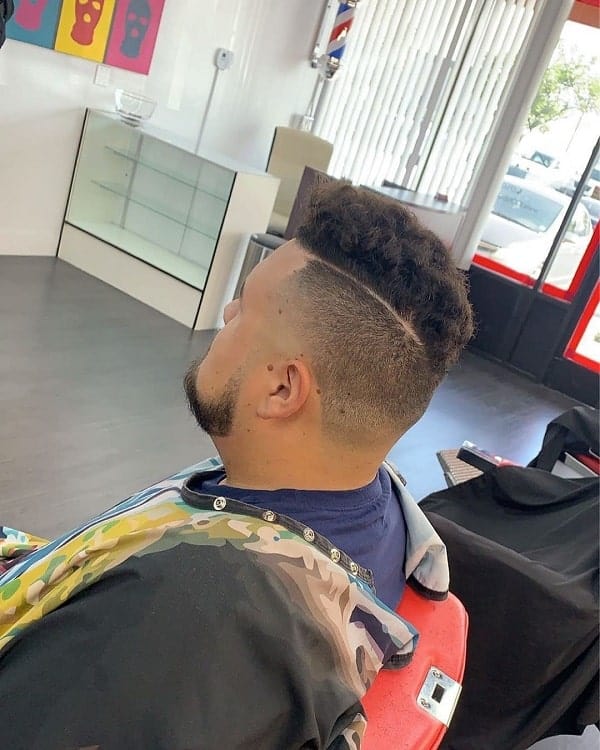 Temp fades have the role to gorgeously draw attention to your face contour. Also, create a low fade for the rest of the haircut and highlight your top hair with a sharp razor line on one side of your head. Flip your head on the other side.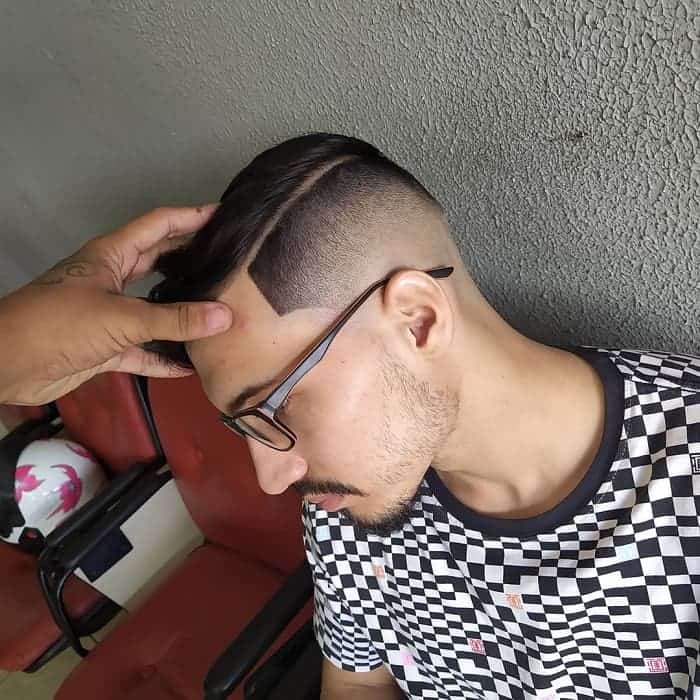 Transform your next hairstyle into a real work of art. Create a low fade haircut and make your temples contrast the areas with weaker hair. Use a razor to create a line that will make your crown hair stand out.
That hair parting looks incredibly cool because it gorgeously delimits the fade from the luxurious voluminous top hair. Style it on one side and make your locks look slick with some hair wax and a rare tooth comb.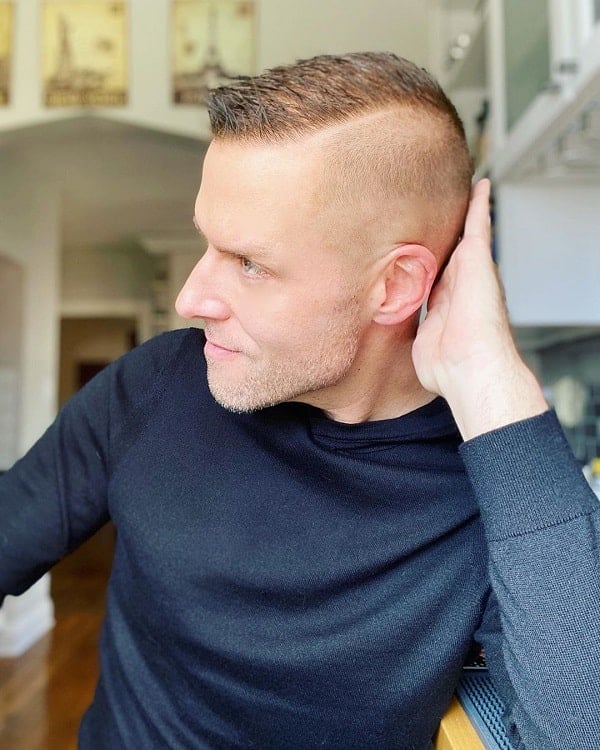 This hairstyle is perfect for all those men who already started to get gray hair, and want to make it look unnoticeable. Use a fade and delimit it with a part. Lift your top hair like you are wearing a mohawk.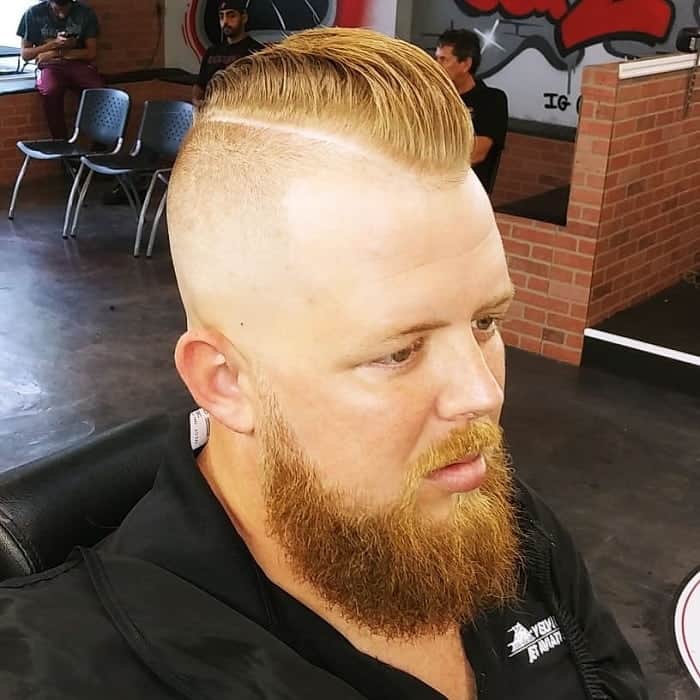 Razor parts play a crucial role in this faded hairstyle. Create a bald fade, and for the crown hair, comb your hair on your back. Fix it upwards with some hairspray and make it look slick with some wax.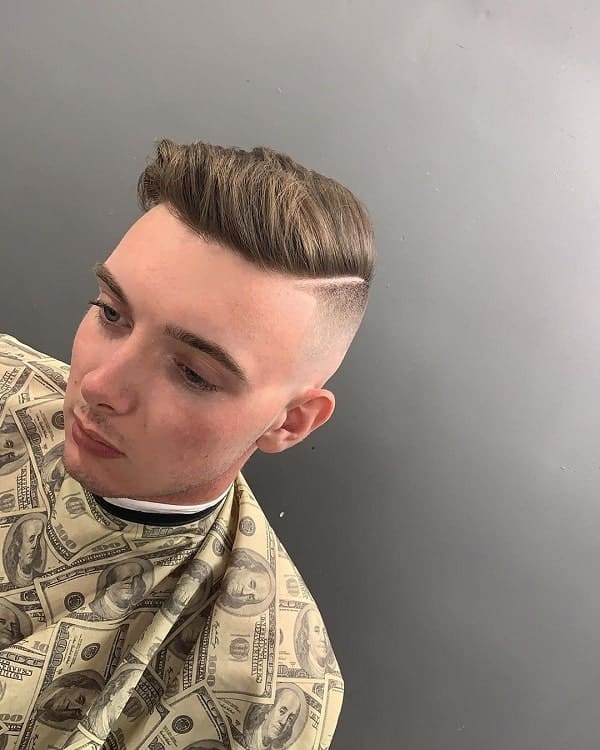 That parted razor line makes this gorgeous hairstyle look manly and is "la piece de resistance"! It beautifully separates the fade from the top and gives your crown hair a lot of texture. Comb it on one side and slightly lift it.
11. Fade + Razor Part On The Side
Create a thick long razor part on one side and make a short pompadour hairstyle for the crown hair. The parting line doesn't have a role in separating the fade from the crown hair; it's just used as a design, to interrupt.
12. Razor Part + Mid Fade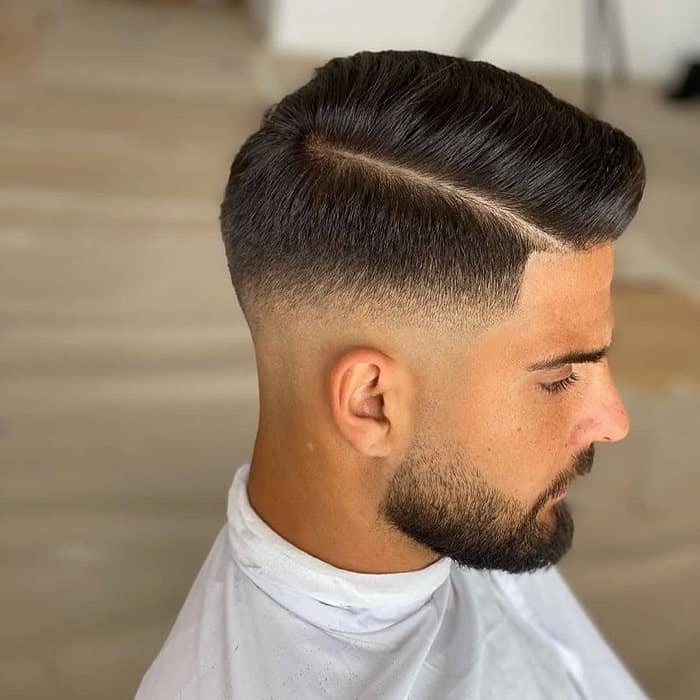 This fade looks incredibly perfect, especially in the temple area. The short well-trimmed beard beautifully complements the long crown hair. The razored part is impeccably placed and gives your hairstyle a fabulous note.
This southside fade keeps your back and sides bald and your crown hair short and oriented upwards. This is a low maintenance haircut that is ideal if you want to forget about styling your hair.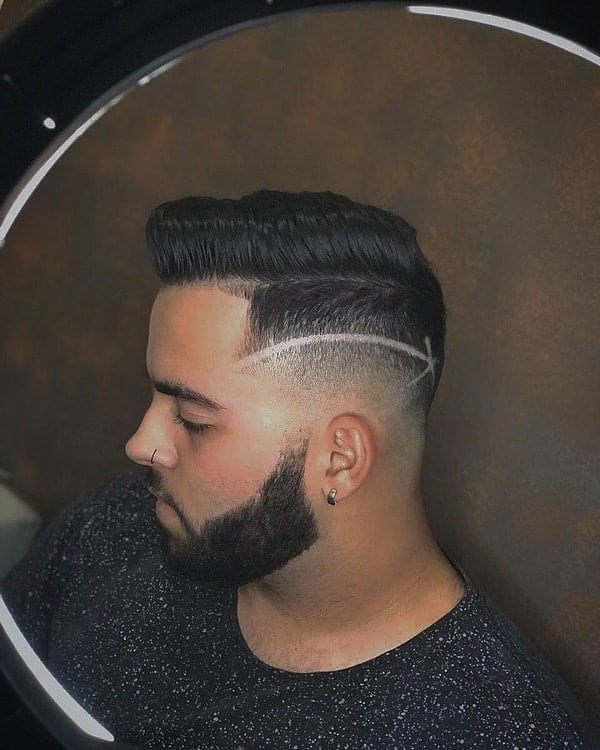 For this hair design, you need to create a low fade for men that is cross passed by a razored part design. Keep your hair up and slick and use hair wax to recreate that gorgeous wet look. Also, don't forget to give your beard a beautiful neat styling.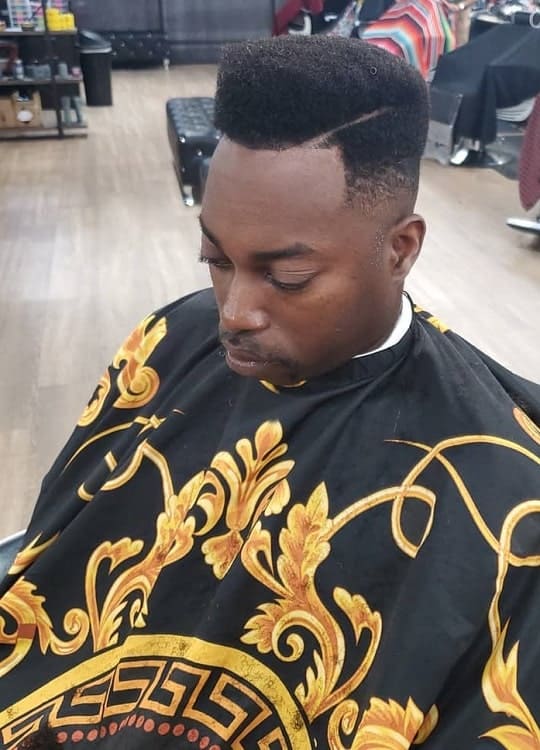 Thick dense Afro men hair can look fantastic if you create a medium fade and style your crown up. Your naturally curly hair is more comfortable to style and fix with this haircut, and it will stay in place no matter what.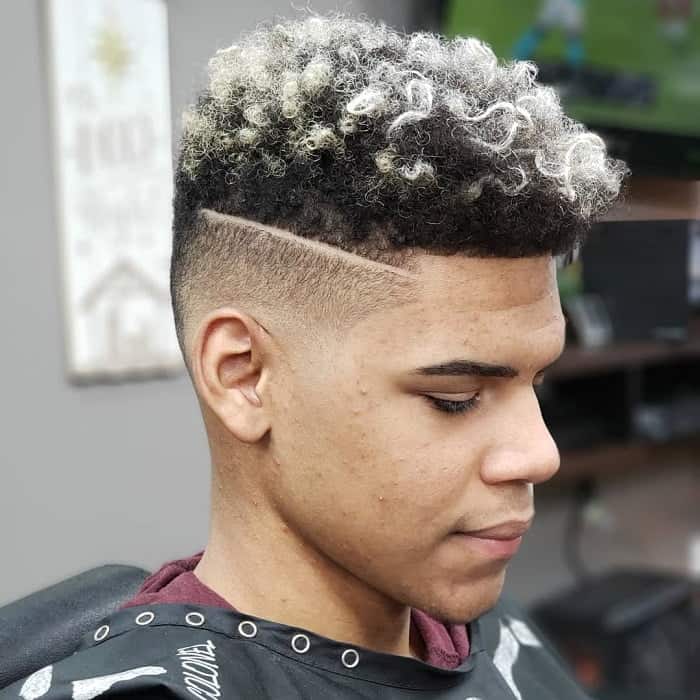 Make a gorgeous Afro hairstyle with a fade and part for men. Create a razor line just above your temples. For the top hair, apply a silver color just inches from your scalp.
17. Fade + Parted Line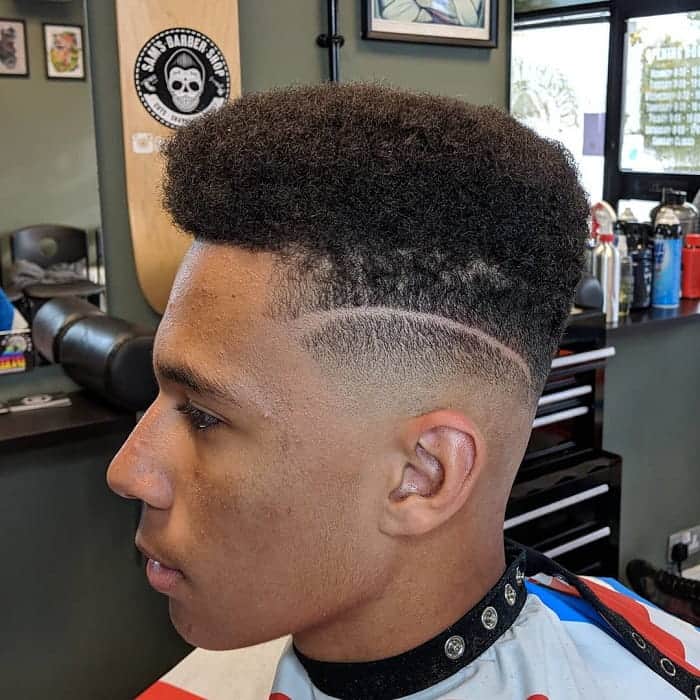 A rounded part line that starts from your temple area is perfect if you want to give your Afro hairstyle a unique design. Keep your top hair up and give it a rounded shape with a precise trim.
18. Faux Hawk + Fade + Side Part
Create a fade on your sides and make two razored parallel part lines. Your top hair must be long enough to make a tall mohawk. Also, you can complement this hairstyle with a small part line on one of your eyebrows.
19. Flat Top Fade With Razor Part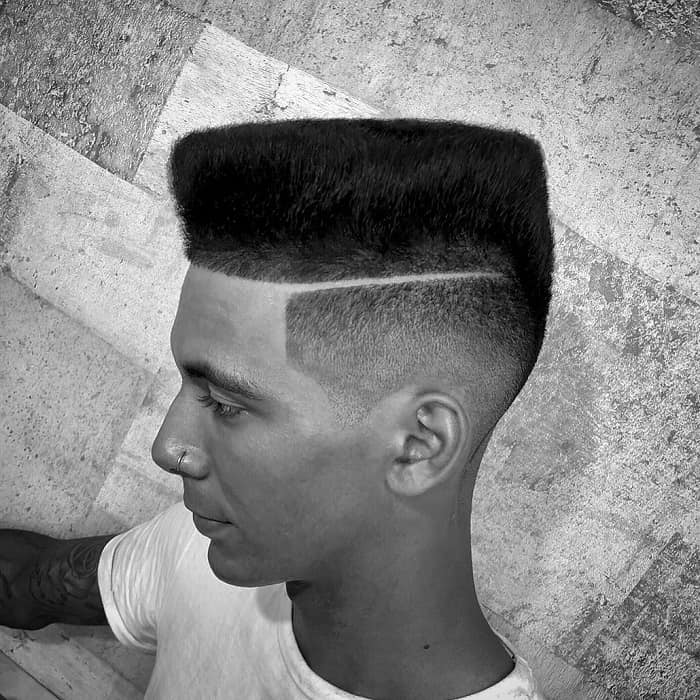 A hairstyle like this is truly unique, and everyone will notice the change. Make a fade on your sides and back and keep your top hair long so that it will look flat when you adjust the length.
20. Parting on Nappy Fade
Having nappy hair can come as a blessing or as a curse, it depends on you. Because of its thickness, your top hair will be easier to manipulate, and you will arrange it just the way you want. For the back and sides, create a gorgeous fade with a part for men.
Take advantage of your thick nappy hairstyle and create a fade on your back and sides. For the top, make your curls stand out by building a small mohawk that is separated from the rest of the hair with a razor part.
Faded hairstyles with a part for men are ideal for summer, and all those guys that don't have too much time to spend in their mirror arranging their hair. This is also a perfect choice for men with nappy hair that want to keep it contained.