Fade is amongst the top trend in black hair fashion today. Therefore, it goes without saying that black boy's fade haircuts take center stage. These are mostly short-cropped and well suited for black boys busy with outdoor sports.
Not only are these fade hairstyles for black boys trendy and modern, but also ideal for kids.It is practical to maintain and rather stylish too. After all, you want them to have fun and not be too bothered about ruining their hair.
Black Boy's Faded Haircut Ideas
Black fade hairstyles for boys are generally about combining convenience with style. It is generally about creating a classy look, but at the same time, ensuring that they do not have a hard time taking care of the hairstyle.
Moreover, the fade hair gives a hint of subtle elegance and highlights the best features of your kid's face. Here are some cool options for black boys that are stylish for anyone from the pre-school to high school. More importantly, these are easy to care for as well.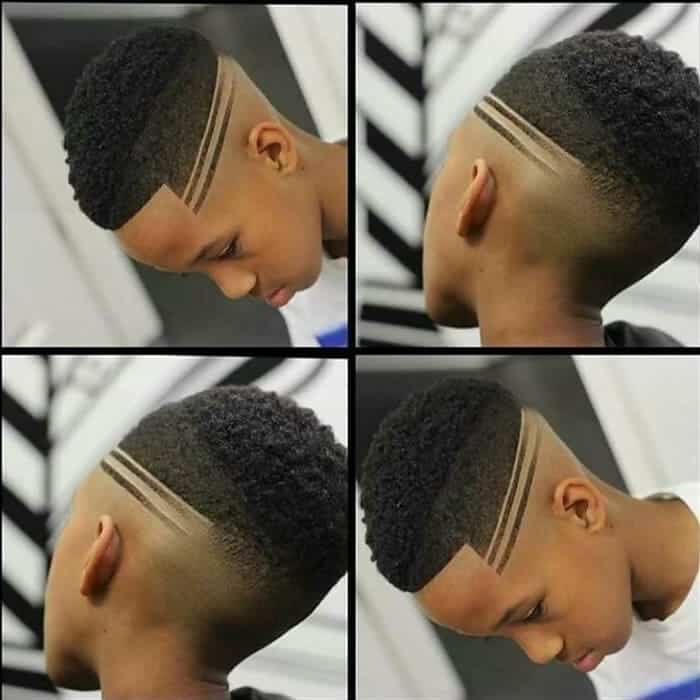 This black boy fade haircut is all about a cool, classy convenient look. The mid fade keeps the hair out of the way while the surgical lines and the dreadlocks on top lend a stylish appeal to the whole look.
2. Box Top with High Fade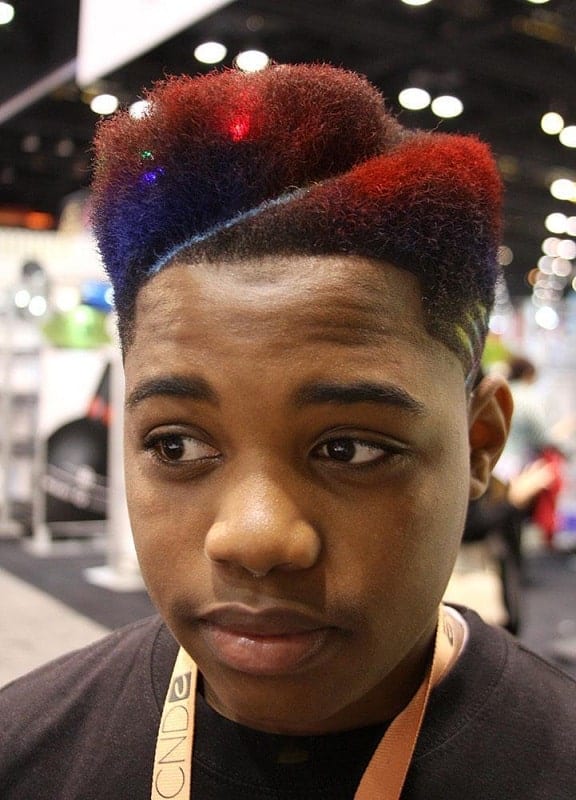 This is a particularly good fade hairstyle for curly thick hair. The hard parting at the center creates a definitive and striking impact.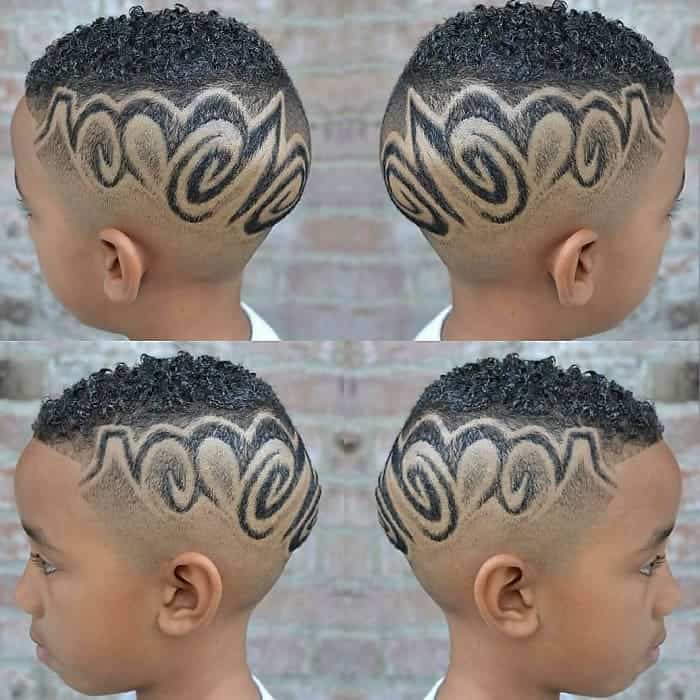 If you are keen about a stunning hairstyle for black boys, this is one of the best options. The bald fade gets a fresh new lease of life with the designed sides. This is a style that boys can be comfortable in, but at the same time, be stylish.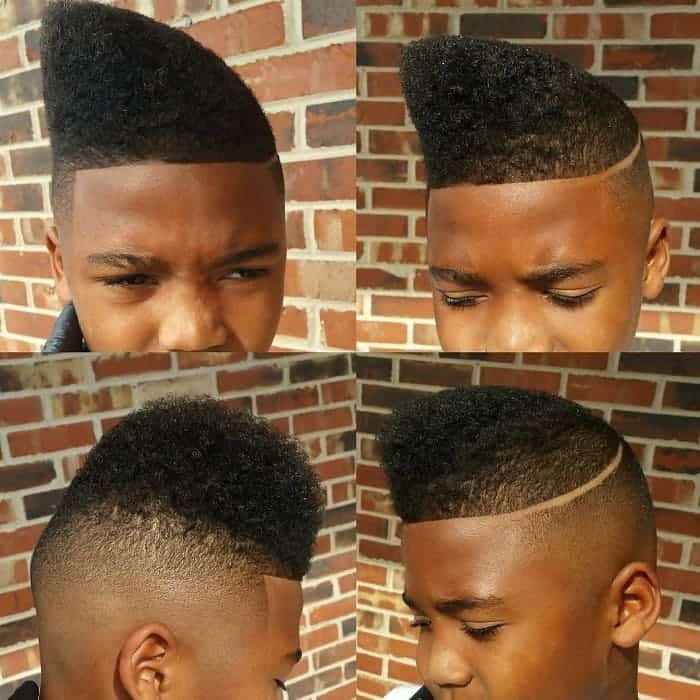 This black boy's fade cut is all about celebrating the natural fall and volume of the hair. This is one style where the thick tuft of hair at the center shows off the healthy hair growth.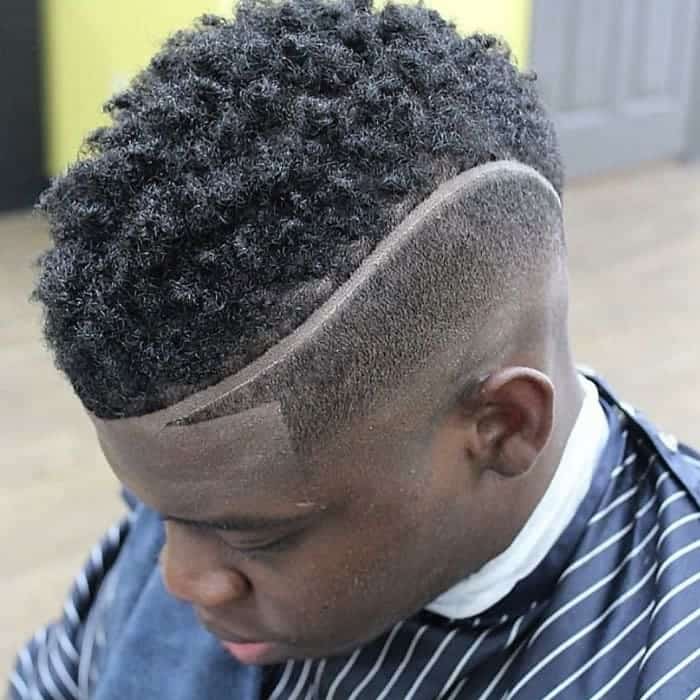 The most striking part of this hairstyle is undeniably the stylish parting on the side. The dreadlocks at the center get further highlighted as the fade on the sides along with the parting provides a stark contrast.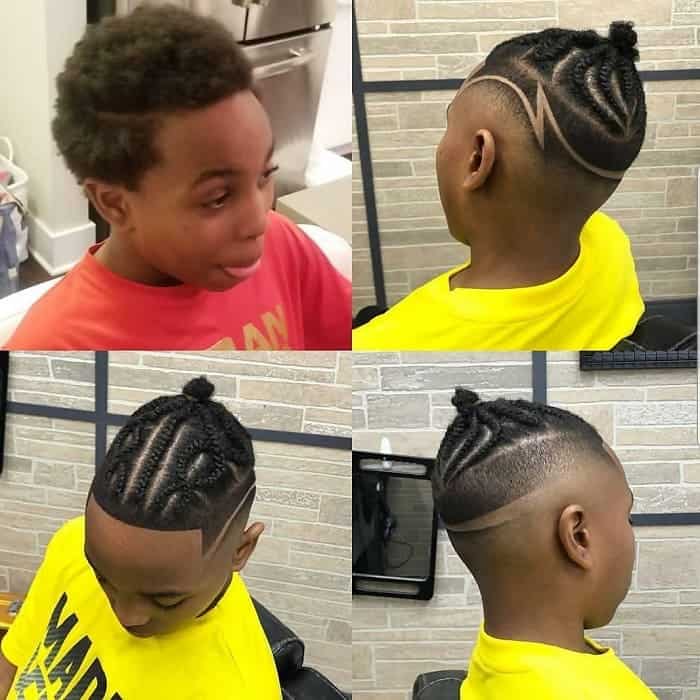 If hairstyling is also about having fun and experimenting with looks, this little black boy with faded haircut look fits the bill completely. It not only creates a practical, low-hassle style for young kids but also ensures that they look absolutely stylish in it.
The braids with the little man bun like a top knot are intensely cute too. The surgical lines on the side further add to the effect.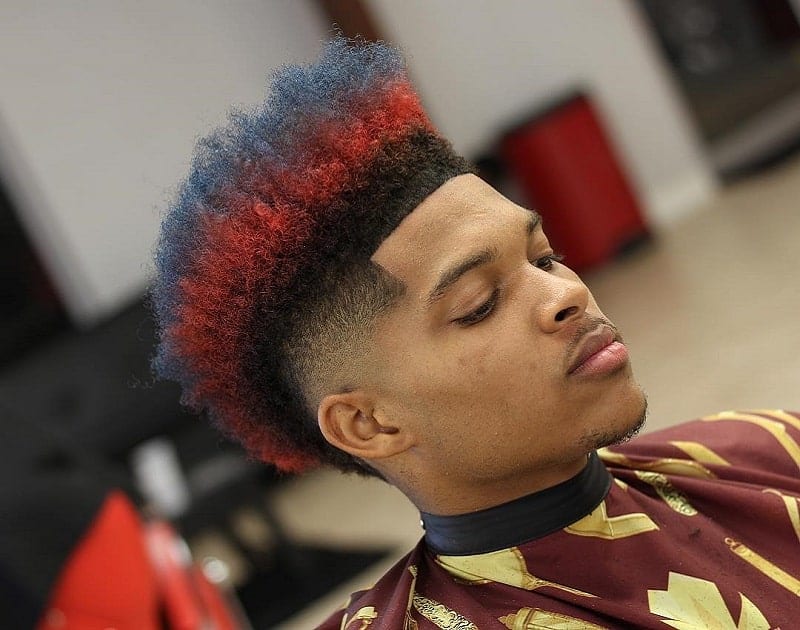 If you thought hair styling for kids is only about a functional haircut, think again. The highlighted Mohawk, and the fade on the sides make this boy's faded haircut for black hair stunning and attention-grabbing.
It also has an element of cute innocent charm that we associated with young kids. In many ways that is what makes this cut rather attractive.
8. Mohawk with Middle Part & High Fade
On the face of it, this faded hairstyle on black boy's hair looks like a basic Mohawk but can you guess what makes it special? Well, it is undeniably the striking partition lines in the center. It is this what instantly transforms this rather ordinary cut to something exotic and extraordinary.
9. Frohawk with Burst Fade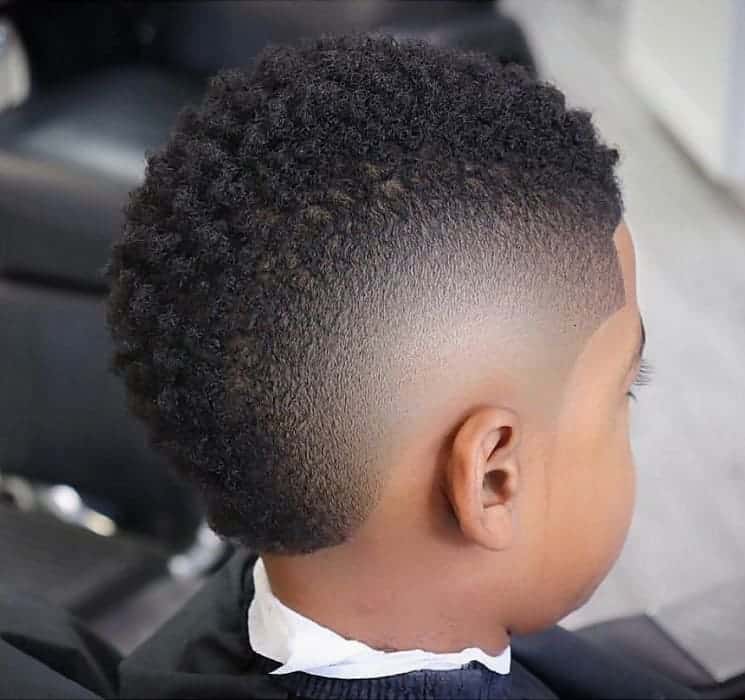 When you are shortlisting cool black boy's hairstyles with fade, this is one of the rather edgy ones. More appropriate for teenagers, this cut highlights a high degree of design sensibility and portrays absolutely striking imagery. This is what sets this style apart from the rest of the ordinary ones.
This faded haircut is the perfect example of contrasts and carefully coordinated cuts for black teen boys. It brings to light the subtle elegance and a stylish quotient to the overall personality in a meaningful way. This is also a practical and low maintenance haircut.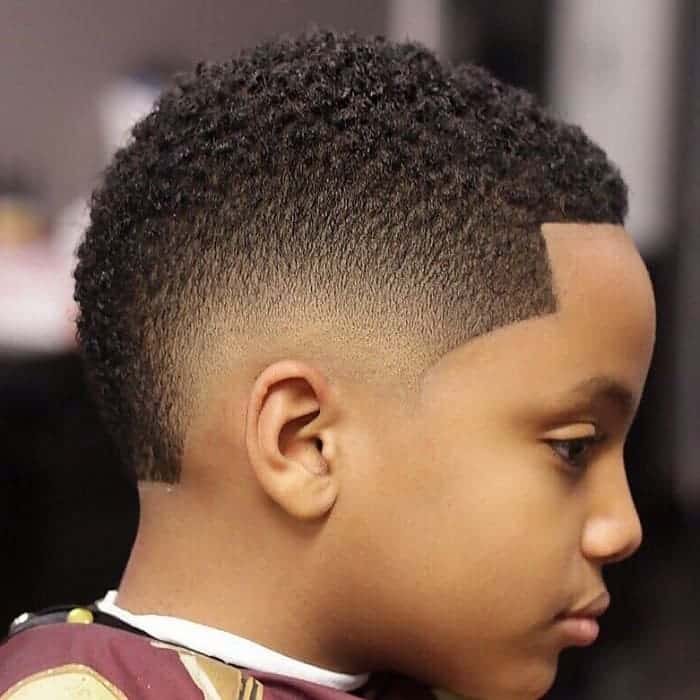 This is another signature black kids fade haircut. If you are interested in keeping the hair short and close to the skin, this is what can give it a stylish touch and at the same time be functional. It is a unique combination of cool and stylish.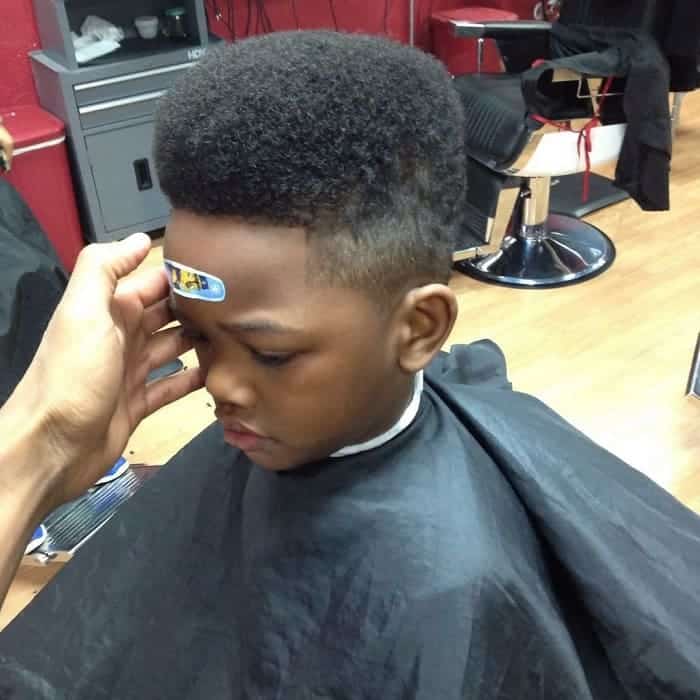 The flat-top haircut is undeniably one of the most commonly chosen fade cuts for black boys. The medium fade accentuates the look many times and lends it absolute perfection. This is what adds a stylish edge to this functional cut.
13. Buzz Cut with Mid Fade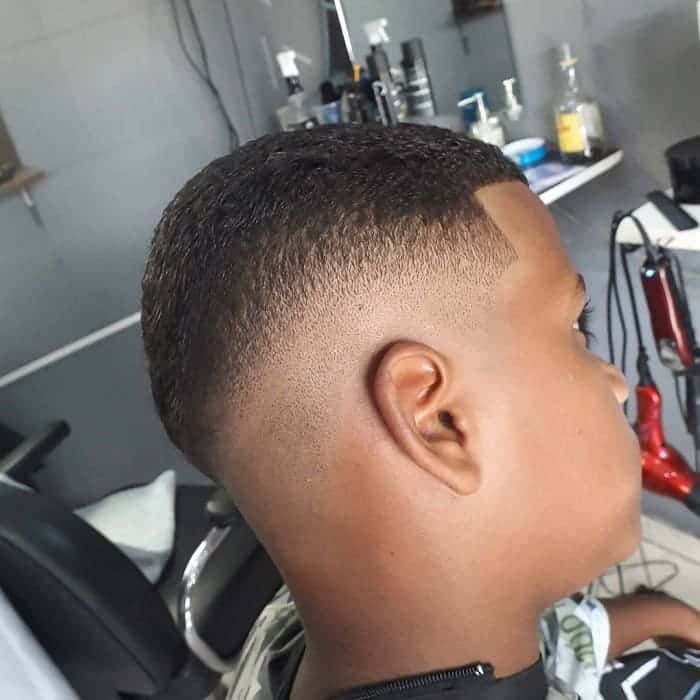 When you think about black boy fade hairstyles, this is one of the most obvious ones. It is clean, effortless and absolutely striking. This is such an easy maintenance cut that your little boy never feels inconvenienced by it.
Can you imagine a cuter faded hairstyle for black boys? This is a type of cut along with the gold highlights that are both exotic as well as stylish. The high fade, black bottom on top and the gold highlights also amplify the contrast.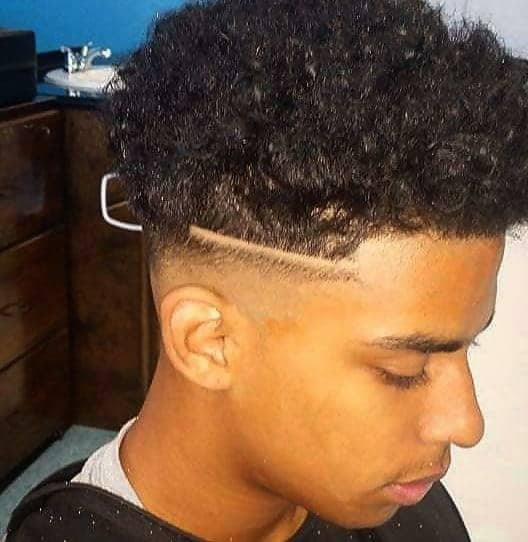 The sharp fade at the temple coupled with the curly top makes this an ideal cut for teenage black boys. It provides adequate contrast and style, and at the same time, enhances the natural elegance. This is also a relatively low maintenance style.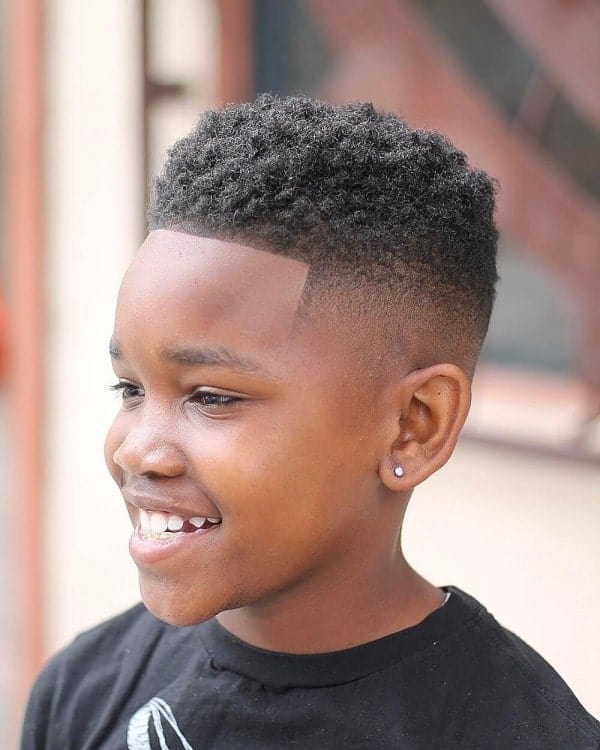 This celebrates the natural curls but at the same time offers a clean, well-groomed look. In terms of fade haircuts for black boys with curly hair, this is also an extremely functional haircut. It keeps them comfortable in almost any type of weather and during any activity.
17. Neck Taper with Curls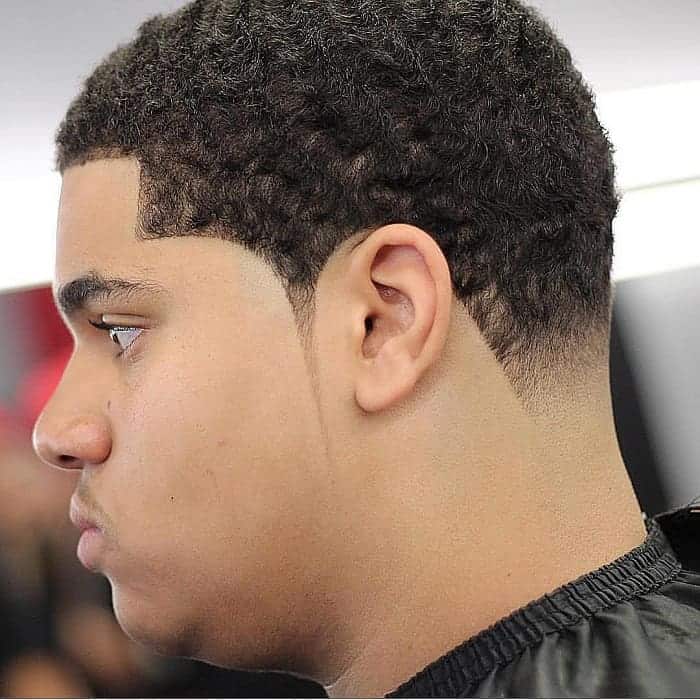 The way the fade tapers towards the nape is what makes this haircut striking. It is one of those faded hairstyles that is slightly edgy and hippy in appeal.
The natural curls bring in an innocent charm in this black boy's fade. It truly brings out the naughty and innocent appeal of a child's face.
19. Curly Quiff with Mid Fade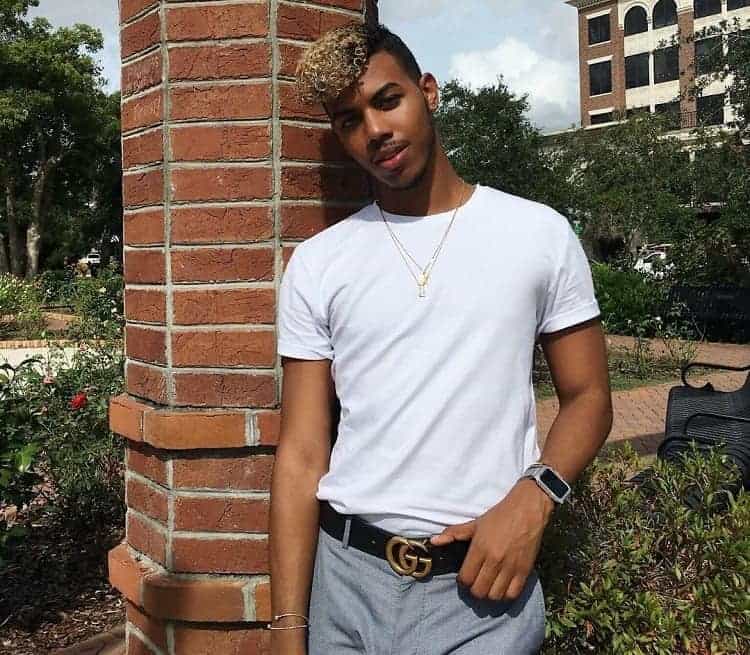 The highlighted center in gold is what takes your attention in this black boy haircut with fade. It creates a sense of exotic and wonders the moment you look at it.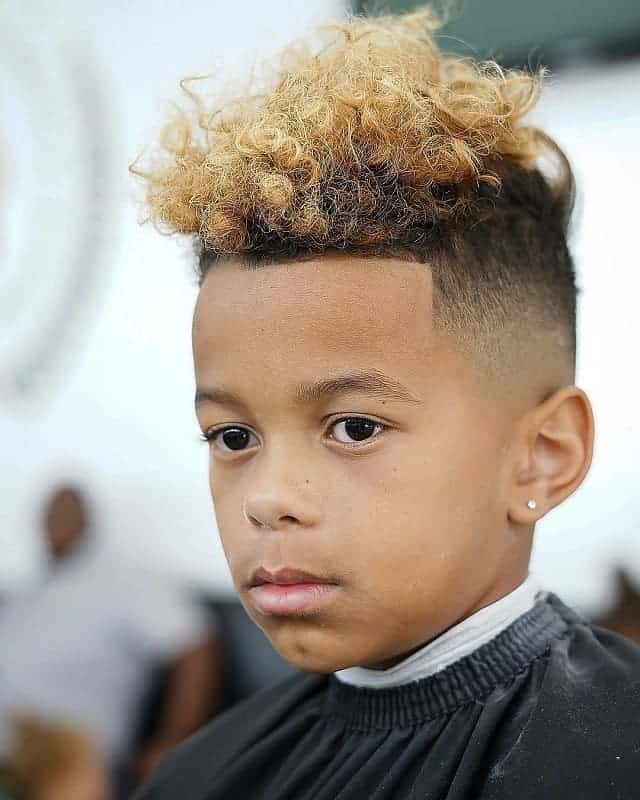 If you are looking at really funky options amongst fade haircut for little black boys, this is what you can opt for. The loose curls have been dyed in striking golden to make an impact at the first look.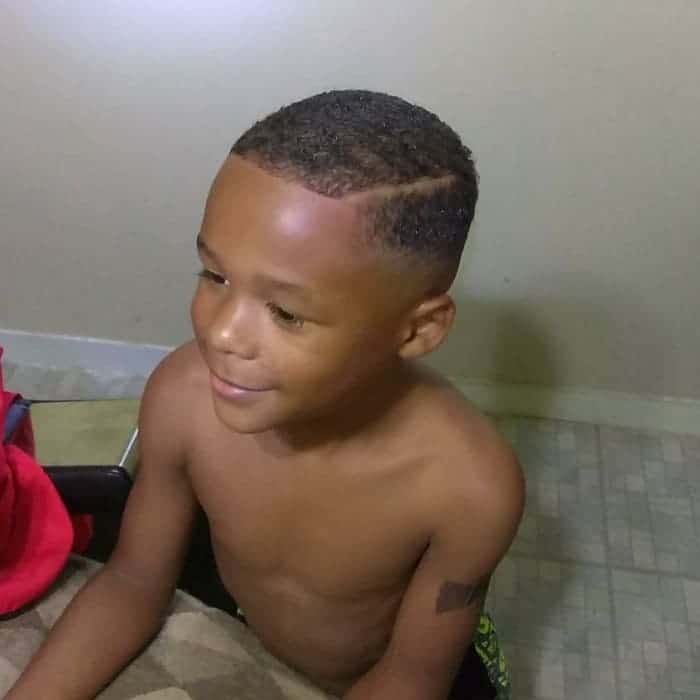 This is a rather simple fade on black boys hair, a straightforward medium to low fade and comb-over on the sides. The idea is to celebrate the simplicity of the style.
The range of options and variations are undeniably the best part of this hairstyle. It is about how well you can adopt a certain style from any of the black boy fade haircuts. This is because when you are looking for the best black boy hairstyle, it is never just about the style.