Very short hairstyles for men are usually very uninteresting and basic. You can now take things up a notch with these 15 unique examples. Start by deciding what kind of change you want to involve and don't be afraid to paint outside of the lines. There is a little bit of everything for all ages and tastes.
Coolest Very Short Hairdos for Men
We have compiled a list of 15 amazing hairstyles for men with very short hair to try without any doubt.
1. Super Short Haircut with A Line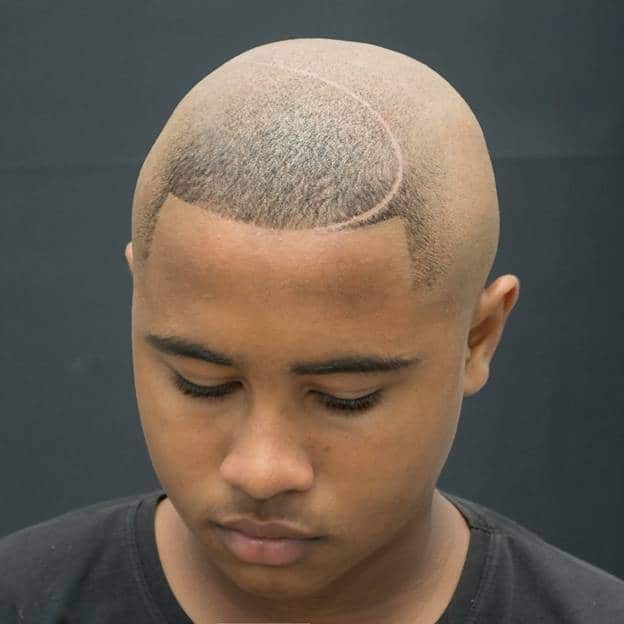 A very subtle detail can do so much for your hairstyle. If you're not ready to play with patterns, a single line will do the job.
Ideal for: Perfect for guys with very short hair who also want to experiment with art.
How to Style: Get a super short haircut and decorate it with a line in the front.
2. Simple Buzz Cut with Minimalist Art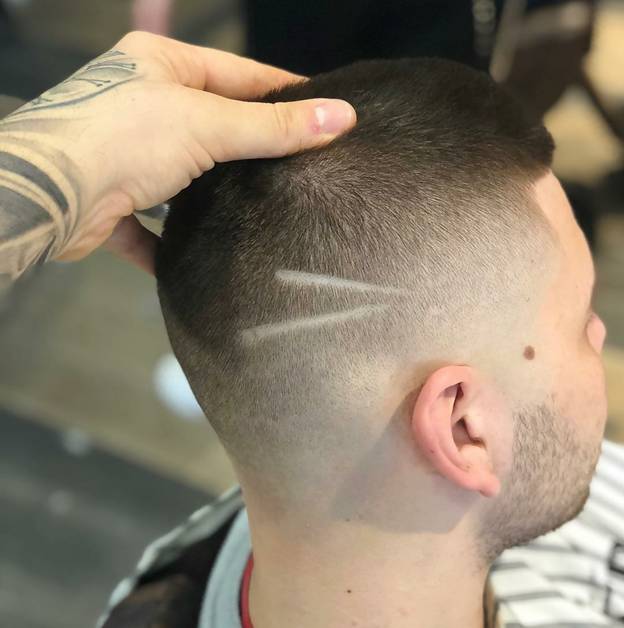 Sometimes all you need to stand out are minimalist details. A line or two on the side sounds like a chic idea.
Ideal for: This very short haircut is ideal for men who are in love with minimalist art and don't want to risk getting eye-catching patterns.
How to Style: It's your choice how many lines you'll do and where you'll place them.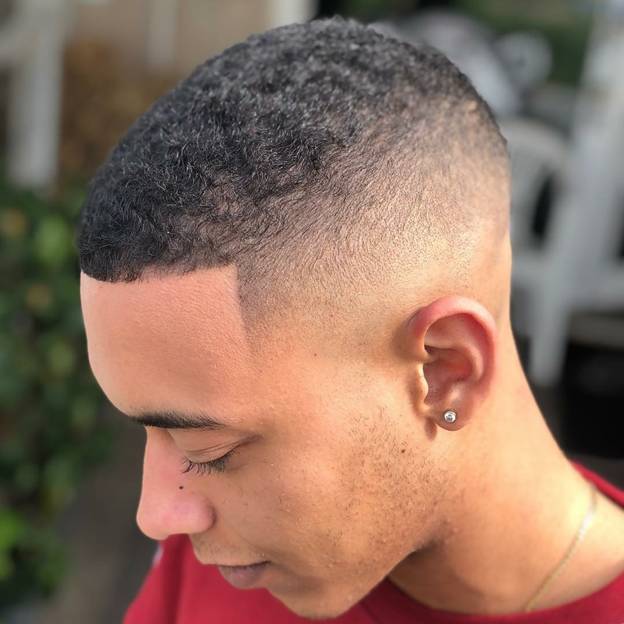 Curly hair is often complicated to deal with, so why not just cut it very short?
Ideal for: Perfect for African-American guys who want a simple and low-maintenance hairdo.
How to Style: Keep the hair short and add a medium fade on the sides. It will look so much better.
4. Art in The Back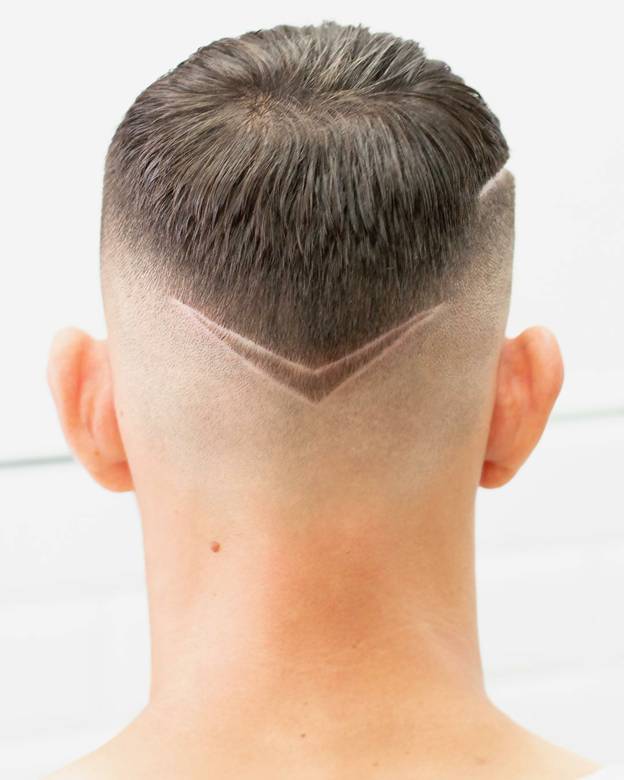 You can always upgrade a men's very short hairstylewith flattering art. And the best thing is that it doesn't have to be on the front or on the sides.
Ideal for: Great for guys who want to avoid patterns on the sides or front.
How to Style: Decide what kind of art you want to do and talk to your barber. This one on the picture looks like a great way to start.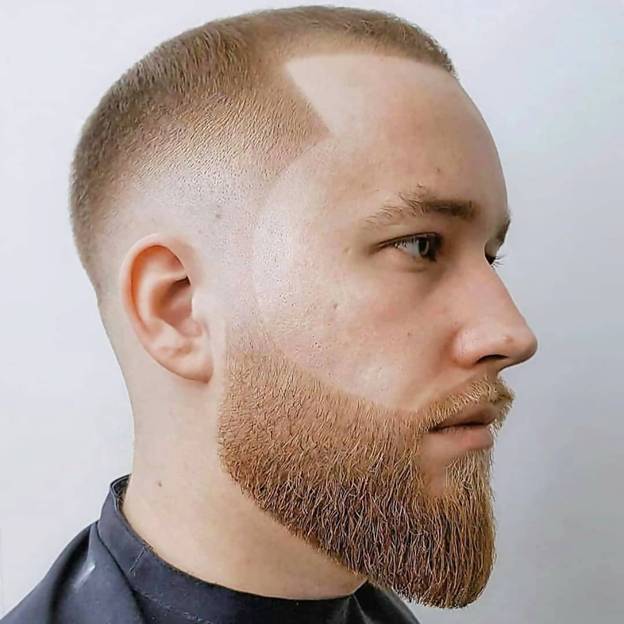 This is one of the classic hairstyles that look great on everyone.
Ideal for: It is the best choice for men who stick to classics and love their beard.
How to Style: Keep the hair super short and make sure that your beard is always trimmed. You can opt for a low, medium or high fade with this look.
6. Bold Back Art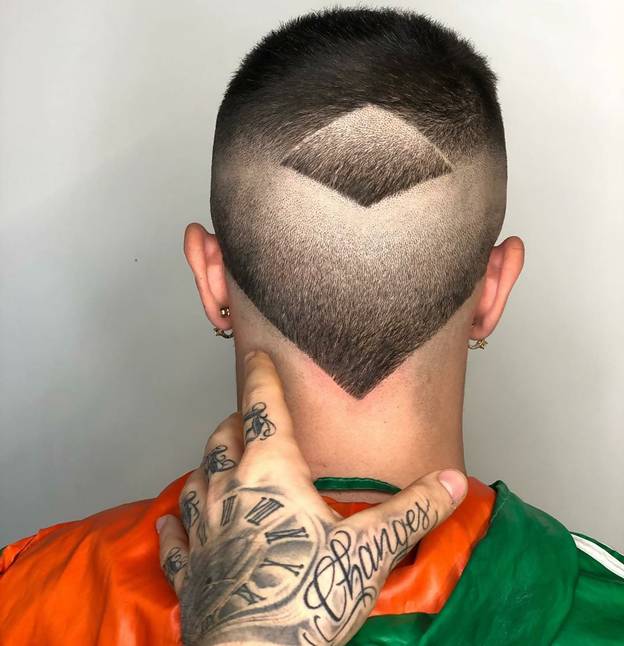 There are always men who can't get enough of daring punk hairstyles. Make yours more interesting with this bold art in the back.
Ideal for: Forget about patterns on the sides, it's time to decorate the back of your head.
How to Style: By playing with drop fade you can recreate the same exact patterns or add some extra details of your own.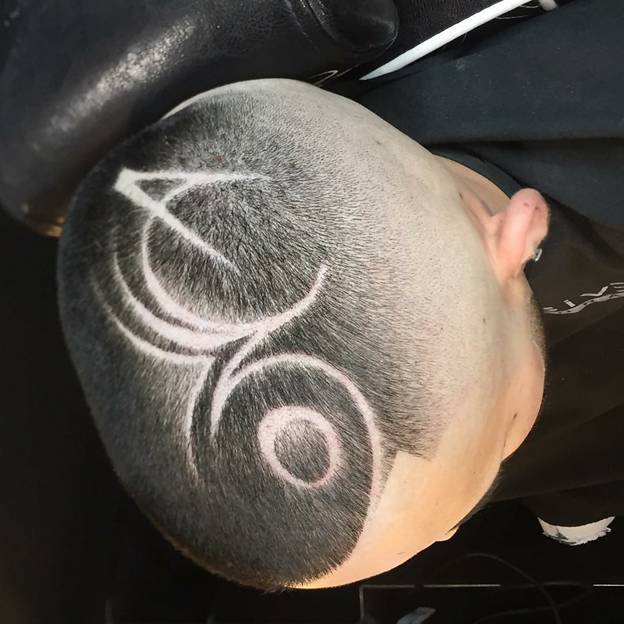 Complicated patterns are not meant for everyone, you really need to know how to pull them off.
Ideal for: Great for younger adults.
How to Style: Ask your hairdresser to copy this same pattern next time you're getting a very short haircut.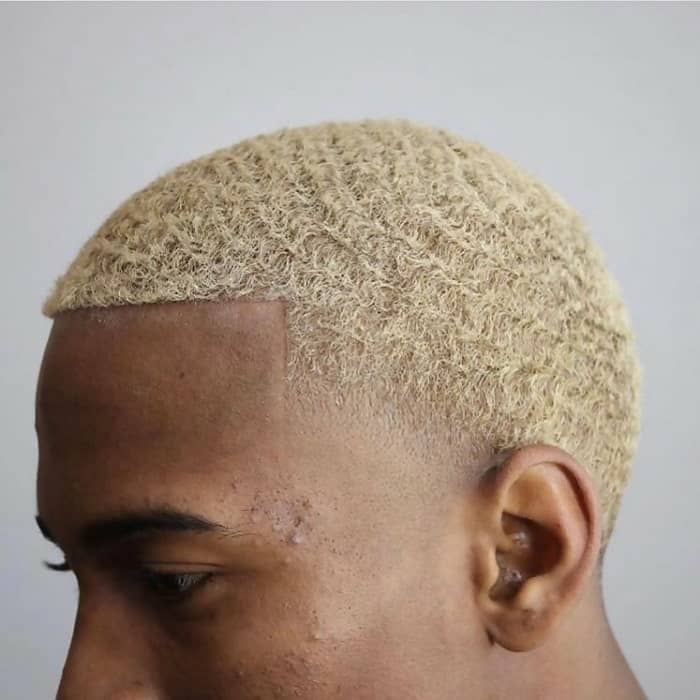 Short and blonde hair is one of the best choices for summer.
Ideal for: Guys with curly hair will be even chicer when they dye their hair blonde and cut them super short.
How to Style: Make sure to take care of your curls.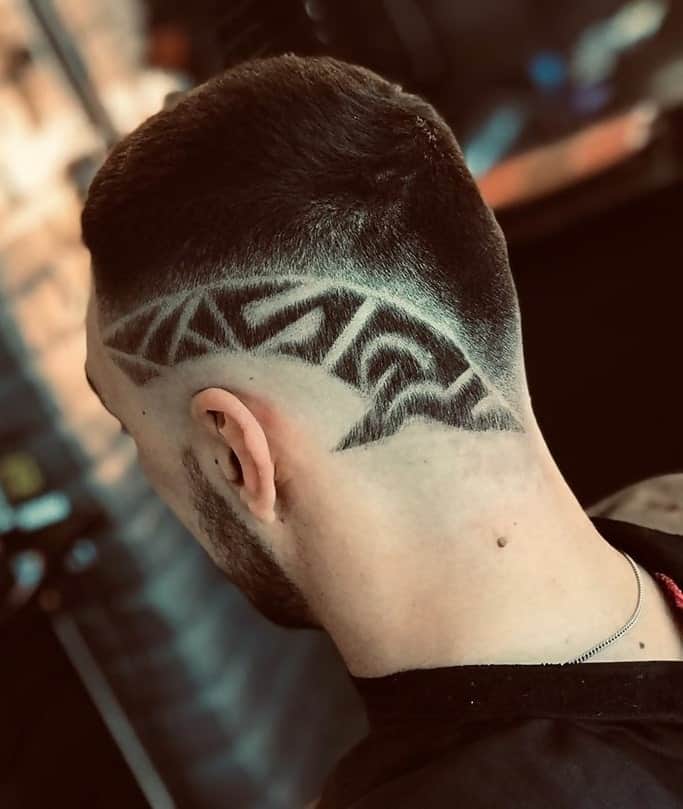 Statement art on the side can really upgrade your short and simple mane.
Ideal for: Very short hairstyles for men can be more eye-catching with patterns such as this one.
How to Style: Do this art on one side and you will have all eyes on you wherever you go.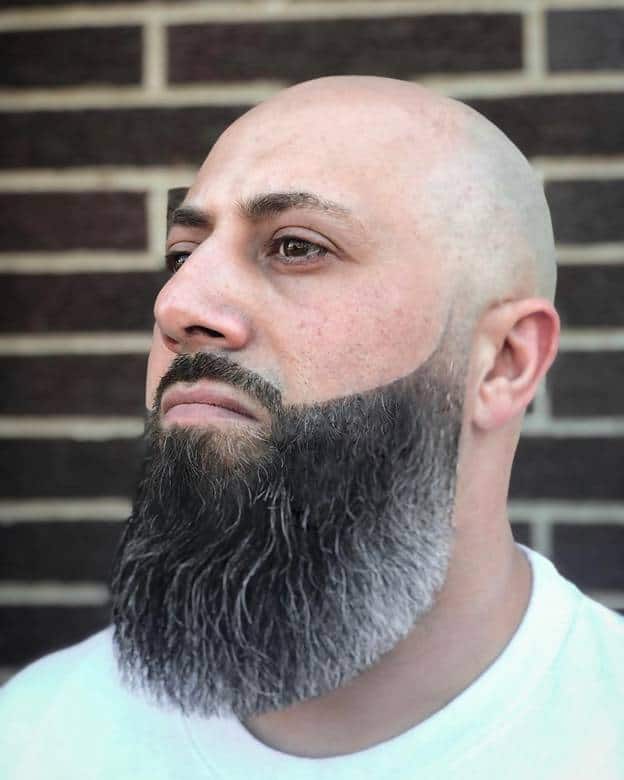 Is there anything better than a shaved head for super-hot days?
Ideal for: It works for everyone.
How to Style: Get the clippers or go to the barbershop.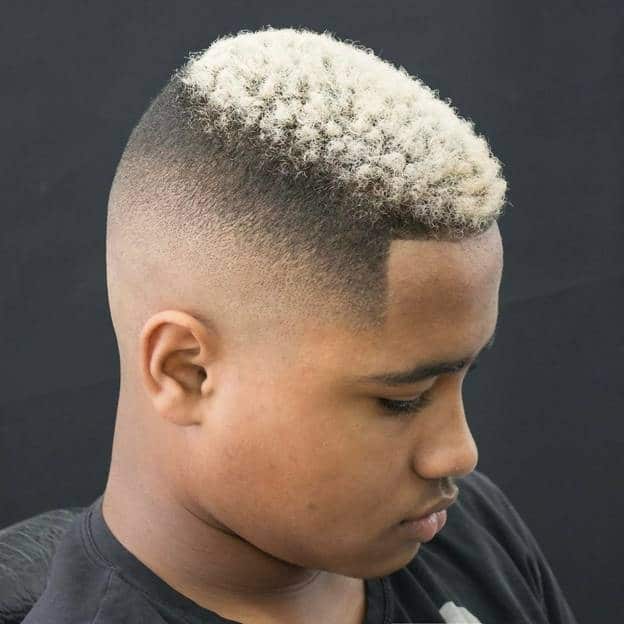 Anyone can try out a blonde top, even men with very short hair. It's especially flattering for African-Americans with short curly hair.
Ideal for: This is a fun idea for men of all ages and hair types.
How to Style: Ask for a blonde dye in the top part and short sides with a medium bald fade.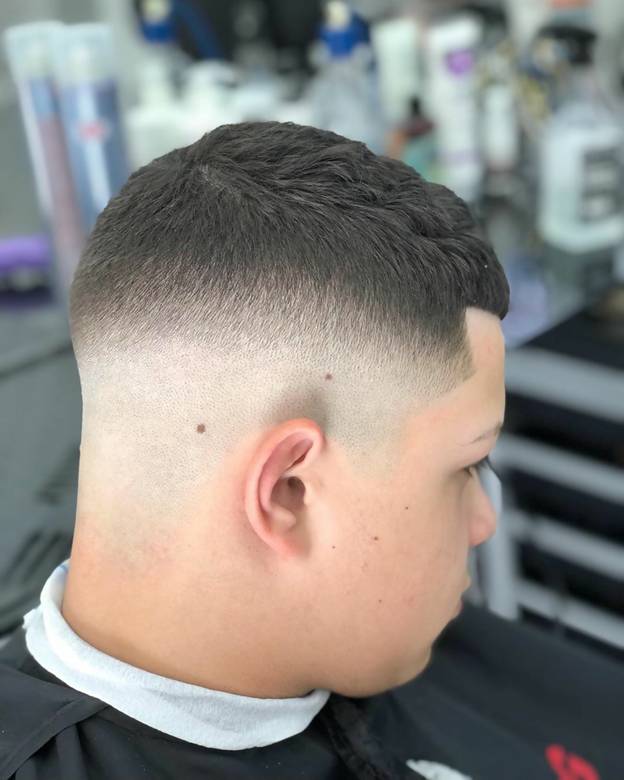 Classics are so amazing because they simply work for everyone. This very short hair men's look has been elevated with a high fade.
Ideal for: If you love your classic short hairdo, feel free to add a high fade to freshen it up.
How to Style: You don't need to style it, just wash it and go.
13. Bowl Cut with Checkered Pattern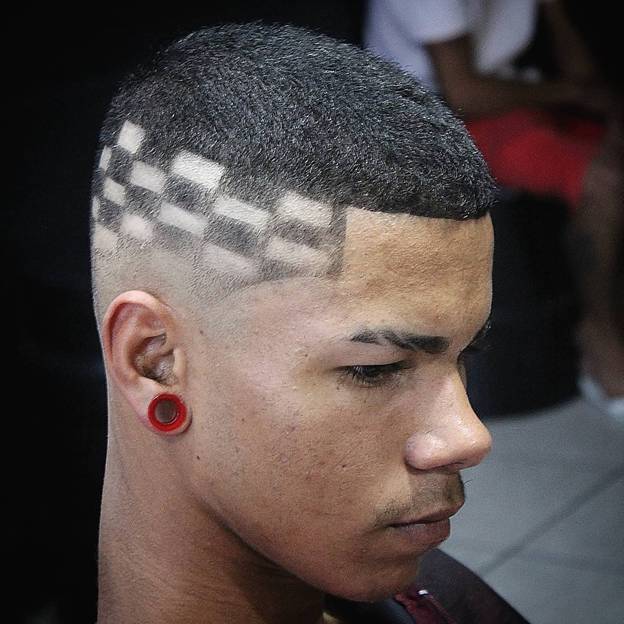 Checkered patterns for the win!
Ideal for: Will look great for straight or curly hair.
How to Style: Leave the hair on top a bit longer and do the pattern on both sides.
14. Caesar Cut with A Side-Line
Make things more exciting with a short hairstyle that finishes with one line on the side.
Ideal for: It is a very trendy style that all men want to copy at the moment.
How to Style: This very short haircut for guys that are all about fashionable looks. You will need to go to your hairdresser to get the line on the side.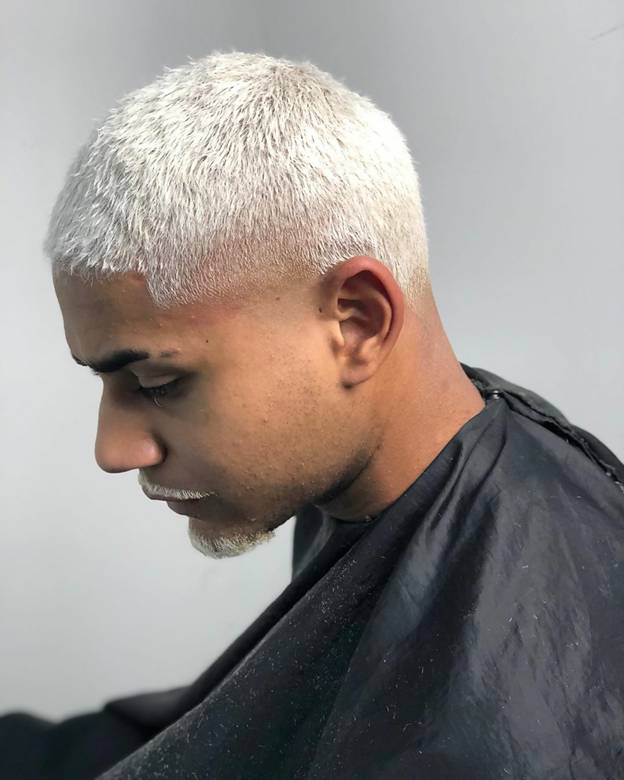 Platinum silver is another color you want to consider this summer.
Ideal for: It's ideal for everyone, starting with young teenagers to older men.
How to Style: All you need is a really short haircut and a new hair dye.
All the very short hairstyles for men you saw on this list are so versatile that literally, anyone can give them a go. Starting with colors, to different patterns, you can experiment with the ones that you like the most. Feel free to try one every month and you won't be sorry.