Men who want really short hair will appreciate the way that a butch cut looks on them. Rather than opting for the traditional cut; however, men who want something a little different than normal will want to consider one of these variations. They're designed to take the traditional cut and turn it into something new.
Best Butch Haircuts for Men
These are the most popular butch cut styles that men are crazy over.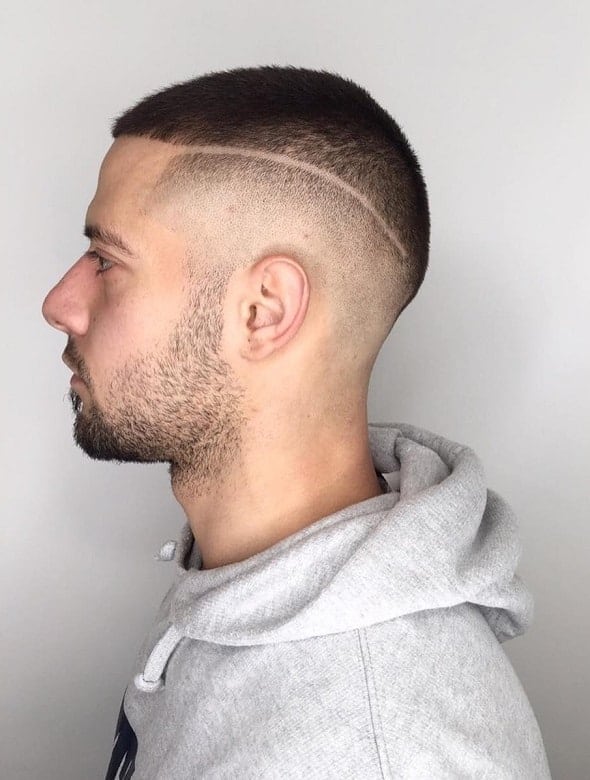 A hard line is a great way to take a regular butch haircut to the next level. This men's hairstyle is great for the man who wants a little more length on top than on the sides and is interested in a style that will show the clear difference between the two. It's a little more daring than some cuts, but not the most unique.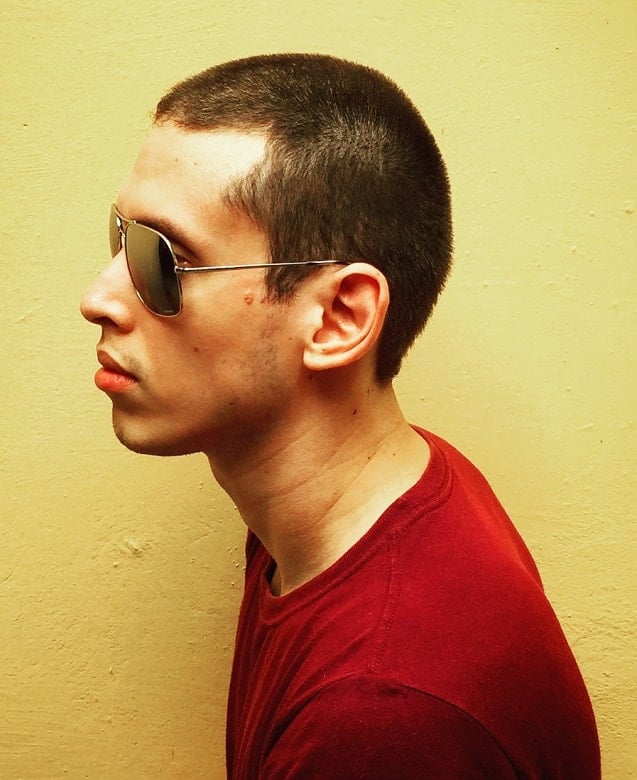 Hair that is kept a little bit longer all over the head is really easy not only to trim and get cut but also to wash and style.
It doesn't require any product, making it easy for the man with this butch variation to quickly get out of the door in the morning without worrying about his appearance.
3. Shake Up the Color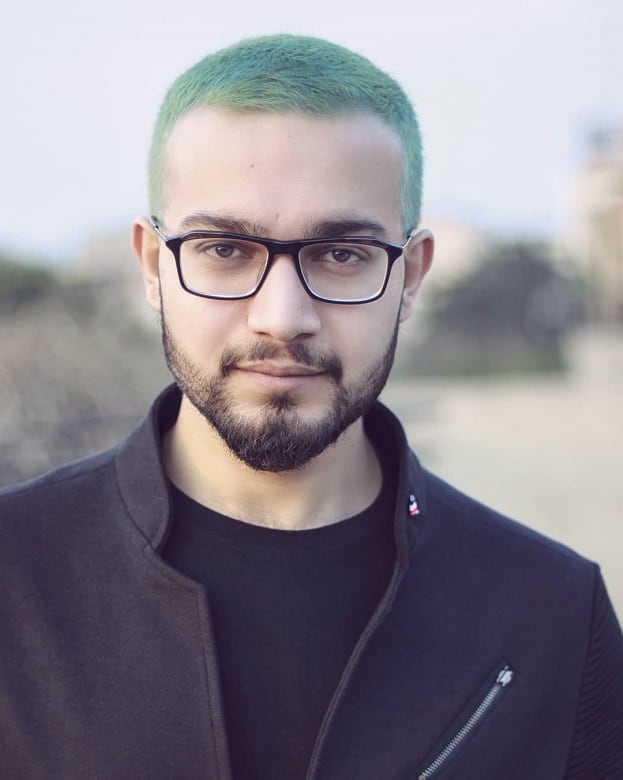 Adding bright color to any haircut is sure to get attention, especially when the cut is a little shorter and bolder, to begin with.
Instead of opting for regular highlights or lowlights, adding a bright candy color is the best way to make the butch cut really pop and stand out.
Keeping the beard a natural color is a wonderful way to add contrast and keep the style looking grown up.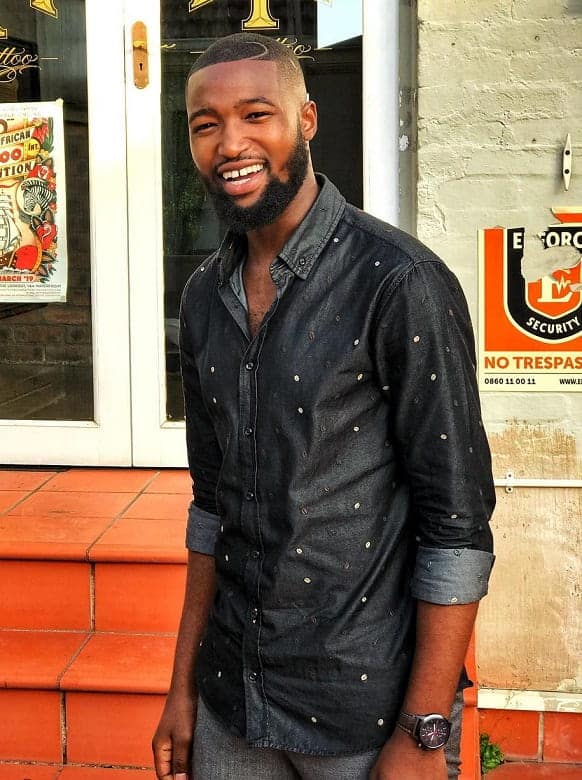 Designs cut into the sides and top of this short butch haircut add some flair and a lot of fun to the look.
Rather than allowing the hair to grow too long, keeping it shorter and full of designs makes it contrast beautifully with a longer and thicker beard. This evens out the look and makes it look very balanced and intentional.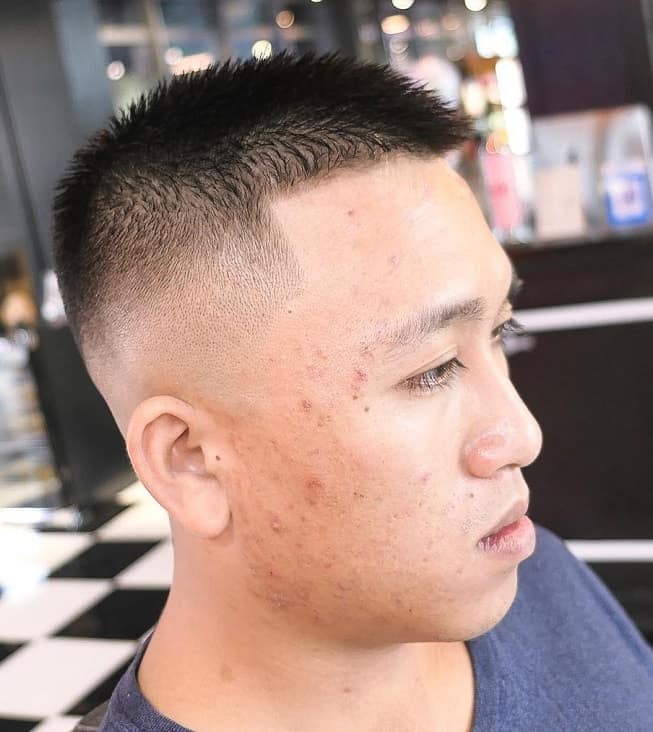 Very short sides and longer hair on top allow the style to be slightly spiked, making it look much more interesting than if the hair is simply laid down flat.
Using just a little product is the best way to get this butch hair look, as adding too much product to the style will simply cause the hair to get weighed down and look greasy.
Hair that is shorter and all one length doesn't require any work in the morning before heading out the door, which is great for busier men.
Keeping the beard and mustache at the same length as the rest of the hair keeps this look from appearing unkempt or too busy. It's easy to cut and a fast butch cut option for men in a hurry.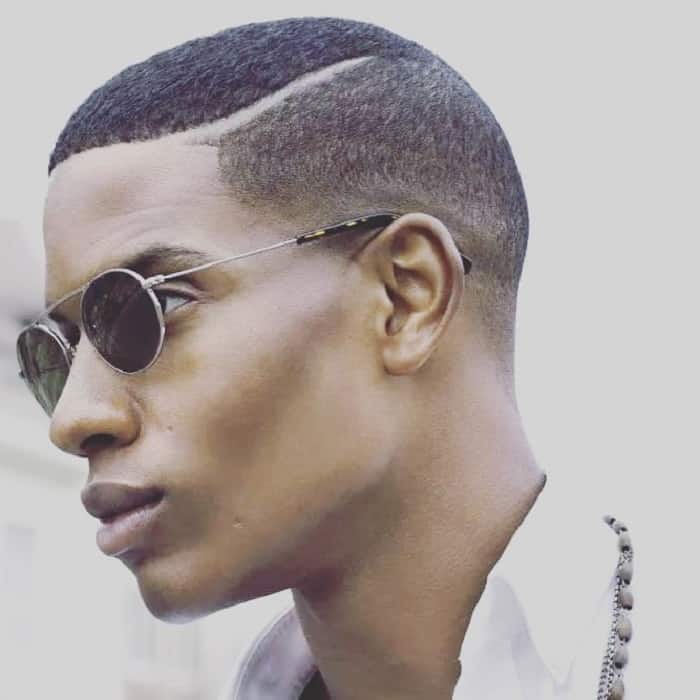 Varying the hard part that is cut into the hair and then pairing the hair with a fresh face sans mustache or beard is an updated and chic look.
Men who wear this butch hairstyle are sure to feel confident in their appearance. It places the focus on the face, which is great for men who feel sure about their looks and want to show them off.
8. Almost Gone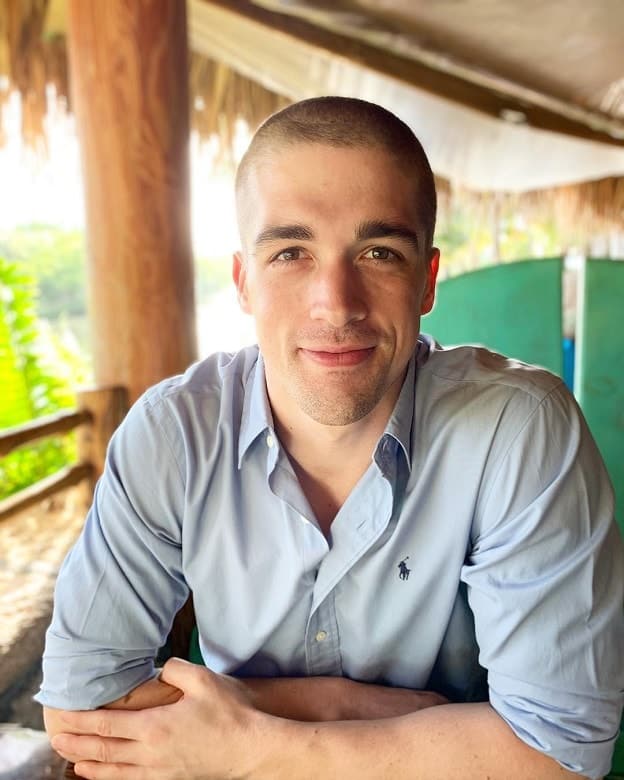 The best way to wash and go in the morning is to opt for a variation that is almost gone. This is as close to buzz cut as a man can get and is perfect for hot summer months.
Men who wear this butch variation on the cut are usually confident, outdoorsy, and not afraid to get down and dirty, as they don't have long hair holding them back.
9. Textured and Attractive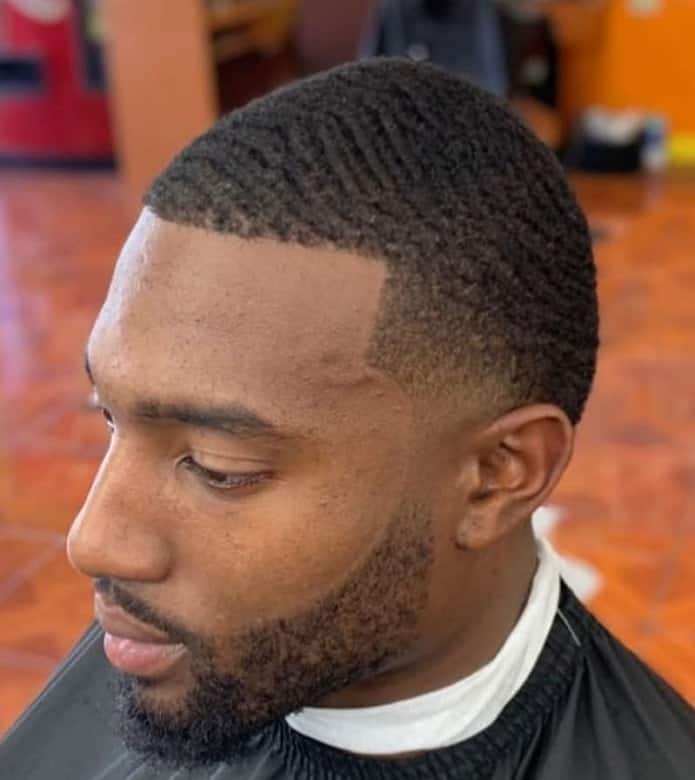 A shorter cut that is textured and features clear angles around the face looks great. Keeping the butched hair cut close to the head makes it easy to take care of this style without spending a lot of time on it.
Additionally, this is a great option for any man living in a hot area who doesn't want to have to deal with hot hair on his neck.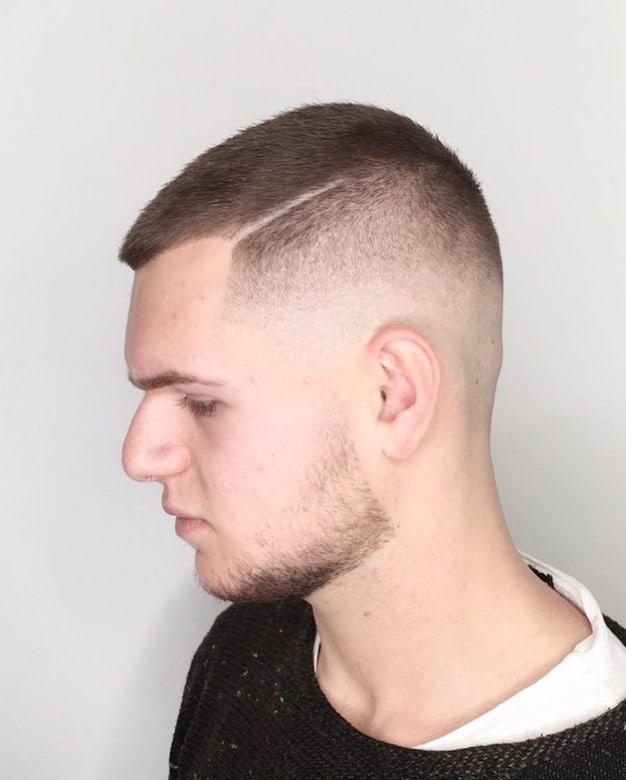 Shorter hair on the sides of the head along with longer hair on top allows men a little more variation when they choose this butch cut style. The hair on the top of the head may be styled with the product or left natural, but either way looks great thanks to the shorter hair on the sides, as well as the defined beard.
11. Sharp Angles Around the Face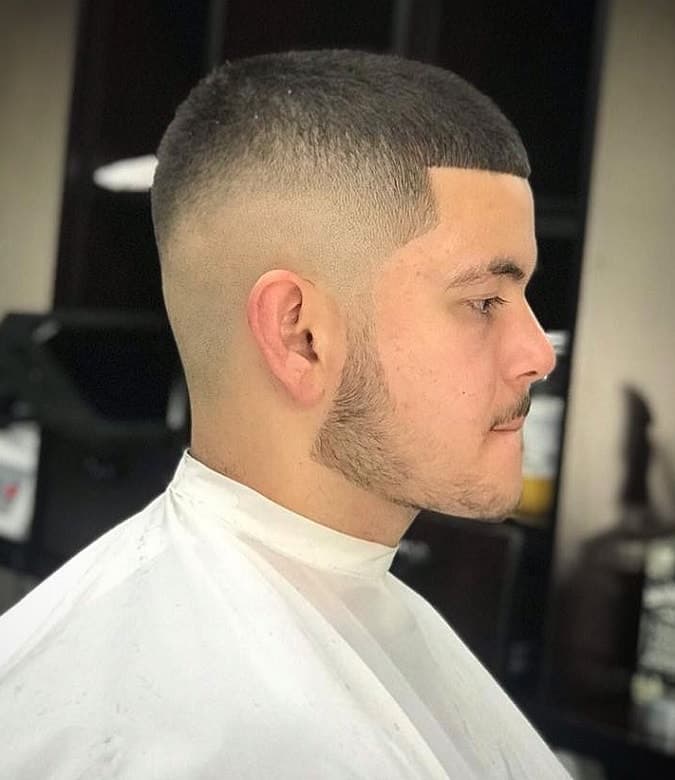 The best way to clearly define and outline the face is with sharp angles cut into the hair. Keeping the hair very short so that it lays perfectly in place and doesn't require any product to look its best keeps this military style butch haircut fresh and clean.
This is great for men who are willing to spend a bit more time on the upkeep of their hair.
12. Modern Tapered Butch Cut
This butch cut is low-maintenance. The modern tapered butch cut is your go-to. Sporting a subtle taper on the sides and keeping it slightly longer on top, this cut is a total showstopper. It's like the happy medium between a classic butch cut and a stylish quiff. Keep an eye out, because you'll be turning heads!
13. Neat Butch with Fade
This butch cut is for those who like to keep things sleek and polished. It's got the neatness of a butch cut, but with a fade that just takes it to the next level.
Whether you're hitting the gym or heading to a business meeting, this cut's got your back.
14. Classic Butch Haircuts with a Twist
Ready to play it cool but add some zest? Well, add a little splash of color to your butch cut. We're talking bold hues that'll make your cut pop. Keep it classic on the cut, but let your inner rebel shine through with the color. Also, it's like a little party on your head!
15. Butch Cut with Intricate Design
Keep the onlookers guessing with this one. It's a butch cut, but it's been amped up with some intricate design work on the sides.
Be it geometric patterns or something more abstract, this cut is where creativity meets sophistication. And the best part? You'll never be bored with your hair again.
16. Side Swept Butch Glam
Embrace that side-swept goodness! This cut is giving us all the classic butch vibes but with a chic twist. Keeping it shorter on the sides, the top is styled to sweep to the side, making you look effortlessly glamorous.
This butch haircut is like the little black dress of butch haircuts – it never goes out of style.
17. The Butch and Beard Combo
Let's talk about a dynamic duo – the butch cut paired with a beard. What's not to love? It's rugged, it's chic, and it screams confidence. The trick here is to keep your hair and beard well-groomed. This combo is for the man who commands a presence.
18. Spiky Top Butch Cut
Rock the world with this spiky top butch cut. It's stylish, it's modern, and oh-so-cool. With short sides and slightly longer, spiky hair on top, this cut is perfect for adding that extra oomph to your daily look. Be ready to strut the streets like a runway.
19. The Minimalist Butch
Less is more with this one. Keeping it almost buzzed, this butch cut is for the no-fuss gentleman. It's so low maintenance, it's almost zero maintenance. Especially during those scorching summer months, this cut is an absolute blessing.
20. Textured Butch Elegance
This textured butch cut is short and stylish. The added texture gives it a depth that is absolutely stunning. Plus, it frames the face so beautifully. Whether you're at a cafe or at an upscale event, this cut is versatile and dashing.
21. Slicked Back Butch Sophistication
Classic and debonair, the slicked-back butch cut is for the suave personality. Short on the sides and a bit longer on the top, this cut is perfect for someone who wants to make a statement without saying a word. It's timeless, it's elegant, and it's a cut above the rest.
All of these butch cut styles are designed to make men not only look great but also to give them a little self-confidence. For that reason, they're a great choice for any man looking for a fresh new style.