Two braids aka double braids hairstyles for men are back in fashion this year and they are here to stay for 2023. They are so popular once again because they make men look more masculine and give them something new to try this year.
There are so many ways in which the basic two-braid style can be modified to suit your liking. So, let's just go through the hottest new trends without further ado.
How To Create Basic Double Braid In Men's Hair?
The basic double braid is a simple yet stylish hairstyle that involves two braids on either side of the head. Here's how you can create this classic double-braid look:
Prepare the Hair
Start with clean and dry hair.
Use a comb to detangle any knots or tangles.
Decide on the placement and size of the braids.
Section the Hair
Divide your hair into two equal sections, left and right.
Use a hair clip or tie to keep one section separate while working on the other.
Braid the Hair
Take a small section of hair from the front of one side.
Divide the section into three equal parts.
Begin braiding by crossing the right strand over the middle one, then the left strand over the new middle strand.
Continue adding small sections of hair from the same side to each strand as you braid.
Braid tightly and neatly until you reach the end.
Secure the braid with a small hairband or tie.
Repeat the same process on the other side.
Styling and Finishing
Adjust the braids to make them symmetrical and ensure they sit comfortably on each side.
If desired, you can gently pull on the strands of the braids to create a looser and more textured appearance.
Apply a light-hold hairspray to keep the braids in place throughout the day.
Latest Men's Double Braided Hairstyles
Here are the 9 two braided hairstyles for men that you need in 2023 to look your best.
1. Funky 2 Braids with Highlights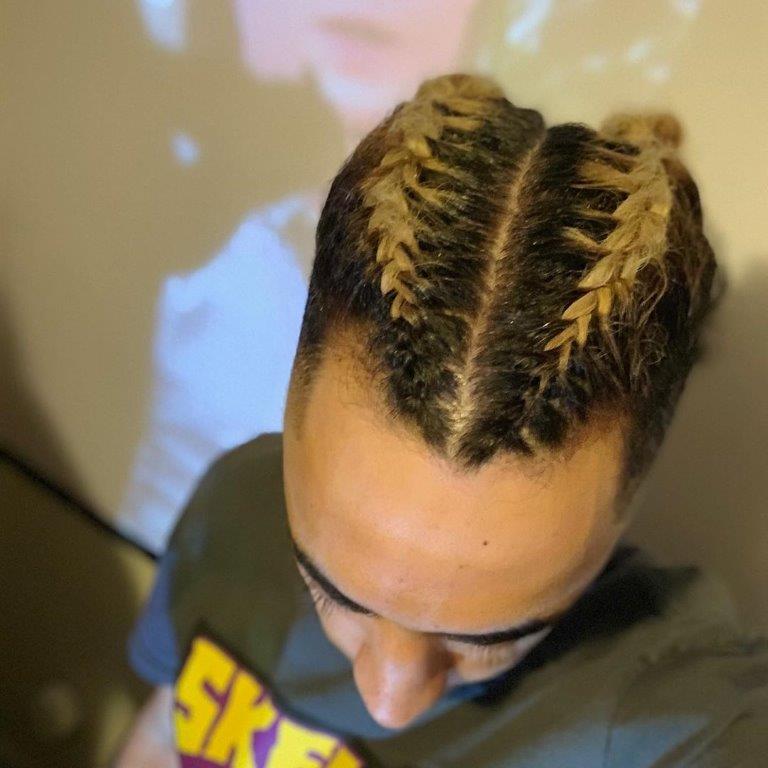 Two braids for white men are attractive and impressive, but you can make them even more unique by adding a dab of blond color to them. The braids here are made by tightly weaving the hair making sure that they can last for days on end. You do not need to re-do them every morning, so they are an amazing styling option.
2. Thick Double Braids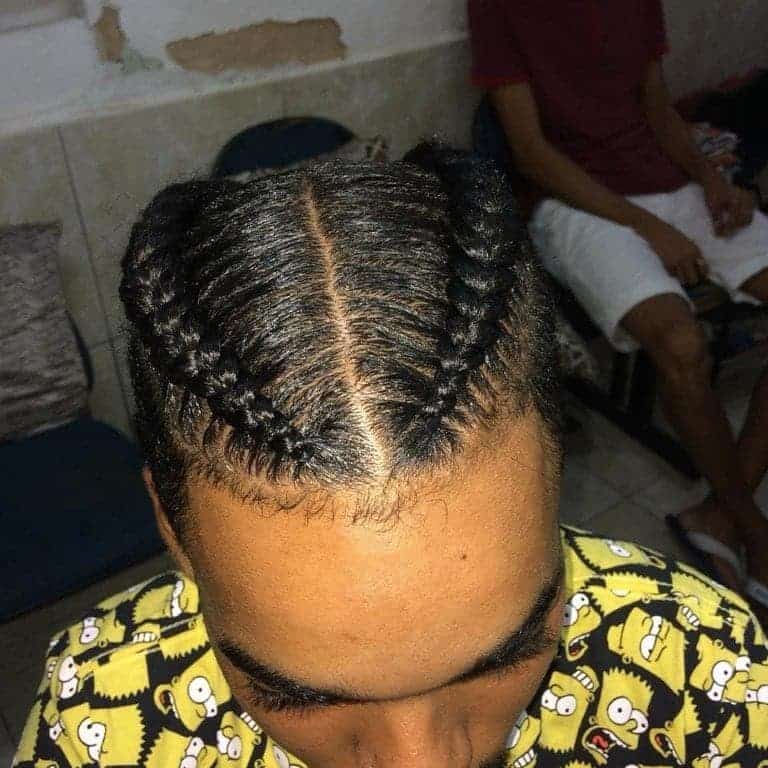 These 2 braids for guys are not only stylish, but they are also practical as they keep all the hair tightly secured at the top as well as at the back. There is a neatly tapered undercut at the sides which finishes off the whole look in a classy and stylish manner.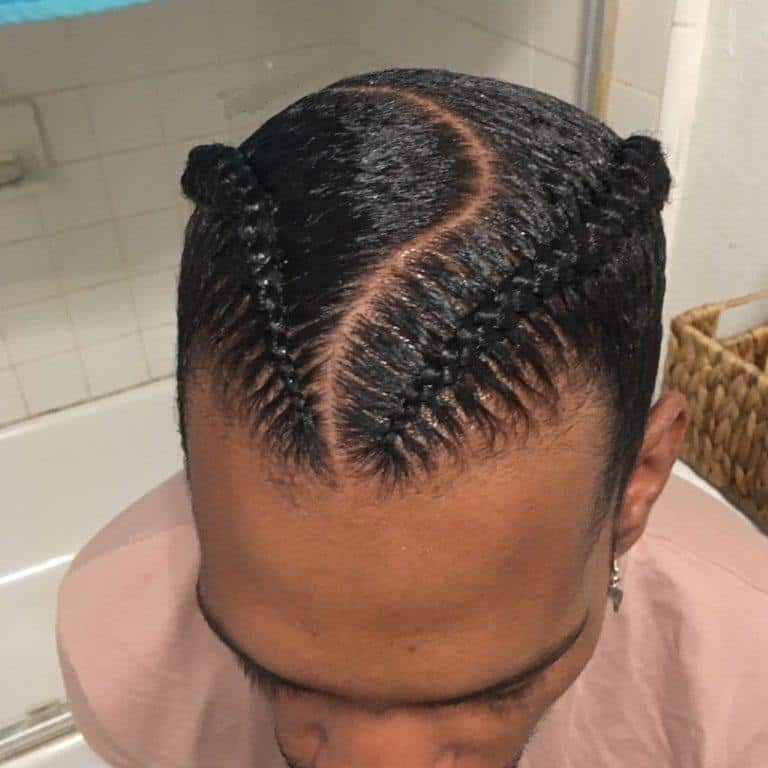 Well, you are young and want to go for the hottest hairstyle trend then why not spice things up a bit more? This hairstyle has a spiral-shaped part which creates a distinct and unique division of hair on both sides of the head. The men's two braids, however, run in a straight parallel fashion as usual.
4. Twin Braided Topknot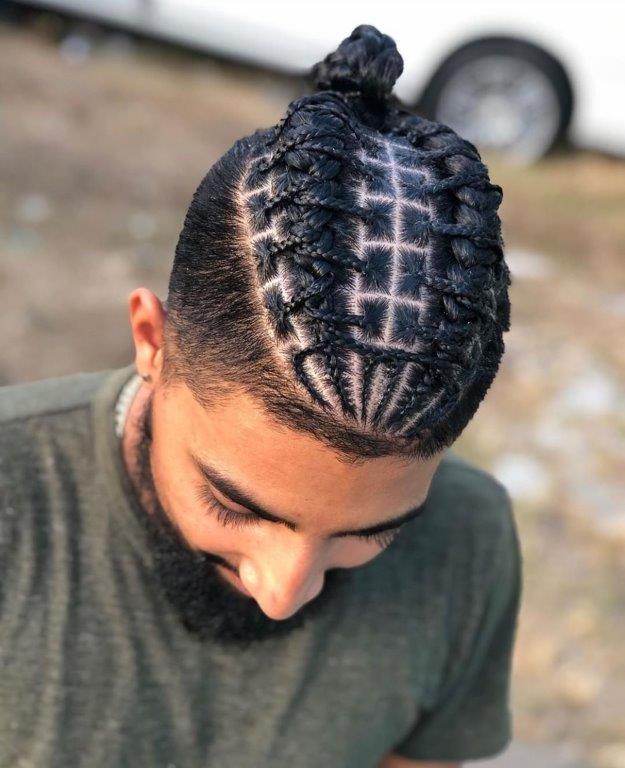 Double braids for men are modern and appealing, but this one on another level of being hot and attractive. There is a unique and intricate design made by tiny braids that are then locked into the major two braids running along the length of your head. This is something that your hairstylist can do easily for you, so get it to make new fashion statements this year.
5. Slick Braids with Man Bun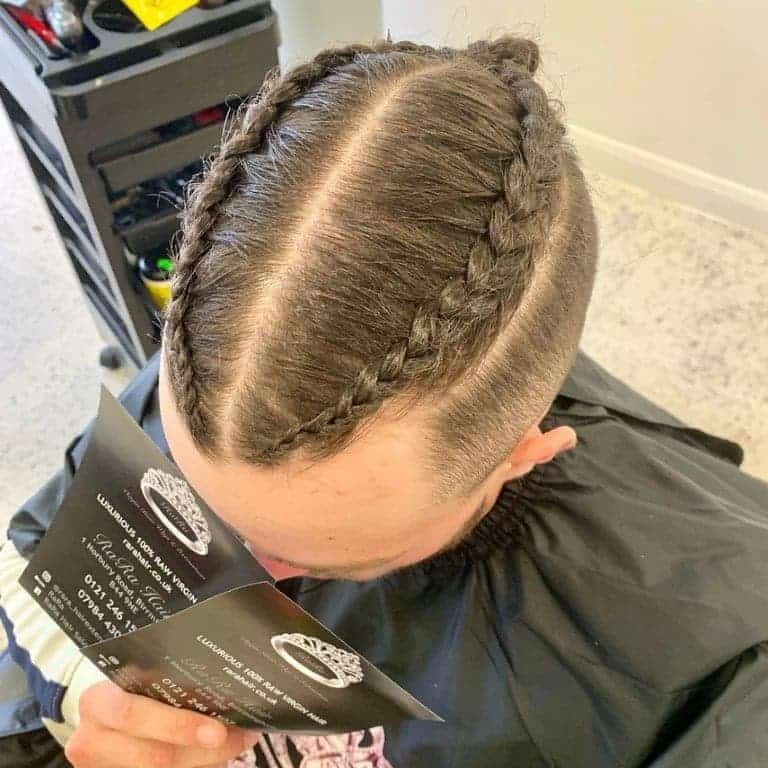 This is where a true gentleman finds the perfect two braids for himself. The braids are simple, decent and highly stylish as they neatly go towards the back of your head. There, they are secured into a small low bun which looks as hot as you dreamt it would.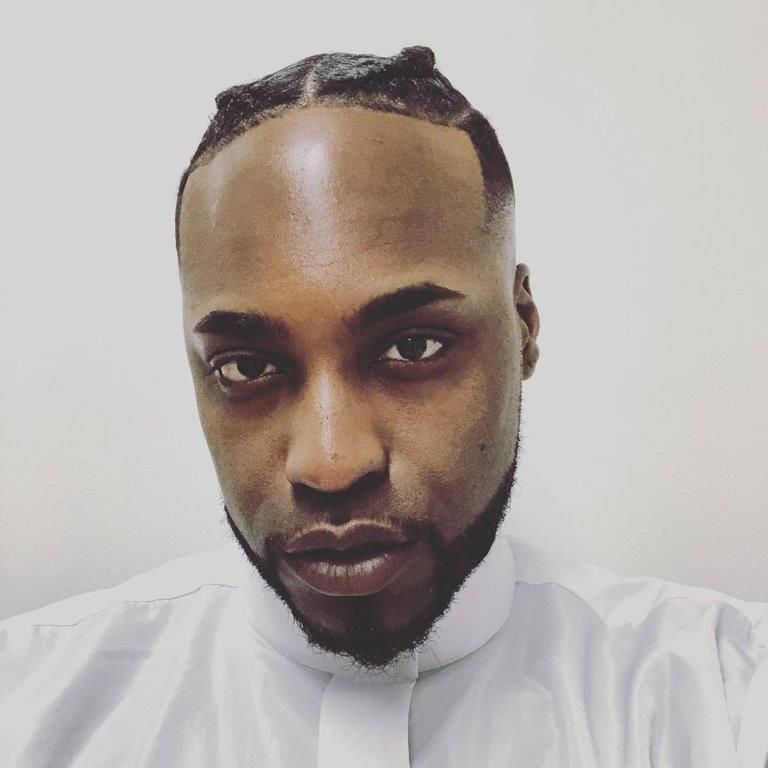 If you do not have long hair, you can make do with short textured hair as well. These men's double braids will be relatively thin but will be equally stylish as the other ones.
Your braids do not have to be all thick and sleek as they are fun and you can be as imaginative with them as you want to. The men's two braids run right back to the base of your head while they thin out towards the end. To make things interesting there is a network of braids between these two major ones which creates 4 equal and dramatic partitions.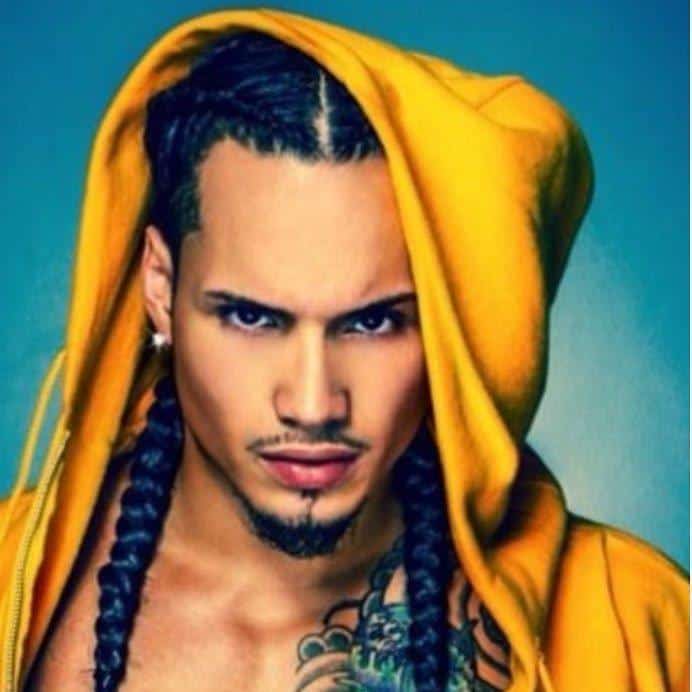 The longer your hair is, the better the braids will be. These long 2 braids men style run right down to your abdominal region if you have long enough hair. Is there anything cooler than that? Well, not really.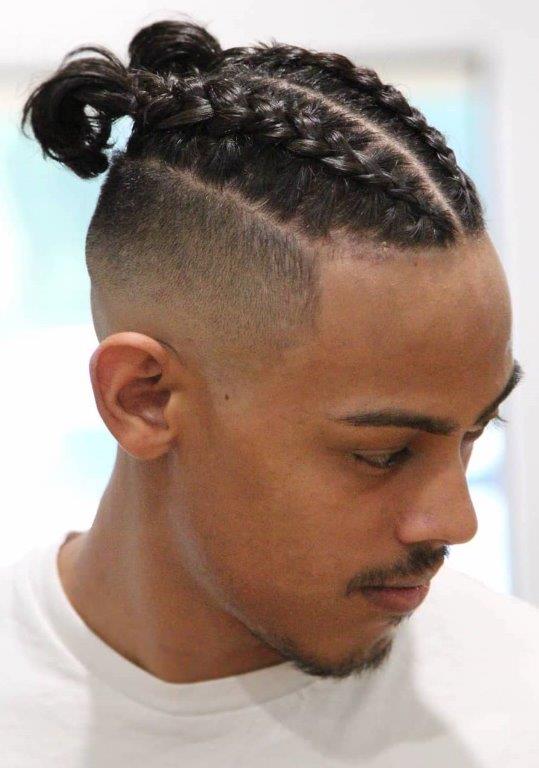 Men's double braids can end into stylish high ponytails as well. And they look immensely stylish when you do that, so why not just ask your hairdresser for them?
10. Box Braids with Undercut
Combine the classic box braids with an undercut for a modern and stylish look. The box braids provide a neat and structured appearance, while the undercut adds an edgy and trendy touch.
11. Braided Bun with Shaved Sides
For a bold and contemporary hairstyle, try a braided bun with shaved sides. The braids are gathered into a bun at the top of the head, creating a striking contrast with the shaved sides.
12. Side-Swept Braids
Add a touch of asymmetry to your double braids by sweeping them to one side. This style offers a unique and eye-catching look, perfect for those who want to stand out.
13. Mohawk Braid Fade
Make a statement with a mohawk braid fade. This hairstyle combines a braided mohawk down the center of the head with faded sides for a bold and fashionable appearance.
14. Twisted Double Braids
Put a twist on the traditional double braids by incorporating twists into the braiding process. Twisted double braids offer a unique and textured look that adds depth and dimension to your hairstyle.
15. Braided Ponytail
Create a sleek and sophisticated look with double braids styled into a braided ponytail. This hairstyle is perfect for both casual and formal occasions, adding a touch of elegance to your overall appearance.
16. Braided Top Knot
Combine style and functionality with a braided top knot. The double braids are gathered into a top knot, keeping the hair off your face and creating a trendy and fashionable look.
17. Braided Mohawk
Channel your inner rebel with a braided mohawk. The double braids run down the center of the head, while the sides are shaved or faded, creating a striking and daring hairstyle.
18. Braided Dreadlocks
For those with dreadlocks, incorporate double braids into your style for a fresh and distinctive look. Braided dreadlocks offer a creative and unique twist on traditional dreadlock hairstyles.
19. Wrapped Braids
Add a touch of flair to your double braids by wrapping colored thread or string around them. This decorative element adds a pop of color and personality to your hairstyle.
20. Braided Beard with Double Braids
Extend the braided style to your beard by incorporating braids into your facial hair. Combine double braids on your head with a braided beard for a cohesive and striking overall look.
These additional double braid hairstyles for men offer a wide range of options to suit various tastes and preferences. Choose the style that resonates with your personality and rock it with confidence.
These two braids hairstyles for men are getting immensely popular in 2023, so you should try them before everyone else around you does!
FAQs
1. How long does my hair need to be for double braids?
Ideally, your hair should be at least shoulder-length to achieve a well-defined and neat double-braid hairstyle.
2. Can I create double braids with short hair?
Double braids are more achievable with medium to long hair. However, you can use hair extensions or consult with a professional stylist for alternatives suitable for shorter hair.
3. How long does it take to create double braids?
The time required to create double braids depends on the length and thickness of your hair. On average, it can take anywhere from 30 minutes to an hour.
4. How often should I wash my double braids?
It's recommended to wash your double braids once every one to two weeks to maintain cleanliness and avoid product buildup.