One of the key characteristics of two strand twists male hairstyle is its simplicity. It's amazing to see how many variations of hairstyles men can make just by twisting two strands of their hair over each other.
This hairstyle locks the moisture inside the hair and therefore makes it healthier over time, therefore making this hairdo ideal for guys with dry or damaged hair.
How to Do 2 Strand Twists – Step by Step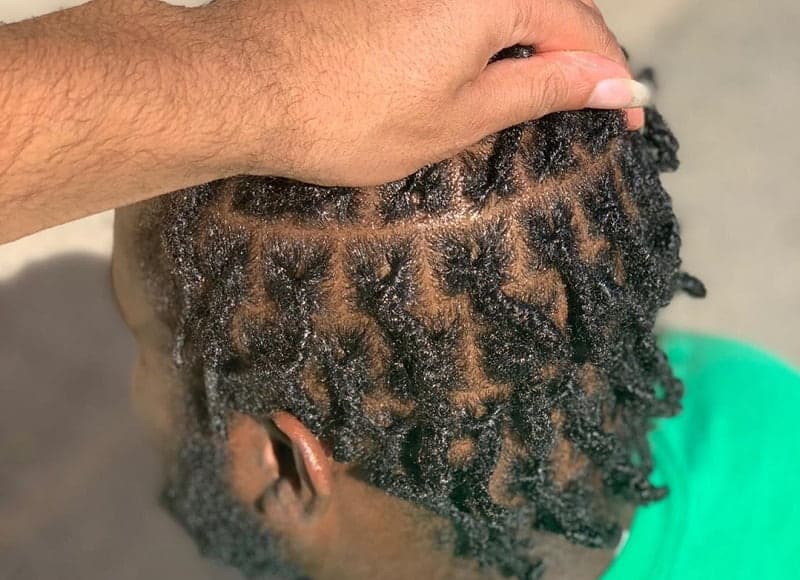 Step 1: Section the hair into small sections approximately one to two centimeters each.
Step 2: Divide each of those sections into two strands of hair.
Step 3: Tightly twist each of those two sections around one another.
Step 4: Apply some gentle oil, such as coconut oil or macadamia oil on the hair to make it stay put.
Step 5: This last step isn't a must-do for all men. This is only for men who want to have thick twists. If so, you should apply a thin unnoticeable elastic band to the hair ends.
Watch The Following Video to Learn How to Do Men's Two Strand Twist Hairstyle
Best Two Strand Twists Hairstyles for Guys
Check out these amazing 2 strand twist male hairstyles that you can try out this year.
1. Thick Twists with Highlights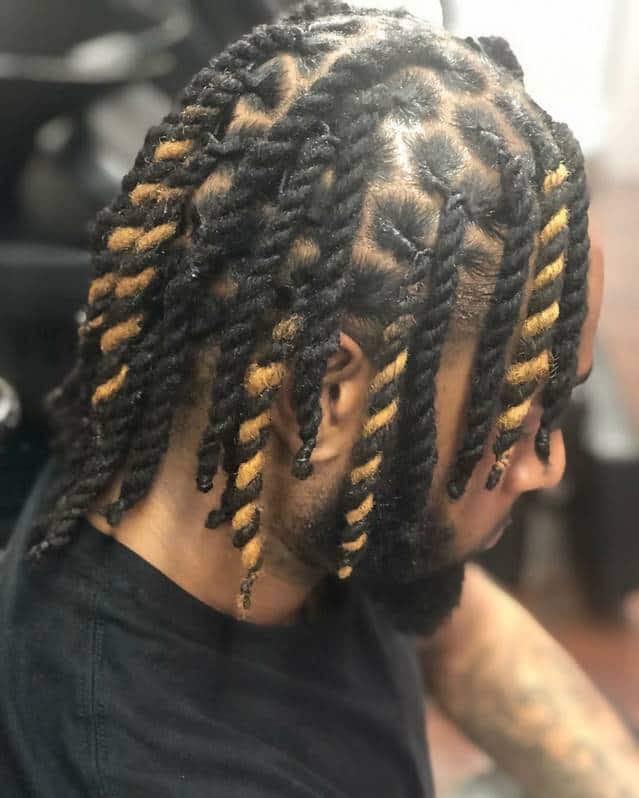 The best way to draw attention to your incredible two strand twists is by combining regular with highlighted hair strands. This hairstyle will add some fun and playfulness to your overall style.
Just make sure that you take good care of these thick twists because in this style they can get untwisted more easily. Just twist two hair strands and lock them in place at the hair ends with a small elastic.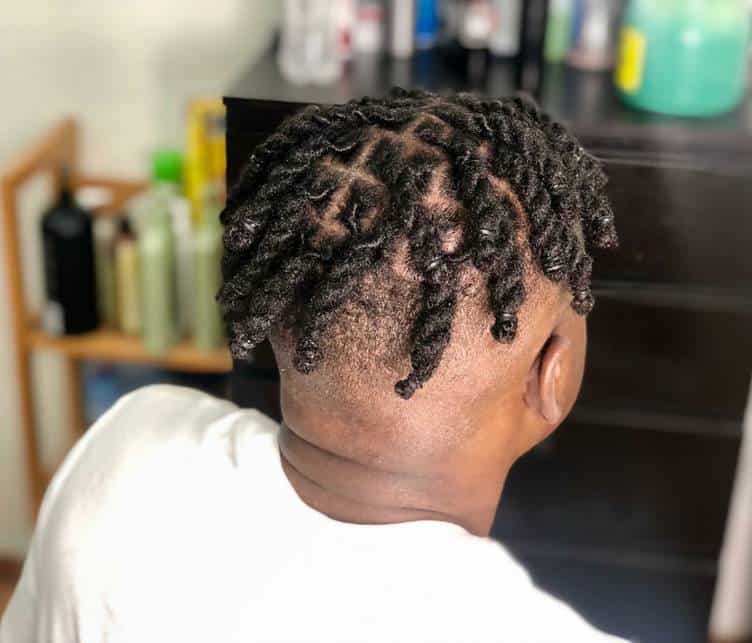 One of the best ways to make your twists more visible is by getting an undercut. An undercut is already a bold hairstyle in itself, so when you combine it with 2 strand twists you will look absolutely stunning and confident.
3. Sleek Short Twists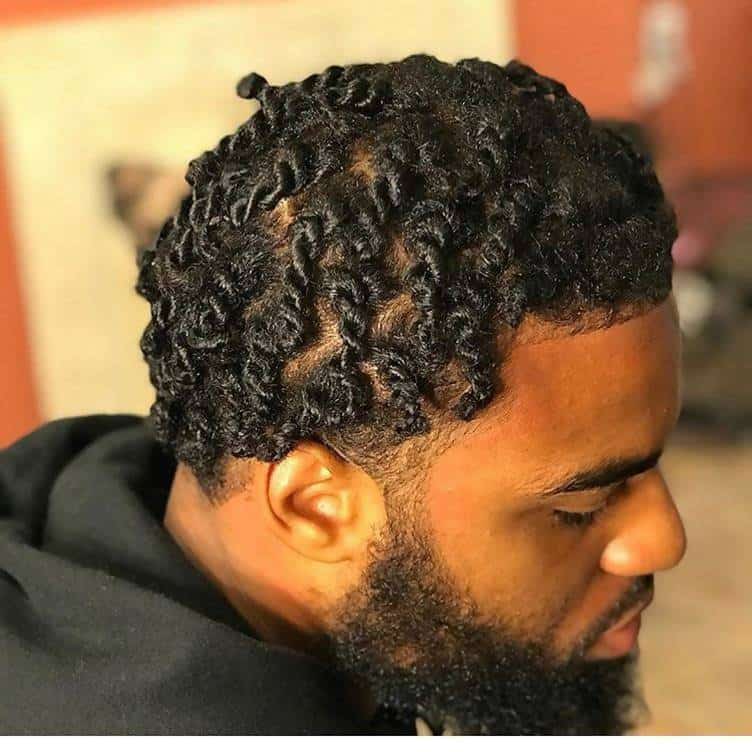 Having sleek and sharp twists will not be easy to maintain, but it will surely be worth it. For this black short hairstyle, maintaining the two strand twists for men with hair oils is a must. With this hairstyle you don't have to worry too much about your beard, just leave it as it is and focus on taming down your hair strands.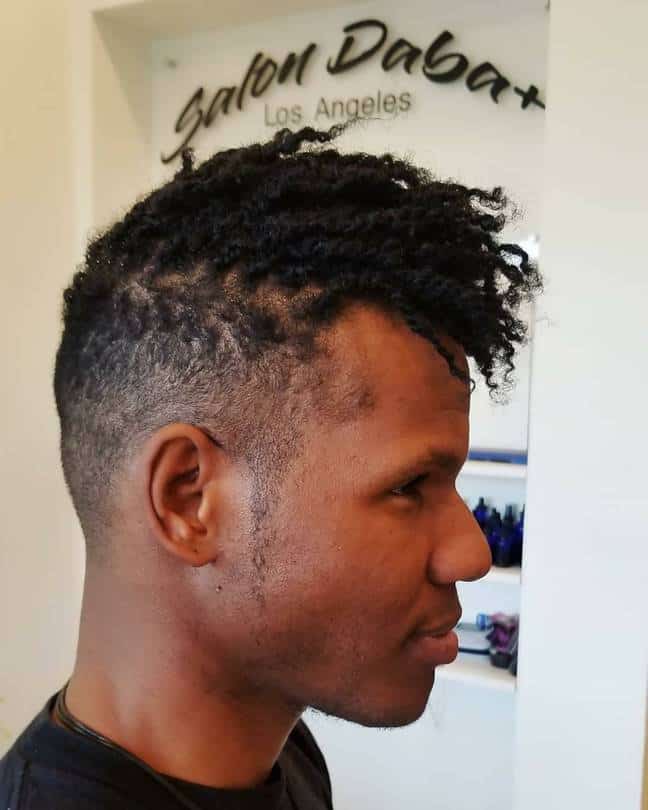 Brush up hairstyles, in general, are for men who want to drag attention and seek jealous looks. Pushing all of black men's 2 strands twisted hair to the front makes them a lot more visible, as well as fun to style. Not only that, but this Mohawk style makes them appear voluminous and intentionally a bit messy.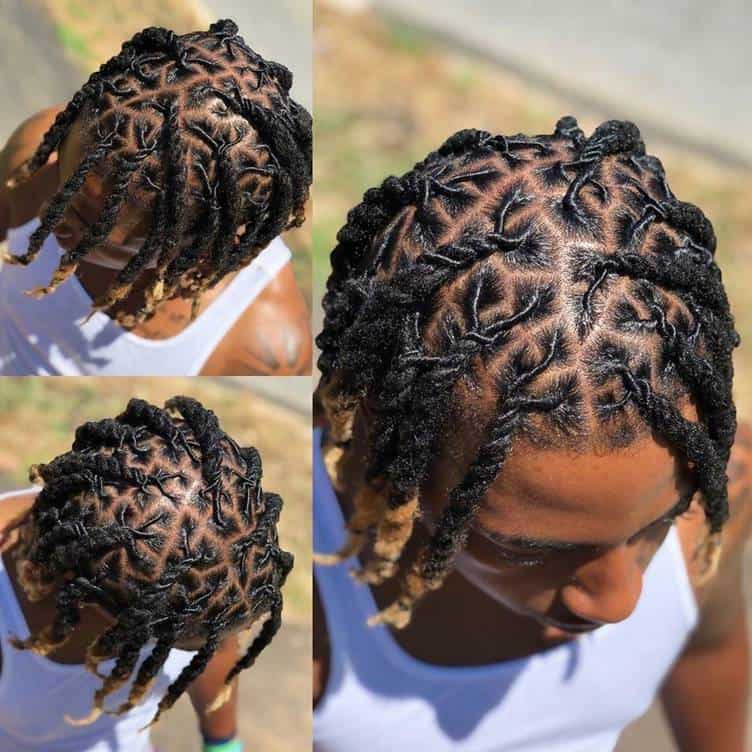 This hairstyle is for men who have a lot of experience with twisting their hair. Creating this hairstyle requires a lot of patience. In the end, you will have perfectly shaped twisted two strand hairstyle that look ten times better than anyone else's.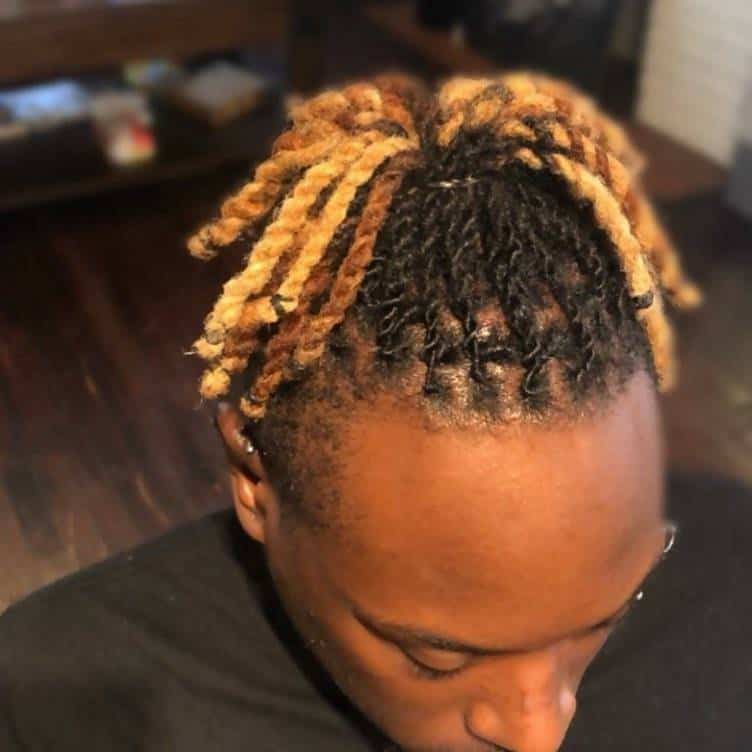 If you're ready to relax and not be bothered by anyone or anything, then it's time to get that hair in a ponytail. While ponytails look plain and boring on other people, men who have twists will make them pop in a heartbeat.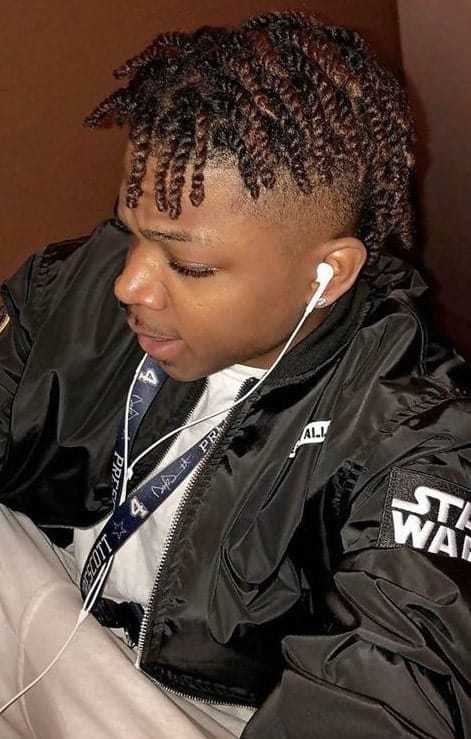 Brown highlights are perfect for men who are just starting to experiment with highlights. They're more subtle but they add a special twist to the classic two strand twisted men hairstyle. Brown twists are going to stand out from your black hair. They will also bring in a modern feel to your whole appearance.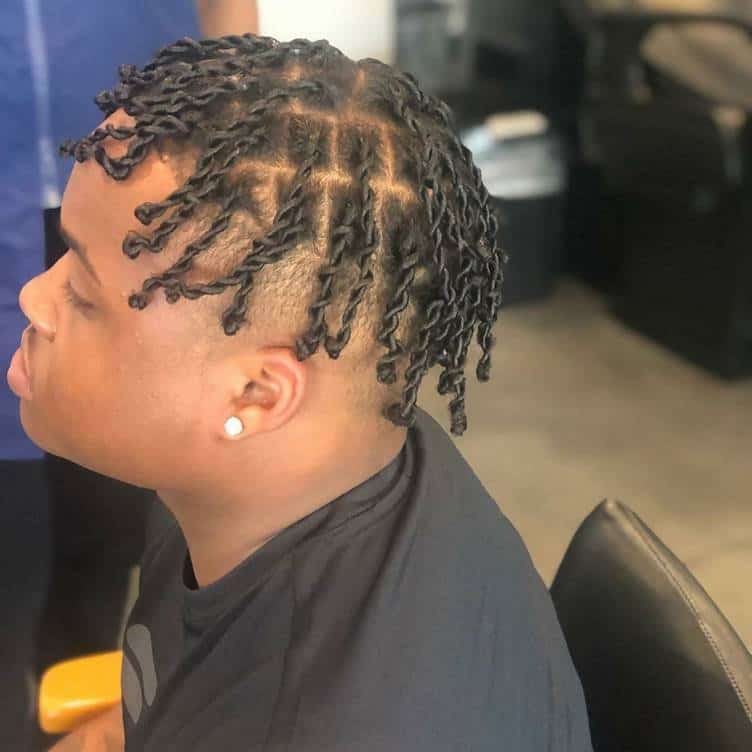 If you like everything in symmetrical order, then you might've just found your perfect hairstyle. This twist hairstyle involves carefully sectioning your two strand hair and then creating perfectly even twists. The most important step here is to make each twist super tight on its own.
9. Twists with Dreads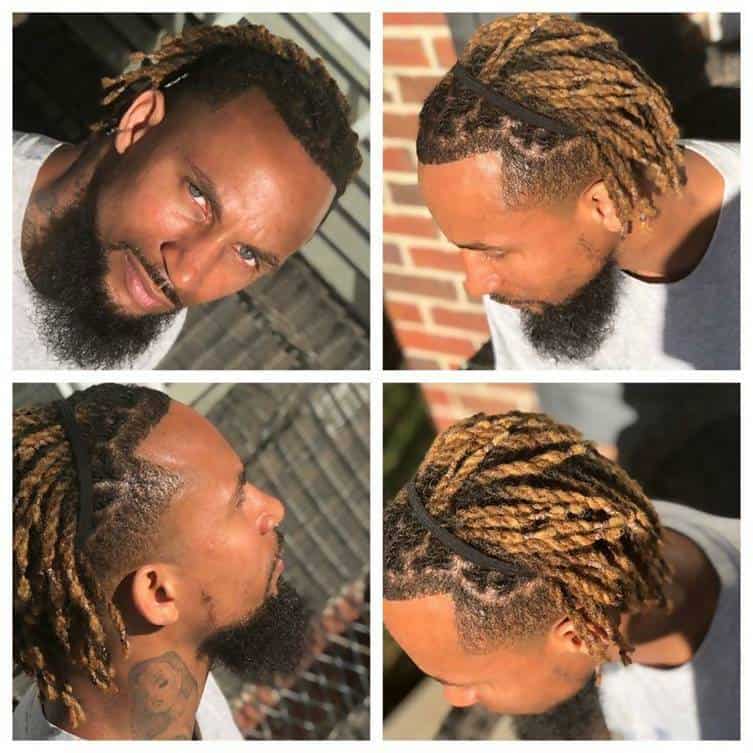 Low tapered fade hair with beards are awesome for men who want to elongate their face. For a full effect of an elongated face, push your 2 strand twists backward with an elastic. With that hair look, it's best that you keep your beard bushy.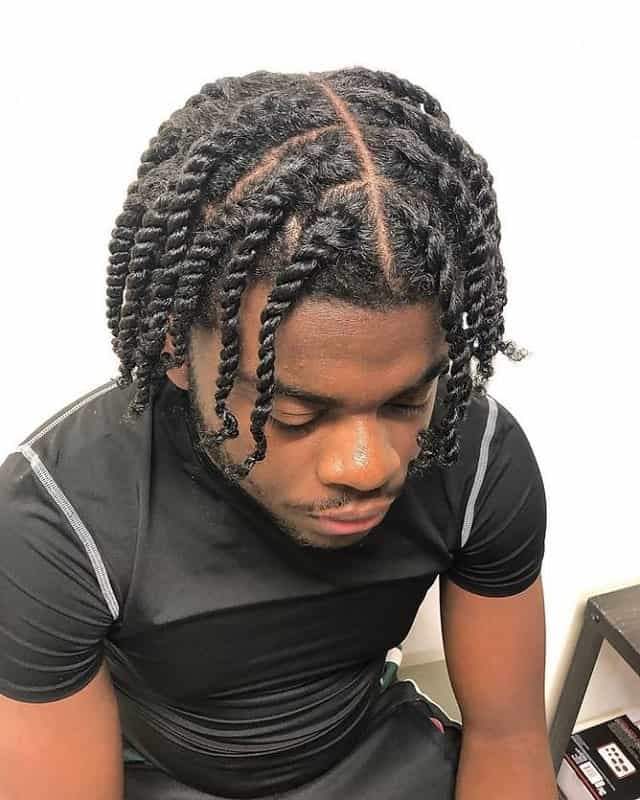 It's certainly harder to twist long hair. You will need more force and much more hair oil to achieve perfect 2 strand twists for black males. However, this hairstyle is amazing for men with long & thick curly hair because it protects their strands. Having this hairstyle is great while you're trying to grow out healthy hair.
11. Extremely Tight Twisted Hair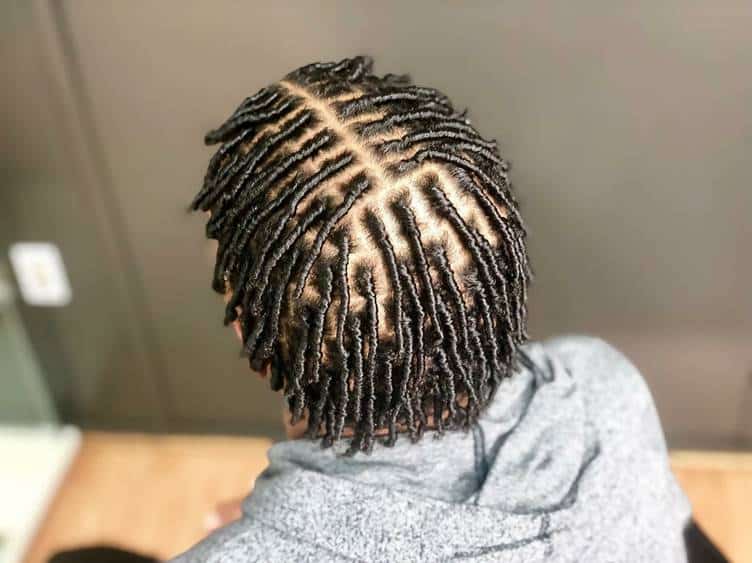 Two strand twists male style look truly remarkable when they are super tight. This way your hair will stay still and without any stray or frizzy hairs. The high shine and the perfect symmetry of this hairstyle are perfect for men who want to look well put together.
12. Thin Twists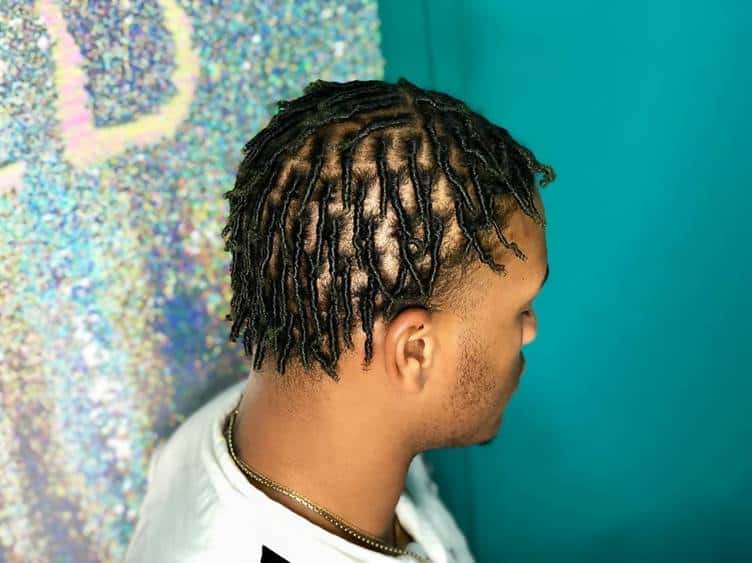 If you have thin hair and want to have two strand twists, it's best that you keep your whole hair at medium length. You should stay away from fade and undercut ideas. This way you will create an illusion of a very voluminous and full head of hair.
13. Low Twist Ponytail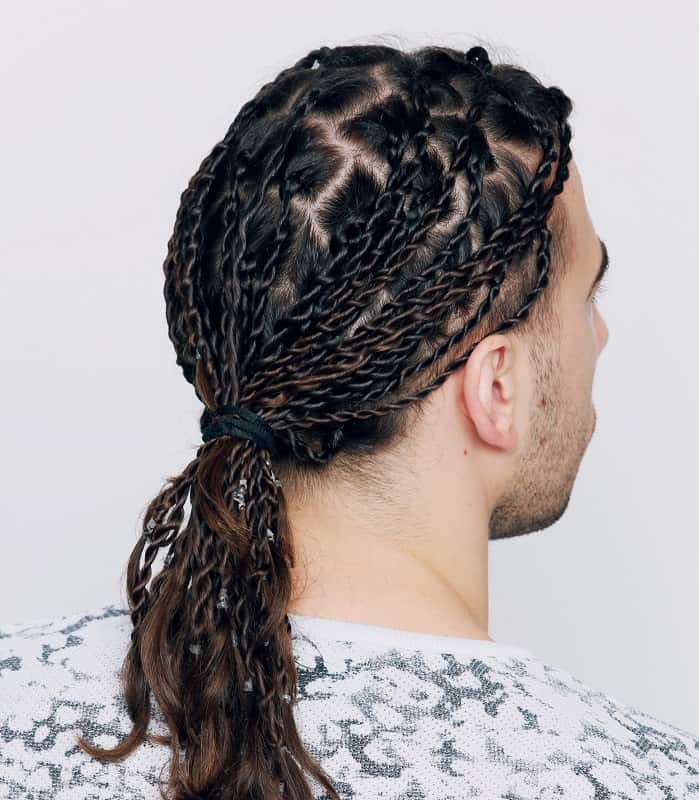 The way these long two strand twists are connected, it almost looks like chain links on a low ponytail for long hair. Mix the two strand twists with natural untwisted hair for an eclectic new look.
14. Short Frizzy Twists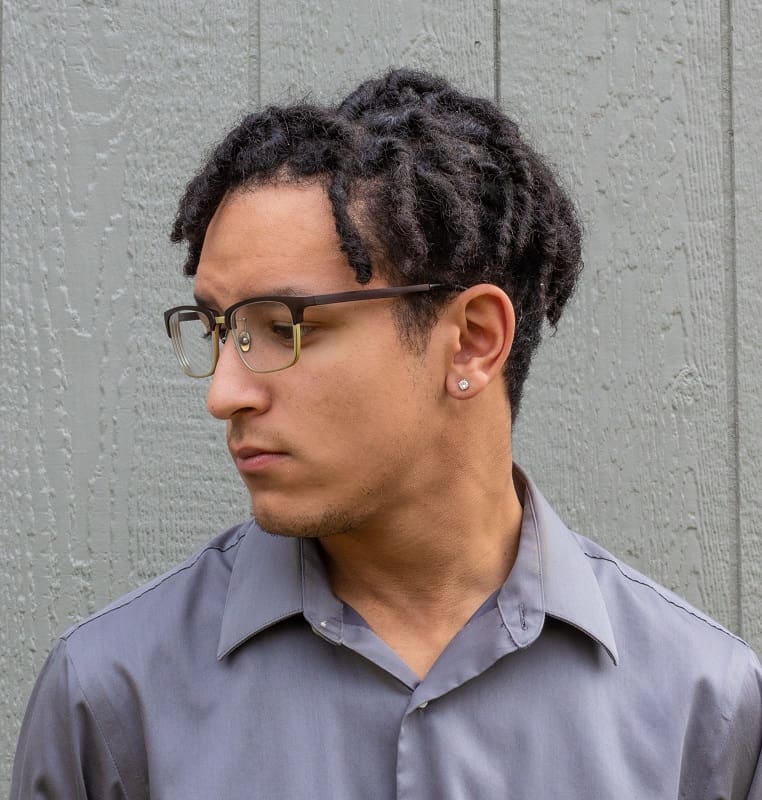 After wearing your short hair in two strand twists for a couple days, you'll get this slightly frizzy look that works handsomely as both professional for work and casual when hanging with friends.
15. Fade with Long Twists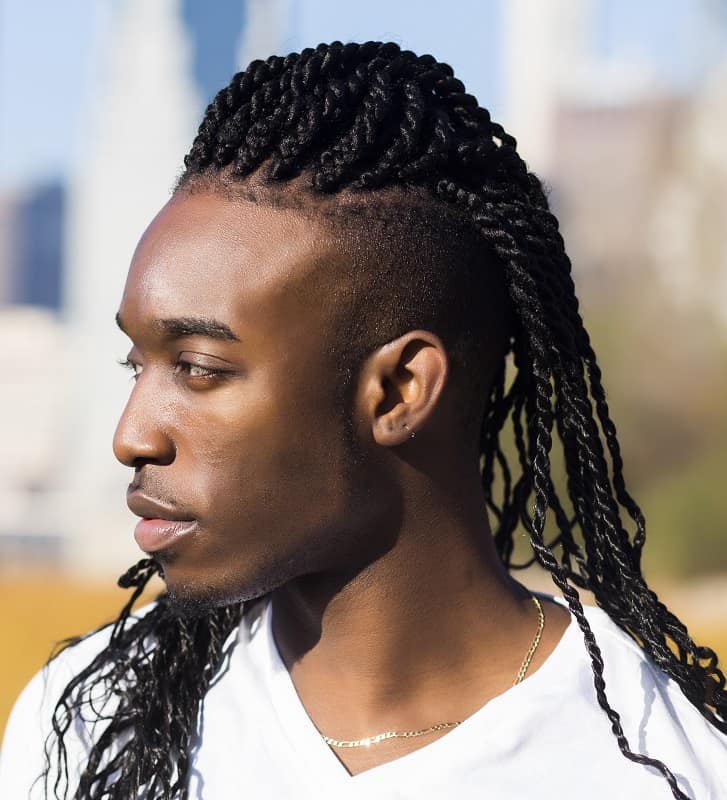 Only the top half of this men's long hairstyle is twisted. The top half features a cool shape of volume and a high fade gives the overall look an edge.
16. Blonde Twists with Loose Ends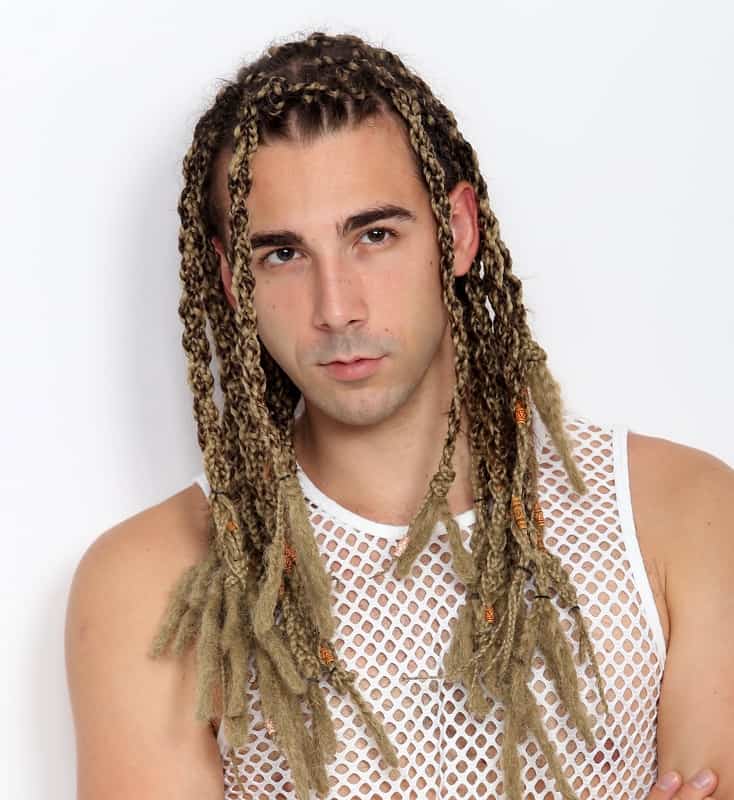 Two strand twists deck out this men's long hairstyle. We love the intertwining blonde hair color and how the ends are left with a slightly frizzed dreadlocks.
17. Thick Two Strand Twists
Thick hair on black men doesn't always have to be cornrow braided. Two strand twists offer a fresh update, especially when you try a subtle navy blue color.
18. White Dreads with Twists
What do you get when you combine two strand twists with dreadlocks on long hair? Even if it weren't for the alternating colors, this men's hairstyle would be packed full of enviable detail.
19. Short Hair with Bangs
Twists are a handsome option for men who sport a short hairstyle with bangs. The short twists are an unexpected yet hip way to wear face-flattering bangs.
20. Long Twists with Undercut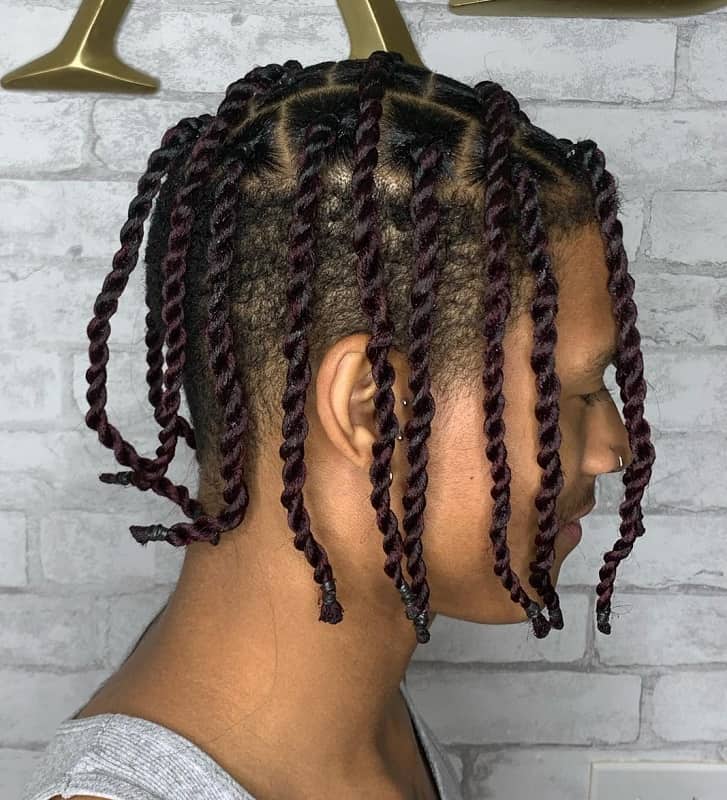 We love how the undercut on this long twist hairstyle peeks through. If you're an active guy, twists will keep hair stylishly managed worn down or up in a man bun.