As men grow older, their hair might undergo various changes, including thinning and greying. However, that doesn't mean they have to compromise on style. In fact, long hair can be an excellent option for older men.
If you've been struggling to find hairstyles for older men with long hair, we're here to give you an updated 2023 guide with the biggest trends. All of these looks are both classic and fashionable, which means they will make your life easier.
Long Hairstyles For Older Men
Long hair is always in the style game for men. We have collected some best long haircuts & styles for older men to try without any doubt.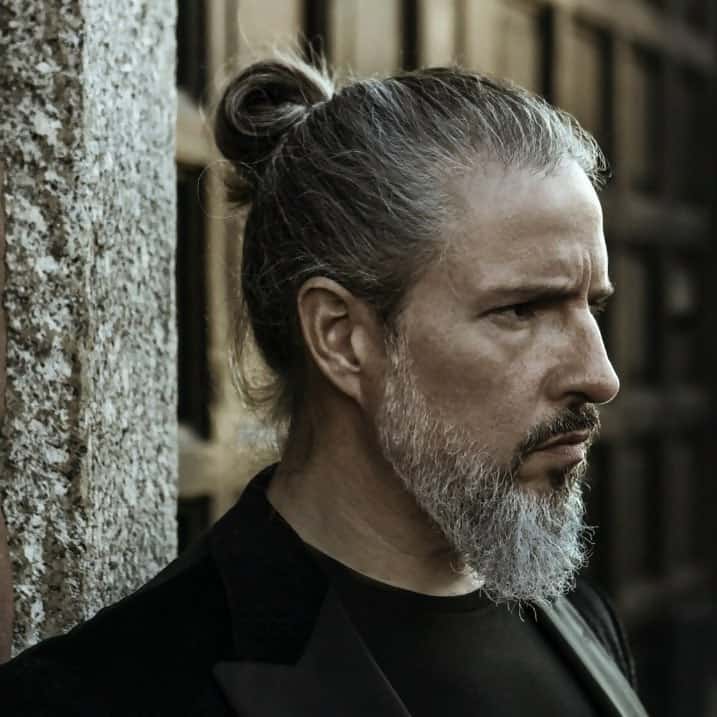 The man bun with beard is not going anywhere. This will always be a popular long hairstyle because it is very easy to create and saves older guys so much time.
Ideal for: Great for men of different ages.
How to Style: You will need a tie and a comb for the chic bun. It doesn't have to be perfect.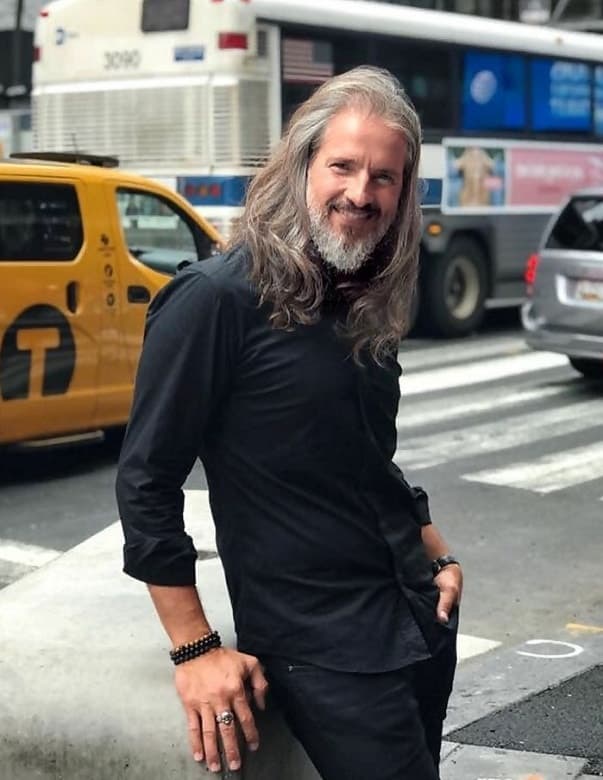 Messy is the new sleek. Forget about sleek and perfectly styled long hairstyles for men.
Ideal for: Old men with long hair have just found the easiest hairdo ever.
How to Style: Wash your hair and let it air dry for a messy finish.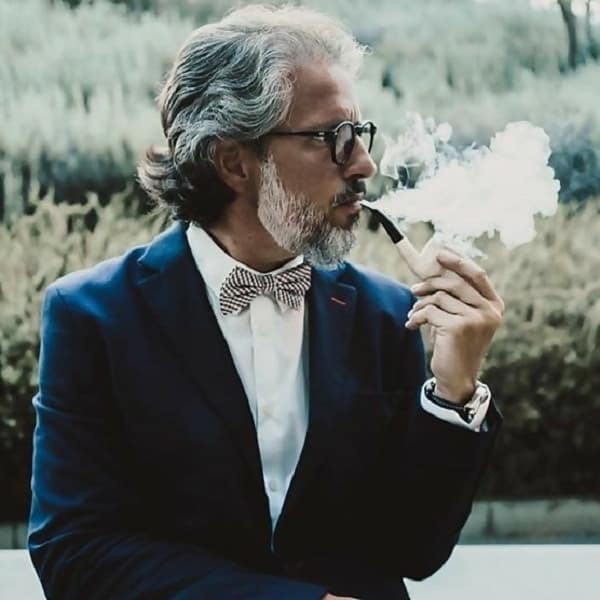 A long comb over is an elegant hairdo that's been a favorite for older men for a while.
Ideal for: It's the ideal choice for special events such as weddings.
How to Style: Comb your hair to the back but leave it messy and natural. Fix it with pomade.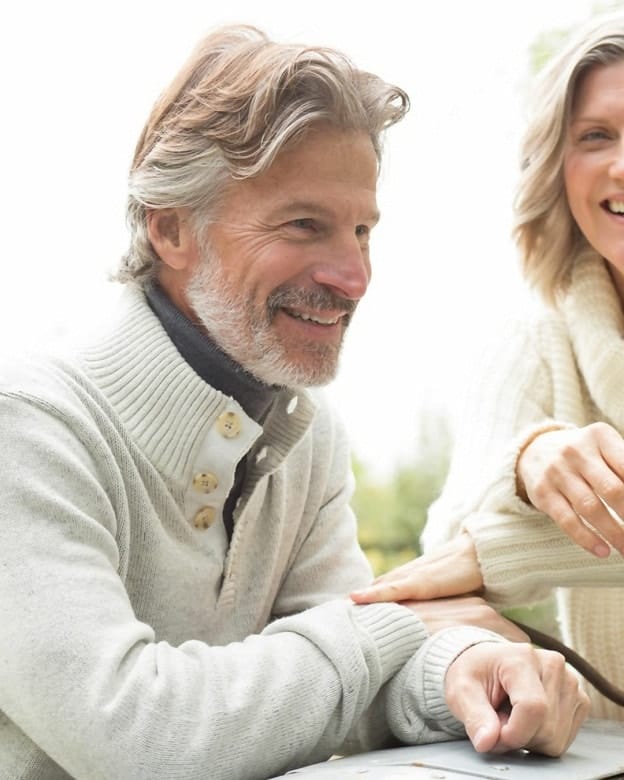 Experimenting with the part can help you score a completely new hairdo. Long haircuts for old guys with a parting look so amazing.
Ideal for: If you've had a side part all your life, it's time for a change.
How to Style: Just get a comb and create a middle part. It's so simple but completely changes your look.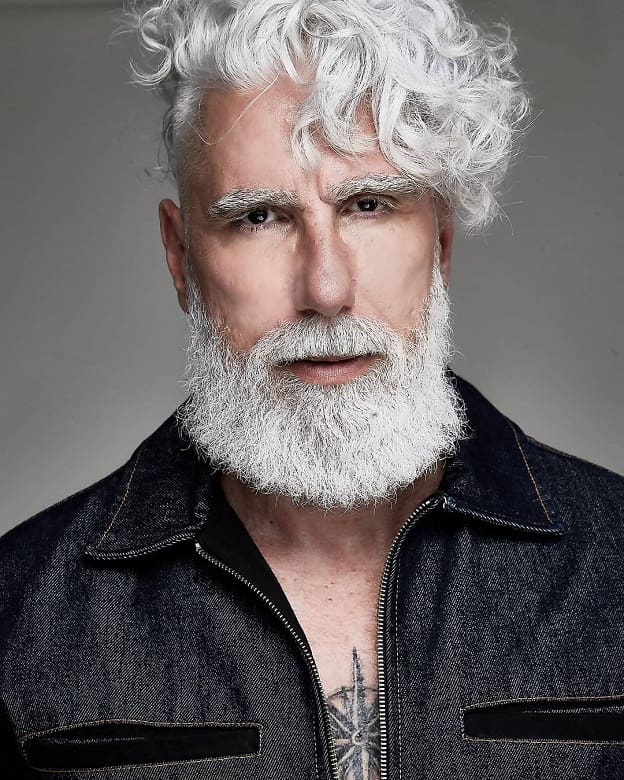 An undercut on one side is definitely meant for older men with long hair.
Ideal for: Not everyone will like this idea, but there are so many bold gentlemen who will.
How to Style: Choose the side where you want the undercut to be.
Hair Care Tips for Old Men Over 50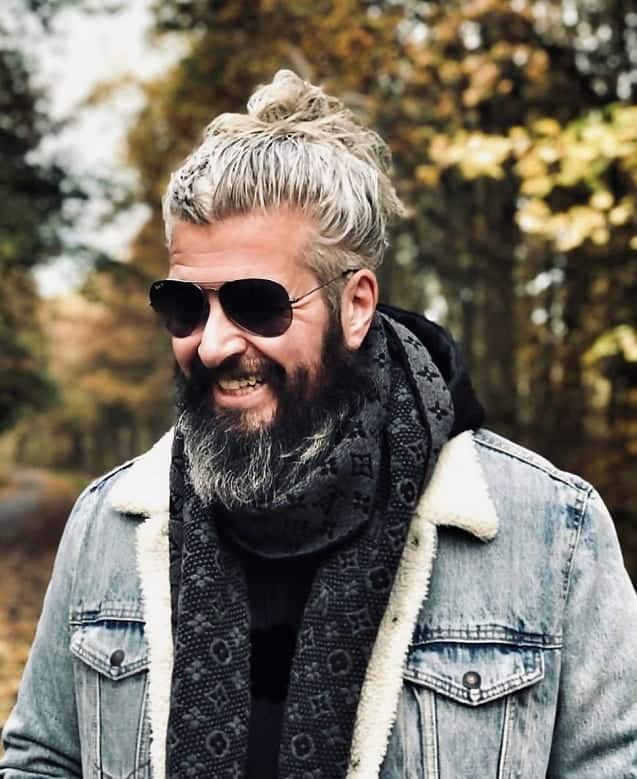 Braids are a fun detail even for old men's long hairdos with beard. You can choose where and how many you want.
Ideal for: Great for older guys who are prepared to get out of their comfort zone.
How to Style: Do a braid or two in the front, then tie your hair in a bun.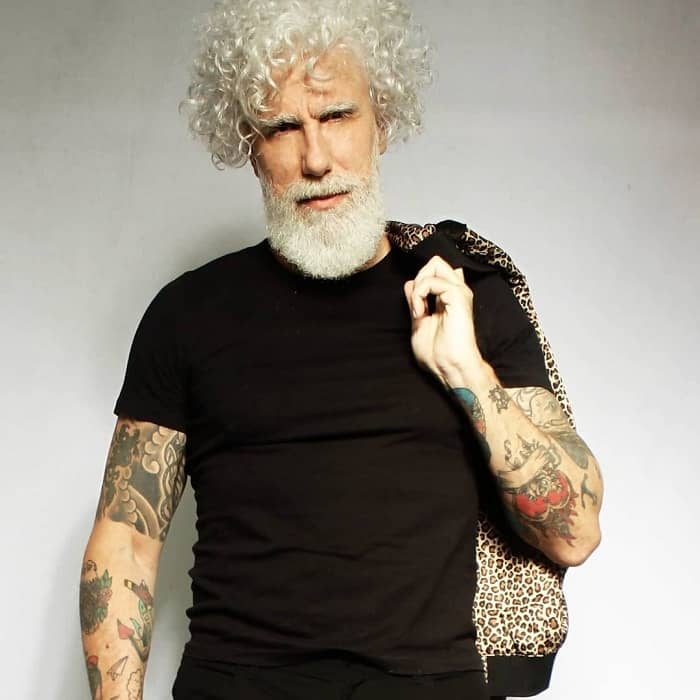 This is the best time to grow your natural curls out.
Ideal for: It's so flattering for older men with naturally long & curly platinum blonde hair.
How to Style: Make sure that you always use great products to protect and shape your curls.
8. Long Layered Curls
For older men with naturally curly hair, long layered curls can create a captivating and dynamic look. This style embraces the natural texture of the hair, allowing the curls to cascade in layers, adding depth and dimension.
Ideal for: Men with curly hair who want to showcase their unique texture and embrace a bold and eye-catching hairstyle.
How to Style: Apply a curl-enhancing product to damp hair and allow it to air dry. Avoid touching or combing the curls excessively to maintain their natural shape and volume.
9. Braided Long Hair
Braided long hair offers a versatile and stylish option for older men. Whether you opt for a single braid or multiple intricate braids, this hairstyle exudes a timeless and artistic appeal.
Ideal for: Those who want to add a touch of sophistication and intricate detailing to their long hair.
How to Style: Divide the hair into sections and create the desired braid style, such as a classic three-strand braid or a more elaborate fishtail braid. Secure the ends with hair ties or pins.
10. Long Hair with Tapered Sides
A combination of long hair and tapered sides creates a sleek and contemporary look. The contrast between the longer top and the shorter sides adds a stylish and refined touch to the overall hairstyle.
Ideal for: Men who want a modern and edgy long hairstyle while maintaining a polished appearance.
How to Style: Keep the top section of the hair long and style it according to personal preference, such as slicking it back or adding volume. Trim or shave the sides and back of the head for a tapered effect.
11. Long Faux Hawk
The long faux hawk offers a daring and bold hairstyle for older men with long hair. This edgy style adds a sense of attitude and uniqueness to your overall look.
Ideal for: Those who want to make a strong fashion statement and stand out from the crowd.
How to Style: Create a central section of longer hair on top and style it upward to mimic the appearance of a traditional mohawk. Use a styling product to hold the hair in place and add texture.
12. Long Hair with Side Braids
Add a touch of creativity to your long hair with side braids. This style allows you to experiment with different braid designs and placements, adding a unique flair to your overall hairstyle.
Ideal for: Men who want to showcase their individuality and express their personal style through intricate braided patterns.
How to Style: Choose a section of hair on either side and braid it, incorporating your preferred braid style. Secure the ends with hair ties or pins.
13. Slicked-Back Long Hair
This timeless style gives older men a refined and polished appearance.
Ideal for: Those who prefer a classic and suave look that works well for both formal and casual occasions.
How to Style: Apply a generous amount of styling gel or pomade to the hair and comb it back, smoothing it down to achieve a sleek and polished effect.
14. Long Hair with Bangs
Bangs can add a touch of youthful charm to older men's long hairstyles. Whether styled as side-swept bangs or a full fringe, they can redefine your look.
Ideal for: Men who want to soften their facial features and add a playful element to their long hair.
How to Style: Choose the desired length and style of bangs, then comb or brush them to the side or forward for a face-framing effect.
15. Long Dreadlock Hairstyle
For a unique and culturally rich long hairstyle, consider dreadlocks. This style allows older men to embrace their individuality and showcase a distinctive and eye-catching look.
Ideal for: Those who appreciate the symbolism and artistic expression associated with dreadlocks.
How to Style: Section the hair and allow it to naturally lock and form dreadlocks over time. Regular maintenance and proper care are essential to keep the dreadlocks clean and well-maintained.
16. Long Hair with Tousled Layers
Tousled layers add a touch of casual charm and movement to older men's long hair. This style creates a relaxed and carefree look while maintaining a sense of style.
Ideal for: Men who want to achieve a natural and effortless appearance with their long hair.
How to Style: Use a texturizing spray or mousse to add texture and definition to the layers. Gently tousle the hair with your fingers for a relaxed and tousled effect.
17. Long Hair with Pinned-up Curls
For a romantic and elegant long hairstyle, try pinning up the curls. This style adds a touch of sophistication while showcasing the natural curls.
Ideal for: Those who want to create an intricate and glamorous look for special occasions or formal events.
How to Style: Curl the hair and pin up the curls using bobby pins or hair accessories. Leave a few tendrils or loose curls to frame the face for a soft and romantic touch.
Long hairstyles for older men are once again trending. If you've always wanted to grow your hair out but have no idea how to style it, these cool looks will help you out. They are all great for different ages but especially meant for fashionable silver foxes.