Slick back hairstyles are men's favorite in 2023, and we can undoubtedly understand why! These long hairstyles are versatile and easy to reproduce, whether you have long or medium hair. We have selected 10 long slicked back hairstyles that'll make you visit the barbershop.
Who Should Try A Long Slicked Back Hairstyle?
If you're wondering who should be rocking a long slicked back hairstyle, the answer is pretty much anyone who's up for it! Seriously, this look is like the chameleon of hairstyles – it adapts to you.
Got a sense of adventure and a zest for life? You're game. The slicked back look is perfect for daring souls who want a hairstyle that's bold but can also mean business when needed. It's versatile – perfect for your spontaneous road trips and your Monday meetings.
Now, if you're the artsy, creative type, guess what? This hairstyle's got your back too. Imagine playing that guitar or creating your next masterpiece with your slicked back locks giving you that extra dash of charm. Unstoppable, my friend!
What if you're the athletic type? Well, slick back those locks, and let nothing hold you back. Whether you're shooting hoops or running that extra mile, this hairstyle keeps the hair out of your face, so you can focus on the win.
Corporate fellas, don't think we forgot about you. You can totally rock this look too! Long slicked back hair gives you that edge while keeping things professional. It says you mean business, but you're not afraid to let your hair down when the time's right.
And for those with a more laid-back style, this hairstyle is like a cool breeze on a summer day. It's easy to maintain, and it effortlessly adds a touch of sophistication.
The slicked back hairstyle doesn't discriminate – it's an all-rounder. Whether you have curly, wavy, or straight hair, it's all about making it work for you. So, grab some pomade, a comb, and let the magic begin!
Slicked Back Hairstyles for Men With Long Hair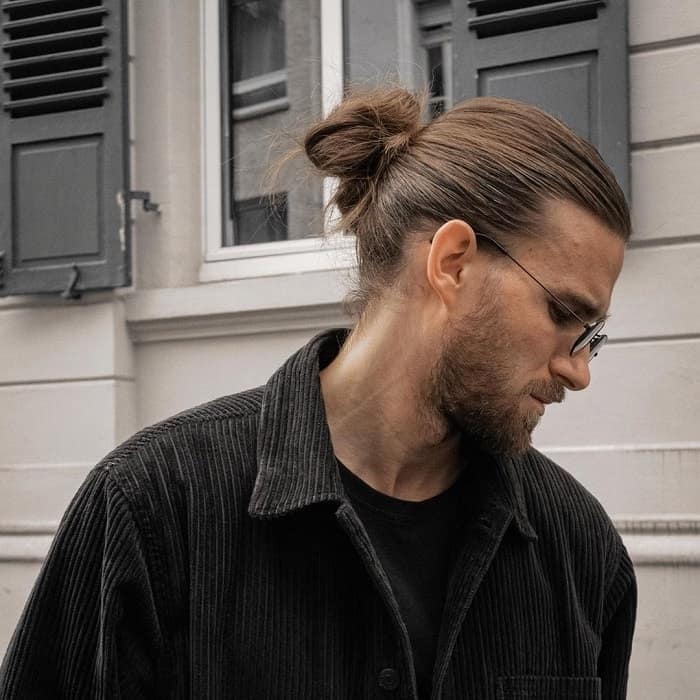 Whenever you want a relaxed look that you can arrange in less than one minute, comb your hair on your back and pin your long locks in a long slick bun. You can accessorize this hairstyle with a pair of glasses.
2. Slick Back Long Curls
If you're really into long hair, this slick wet look for curled hair will leave anyone breathless. Comb your hair on the back and use hair wax to create that wet appearance. Select a few strands of hair and let them fall on your forehead.
3. Low Fade on Slicked Back Top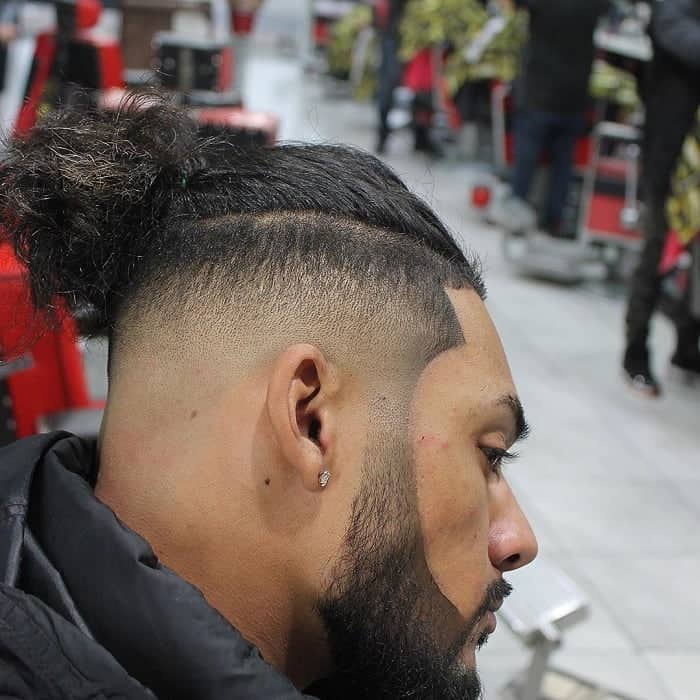 Create a low fade for your back and keep your top hair long, pinned in a bun. Combine this hair look with a short beard and a mustache.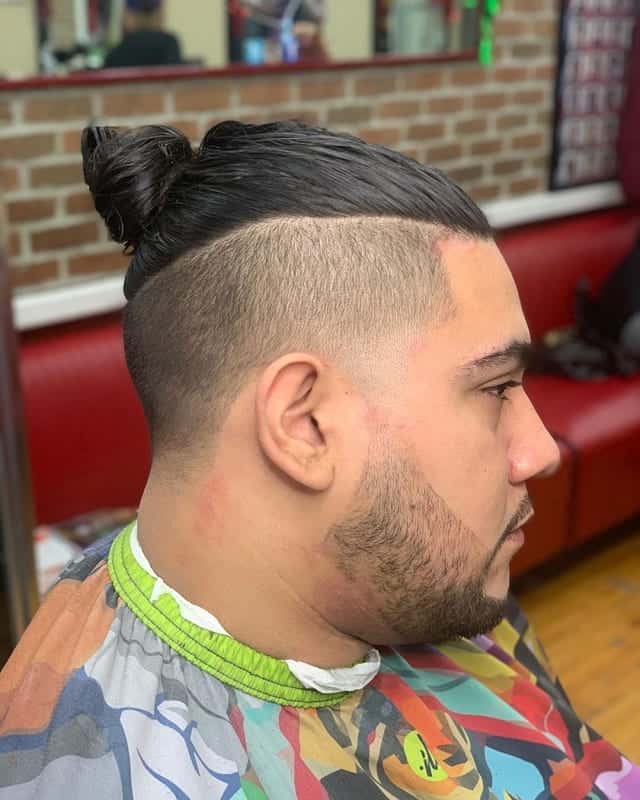 Create a gorgeous wet look using hair wax and get a short undercut trim. Gather your top hair into a bun. It will create a magnificent contrast that you will adore.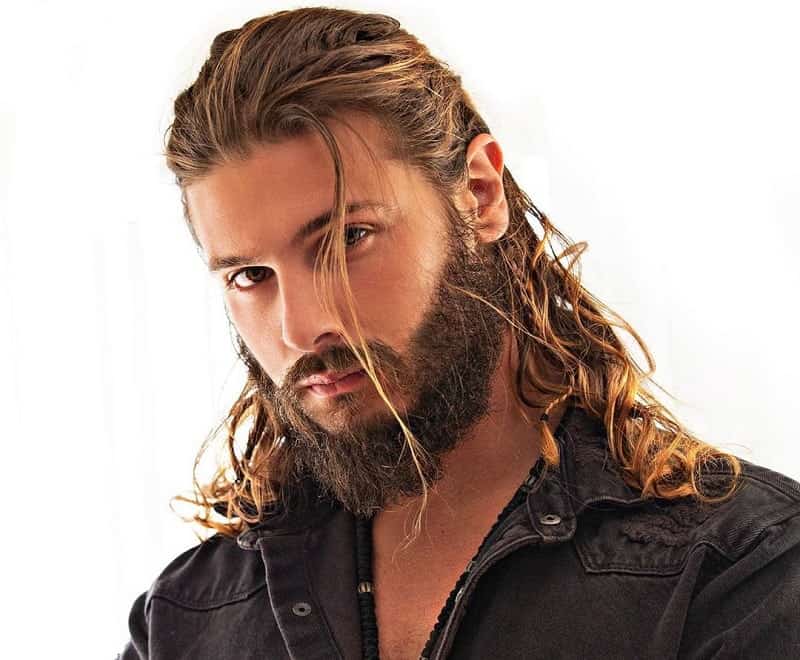 Keep your beard in a long boxed shape and split your hair into two pieces. Pin the top side into a ponytail and let the lower part loose. Your wet textured curls should fall on your back and shoulders.
6. Slicked Back Blonde for Long Hair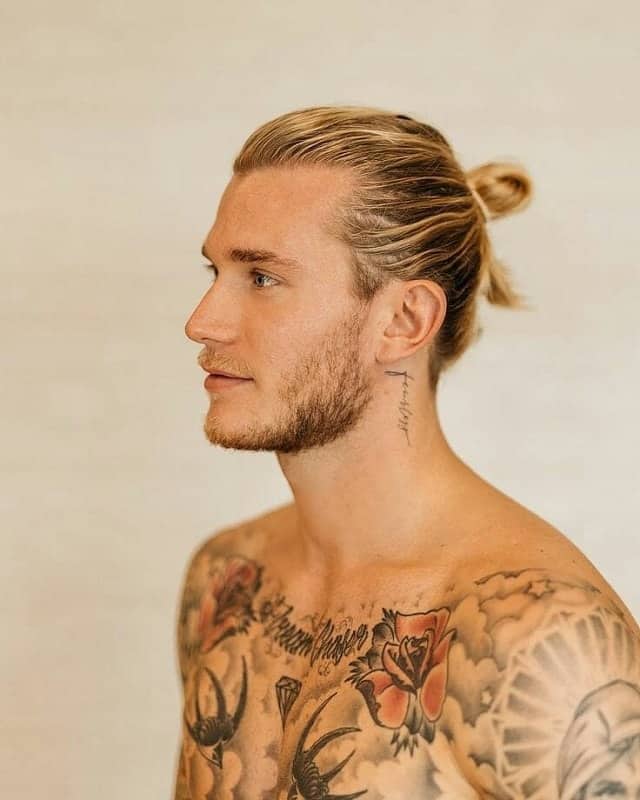 If you have blonde hair and blue eyes, this is the best long slick back hairstyle for men because it will make you look like a supermodel. This hairstyle will make your eyes look more breathtaking.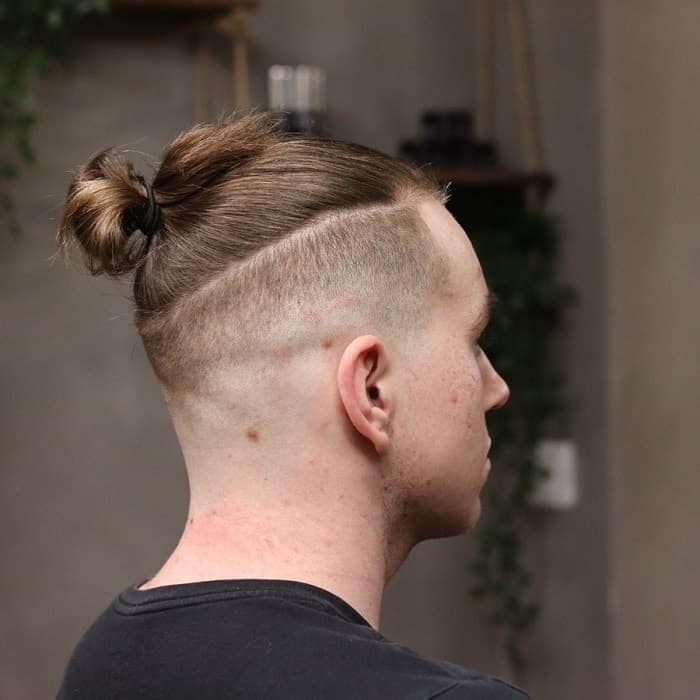 For this long sleek back hairstyle, you need to create a faded trim, with an oblique cut. Keep the top hair long and pin it in a lower messy bun.
8. Colored Long Slick Back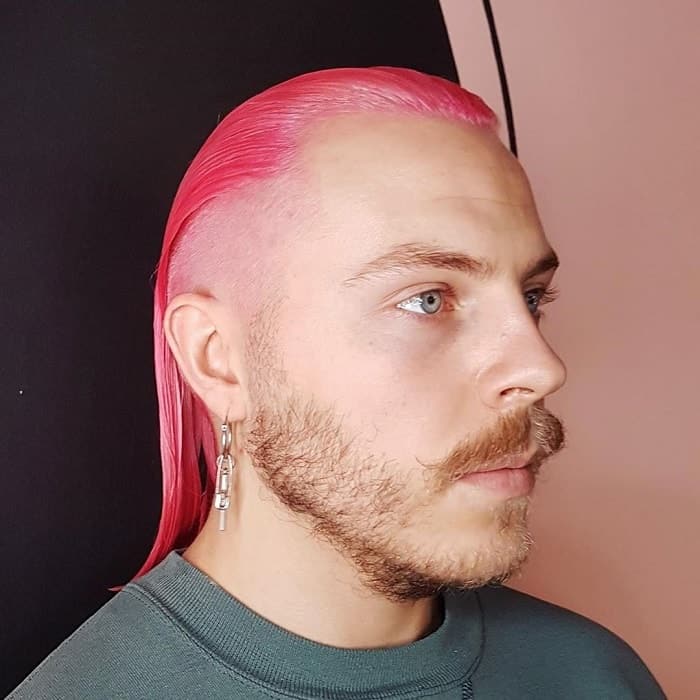 Want a hairstyle that is undoubtedly eye-popping? Choose a short faded undercut and keep your top hair long. Choose a bright pink color for your locks and comb your mane on your back. Create a wet look!
9. Slick Back Ponytail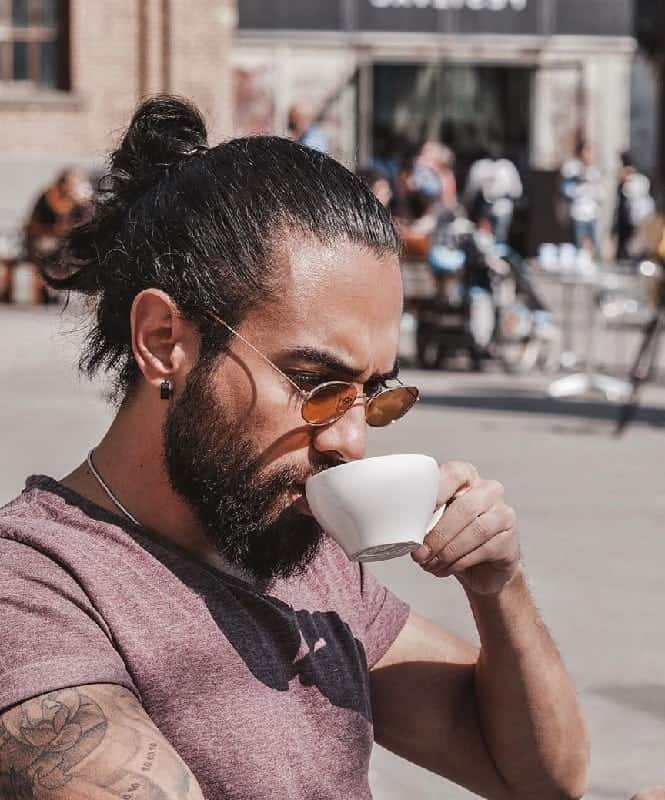 Give yourself a slicked-back look by pinning your whole hair into a medium bun. Complement this hairstyle with a ducktail beard and get a trendy, fashionable look with a pair of sunglasses.
10. Long Slicked Back Hair with Shaved Sides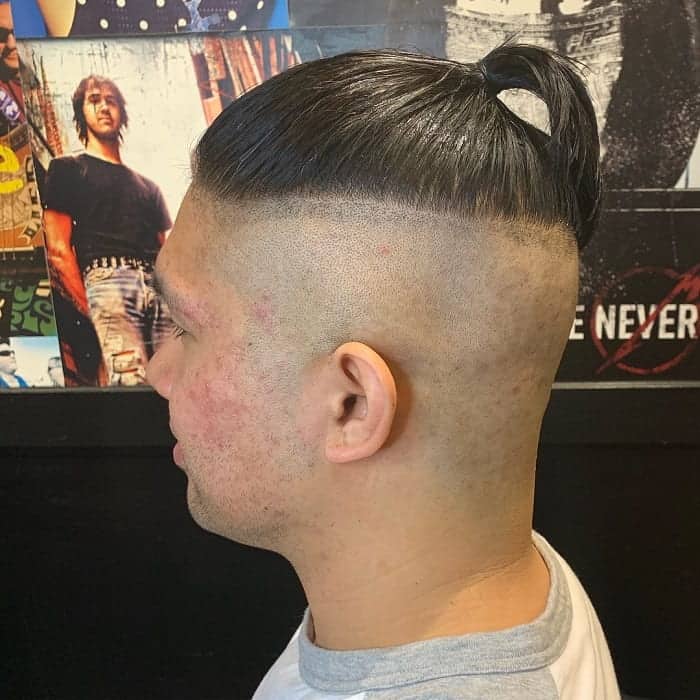 Shave your sides and gather all that long hair from the top of your head into a ponytail. Use hair wax to make your threads look slick, and you'll get an adorable comfy hairstyle.
11. Half-Up Slicked Back with a Twist
Hold up, let's put a spin on things. Imagine slicking back your hair, but leaving half of it down, while the other half forms a neat twist. It's the best of both worlds. A little sprinkle of hair gel to keep things in place, and boom, you're looking dapper and ready to steal the show!
12. Slick Back with a Side Part
Side parts don't have to be boring. Trust me on this one! Create a deep side part and slick back the larger section of your hair. The side part gives a classic touch to the slicked-back look. Sophisticated yet modern – you can't go wrong with this one.
13. Slicked Back with Braids
Let's bring out the Viking in you! Slick back the top, and add some braids at the sides. This look is perfect for those who like to channel their inner warrior. Get ready to rock the boat at your next gathering with this awesome style.
14. Man Bun with a Slicked-Back Top
Who said man buns are out? Keep the top of your hair slicked back and gather the rest into a high man bun. This style is sleek, edgy, and perfect for those who want to keep their hair out of their face but still look trendy.
15. The Gentleman's Slicked Back Waves
For the classy fellas out there! Keep your natural waves and just slick them back with a dash of pomade. This style is low maintenance but high on charm. Just remember, a little product goes a long way!
16. Slicked Back with Headband
I know what you're thinking, but headbands are making a comeback! Slick back your long locks and pop on a stylish headband. It's super practical and keeps your hair in place while making you look effortlessly cool.
17. Rockstar Slick Back
Time to live out your rockstar dreams. Slick back your hair and let it flow. The key here is to keep it a little messy – just enough to make it seem like you just stepped off stage after an encore.
18. Classic Pompadour Slick Back
Add some volume! Push your hair back, but instead of keeping it flat, poof it up into a pompadour. This vintage yet eternal style is for those who want to make a statement without saying a word.
19. Slick Back with Side Swept Bangs
Slick back your hair but leave your bangs to be swept to the side. It's the perfect combo of rebellious and classy. A little mystery never hurt anyone!
20. Wet Beach Look
Imagine coming straight out of the ocean, looking like a Greek god. That's what the wet beach look is all about. Use a generous amount of gel, slick your hair back and let it loosely flow. You're ready to make some waves!
For this look, your best friend becomes the hair wax that will help you get that gorgeous wet effect. Just these styles a try, and you'll forget about any worries that your hair doesn't look right.