The styles many men wore for their hair in the 1950s are coming back today. In fact, many of these styles never left the styling scene. Even the rocker look was clean cut and trim.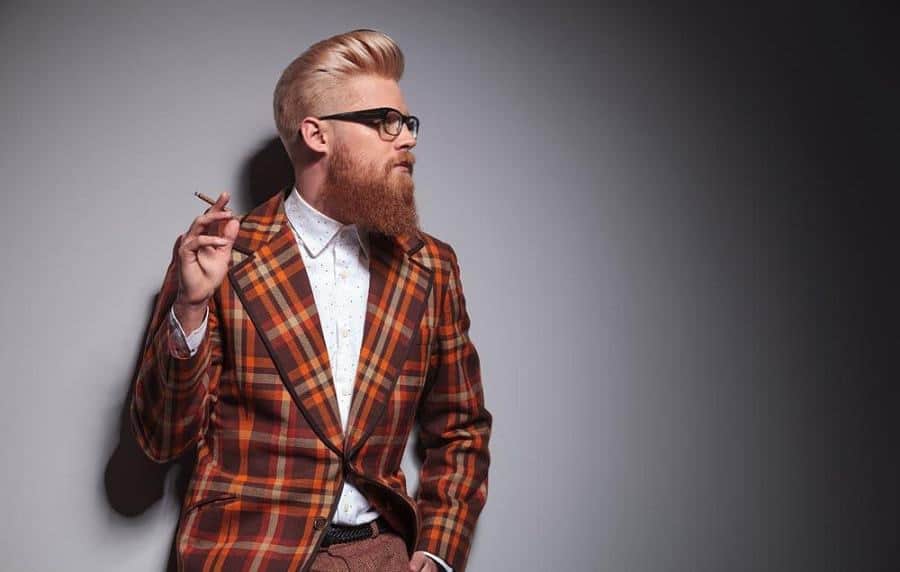 Elvis Presley made some styles popular as did other music artists of the fifties. Several actors helped to spread the look of some styles as well. Check out the most popular 1950s men's hairstyles and learn how you can do your hair in the same way.
Popular Men's 1950s Hairstyles
Following are the most classic hairstyles worn by 1950s men. Try them to infuse in your modern haircut to get a retro look!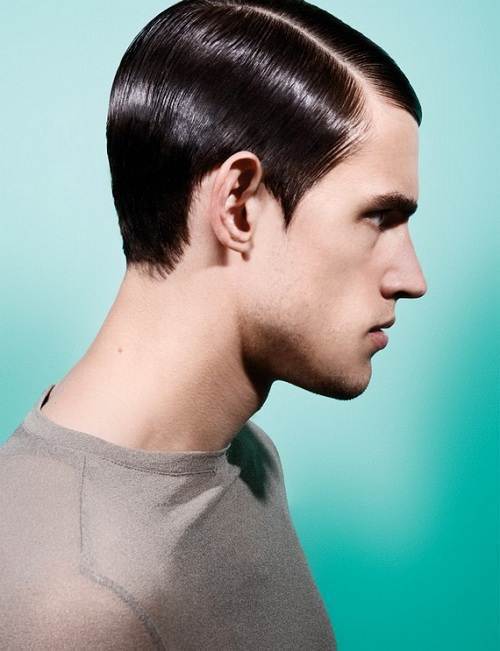 As the name greaser implies, this look is heavy on the styling products to create that 'wet' and highly slicked-back style.
Ideal for: Oval, Square, oblong, triangle and heart-shaped faces.
How to Style: This 50's look for men is all about those little details such as the sharp and defined part, the pointed sideburns, and the high shine. You will need super straight hair to achieve this sleek look.
2. Modern Undercut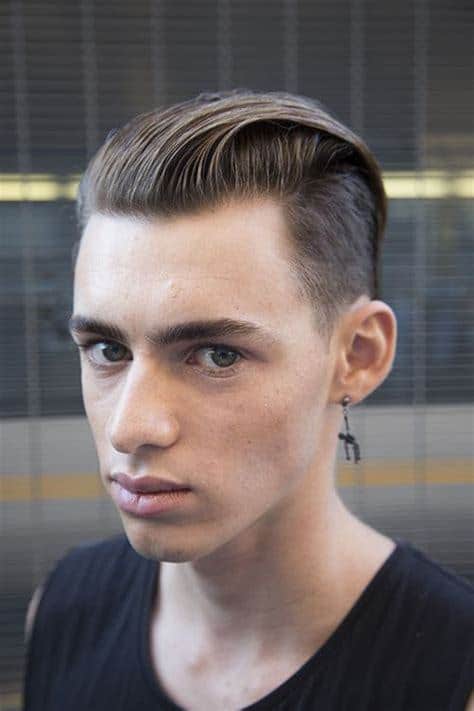 This is a traditional 1950's slicked back undercut style but brought bang up to date with shaved sides.
Ideal for: Square, heart and round faces.
How to Style: The high gloss and very slicked back design scream traditional 1950's hair but the addition of the undercut sides has brought this vintage 'do into the modern day. It can be worn as a very trendy look but still very conservative if you need a more paired down style for work.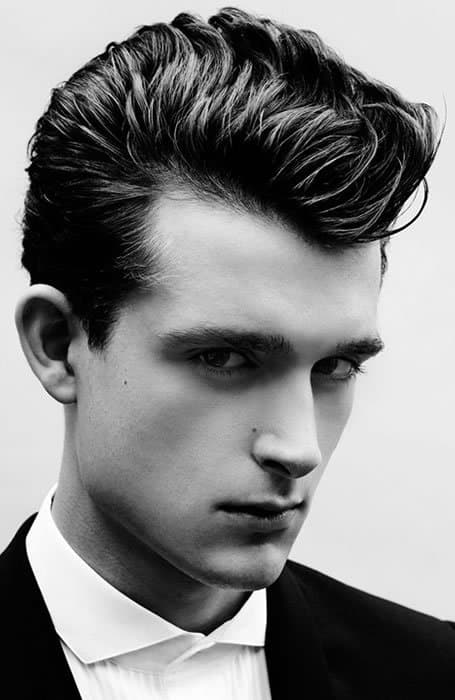 The pompadour has come back into fashion within the last year and it continues to be one of the strongest go-to hairstyles for those looking for a perfect crowning glory to any image.
Ideal for: Oval, square and triangle faces.
How to Style: The key to a perfect pomp is to add much-needed height to the front of the style. This can be achieved by a large barrel brush and a hairdryer. You can also have more layering cut into your locks to help combat any extra weight which can stop those tresses getting sky high.
4. Trunk with A Fade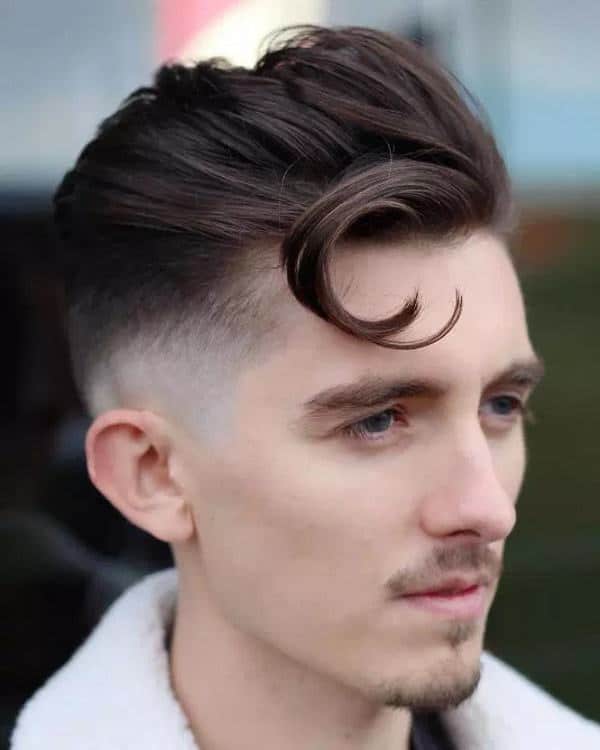 The elephant trunk style was a staple 'do in the 1950s and elements of it still remain in some styles today.
The key fundamentals to this look are the combed back portion along the crown of the head and then a sweeping quiff (think elephant trunk) at the front.
Ideal for: Oblong, triangle, diamond and heart faces.
How to Style: You will need some length to get this style right – around 3 or 4 inches across the crown and a little more around the forehead. Brush your hair back with a strong hold pomade, then using a comb work the front of the hair upwards and inwards – effectively curling it into a trunk shape.
Men's Hairstyles from The 1940s
5. Conservative Style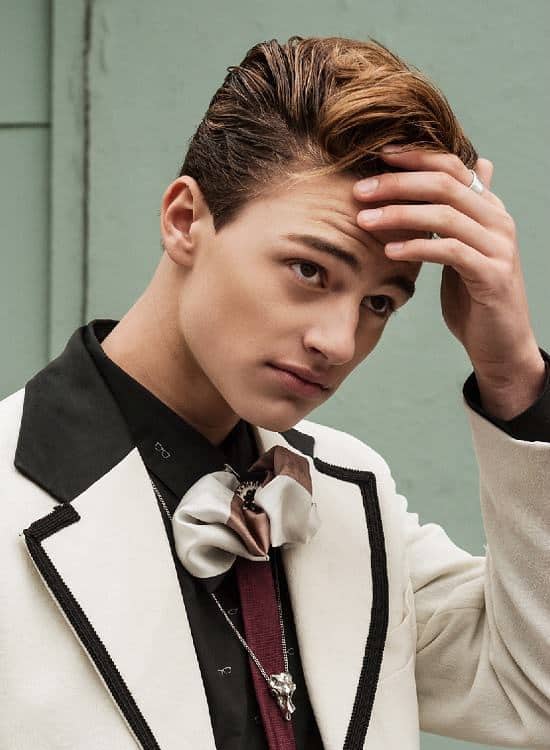 Color is cleverly used here to add movement and volume to the hair, with subtle highlights around the sides and a warmer hue across the crown.
Ideal for: Oblong, oval, round, and triangle faces.
How to Style: Speak to your stylist about color options – you want something natural and warming. By keeping the length of your hair around the sides and top you can achieve the sweeping vintage look by using your fingers to tame the sides back with a wax and leaving the top natural and foppish.
6. Messy Waves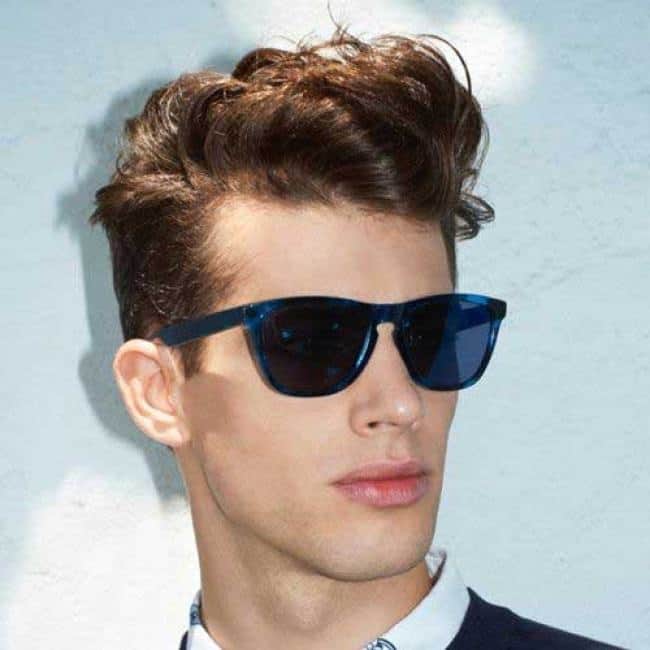 If highly coiffed hair isn't for you then opt for a more rebellious style with a retro take on bed hair!
Ideal for: Oblong, triangle, diamond and heart faces.
How to Style: This is a great look for those chaps with naturally curly or wavy hair. Keep the sides and back neat and short so the attention is on that front quiffed piece. Tease into place using a pomade or wax but don't be too fussy about your follicles – the charm of this look is its natural nature.
7. Jelly Roll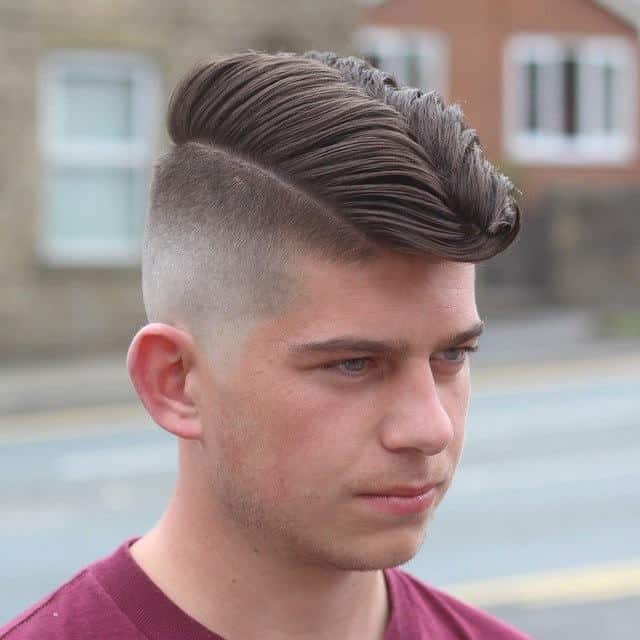 The jelly roll is more often seen on vintage beauties with their perfectly coiffed retro rolls – however, men can roll with the jelly style too.
Ideal for: Oval, square, round and heart-shaped faces.
How to Style: The undercut and shaved part are a clever modern take on a classic vintage look. To style the main quiff portion, use a wide-toothed comb and wax to tease the hair up and in towards the center part. Set with a strong hold spray.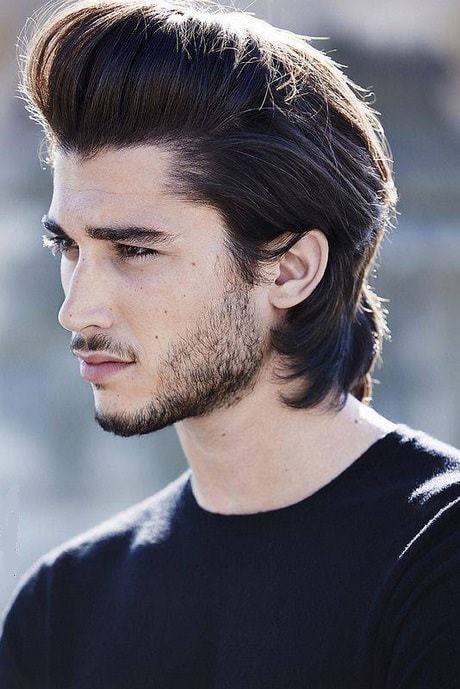 Most classic 1950's hairstyles involve short hair, however, if you want to keep some length then it's a great way to modernize a classic 'do.
Ideal for: Oblong, triangle, diamond and heart faces.
How to Style: Using a light hold wax or pomade, tease the sides of the hair back and hold in place using hairspray or a salt water spray. Create the natural looking quiff by backcombing the hair around the hairline and then combing into place from each side of the temple.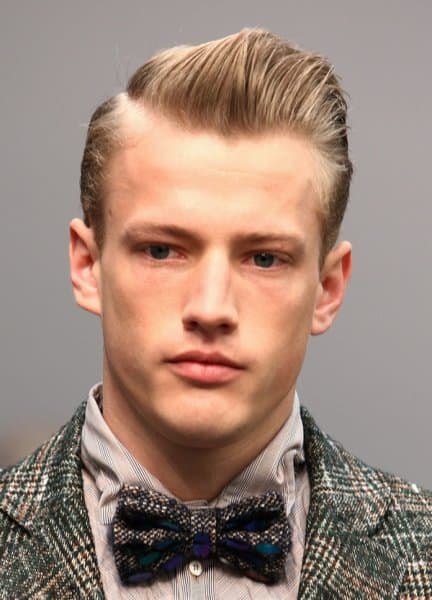 A quiff can be an unforgiving style for those with larger foreheads however by pairing it with a side part you can frame your face a lot better!
Ideal for: Oblong, triangle, diamond and heart faces.
How to Style: By keeping the sides short and neat, this hairstyle becomes all about the quiff. Add height around the forehead and crown of the head by teasing and setting with a wax or strong hold spray.
10. Soft Curls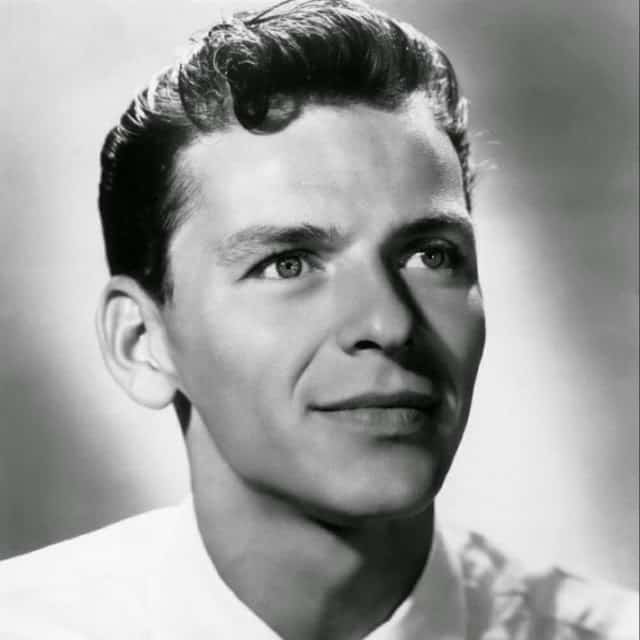 If stark and highly greased hair isn't for you then give your 1950's hairdo a modern twist by opting for a more natural finish.
Ideal for: Oblong, triangle, diamond and heart faces.
How to Style: Blow drying or straightening your hair can often provide that sleek and voluminous haircut of the 50's men– which means you may be able to forego strong hold products. Using a straightener, twist the iron towards the scalp as you straighten to create volume and curl.
11. Retro Slicked Back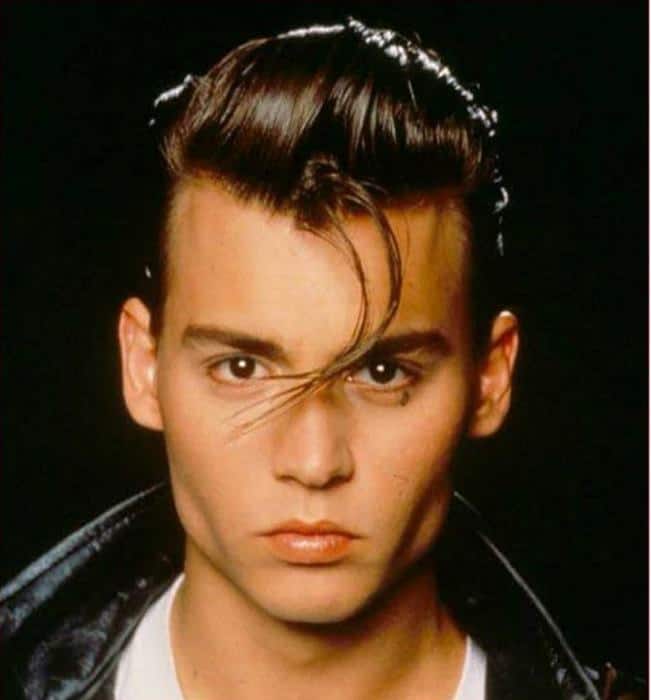 To maintain this look, you are going to need to stock up on a lot of hair gel!
Ideal for: Heart, round, triangle and oblong faces.
How to Style: To achieve the height around the top of the hair, back comb the roots between the temples. Then brush back into place using a high shine gel. The loose pieces are optional but a great way to frame the face!
12. Volume Quiff with Cropped Sides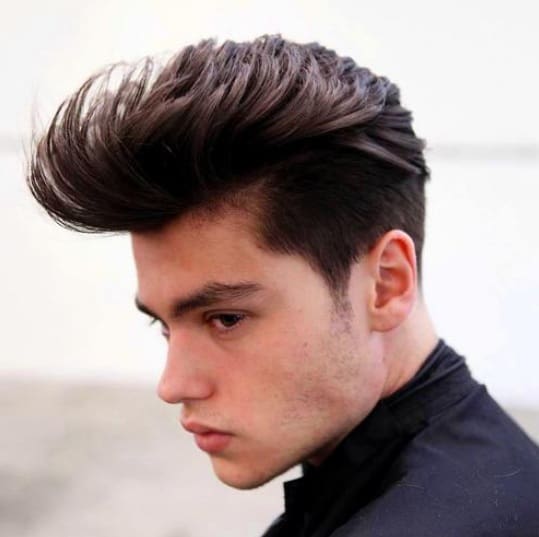 This big volume quiff is a great way to make a statement but the short-cropped sides make it easier to maintain and give it that more modern vibe.
Ideal for: Oblong, triangle, diamond and heart faces.
How to Style: The height and motion of this style is achieved by having layers cut into the hair. Blow dry with the head upside down to get more volume and movement. Set in place using a hairspray or saltwater product.
13. Edgy Pompadour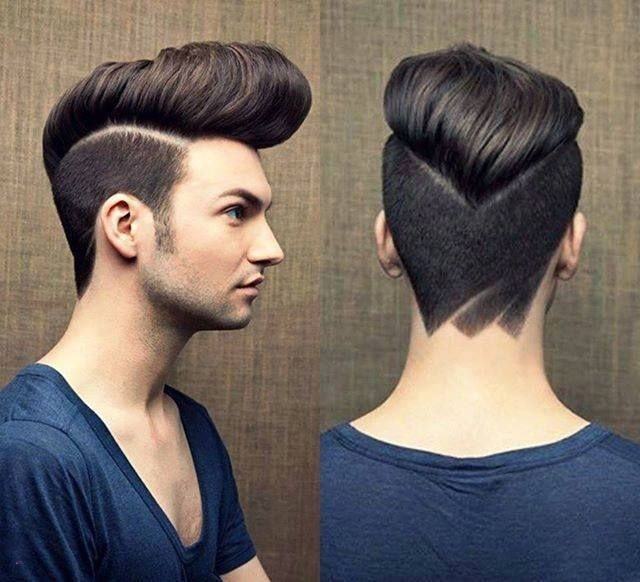 This is a creative and modern take on an otherwise quite traditional pomp hairstyle that was worn by 1950's men.
Ideal for: Oblong, triangle, diamond and heart faces.
How to Style: This giant pompadour has been styled back into a V-shape at the rear of the head. This shape is then matched with some clever shaved detailing at the nape of the neck. The pomp will take some work to get that volume – a big barrel round brush and a hairdryer is your best bet for crafting that impressive curl.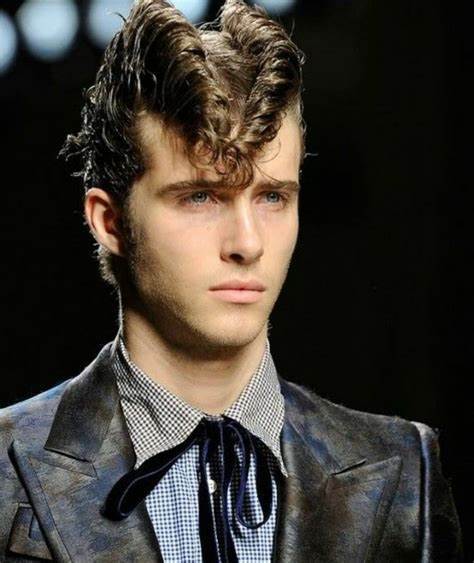 1950's men's hair is often very sleek and straight, so what do those with more curly mops do? Embrace the rockabilly ducktail!
Ideal for: Oblong, triangle, diamond and heart faces.
How to Style: Curly hair pairs so well with this vintage and classic look. By slicking the sides of the hair back up as far as the temple, create a center part, and using a comb and stronghold spray, work the hair outwards and upwards to create two 'waves' curling in towards the part.
15. Neat Crop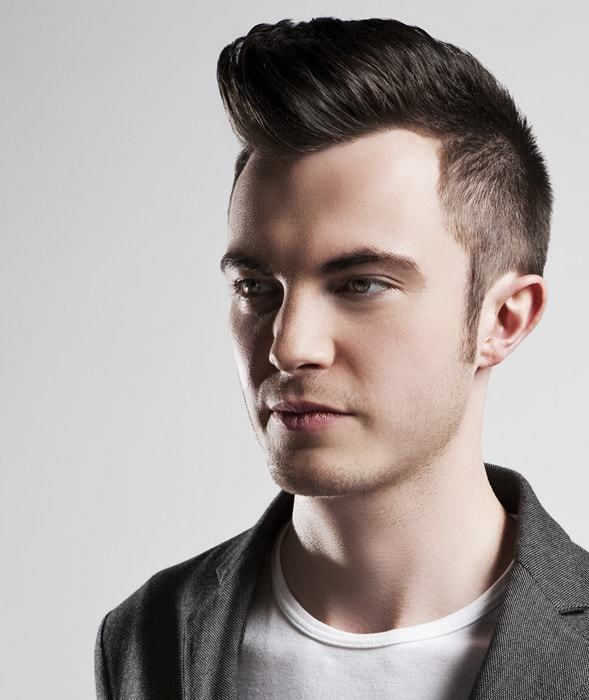 Modern, edgy but with a classic vibe – this characteristic vintage quiff is brought up-to-date with contemporary cropped sides.
Ideal for: Oval, square, oblong, heart and triangle faces.
How to Style: Keep the sides and back of the hair short and neat and have layering cut into the top portion of the hair to add to the overall height. Set in place with a high shine product. This is a great style for those who want to detract away from a receding hairline. The sideburns are a great addition too.
16. Coiffed Curls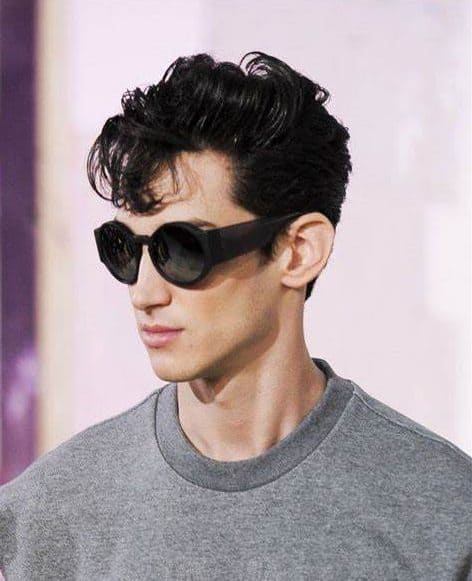 This is an ideal retro 1950's hairdo for those with naturally curly hair.
Ideal for: Oblong, diamond, heart and triangle faces.
How to Style: To get this vintage volume, speak to your stylist about adding layers to the entire head. Keeping the sides and back short but leaving length at the top to showcase those natural curls. Scrunch dry with mousse but don't over style – you want that natural and charming effect.
17. Flat Top Teddy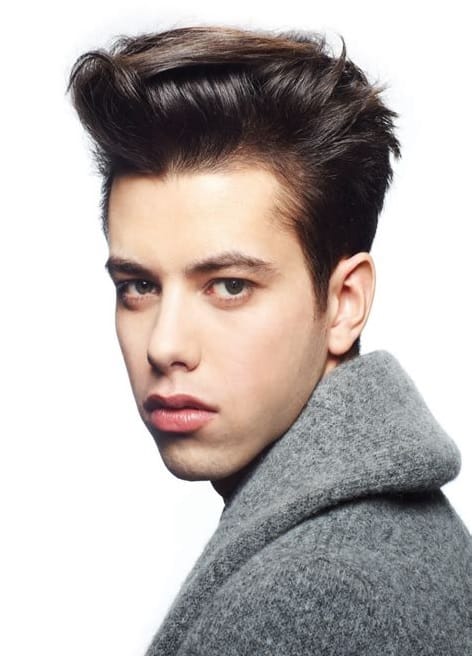 The Teddy Boy style is often characterized by height, volume, and a more natural soft texture.
Ideal for: Oval, oblong, round and heart faces.
How to Style: By slicking the sides of the hair back around the ears and temples, tease the top length of the hair back into a pomp or quiff. Go easy on the product though – you want to retain a more relaxed style.
18. Modern Wavy Style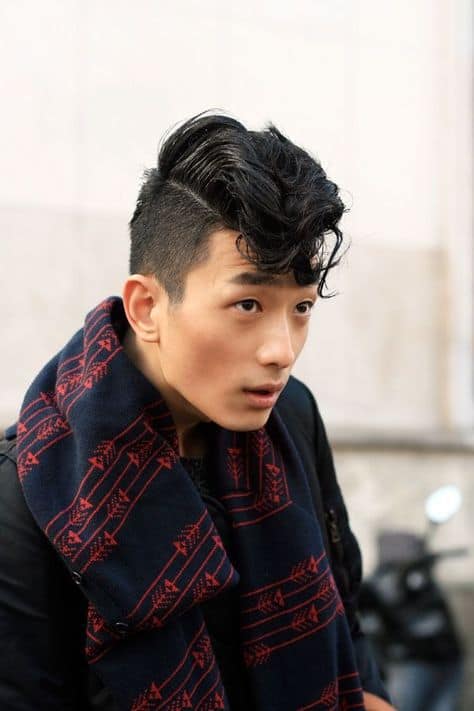 Not everyone is blessed with the hair they want – if you have poker straight hair but want to achieve a volume and wave it is possible through clever cutting and smart styling.
Ideal for: Oblong, diamond, heart and triangle faces.
How to Style: By getting your stylist to shave in your parting you can achieve this distinctive and stark contrast between the side and top of the hairstyle.
If you don't have curly or wavy hair, it can be achieved using a curling iron and then using your fingers to separate the curls. Don't go overboard though! You want a natural kink.
19. Reverse Trunk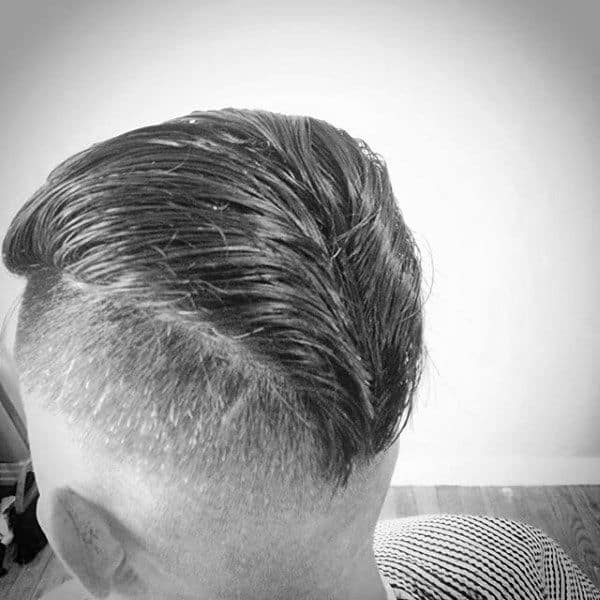 This men's 50s hair look can be achieved either as a reverse trunk or as a reverse take on a ducktail.
Ideal for: Oval, square and triangle faces.
How to Style: By combing the hair up and inwards to the center to create that distinctive center part. By adding a flick at the end, you will have the perfect trunk or keep the ends of the style neater for a duck 'do that will drive them quack-ers!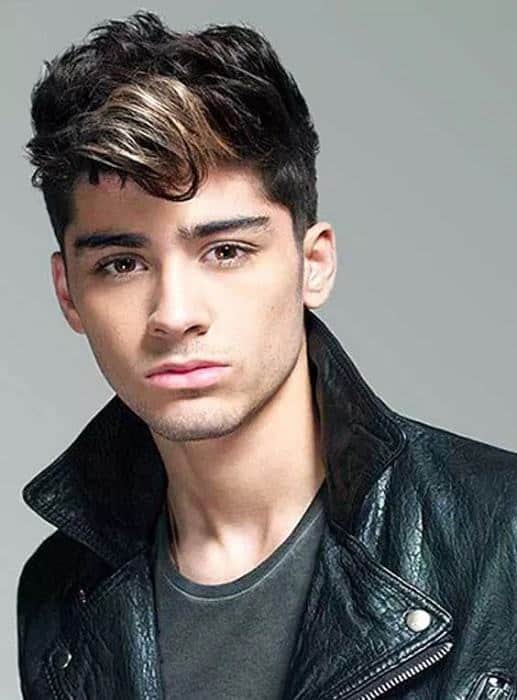 The elephant trunk is a versatile style that can be paired with different cuts to create a whole new look. You can consider an undercut or add some definition with color.
Ideal for: Oblong, triangle, diamond and heart faces.
How to Style: For dark hair, an ombre color is a classic and subtle option for adding definition and added style to a hairdo. Have your stylist run some delicate and understated warm tones through the front of your hair to give that 'trunk' some additional wildness!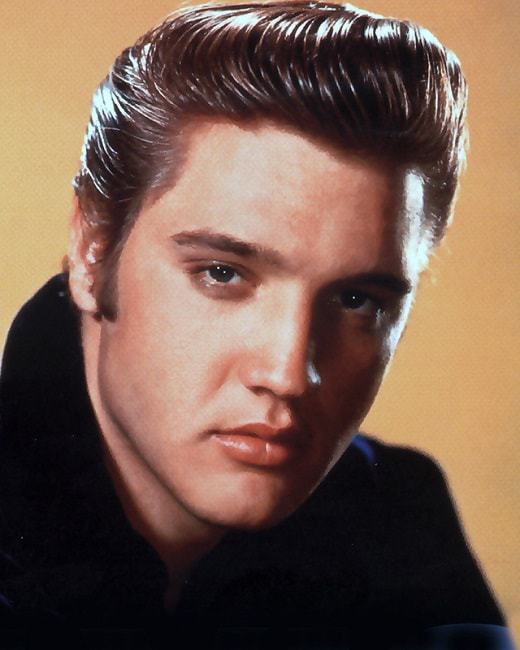 Elvis Presley wore the famous rockabilly style, also referred to as the pompadour. This 50's men's style is simple to achieve by using a pomade on towel dried, damp hair. Keep in mind hair must be damp, not wet.
Using pomade, slick back the sides while allowing longer hair on top to flow freely in a poof. Be sure to allow a few strands to fall over on to the forehead for an authentic, free appearance.
22. Slicked Back Hairstyle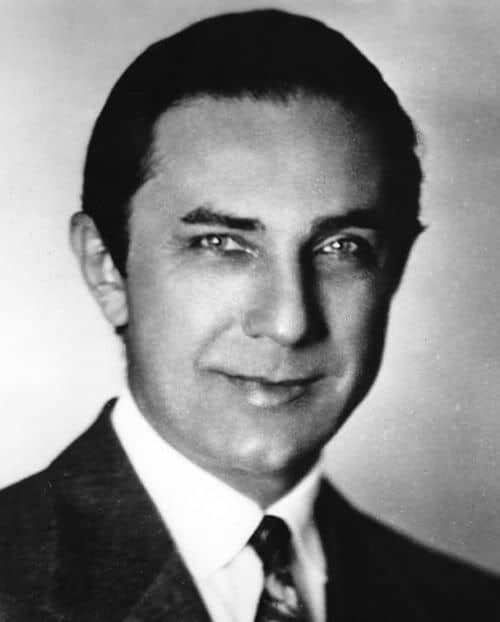 Another style that Bela Lugosi help to make famous was simply the slicked back look. His role as Dracula made this style even more appealing to fans. Creating this look is easy by combing hair straight back without parts using a styling cream.
Styling gels used today would be the best and closest choice to the creams used in the 50s. You might also ask your hairstylist about the best brands to use for your hair.
23. Classic Side-Swept Hairstyle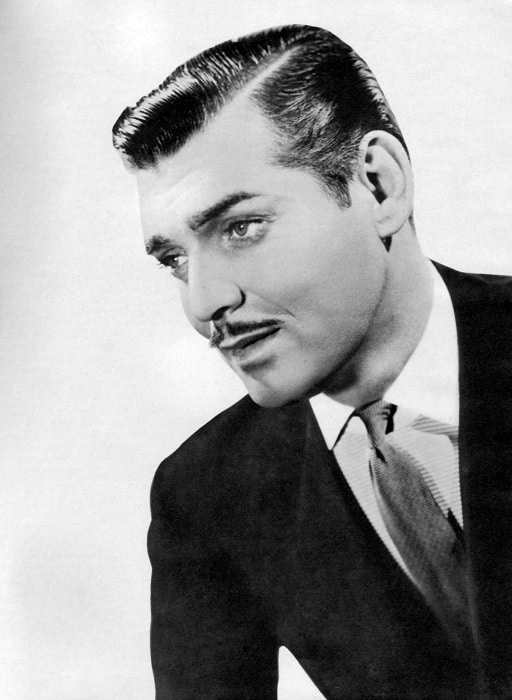 While the younger generations in the 50s helped to make the pompadour and rockabilly styles famous, the older, more settled men made the conservative look popular.
Actors like Clark Gable and Cary Grant wore this style well for several years into their careers. It is a simple cut with a part on one side or the other. Cream or gel is also used to hold the style in place as it is neatly combed back, exposing the ears.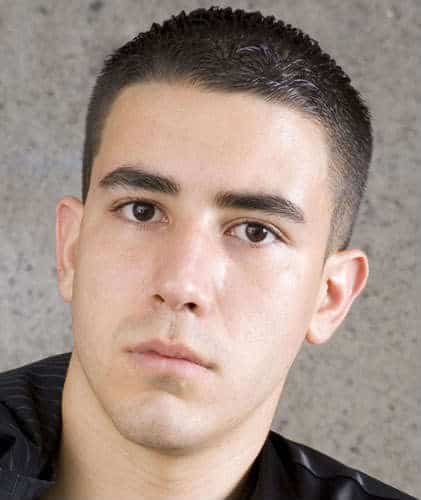 The crew cut style has a significant meaning for the men choosing to wear it. This haircut held symbolic meaning that meant hard work ethics and being a true American. In fact, this style was adopted by the military to replace the old style, traditional buzz cut. The reason for this change was how well the meaning behind the crew cut was taken by those around the wearer.
The man with a crew cut had the appearance of being stable and responsible. Because of this appearance, the style became popular with government officials and other men that held roles of leadership. The 1950s men spawned this cut and it is still as popular today as it was back then.
25. Crew Cut with Flat Top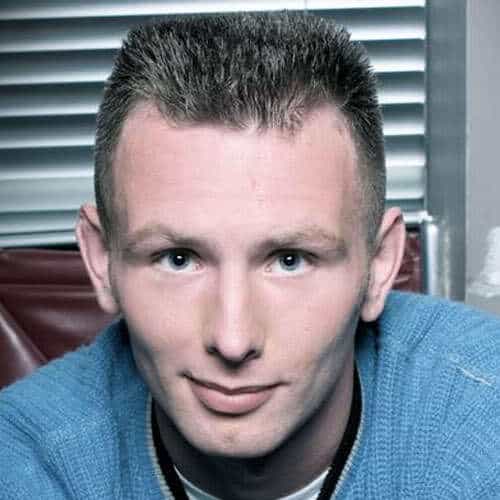 The crew cut and flat top styles are cut close on the sides of the head above the ears and on around the head. The hair on top is box-shaped and flat, giving the style a distinguishing look. The top cut slopes into a shorter length in the back.
The 1950s men's hairstyles are still popular today because they have a neat and presentable look. Many of these styles, even the wildest ones, can be considered to be the epitome of the clean-cut man.