The boys' undercut style is one of the most versatile and functional hair cut options. Just one undercut can often open up a gamut of options and help them adopt a trendy and stylish haircut suitable for any type of occasion.
The clean-cut appearance and the functional approach of the undercut make it a hugely popular one. It gives youngsters that necessary dose of style without crossing that fine line of discipline and order. The flexibility of the undercut also improves the possibilities of alternatives. That also goes a long way in breaking the monotony.
How to Choose the Right Undercut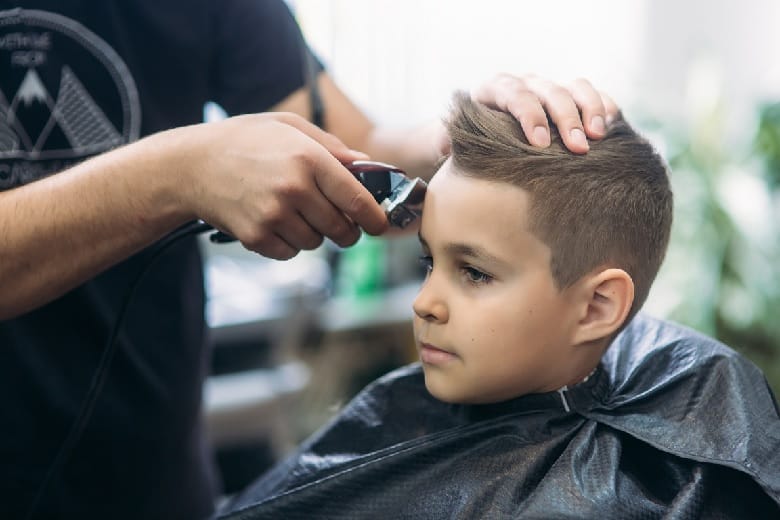 However, one key challenge is deciding how to style the little boy's undercut. Different facial structures and personality need different styling.
A slick back hair or a comb-over with an undercut is better suited for longer faces. However, if you have a round face, a quiff or a pompadour is more appropriate.
However, the advantage is you can pair an undercut with most hair types, be it curly, thick or even poker straight hair.
Also, think about the hair care regime including frequency of a wash and cut. Often the style that you choose is also keenly dependent on that.
Personal preferences to play a role in helping you finalize your choice. This is because if you like short hair, but styles with slightly longer length are more feasible, you have to adapt accordingly.
If you have a school going boy, often the choice of the most appropriate undercut will also depend on the school provisions and the relevant regulations that they might have.
All in all, it has to be a convenient marriage between functionality and fashion sense. The undercut that you choose for your boy should also be an option that does not impact hair growth for a child.
Awesome Curly Undercut Hairstyles That Men Love
Stunning Boys Undercut Hairstyles
Here are some of the most popular undercut hairstyle options that are exclusive for boys.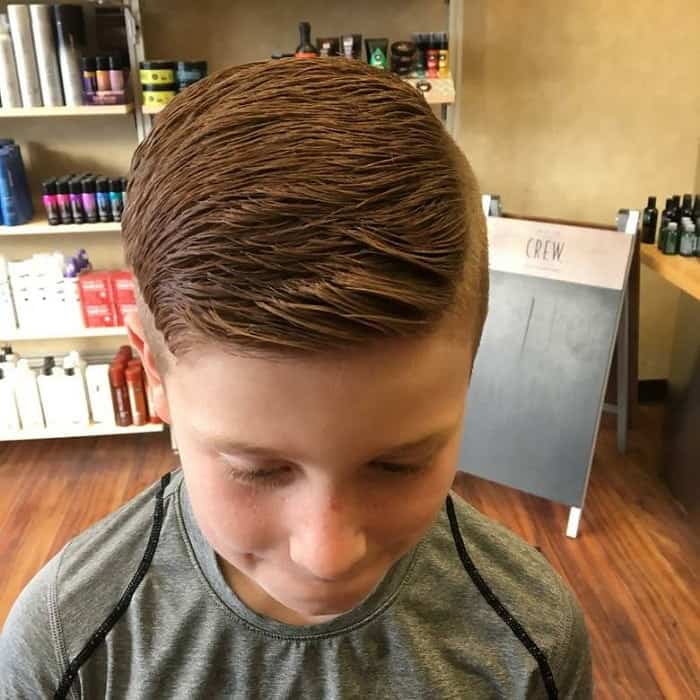 When you talk about boys undercut haircut, this is decidedly the most popular one. It is business-like, neat and appropriate for most family and formal gatherings. It is also a functional cut that does not pose too much of a challenge for kids early in the morning.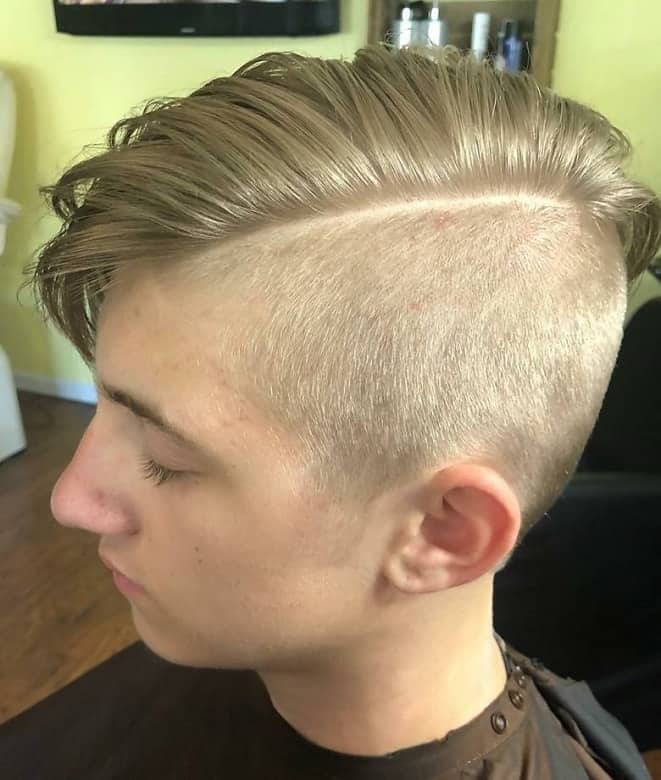 This is one undercut style that is appropriate for both school and college going boys. The hard part along with the fade on the sides enhances the volume play and also highlights a clean, no-hassle haircut. It portrays a prim and business-like image for the individual.
3. Side Quiff with Undercut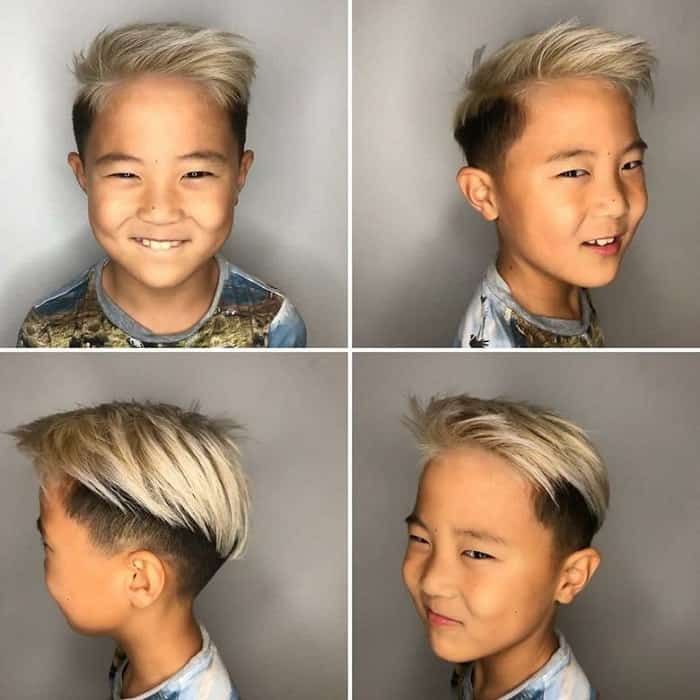 This is another hot favorite amongst little boy's undercut. Naughty, impish and stylish, this is an option that works with a wide variety of face shapes. The overall style has a classy appeal and gives your boys that much-needed fashion edge. You can also do ombre or highlighting techniques to enhance the effect.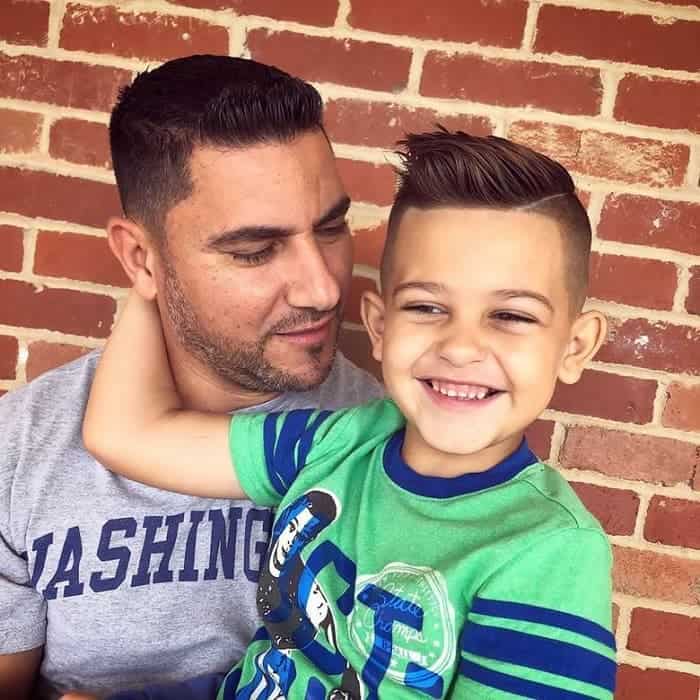 This undercut for little boys is what we call an outright winner. This is an adaptation of the conventional pompadour with the undercut. The hard part improves the overall styling aspect even further and creates an amazing impact. This adaptation also converts this high maintenance haircut into a hassle-free low maintenance one.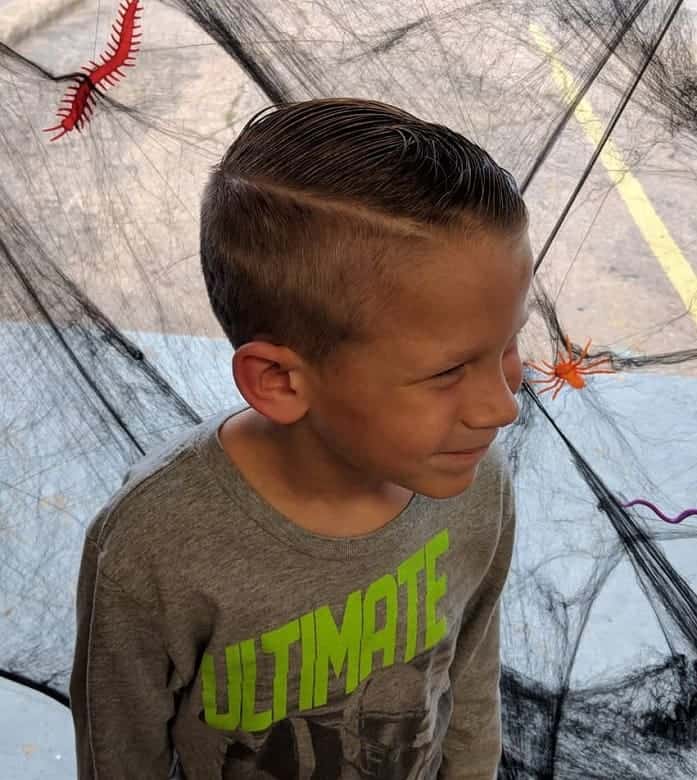 This is a full textured and high volume undercut haircut appropriate for boys with thicker hair and wanting an undercut. In case you want this on thinner hair, it needs to be cut shorter. That way, it becomes more convenient to mention the clarity and differentiation of texture for the overall hair in a rather distinctive fashion.
6. Fringes with Convertible Spikes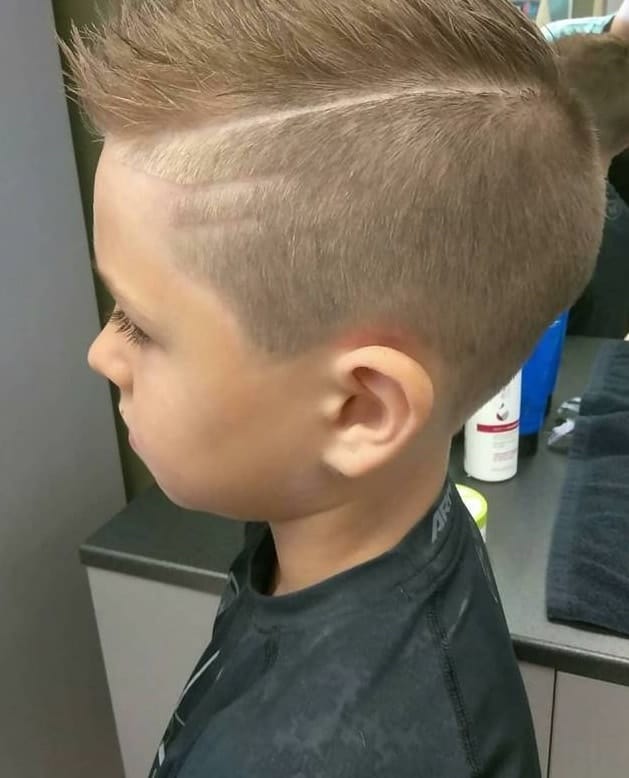 Multi-textured and multi-purpose, this boys' tapered undercut can be styled in a variety of alternative ways. You can go for the conventional neat combed back fringed look or the slightly edgy spiky option. The undercut adds a dose of understated style in both options.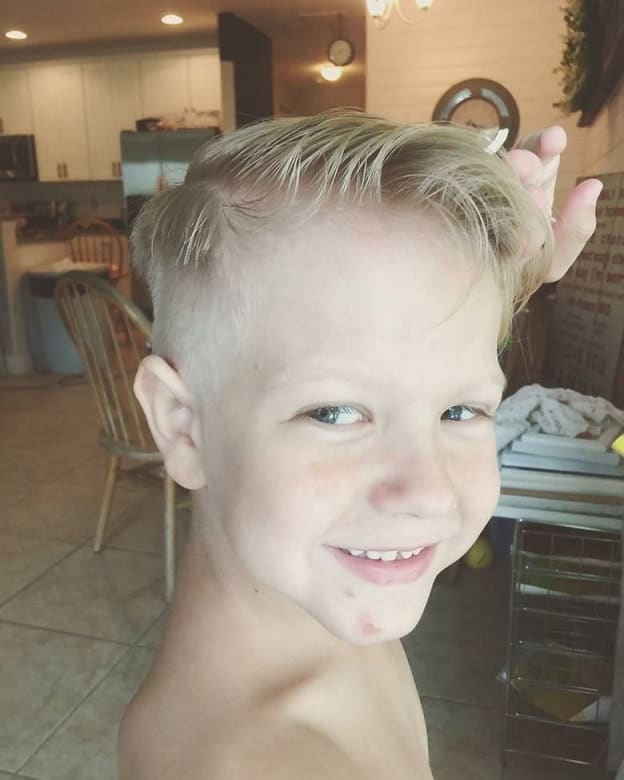 Stylish and impish at the same time, this boy's hairstyle with undercut will make your dapper dude the talk of the town. The short length also makes it a functional one, especially for boys who love to play outdoors. Additionally, styling this haircut is quite simple. That is another big advantage.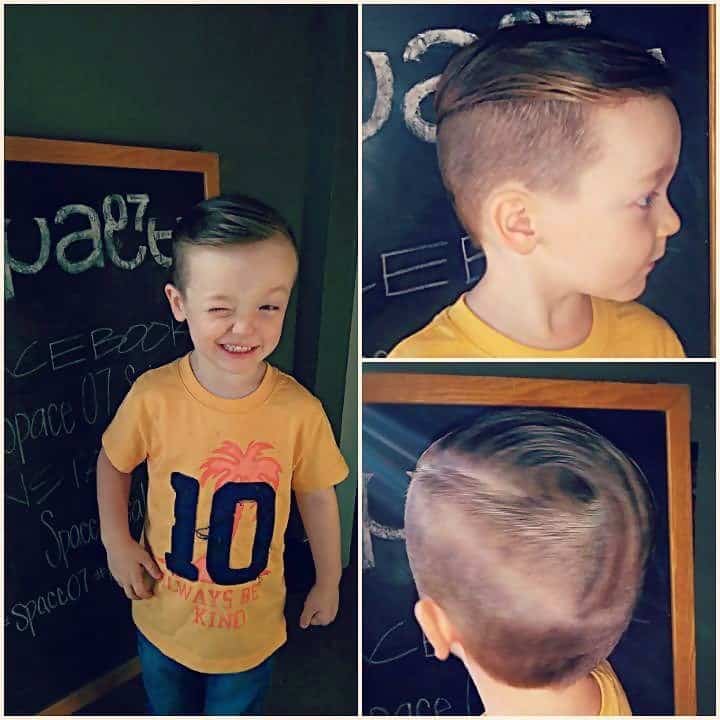 Cool, conventional and classic, there is absolutely no way to deny the charm of this version of the undercut. This is the type of cut that attracts attention almost immediately and helps your boy win praises.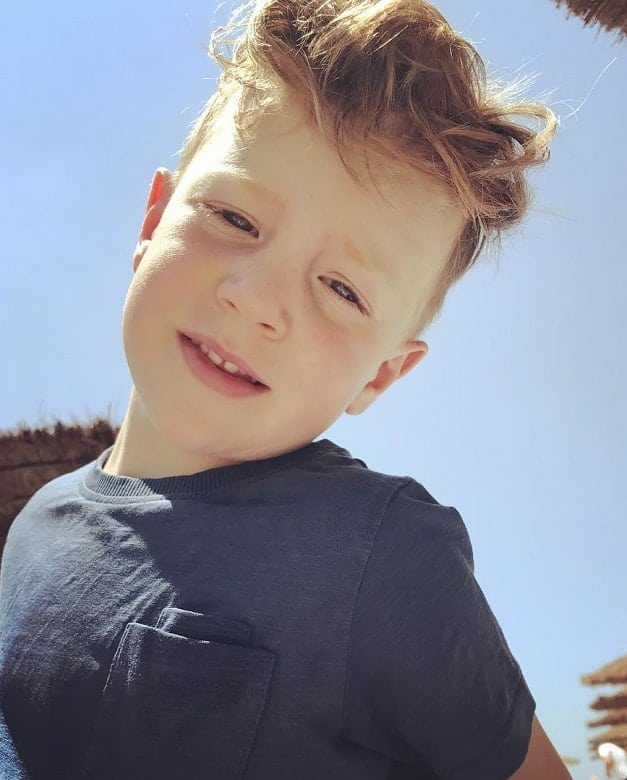 The undercut here is paired with wavy hair to bring out a radically different look. This also boosts the overall gamut of options available if you go for boys undercut. It is subtle, edge and decidedly fashionable in every possible way.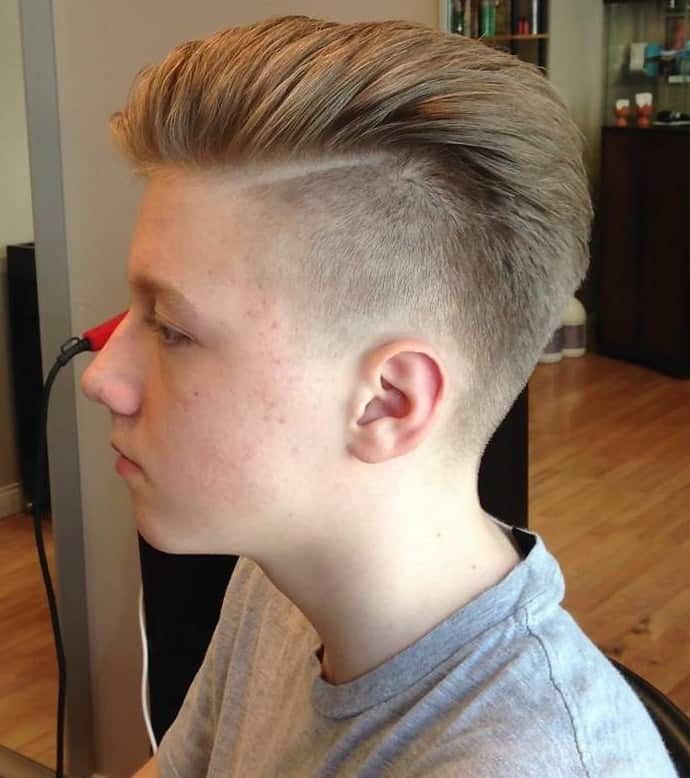 This is a sporty and energetic haircut that brings in both a purposefulness and stylish candor to undercut for teen boys. It is a full-bodied and textured hairstyle that can easily conform to school norms in a definitive manner. But this may not pass muster for slightly more formal occasions like a dress-up gathering.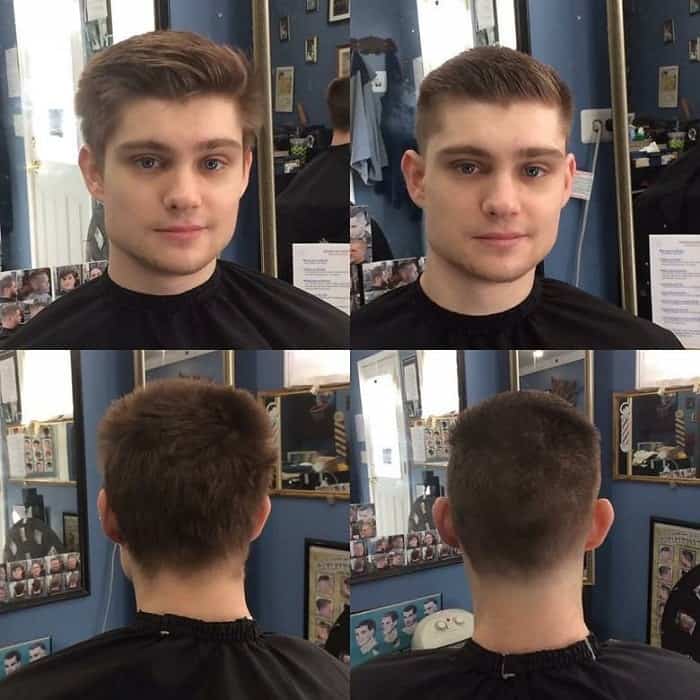 This version of the boy's undercut is all about effortless styling and neat lines. Business-like and formal this is an old school hairstyling option. It is one of those styles that is just perfect for a dress-up but equally suitable when you need to dress down. It is cool and convenient. Even for those who like outdoor sports, this proves to be a comfortable option.
Therefore you can easily understand that the boys' hairstyle with an undercut is undeniably one of the most practical options for kids across age groups. Be it a toddler or adolescent, this is a type of cut that is clean yet stylish. Often, it is this crazy combination that makes this cut such a big winner.
It improves the acceptability as well as the adaptability of the style while maintaining the overall functionality. In many ways, it is about combining the positives of a gamut of boy's undercut haircut options and then combining these into one basic cut.