13 year old is the first step of the teen phase and is a time to have a fresh and cool hairstyle for boys. For a new teenage boy, it's best to have a short haircut that does not only look charming but also easy to maintain. But while adopting a new hairstyle it is necessary to consider his personality and mood.
Boys aged between 10 years old and 13 years old can get quite similar haircuts and hairstyles. Let's see how can they look awesome with the trendy haircuts in 2023.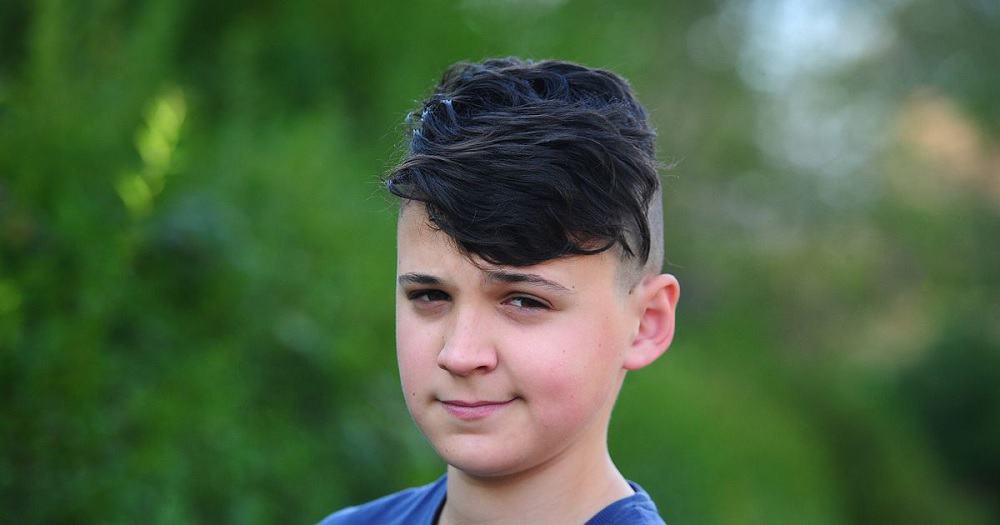 There are endless hairstyle options for 10, 11, 12 and 13 years old boys for all types of hair such as curly, straight, long, short, wavy etc. and we've gathered 10 best among these that will make you go 'wow'.
Tips To Choose Haircuts For 10 to 13-Year-Old Boys
When choosing a haircut for a 10 to 13-year-old boy, there are several factors to consider. It is also important to consider any specific guidelines or restrictions set by the school he attends. Some schools have dress codes or policies regarding hairstyle length and appearance.
Here's a comprehensive guide to help you make the right choice:
Hair Type and Face Shape
Take into account the texture and thickness of your son's hair. Some haircuts work best with straight hair, while others are more suited for curly or wavy hair. Understanding his hair type will help you choose a style that is manageable and looks great.
Consider your son's face shape when deciding on a haircut. Different styles can complement various face shapes. For instance, a round face may benefit from a haircut with added height and volume on top to create the illusion of length, while a square face may suit a softer, layered cut.
If he has a specific look or interests like sports or music, explore hairstyles that align with his personal style. This will help him feel confident and comfortable with his haircut.
Consider Trends and Maintenance Level
Determine the level of maintenance required for a particular haircut. Some styles may demand more frequent trims or styling, while others can be low-maintenance. Consider your son's willingness to invest time and effort into styling and maintaining his hair.
If your son is interested in following current trends, explore popular hairstyles for boys his age. However, keep in mind that trends come and go, so choose a style that he genuinely likes and feels comfortable with.
In addition, it's crucial to take into account the school's policies and guidelines regarding hairstyles.
Review the School's Policies
Familiarize yourself with the dress code or grooming policies of your son's school. Check if there are any specific guidelines regarding hair length, styling, or prohibited hairstyles. Ensuring the chosen haircut adheres to the school rules is important.
If you're unsure about the school's policies or have specific questions about acceptable hairstyles, reach out to the school administration or read the student handbook. They can provide clarity on any regulations and help you make an informed decision.
It's generally advisable to avoid hairstyles that may be considered extreme or distracting in an educational environment. These include overly long hair, bright or unnatural hair colors, or intricate designs or patterns shaved into the hair.
Choose a versatile haircut that can be styled in a way that complies with the school's guidelines. Classic crew cuts, short comb overs, or neat side parts are often acceptable in most school settings.
Keep in mind that the chosen haircut should be practical and not hinder your son's daily activities at school. It should be easy to maintain, not obstruct vision, and not become a distraction or safety concern during physical activities or sports.
Cool Hairstyles for 10 to 13-Year-Old Boys
At the present time, not only girls concern with the hairstyle but boys also want to try various hairstyles to have a dashing look. Depending on the hair type and the face shape, haircuts vary a lot.
Like adults, teenagers also like to have a new hairstyle for a new appearance that can make them feel more confident. Here are some cool ideas for 13-year-old boy haircuts to stand out from the crowd. You can also check these 10 years old boy haircuts.
1. Comb Over Fade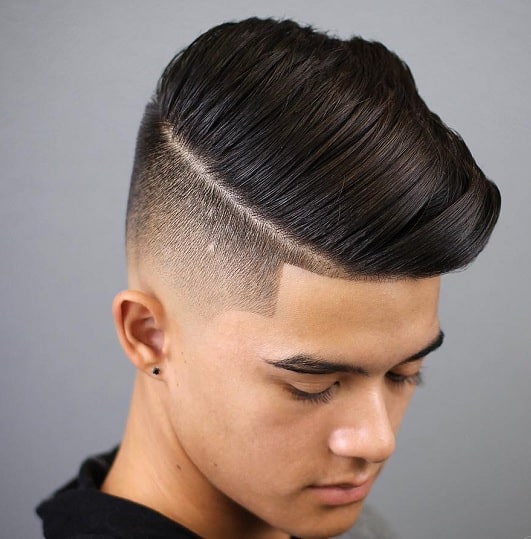 When you want to have a haircut that goes with almost all styles and looks, Comb over fade is the one to opt for. Not only is it trendy and classy, but also versatile enough to make you look stylish for every occasion.
With longer hair on top, this style features low or mid faded hair on sides. The top hair is then combed as a side part or textured style. You can cut the sides as much short as you want.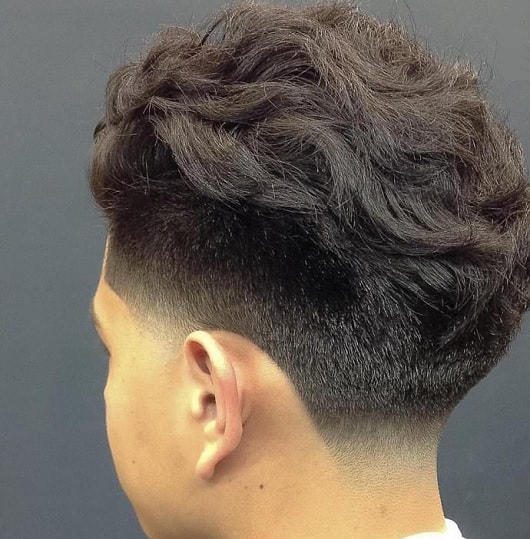 This haircut has been a popular choice for boys since years and it's not fading away soon. If you're looking for a perfect 13 year old boy hairstyle for wavy hair, there can be no better option than taper fade cut.
With short hair on the sides, the hair on the top is left of medium length. A textured crop on the top and blur on the way down is the perfect fade cut.
3. Side Part Haircut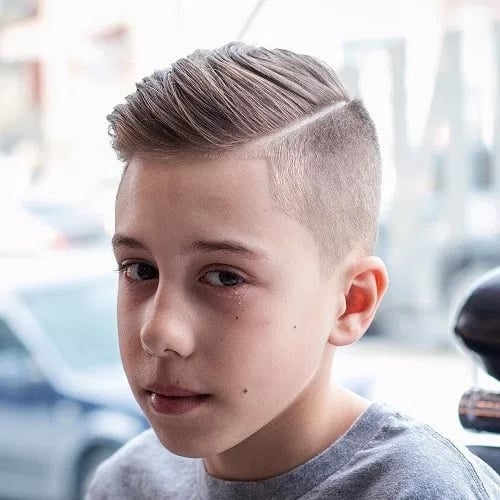 No matter if you want to have a classic or modern look, this is a flattering choice for either reason. You can make it bold or clean cut according to your choice. Simply do a side part and leave the top hair a little long.
Style it loosely with texture and get ready in no time. This timeless haircut is one of the easiest and least time-consuming short hairstyles for boys.
4. Hairstyle with Pattern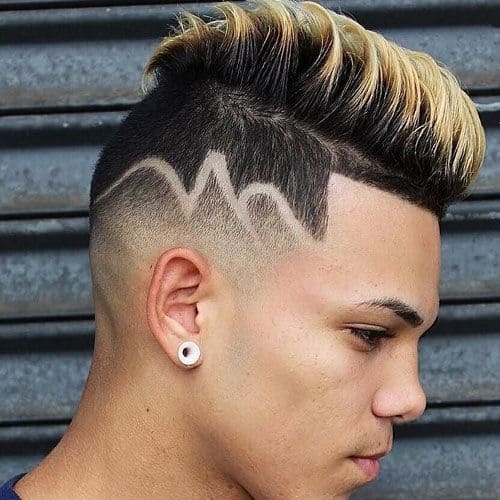 This haircut is a fun way of creating a unique and attractive hairstyle. All the skilled barbers around the world show their skills while they make the pattern on the sides and this helps a new design to pop up every now and then.
These designs can be as simple and as creative as you want them to be. Either keep it simple with sidelines or make it attractive by opting for creative patterns.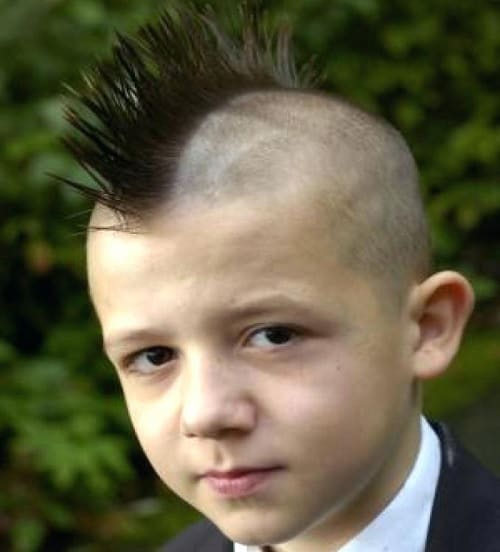 Often referred to as Mohican, Mohawk haircut is a very unique and stylish cut. Here, both the sides are clean shaved and just a strip of hair is left on the top. The middle strip has noticeably longer hair.
This 13 year old boy haircut often demands high maintenance and care. If you want to describe yourself with an edgy look, this is the perfect option for you.
6. Long Top Short Side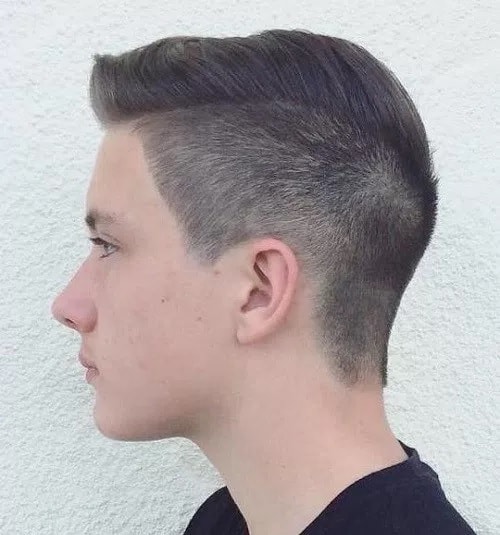 This section includes all the haircuts which are highly versatile and available in a wide range of options to choose from. As the name suggests, hair on the sides is cut short while the top hair is left noticeably longer than that of sides.
You can fashion the top hair into a wide array of several layers, textures, styles and colors depending on your facial shape.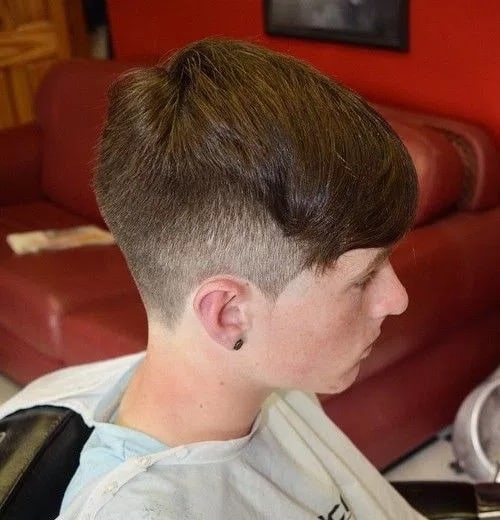 This is a new inclusion in the hairstyle trends of boys. Ironically, it is derived from the retro era of the fifties. This haircut for 13 year old boy takes style to a whole new level.
Here also exists the concept of the short side and long top but here the hair on the top is left very long. When side-parted, the top hair can reach up to the chin or even go beyond the chin. Wearing a top knot can also be a part of this style.
8. High Top Hairstyle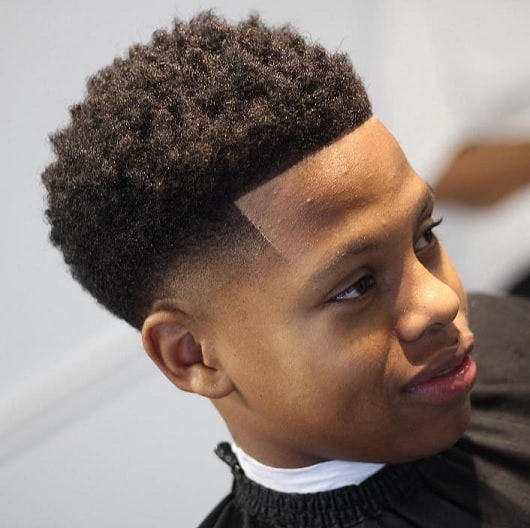 This Hairstyle actually has a history behind it. It came through black men and the high-top hair featured the inclusion of hip-hop into the pop culture. This 13 year old boy hairstyle continues to be in trend for the African-American community.
The high Top is made more attractive with curls or dreads. With a little maintenance, you can rock the look with any kind of hair that you have.
9. Long Side Bangs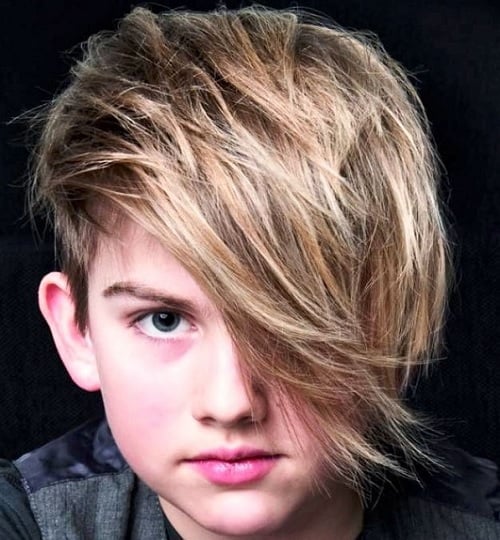 When you allow fringe to take the center stage, you have an option of a huge range of looks. Get a fringe haircut with a smooth texture. Though it doesn't suit on every face, you can select one style according to your facial shape and you're all set!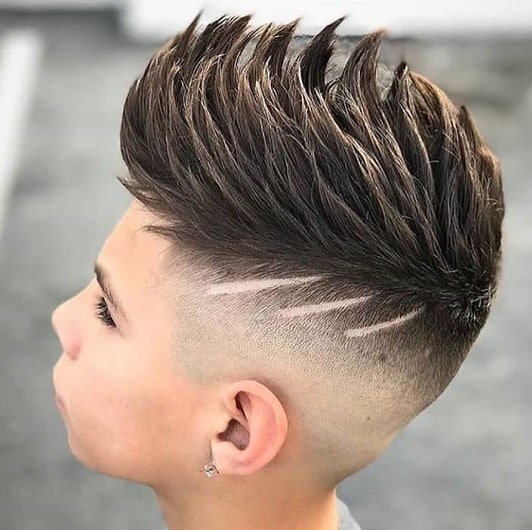 Commonly referred to as Fohawk, this Hairstyle has become highly popular among boys these days. Being classy, trendy and edgy can be the reason.
11. Buzz Cut
The buzz cut is a timeless and low-maintenance option for boys. It involves cutting the hair very short all over the head, creating a clean and neat look. This style is easy to maintain and is perfect for boys who prefer a no-fuss haircut.
The best part is that this style is acceptable in school also. This versatile hairstyle for 13-year-old boys is perfect for hair of any length. It even epitomizes modern masculinity with great style.
12. Spiky Hairstyle
Spiky hairstyles can add a touch of fun and edginess to a boy's look. With short hair on the sides and slightly longer hair on top, you can use hair gel or wax to spike up the hair for a cool and textured appearance.
13. Crew Cut
The crew cut is a classic hairstyle that never goes out of style. It features short hair on the sides and slightly longer hair on top, which can be styled in various ways. This versatile haircut is suitable for boys with different hair types and face shapes.
14. Slicked Back Hair
For a more polished and sophisticated look, 13-year-old teenage boys can try the slicked-back hairstyle. This style involves combing the hair back with the help of a styling product, such as gel or pomade. It creates a sleek and elegant appearance that works well for both casual and formal occasions.
15. Curly Top Fade
Boys with curly hair can embrace their natural texture with a curly top fade. This haircut combines longer curly hair on top with faded sides and back. It creates a trendy and stylish contrast, emphasizing the curls while maintaining a neat and clean appearance.
No matter what 13 year old boy hairstyle you have adopted the most important things is to be confident with it. These above hairstyles are in trend now and are being followed by many teenagers. So, opt for these trendy hairstyles and try something new!