When it comes to needing a new haircut, the mullet mohawk should be on your list for a couple of reasons: first, if you work a job that lets you have freedom with your hairstyle, the mullet mohawk is perfect for showing off your punk-rock side.
Second, there are a lot of ways to put your special touch on it. And third, it's a hairstyle that works on every face shape and for every hair texture.
Mohawk Mullet Hairstyles
For the man on the hunt for a bold new haircut that will turn heads, check out these attractive mohawk mullet hairstyles full of personality.
1. Long Mohawk Mullet
If you like being bold with colors, this mohawk mullet's length past the shoulders has plenty of room for funky colors and shaved detail in the sides.
2. Mexican Mullet + Mohawk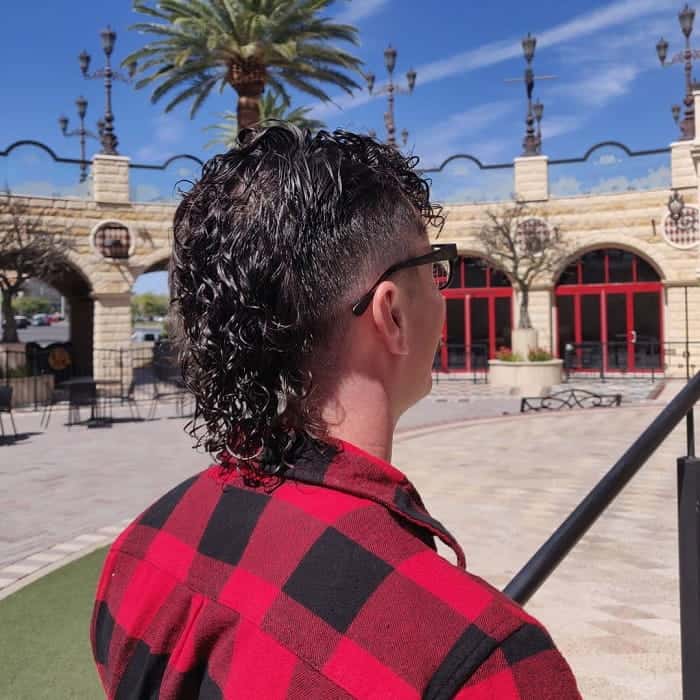 The Mexican mullet and mohawk have shaved sides and generally reach shoulders for a cut full of curly or wavy texture, shaved sides, and personality.
3. Curly Mohawk Mullet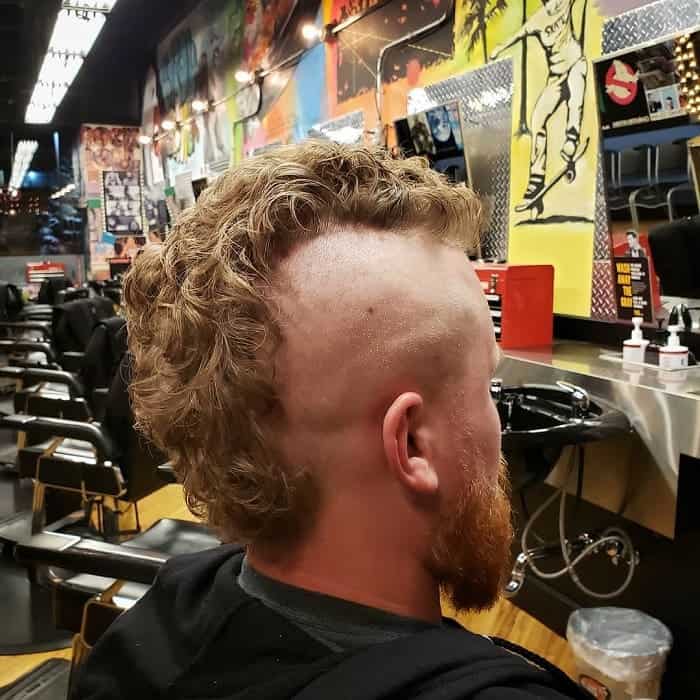 This curly mohawk mullet goes completely bare on the sides while the mohawk is full of curls for a cut similar to the Vikings.
4. Faded Mohawk Mullet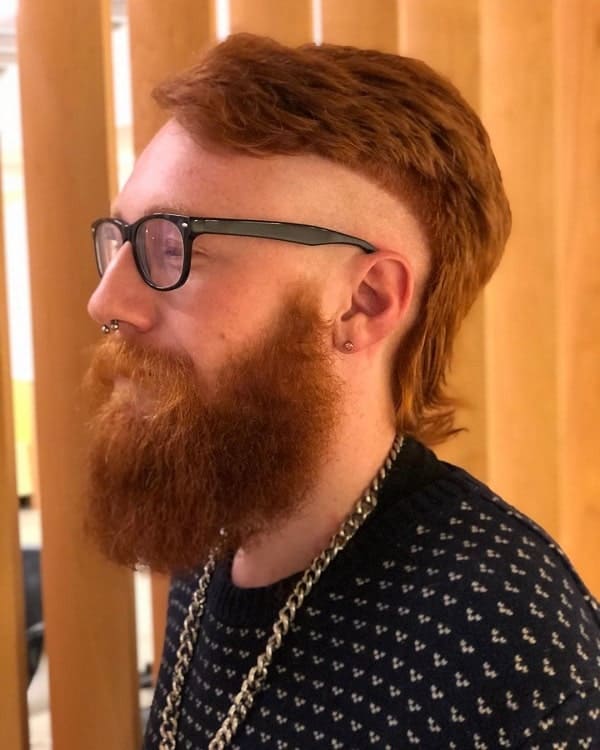 Let's kick things off with a bang – the Faded Mohawk Mullet! This style is a cool twist on the classic mohawk. It's got that rebellious edge but with a smooth fade on the sides. Rock it with confidence and watch heads turn. Perfect for anyone who wants to make a statement without going over the top.
5. Asian Mullet Mohawk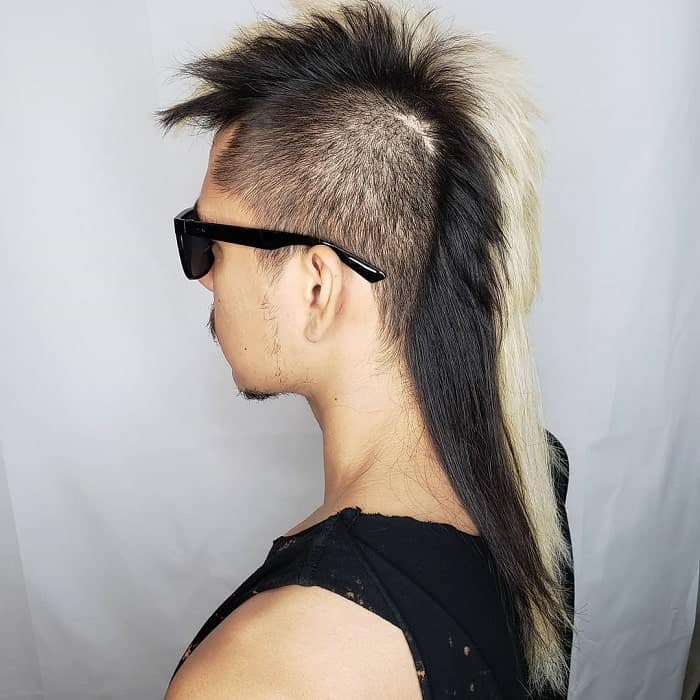 Here's one for my Asian friends! The Asian Mullet Mohawk combines sleekness and volume in the best way possible. With textured spikes at the top and subtle layers down the back, this style is a winner. And guess what? It looks great on all hair types. Time to channel your inner rockstar!
6. Short Mohawk Mullet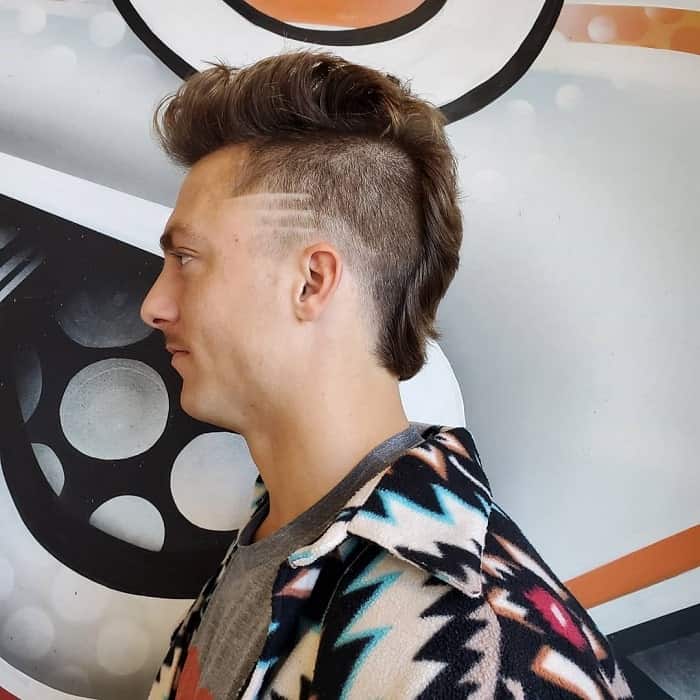 Looking for something low-maintenance? Say hello to the Short Mohawk Mullet. This haircut is short, sweet, and to the point. It gives you the mohawk vibes with just enough mullet magic. Perfect for those busy bees who want a stylish look without spending hours on styling. Just wake up and go!
7. Mohawk Mullet for Black Guys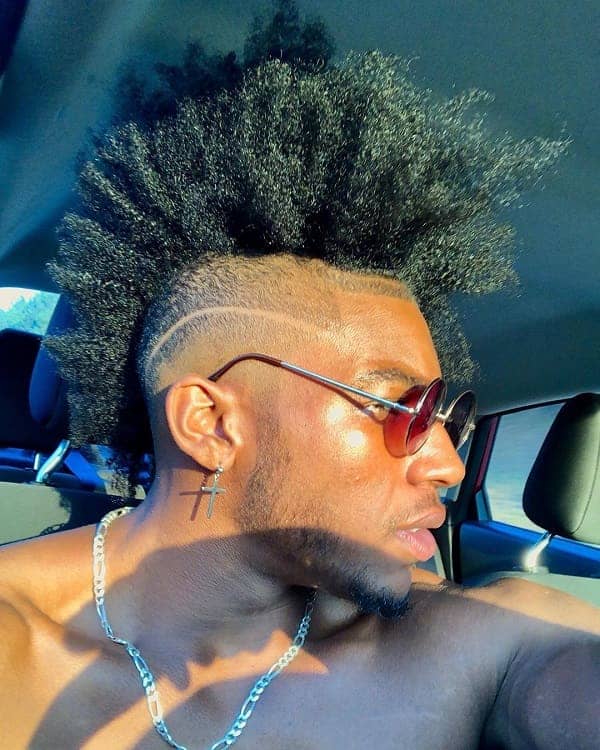 Alright, fellas! The Mohawk Mullet for Black Guys is where it's at. This style is all about embracing natural texture and looking fly while doing it. The curly top and tapered sides are a match made in heaven. Want to level up? Add in some cool line designs on the sides.
8. Mullet Mohawk + Undercut
Now we're getting edgy. The Mullet Mohawk with an Undercut is not for the faint-hearted. This look is daring and bold. With shaved sides and a burst of length on top, it screams rock n' roll. Got a wild side? This style was made for you.
9. Braided Mohawk Mullet
Want to combine classic and cool? The Braided Mohawk Mullet is your answer. With braids on the top and a mullet in the back, this style is a fusion of the best of both worlds. It's both neat and rebellious. And guess what? It's a great way to keep hair off your face too!
10. Mohawk Pompadour on Mullet Hair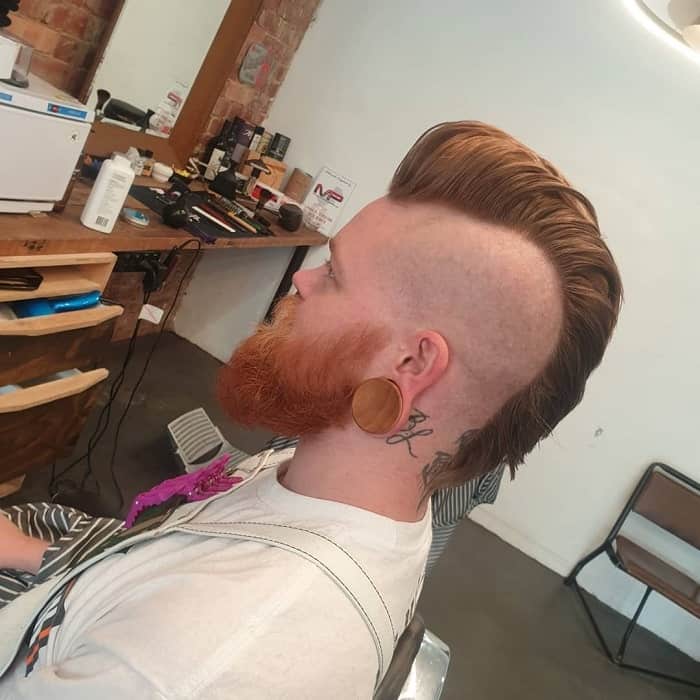 Last but not least, the Mohawk Pompadour on Mullet Hair is the epitome of retro meets modern. The pompadour adds that classy 50s feel, while the mohawk and mullet combo bring in the edginess. Roll up in this style, and you're sure to be the coolest cat in town.
11. Classic Long Mohawk Mullet
Go big with the Classic Long Mohawk Mullet! This one's all about length. It's the ultimate combo of a soaring mohawk and flowing mullet. Plus, there's ample space for playing around with colors and shaved patterns. You'll be stealing the show wherever you go with this audacious cut.
12. Tapered Mohawk Mullet
Introducing the Tapered Mohawk Mullet, a subtle yet powerful blend of style. It starts with a fierce mohawk on top that gracefully tapers into a soft mullet at the back. The gradation is smooth and stylish, making it a versatile choice for all occasions.
13. Side-Swept Mohawk Mullet
Here comes a dash of elegance with the Side-Swept Mohawk Mullet. This one's got a gentle mohawk that elegantly sweeps to the side, blending into a classy mullet. It's the ideal mix of rebel and sophistication. Perfect for the days you want to look dapper with an edge!
14. Spiky Mohawk Mullet
Get ready to spike it up with the Spiky Mohawk Mullet! This style is sharp, literally. The spiky top shouts confidence while the mullet keeps it cool and casual. It's a great option for a night out with friends or when you're feeling extra adventurous.
15. Mohawk Mullet with Highlights
Add a pop of color to your life with the Mohawk Mullet with Highlights. The mohawk takes the center stage while the mullet enjoys some vibrant highlights. It's all about playing with contrasts and textures. Perfect for those who love to experiment and express themselves through their hair.