When it comes to men's hair color, if you like having fun and experimenting, consider blue hairstyles. If it's a prominent color in the rainbow, it's gotta be a great option for hair color, right?
Blue Hair Ideas for Men
There are many ways to work the blue color into your hair – highlights, tips, or all over color – and many shades – dark, light, medium, two-toned, or in combination with another color you like.
If you need a freshen up for your hair, go for blue hairstyles. After seeing these 15 guys with blue hair, you'll want to go for this color.
1. Dark Blue Hair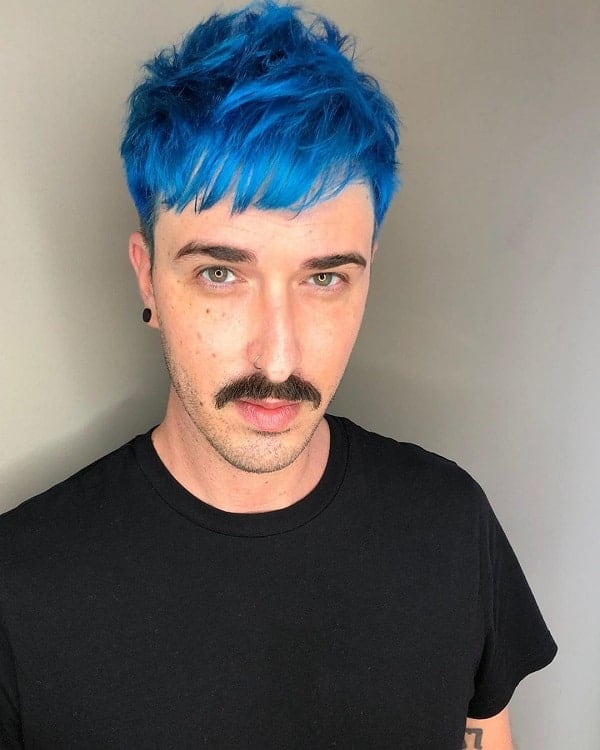 A pop of dark blue hair color on a short haircut is a colorful contrast to a dark mustache and medium light skin tone.
2. Black Guy With Blue Hair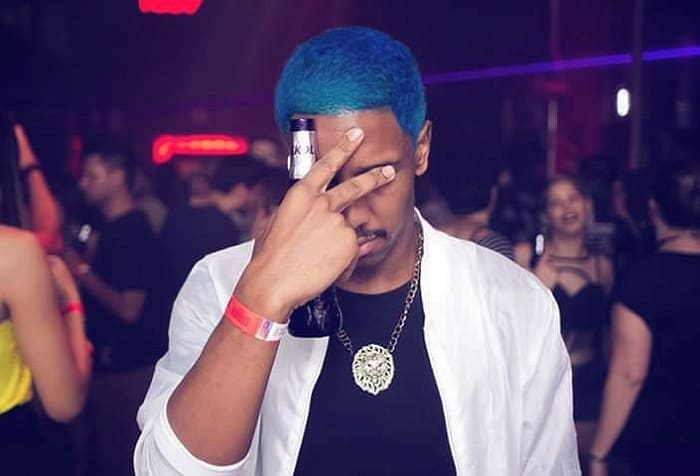 Dark blue hair on a short haircut contrasts with dark skin for an edgy style you'll want to rock if you like punk fashion.
3. Silver Blue Hair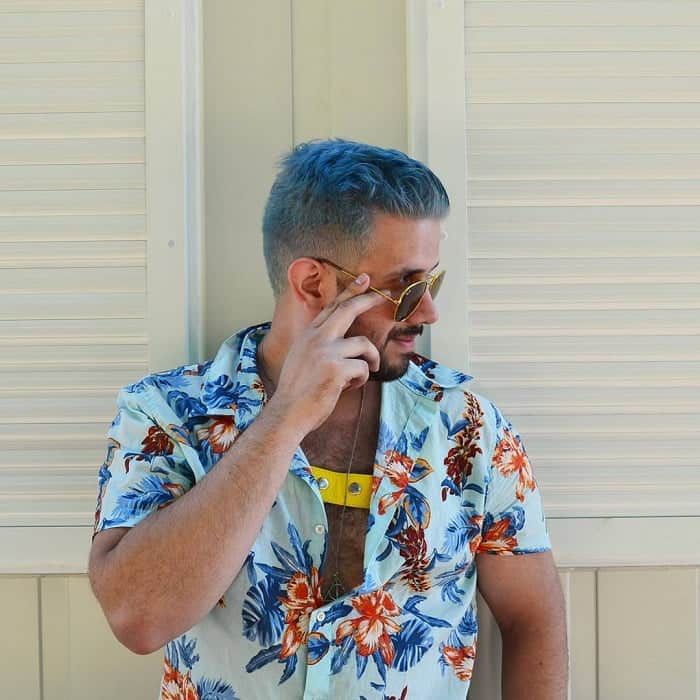 Mix blue color with a little bit of silver for a fun color choice that looks especially good on a short haircut with fade.
4. Midnight Blue Hair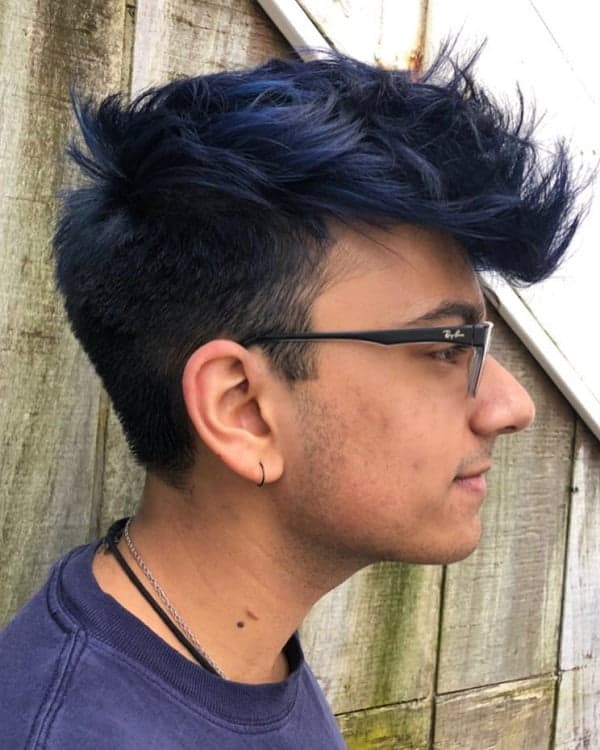 Midnight blue makes a long, textured hairstyle with an undercut the piece everyone will be staring at with envy.
5. Men With Blue Curls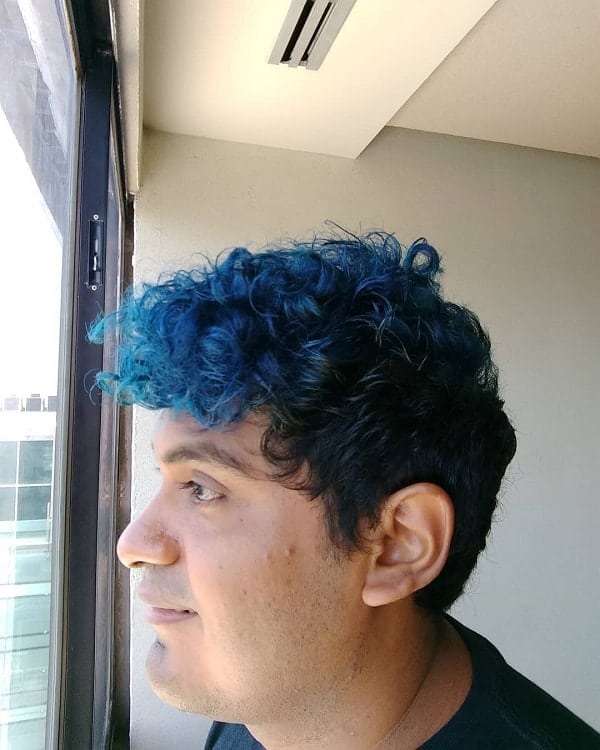 Your curly hair deserves a rich blue hair color. Push the hair forward so it's the first thing everyone sees.
6. Blue Highlights for Men With Brown Hair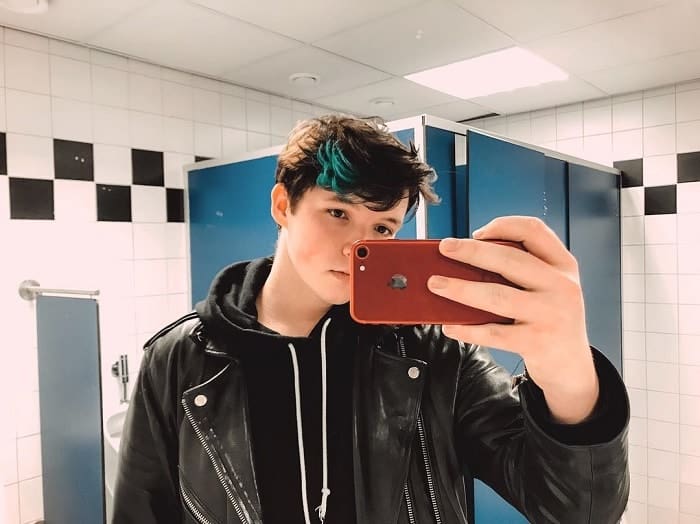 To liven up dark or light brown hair, go for blue highlights. Place them all over or just right at side bang area.
7. Light Blue Hair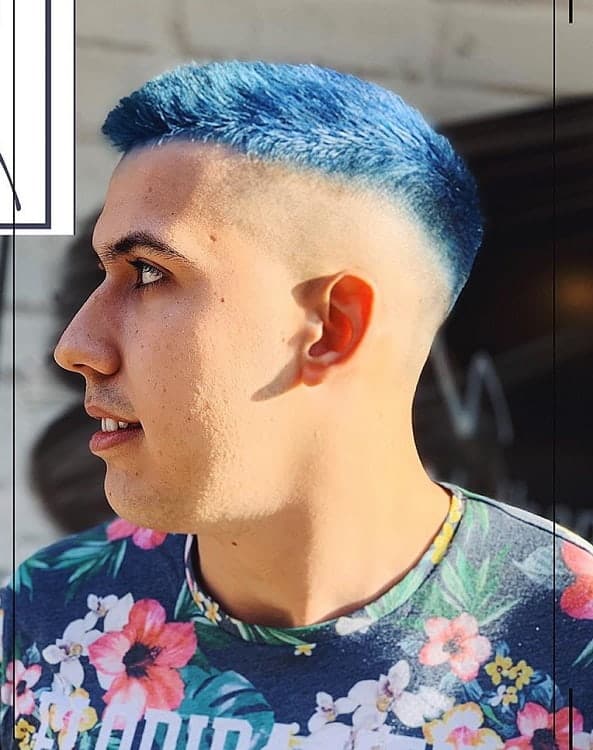 A crew cut with a bald fade comes alive with a blue strip of color. Let the color give you the confidence to rock more bold clothing patterns as well!
8. Greyish Blue Hair
If finding the right shade of blue is a struggle, a mix of grey and blue is muted and won't be as harsh against skin.
9. Short Blue Hair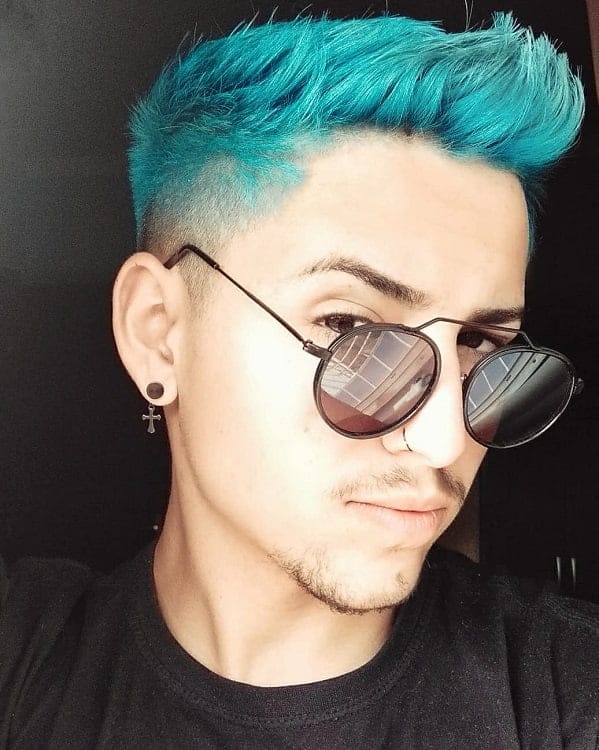 A beautiful shade of turquoise is just the color for a medium fade with a long, textured strip of hair.
10. Cotton Candy Blue Hair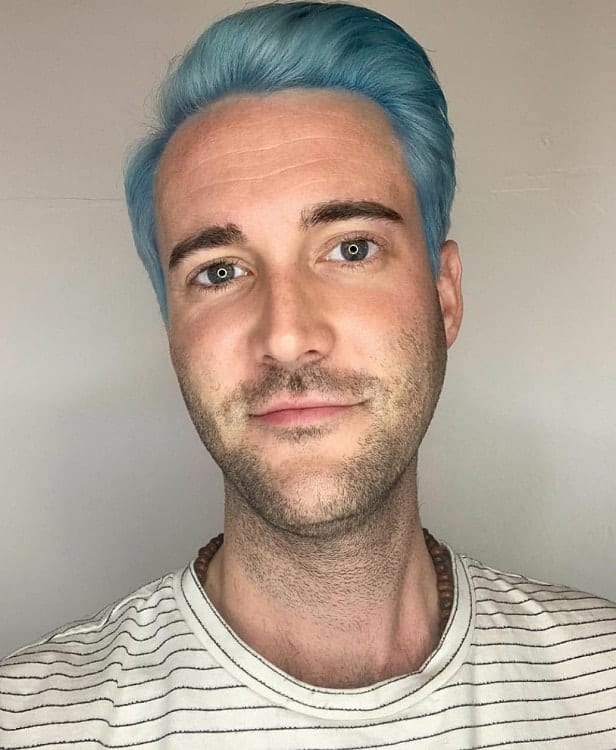 Cotton candy blue isn't just for the sweet carnival treat! Add it to a side parted comb-over for a colorful switch up.
11. Metallic Blue Hair Color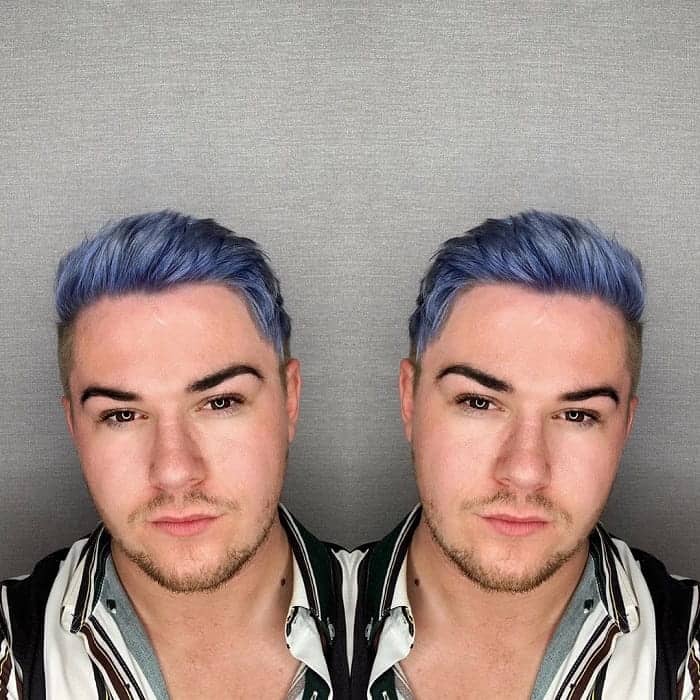 A metallic blue with touches of a lavender is great for men with dark eyes. No matter what your hairstyle, this color will help you rock it.
12. Blue Ombre Hairstyle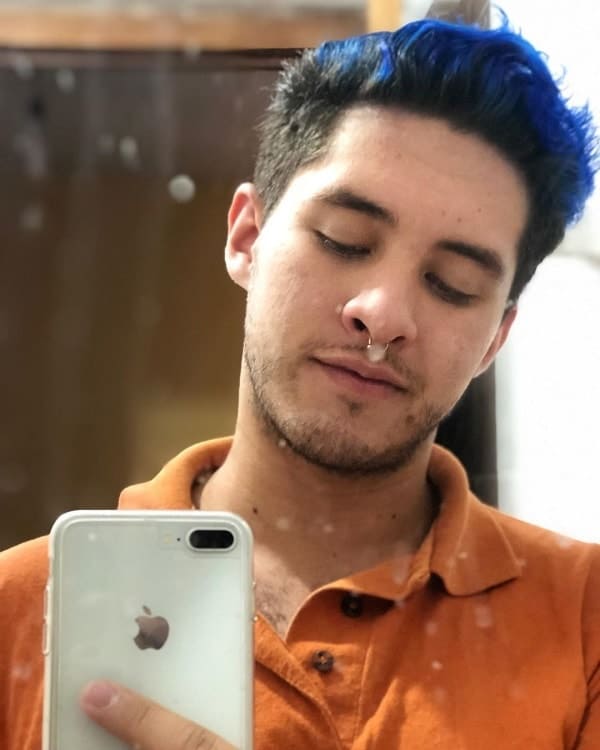 Not into the all over hair color? Ombre blue is a subtle way to get noticeable colorful results without a stark change.
13. Blue Emo Hair
A classy blue hair inspired by an anime character. If you have long hair and want to go for a punk look, consider this emo hairstyle.
14. Blue And Purple Hair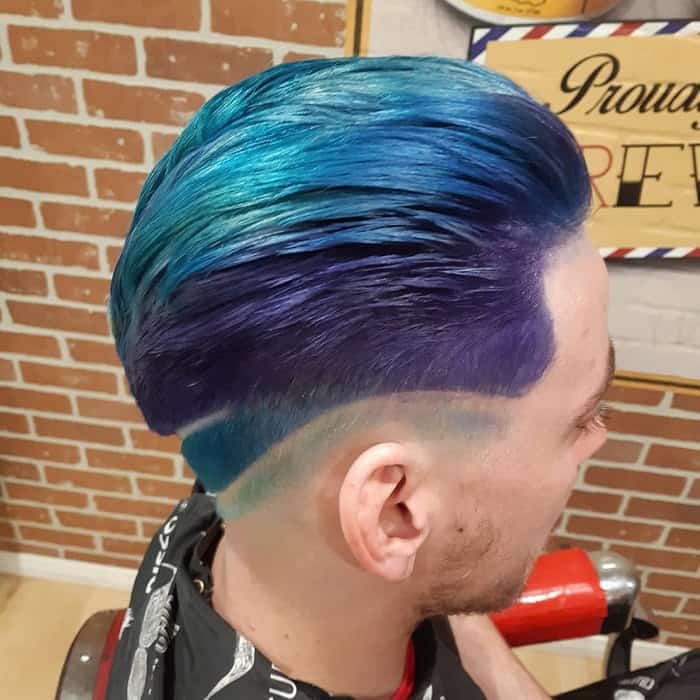 Mix two favorite rainbow colors, blue and purple, together for a beautiful combination. Whether you alternate the hair colors or mix them together in the same area, the result is stunning.
15. Long Blue Hair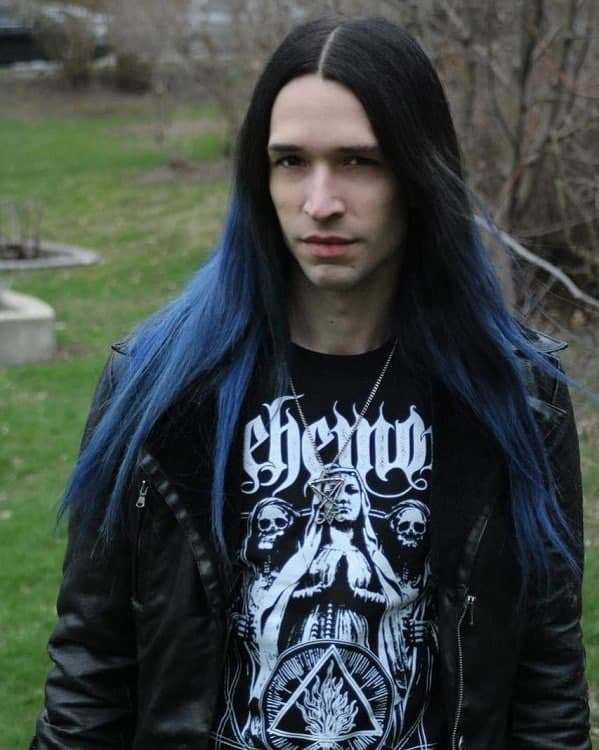 If your style tends to be on the rocker side, color your long hair dark blue from mid-shaft down to the ends. This eases the transition from your natural hair color to something different if you haven't experimented with color before.
To make your hairstyle look the best when it comes to coloring it blue, consider your skin tone and how much time you have for maintenance. The more color you add, the more upkeep it'll require. One thing is for sure: your finished look will be a hit!