Among various hair color styles, blue hairstyles are less common and often chosen by those who are bold and brave. Blue hair has the power to transform your look and make a statement like no other.
When it comes to men's hair color, blue hairstyles are something modern that only a few guys ever tried before. If you're a guy seeking a unique and eye-catching hairstyle, then exploring the world of blue hairstyles is a must.
So, let's dive into the vibrant world of blue hair! Whether you prefer a subtle touch of blue or a vibrant electric hue, there's a blue hairstyle out there for everyone.
Why Choose Blue Hairstyles for Men
Before we dive into the sea of blue hairstyles, let's start with a simple question: Why blue? What is it about this color that has captivated men's attention across the globe?
The answer lies in the allure of the unconventional, the desire to express oneself uniquely, and the irresistible pull of a color that's as cool as it is bold.
Blue signifies freedom, imagination, and depth, making it a fitting color choice for those wanting to make a powerful statement with their hair. Here are a few benefits of rocking a blue hairstyle:
Blue hair is still relatively uncommon, especially among men. By sporting a blue hairstyle, you instantly set yourself apart from the crowd and showcase your individuality.
Changing your hair color can boost your confidence and self-esteem. With a blue hairstyle, you'll feel more daring and adventurous, which can have a positive impact on your overall outlook.
The color blue offers a vast spectrum of shades, from light sky blue to deep navy or vibrant electric blue. This range provides numerous possibilities to match your hairstyle with your skin tone, eye color, or even your mood.
Blue hair is in vogue. Many celebrities and influencers have been seen sporting this color, and it's become a trending hairstyle in recent years. Even you can check out these cool anime boys with blue hair.
By choosing a blue hairstyle, you're not only expressing your style but also staying on top of fashion trends.
Blue Hairstyle Ideas for Men
There are many ways to work the blue color into your hair – highlights, tips, or all over color – and many shades – dark, light, medium, two-toned, or combined with another color you like.
If you need a freshen-up for your hair, go for blue hairstyles. After seeing these 15 guys with blue hair, you'll want to go for this color.
1. Dark Blue Hair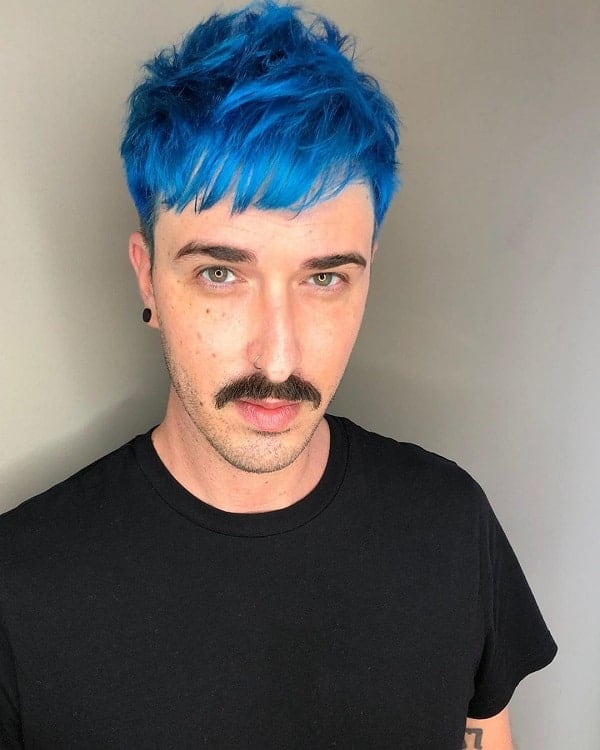 A pop of dark blue hair color on a short haircut is a colorful contrast to a dark mustache and medium light skin tone.
2. Black Guy With Blue Hair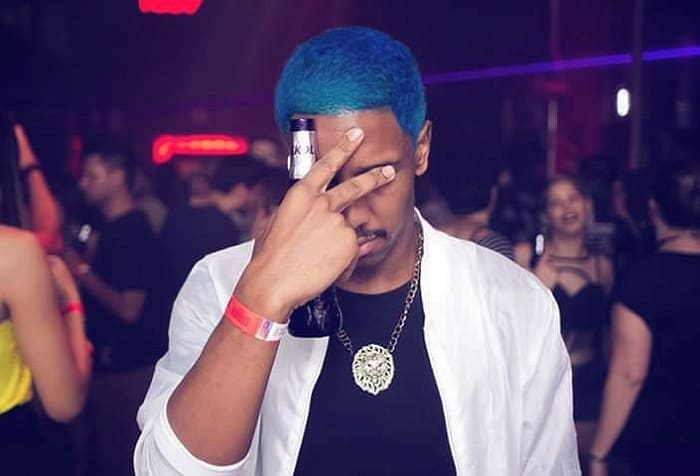 Dark blue hair on a short haircut contrasts with dark skin for an edgy style you'll want to rock if you like punk fashion.
3. Silver Blue Hair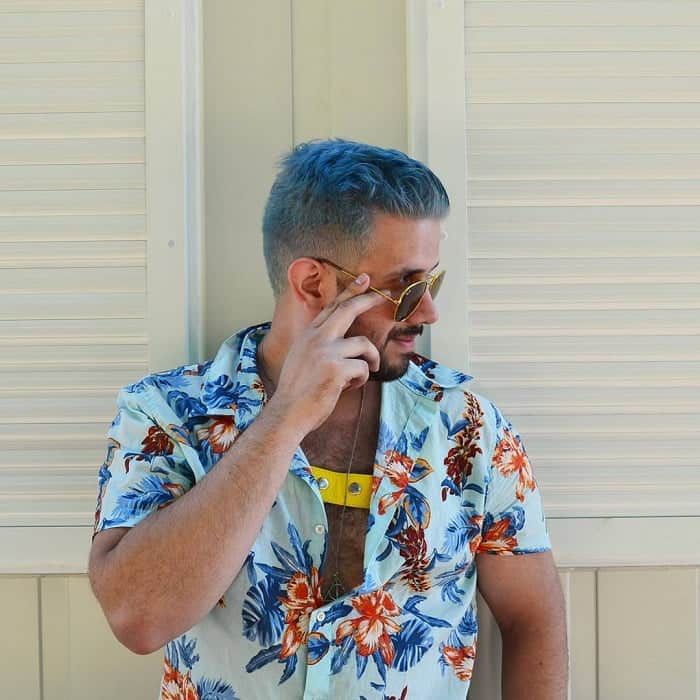 Mix blue color with a little bit of silver for a fun color choice that looks especially good on a short haircut with fade.
4. Midnight Blue Hair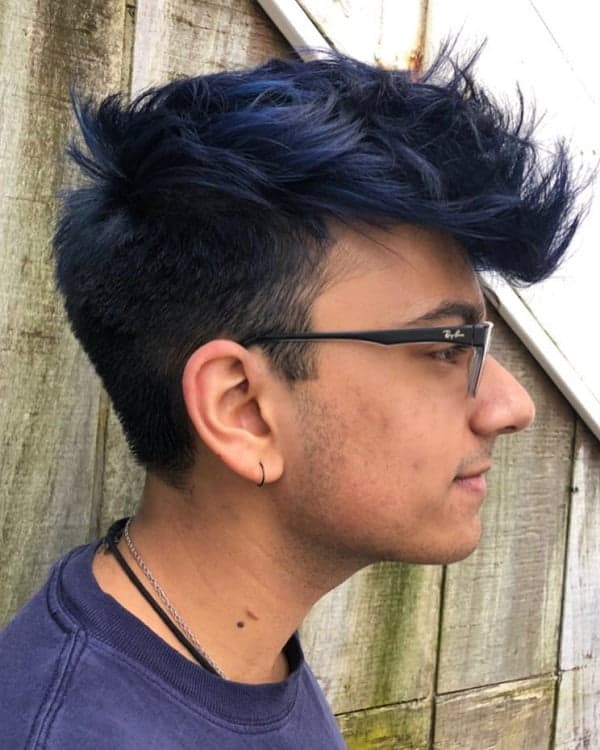 Midnight blue makes a long, textured hairstyle with an undercut the piece everyone will be staring at with envy.
5. Men With Blue Curls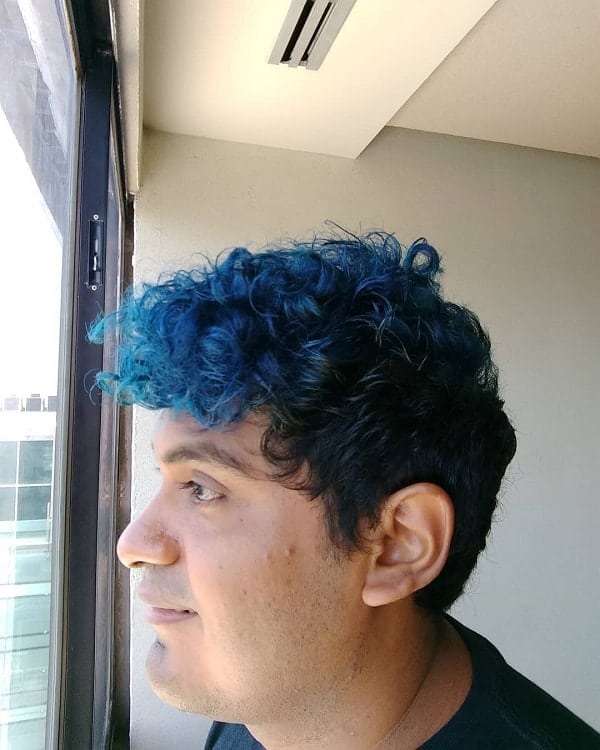 Your curly hair deserves a rich blue hair color. Push the hair forward so it's the first thing everyone sees.
6. Blue Highlights for Men With Brown Hair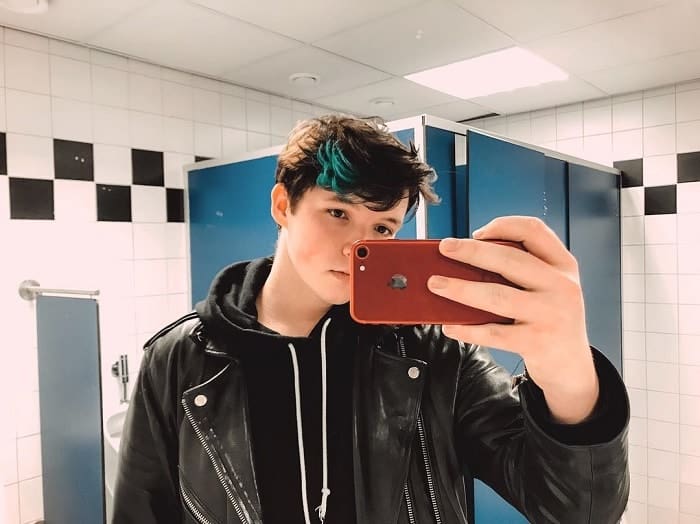 To liven up dark or light brown hair, go for blue highlights. Place them all over or just right at side bang area.
7. Light Blue Hair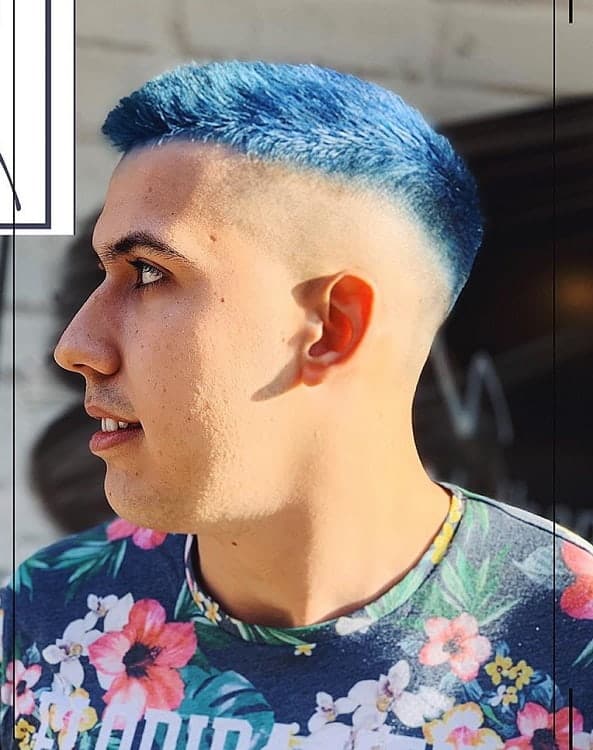 A crew cut with a bald fade comes alive with a blue strip of color. Let the color give you the confidence to rock more bold clothing patterns as well!
8. Greyish Blue Hair
If finding the right shade of blue is a struggle, a mix of grey and blue is muted and won't be as harsh against skin.
9. Short Blue Hair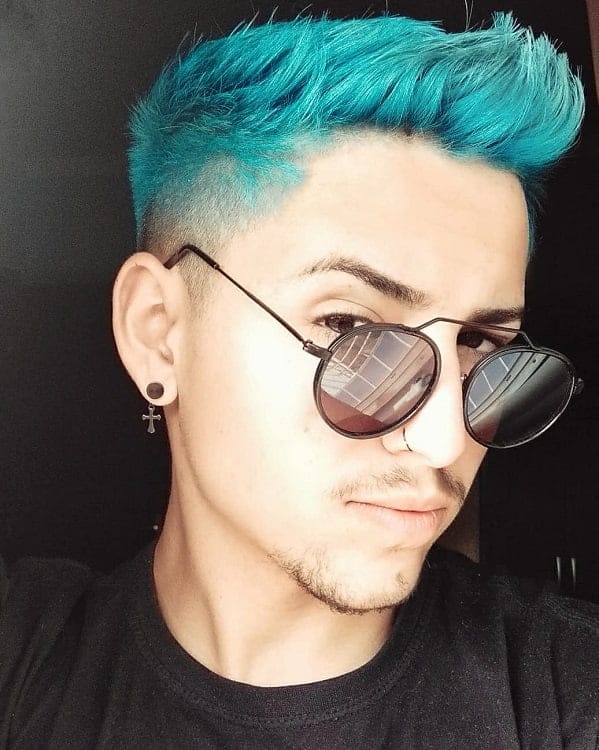 A beautiful shade of turquoise is just the color for a medium fade with a long, textured strip of hair.
10. Cotton Candy Blue Hair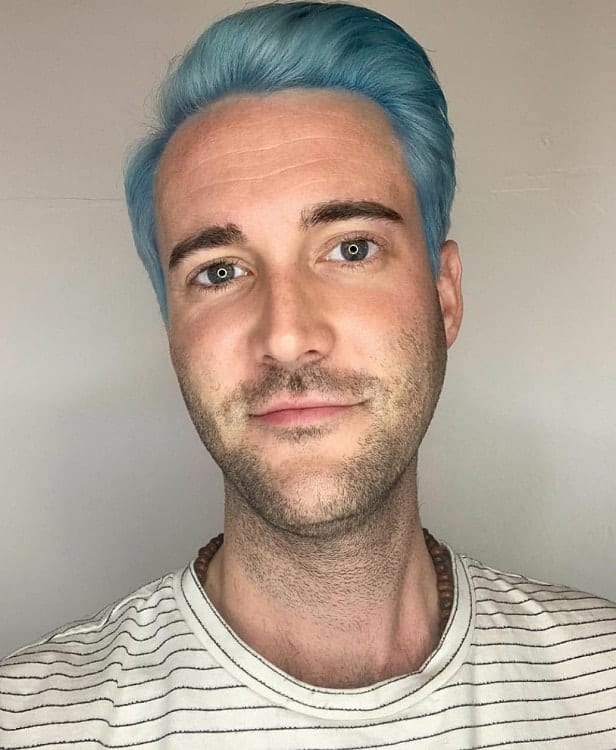 Cotton candy blue isn't just for the sweet carnival treat! Add it to a side parted comb-over for a colorful switch up.
11. Metallic Blue Hair Color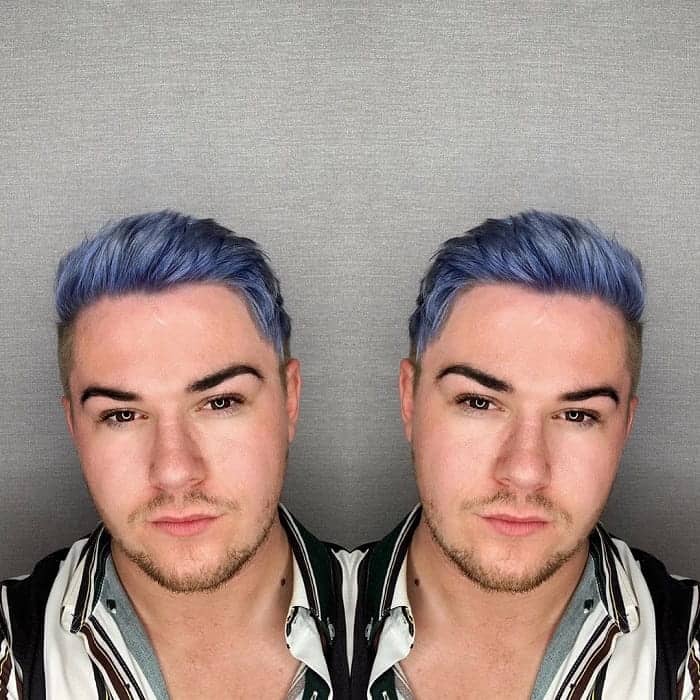 A metallic blue with touches of a lavender is great for men with dark eyes. No matter what your hairstyle, this color will help you rock it.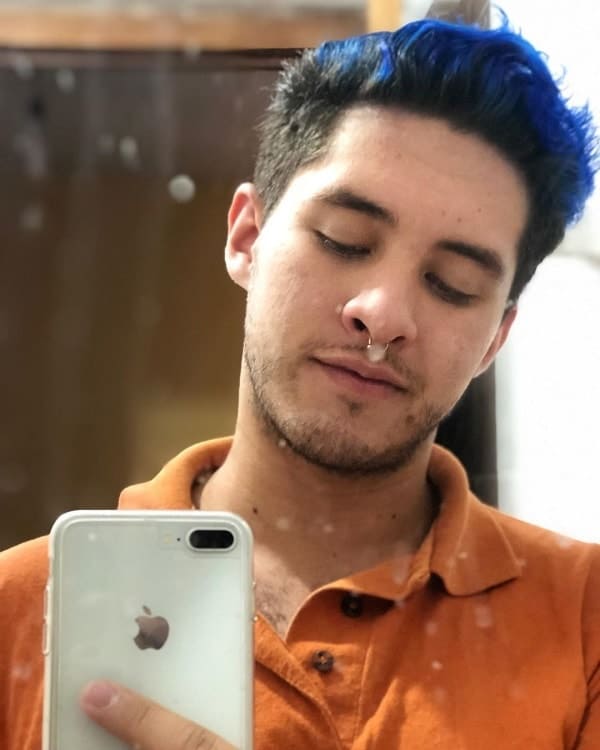 Not into the all over hair color? Ombre blue is a subtle way to get noticeable colorful results without a stark change.
A classy blue hair inspired by an anime character. If you have long hair and want to go for a punk look, consider this emo hairstyle.
14. Blue And Purple Hair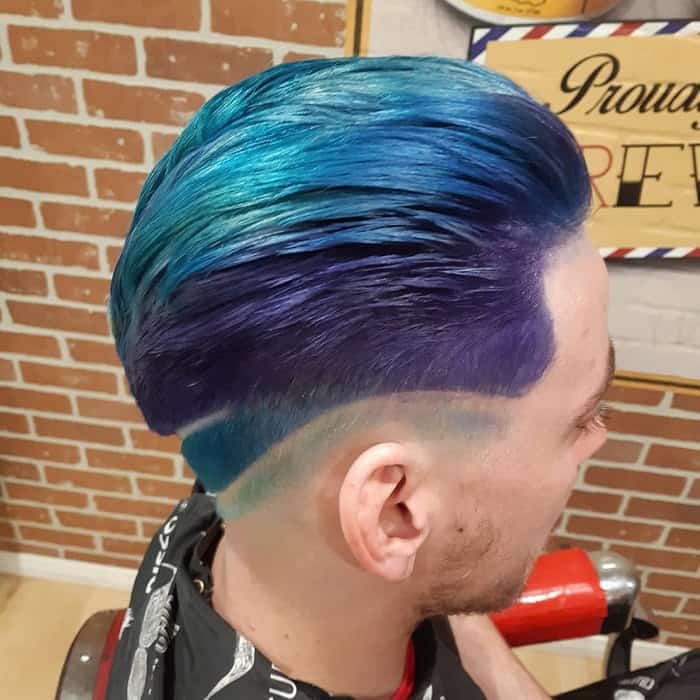 Mix two favorite rainbow colors, blue and purple, together for a beautiful combination. Whether you alternate the hair colors or mix them together in the same area, the result is stunning.
15. Long Blue Hair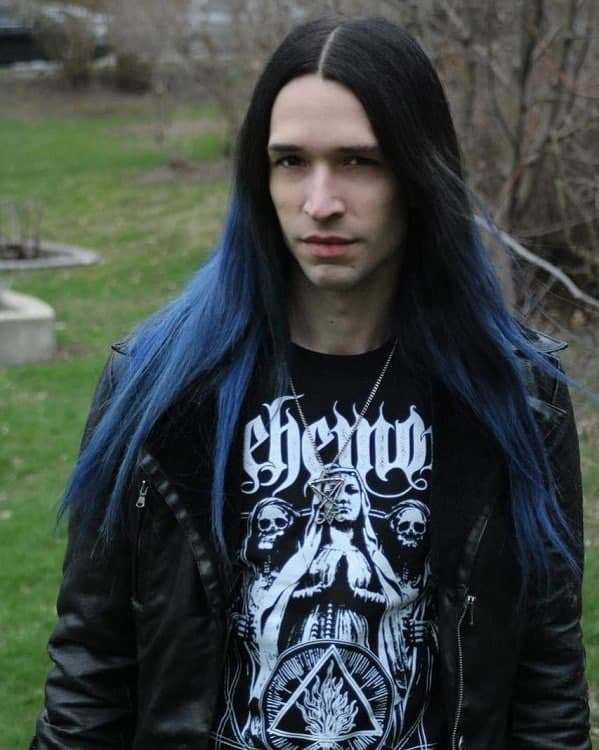 If your style tends to be on the rocker side, color your long hair dark blue from mid-shaft down to the ends. This eases the transition from your natural hair color to something different if you haven't experimented with color before.
The vivid and energetic hue of electric blue amalgamated with the classic pompadour haircut presents a magnetic blend of tradition and modernity. It's a hairstyle that's destined to turn heads.
This edgy and contemporary style, which features a deep navy blue top contrasting with shaved sides, exudes an aura of daring sophistication, perfect for those who appreciate unconventional elegance.
For the dynamic personality, the cobalt blue faux hawk, with its sharp, upward-facing center, will surely leave a lasting impression. The vibrant cobalt blue hue adds an extra layer of charm to this daring hairstyle.
19. Sky Blue Side Sweep
This hairstyle is a more subtle approach, featuring a gentle sweep to the side bathed in a dreamy sky blue. It's the perfect fusion of style and class.
20. Teal Buzz Cut
This option is a blend of low-maintenance and high style, sporting a uniform-length buzz cut in a fresh teal shade. It's an effortless way to add a pop of color and individuality to your look.
21. Sapphire Blue Man Bun
The modern and versatile hairstyle featuring a bold sapphire blue hue is a perfect blend of practicality and trendiness, ideal for men wanting to display their adventurous side in a stylish way.
22. Indigo Textured Crop
Versatile and chic, the indigo textured crop suits various hair types and lengths. Its rich indigo blue shade adds depth and dimension, resulting in a look that's both striking and sophisticated.
23. Aqua Blue Mohawk
A hairstyle that speaks volumes about your bold personality, the aqua blue mohawk, with its distinct shape and vibrant color, is sure to make a powerful statement.
24. Baby Blue Slicked Back
If a polished, sleek look is your preference, the baby blue slicked back style will not disappoint. The subtle baby blue color adds a touch of elegance and refinement to your look.
25. Pastel Blue Afro
For men with natural curls or afro-textured hair, dyeing your full, voluminous afro in a soft pastel blue hue is an excellent way to create a visually stunning and unique look.
26. Denim Blue Taper Fade
Modern yet elegant, the denim blue taper fade is the epitome of stylish subtlety. The smooth transition from the fade to the denim blue top results in a look that's refined and contemporary.
27. Royal Blue Braids
Adding a royal blue hue to your braids takes your hairstyle to a whole new level of distinction. It adds a touch of regality and uniqueness to your look, ensuring that you stand out in the crowd.
Choosing the Right Blue Hairstyle Shade For Men
Blue isn't just blue. There's an entire spectrum of shades available, each with its unique charm and character. Sky blue offers a soft, airy look, while royal blue carries a sense of elegance and nobility.
For those seeking a futuristic vibe, neon blue is your go-to, while pastel blue carries a gentle, romantic appeal. Choose a blue shade for your hairstyle that truly represents you. Here are some general guidelines you should consider.
Your Skin Tone
Choosing a blue shade that complements your skin tone is crucial. Lighter shades like sky blue and pastel blue are typically more suitable for fair skin tones.
On the other hand, deeper shades like navy blue and royal blue complement darker skin tones. For those with a medium skin tone, you have the luxury to experiment with a broader range of blue shades.
Choose the Right Blue Hair Dye
When choosing a hair dye, consider the durability, vibrancy, and healthiness of the product. Always opt for products that are ammonia-free and enriched with nourishing ingredients like keratin or argan oil.
While DIY hair coloring might be tempting for its affordability, professional hair coloring ensures precision, optimal results, and less damage to your hair. If you choose to go the DIY route, make sure to follow the instructions carefully.
Consider Your Hair Type and Length
The type and length of your hair can also influence the blue hairstyle that's right for you. For instance, if you have short hair, you might opt for a full-head dye job, as this can create a striking effect.
If you have longer hair, you could consider just dyeing the tips or going for an ombre effect, with the color gradually changing from your natural hair color at the roots to blue at the tips.
Think About Maintenance
Maintenance is another key factor when choosing a blue hairstyle. Some blue shades, particularly the brighter ones, can fade quickly and require regular touch-ups to keep them looking vibrant.
Additionally, colored hair often requires specialized products to keep it healthy and prevent the color from fading. Therefore, it's important to consider the amount of time and money you're willing to invest in maintaining your blue hairstyle.
Workplace Acceptance
While societal acceptance of unconventional hair colors has improved significantly, blue hair may still raise eyebrows in more conservative workplaces. It's wise to gauge your workplace culture before making the color plunge.
Different industries have different norms and expectations when it comes to employee appearance. In creative industries like advertising, fashion, or tech startups, blue hair might be seen as an expression of creativity and individuality.
On the other hand, in more traditional sectors like law, finance, or government, conservative hairstyles, and colors are usually the norm.
To make your hairstyle look the best when it comes to coloring it blue, consider your skin tone and how much time you have for maintenance. The more color you add, the more upkeep it'll require. One thing is for sure: your finished look will be a hit!