Being a guy with thin hair might make you feel difficult every time you want to create a different hairstyle. Thin hair makes men look uninteresting because they usually feel comfortable only with one hairstyle.
Some people even think that men with thin hair look older than their real age. This condition actually motivates many men to have thin hair to find a solution to make their think hair look thicker.
In this case, Thicker Fuller Hair Weightless Volumizing Hair Spray – 8 oz becomes the best solution. Lots of men have used this hair spray and they usually get an amazing result.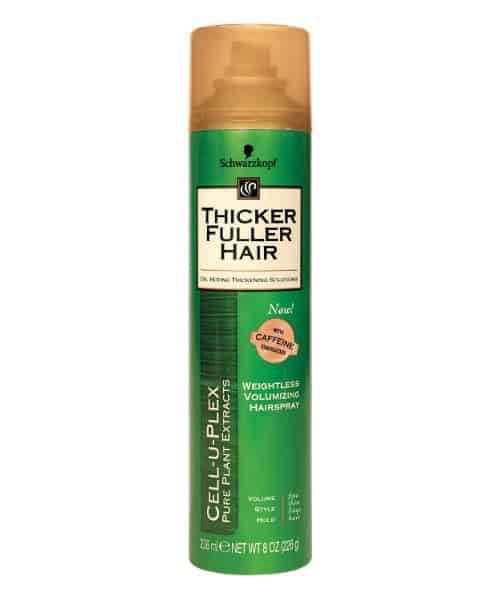 Thicker Fuller Hair Weightless Volumizing Hair Spray is made in the USA and it has met VOC requirements. Men who usually feel ashamed with their thin hair no longer need to have such feelings because this product can perfectly solve their problem.
With the combination of Cell U Plex pure plant extracts, vitamins, and protein, this hair spray offers 3 great benefits. This product can thicken, strengthen and improve hair's appearance. The product can perform 3 great functions without damaging hair.
The vitamins and protein can keep hair healthy even though this product is used for a long period of time. You do not need to buy more than one hair product in order to improve the appearance of your hair because their product can make thin hair look thicker and feel stronger.
Further, even though the hairspray can add volume, style and hold thin hair, it does not make the hair stiff. Many hair spray products leave unnatural hair's appearance so that users feel unconfident with their performance.
However, with the weightless formula of Thicker Fuller hairspray, all men now can have natural thicker and stronger hair. The formula can hold thin hair all day long. At the same time, users can have flexible and touchable hair. Moreover, the unique formula of his spray makes hair feel soft and look shiny.
As a result, other people will not be able to easily notice whether you use this hair spray unless they pay attention to your hair because your hair looks natural.
Therefore, if you have thin hair and currently looking for the best solution to your thin hair, you had better use Thicker Fuller Hair Weightless Volumizing Hair Spray – 8 oz as your primary hair care.