Round faces are adorable on men or women. I know, I know; that's not the adjective you want to hear. However, with the right haircut, that "adorable" face becomes dynamic, eye-catching, and even sexy.
Though this face shape is considered as one of the hardest face shapes when it comes to finding the right hairstyles. But don't worry.
Our experts have made it easier for you with this comprehensive write up. From identifying your face shapes to best haircuts for round faces we have it all.
How To Determine Face Shape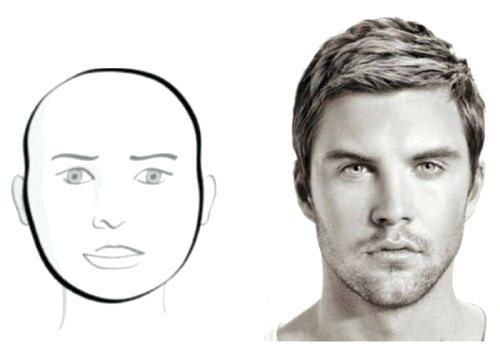 Determining the shape of one's face is a relatively simple matter that one can do in his own home. You can determine the shape of your face in the following manner.
A round face is approximately equal in width and length. An oblong face is one that is longer than it is wide but does not meet the 1.5 measurement that defines an oval. A heart-shaped face has a narrow jawline and wide cheekbones and forehead.
A triangular face is just the opposite, the forehead is narrow and the jawline is wide. If a person has a square face, the width and length are approximately equal as with the circle, but the facial features are more angular. A diamond face if the jawline and forehead are narrow but the cheekbones are the widest point.
A round face is the rarest facial shape there is. While this facial shape features softer, more rounded features, it differs from a fat face in some important ways.
A fat face is often so overwhelmed by excess body fat that the bones of the face are almost completely lost. Another common feature of fat faces is the presence of multiple chins caused by pockets of fat that accumulate between the chin and neck.
A round face does feature some fat, but not enough to give the appearance of a fat face. It normally is only seen in the young and in the more middle-aged. This is because of baby fat that has not been lost in the first case and the beginning of middle-age weight gain in the second.
Tips to Choose Ideal Haircuts for Different Face Shapes
Hairstyles to Avoid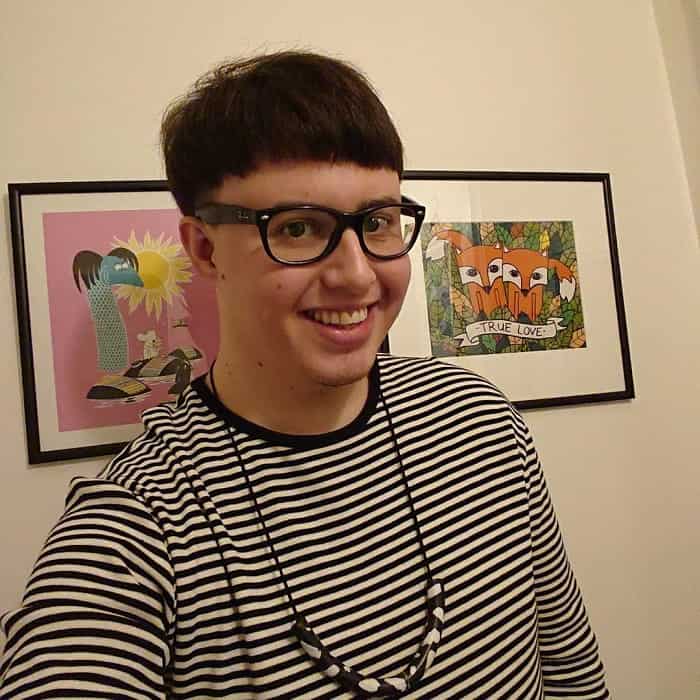 For many people who have a round face, the goal of styling their hair is to make the face seem more narrow, more oval in shape. With that in mind, there are a few hairstyles that men with a round face need to avoid.
Stay away from any hairstyle that adds volume on the sides. This can emphasize the width of the face rather than slim it. Hairstyles that kick out to the sides are also bad for the same reason.
One should really avoid traditional, side-parted hairstyles and formal hairstyles. These tend to emphasize the cheeks and the width of the face. It is also essential to avoid any haircut that features heavy, straight, or blunt bangs, such as a bowl haircut.
Choosing The Most Flattering Hairstyle For Round Face
Hairstylists around the world agree that the ideal face shape for them is an oval. Sadly, only a very few people have this perfect shape. There are many more people with what is known as round face shape. Here are a few tips on choosing the most flattering hairstyle for a round face.
Short hairstyles that add height to the crown of the head, such as spikes or faux hawks, are ideal for creating this illusion. Wearing a beard and sideburns can also seem to reduce the width of one's face. A crew haircut can also make your chubby face look a bit thinner.
Normally, it is a good idea to keep the sides cut short, or at least closer to one's face to avoid making the face look wide. If one is going to wear long hair, it should be kept as straight as possible and not styled in any fashion that would add width.
Hairstyles that feature a center, or midline, part and side swept bangs work well to draw the attention away from the sides of the face. This helps to create the illusion that the face is narrower, more oval in shape.
Hairstyles for Men with Round Face Shapes
Thanks to the selection of haircuts for men with round faces, you're not at all limited in what you choose. In fact, you should experiment and try to find the cut that flatters your face the most.
Remember that it's not about hiding the shape of your face or masking your full cheeks. It's about highlighting your best features and making your hot little face look amazing. All in all, it's not a tall order.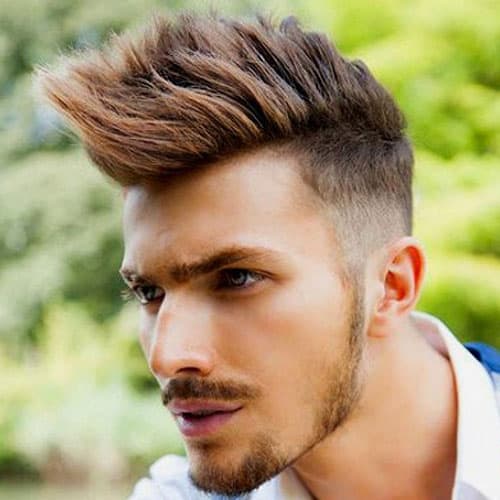 The angles and height of a faux hawk make it one of the most complementary hairstyles for round face shapes. That angularity balances out the roundness and soft edges of your face.
Because a faux hawk is, well, faux, you can also style it differently on those days you just aren't feeling the 'hawk.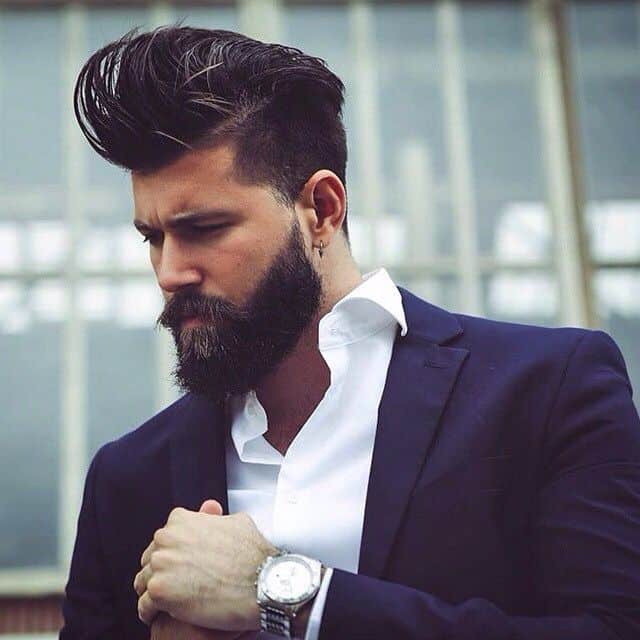 What is it about the pompadour that makes it so flattering for so many men? It works with nearly any face shape or hair color. It detracts from big ears but defines your eyes and jawline. It's also hot AF. Honestly, is there a better hairstyle anywhere?
#3: Spiked to the Gawds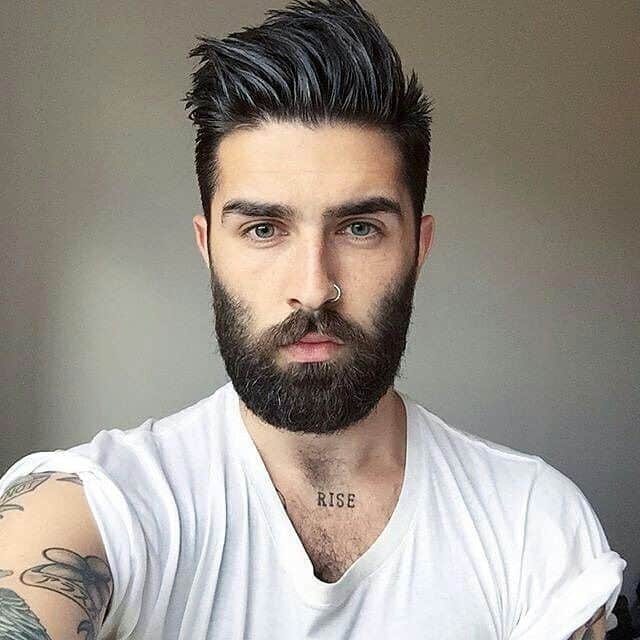 Spiky hair affects round faces by balancing out the softness and curves, as well. The attention moves away from your face and focuses on your sky-high hair. The volume also elongates your face, which makes it appear much less round.
#4: A Snazzy Side-Part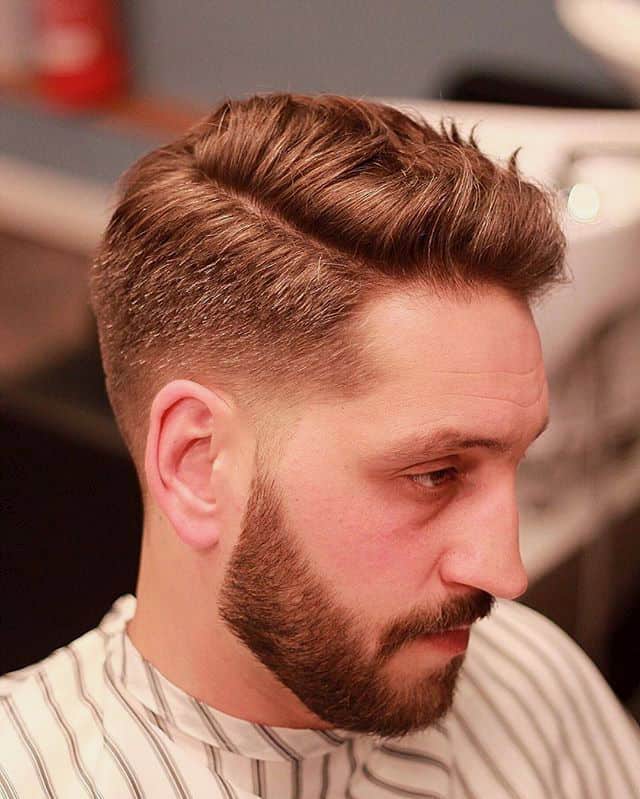 There are plenty of classic, timeless haircuts for men with round faces from which to choose. The side part is practically an institution.
It looks good on pretty much anyone. It tends to change the shape of your face, at least to the naked eye, leaving it looking oval or oblong rather than simply round.
#5: A Towering Quiff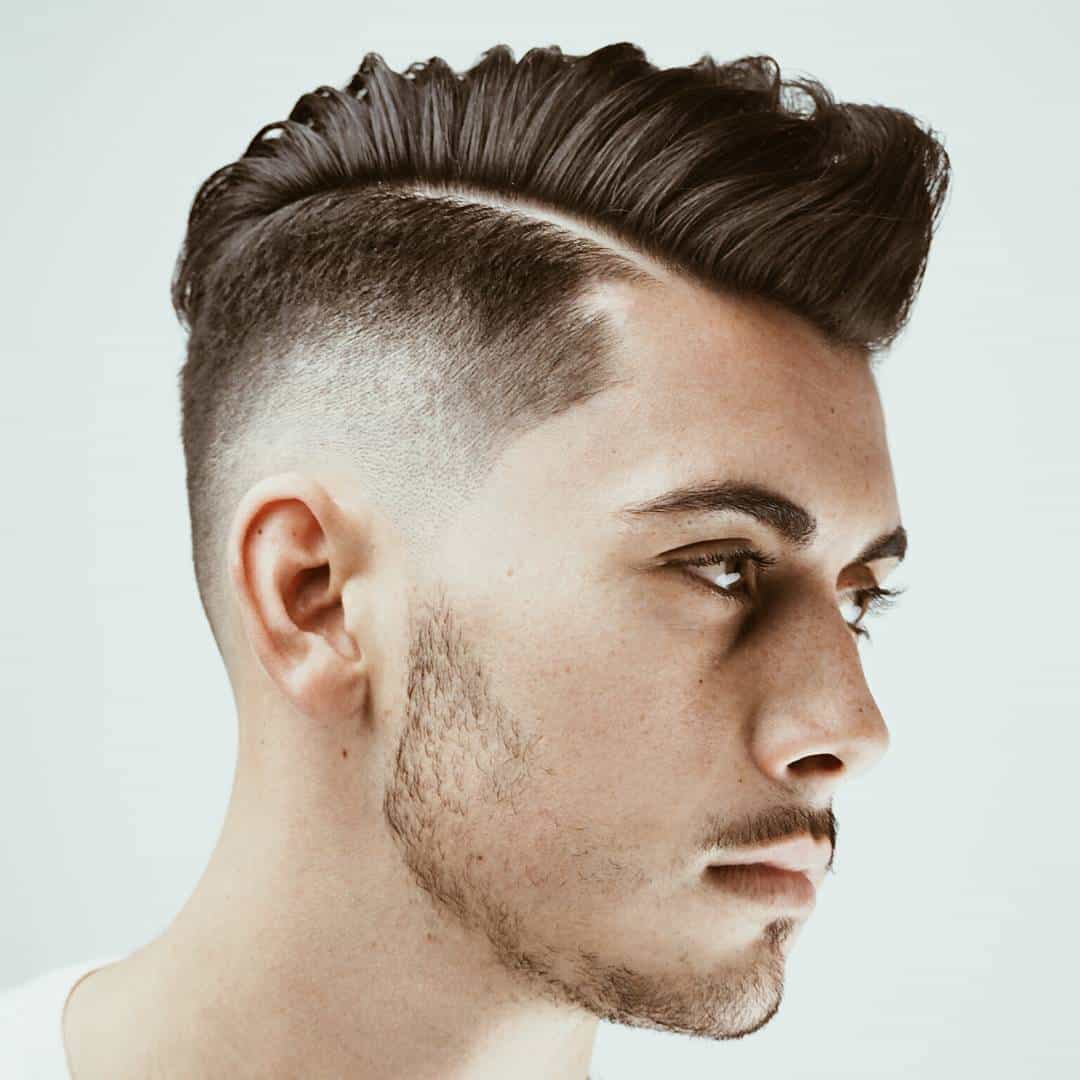 I love a good quiff. I tell you what. Between the volume and the traditional hard part, it lengthens the appearance of your face and gives the eye another place to focus. It's also such a dashing, laddish hairstyle that no one will be able to resist you regardless of your facial shape.
#6: Awesome Asymmetry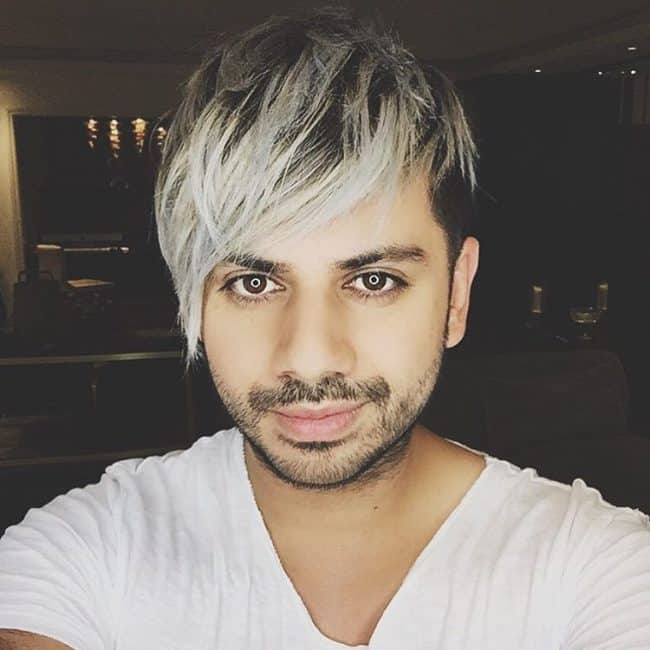 Opt for an asymmetrical haircut, and you'll look your best every time. Asymmetry is the key to throwing off the balance of something from which you want to detract. There's no evenness, so no one's paying attention to your round, chubby cheeks.
#7: Side-Swept Bangs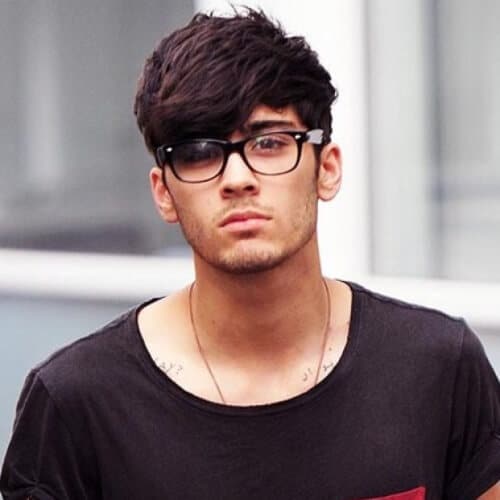 Everybody laughed at Justin Bieber's recent fringe, and rightly so, but the truth is that side-swept bangs are an ideal hairstyle for men with round face shapes. The fringe is uneven and unbalanced—purposely—so, in essence, it alters the shape of your face.
#8: Modish Side Sweep Hairstyle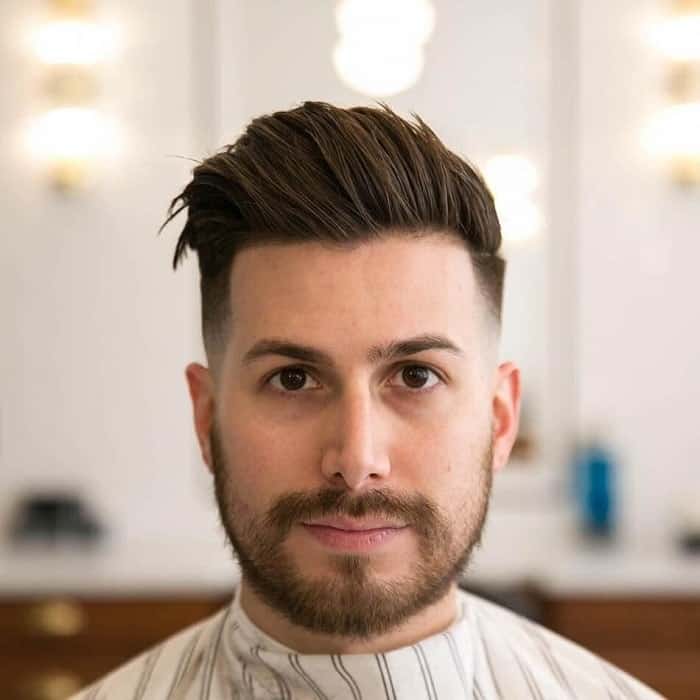 Want to drive people's attention from your rounder jawline and chubby cheeks? You must go for this highly sophisticated side sweep hairstyle for this purpose.
It will make people become a die heart fan of your looks. It is indeed a perfect choice for businessmen as it reveals elegant and professional aesthetics.
#9: Crop Haircut for Round Face Men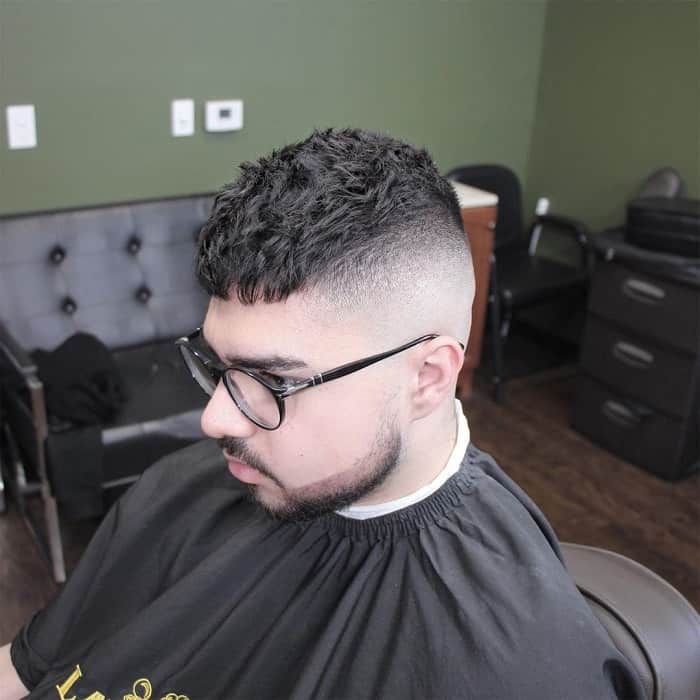 Crop haircut can be a big no for chubby and round face shape, but when it is styled by adding an expressible texture to the top with skin fade, it will make your face to appear a bit elongated. Apply a styling product to the choppy crop for a polished look.
#10: Amazing Hair Transformation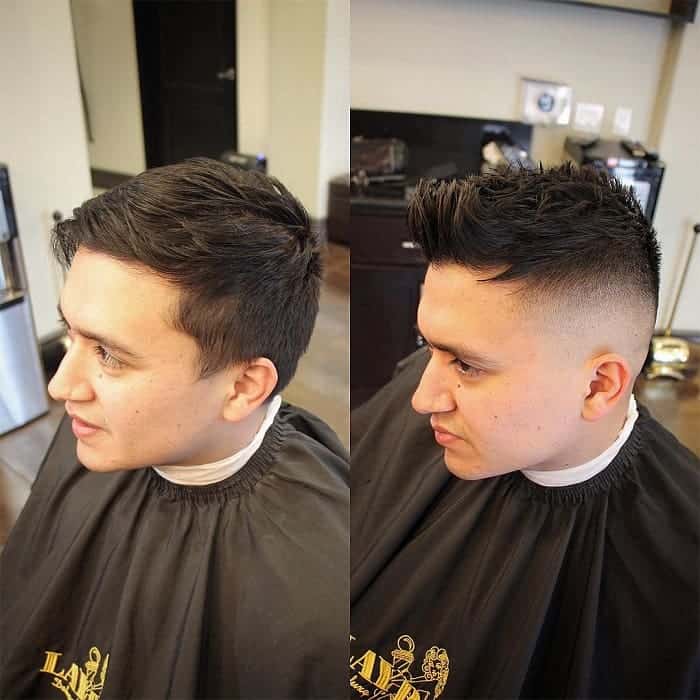 The Transition in the above pic needs no more elucidation at all! This is how an edgy haircut can change the personality of men with a round chubby face. The spiky top has given expressible confidence to the guy while the skin fade cut is maximizing the effectiveness of this overall Transformation.
#11: Skin Fade and Buzz Cut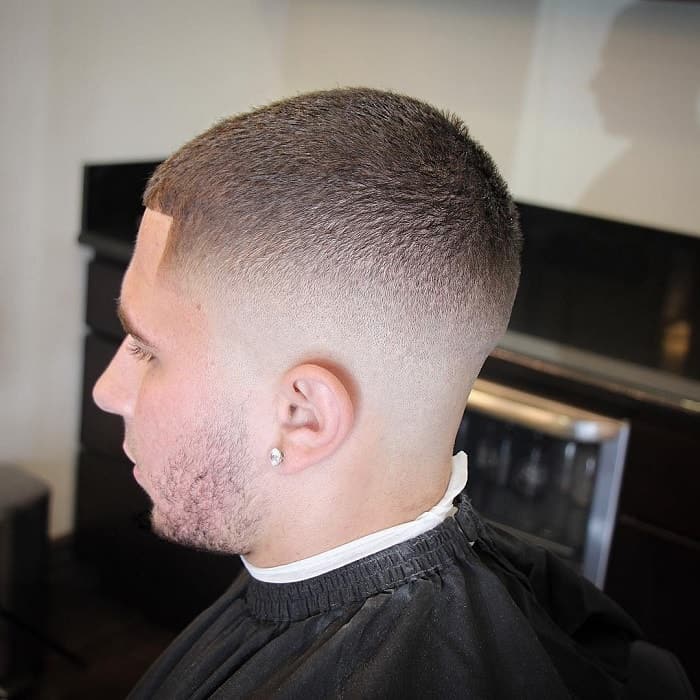 It is one of the shortest, yet stylish haircuts for men with a round face. It features a buzz cut top and skin fade side and back of the head. A well-defined lineup changes the face shape a bit while stubble gives guys a matured look.
#12: Drop Fade for Men with Round Chubby Face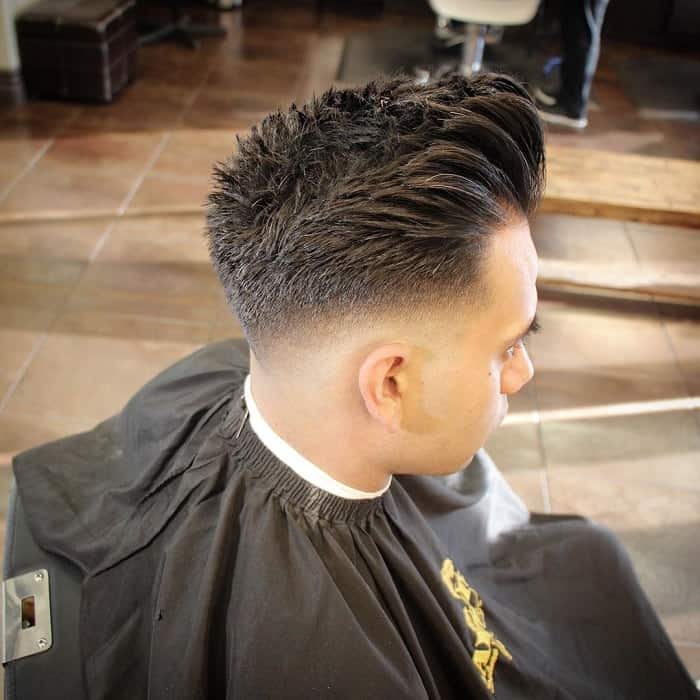 Just like pompadour hairstyle, Quiff also gives fat guys an urbane appearance and reduces the chubbiness of rounder face because of its voluminous structure.
Keep the top hair a bit spiky from the center and perfectly rolled over from the front. Drop fade will provide preeminence to the Quiff haircut.
#13: Loose Curly Fringe for Fat Guys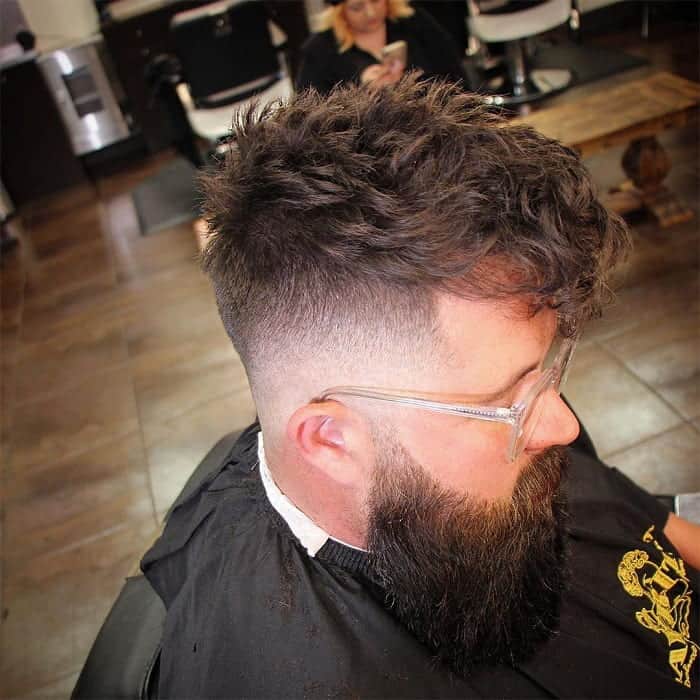 The fringe has the capacity to make your face to look slimmer so, it can be a flawless choice for those fat guys who have naturally curly hair.
Keep your curls moisturized to achieve the soft texture. Taper fade sides and back with a bandholz beard will complete your bewitching looks.
#14: Textured Top with Fade sides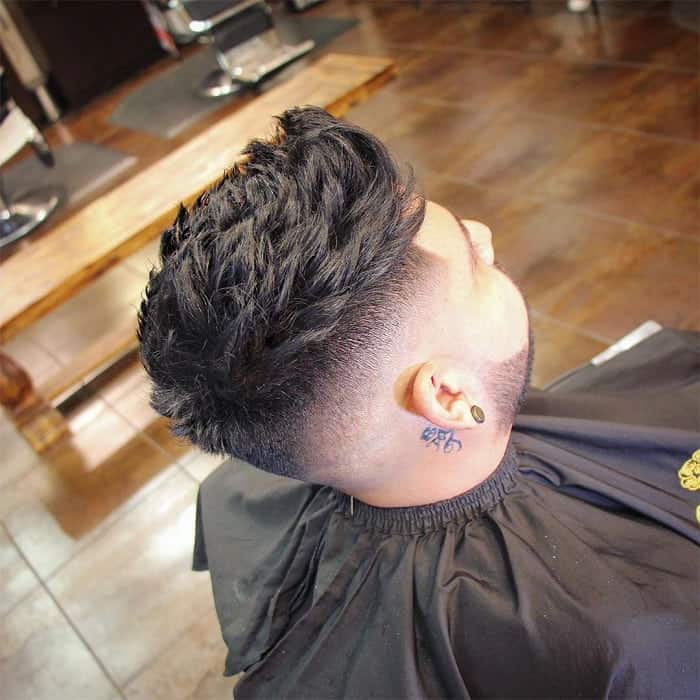 Keep the top thick and medium in length while the sides and back hair of the head faded gradually to achieve an undercut resembling edgy look. All you need to achieve this look is; a mousse to hold the forward gusted, spikily textured top and a hairdryer.
#15: Silver Blonde Taper Fade for Fat Guys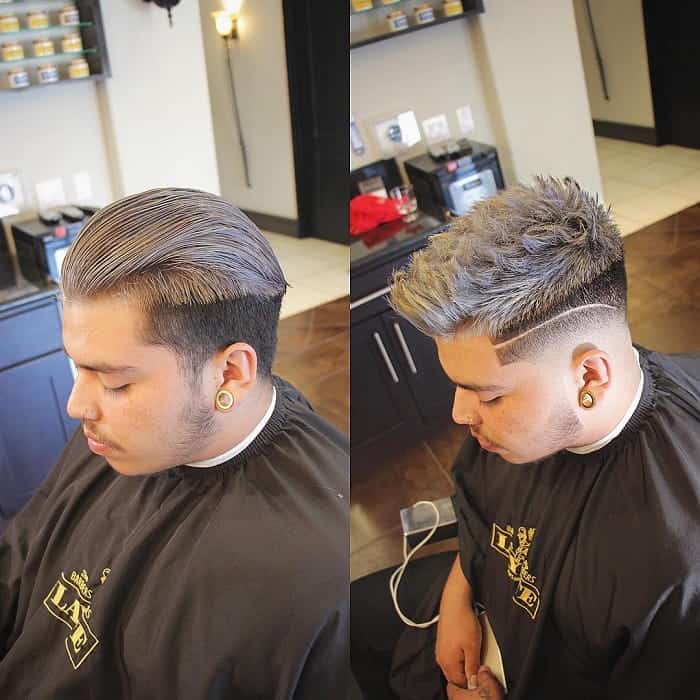 You see slick back is not looking as much impressive on a guy with a round chubby face as the taper fade accompanying with an edgy faux hawk looks!
Silver blonde top surrounded by golden blonde line making the whole haircut uber-refined. Add extra cool factor to your looks by a razor line on one side of the head.
#16: Medium Pompadour Fade and Beard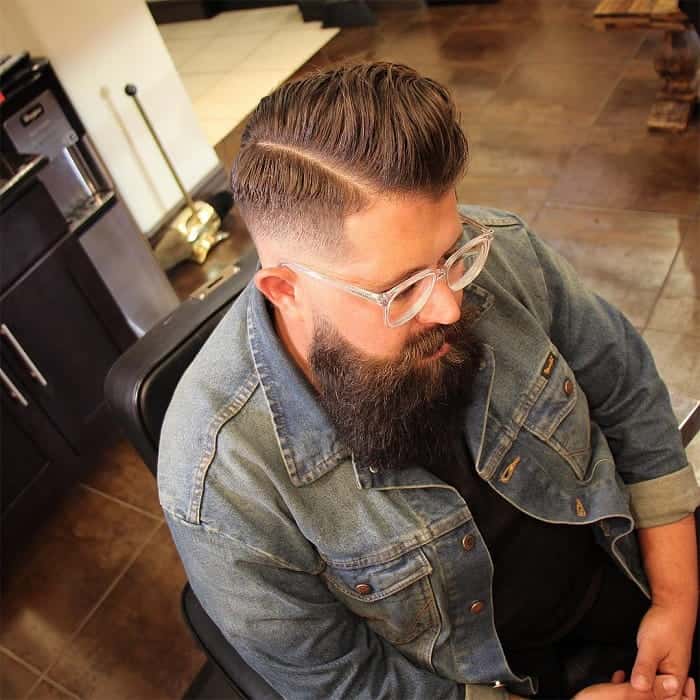 Pompadour haircut does not just add a class to fat guys' appearance but gives a voluminous texture to their hair as well.
Bandholz gives ultra-masculine feature to guys while the skin fade sides give an edgy factor to facial features. The styling requires good quality pomade and serious barber skills.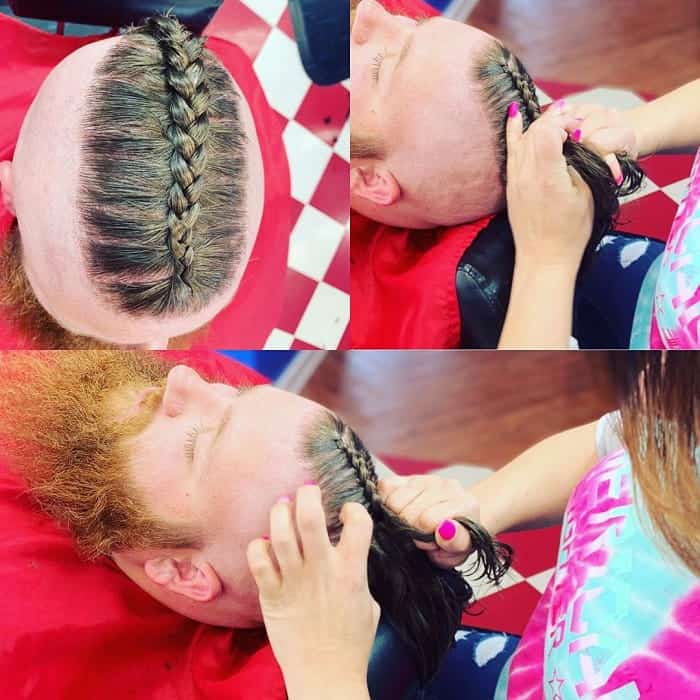 It comes under one of the most stylish lists of Viking haircuts that gives the round chubby face an edgy feature, and fat guys cool and daring vibes. To achieve this look, clean shave the sides and back of the head while leaving enough long hair on top.
Turn the top hair into a Dutch braid for a complete look. Ginger rugged beard will not only give you a warrior look but hides your undefined jawline as well.
#18: Long Hair and Beard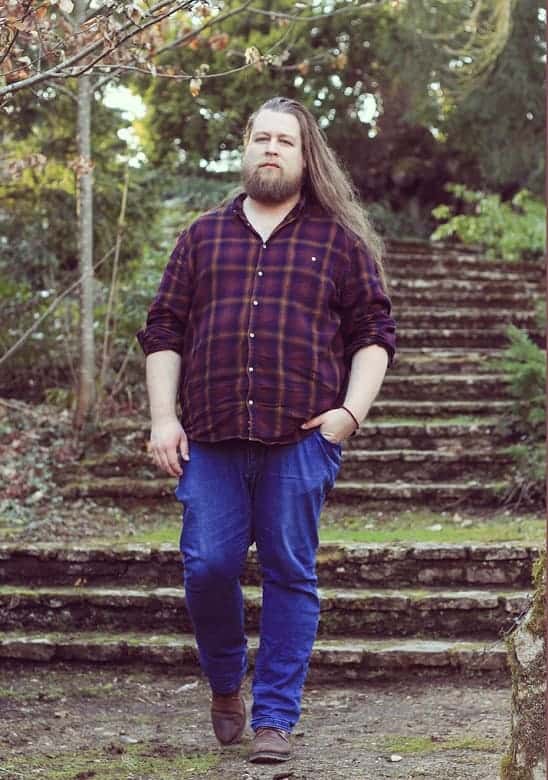 If you are fond of growing long hair, but afraid of, whether it will look good on your round chubby face or not, then hold on for a while, take a deep breath and have a look at the above long hair and beard combo.
Isn't it looking quite impressive and bold? Certainly, it is! Go with this style and rock with your chunky looks.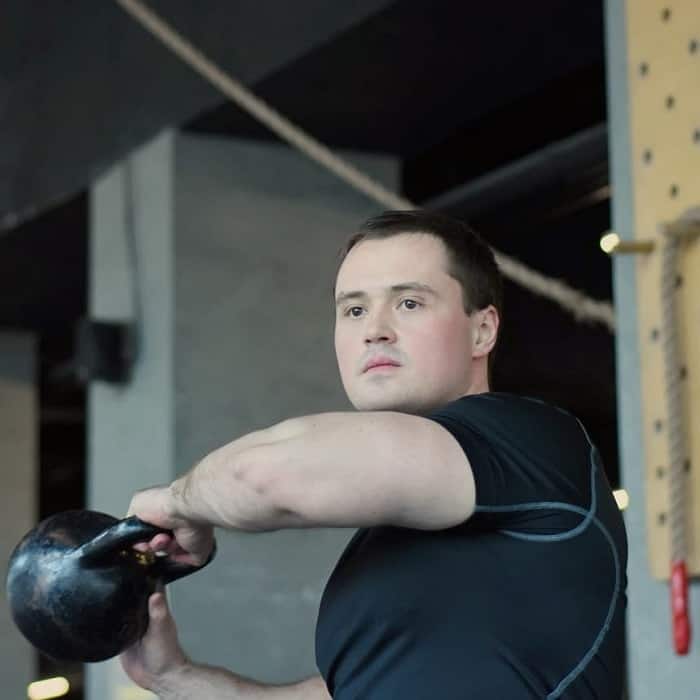 An ideal haircut for those men who are looking for a military haircut. It is easy to style and requires low-maintenance and use of less or almost no styling product.
#20: Classy Comb-over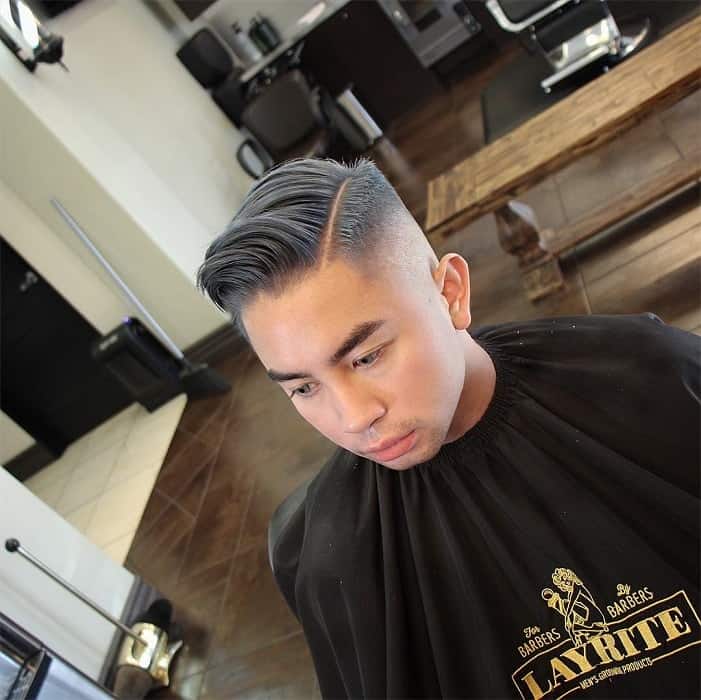 When a comb-over is styled into an appreciable structure along with a prominent hard part and taper fade cut, it gives guys with round face an alluring personality and hides out the chubby face. You can add cool aesthetics to the haircut by dyeing it with an attractive hue.
#21: Blow out Hairstyle for Round Chubby Face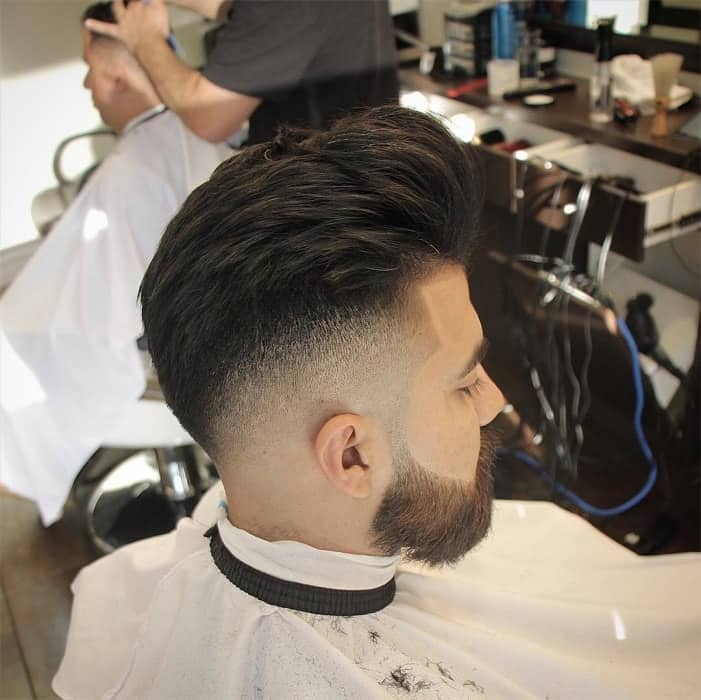 Blow out Pompadour adds an extra volume and fluffiness to men's tresses thus, act like a contoured element for their round face. It looks ultra-ravishing when combined with a full beard and taper fade haircut.
#22: French Crop with Ash Highlights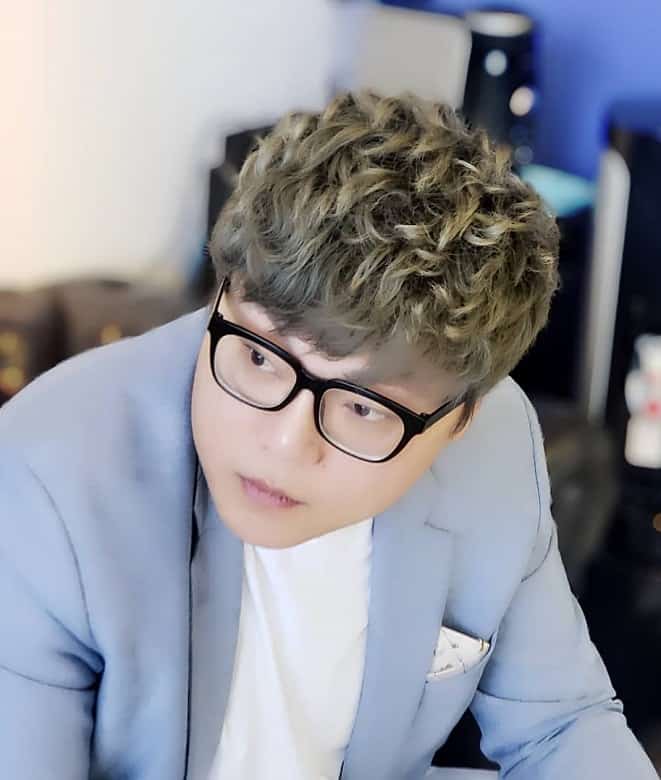 It features textured, choppy top and front bangs that cover the forehead area thus, hiding the roundness of the face. Ash highlights provide guys uber-stylish features. Fix the wavy texture of the top by applying mousse or hair spray.
#23: Fade Design for Round Face Men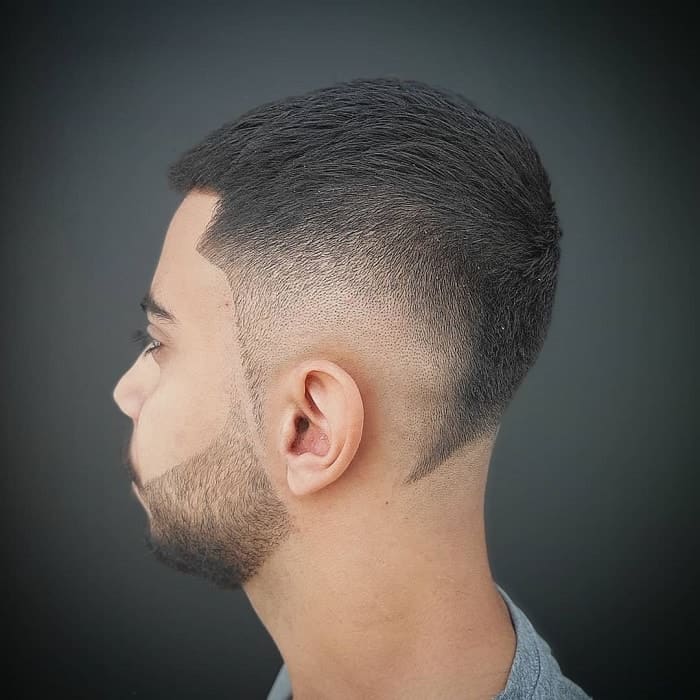 Change the buzzcut charisma with a strong fade game! Overgrow the buzzcut and embellish it with side shaved design by fading the hair around the ear in a curvy shape in such a way that it will make the beard disconnected from the haircut.
#24: Funky Cornrows for Afro Fat guys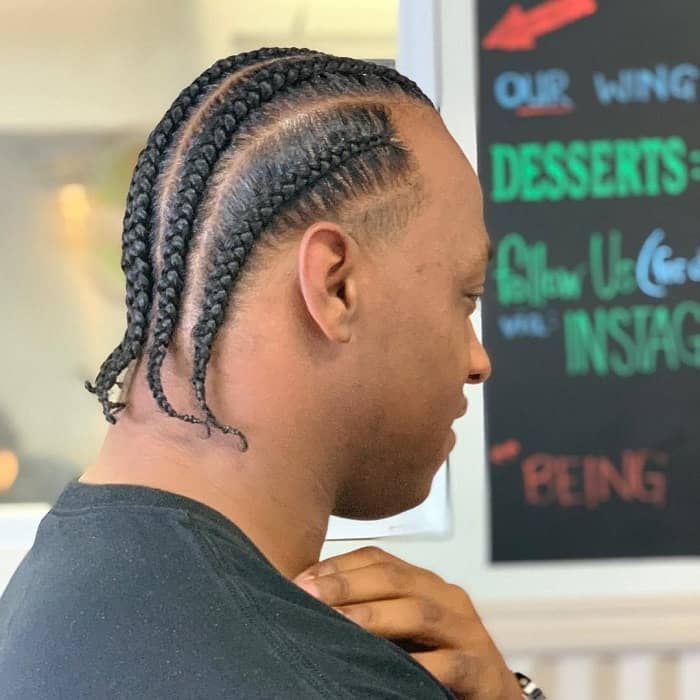 Cornrows are highly popular amongst the Afro community and come under one of the funkier hairstyles that fit on rounder face shape incredibly. It requires less or no maintenance. You can opt for the traditional straight cornrows or creative intricate styles, the choice is all yours!
#25: Clipper over Comb Short Faux Hawk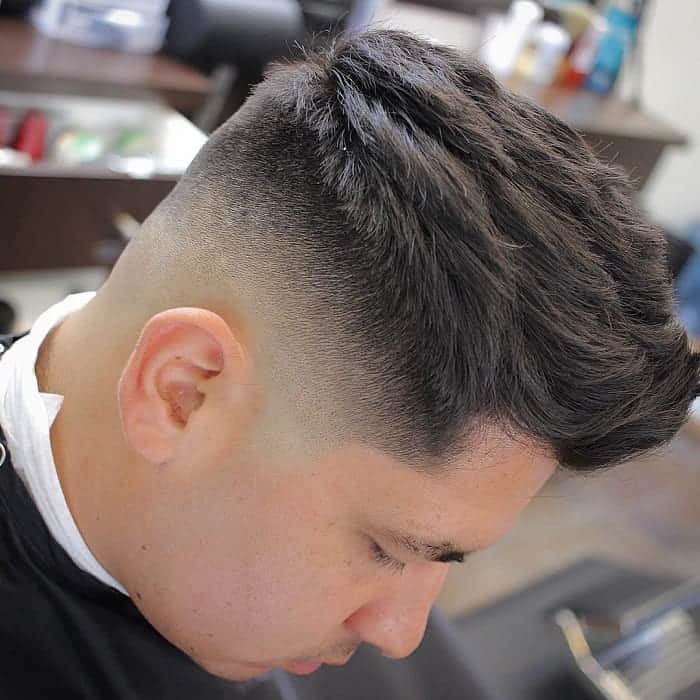 Clipper over comb is a haircut technique that is mostly done after getting a haircut. Short Faux hawk with medium fade, due to its pointed structure and admiring texture adds an angle to round chubby face. After getting a short Fohawk haircut, give the hair finishing touch through clipper over comb technique.
Pictures of Hairstyles for Men with Round Faces
Gerard Butler Hairstyle
Gerard Butler has starred in several box-office movies including 300, dated gorgeous women like Jennifer Aniston, and manages to stay single for a very long time.
Yes, for any man, he is a demi-god. The only way they will ever come close to being him is sporting a Gerard Butler hairstyle. Well, good news, it is just so easy to obtain. You simply need to trim the ends of the hair strands continuously.
In case you have not noticed, Butler has been wearing the same hair for quite some time now. It is also very manageable since the hair is short. To style it, you simply have to apply a very small amount of hair wax, and you are good to go.
However, there are prerequisites. For one, this works well for men who have a round face, like Gerard's. The style also looks good for men who are born with naturally wavy hair.
Kevin Spacey Hairstyle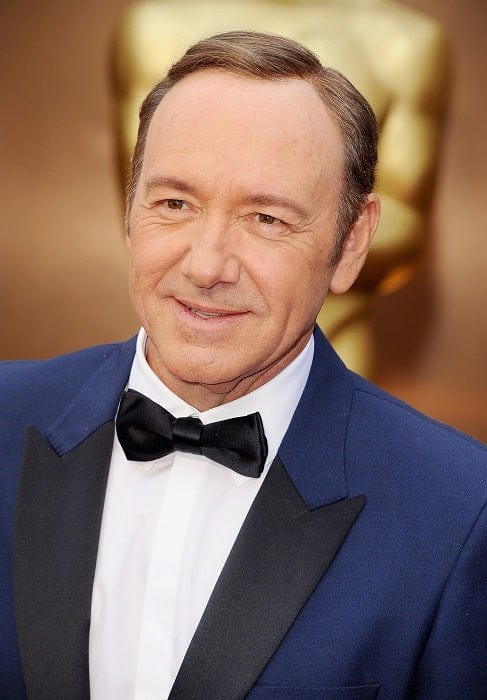 Kevin Spacey is one of the most respected actors not only in Hollywood but also in Britain, where he holds a creative director position in the Old Vic Theater.
Despite appearing in numerous films, he has remained discreet about his personal life, hiding as much information as possible from the public. Well, he cannot hide his hair.
Kevin Spacey's hair is very much like that of Bruce Willis's. He has several noticeable peaks on the forehead. To avoid the obvious, he wears a close-cropped hair.
This works fine for him since it makes him look more sophisticated and learned. It also means he doesn't have to do so much to maintain his hair. This is also a haircut that will suit a receding hairline.
Freddy Rodriguez Hairstyle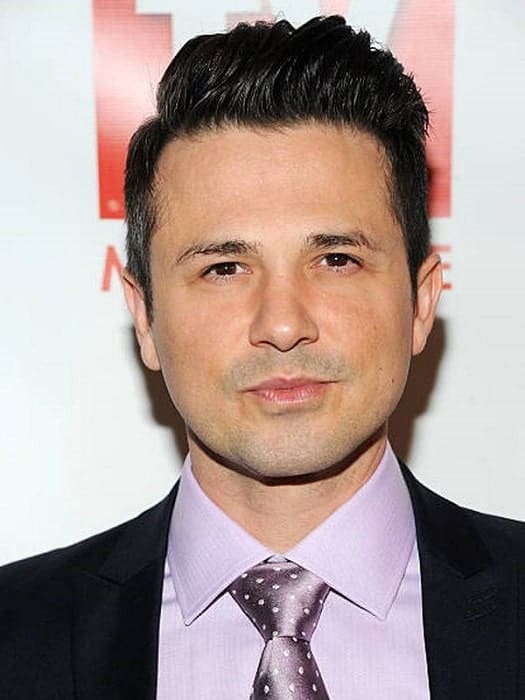 Freddy Rodriguez is perhaps one of the most versatile Latin American actors in Hollywood today. He has starred in a number of independent as well as commercial films, one of which is A Walk in the Clouds.
He also conquered television, appearing in Six Feet Under and Ugly Betty. Interestingly, a Freddy Rodriguez hairstyle is just as flexible as he is.
There are a wide variety of hairstyles worn by Rodriguez. There is spiky, cropped, faux Mohawk, shaggy, layered, etc. He is one who believes that the hair can do so much for characterization.
One of the most popular will be the shaggy layered hair. It is perfect for men who have medium-length hair, one that reaches up to the collar. The layered cut gives more volume and thickness into the hair and frames the face.
Seth Rogen Short Hairstyle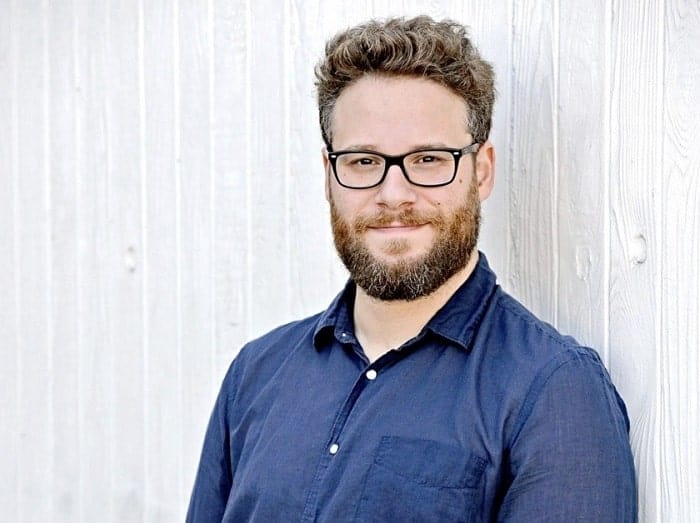 If you have been following Seth Rogen's steps in Hollywood, you'd know that a clean-cut boy-next-door image is something not commonly associated with him.
He's described as loud, carefree, and somewhat wild. So it definitely came as a shock when he appeared several pounds lighter and wearing the new Seth Rogen short hairstyle.
Nevertheless, when you try to analyze it, it's the perfect haircut for him. It further drove the attention of many to his weight loss. It made him look a lot cleaner and fitter, especially since he's playing Green Hornet.
It also made his hair more low key and manageable. He owns curly hair, which can get sometimes very frizzy. The haircut is ideal for men who have chubby round face. It's not totally skinny.
The back and sides of the hair are just cut very short. Keep the upper portion flat, almost forming like a square.
Adam Scott Hairstyle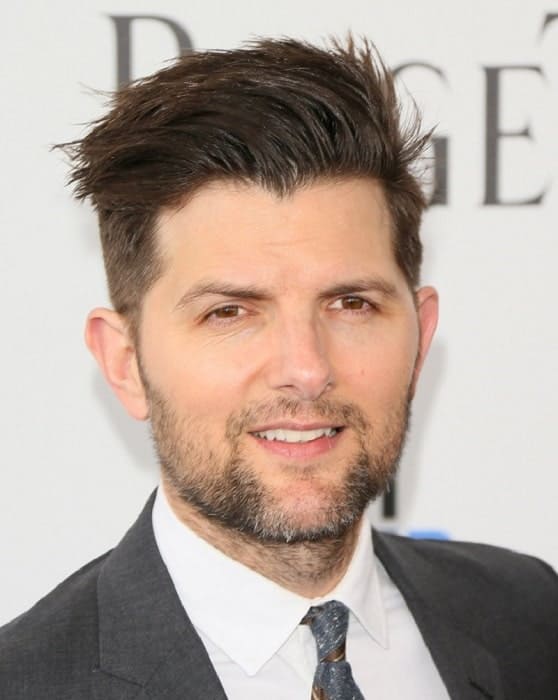 Adam Scott is a well-known actor and an Emmy Award winner. One of his best works would be playing Henry Pollard in the TV show Party Down.
The program didn't last long–it only stayed for two seasons–but Adam Scott hairstyle remained popular and followed by several men.
What's the mystery about Adam Scott's hair? The answer is nothing. To get the look, you just need to have pretty short hair, so it's easy to make jagged cuts. The hairstyle complements well to men who have round faces.
However, it's in the attitude–how the air adds more oomph to his personality. The layered cut on the top added more high, playfulness, and edge to his character. He's more than 30 years old, but the haircut makes him look more youthful and, in fact, boyish.
Andy Serkis Hairstyle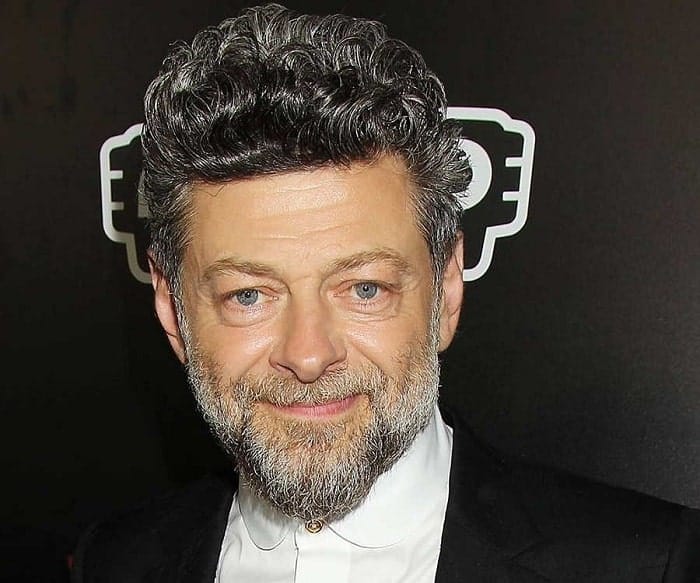 Andy Serkis is a Hollywood actor who doesn't mind much about his hair. Perhaps it's because he's not planning to be a heartthrob but to be a certified character actor in the movies. Nevertheless, no one can just simply ignore that Andy Serkis hairstyle.
Serkis has naturally curly hair. However, he may be one of those men who want to sport the short hairstyle. Thus, one of the best ways to preserve the curls is to remove most of the hair strands at the side and create a jagged cut on top. This will also add more volume to his hair.
This hairstyle is also ideal for guys who have a triangular face. Those over 40 can sport the same thing and find themselves looking several years younger as it brightens up the face.
Which hairstyles for men with round face shapes appeal to you? How do you deal with your round face on the daily?