With his dashing looks and electrifying performance on stage, he has made teenagers go head over heels. Well, he is none other than the German heartthrob Bill Kaulitz.
Lovingly nicknamed Meckie by his friends and fans, this famous young singer, lyricist and lead vocalist from Germany has achieved an iconic status among teenagers.
With his androgynous look, edgy hairstyle, and power-packed performance Bill Kaulitz is the youngest person to be immortalized in wax at the Madame Tussauds Museum. Bill Kaulitz was born in Leipzig, German Democratic Republic on September 1, 1989.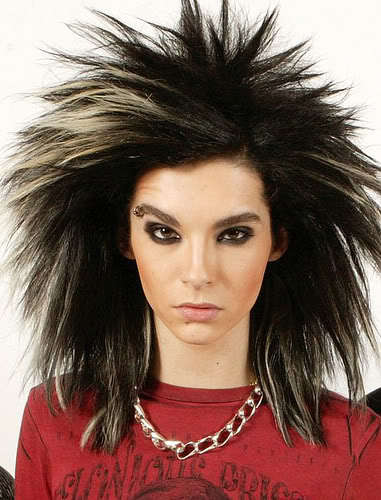 It was only when Bill Kaulitz participated in a children's Star Search in 2003 (which he lost in the quarter-final) that he was discovered by music producer Peter Hoffman.
Founder of the famous rock band "Tokio Hotel" along with his guitarist brother Tom, this man stormed the music circuit.
He has been showered with awards and accolades including the band's first MTV Europe Music Award for Best InterAct in 2023 and the TMF awards for best male artist international to name a few besides a host of other awards. In December 2008, Bill Kaulitz became "Man of the Year #6" by MTV News.
Besides being noticed for his singing prowess, Bill Kaulitz's charm lies in his radical hairstyle He is never tired of teasing and spraying his hair until it gets pretty knotted, frizzy or snarled.
Be it coloring his hair from brown to black, perming his hair, or dyeing it with a few blond highlights, he has tried all.
Given his facial features and thick mane, Bill tried some of the classic hairstyles.
While his short black with little fringe reflected his innocence he soon switched to hairstyles like the bohemian short red hairstyle, short black with fringe, straight medium length black hair, short spiky emo hair with straight side fringe, long black dirty hairstyle, long straight hair with white highlights, long curly black hair with white highlights, long black big hair, long black and white highlights Lion like big hair.
While the occasional straightened hairdo goes well with his oval cut face, his layered black and white style is cutting edge.
Evolution of Bill Kaulit's Hairstyles
The Early Years
Yyoung Bill Kaulitz sported a majestic mane of dark, long hair with bangs. His style was emo-meets-scene, which was basically the uniform of coolness in the early 2000s. Bill didn't just wear the style; he owned it.
Blonde Years
Bill went blonde, and boy did it work! The mid-2000s saw his hair getting spiked and tousled, like a rockstar who just rolled out of bed looking effortlessly fabulous. The international stardom? Just a blonde perk.
Pink Years
Then came the pink avalanche. In the early 2010s, Bill painted his locks pink and opted for quiffs and pompadours, making Elvis probably give him a nod of approval from the great beyond. Talk about being a pink-tastic trendsetter!
Recent Hairstyles
Fast forward to recent times and Bill's hair has seen more shades than a color wheel. From blue to green, long to short – he's tried it all. Currently, he's rocking the short spiky look that screams both chic and "I might play in a garage band". Bill Kaulitz, the chameleon of hairstyles, keeps us guessing what's next!
What Was Bill Kaulitz's Signature Hairstyle?
Bill Kaulitz's signature hairstyle, particularly in the early days of his career with Tokio Hotel, was the "Lion's Mane". This was characterized by long, voluminous, dark hair with backcombed locks and dreadlock-like twists.
The look was a combination of punk rock and gothic styles, and it quickly became synonymous with his image during the mid-2000s.
The hairstyle stood out and helped to establish Bill Kaulitz as not just a musician, but also a fashion and style icon among his fans and in the media.
Bill Kaulitz Hairstyles
Lion's Mane
In the early days of Tokio Hotel, a young Bill Kaulitz sported what can only be described as a lion's mane. His long, voluminous hair was characterized by dark, backcombed locks and dreadlock-like twists. The look was punk rock meets gothic, and it became a signature style for him during this period.
Sleek and Straight
As we moved toward the end of the 2000s, Bill started to opt for a more polished look. His hair was straightened and styled in a sleek manner, often accompanied by side-swept bangs. This look was more subdued compared to his previous style but still made a statement.
Spiked Mohawk
Bill's style took a dramatic turn when he decided to chop his locks and go for a daring spiked Mohawk. The sides of his head were shaved, while the center was styled upwards in sharp spikes. This look was edgy and showcased his rebellious spirit.
Platinum Blonde
In the early 2010s, Bill took a leap into the world of blonde hair. His platinum blonde locks were usually styled in a quiff or left loose and tousled. This change was quite a departure from his previous dark-haired looks and gave him a more ethereal appearance.
Undercut and Top Knot
Embracing the trends of the mid-2010s, Bill adopted an undercut with a top knot. This look was modern and chic, with shaved sides and long hair on top that could be tied back into a fashionable top knot.
Sleek Black Bob
Returning to his dark roots, Bill sported a sleek black bob around 2016. The hair was cut at chin length and was immaculately styled. This elegant look brought a sense of sophistication to his style.
Shoulder-Length Waves
As we approached the end of the decade, Bill grew out his hair into shoulder-length waves. This look had a bohemian vibe and was often accentuated with hats or headbands.
Modern Mullet
In recent years, Bill Kaulitz has embraced the modern mullet. This retro-inspired hairstyle features shorter hair at the front and sides, with longer locks at the back. He has managed to modernize this classic 80s style, proving his ability to reinvent and remain relevant in the world of fashion and music.
Bill Kaulitz's Emo Hairstyle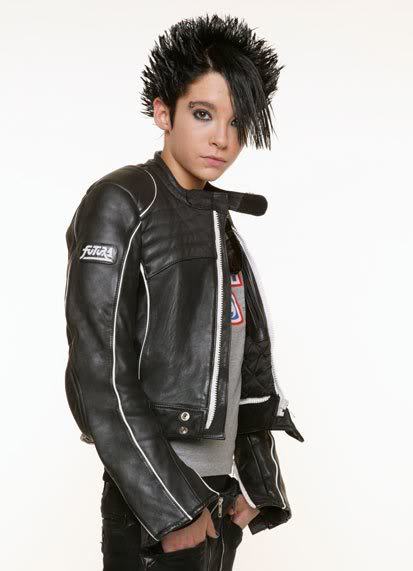 Bill Kaulitz emo hair
Bill Kaulitz's Long Straight Hair with White Highlights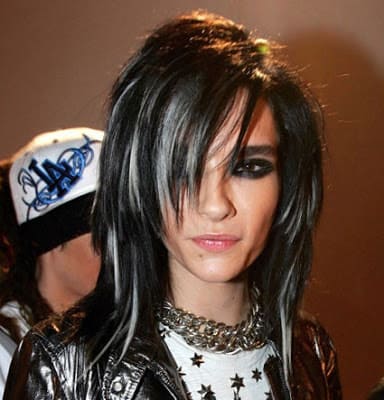 Bill Kaulitz long straight hair. Photo by TokioHotelUs.com
Bill Kaulitz's Lion Big Hair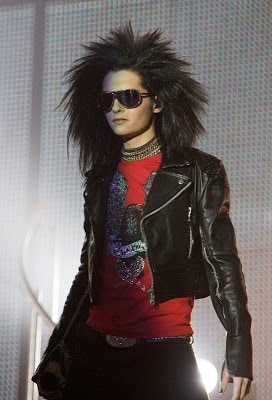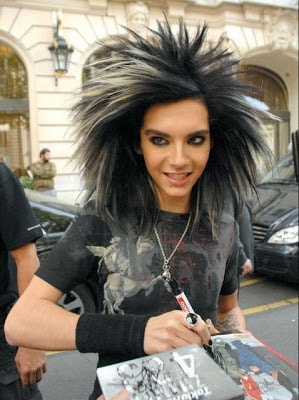 For someone blessed with loads of talent, oodles of confidence, and versatility, it takes very little effort to make things work. Undoubtedly, Bill Kaulitz is the sexiest singer and a style icon on the block.