Achieve sleeker and straighter locks without the fuss and extensive periods of time spent on blow-drying and large amounts of styling products. This review provides a detailed description of the latest ceramic straightener designed for use with all types and all lengths of tresses. Whether you desire sleeker locks or curly tresses, this versatile device is the ultimate styler.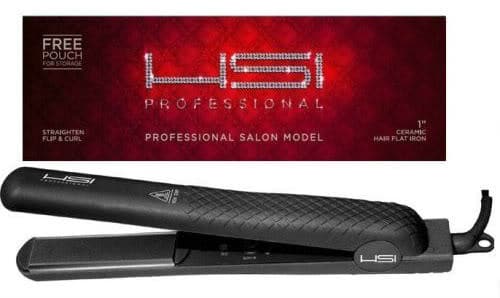 Great for Any Hair Length & Type
The styling tool is a particularly great option for men, not only because of its ease of use and convenience, but also due to the unique design of its floating ceramic and tourmaline plates, suitable for use with any hair length. The one inch plate width has been developed for all tresses. Locks are left incredibly shiny after use without having to add an extensive amount of product.
Ceramic and Tourmaline Plates
With the incorporation of ceramic and tourmaline plates, consumers are provided with a unique styler which can be used for a shorter period of time for silkier and shinier locks.
With its emphasis on straighter hair, this multi-functional device can also be implemented to achieve curly styles as well as flips for a trendy look. There is no need to hassle with dull or frizzy tresses as a sleeker look can be achieved within a matter of minutes.
Adjustable Temperature Control
An adjustable temperature from 240°F to 410°F (120°C – 200°C) with its fast heating action makes it a suitable option for styling both thicker as well as thinner tresses. A swivel cord makes it more convenient and easy to handle especially with a longer length of hair for maximum styling.
The ceramic plates are developed to retain and maintain an even temperature for enhanced heat control and the protection of delicate tresses.
Easy to Handle
Easy grip technology provides improved comfort during use, without having to fuss and hassle with complicated equipment. Certainly a great option for managing and creating particular styles and at an affordable cost.
The professional flat iron is a unique device which includes plastic behind the heated plates so that consumers are able to hold the necessary parts during styling. The size of plates and incorporation of its modern technology means that locks are silkier, softer and smoother after use.
Additional Points
The feature of maintaining and distributing heat evenly over the plates contributes to saving energy by not having to run the device repeatedly. Certainly a great option for men who are searching for an affordable, quality and convenient styling product as a result of its favorable construct and function. Locks are styled in a shorter period of time when compared to similar items in its market.
Moisture within your strands will further not affect the functioning of this mechanism. A range of features make the tool a suitable option for men and the styling of bangs. This item has received many positive reviews as a result of the short period within which one may achieve a desired look.
Pros
Inexpensive. Check the latest best price.
Works well on fine hair, very curly, and frizzy hair including African-American hair.
Adjustable temperature control.
Can be used to straighten & curl hair.
The tourmaline plate gives hair shiny & smooth with less damage.
It heats up quickly.
Easy & safe to handle.
1″ plate width, wide enough for any hair length.
Good support.
Cons
The HSI 1″ Ceramic Tourmaline Ionic Flat Iron Hair Straightener is great for those looking for a quick and convenient method for styling locks. It is suitable for use with all types and lengths of tresses. With its efficient heating, smaller plate width and ease of use, this unique straightener is a great choice.