Black men with blonde hair are so alluring. 2021 is the year of experiments, so if you haven't tried adding a little color to your mane this is the best time to do it. Blonde and black seem like the coolest match. If you thought that this combination might not look good on you, read on to see how good it looks for yourself!
Coolest Black Men's Blonde Hairstyles
We have found the best 8 blonde haircuts for black men to rock with pride this season.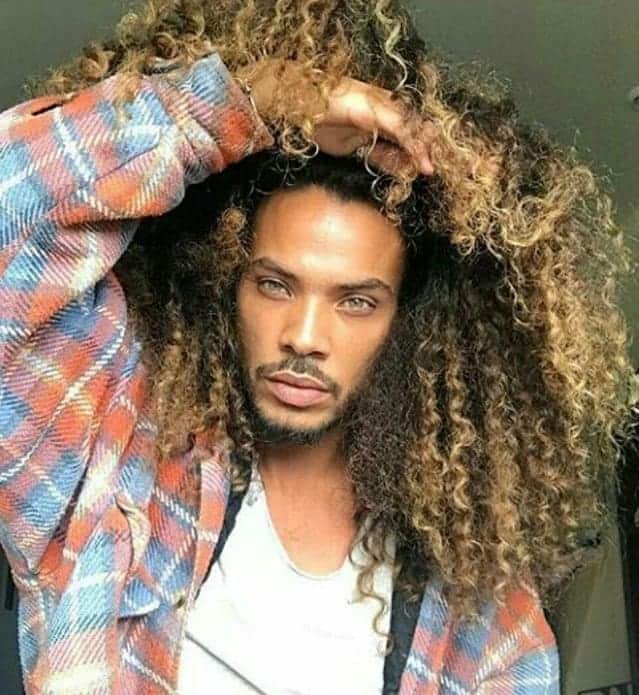 A long curly hair can be hard to maintain but it's totally worth it for black men with blonde hair color.
Ideal for: Perfect for guys who are not afraid of long curls.
How to Style: Make sure to use great products to protect and keep the curls healthy. If you're not naturally blonde, you will need to get a dye job.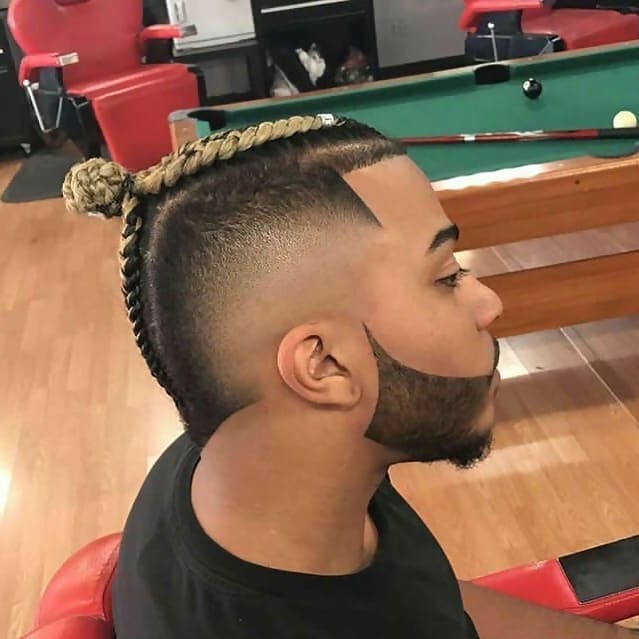 Braided blonde hairstyles are a great solution for black guys as well.
Ideal for: This double braids style is perfect for men who have long enough hair to have it braided. Medium and long lengths give you the space to get creative.
How to Style: If you can't braid the hair yourself you can always ask help from female friends, girlfriend, sister, or literally anyone who's into braiding. This hair can last for several days.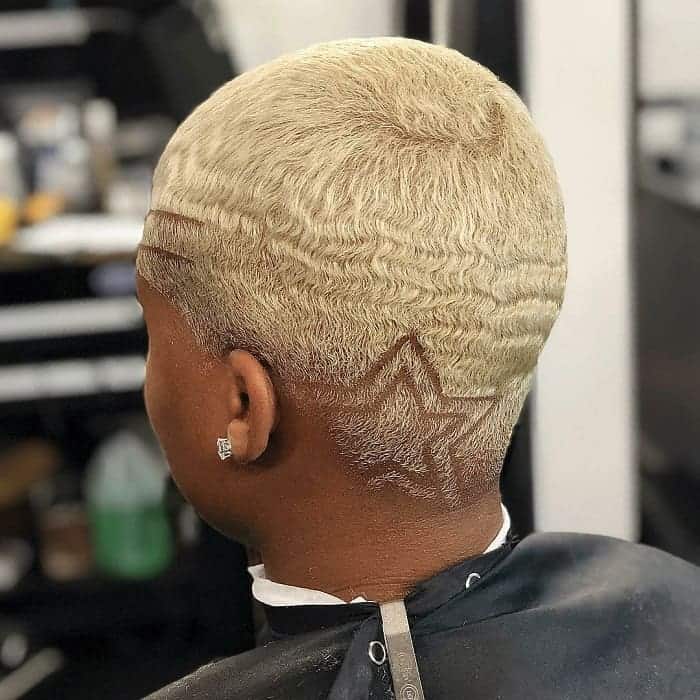 Waves are cool, but they become even cooler when blonde and with added art. This is one of the coolest examples of black men's blonde hairdo.
Ideal for: Great for black guys who prefer short hair.
How to Style: After washing your hair you need to brush it several times. Cover it with a towel dampened in hot water. Then, brush it again. Next, cover it with a wave cap for 30 minutes and brush again. Continue doing this for several weeks to get the waves.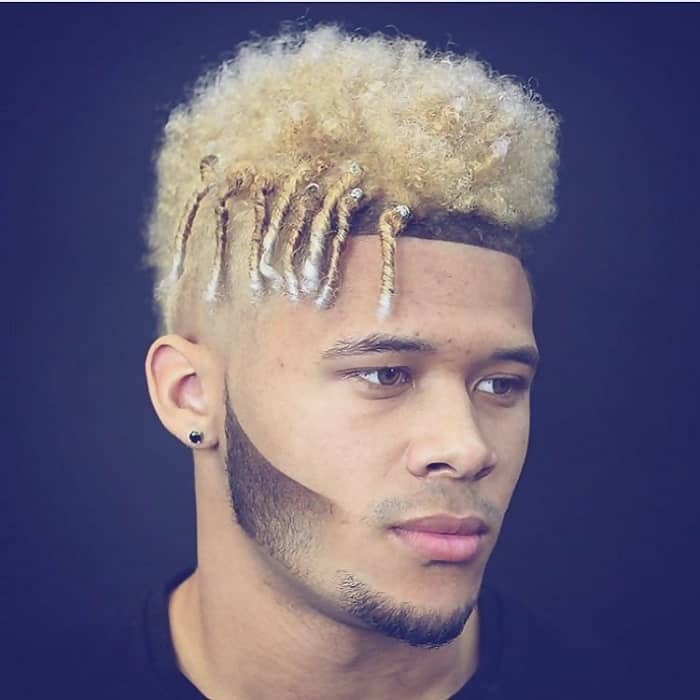 This is one of the chicest blonde haircuts for black men on the list.
Ideal for: It's ideal for all black men who like innovative looks.
How to Style: Opt for shorter sides and leave the hair longer in the top. Ask your barber for twists in the front.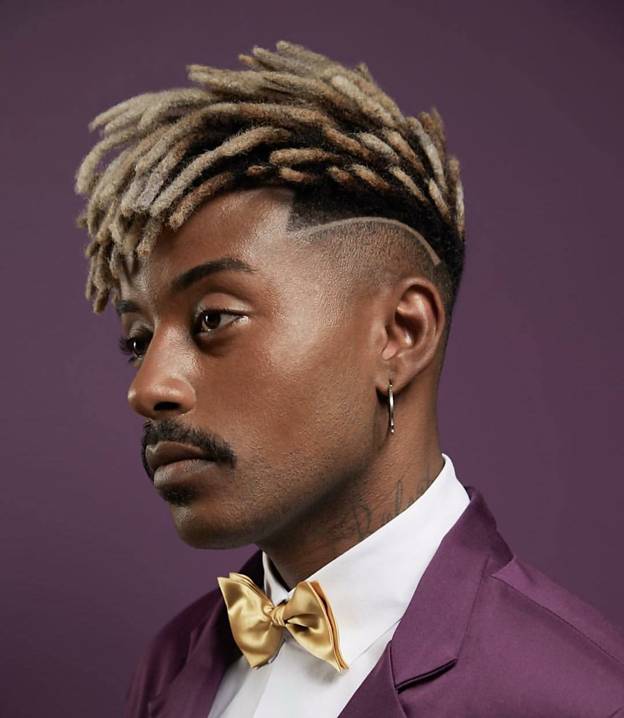 Dreadlocks are such a chic way to tame your curly hair. Black men with blonde hair can opt for this exotic faux hawk look.
Ideal for: It will work wonders for all black guys.
How to Style: Go to a hairstylist who does great dreadlocks and dyes them blonde as well.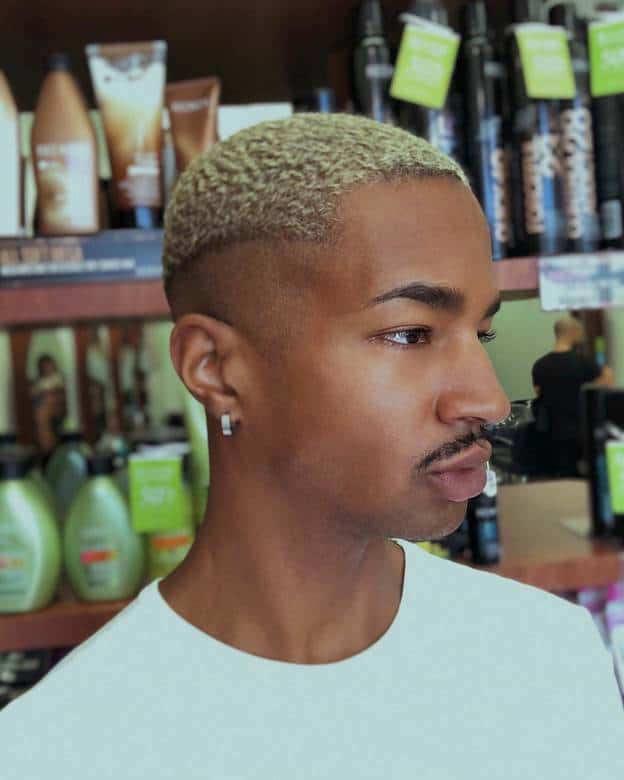 Even short hairstyles can be dyed blonde for black males.
Ideal for: Great for guys who want a twist to their short haircut.
How to Style: No need to style it, just wash it.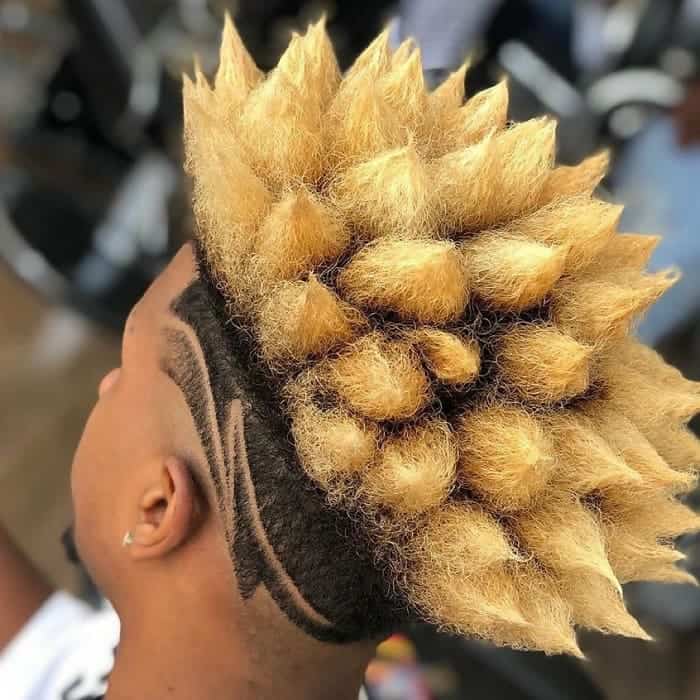 These blonde spikes are so eye-catching and fierce.
Ideal for: It's the perfect choice for black men with long blonde hair.
How to Style: You will need a hair gel or wax with a stronghold. Separate the hair into section and start twisting each one with the fingers on the tips.
Who says that a Mohawk is only meant for straight hair? Black guys can dye their hair blonde to make this haircut look edgier.
Ideal for: Great for younger adults and teenagers who always want to experiment with bold looks.
How to Style: Ask your hairstylist to cut the hair short with a medium bald fade on the sides and leave it long in the top part. Also, get a blonde dye.
Black men with blonde hair can now choose from these very cool 8 hairstyles. Forget about the same old afro that you've had for years now. You can feel free to experiment with innovative hairstyles that no one else will have.