Much like women, there are many different hair types for men, however, it is a bit more difficult to identify what type of hair you have, and how to style it.
The reason behind this is very simple. Men's hair is different than women's, and even when most hairs seem very similar, they are not, and each required a different & specific hair care routine.
Today, we're going to take a look at the men's hair types, help you identify your own, give you basic hair care and maintenance tips to help you cope with your very own style. Let's begin.
Hair Types for Men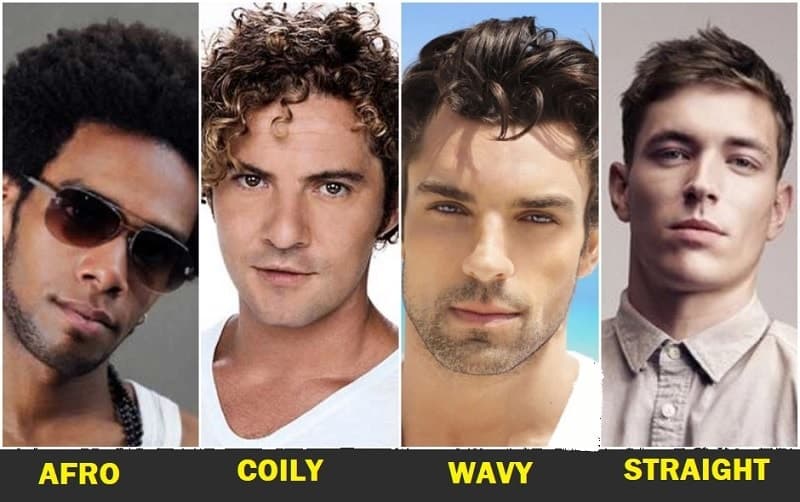 The very first thing you need to know is your own hair type. To do this, it's important to understand that hair can be separated into two categories. texture and thickness.
When it comes to texture, there are two main categories that then separated into four more. Straight and Curly. Of course, there are many types of curly hair, so let's dig a little deeper into that one.
Basically, men's hair type can be divided in the following way. Straight hair, wavy hair, coiled hair and Afro-textured hair, these last three being part of the "curly" category.
Now that you have identified whether your hair is straight or curly, it's time to define whether it is a thin hair or a thick texture. To help you out, most men with straight hair here have thin hair, and most men with curls have thick hair strands.
Another great way to see whether your hair is fine or thick is to look at it, if the strand of hair falls on the strong side, then your hair is thick, if it feels very fine and delicate then is thin.
To sum things up. amongst the most popular hair types for guys are straight and curly. Men with thin hair can identify this hair texture because one, the strand of hair is thinner, breaks easily and you can see your scalp through your hair; meanwhile, men with thick hair can identify it because one, you can't see your scalp through your hair, takes longer to dry, hair is wider/thicker.
Essential Hair Care for Different Types of Men's Hair
Before we continue, we want to clarify that each specific men's hair type requires different maintenance routine, and you should definitely build up your own hair care routine that meets those necessities.
However, there are certain rules you can follow regardless of the type of hair that you have that will work and will help you obtain the hair you've always wanted.
Cut It Regularly
Men tend to cut their hair more often than women because it grows faster, and changes can be seen almost immediately. Even if you're trying to grow your hair out, cutting it every once in a while is a must if you want to keep your hair healthy.
We recommend you giving your hair trim at least every three months to get rid off any split ends or dead hair that you might have, and also to bring back some light and life to your current haircut.
Black Men Hair Care Tips – How to Wash Afro Hair Properly
Use Suitable Shampoo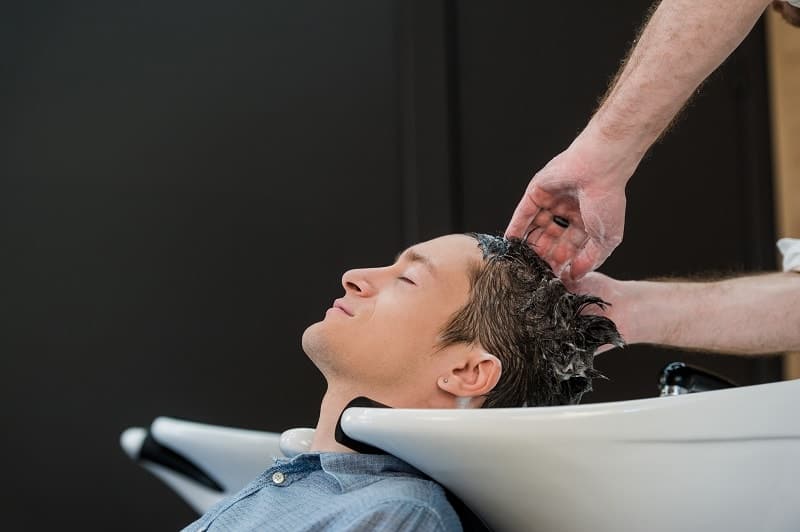 One of the biggest mistakes men commit when it comes to their hair type is using a one-in-all shampoo. These products usually don't have the nutrients your hair needs and will only cause further damage.
Make sure to take the time to buy a shampoo, a hair conditioner and even a hair oil that is specifically made for your type of hair. This will help tremendously.
Don't Wash Your Hair Every Day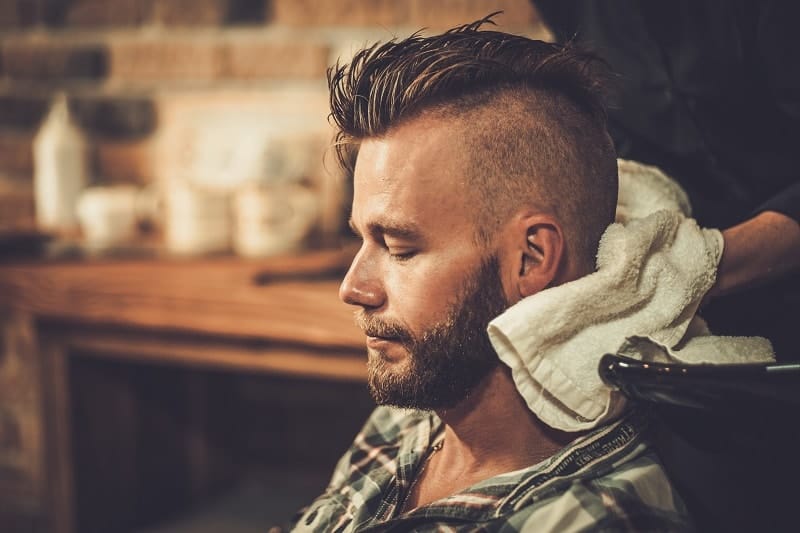 Washing your hair every day can actually be the counter product, it can lead to you having a dry scalp, dry hair and eventually strip out your hair from its natural oils.
Whether you have straight or curly hair, try to wash it one day in between (if you can for the past two days without washing it, go for it). Give your hair time to produce natural oils that it needs to look (and feel) good.
Hair Care Guides for Men Over 50
Cut Down on The Heat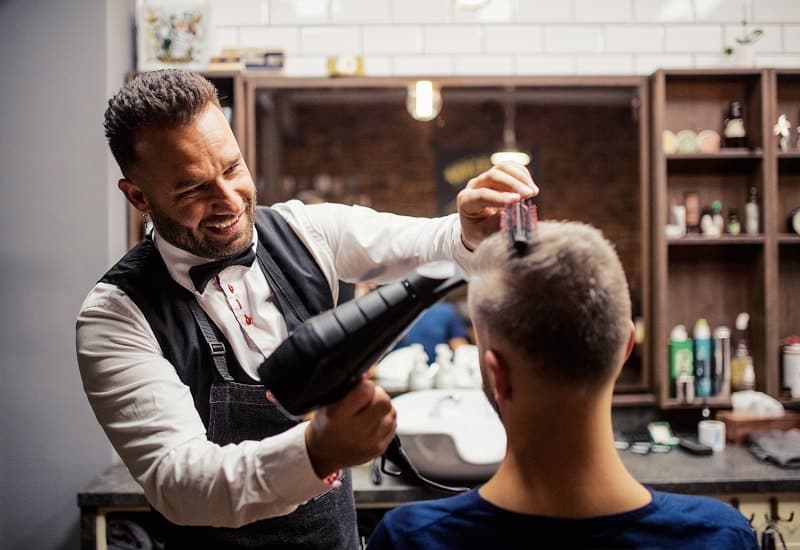 We know the blow dryer can be amazing, however, it can also really damage your hair. If you use it on a daily basis, try to reduce the use to once a week or even less if possible.
Same goes for hair straighteners and any other type of hair products that you might be using that apply heat to your hair. Try giving it a rest for as long as you can, your hair will thank you.
Men's Hair Types and How to Style Them
Our experts have curated suitable haircuts and styles for different hair types for men. Have a look and know which one is perfect for you!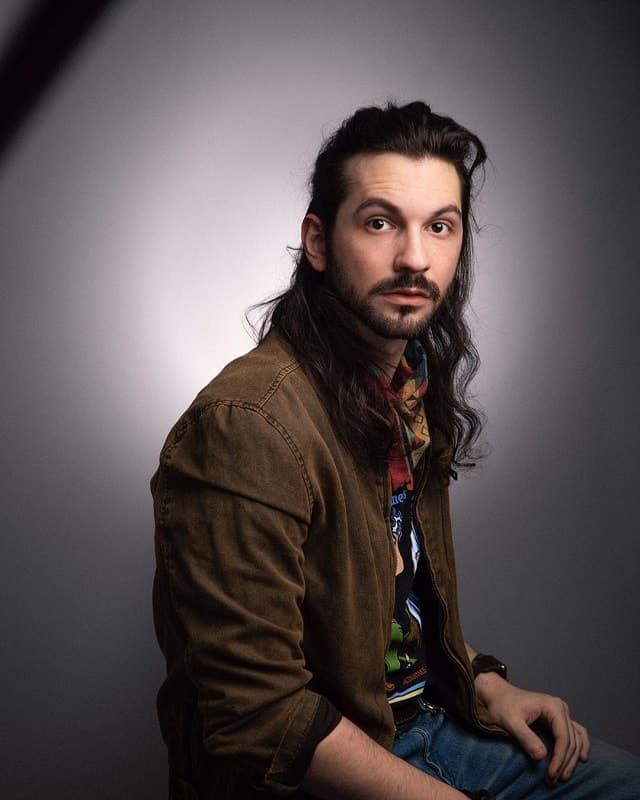 Mullets were a popular hairstyle back in the '80s and are now making a huge comeback. This particular hairstyle works perfectly for men with thin hair texture since it gives out the illusion of having more hair than you actually do.
To achieve this hairstyle you need to let your hair grow while simultaneously cutting down the sides of your hair, letting only the back and the top part grow as long as you want to.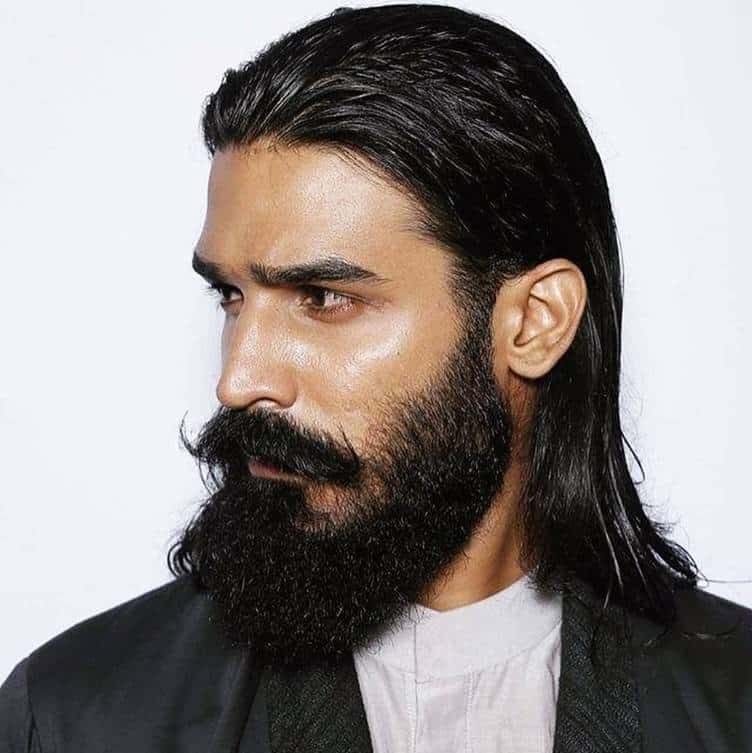 This hairstyle is famous amongst the different hair types for men since it works perfectly for men with thick, abundant hair, and luckily for you, getting this hairstyle is extremely easy.
Push back your hair using special hair creme to tame it and tuck it behind your ears. To get that "wet" look all you have to do is to apply an extra coat of hair muse/hair combing cream and that's it.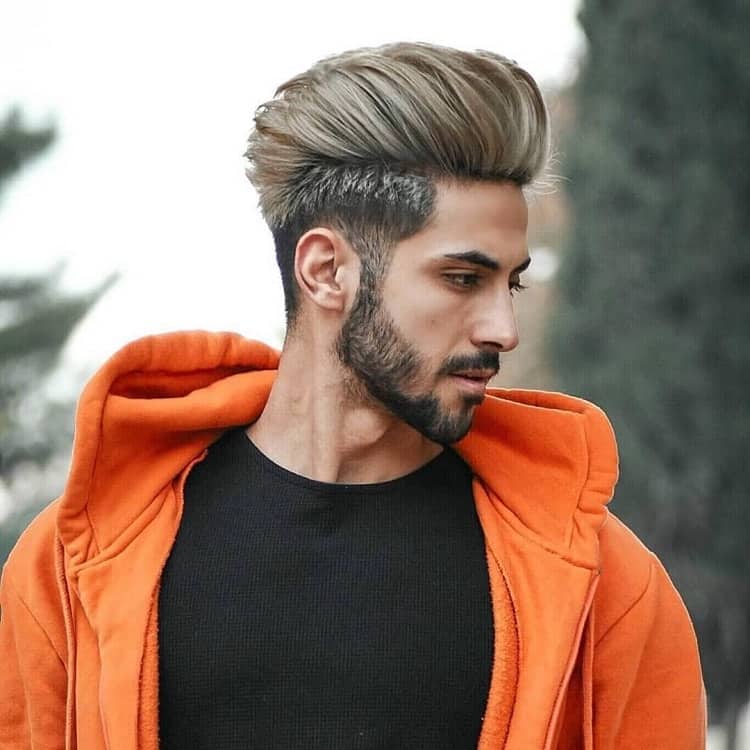 If you have thinner hair type, this style is for you. The blonde tips actually help to give your hair more texture, making it seem thicker than it is, not to mention the pushed backcombed style makes your hair seem fuller.
Remember to use hair clay when recreating this hairstyle, and ask your barber for a subtle undercut that brings out the contrast between the blonde side of your hair and the natural one.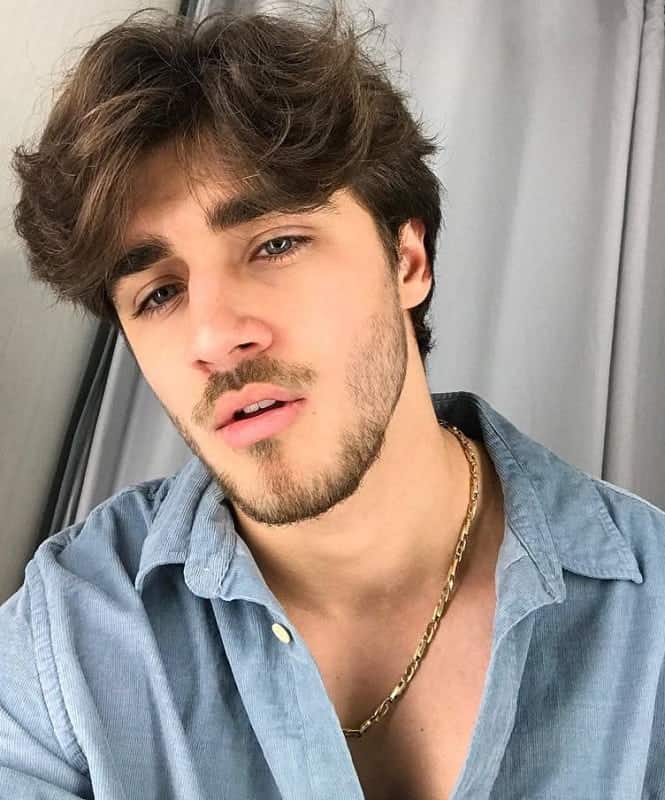 Continuing with great styling options for men with regular/thin hair is this hairstyle. To mimic it, you'll have to let the top part of your hair grow and then part it in half.
Use hair mousse or any other texturing product to comb your hair and fluff it with your hands (you can also use a hairdryer for this) Remember to part it in the middle and let some strands of hair fall into your forehead.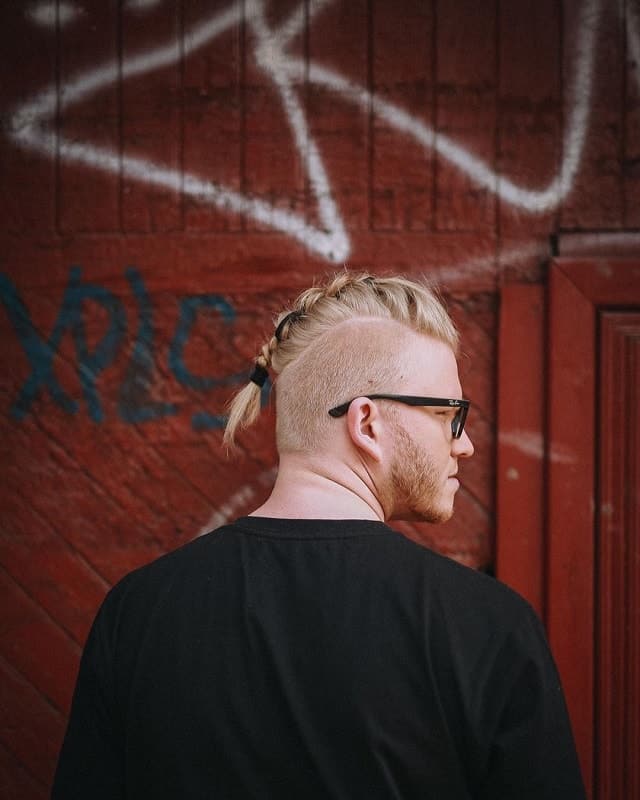 This hairstyle can work for any men's hair type, whether it's curly or straight and thin like in the picture. Ask your barber to shave/cut the sides and back part of your head, without touching the top.
The idea is for you to let your hair grow almost like in a mullet shape, but without the back part. Then simply braid your hair in a regular French braid and tie it up at the bottom.
6. Regular Curly Afro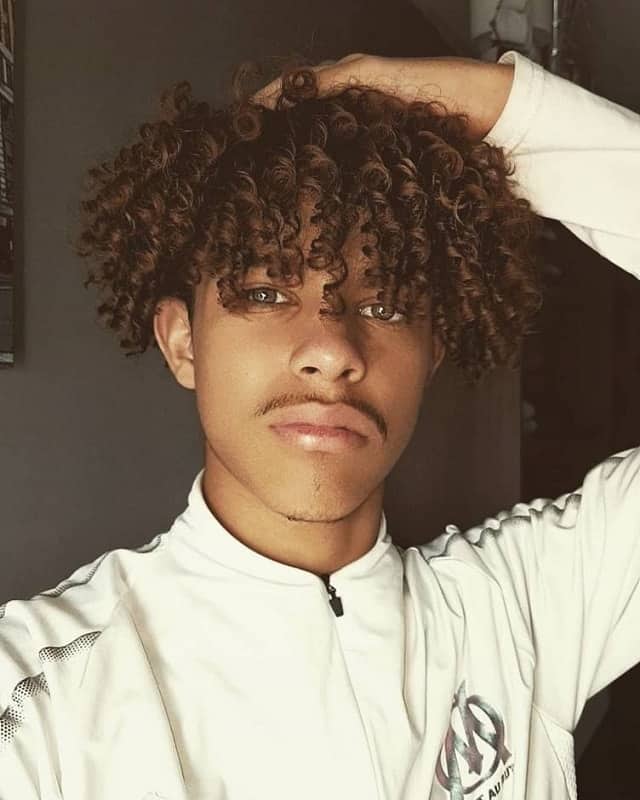 If you fall into the afro-textured hair type we recommend you to go for a natural hairstyle that won't damage your natural curls but rather enhance their shape.
Let your curls grow (properly moisturizing them and keeping them healthy) until it's long enough for an Afro. Remember to bring your hair to the front and not separate it in the middle to get "curly bangs" as well incorporated into your natural hairstyle.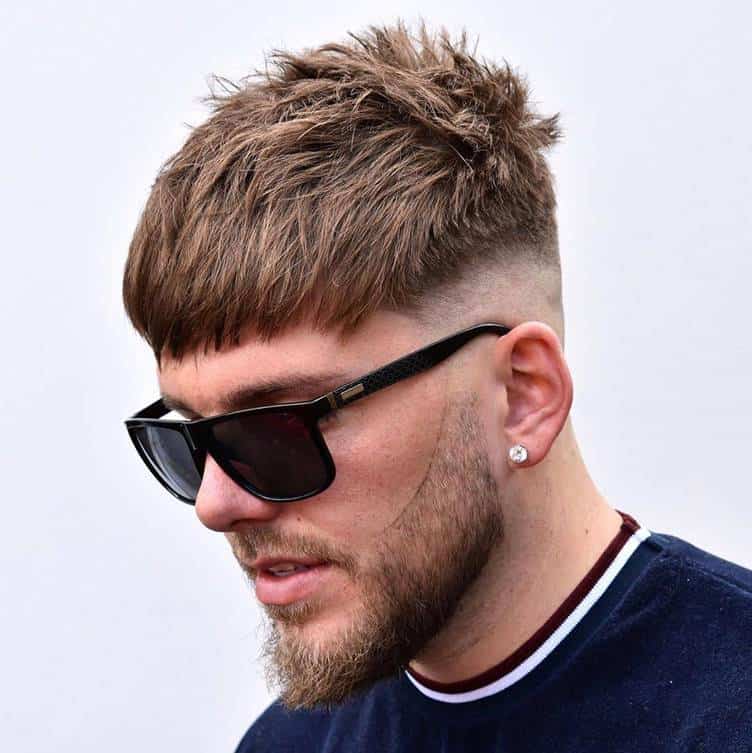 We recommend this haircut to any men with thick or regular hair. To get it, ask your barber to shave or really cut down the bottom part of your hair, progressively leaving more hair as you move to the top part.
Finish off with a medium bald fade and bring your hair to the front to cut down some baby bangs to really put up all the haircut together. If you want to give it more texture, always use hair mousse or hair creme.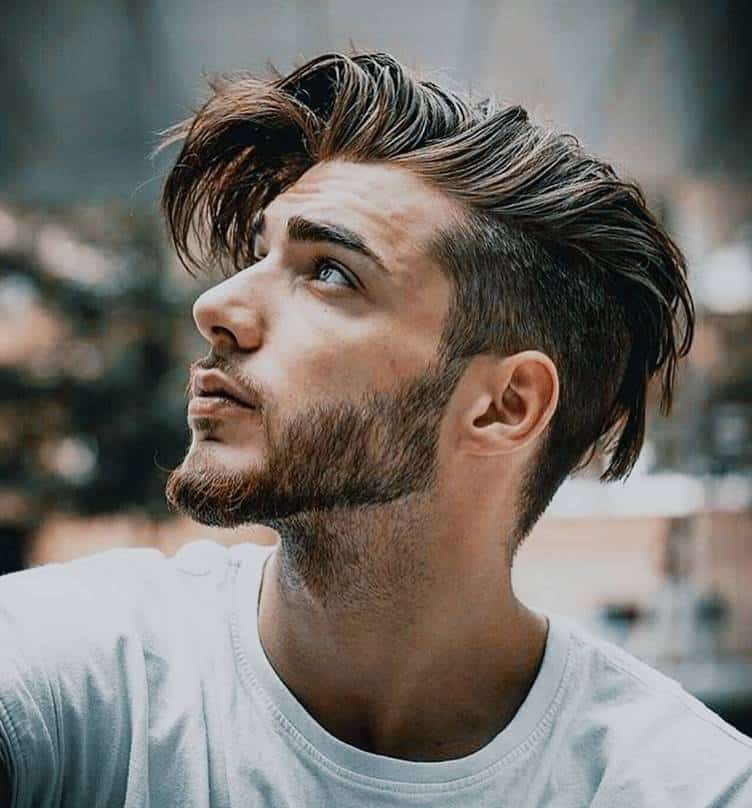 Let your natural hair grown long enough until you can tie it up in a bun at the end of your hair and then cut down the sides and bottom half of your hair to get this look.
If our hair is really thin and you want to give it more texture, you can apply some subtle highlights as well to make it seem fuller and thicker.
How Long Does It Take to Grow A Man Bun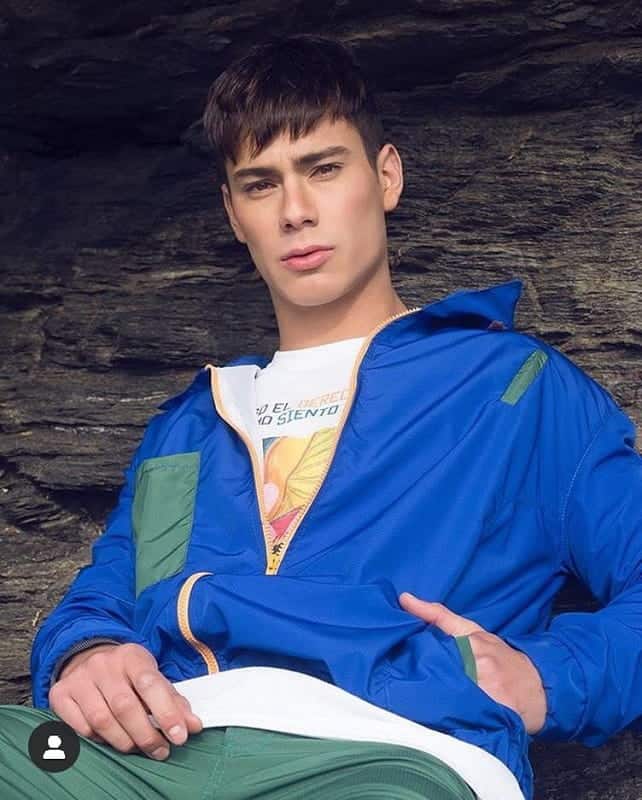 This hairstyle is great for men with sharp jaws and strong features since the subtle bangs at the top bring more attention to the face than to the jaw itself.
It doesn't matter if you have thin or thick hair since this hairstyle works for any type of straight hair. Just remember to cut down the sides of the hair to bring out the difference between the top and bottom part of your hair.
10. Classic Hairstyle Slicked to The Side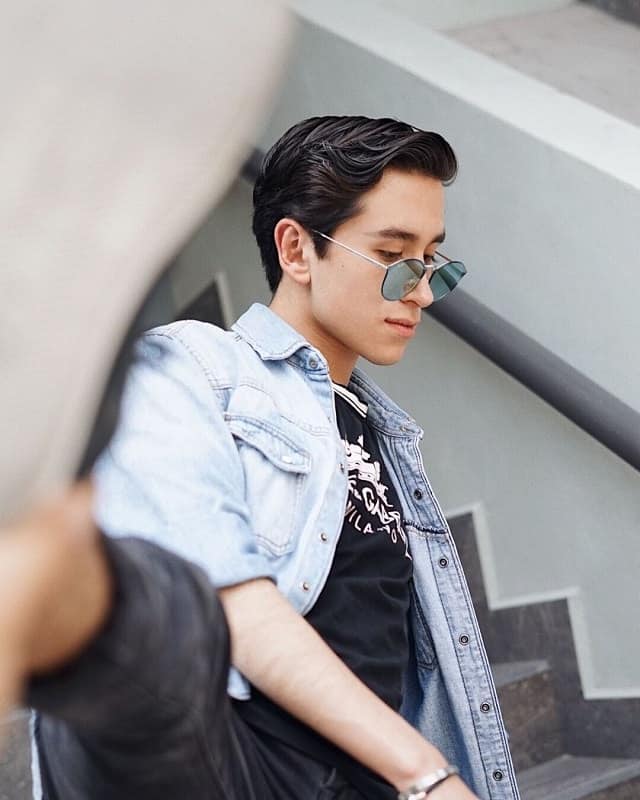 If you want to go for a more classic & formal hairstyle then this one is the one for you (and it works for all types of men's hair!) For this you'll have to use a lot of hair muse and the help of a blow dryer.
We recommend you to first comb the sides of your hair and then take the top part and comb it to the side (almost like forming a wave at the top). If your hair isn't helping you, you can use a big round comb and a blow dryer to give it some shape.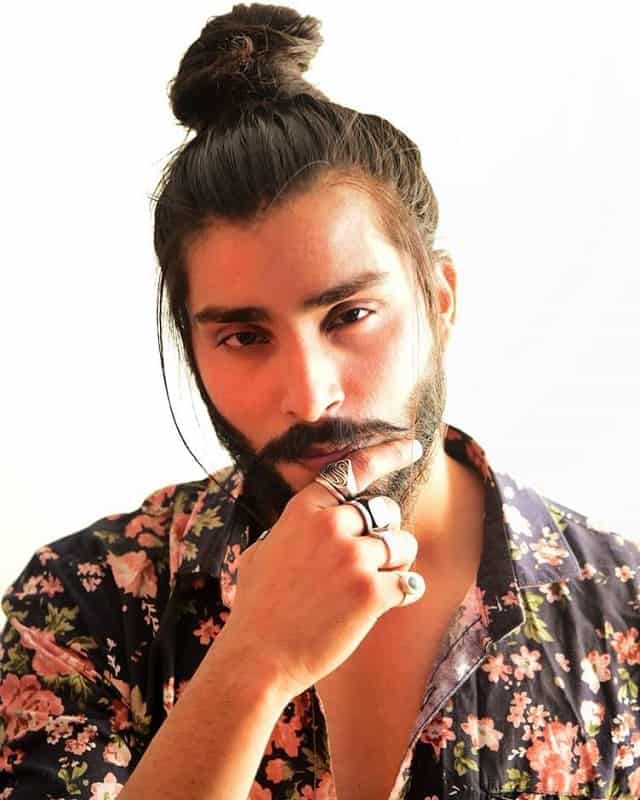 Man buns were extremely popular back in 2020 and they still are! All you have to do is push your hair back and up to the front part of your head and tie it up in a bun.
You can then pull out some strands of hair to achieve a more "messy" look to it if you want to. Remember, both men with long thin or thick hair can try out this man bun hairstyle with beard.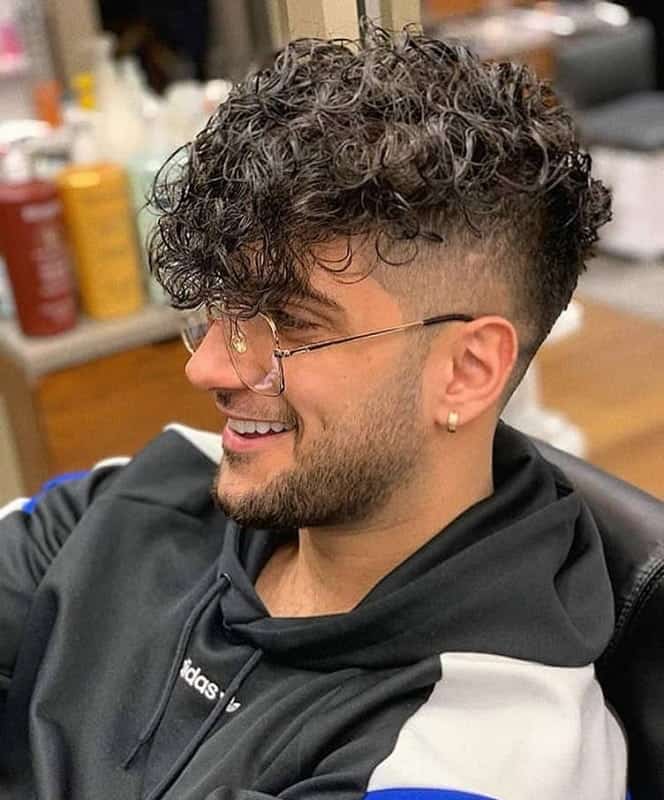 Men with curly hair type can easily mimic this hairstyle. All you need is to cut down the sides of your hair (ask your barber for a faded effect) and leave the top long enough to let your curls shine.
Apply any hair texturizing product you have and push the curls to give it some shape. If you want to bring attention to your hair, push the top part to your forehead to create the illusion of curly bangs.
FAQs on Hair Types for Men
Q. Can I Comb My Curly Hair?
Ans: Different hair types require different cares, and one of them is curly hair. Although you CAN style your curly hair as we showed in the styles above, we don't recommend you to comb it while is dry.
Remember curly hair can easily break and damage, so it's best if you only comb it with your hair while you're showering to avoid any further damage.
Q. How Often Can I Dye My Hair?
Ans: As we said, highlights can really help you give your hair some texture, however, we don't recommend you to constantly dye it or re-do it since it can cause a lot of damage and burn your hair.
Q. Do I Need Special Hair Products?
Ans: Yes, it doesn't matter what type of men's hair you have, you must get special hair products that are specifically made for YOUR own hair texture and will actually help you keep it under control at all times.
Of course, you don't have to buy every single product you see. A good shampoo, a great hair moisturizing, and hair creme will go a long way for you. Remember, you don't want to overuse products your hair doesn't really need anyway.