Finding out the cutest haircuts for toddler boys with curly hair can be quite tricky. Toddlers with curls look so adorable, hence their hairstyle should make them look better
Getting your little ones to look cute and trendy can be a task. This task becomes difficult when it comes to deciding the hairstyle, especially for the unruly curly hair. However, we have you backed up with some awesome hairstyles for toddler with curly hair. Tag along to know how to present your little ones in style and utmost cuteness.
Lovely Curly Hairstyles for Toddler Boys
We have compiled here a list of some amazing toddler boy's curly haircuts that you are bound to love.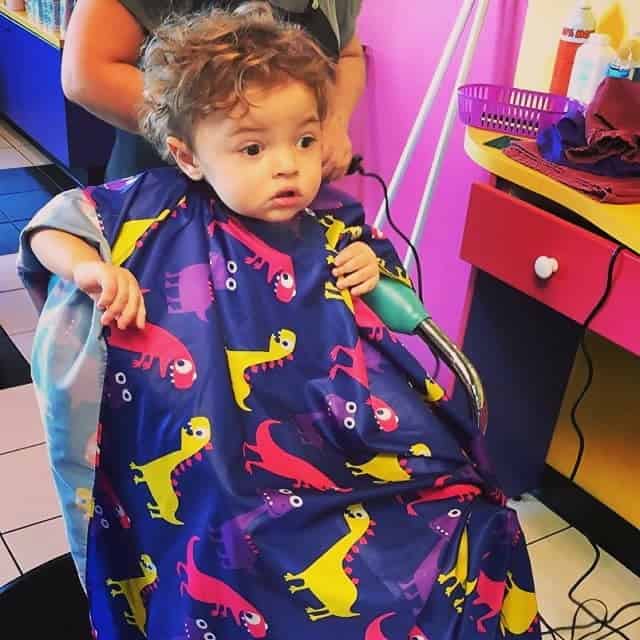 When it comes to curly hair, the beach waves make to the top of the list, especially if your baby boy not agreeing with long or short hair. Little ones with naturally thick waves will definitely rock this one.
How to style it: Style up this hairstyle with some mousse or spike it up by some gel.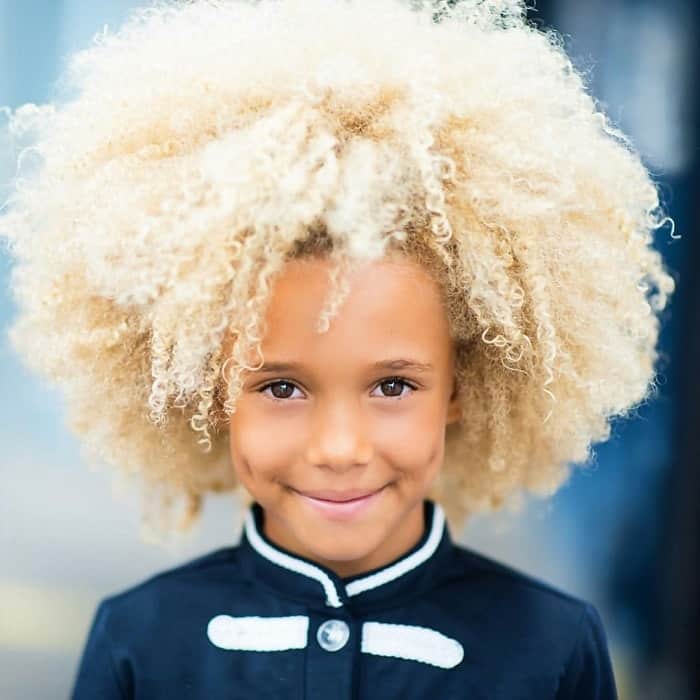 Letting those natural curls bounce and letting them shine is another way to deal with the curls. Go for a haircut that enhances the curly mop.
How to style it: In this style, the hair is required to be in the same length from each side. Use fingers to ruffle the curls to give a messy look. Plus little to no product is required to maintain this boy toddler's curly hairstyle.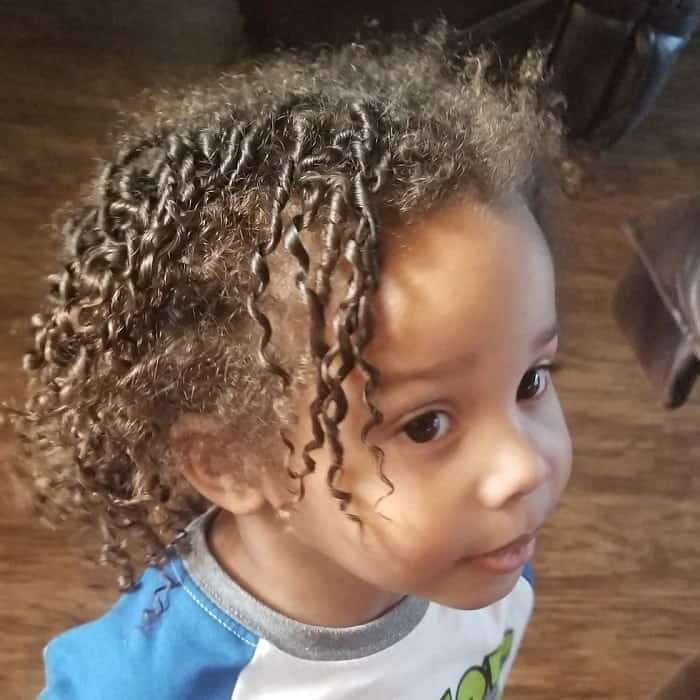 Textured thick hair usually demands more attention and detail and there is no better way to style them than the twists. The smaller the twist, the cooler the look is and easy to maintain too. This is one of the most unique toddler boy haircuts for curly hair.
How to style it: Start by sectioning the hair to the number of twists you want. Follow this by teasing each section toward the scalp. A little hair wax to make them stay would do great. Continue massaging them to make them stay in place.
4. Shortened Curls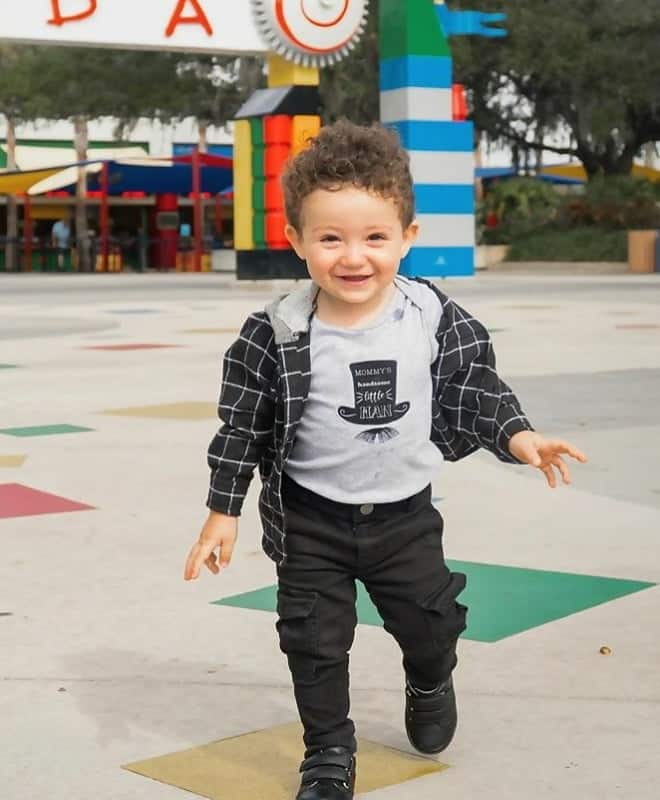 Curly hair among toddlers looks super cute with a short length. Toddler boys with short hair should adapt to this curly haircut and rock it the right way.
How to style it: It's usually short on the sides with the curly mass in the middle with a few fringes framing the forehead. You can go by styling this one with a bit of mousse to add texture and to keep the curls in place.
5. Medium Curls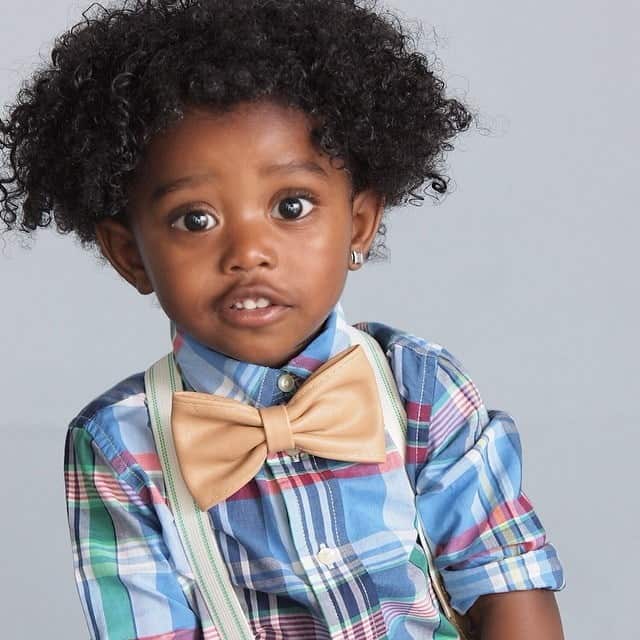 While short curls may seem cute, the medium ones are EXTRA cute when it comes to toddlers. Taming them can be a bit of a hassle but when done using the right techniques the style comes out pretty cool among the young ones.
How to style it: This curly haircut for black toddler boys requires the major mas towards the top with the bottoms being trimmed and controlled. The top mass of curls can be given some texture using mousse or wax. A messy look in this regard looks pretty classy.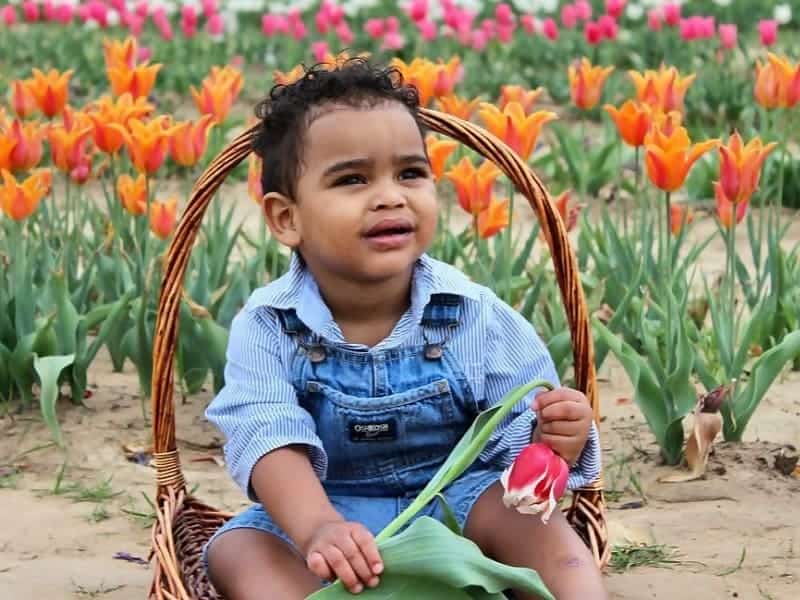 Why do the teens and adults get to enjoy the classy hairstyles? Toddler boys with curls can too with this mini Pompadour. It is a unique way to style the hair of your young one with wavy hair.
How to style it: This style requires the hair at the sides and the back to be short and that in the middle to be longer to achieve the final look. The hair in the middle should be teased to get the desired height plus a little gel would do to make the fluff stay.
7. Shortened Texture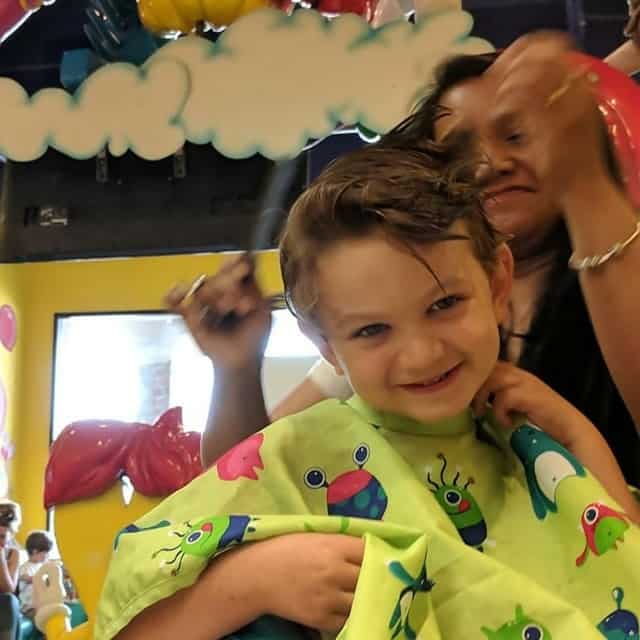 Looking for a low maintenance curly hair look for your baby boy; the shortened texture is your best pick. It is ideal for the toddlers having thick hair and the style just adds on to the grace factor once paired with thickness and texture.
How to style it: This style requires cutting the length of the hair equally from all sides. Plus when styled up, it does not require much thought for the haircut has the style ingrained. Although a bit of texture could be added to the already thick short hair by applying gel or wax and running the fingers through the curly strands.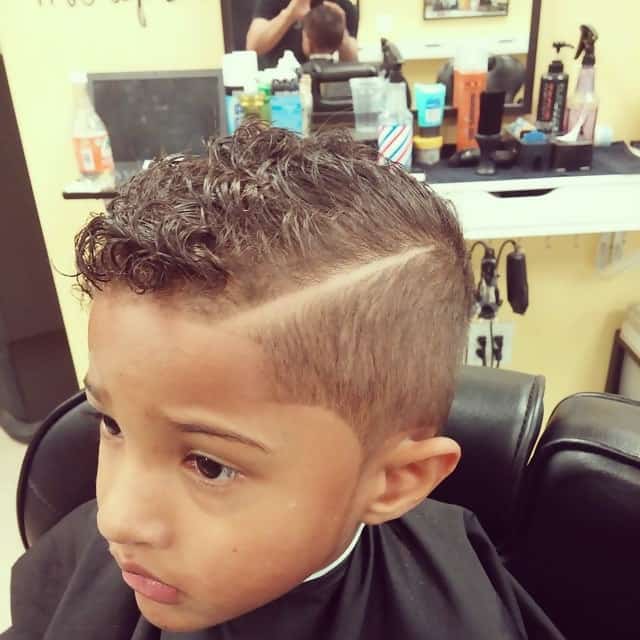 This toddler boy haircut is sleek and classic and can get a bit hard when it comes to the curly hair.
How to style it: Toddlers with curly hair need some mousse or gel to make the curls set in place by frequent combing. However, once done the style screams class and style. Add in a pretty band to compliment the style even more.
9. Textured Crop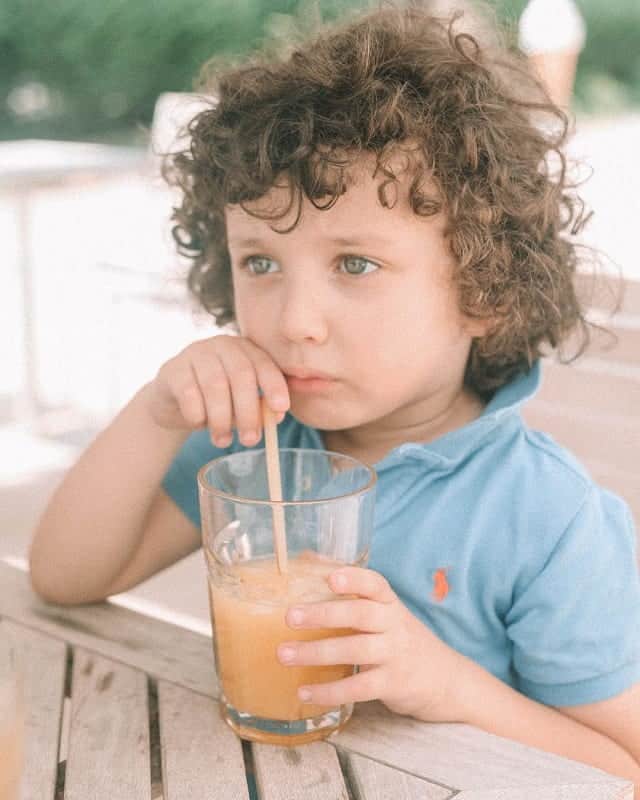 Adding texture to the curls just brings out the best of them. This toddler boy curly haircut is cute in the sense that it gives off cool vibes and shows off the curls in their true form.
How to style it: Boys with thick hair should definitely try out this style. It requires product application to add texture but once done comes out pretty natural and flawless.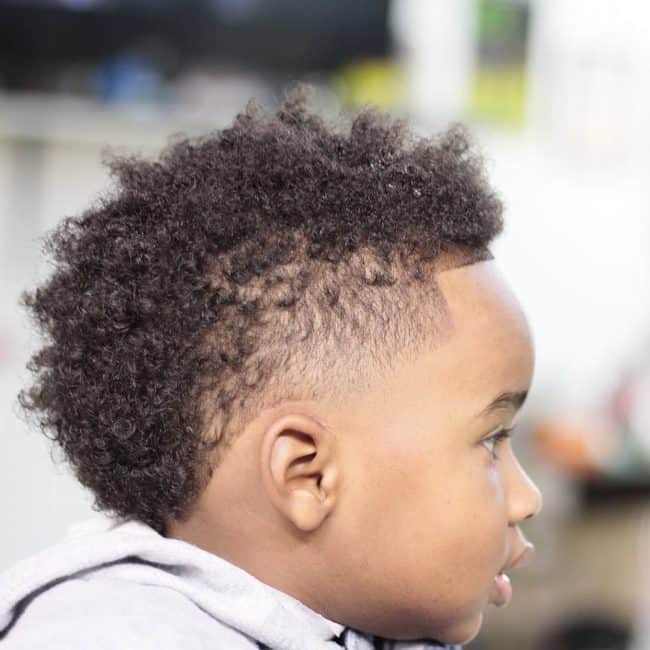 This adult cut suits kids extremely well and trusts me they pull it off much better than the celebrities!
How to style it: This curly Mohawk for little black boys needs a lot of attention to detail but once set looks cute on your little one. It requires the sides and back to be cut short with the mass in the middle to be styled and modified to the liking to your little one.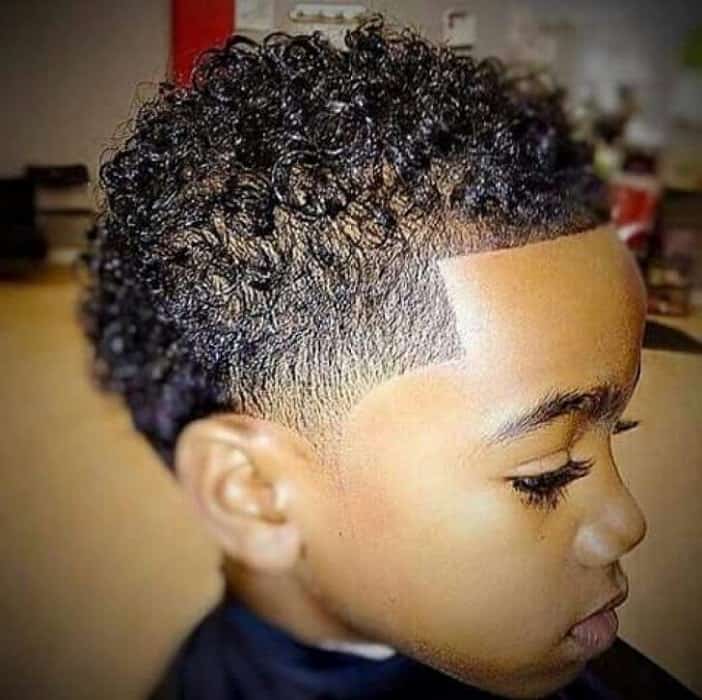 Another cute toddler boy haircut for curly hair on the list is the sponge curls!! The style gets short on the sides and the top remains along with the mass of the curls. It's a haircut suited to all ages and does not require much thought or effort to maintain.
How to style it: This can be styled messy by running wax laden fingers through the top mass to give your toddler a cute naughty look. Otherwise, the haircut in itself is styled so does not require much product application to be maintained.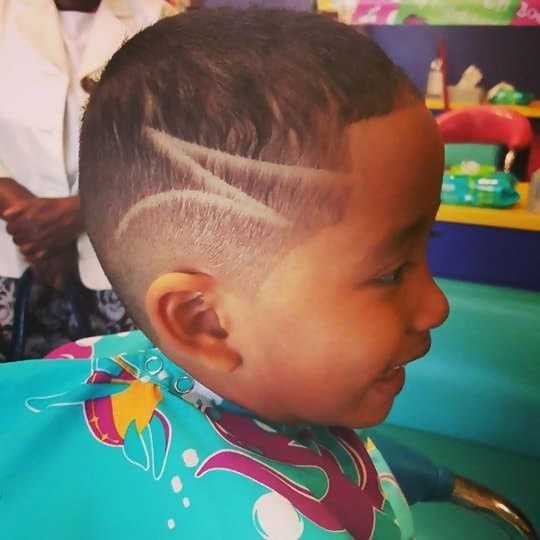 This timeless piece of haircut never gets old. Whether it's adolescent, toddler, adult it's a hairstyle suited to all. The cut is preferred for the babies with black ethnicity as it tends to bring out more texture and volume there. Additionally, its low maintenance, perfect boy hairstyle for the curly-haired toddlers who don't like to get their hair done often.
How to style it: This hairstyle can be modified to add more looks and styles to it. Adding some shaved lines and cuts could add a twist to the hairstyle. When on an occasion the style can be set in place by application of a little amount of mousse.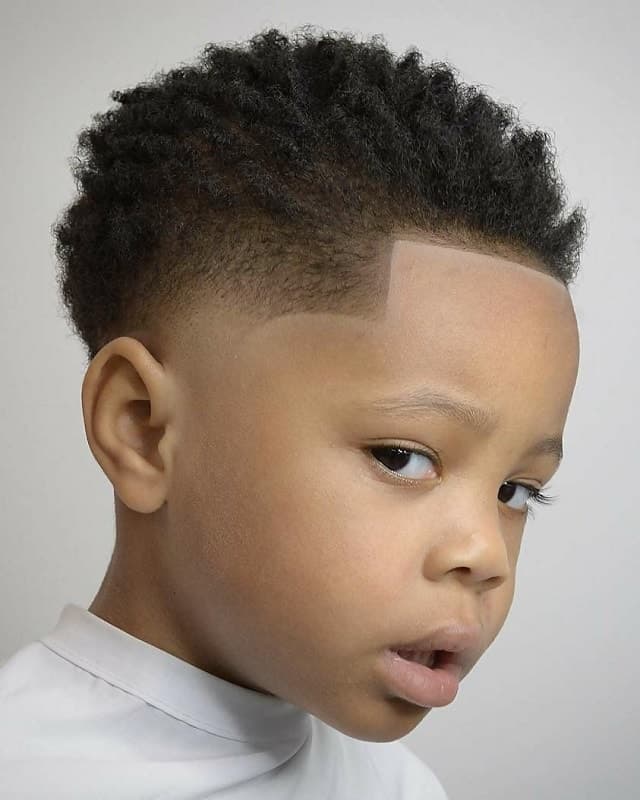 Quite similar to the flat top fade, this toddler boy's curly haircut, however, goes a bit longer on the length. Plus this suits better when it comes to kids with a slightly more modest look than the flat top.
How to style it: There isn't much styling involved when it comes to maintaining this hairstyle. If the kid has some rules in the school regarding hair and appearance this haircut is an optimum option for parents to opt for. Its low maintenance, easy to manage and does not require much thought when about to be styled.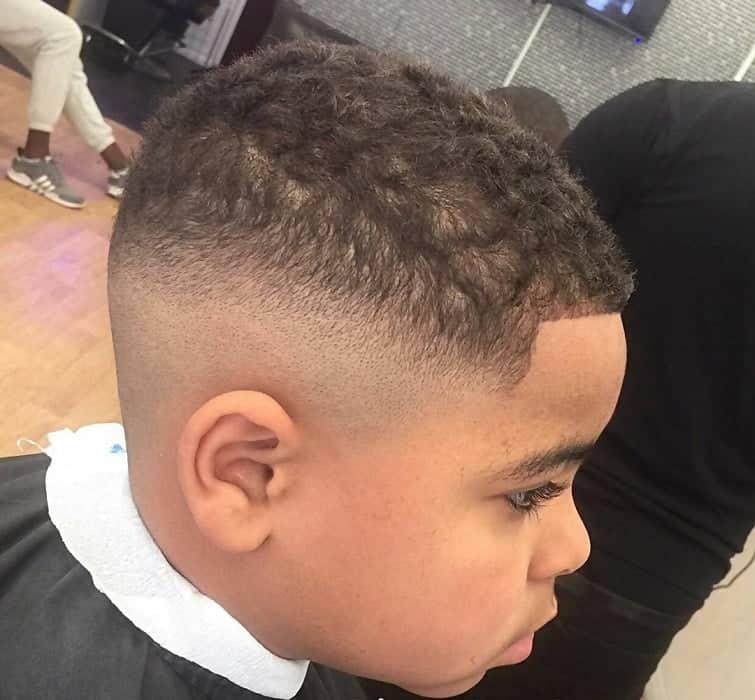 This is one unique hairstyle for boy toddlers with curly hair. Fade designs are everywhere these days and once done on your kids they look super cute! They don't require much styling but do require regular visits to the barber to keep them neat and cropped.
How to style it: One possible way to add a twist to the style is to have a design on the fade part at the sides. This will give off a cool look to the toddler. As for the side part, the mass needs to be combed towards the right and slicked with gel to keep them set in place.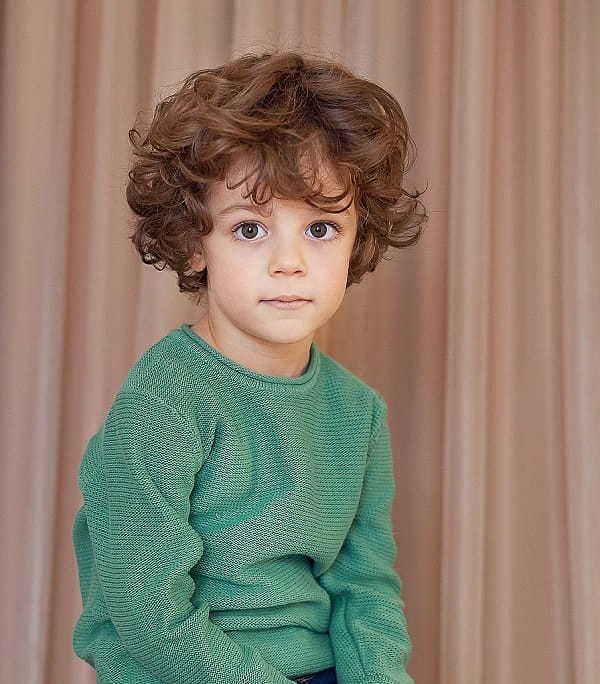 This simple curly hairstyle for baby boys marks the end of the list. It is cute and simple and perfect when it comes to treating the curls naturally.
How to style it: Depending on your child's hair texture, you might need a little product to keep the curls in place. Additionally, frequent visits to barber will be required to ensure the hairstyle remains maintained.
Your toddler can channel any of these hairstyles to look fabulous. The regular cut has had its day. It's now time to exploit the many toddler boy haircuts for curly hair available to give your little prince his very own chic look!