Achieving the Brad Pitt with long hair style will require some planning and working closely with a professional stylist. Although the look of the style is reckless and appears to be slightly messy, it is a carefully executed work that must have continual attention. This type of look is good for medium to thick textures that is straight.

Brad Pitt long hair style.
If you have wavy hair and want to achieve this look, you will need to have your hair straightened in order to get the smooth look that you are seeking. The illusion of fullness and volume is achieved through the use of highlighting and lowlighting that is strategically applied to give the style a sun-kissed look.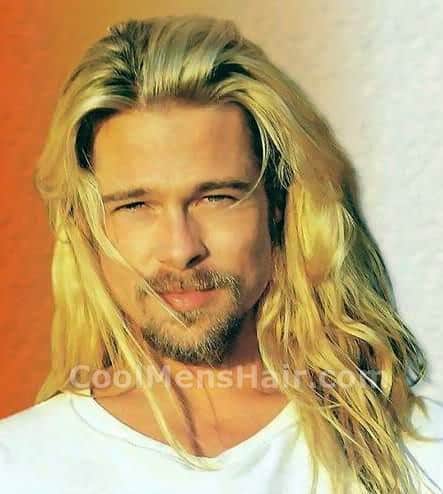 Brad Pitt long blonde hair.

Brad Pitt long hair.
Some of the styles have much lighter blond highlights that give the illusion of a person who spends extended periods of time in the sun. This style works well with a face that is symmetrical and has clearly defined features and strong lines. This style is great for casual events or occasions. However, when you are going to be spending time in the sun, it will be important that you wear head protection to avoid damaging your style.
The style does not frame the face, but rather is set apart from the features which gives the look a much less structured look. When you are considering this style, starting with hair that is longer in length will give the stylist the length that is required to achieve the depth needed to give the light layering that takes place throughout the look.
Maintaining the Brad Pitt with long hair styles require the use of products that both condition and maintain the structure of the cut.
More Brad Pitt long hair photos:

Brad Pitt mullet hair.

Brad Pitt long layered hair style.

Brad Pitt long hairstyle.

Brad Pitt long hair.