I've found myself in the ranks of the men, who have a mustache and a beard and also have this embarrassing problem with their color. It reduced me to despair, but then I have come across a facial hair dye 'Just For Men Mustache & Beard'.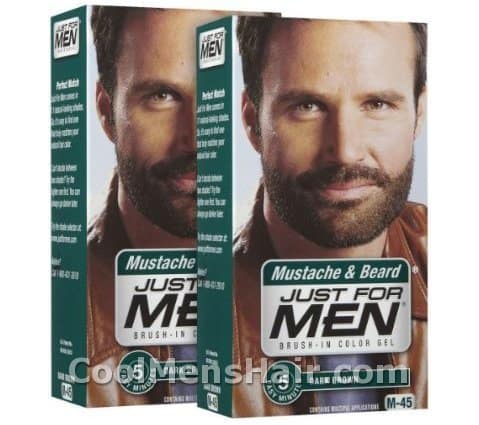 Why Have I Chosen It?
Everyone, who faces the problems with his facial hair color, knows that the modern shops offer a large choice of hair dyes, so it's difficult to choose that right one. I have looked for a hair tint especially for a facial hair, as another one can cause the burns of the face skin.
Apparently, Just For Men Mustache & Beard is actually used for a facial hair and it has a big variety of natural shadows, so it has corresponded to my demands and I haven't got any problems with choosing the color.
I have read on the packing that the product contains such substances as proteins, herbal additives, vitamin E, aloe and, as my facial hair is look unhealthy with gray hair, this fact has influenced my choice.
Finally, I'm a busy person and I haven't got a lot of spare time to solve my problem, with the facial hair color, so my last criterion has consisted in the quick effect and on the packing of JFM Mustache & Beard is written that the user needs only 5 minutes. After a short hesitation, I have decided to try this product.
The Process of Coloring
Basically, first, I have organized an allergic test of my chosen shade to prevent the irritation of the skin and to inspect the quality of the bought product. The test was quite easy. I have put some hair dye on my shoulder. Then, I've checked the skin after 48 hours. Everything was ok, there were no unusual reddening or formation, so I was sure that the product is a really qualitative and safe product.
Second, according to the instruction on the packing, I've mixed the color base and the color developer. I have even shaken my capacity for mixing to receive a homogenous color and I was really amazed, because the color I've achieved was equal to my natural color.
Third, when the hair dye was ready, I have worn gloves and put some dye on my palm. I was sure that my facial hair was dry and then put the dye on it. After that, I've brushed my stache and beard carefully to make it thoroughly colored.
Of course, I haven't forgotten to check if I've dyed all the hair, as I've read the instruction attentively. It has worked really fast, likewise only in 5 minutes, as the producer has written. I haven't left the hair dye for a longer time, because I didn't want to harm my facial hair or face skin!
Finally, I've had a shower and washed my beard and mustache properly. The best thing is to wash all the hair on the head with the shampoo. And I've also used the conditioner to prevent any irritations of the face skin.
To be honest, I didn't regret my choice, as I've received a quick result and no one can guess that I dye my facial hair. This means has also remained my hair health, maybe, because of its components. My face skin has become tender and a mustache and a beard look fabulous. Now, I'm sure that I can advise Just For Men Mustache & Beard to everyone, who needs to color his facial hair.