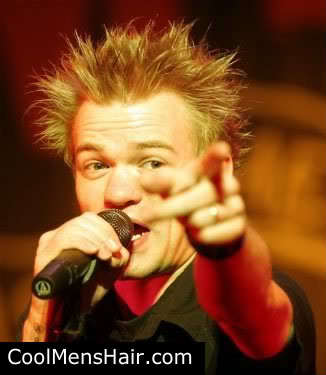 Deryck Whibley spiky hairstyle
Your hairstyle is certainly not a matter of joke when you are the lead vocalist of Canada's most popular pop punk band, and married to the
most popular rocker
-punkette in the country. Yet,
Deryck Whibley
, of the multiple Juno-award winning punk rock band
Sum 41
, seems all at ease with his shock-
spiked hairdo
!
Into the punk rock genre since he was only 14 years old, Deryck Whibley has been one of the most adored style icons of the pop punk brigade. His hairstyle has been emulated by youngsters and teenagers ever since the popularity of Sum 41's breakthrough album 'All Killer No Filler' in 2001. It's the album that brought them mainstream success and a cult fan following.
Deryck Whibley was born and brought up in Scarborough, Ontario in Canada. He moved to Ajax at the age 12, and started his punk rock band Sum 41 just four years later. He has also been a part of the band Pain for Pleasure and has worked with several bigwigs of the music industry such as Tommy Lee and Iggy Pop. Married in July, 2006 to rocker-wife Avril Lavigne, Whilbey has been helping her in the tours supporting her new album.
This punk rocker has been epitomizing the pop-punk hairstyle with his blond hard spikes, which stand erect from toe to end. He sported this hairdo throughout the time span of his first immensely successful album 'All Killer No Filler'. He later kept the same hairstyle but has changed the hue of his locks to jet-black.
This gelled well with the more alternative and heavy feel of the second album 'Does This Look Infected'. In the videos of the third album 'Chuck', Deryck Whibley is spotted flaunting short layered mid-length hair with falling bangs in front and long, thin sideburns. The latest album 'Underclass Hero' saw him returning to his characteristic golden spikes, a possible retrieval of his original angst-ridden punk self.
Deryck Whilbey has been the inspiration behind the numerous pop punk bands springing up in Canada today. Off late he is one of the most discussed Canadian celebrities in the music industry. Of course, that is not only for his talents in conjuring up peppy guitar riffs and awesome vocals, but for his blade-like straight spikes too!