Johnny Depp is known as much for his quirky and intense roles as for his fashion styles. Eccentric, at types operating in extremes, the Johnny Depp hair have all been about tackling fashion head on.
It is now just what style Johnny Depp chose for his hair but also the panache with which he carries it. In many ways, that is what brings forth a striking impact, whatever styles he follows.
The range of options and styles that Captain Sparrow tries with his hair and the overall look is what is surprising. One instance, it is the unkempt pirate look and the very next movie showcases a suave sophisticated upwardly mobile sleek style.
About Johnny Depp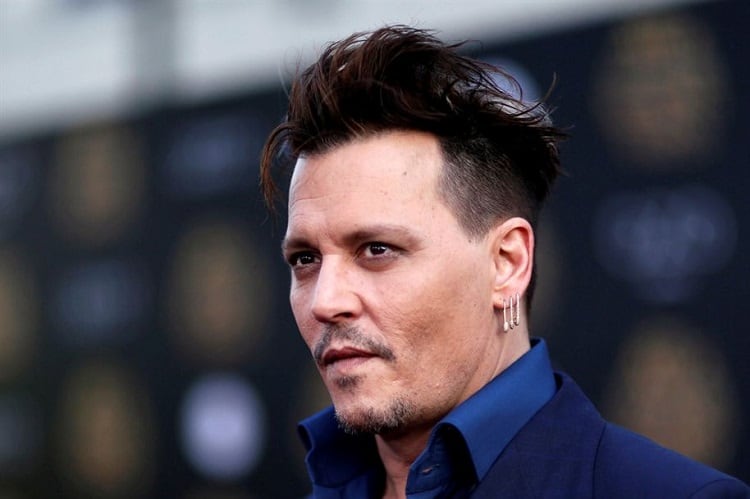 John Christopher Depp was born in Owensboro, Kentucky, on June 9, 1963. Depp raised to be a famous actor since his role as Edward in Edward Scissorhands. He is also well known as Captain Jack Sparrow in the Pirates of the Caribbean trilogy.
As reported in the news, he has more than three upcoming movies for 2008 & 2009, such as Public Enemies, The Rum Diary, and Shantaram. He has changed his hairstyle often in his movie & life. On the picture above, he wears short layer hair. Heavy layered hair on the top & sides is suitable for straight & wavy hair.
Stunning Johnny Depp Haircuts
Here is a look at some of Johnny Depp's most popular hairstyles.
1. Wavy Quiff with Thin Beard and Soul Patch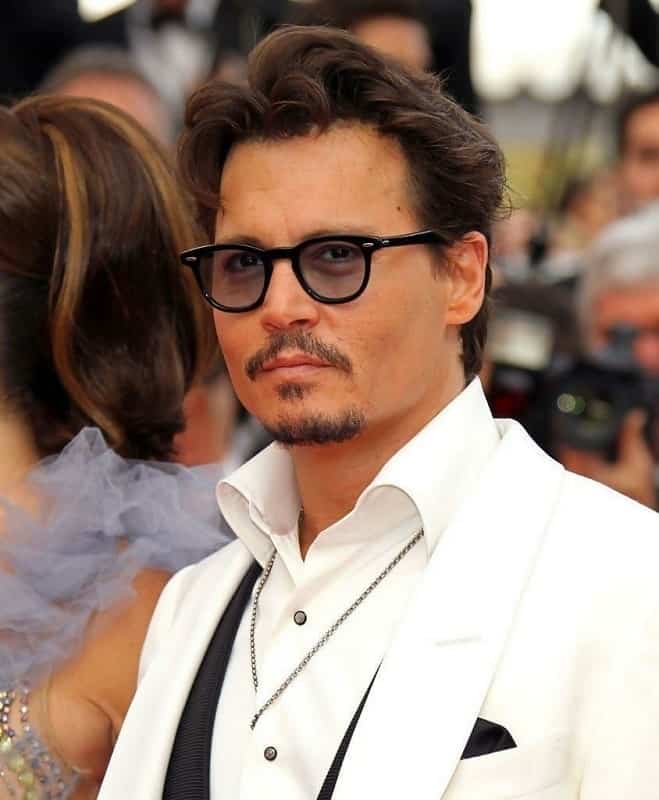 A suave, sophisticated and a stylish cut, this Johnny Depp hair look is all about creating a subtle, classy and sophisticated image. It is neither too simplistic nor is it very elaborate, but it is an extremely attractive style. It highlights the rugged masculine energy while balancing a sophisticated softer aspect too.
Unkempt yet attractive is how I would term this Johnny Depp long hairstyle and the hint of a soul patch use convention styling tools to create a stunning and unconventionally handsome hairdo. It is as balanced and charismatic as the character he played with this hairstyle.

This hairstyle no doubt projects a slightly older look, but at the same time, it is all about maintaining the overall styling quotient intact. Whether you consider the functionality or the versatility of this Depp's haircut, it is an outright winner. It is cool, classy and an absolute showstopper.
It also highlights the angular shape of the face in a cohesive and conservative style. It, in fact, strives to bring out a sense of subtle maturity that we associate with age. In many ways, this is the style that depicts what aging gracefully is all about.
The Mohawk gets a brand-new interpretation in this hairstyle of Johnny Depp. The gold and the black highlight a play of contrast that is both scary and stunning at the same time. The tapered undercut on the sides and the hint of beard and mustache accentuate the intensity of the look a notch higher and come across as a representative of the raw masculine energy. It is rugged yet stylish.
It is cool yet has a hint of a conspirator too. All in all, it is a creative adaptation that highlights the right features and helps Depp to do justice to the role that he plays. Are you worried about the tinge of the villainous element in this style? It is in fact, the genius of styling that can bring out this aspect by simply tweaking the hairstyle.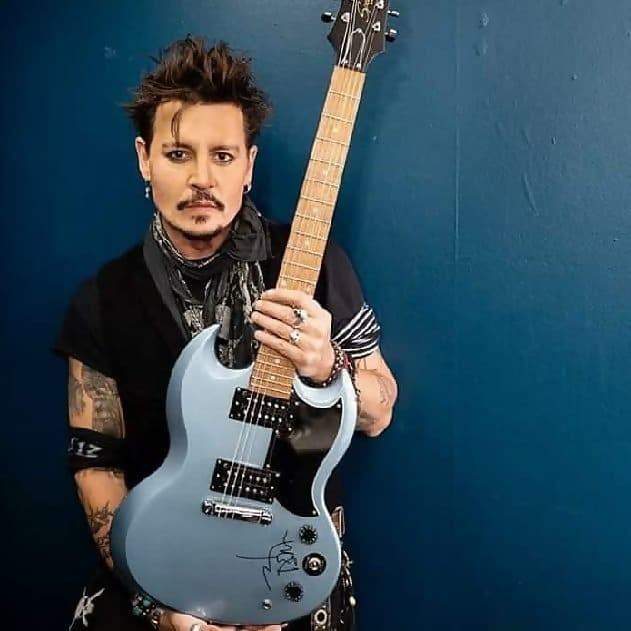 This Johnny Depp hair is all about highlighting a punk element in your styling. This is one such unique style that the moment you see it, you can relate to somebody in the musical profession. The short spikes, the soul patch and the tattoo all, work in unison to bring out the eccentric and unique styling that we associate with musicians.
It is creative, quirky and decidedly arouses your curiosity about the person. It also kindles a spark of musical brilliance when you see someone in this style. This is also a kind of hairstyle that will guarantee a second glance wherever you may step out.
6. Dreadlocks with Jack Sparrow Beard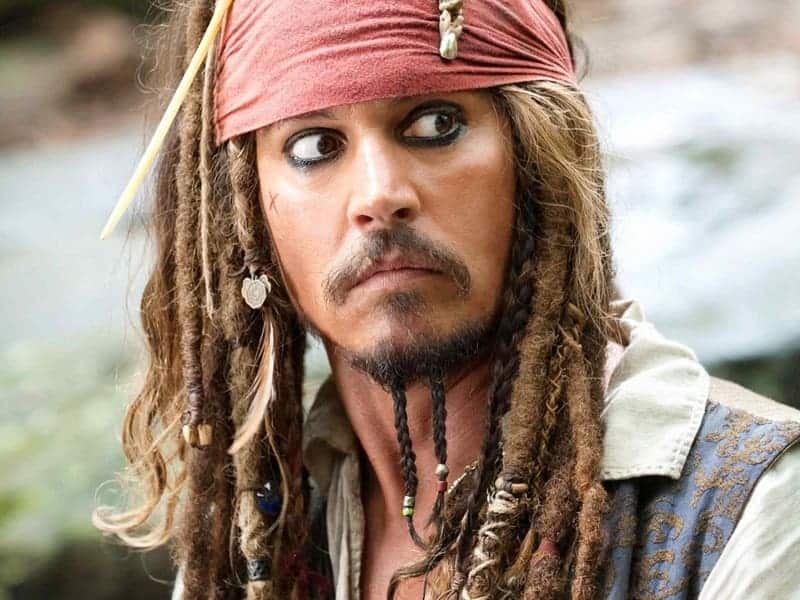 This is one Johnny Depp hairstyle that the world knows about. It is quirky, whimsical, scary and what not. It is every bit what Captain Jack Sparrow is about, esoteric and eccentric to the last detail. The long Viking dreadlocks, bleached long bangs, and the double braided soul patch make for an interesting combination. It is a type of style that is hard to forget.
Though the jury is out on how many may adopt this style, generations will remember Johnny Depp and this hairstyle along with his unforgettable acting as Captain Sparrow.
Could You Pull Off A Johnny Depp Long Hair Style?

Johnny Depp long hair.
Of all of the celebrity guys who are famous for their hair, perhaps Johnny Depp has the biggest fan following solely for this reason alone. This man has to be like the king of fabulous and varied hair styles. He has worn them all with class and ease, and rocked them in a way that made all men want to run out and do the same. If you are considering a change, why not go for the popular johnny depp long hair? If you are already needing the cut, waiting a little longer will not hurt, and it will definitely get you a lot of attention.
Women have a lot of fun with their varied hair styles. Why shouldn't men do the same? It really isn't fair that they can go from classy to funky or sexy when all we have is one boring cut. It really shouldn't be that way. Try something different for a change, and you may be surprised how confident it will make you feel.
If Johnny Depp isn't the persona of confidence, then what is? This man has played more varying parts on more movies than a person can recall. He can really be anything or do anything he wants. He really is there as an icon, teaching all men a lesson that they should be who they are and wear their hair the way they want.
Aside from wearing your locks long simply because you want to, you should also keep in mind that this is a hot trend. More and more guys are wearing their hair fashionably long, and really pulling it off with confidence and style.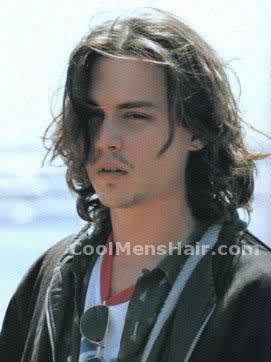 Johnny Depp long layered hairstyle.
If you want to see what you would look like with a style such as this, consider using a website that allows you to upload your picture and try on different styles. This will give you the opportunity to consider what you would look like and how well it would work to your advantage.
The beauty of Johnny Depp hairdos is not just the range of experiments he does with his hair. It is also about adapting himself to the character he is playing to the last detail. He always goes that extra mile to make the character convincing and create that unique point of distinction and that is why his hairstyle plays such a key role.
It enhances our grasp of the character significantly deeper. The question is how do you adapt it to your personality? Remember to choose a hairstyle of Johnny Depp that is closest to your personality traits.