Like it or not, curly man buns are here to stay. As evidenced by everyone, the androgynous hairstyle is functional, fashionable, and a lot more versatile than you probably think. Whether you're in need of warm weather hair inspiration or just feel like staring at some long-haired hotties, we bring you the best curly man buns below.
Popular Curly Man Bun Hairstyles
Fashion trends are changing every day and the difference line between men and women fashion is getting narrower with every passing day. A few years ago, hearing about man bun was quite odd but now it's not surprising anymore.
Man-bun with curly hair has become a popular fashion in which all hair is collected and tied up to give a bun shape. However, there are different techniques that make them different from each other.
Man-bun plus beard gives a mature yet trendy look and this style is getting popularity among all age groups.
Men with healthy faces shouldn't opt for the half bun and short beard style. Long beard and thick bun with fades go well with oval faces. If you have double chin then avoid chinstrap beard and prefer thick jowl. Longbeard style boasts the looks of healthy faces and rectangular shapes. Men with round faces need to look longer so they should prefer long goatee and crown buns.
1. Samurai hairstyle
The Samurai hairstyle is a great long hairstyle for men with curly hair who have medium or long length curls. The Samurai hairstyle differentiates itself from a traditional ponytail in that the hair is tied higher on the head (vertex or top) and it is put into a hair bun.
The Samurai hairstyle is a great style for those men who want their curly hair to be tied tight while still displaying some manly attributes. It is a perfect hairstyle for those who do a lot of physical activities as the hair doesn't move around.
2. John Snow Curly Man Bun Hairstyle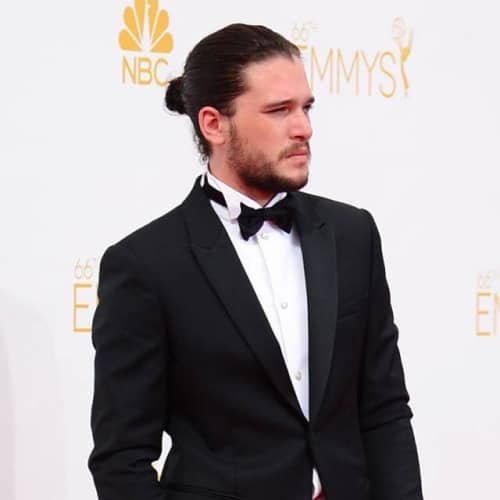 Of course, who would not like to adopt the hairstyle of the "King in the North", the famous "John Snow". This curly man bun hairstyle has gained popularity since the day our beloved John Snow took charge as the savior of the wildlings. This curly bun hairstyle needs a little bit of trimming from the sideburns and tying a pony at the loose ends of the hair. Enjoy this hairstyle if you have rough and curly hair.
3. The Curly Whirls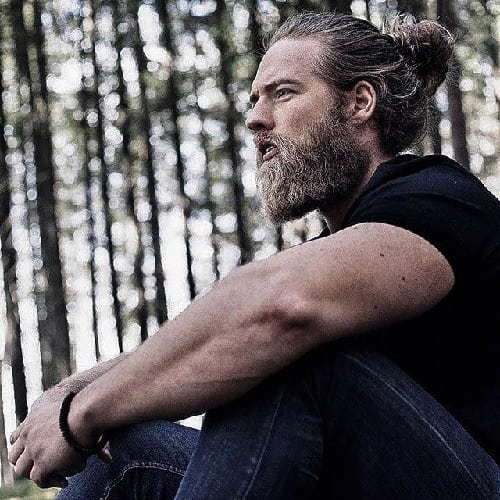 It's another trendy hairstyle which carries with it, an interesting charm and demeanor. It is pretty easy to form over your head because it requires no any sort sophisticated procedures. It looks pretty awesome when a guy with slightly curly hair grows the hair to a certain length and have them tied a loose knot.
4. Swirled Bun in Wavy Hair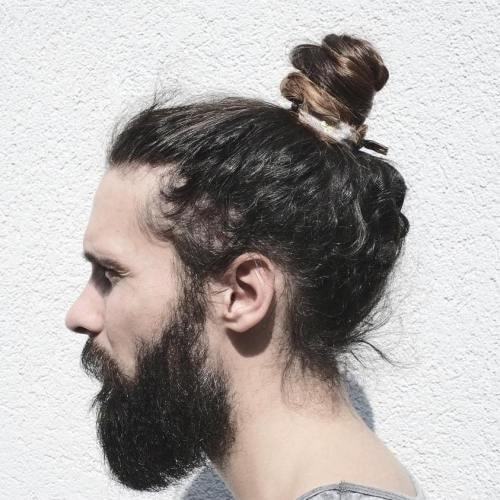 For all you busy men out there-there are no fancy cuts in this bun hairstyle for curly-haired men, just pull your long wavy hair into a messy, swirly bun and you're good to go. Even when paired with a full beard, it is low maintenance and portrays an extremely stylish and sexy image.
5. Slightly Curly Man Bun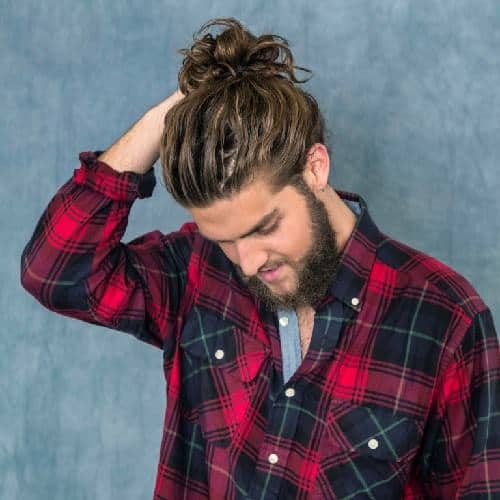 Slightly Curly hair with Man Bun is a stylish hairstyle for men who wish to be trendy and fashionable. The hair is slightly curled and then robbed into a bun.
6. Pony Bun

Pony bun is a unique hairstyle that has a lookout of both ponies as well as the bun. Though not considered by few pony bun as one of the man bun hairstyles, it is the bun that pulls up total hair in a band tied as pony shaping as a bun leaving a tail of hair at the edges.
7. Thick Man Bun with Line Up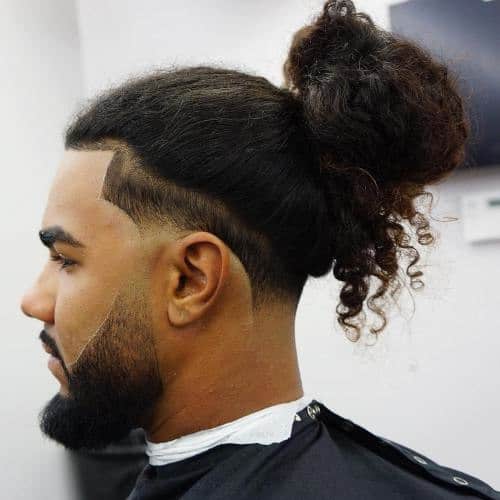 The man bun and beard is quite a pair — the undercut in this style adds a decent amount of thickness to already dense hair and provides dimension with layers while the fade accents the clean straight lines and curves. This style is great for someone who wants to maintain their curly hair texture, and yet exude edgy sexuality.
We hope that you will surely love these man bun hairstyles for your curly hair. So try these hairstyles to stand out in the crowd.