Whether they are actors, musicians, or sports heroes, there are many famous men with long hair. Each is a bit of a legend in his respective field. Here, we are going to take a look at some of these men, what has made them famous, and their cool hairstyles. Here are the 15 most famous men with long hairstyle:
Axl Rose


Axl Rose long hair style.

Born William Bruce Rose, Axl Rose is the lead singer and only remaining original member of the band, Guns N Roses. Musicradar named him the Greatest All Time Heavy Metal Lead Singer in 2010. Rose has always worn his hair long. When he was younger, Rose wore his hair loose with it parted on one side or the other. Most recently, he has taken to wearing cornrows in which the braids continue the entire length of his hair. He has also grown a mustache and a beard which makes look more his age.

Joe Elliott


Joe Elliott hairstyle.

Lead singer and co-founder of the band, Def Leppard, Joe Elliott is an English singer/songwriter and musician. Joe was born in England on 1 August, 1959. When Def Leppard first rose to fame in the 1980s, the mullet was a very popular hairstyle for musicians of many different genres. Elliott wore his mullet with the top and sides cut just a bit longer than average so that he had more styling options. Today, he wears his hair in a shag.

Jim Morrison


Jim Morrison wavy hairstyle.

The late Jim Morrison was the primary lyricist and lead singer for the American band, The Doors. He was born in Melbourne, FL 8 December, 1943 and died in Paris, France 3 July, 1971. Morrison wore his hair at about shoulder length. It had some curl to it which provided body. He generally parted his hair in the middle while allowing his bangs to come down to just above his eyes. His style required very little product or effort to maintain.

Bob Marley


Bob Marley dreadlocks hairstyle. Photo by Bonita Jamaica.

One of the most popular Ska and Reggae singers of all time, Bob Marley helped to introduce both these music genres and Rastafarianism to the world. He was born in Jamaica in 1945 and died in Miami, FL in 1961. Because he was a practicing Rastafarian, Marley wore his hair in dreadlocks. This is one of the most difficult hairstyles to achieve, but easiest to maintain. The hair is allowed to grow out and knot itself together, sometimes with assistance. Once the dreads form, the only way to get rid of them easily is to cut them off.

Kurt Cobain


Kurt Cobain hairstyle.

American singer/songwriter, artist, musician, and lead singer of Nirvana, a very popular Grunge band, was born in Aberdeen, WA 20 February 1967. He was found dead in his home 8 April 1994. Cobain's hairstyle was one that fit with the image presented by his music style. He wore it at shoulder length, usually parted in the middle. He could flip the hair back behind his ears or allow it to hang naturally, covering part of his face. No products were necessary and very little conditioning or other maintenance went into this style.

David Beckham


David Beckham long hairstyle.

English soccer player, David Beckham, is the midfielder for the LA Galaxy professional soccer team. He has a long and storied career in his chosen sport with many awards earned along the way. Beckham has worn many different hairstyles through the years, but here, we are interested in his long hair. While wearing his hair at shoulder length, David typically kept it parted in the center for casual wear. When he needed it out of his face, he put in a half pony tail that tied his bangs back and a third pony tail for the top.

Michael Jackson


Michael Jackson hairstyle.

Often referred to as "The King of Pop", Michael Jackson was an American singer/songwriter, dancer, and musician. He was born into a musical family and started out his career as the youngest member of the Jackson Five while still very young. Jackson holds several Guinness records and multiple awards for his music, dance, and video performances. Although he was born black, Jackson underwent plastic surgery and bleached his skin due to a rare skin disease. He also had his hair straightened and wore it at just below shoulder length in the latter years of his life. He typically wore it parted in the middle and allowing his bangs to partially conceal his eyes. He was also known to let some of the natural curl return to his hair and to pull one or two clumps out to hang in front his face. This style required the use of gel to hold the hair in place.

Brad Pitt


Brad Pitt long hair style.

If you have wavy hair and want to achieve this look, you will need to have your hair straightened in order to get the smooth look that you are seeking. The illusion of fullness and volume is achieved through the use of highlighting and lowlighting that is strategically applied to give the style a sun-kissed look.

Jon Bon Jovi


Jon Bon Jovi hairstyle.

From the big, frizzy, waist-length hair in the 1980s to the dark colored mullet, Jon Bon Jovi was deservedly termed as the glam-rock's pin-up boy during that era.

Johnny Depp


Johnny Depp long hair.

Of all of the celebrity guys who are famous for their hair, perhaps Johnny Depp has the biggest fan following solely for this reason alone. This man has to be like the king of fabulous and varied hair styles. He has worn them all with class and ease, and rocked them in a way that made all men want to run out and do the same.

Steven Tyler


Steven Tyler long hairstyle.

is one of America's most iconic rock singers. He is also a songwriter, multi-talented instrumentalist, and one of the newest judges on the television talent search, American Idol. Tyler has been the lead vocalist for the band Aerosmith since 1964 and still records and performs concerts with the band. Tyler has worn his hair at about shoulder length for most of his career.

Sebastian Bach


Sebastian Bach hairstyle.

Canadian, Sebastian Bach is the former lead singer of metal band, Skid Row. He was born in Freeport, Bahamas on 3 April, 1968. Bach wears his hair at a length that reaches about halfway down his back. It is parted on one side and brushed over so that it covers one eye part of the time. Other times, he parts in the middle and brushes it out of his face. His hair hangs in natural waves that would make many women jealous.

Russell Brand


Russell Brand hairstyle.

One of the most popular stand up comics to come from England is Russell Brand. In addition to comedy, he is an actor, an author, and a singer. Brand married singer, Katy Perry, in October of 2010. Russell wears his hair in a very complex style that only an expert can cut and maintain. The back and sides are razor cut into layers to provide texture. The top is cut with a razor to give a jagged appearance. He uses a large amount of product to hold his hair in place after styling each morning.

Kenny G


Kenny G long curly hairstyle.

Music icon and jazz saxophonist, Kenny G, was born 5 June, 1956 in Seattle Washington. He is a wildly successful composer and instrumental musician. Kenny wears his curly hair at about shoulder length. Because of the natural body his curls impart, there is little effort that goes into maintaining his hairstyle. The curls just hang loosely down the sides and back of his head.

Richie Sambora


Richie Sambora hairstyle.

Richie Sambora (was born on July 11th, 1959) is the lead guitar player for Bon Jovi, a hard rock band from New Jersey, USA.

Hollywood Hotties Who Prove Long Hair Looks Great on Guys

What do the most famous men with long hair have in common? Well, besides their long hair, they have style, panache, bravery, and flair in common. Seriously, lengthy tresses were in fashion for guys not so long ago. The trend is slowly creeping its way back in vogue, but I think we should give it a little push.
#LongHairDontCare: 15 Famous Guy Who Let It Grow
Since everyone gets fashion and style advice from the stars, let's hope that admiring famous musicians and actors with long hair can convince men everywhere that there's nothing girly or lame about wearing your hair long. You can style it, wear it up, condition it, even straighten or curl it if you want. Who cares? It's your hair; of course, you want it to be gorgeous.
16. Jared Leto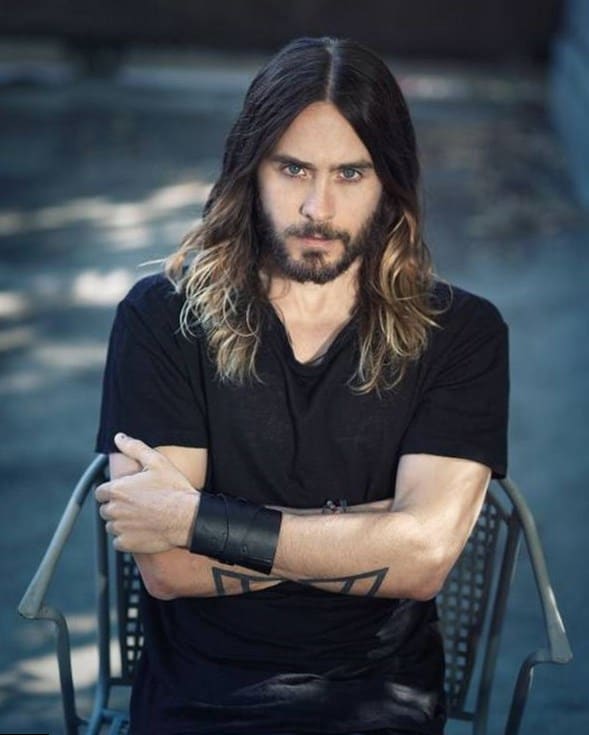 Long before cutting his hair for a turn as the Joker, Jared Leto was well-known as one of the hottest men with long hair in all of Hollywood. He's been rocking the long locks since back during his "My So-Called Life" days when he set off heart palpitations in every '90s girl. It fits his rockstar persona, too—he heads up 30 Seconds to Mars, don'tcha know. To add some brightness to his otherwise dark brown tresses, he often highlighted the ends. Can't beat that shine, either.