If you are looking for a clean and sophisticated look with your medium-length curly hair, try Andrew Lincoln hairstyle.
Best known for his role in The Walking Dead, Andrew Lincoln draws a big set of fans due to his urban hairstyle. The look goes well with both formal and informal dressing and is a good choice for middle-aged men with few hard-earned wrinkles.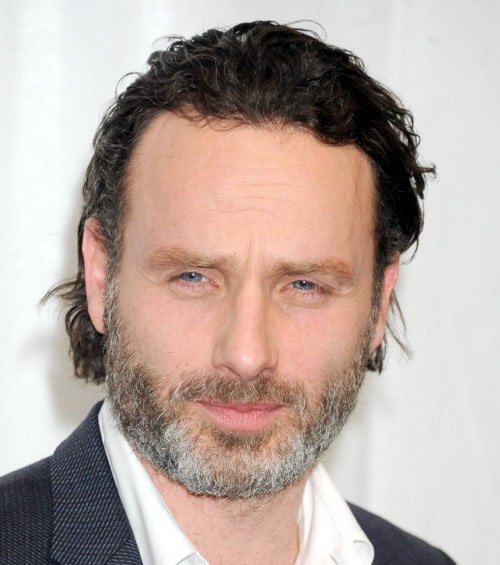 To get this perfect classy Andrew Lincoln look, you need to have natural curls that add bounce and texture to this hairstyle.
Grow your hair to medium length and push back the natural waves without using much force. Sweeping back hair is less aggressive than fully slicking it back.
Apply a very small amount of styling gel to hold it there. Don't brush too much on the back and let the hair's natural texture carry the look. This ultra-modern and suave look goes very well with a stubble.
Evolution of Andrew Lincoln's Hairstyles
Andrew Lincoln's hairstyles have been a roller coaster of awesome. From the boy-next-door vibes to the rugged warrior, the wise gentleman with a beard, and the sleek modern-day star, he's rocked them all. It's about transformation and making a statement with your hair.
So, if you're in for a change, these Andrew Lincoln's hairstyles are not just inspirational; they're totally doable.
The Early Days: Boy-Next-Door Vibes
In the early days, Andrew Lincoln was all about that casual, boyish charm. He wore his hair in a relaxed, somewhat messy style. Think of that guy in college who's effortlessly cool without even trying. His hair had a natural wave, and it was clear he didn't spend hours styling it.
Who Should Try It? If you have a youthful face and wavy hair, or if you just love a laid-back style, this is for you.
How to Get The Hairstyle: Let your hair grow to medium length, and use a lightweight styling cream. Just run your fingers through your hair for that perfect, slightly-messy look.
The Walking Dead Era: Rugged and Raw
As Rick Grimes in The Walking Dead, Andrew Lincoln embraced a rugged and raw look. His hair was longer and tousled, and he often had some serious stubble going on. This style was all about portraying a man fighting for survival.
Who Should Try It? Men with a strong jawline and a taste for adventure. Also, if you're into a tough, no-nonsense vibe, this one's for you.
How to Get The Hairstyle: Grow your hair out a bit, and use a texturizing spray for that tousled look. Don't be too neat – this look is all about rugged charm.
The Bearded Combo: Wise and Distinguished
Further into The Walking Dead series, Andrew went for a dapper, bearded look. He kept his hair shorter and neater but maintained a full beard. This style said, "I'm battle-hardened, but I've still got class."
Who Should Try It? Those with a love for beards and an air of wisdom. If you've got stories to tell and want a look that has both edge and elegance, this one's calling your name.
How to Get The Hairstyle: Keep your hair neatly trimmed and invest some time in grooming your beard. A medium-hold pomade will keep things classy.
The Modern Gentleman: Sleek and Polished
Lately, Andrew's been rocking a more polished, sleek look. It's like he's taken the best parts of British charm and blended them with Hollywood style. It's short, neat, and screams sophistication.
Who Should Try It? If you're someone who likes to look put-together and values a sharp appearance, this style is perfect.
How to Get The Hairstyle: Keep your hair short and well-groomed. Use a high-quality pomade for that sleek finish. And don't forget – a good comb goes a long way.
Summary
Let's break down Andrew Lincoln's hairstyles through the decades:
1990s: Those were the days of youthful rebellion. Lincoln's hair was short, shaggy, and a little on the wild side. The side part was his signature, and that tousled look? Oh, it was all about carefree vibes and charm.
2000s: Moving into the 2000s, Lincoln went for a bolder look. The hair got shorter and started meaning business. We saw him sporting crew cuts and buzz cuts. The message was clear – masculinity and ruggedness to the max.
2010s: Fast forward to the 2010s, and we see Lincoln transforming into a true gentleman. Short and neat hair with classy side parts and quiffs. It was all about sophistication and professionalism. And let's be honest, he nailed it.
2020s: And here we are in the 2020s, Lincoln's style is still going strong. Short, neat, but with some fun experimentation. The short pompadour and the high-and-tight cut are some of the highlights. Versatility at its finest!