Hair color is a great fashion statement which can be fun and stylish at the same time. Guys with colored hair are definitely head turners weather due to the attractiveness or the eccentricity. Men have gone to lengths to experiment with their hair and now you may even see some guys with blue hair. Due to advancements in hair dye products and variety of styling processes, men, too, can now color their hair in various ways, which helps to highlight their features or give them a whole new look. No makeover is complete without modifying the natural color of your hair, and the best part is that there are so many ways in which you can do so. You can either change the color of your whole hair by using dyes or partially style it by streaking or getting highlights. No matter what you choose, men have a lot of options nowadays.
Hair Coloring & Bleaching Ideas
Dyeing one's hair is a great styling idea. Hair dye kits are easily available in the market and if you follow all the steps, they are quite easy to use. Select the type of hair dye, like permanent, semi-permanent, progressive colored dye etc. Brush your hair well and wrap a towel around your shoulder so that it does not stain your clothes. Make a small section near the ear or temple to test the dye. If you don't have any adverse reaction, mix the dye liquid or powder according to the instructions and use a comb, brush or your gloved fingers to apply it in small sections. Some hair dyes need to be kept for only 15 minutes and for some you may have to wait for an hour. Wash your hair thoroughly, apply conditioner and dry your hair naturally or with the help of a hair dryer.
Another idea is bleaching your hair. Bleach is mainly used to lighten the color of the hair. Some men prefer the blonde look or want to highlight their hair, and bleaching is an easy way to do that. There are many popular hair bleaching products for men. Choose a good quality one, especially if you have natural black or dark brown hair, as excessive bleaching can make it look orange. Mix one part peroxide with one part powdered bleach and only use plastic mixing brush and plate so that there is no negative chemical reaction. Put on plastic gloves and apply the bleach from the tips toward the scalp. Since the heat from the scalp makes the dark hair bleach faster, we apply it at the ends of the hair first for even coloring. Avoid contact with skin. Rinse hair thoroughly and apply an intensive hair conditioner to nourish your hair. You can also get the frosting effect by bleaching the tips so that the short spiky strands stand out.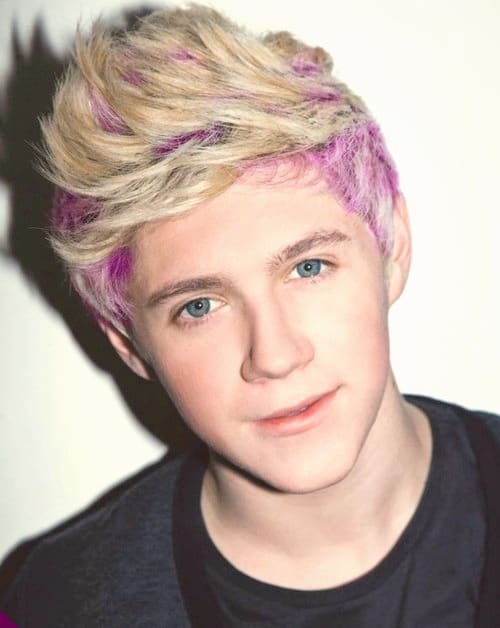 Niall Horan hair
Niall Horan's hair color definitely stands out with golden-purplish shade.

Billy Idol blonde hairstyle.
While Bobby Idol decided to go for a blonde to compliment his looks.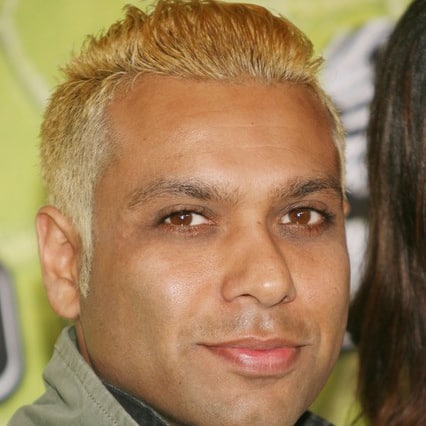 Tony Kanal hairstyle.
And Tony Kanal went Golden on the top with a tinge of white by the sides.

Henry Holland with hair.
The silver by Henry Holland is something one must try in his lifetime.

Undercut hair with the blonde side.
Would you try this darker golden brown with undercut hair?

Green colored liberty spikes hair.
Highlighted & Streaked Hairstyles
There are various ways of streaking hair depending on the color of your hair and the look you want. You can choose a color that is close to the natural color of your hair, blonde shades or bright ones like red, blue or neon colors. Decide where you want to streak the hair and how thick and wide the strand should be. Apply bleach and let it work for a few minutes, rinse it and apply the hair color after mixing it in right proportions. Always use aluminum foils to place the hair so that it does not touch your skin or the rest of the hair. Wash hair properly and condition well.

Zayn Malik blonde streaked hair.

Surfer hair with highlighted tips.

Big hair with a blonde streak on the front.

Two red streaks.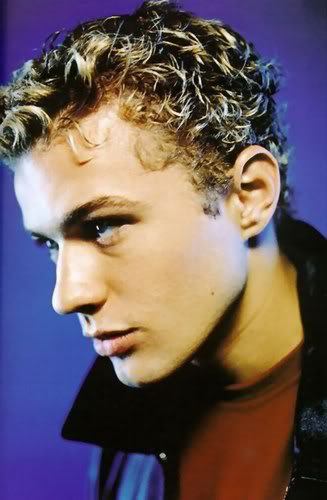 Justin Timberlake curly hair with highlighted tips.

David Beckham highlighted fauxhawk.

Jedward highlighted quiffs.

Jared Letto long hair with red streaks.

James Marsters hair.

Jade Puget punk hairstyle.

Aiji red streaks hairstyle.

Adam Lambert blue streaks hair.

Lance Bass mohawk hairstyle.
Rainbow Hairstyles
Rainbow hair means applying all or less of the seven colors of the rainbow, violet, indigo, blue, green, yellow, orange and red to style your hair. Guys usually do it in the form of a mohawk or color their whole hair in these seven shades by making separate sections. Sometimes the hair is styled in spikes so that the hair stands up and the colors are distinctly visible. Also remember to bleach your hair before applying the colors a few days later, if it is not naturally blonde so that the colors appear bright and vivid. It is one of the boldest hair fashion statements but it is also very fun and will definitely make you stand out.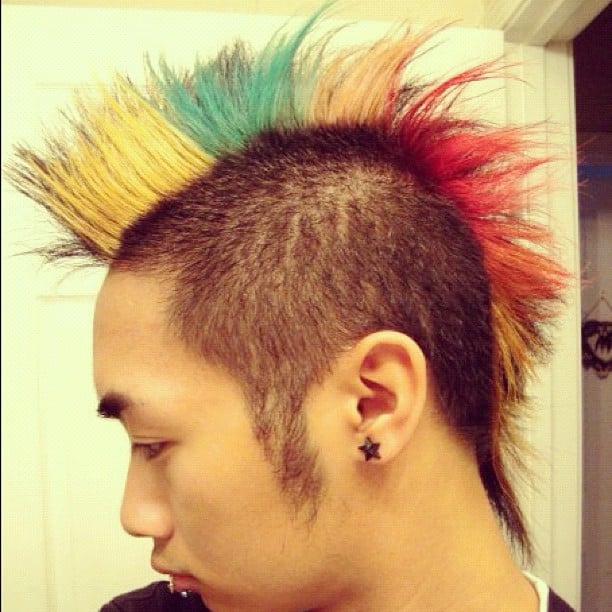 Rainbow hairstyle.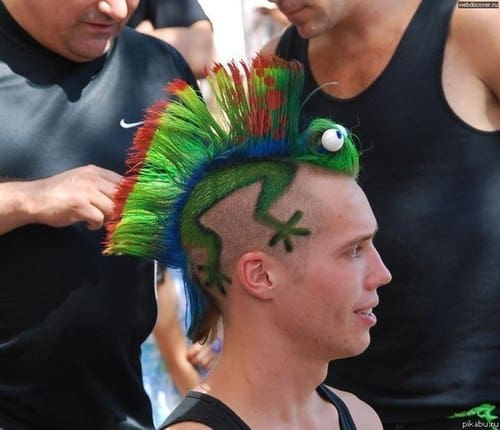 Animal-inspired hairstyle.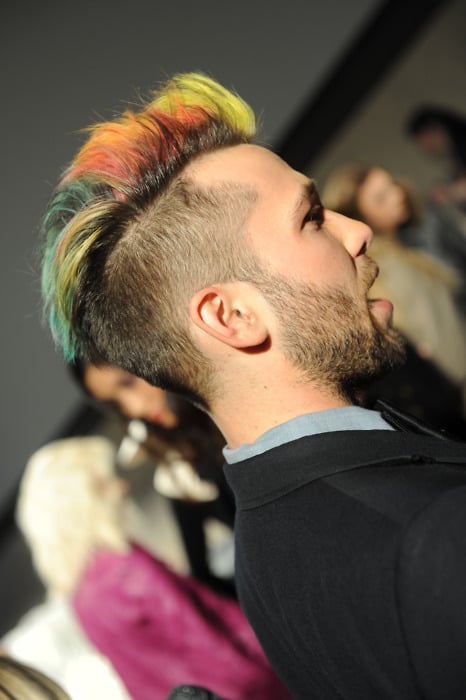 Rainbow colored hair. Photo via freaking cute.
Which color should you go for?
Whichever hair color you chose, make sure it goes with your tone. Some colors go with most skin tones- dark brown is one of them. To get the dreamy look, you could consider blonde or chocolate brown. Also, you might want to consider your life in general for example, if you work in a law firm, you definitely cannot walk in with the red or rainbow colors, can you? So choose wisely as it will have an impact in the way you are perceived.
And whatever, you do, make sure to carry it out with confidence.