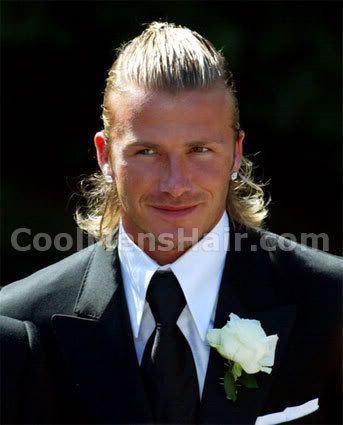 David Beckham long hairstyle.
David Beckham is an English soccer player currently playing midfield for the LA Galaxy Major League team. He was previously an outfielder for Manchester United. Beckham has worn many different hairstyles through his famous career. Sometimes (and recently) he has worn it short, and other times quite long. Here, we shall look at David Beckham with long hair.

David Beckham shoulder length hair.
When David chooses to wear his hair long, he typically goes with shoulder length hair in a style that is long and messy looking. This style is very easy to maintain and looks great with his facial features. The length gives him a great deal of versatility in styling methods to change up his appearance and to keep those long locks out of his face while playing.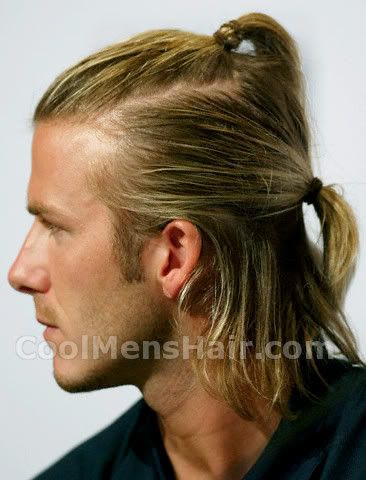 David Beckham ponytail hairstyle.
In order to keep his hair away from his face, and also simply as a style worn for certain occasions, Beckham has been seen with his hair pulled back into what many would call a half ponytail. For going out in a semiformal setting, he often splits that into a third ponytail up high flowing into the traditional half pony tail. This leaves a small loop similar to a teapot handle.

David Beckham hairstyle.
Another styling trick that takes little effort on his part is to place a plastic head band in the hair that pulls the front back from his face. This leaves the back flowing free and looking a little wild, which matches David's personality.
Throughout his soccer career, David Beckham has worn his hair in a variety of lengths and styles. He currently is wearing his hair long employing just a few simple tricks to maintain his hairstyle and keep it out of his eyes when he is on the soccer field. His shoulder length locks allow for a great deal of versatility in choosing the hairstyle he wants to wear any given day.