There are many different techniques on how to interlock dreads. One of the methods which are done by many individuals is the interlocking dreadlocks technique.
When interlocking, you don't need to have any special tool, material or hair products. You will only need your fingers and a latch or crochet hook.
What Is Interlocking?
Interlocking is more commonly used amongst those who have very fine textured hair which doesn't dread as easily as other types. Despite common opinion, dreadlocks are not a style that can be left without any form of maintenance. It does take an effort to keep them healthy and neat looking.
With interlocking locks, maintenance care is essential to preserve its appearance and prevent extra hair from damaging the style. Much like all other hairstyles, dreads also grow new hairs from the scalp of the head and these loose baby hairs need to be locked into the existing dread.
How to Interlock Dreads
The most common method of interlocking dreads is via the re-twist or palm rolling method, however, there is an alternate way which is known as Interlocking. Doing interlocking dreadlocks is different from palm-rolling method as it requires one particular material which is the hook.
The advantage of interlocking, however, is they last longer than palm-rolling and looks neater and more kempt. For best result, it is suggested to combine both methods: use palm-rolling to form the dreads, then lock them with interlocking.
Interlocking dreads involves using a small device called an interlocking tool. This tool has a small hook attached to the end. The tool is inserted into the roots of the dread, separating the dread in half. Then using the hook, the dread is pulled back through the gap in the roots creating a 360 loop on itself.
If you have long kinky or curly hair, you can easily do it. You may need the help of an expert if your hair is straight. The following are simple steps for you to follow to get interlocking locks.
1. Wash Your Hair
The very first and the most essential step to having good looking interlocking dreadlocks is by washing your hair properly. Make sure to eliminate dirt so you can do dreadlocks much easily. This step only shows that the idea about dreads as dirty is definitively untrue.
2. Prepare the Material


The only material you will need is a latch hook. If you do not have it, you can buy Caron Bent latch hook. This hook is easy to use with a wooden handle that is sturdy. Alternatively, you can also make use of a paper clip. Make the paper clip form a loop then secure its ends.
3. Interlock
At the base of the dreads, you will be finding new hair growth. You will have to interlock the new hairs so it will not damage the dreadlock. Insert the hook in the middle of the dreadlocks at the base of each dread in such a way that it forms a hole. Then insert the rest of the dread into the loop of the hook. Continue inserting until the dread becomes tight and it appears in a "Y-shape".
To get a better understanding, watch the provided videos on how to interlock your dreads
Benefits of Interlocking Dreads?
Some consider that by crocheting the new hair around the base and root of the dread, it can help maintain the 'rounded' look that generally is found with a dread but it can also add extra strength at the scalp where most of the weight of the dread is carried.
As the interlocking method 'locks' the hair in place you are less likely to undo any recent styling when washing your hair. Maintenance is generally only required every 6-8 weeks which is less frequent than the palm rolling method.
Being able to wash your hair with more ease and frequency is also great news for those who are prone to sweaty or oily scalps. Interlocking dreads creates smoother dreads as the tool encourages a crochet method as opposed to rolling the hair to encourage lumps of loose hair to matt.
What Are The Dangers of Interlocking Dreads?
As the dread has been twisted against its natural position you may find the hair sticks out at an angle making the hair and hairline look crooked.
Some believe that by separating the dread at the root it can create weakness which will result in breakage from too much tension. This could lead to traction alopecia or balding if not done properly or done too tightly.
Watch the following video to avoid mistakes while interlocking your dreads.
Best Interlocking Dread Styles for Men
If you are still unsure which method to use, don't panic. You can actually alternate between an interlocking and a re-twisting technique – choose what is best for your budget, hair type, personal taste, and time constraints.
If you are considering getting dreads or changing the method you use to maintain them, then take a look at the following 10 best interlocking dread styles for men.
Interlocking Dreads for Short Hair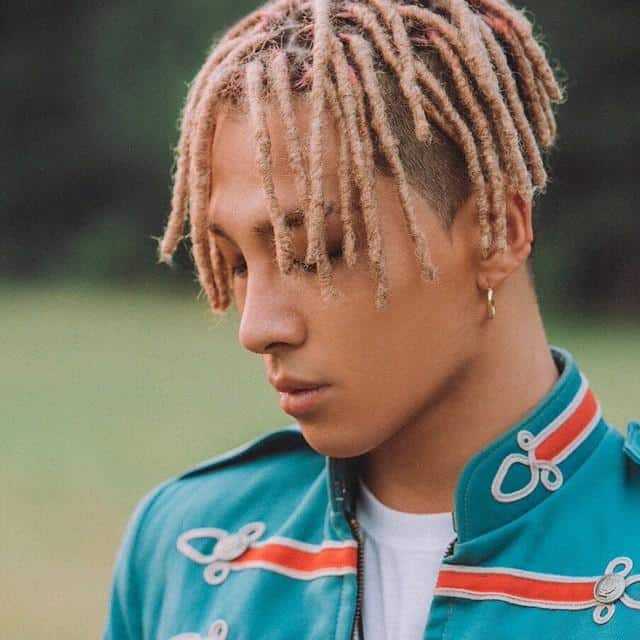 Short bobs are a very trendy look in women's hair right now, so why can't the fellas jump on board with this? Try out this style with your interlocked dreads.
Ideal for: Those who are wanting to add some excitement to their existing dreads through snappy color choices.
How to Style: This edgy and chic bob is enhanced by dreading the locks into slightly varying lengths. By adding an undercut and pairing with a contrasting color, neat sideburns and well-ordered dreads this is a smart and edgy look all bundled into one.
2. Dreads with A Fade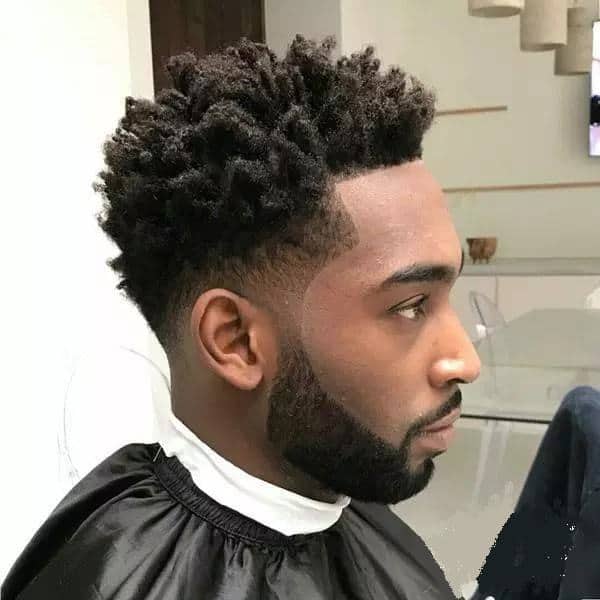 The neat and perfectly coiffed interlocked dreads paired with a fade makes for an immaculate and conservative style with an edgy twist.
Ideal for: Short dreads are easier to maintain and manage every day however they can lack the versatility of styling that comes with longer hair.
How to Style: High top and fade dreads are a more popular style as they are often easier to maintain. The dreads on top can be worn messy, styled back or worn to suit personal preference whilst all variations can offer a stylish and classic look.
3. Edgy Short Dreads
By pairing dreads with a traditional cut such as a flat top or fauxhawk you can make a fashionable and trendy statement.
Ideal for: This is a great style to tailor to your own individual needs.
How to Style: The versatility of this type of look is endless as you can play around with the length around the side of the head to keep your style fresh. For example, a high fade will offer more of a contrast and a low taper fade will provide you with more of a conservative look.
Interlocking Dreads for Mid Length Hair
4. Uneven Dreads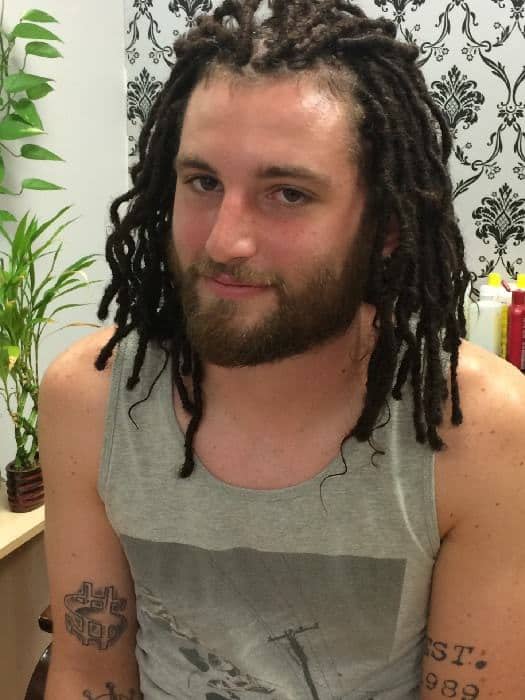 A great and easy way to shake up your interlocking locks style is to go for uneven dreads.
Ideal for: Guys who are wanting something very different and distinctive.
How to Style: These dreads vary in length and thickness which results in a characteristic, shaggy and bold look. By leaving the ends frizzy and adding a grown out ombre tone, it creates a great boho vibe.
By pairing a neat undercut with an edgy top knot, you can achieve a very dynamic look.
Ideal for: If the image is your thing then this immaculately groomed interlocking dread hairstyle is one for you.
How to Style: The shaved undercut part is hyper neat, and this means you need to keep on top of locking in any new hair growth to sustain the look. The addition of beaded accessories really adds some extra pizazz to this style.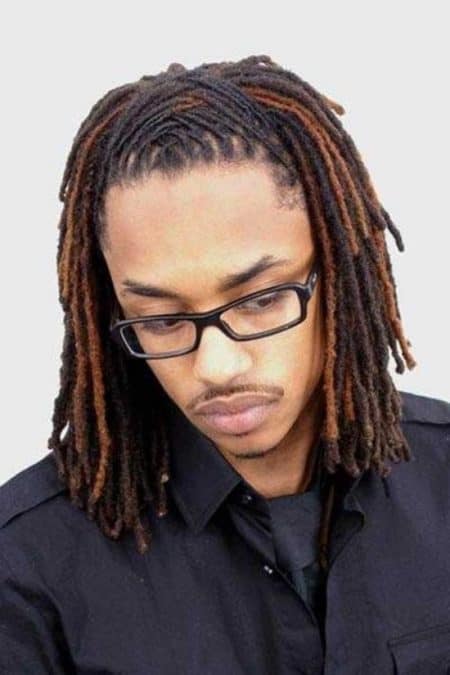 Braids are a growing style trend for men – and by pairing them with dreads, you are certainly on to a winning look.
Ideal for: Those after a more unusual and personality packed style.
How to Style: Whether your interlocked dreads are mid-length or long, this is an easy way to temporarily mix up your look. By sectioning off the front of the hair and braiding it back towards the crown, you can secure it with a clip or tie.
The neat braiding back from the forehead is unforgiving for any new hair growth to ensure that you keep on top of your hair maintenance.
Interlocking Dreads for Long Hair
7. Basket Weave Style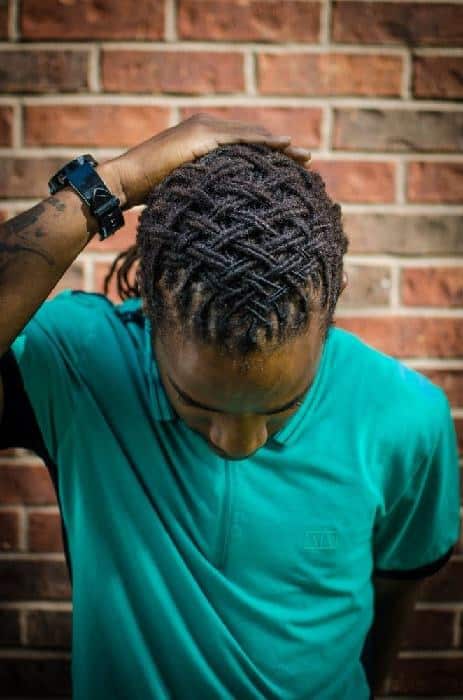 If a simple man bun or ponytail is too mainstream for your long dreads, then how about adding some braids to mix up your style?
Ideal for: Those who have long hair that is lengthy enough to plait.
How to Style: By separating your dreads into sections you can braid the rows into a neat basket weave style. This makes for a great and unique textured look and it works whether you have chunky dreads of thin strands. The hair can either be tied into a ponytail or bun at the back, or the plaited portion pinned in place and the remaining hair worn loose.
8. Twisted Dreads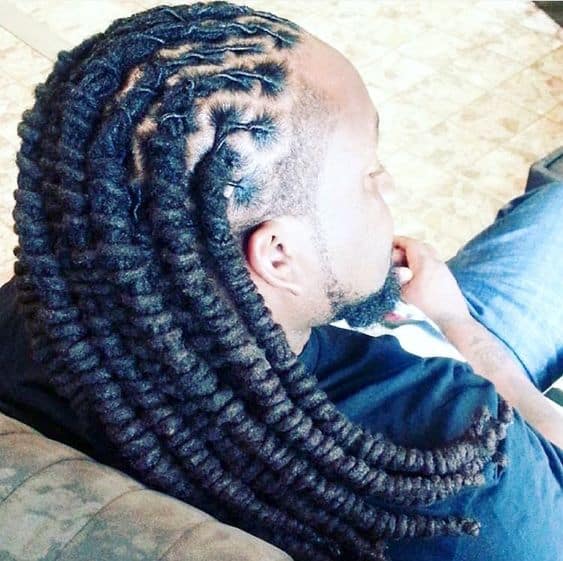 Long dreaded hair is exceptionally heavy, so you will need to ensure that your tresses are maintained and in perfect condition to sustain the weight.
Ideal for: This is a high maintenance style from root to tip, so it may not suit those who do not have the time or inclination for such effort.
How to Style: Loose and new hairs will destroy this look very easily, especially around that hyper neat scalp, so ensure that you either interlock the hair or palm roll to keep on top of any errant pieces.
Long interlocking dreads are a weighty look to carry around. If you are wanting to mix up your look and literally take some of the weight off your shoulders, then consider an undercut.
Ideal for: Those that want to maintain their long locks but add an edgy twist.
How to Style: Dreadlocks aren't all about laid-back bohemian chic. These extremely neat and immaculate dreads are paired with a clean and tidy shaved side and part detailing. The loose bun at the back adds a nice contrast and highlights the otherwise pristine 'do.
10. Conservative Man Bun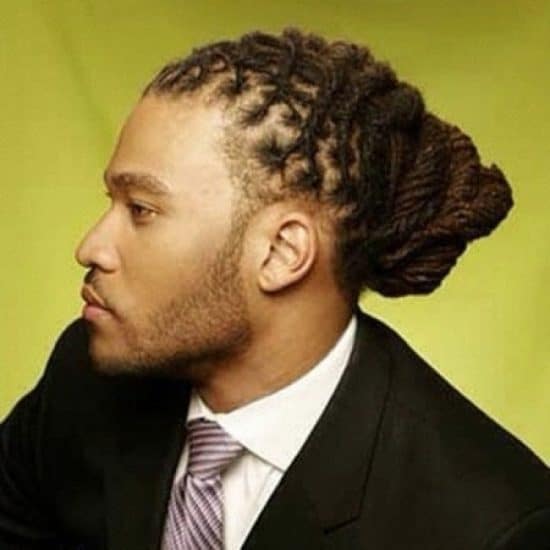 You may not think that long-dreaded locks are the perfect look for the workplace – then think again.
Ideal for: This is a great look for those who need a more conservative look for their job.
How to Style: The key to this look is to ensure each dread is hyper neat at the scalp and that there are no wayward new hairs sticking out. By wearing your hair in this protective bun style, you can not only give your tresses a rest but also help with your overall hair health.
Interlocking dreads is an effective way to maintain your locks. You can do it by simply following the steps mentioned above.