Scene hairstyles are becoming more popular every day. The hairstyles are a way for guys to reflect their individuality and personality in their appearance. About the only real rule governing scene hairstyles for guys is that medium long hair is required to achieve the full look.
For some guys, this may mean a period of growing the hair out. For others, cutting a bit off may be in order. In any case, once the desired length is obtained, one can begin to style the hair in one of many different scene styles or create a completely new one.
Unusual Scene Hairstyles for Guys
Following are the latest trends of scene hairstyles for punk looking guys. Get inspired by these unconventional bold look.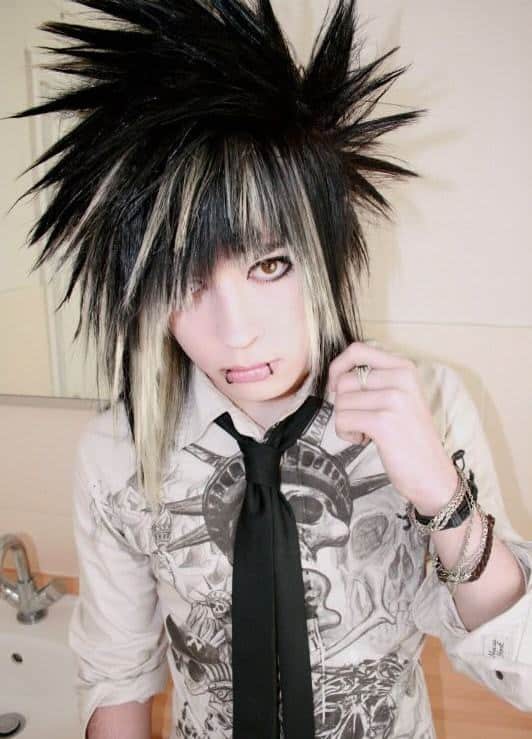 If you are wanting a dramatic and statement scene hairstyle for guys then look no further than this monochrome masterpiece.
Ideal for: Mid-length hair. Long faces that pair well with volume around the sides of the head.
How to Style: To achieve this look, strong hold hairspray and straighteners will be your everyday friends.
Have the hair layered all around the head, then using a flat iron and hairspray tease the hair into position. The asymmetrical cut bangs are highlighted in a contrasting color and worn to frame the face for an ideal scene haircut.
2. Choppy Crop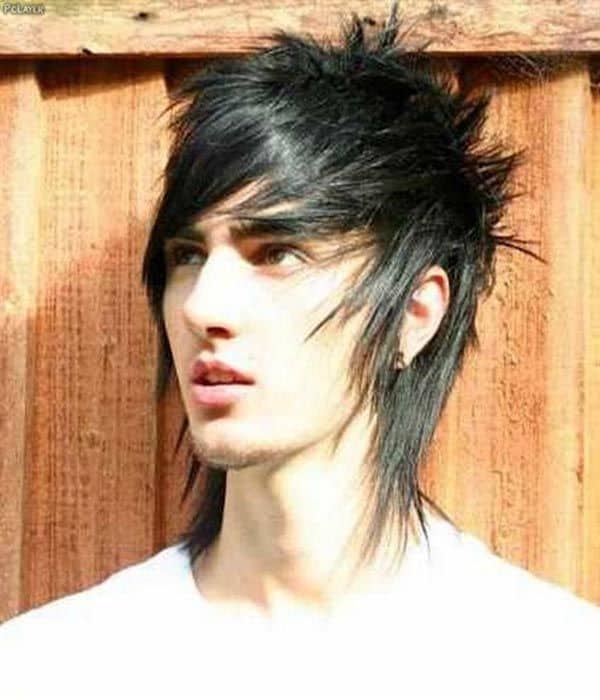 Scene hairstyling is all about harsh layering and long fringes and this look is no different.
Ideal for: Short to mid-length hair. Fine hair that needs volume. Rounder faces that benefit from framing.
How to Style: Have the hair cut and layered into choppy varying length layers. Straighten and backcomb the roots of the hair at the rear for added volume. Style the fringe into a sweeping motion across the forehead with dynamic sideburns and set with a strong hold spray.
3. Green with Envy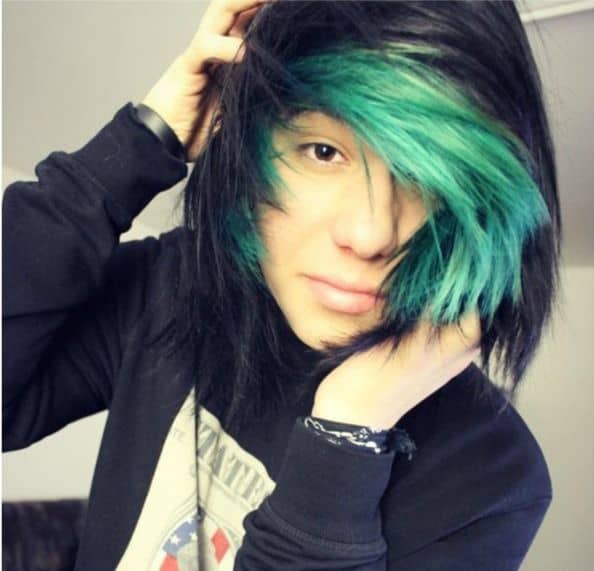 Dark hair sometimes needs a pop of color and adopting a scene haircut is the perfect opportunity to experiment.
Ideal for: Short to mid-length hair.
How to Style: The choppy bob cut and layered bangs are a great way to pull off a classic scene hairdo. To achieve this color, you will need to visit a stylist as peroxide will be needed to lighten the hair first. By adding a deep side part and sweeping fringe it really highlights the color choice.
4. Platinum Pixie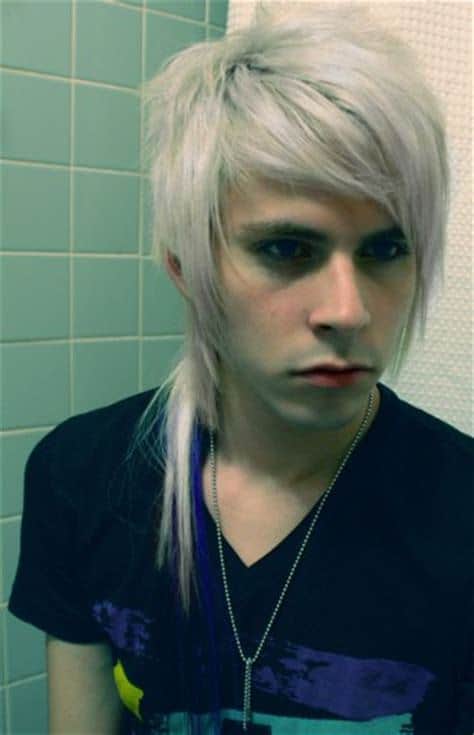 This is almost a hairstyle of two halves with a classic pixie-style crop on the top and shoulder length hair at the back.
Ideal for: Short to mid-length hair. Round faces that need framing.
How to Style: This is a great option for guys who like to have a variety of length in their locks. The sweeping asymmetrical fringe and very choppy short layering around the top of the crown creates movement and personality.
By leaving the hair long around the nape of the neck, it adds to the dimension of the cut. The strong white peroxide color choice makes this style extra edgy.
5. Fringe Benefits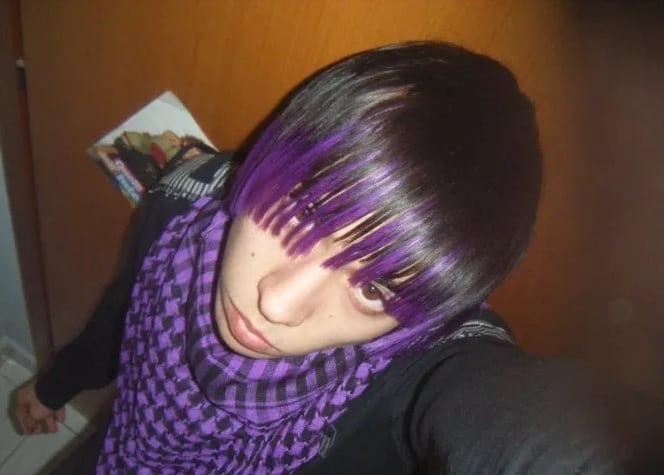 This scene style has moved away from the traditional backcombing and layered locks. A more sleek and smooth style is given an edgy twist with a bold color choice.
Ideal for: Poker straight and very sleek hair.
How to Style: By keeping the main portion of the hair all one length it can add to the overall sleek and smooth look that sets this scene hairstyle apart. The slightly shaggy but very long fringe is dappled with edgy colored strips which breaks up this otherwise blocky hairstyle.
6. Face Framing Bangs
This is a great scene hairstyle for guys who have very fine hair that craves movement and drama.
Ideal for: Short to medium length hair. Very fine hair that needs definition.
How to Style: By blow drying this choppy crop from the back of the head forwards, you can create and give hold to this sweeping style. By adding lighter tones of color through the fringe it provides a much-needed sense of structure and definition.
7. Bed Head Scene Hair
This is a bold and fun do that really screams punk!
Ideal for: Most hair types and face shapes.
How to Style: This is a great versatile style that can be tweaked to suit individual taste, personality and hair type. The bold bangs which are brought from far back on the top of the head are softened by the volume created from backcombing rear layers of the hair. Set with a strong hold spray.
8. Side Comb Over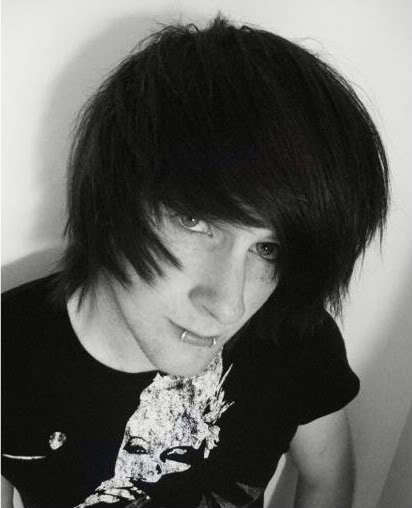 To achieve the scene look, the hair is usually long enough to cover the entire face if combed in front of it. Many scene styles do involve allowing the hair to cover one eye. Others have the hair parted on the side and combed over.
9. Spiky Scene Hairstyle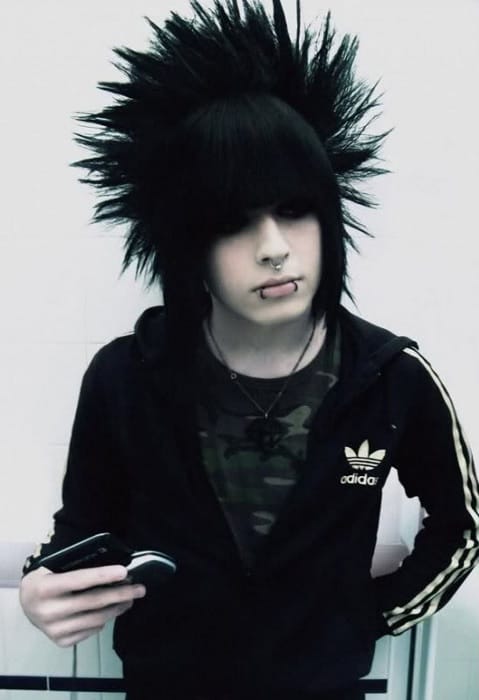 Another aspect of scene haircuts are often a spiky appearance. This is normally toward the back of the crown of the head but can be anywhere. Achieving this look is simply a matter of applying styling gel or mousse to the hair and pulling up so that it stands in place in several different spots.
Read How to Get Emo Hair for Guys
10. Blonde Streaked Scene Hair
A final aspect of scene styles that is catching on quickly is the use of hair dyes to create unique patterns of color within the hair. Most often, the hair is dyed black and then another color is applied to create one or more stripes or just a blob of color. Bright colors are the order of the day.
Scene Hair Pictures Gallery
Any combination of the above aspects of scene hairstyles can be used to create a look that is unique to the individual. Expressing one's individuality is, after all, the whole reason for adopting a scene or emo lifestyle.