Robert Pattinson Twilight Hairstyle
Creating a hairstyle like Robert Pattinson (Edward Cullen) is an easy way to give yourself the sexy, sleepy look that has electrified audiences everywhere. Although it might look like he rolls out of bed with his hair perfectly styled, the truth is there are some very specific techniques that can be used to create the look that has become synonymous with his name.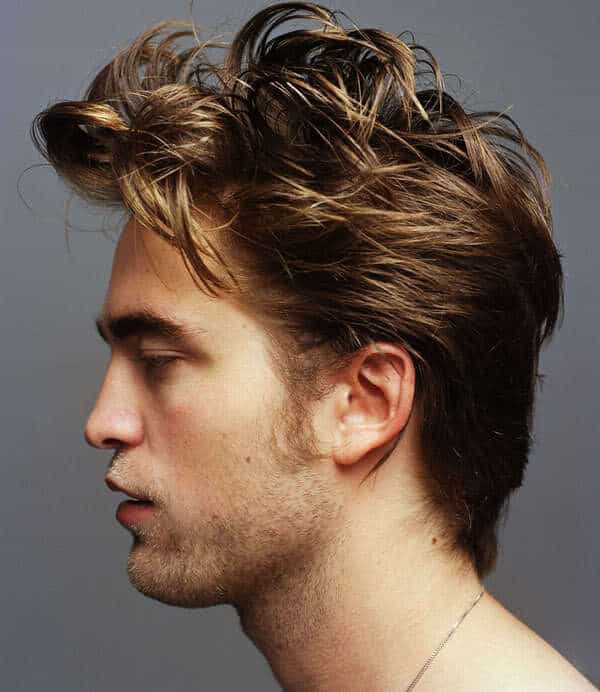 Robert Pattinson. Photo by Theo Wenner/"Dossier".
To get the Robert Pattinson style, you may need first to change the cut and texture of your hair. The hair should be cut a bit shorter on the sides and longer on top. Fortunately, it can work for a number of hair types and face shapes.
If you have naturally thick hair, it may become weighed down, so thinning it out will improve your chances of pulling off this fun style. Best of all, you only need a few styling products and a hairdryer to take your look from wallflower to show-stopper in a few short minutes. Here's how:
Gather your tools.

For the Robert Pattinson style, you will need some styling gel, control paste or wax, a round brush, and a hairdryer. If you are without these products, make sure you take note of how each product smells when you are shopping. If there is one product that smells particularly great, try to get the others in unscented versions. Or pick up all the products from the same brand and with the same scent. Your new style just might attract more attention and when someone gets close, you don't want to overwhelm them with an unappealing mix of scents.

Goop it up.

Place a grape-sized dab of hair gel in the palm of your hand and rub your hands together. Grab the roots of your hair and scrunch the length of your hair in your fists all over the head. Continue working the gel into the hair like this until there it is spread evenly throughout the hair and there are no blobs of gel anywhere.

Blow it out.

With your hair dryer on the lowest setting, bend over at the waist and dry your hair upside-down. Point the blow dryer at the roots and move it around with one hand while scrunching the hair with the other hand. Repeat all over the head until all your hair is dry. Be warned, when you get the first glimpse of it after drying it will look over-the-top wild, but that is ok for now, we aren't done yet.

Settle it down.

Without brushing your hair, wrap small sections around a round brush and hit it with the hair dryer again, this time for just a few seconds to tame the locks down at the ends. Do this throughout the hair, trying to make it look random, not over-styled. If the sides are too long, you may want to forgo this step on the sides so you don't end up looking like Albert Einstein. Instead, just use your fingers to comb the sides back from your face.

Finish it off.

To complete the Robert Pattinson style, just take a little styling paste or wax and sculpt the locks by peicing them out and separating as it looks good. Use only your fingers to style at this point, brushing or combing it will ruin all you have created and you may have to start over. Keep working it until you get it just right.
Robert Pattinson hairstyle
While this style is relatively easy to do, it may take you a few times to get the amount of product right. Too little will leave it limp and unworkable, too much will make it greasy, crunchy, or sticky. The first time you do it, you might have to wash and start over again, but once you get the hang of it, it can quickly become part of your daily styling routine and you can have the sexy Robert Pattinson look every day.
Robert Pattinson Haircuts and Hairstyles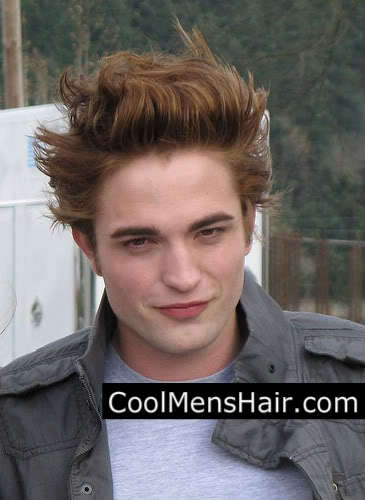 Robert Pattinson hairstyle
When you first see
Robert Pattinson
, you get caught in his lush, puffy mass of hair that is styled to perfection! In fact, Pattinson's hairdo seems to complement his looks, giving his already handsome face a godly charm and grace. An erst-while model, young actor and part-time musician, Pattinson seems to have been there done it all. Undoubtedly, Robert Pattinson is the most handsome blokes in Hollywood today.
Born on May 13, 1986 in London (England) Robert Pattinson was into modeling and amateur theater right from an early age. But he was soon spotted by acting agents and production houses (partly because of his good looks and flowing locks). He started bagging minor roles in amateur theaters and acting skits. After a short stint as a fashion model, Pattinson started taking up bit-size roles in major Hollywood ventures. However, his moment of recognition came with the film 'Harry Potter and the Goblet of Fire', where he played Cedric Diggory. The media called him the perfect face for the character, marked him as 'Jude Law of Tomorrow'. He soon bagged the lead role for the highly-anticipated vampire-fantasy flick 'Twilight' and got rave reviews for his character 'Edward Cullen' in the film.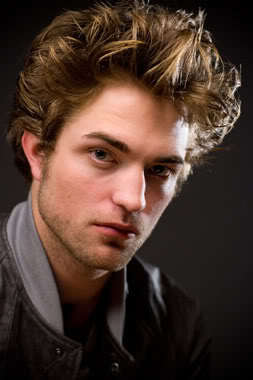 Robert Pattinson messy hairstyle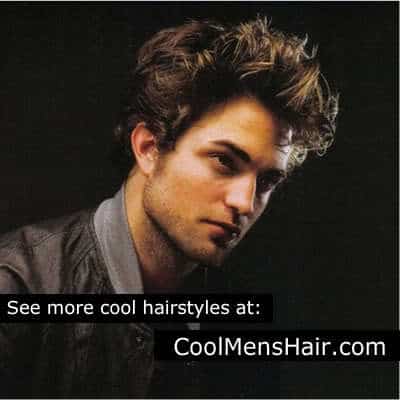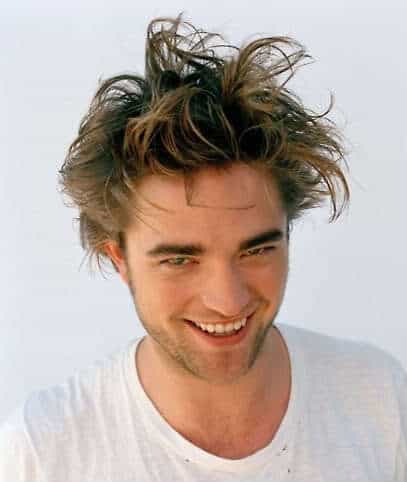 Pattinson weird hairstyle
However, his hair has been the talk of the town not only for its natural suave color or its lush, heavy feel. Robert Pattinson really knows how to style his hair, and woo the girls with it! Early in his career, he used to sport a neatly parted hairdo, with long waves of lush hair on either side of the defined demarcation. However, he chose to jazz it up and puff it all out as he gained recognition and fame. From sporting different hair colors such as bronze, red, brown and light-blond with dark roots to complete blond highlights, Pattinson tried every style in the book. He sported
Mohawks
and flowing, indefinitely parted long
side swept bangs
.
Robert Pattinson Slick Hair In Cosmopolis Movie
Robert Pattinson is quickly becoming one of the most famous English actors in the business today. He rose to fame for playing Cedric Diggory in the fourth Harry Potter movie. However, he is probably most well known for the role of Edward Cullen, the male lead in the Twilight Saga movies. Here, we are going to take a look at Robert Pattinson's slick hair in Cosmopolis movie.

Robert Pattinson hair in Cosmopolis.
Pattinson will take on the role of a millionaire, Eric Packer, in the film, Cosmopolis. The film follows him as he treks across Manhattan. For the role, Robert has his hair styled in a slicked down, conservative style with a part on the side. His hair is cut short and styled in a manner that is appropriate to the character. The hair is parted on the side and the top is flipped to the other side.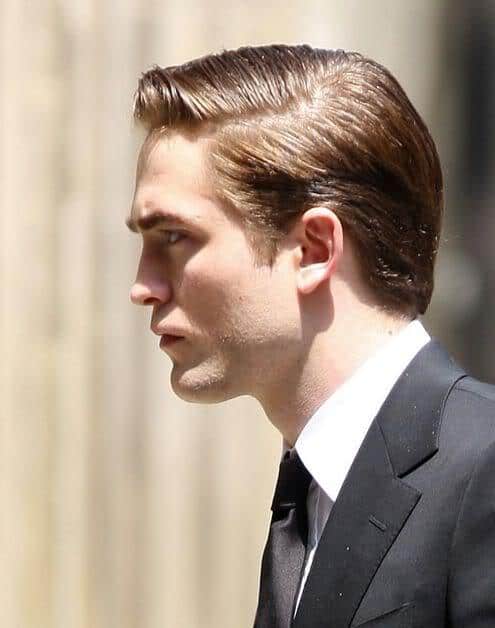 Robert Pattinson slick hair.
He has to use a fair amount of hair cream or wax to achieve this slicked down look. It is reminiscent of the styles that earned many young men the nickname, "Greasers", back in the 1950s. However, Pattinson's hair does not contain the prodigious amounts of cream that gave those styles their wet, greasy appearance.
This is a relatively high maintenance hairstyle. Because it is not heavily greased down, the hair is able to move around and must be brushed periodically to put it back in place. He must refresh his wax at the same time to provide hold.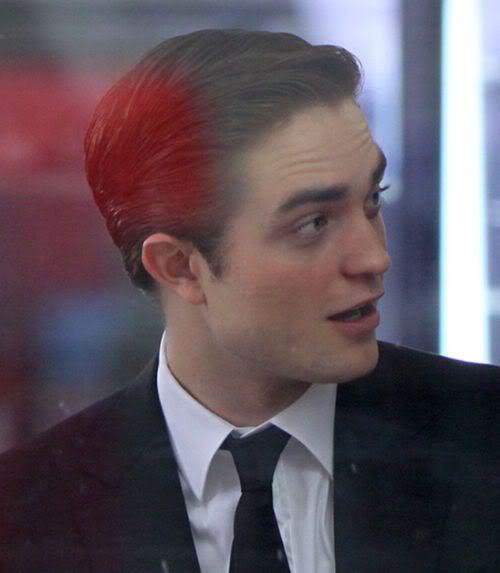 Robert Pattinson slick back hairstyle.
The Robert Pattinson slick hairstyle in Cosmopolis movie is very different from the styles he has worn in past performances. However, it looks good on him and serves to show his versatility as an actor as well as the many options available to him when it comes to choosing a hairstyle. This style fits the character he plays perfectly.
Robert Pattinson Short Hairstyles

Robert Pattinson short hairstyle.
Robert Pattinson is a young English actor, musician, and model. He first came to fame by playing Cedric Diggory in the movie Harry Potter and the Goblet of Fire. However, he achieved worldwide acclaim playing Edward Cullen in the Twilight movies. His hair was fairly long for this role, but here, we shall look at Robert Pattinson with short hair.

Robert Pattinson buzz hair.
In the past, Robert has worn his hair shorter between filmings of the Twilight movies. 2008 Saw him sporting what was almost a buzz cut. The hair was cut close on the sides and back with only a little added length on top.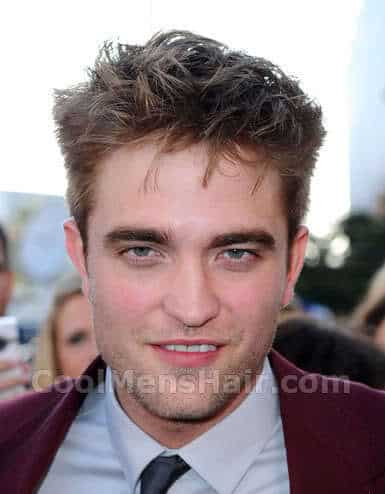 Robert Pattinson with short hair
Now, he has cut his hair again in preparation for his role in an upcoming movie. This time, the sides and back of his hair really are buzzed. He did not take as much off the top as in the past, but this hair cut is very different from the long locks that so many have grown to love on Edward Cullen.
When asked about his haircut on the Ellen Degeneres show, he jokingly announced that he had had an infestation of nits and had to shave off the hair. Then the real reason for the haircut came into the conversation.
Robert Pattinson was irresistible in his incarnation as a vampire, and his thick, flowing hair was all he needed to add the enigmatic charm and sensual glamor he lacked as a teenager! His female fans would not disagree one bit ever!