This curly haired hunk with a captivating smile has become the heartthrob of many. Matthew McConaughey has played the tough guy and the hopeless romantic with equal panache.
He showcases the rare quality of having both, acting prowess and pure brawn instilled in him as natural skills. No wonder Matthew McConaughey is a favorite of all the directors because of his light and soft attitude and his intensity to have fun amidst all adversities. Some say it is his main key behind his fame.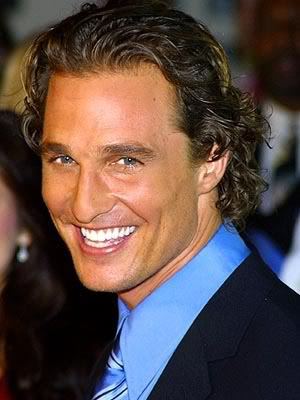 Born in Texas, USA on November 4, 1969, Matthew McConaughey started his career by acting in minor characters in films like "Dazed and Confused". It was much later that he emerged as a promising actor in the genre of comedy in films like "A Time to Kill" (1996), "Contact" (1997) and in most recent times "Fool's God" (2008). However, it was the film "Surfer Dude" (2008) that gave him the much-awaited recognition and fame.
In this film his character of a soul-searching surfer Steve Addington who undergoes an existential crisis while surfing was loved by one and all. For this famous oft-shirtless actor this movie gave him the role of his lifetime.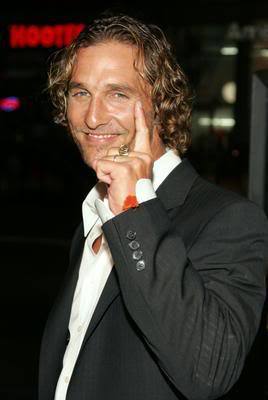 Matthew McConaughey's surfer hairstyle
Matthew McConaughey in

Surfer Dude
This American heartthrob has always created his own unique look. Famous for his sexy carefree style, Matthew McConaughey is one of those few stars whose hairstyle is a must look. Blessed with a great shoulder length
surfer hair
, Matthew never shied away from the experiment with his natural wave or
loose curls
.
While he kept some length on the top and sides to allow the hair to curl, his tousled wavy hairstyle reflected his adventurous side and made his female fans go crazy for him. He had also tried a range of medium-to-long hairstyles. However, since he was losing his hair, he used a product named regenix to get his locks back in the swing. He still uses it and rubs it around 20 minutes a day!
Let's hope Matthew McConaughey, the man with a golden heart and light attitude will continue to rule our hearts his superb acting skills and with his exclusive style statement.